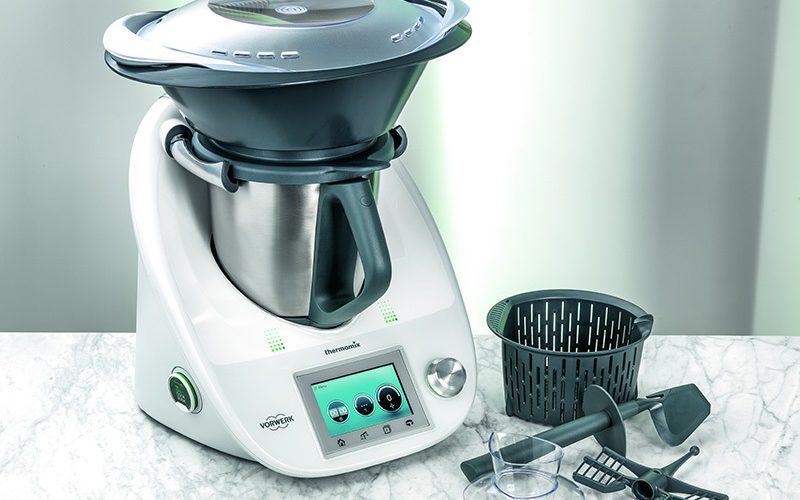 Food Processing – Part 1
One nice thing about being a Minton resident is in the residents' social network we've built up over the last three years. While not all residents are on the Facebook group yet – many I guess either do not know that there's a such a group about, or just prefer not to socialize on that platform – the current group is fairly lively, especially after the first couple of attempts earlier on before and shortly after TOP resulted in some degree of unhappiness among group members over one thing or another.
Ling recently met up with a neighbor we knew from the current residents' Facebook group to learn some baking techniques. She was particularly fascinated with the Thermomix kitchen appliance our neighbor had, and couldn't stop talking about when she returned home. So, being the Always interested in any technology so that the wife does not have to spend so much time in the kitchen wiping meals up hubbie, I started intently researching and reading up on the different all-in-one food processors out there and what my options were if I wanted to surprise Ling with one such.
And over a five day period, I learned that:
All-in-one food processors were projected to be the rage in 2015 with all manner of manufacturers flooding the home appliance market with their take on it. Then it was 2016, and now 2017, oddly, we're still just seeing a handful of such machines.
The Thermomix TM5 and its predecessor TM31 has a cult-like following, with a lot of enthusiasts swearing by its versatility and help it provides in the kitchen. The machine is available in Singapore with local support and a showroom too, and the device has a couple of minor functions the other two doesn't have.
It's not without its significant critics though. Of the less worrying bits I've read: the machine can be loud, has completion alarms that seem to annoy some users, rattles when used in high-speed/turbo mode, has somewhat smaller capacity, and is ridiculously expensive (SGD2,320!). And there's no transparent lid for you to peer through and see what the machine is doing to your food if you're into that sort of thing.
And then there are the more disconcerting bits. Firstly, the machine is direct sales only – i.e. it's not available off-the-shelf at the usual home appliance stores. To buy one, you have to contact a direct salesperson who conducts demos and trials, who will also become your point of support for the device thereafter if you choose to buy from her. I contacted several such Thermomix Advisors based in Singapore. And I have to say, they've got well-honed sales pitches. Every one of the Advisors I contacted were very prompt in answering my back/forth queries. One reviewer though has likened this sales arrangement to a pyramid scheme. Of that, I'm not as skeptical as the idea of personalized sales-support is very appealing to me. However, the most worrying bits are that there have been accident reports of the Thermomix TM31 seriously hurting users, and how the Australian distributor handled complaints of the device thereafter. The burn marks suffered by victims shown in the pictures were scary. In fact, the situation got so bad in Australia that customer advocacy groups there called for regulatory authorities to formally investigate what was going on.
The new version – the TM5 – has far fewer accidents listed in the Australian media coverage above, though I still had to think very hard if getting a generally well-featured if very expensive machine with top-line support in Singapore is worth even the remote possibility of hurting one of us at home. I even made a (secret) trip down to Thermomix's showroom @ Starhub Green to ask about this in-person, though I wasn't entirely persuaded by another staff who popped her head in to address this query while I was there.
Still. There are hundreds of thousands if not millions of users of iPhones and Samsung Galaxies – and just because a few exploded/melt/catch-fire doesn't necessarily mean that there's an inherent design issue in it (Note 7 notwithstanding LOL), especially against the sheer volume of units the older model has moved. And Thermomix has workarounds that apparently further minimize the already small possibility of accidents happening.
The Magimix Cook Expert depending on the country market can be slightly cheaper or more expensive than the TM5. It looks to be a really interesting option as it one-ups the Thermomix in several areas: aesthetically it looks nicer to me, it runs quieter, and has larger capacity too. A number of reviewers also prefer this device than the Thermomix. From a scan of appliance stores though, the Cook Expert is not available in Singapore. No reply was also received when I queried the local distributor too – which again begs the question; why put up a local distributor site if you're not gonna respond to public queries.
What that means is that if I choose to go with the Magimix, it'd have to be shipped from abroad. I'd have to pay a hefty import tax, and suffer also the risks of any equipment failure from the lack of local support for it. The item is listed on Amazon-Spain, Amazon-Italy and Amazon-France, but none would ship the item here. I did find an eBay seller based in Italy that would DHL-International Express the thing over, and after the 22% VAT deduction and delivery and import taxes added, the device would end up being SGD1,828 to get here – cheaper than the Thermomix by SGD500. Of the three, the Cook Expert looks to be the best all-rounder with the least potential issues that might annoy – and would be my easy first choice if it wasn't for the absence of local support.
The Tefal Cuisine Companion from the French company is significantly cheaper than the Thermomix and Magimix, but alas, is also not available in Singapore. Compared to the two competing appliances, the price differential though here is significant: almost a thousand dollars cheaper, and feature-wise, almost as good as the other two. Likewise, I also found another eBay seller based in France who was willing to ship the item over, but was unfamiliar/unable to offer the VAT refund – meaning that the item as purchased before import tax would be about SGD1,557. But after looking even further, I finally found the item sold on both Amazon-Spain and Amazon-Italy, and can be had for just around SGD1,200 including shipping and import taxes with Amazon-Italy providing the fastest delivery option. Hooray for cheap prices! But the cookbook will be in Spanish and Italian! Aggghhh!!!!! Time to learn foreign languages?!
So, extremely tough choices, with these three the most popular and talked-about models. Buy the model that is horrendously expensive but with terrific support, the model that is slightly better-featured, slightly better reviewed and slightly cheaper but with zero support, or save a lot of money and buy the cheapest model, but gnash my teeth in despair if we run into problems?
Ah!!!!!