Western Australia 2017
now browsing by tag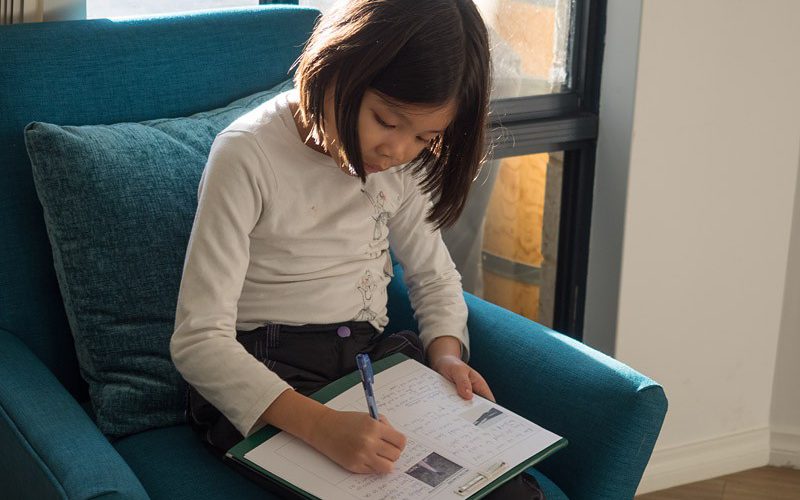 Western Australia – A Child's Perspective
One key thing we wanted to do this WA trip was to be able to get Hannah to recollect in her later years her observations and reflections what she was seeing and experiencing across the 11 day vacation. She was definitely very game for it, and in fact on several evenings, even gently reminded me that she had to write her journal. And after 11 days:
Her notes contained a lot of factual information but less on retrospection. It's probably just how her mind at this stage works, so it'll be something that she'll undoubtedly improve upon if we continue to get her to do this for our next trips.
Her handwriting gets progressively worse.
So, in future:
A more structured organization to her Journal by including questions like "What did you see?", "What did you try out for the first time?"
Lines for her to write on LOL.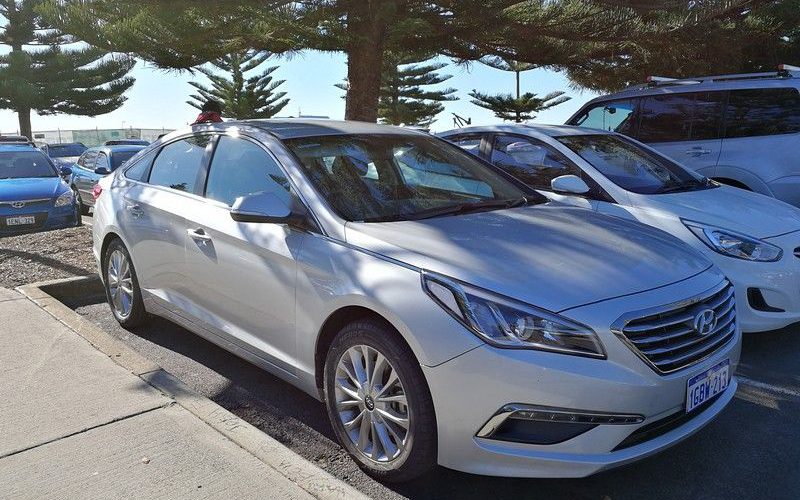 Western Australia – 11 Days in WA – Final Notes and Such
This has been our second family trip to Australia, and a very different 11 days vacation than the 9 days we had in Melbourne just last year. Specifically, the trip last year saw us stationed in Melbourne city throughout the length of the stay, and taking numerous day-trips out. This trip in WA saw us moving from point to point – on account that WA is a huge state, and we covered only a small segment of it over the 11 days. Specifically, we went as far as Walpole – though there is more in the state beyond that – and we never went in the opposite direction of Perth i.e. northwards.
The centerpieces of our WA trip were the two day tours, Whale-Watching (a new experience for the kids and Ling), and the farm stay, so our itinerary was largely constructed around those events and the respective availability of the operators in each instance. Quite a bit of itinerary juggling and the like – but I reckon it all paid off.
So, our final notes:
Plan your own itinerary: Perth/Fremantle/Margaret River/Bunbury/Busselton/Pemberton/Walpole, like Melbourne, are pretty safe places to explore, with the roads linking these towns and cities well-paved. The roads are not always well-lit, especially from MR southwards though, so you'll want to take that into account if you're nervous about night-driving or want to avoid any sort of risks associated with night-driving.
We went with longer than normal periods of stays in Margaret River and Pemberton. Most visitors to Southwest WA- from our part of the world anyway – will normally spend less time than we did in either area, and most won't spend nights in Pemberton even. But the nine days we allocated in total to both areas really permitted us more leisurely drives getting from point to point, driving the long stretches only during daylight hours, and also a lot of time to check out the off-road sights in both places.
Rent a car that's at least 2.0L engine power: our initial booking was for a 1.6L – and because of our car rental's lapses in service in a few spots, we received an upgraded vehicle. This really made for a smoother ride throughout getting from place to place. We read also of other blog reviewers commenting that it's possible to drive to the Lancelin sand dune desert on non-4WDs, but as we didn't travel to the points of interest north of Perth, we can't say whether it's doable. One thing is for sure: you will not want to try driving off-road through the WA national forests or Yeagarup Dunes without 4WDs. The two off-road tours we did were with guides who have lived their entire lives in their respective regions, and even they drove gingerly and very delicately managed the numerous road holes and water ponds at various points.
Driving in South-Western Australia: as long as you're not vulnerable to the Z monster while on the wheel, the drive between Perth to Walpole will be easy during daytime. I did most of the driving and left the navigation to Ling – on account that she can be prone to dozing off whenever in a car LOL.
Keep to the speed-limits too when in the built-up areas too. This is especially true for the Margaret River town center. Our guide, Hank, was able to point out the exact spots where the hidden cameras were and also where the traffic cop camp out LOL. We had a friend who was fined a princely sum of AUD952 for speeding when touring WA! Google Maps + GPS were also able to pin locations down with good precision, so there shouldn't be any worries of getting lost. The speed limits can change frequently over a small stretch: something like 110 to 90 to 80 to 50 to 40 then back to 50 then 80 wouldn't be impossible.
Both our guides lamented and found the frequently changing speed limits a real annoyance, as it meant that drivers end up having to keep their eyes more on their speedometers than the road ahead – and ironically increasing rather than decreasing the possibilities of accidents.
Parking in Perth and Fremantle were horrendously expensive. Expect to pay $4 or more per hour in Perth central, and some spots do not allow you to park for more than an hour even. The beside road parking meters permitted us to insert coins up to the specific duration we used, while – annoyingly – another covered car park we used rounded upwards duration to the next hour.
We found plenty of petrol stations around the built-up areas, but much less so the further south-down we drove. You'll want to check the distances between places you're driving to, and when necessary make sure that you have enough gas in the tank. Fuel pumps are self-operated, so if you're spoiled like in Singapore where pump attendants run to you to fill up your tank, you'd need to get a bit of practice on it. Interestingly too, none of the pumps I used had the grip-release catch that you find in stations here, so you'll need to grip the pump handle the fuel release throughout.
There are places to have dinner in Margaret River though less so for Pemberton. So while you won't starve, you'll still want to plan ahead by checking on restaurant closing times (some close quite early!)
Explore your accommodation options for the Perth segment. We were spoiled for Airbnb choices when finding a place to stay in Perth, and we got a good rate for for a very decent home of about AUD300 for two nights for the four of us. You'll also want to look for a property with free-parking too if you're self-driving, given how expensive parking in the city is.
Whale-Watching during whale season is a must! I remember the hours we spent scouring the seas in New England trying to stumble on whales and almost in vain. In Augusta, all it took was for us to move out of the pier and we spotted whales, and dozens of them eventually even.
We got very mixed results for the Optus Pre-paid mobile Internet plans.  There were no issues when we were in the large town and city areas, but significant problems came up, not surprisingly when we were off-road or in the forests but even at our farm stay, which was just 4-5km from the town center. Oddly, the iPad Air 2 was able to receive stronger 4G signals than the iPad Mini 4. We (or I rather haha) was quite a bit more paranoid about ensuring we were connected throughout our stay than Ling was. So, I picked up three data SIM Cards: two for the iPads – both with 4GB data stacked on them – and one more for the smartphone. We ended up almost exclusively just using and sharing using hotspot the plan for the iPad Air 2. You'd do just fine going with two plans and not the three we went with.
I'm tempted to return to WA for our next major holiday period and try traveling north this time – on account that Perth is an easy 5 hour flight from Singapore with attractive fares!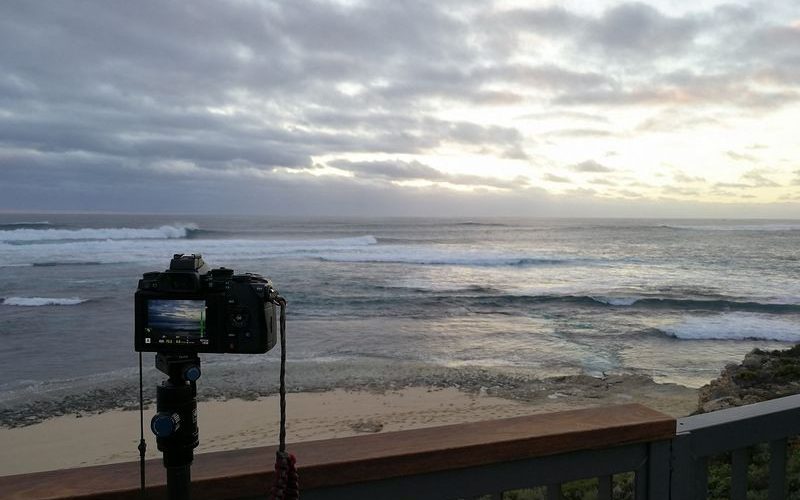 Western Australia – Equipment Comments
Just a few more posts in our WA series – honest! And this one is for tech junkies – comments on how various gadgets and toys fared during the trip!
The Olympus E-M1 continued to perform admirably on it's third major overseas outing. Oddly though, the camera occasionally required a few seconds to power-up from a cold-start. Might be something to do with the age of the battery – one of the two BLN-1 battery is about 5 years old now, and its internal circuity might be starting to fail.
The Panasonic GX85 did amazing well in its first major overseas trip! The GX85 was mostly coupled with the 40-150mm f2.8 with 1.4x converter throughout the trip, and I was able to get pretty good picture retention rates, with the C-AF modes able to track moving subjects. There was some minor annoyances though: the camera seems to have its own mind sometimes by selecting its own aperture against what I really want to shoot at. Specifically, I can set aperture on the Olympus m4/3 bodies set on Aperture-Priority and don't ever worry about it again. But the GX85 will sometimes change f-stop on its own even on Aperture-Priority. I'll have to read up a bit more about how Panasonic m4/3 bodies treat A modes.
Two batteries accompanied each of the bodies, and on most days, the one battery apiece for the E-M1 and GX85 was able to last for an entire day of shooting on most days. That is, excepting the really heavy days during the day tours, though the batteries were also routinely nearly drained by the day's end. Sill, the weather in WA wasn't cold enough at usually between 18 to 7 degree Cs for either the E-M1 and GX85's batteries to discharge faster.
The number of exposures I triggered on the E-M1 and GX85 was about 3,250 and 2,251 respectively, about 227 using the Samsung 360, and another hundred or so using  Huawei Mate 9 – a total of about 5,828 pictures. And of that, I processed and finally kept about 3,331 of them – a keeper percentage of about 57%. This WA trip goes well past the 5,013 exposures I took for the 23 day New England trip in 2010 (still the most memorable trip ever!) but I kept 4,327 of them then – or a much higher 86% retention. A huge number of shots for this WA trip were on burst mode – particularly the animal feedings – while the ones in New England were of a lot of scenery, which don't require shooting on drive modes.
Three lenses came along for the trip: the 12-40mm f2.8, the 40-150mm f2.8 with 1.4x teleconverter, and the 17mm f1.8. The approximate picture distribution was 65% 12-40mm, 34% 40-150mm, 1% 17mm. Yep – just a small handful of pictures taken using the prime!
I was really happy with the videos taken on the Huawei Mate 9, despite the initial trepidation before the trip. Between that and Ling's Samsung Note 5, we took about 79 videos, most about a 1 to 3 minutes long each. The 4K videos coming out of the Huawei Mate 9 did take a bit of processing though as the Dell XPS 13 wasn't able to handle the 4K videos well. A comparison between the 2K videos taking in Melbourne using the Samsung Note 5 against the 2K downsized from 4K videos on the Huawei Mate 9 showed that despite the lower frame/s – the Note 5 can shoot at 60fps – there was simply a lot more visible resolution and detail for videos taken using the Mate 9, and less obvious jello-effect too when panning the phone around.
Sirui T-024X CF tripod/C-10S Ballhead: were instrumental in enabling some of our family photos and doubled-up also as the tripod for the Samsung Gear 360. It was light enough also for our 8 year old daughter to help carry around. Call me a traditionalist – but I simply don't think smartphones take very good wefies!
Samsung Gear 360 (2017): already posted separately on this. The pictures were so-so, videos disappointing – but I got perspectives that traditional cameras simply cannot obtain, and the camera was purchased on the cheap.
But the most valuable item that accompanied us this trip was:
Hank – our guide at Margaret River – was quite interested in this camera bag too. Despite it being more than 4 years old now, it still looks as good as it did on the first day. Dirt simply rolls off it!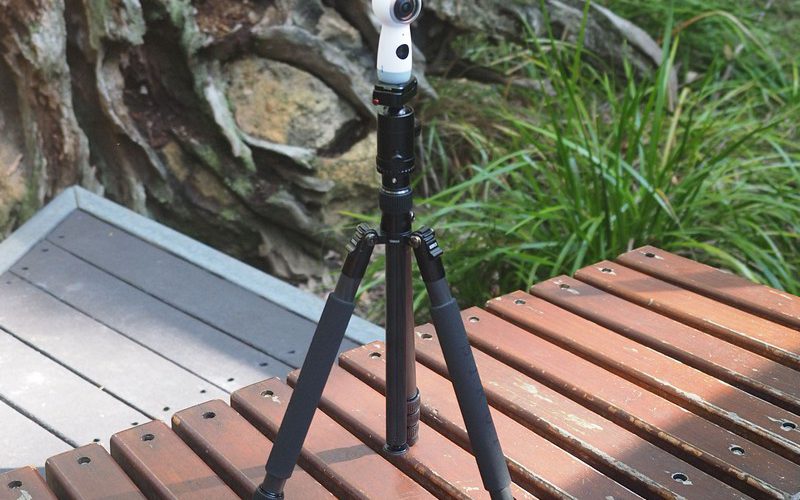 Samsung Gear 360 (2017) – More Notes
We took just a small number of 360 videos and photos using the Samsung Gear 360 (2017) I acquired just a few days before starting on our trip. The Billingham Hadley Pro bag at any one time contained the iPad Air 2, the Xiaomi 15,000mAh powerbank, the E-M1, GX85, three lenses (17mm, 12-40mm, 40-150mm + 1.4x converter), straps, the circular polarizer filter, spare batteries, and this 360 camera. Between the two cameras, the Huawei Mate 9 which did the lion's share of work for videos, I just didn't have enough hands anymore to also fish out the Gear 360 as much as I wanted!
Still; my comments on the Gear 360 2017 edition after the 11 day trip to Western Australia:
The gear's very smooth plastic surface makes the device a tad slippery to hold. While it doesn't give the sense that you're holding a bar of soap – like what the most recent Samsung Galaxy phones can feel like – I still found myself having to very consciously hold the device lest it slipped out out of hands and kiss hard concrete on the floor.
The battery easily offers enough juice for a day of shooting. Charging using the USB-C port didn't take long either (about an hour at most each time for a fully flat battery?)
Processing stills and video using ActionDirector, the Samsung-supplied software, is pretty easy, and without needing a Samsung Galaxy phone either. You connect the 360 camera into the PC, transfer files to say a desktop folder, then drop that entire folder into ActionDirector. The software program immediately starts processing them in the background and will save them into a working directory that you can easily take out from later.
Stills-wise, the camera does reasonably well in strong daylight. But as the sun goes down, so does the quality of images – significantly.
Video fares don't look as good after processing in ActionDirector, and YouTube further compresses them until they look like a pixelated mess.
There are obvious imperfections in the stitching – particularly for video, somewhat less so for stills.
Limitations of the current consumer-level technology aside, I still have a long way to go technique-wise too. Specifically:
This thing desperately needs its own good and dedicated tripod. It was too much of a hassle to bring out even the Sirui tripod that's designed for traditional cameras, so a number of videos included my fingers and thumbs. It's also very hard to keep the camera level when holding it high above your head!
Once the camera starts recording, keeping at least one meter away from the camera is a very good idea.
As with spherical lenses, objects look a lot further than they really are. I incorrectly judged the positioning of the camera in several video recordings.
In summary, consumer-level 360 cameras are still a long way off from what the really expensive 360 cameras are able produce. But that said, they do provide very unique perspectives that traditional camcorders and digital cameras are unable to record. Compared to the other consumer-level 360 cameras that cost between $500 to $900, we got the Samsung Gear 360 (2017) comparatively cheaply at just SGD284. I recommend that if you must get a 360 camera to record these types of stills and videos to get this model. Don't spend more than that, and recognize the limitations of what the devices at this stage can produce.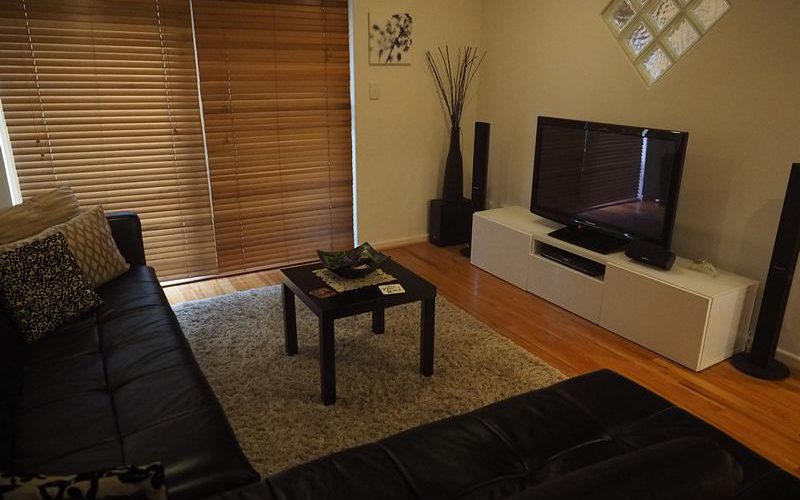 Western Australia – 11 Days in WA – Airbnb
This has been our first experiences staying in Airbnb properties, and came away having good impressions of of it. We stayed in two such properties at the start and tail end of our trip. There weren't a lot of options for Fremantle, and the average rental price/night was noticeably higher than in Perth. Some quick notes that also formed my reviews for both properties:
Fremantle
Our Fremantle place was an easy five minute drive away from the center of Fremantle. The place wasn't as new or in a pristine right out of refurbishment state, but it was easily more than made up by many things.
Host accessibility: the host more than exceeded our communication expectations by being prompt in every query we had (with replies often in well less than an hour), and also ensuring that we were able to get to his place and also check-in safely, right down to blow by blow queries on how to find keys!
Beautiful view: we got a beautiful view of Swan River right from the living room sofa. And it's a fairly lively view too with boats going past frequently.
Good amount of space: with three bedrooms: two with double-beds, and the third room with a single.
Fully equipped everywhere. What really surprised us was that the place didn't just have the standard furnishings like a kitchen and washing area. It also had all kinds of supply items: including snack foods (e.g. fast-cook noodles who need that kind of unhealthy fix!), a extremely wide range of beverages and coffee types, a library of books, board games, a small collection of DVDs to suit different ages, a storage closet with loads of spare linen and towels, toiletries, and – as the wife even saw it – backup wet wipes!
All in, we liked this place and would had been fine staying for longer were it not for the fact that we were only passing through Fremantle and could only stay one evening.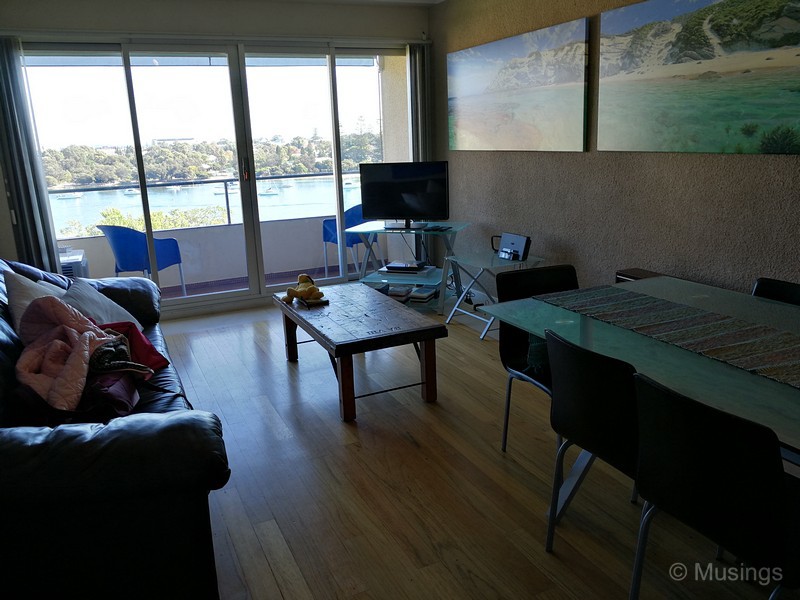 Perth
We stayed at a property that was situated in Victoria Park, and alongside a very quiet road that is still just a couple minutes drive from Albany highway and the numerous shops and restaurants along that stretch.And our comments"
The place was beautifully decorated with all the amenities as noted in the Airbnb place's description. The living room was equipped with a large sofa, flat screen TV equipped with surround speakers, channels and a small collection of audio CDs and DVDs too. In a very nice touch too, one of the drawers in the living room is stuffed full of power adapters, in case you have a gazillion electronic gadgets to use from elsewhere.
Beds were large and comfy enough for our young kids who slept soundly every night. Bath towels were clean and laundered with a nice scent too. The kitchen also had an oven, microwave, dishwasher, large fridge, and lots of utensils and cookery items, condiments and beverage types that you really won't need to buy your own.
There are even bicycles with a couple of adult helmets if you're up to cycling around the area.
There was a reasonably quick Internet connection though oddly, there were occasional disconnections that required either a period of wait, or a restart of the router. The host did ask guests to be respectful in usage of Internet data as there is a cap involved in the plan I suspect, but the data limit was generous enough, unless you intend to download the entire Internet while staying!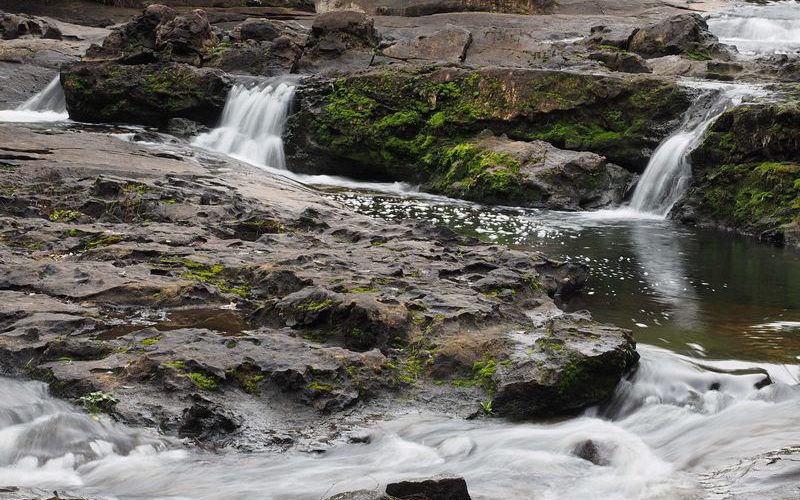 Western Australia – 11 Days in WA – Itinerary Retrospection
Our flight departed Perth on Saturday night and arrived in Singapore just before 4AM on Sunday morning. The Jetstar flight was uneventful. While we don't mind the absence of in-flight food or freebies like entertainment systems, the minimal legroom and also seats that didn't incline sufficiently far back meant that none of us – maybe except Peter – could really get any sleep! Still – you get what you pay for, and we saved a lot of money traveling budget for the short flight.
This has been our sixth family vacation in two years now, and like the Melbourne trip from last June, this one to Western Australia went along extremely well with really nothing significant that went wrong. Guess the months of preparation and reading-up paid off! There were a few things we spent on which in retrospect probably wasn't necessary – these I'll write about in the next post. For the moment, here's our itinerary and our summary comments and notes on how much time I feel one should ideally spend at each place.
Day 1: Arrival and Fremantle
Europcar car rental: some minor annoyances (basically, their booth in the Arrivals terminal was unmanned and their car park booth was a good distance away from Arrivals), but service recovery was amazing. The rental agency waived off both second driver and also car seat charges, and finally upgraded our ride from a 1.6l to a 2.0l. Despite Ling's misgivings about Korean cars, the Hyundai Sonata we drove in for the next 11 days was stable, comfortable, and had all the nice amenities. Peter quipped when we got back home that our Mazda 3 is so small, and that we should buy a bigger car now LOL.
Western Australia Maritime Museum (1 hr+): not a huge museum, and will be of particular interest if you're interested in boats, maritime work in Fremantle in the last 100 years, and the submarine tour of course – and if you're going into the latter, you'd want to allocate more time to the visit then. Beyond that though, this spot can be skipped if you're pressed for time.
Day 2: Busselton
Busselton Jetty and Underwater Observatory (2 hrs): an easy recommendation, and the jetty that stretches out 2.1km into the sea is quite stunning! The Underwater Observatory guided tour also involves a sight that you don't see very much either, since we normally only see aquatic life in artificially setup aquariums. It's also possible to save a bit of money and walk the couple of kilometers out to the jetty and Underwater Observatory, though we won't recommend it in summer for sure. Also, do especially check for peak dates as pictures we saw can show how crowded the jetty can be. Guess there's only so much space on the jetty's boardwalks!
Drive: Fremantle to Bunbury to Busselton to Pemberton (5 hrs): the drive from Fremantle to Busselton is easy, with wide roads, a good portion of which are multi-lane. The Busselton to Pemberton stretch might be a more tricky for drivers unused to country road driving. The roads are still well-paved, but do get a bit narrower, and a bit more winding especially after you pass the Margaret River point. Do be especially watchful of speed limits around the Margaret River town area along the Bussell Highway stretch too.
Day 3: Denmark / Walpole
Valley of the Giants: Treetop and Ancient Empire Walks (2-3 hrs): you'll want to set aside at least 2 hours for this, and 3 if you can. The Treetop walk shouldn't be scary even for those terrified of heights, as the steel gangways are secured, and don't sway too much – unless you have kids that are deliberately jumping up and down walks!
Walpole: there are perhaps 2-3 restaurants and cafes along the main road of Walpole, and a small pharmacist, supermarket and also convenience store if you need some urgent things.
Nornalup Inlet Jetty (1 hr): this is a quiet and beautifully scenic spot that's just a few minutes drive from Walpole town center. This wasn't on our initial itinerary, and we're glad we went by it after spotting it on the map.
Drive: Pemberton to Walpole/Denmark (2 hr): slightly tricky drive as roads really do get narrow, and the morning sun light reflecting off road surfaces also made the drive even more challenging!
Day 4: Pemberton
Pemberton Discovery Tour (4.5 hrs): the half-day tour covered a number of sights that included Warren National Park, D'Entrecasteaux National Park, and Yeagarup Beach. The really spectacular sight for us was the Yeagarup Dunes. Note: you need a 4WD if you're exploring these places out on your own – not something we recommend for persons not skilled in 4WDs as the path from the Dunes to the Beach is very tricky – and you'll also need to pay a small admission fee (honor-based system though) into the Parks too.
Pemberton Tram (2 hrs): the train runs twice a day most days of a week. The ride is very slightly bumpy as tram rides go, and the wooden seats aren't cushioned. You'll also get just perhaps 10-15 minutes to explore the Cascades. Not nearly enough if the tram just offloaded a lot of visitors all cramming to get their best shots of the waters! Some of the Tripadvisor reviewers note that the commentary can get a little overbearing, but we didn't find it so though the commentary did sound like it was on auto-mode.
Day 5: Pemberton/Margaret River
Beedelup Falls (1 hr): just a short drive from Pemberton and very easy to get to. The paved trail circuit – which includes the suspension bridge providing a great view of the small cascading waterfall – is an easy 20 minutes walk-around.
Amaze'N Margaret River (2+ hrs): really fun maze-themed park for the kids! The giant hedge maze is also suitable for adults, and even more if you're in small groups as you spend as much energy trying to figure out how to solve the maze as in trying to make sure you don't lose your friends as they run around corners. Spend a bit more time too than 2 hours too if you have kids and can afford the additional time.
Drive: Pemberton to Margaret River (2 hrs): we took a slightly different route than the coming to journey on Day 2, and it was a much easier drive – including a very long straight road stretch along Stewart Road.
Day 6: Augusta
Cape Leeuwin Lighthouse (1 hr+): go for the guided tour – as the view from up right top of the lighthouse is totally different from the ground level. Do note though that's really windy up top, and it can get even more bitingly cold even winter.
Whale-Watching off Augusta (3 hrs): June is a great season for whale-watching off Augusta, and we started spotting dozens of whales within 20 minutes of departing the pier, some of which swam very close to the boat.
Drive Margaret River to Augusta (1 hr): easy drive – no drivers should have difficulties with it!
Day 7: Margaret River

Millers Ice Cream Farm (0.5 hrs+): you can skip this spot and get your ice-cream in town if you're thinking of coming out of town just for that, and for cheaper too. There's a milking demo on weekends that we can't comment on as we missed that though.
Cheeky Monkey Brewery & Cidery (1 hr): we had a great lunch here, and there's also a children's playground right beside the restaurant too.
Margaret River Chocolate Company (0.5 hrs+): the company runs several shops, and the one we visited was in MR itself and along Harmans Mill road. This outlet had a cafeteria on the inside. The establishment felt like it was a tourist hotspot though: noisy and a little crowded. We took a look, and left.
Margaret River Cereals & Nuts (0.5 hrs): small shop near to the MR Choc Company for us to stock up on nuts. We were the only visitors!
Rotary Park (1 hr): fairly large playground for kids, and also the start point for a heritage trail that should take an hour or so to complete.
Temper Temper Fine Chocolates (1 hr+): very quiet shop and cafe that's lovingly decorated and furnished. Hank – our Day 8 guide – remarked also that he finds the chocolates at Temper Temper much better than the ones at the MR Choc Company.
Day 8: Margaret River
Margaret River Exposed (full day): a full day exploration with one of the few companies in MR equipped to do off-road tours. We were brought to a variety of places, including Surfers Point, Redgate Beach, and Boranup Forest. The company does personalized itineraries though, so you can try customizing it with things you'd like to see.
Lave Cave (1 hr)+: a real eye-opener, and the boline cavity from the surface leading to the cave entrance was awesome. The first climb down is easy, and the 300 steps in the climb back up to the surface will give you legs a real workout!
Day 9: Bunbury/Perth
Bunbury Wildlife Park (1 hr+): modest admission fee, wasn't crowded on the week day late morning we visited, and the enclosures were well done-up. The kangaroo free-roaming area doesn't have as many kangaroos as we saw at the several dozens at a similar lawn at Ballarat Wildlife Park – where we had to watch where we were walking lest we stepped on their tails – but it's still enough for kids to enjoy themselves.
Dawesville Foreshore Reserve (1 hr): our stopover on our way to Perth. Very quiet spot to watch boating enthusiasts and to just stretch your legs.
Drive: Margaret River to Perth (4 hrs): long but easy drive. Do try to also break the long journey up midway (we stopped around the Mandurah area). There are two routes back and forth: faster by South Western Highway, or the slower but somewhat more scenic Old Coast Road. Take your pick!
Day 10: Perth
King's Park (2 hrs+): enormous park that you can easily spend hours in to explore its various parts. We had the best results photographing Perth city line from Fraser Avenue in the mid-afternoon than early morning.
Elizabeth Quay (2 hrs+): large area to see and enjoy the expanse of Swan River.
Matilda Bay Reserve (1 hr+): about 10 minutes drive from King's Park, and like the other parks we visited, beautifully scenic and very quiet.
Day 11: Perth and Departure

The Perth Mint (1 hr+): the guided tour and specifically the gold pouring demo is one of the most unique experiences we've yet had – but it's pricey. Go if you have cash to burn, but keep in mind that the actual tour is just about 45 minutes long.
Scitech Perth (3 hrs): go if you have got kids! We liked this interactive science museum more than our very own Singapore Science Center.
Next post on our Airbnb stays!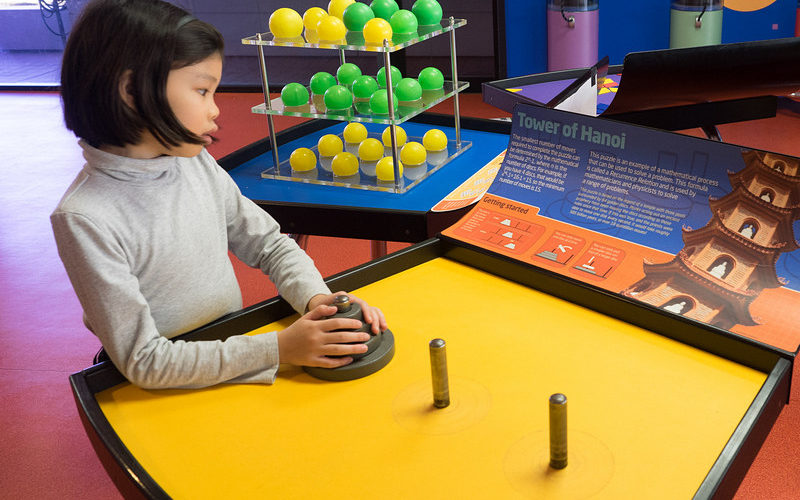 Western Australia – Day 11 – Scitech and Returning Home
Our next visitation place was Scitech Perth, the interactive science museum that was a short 10 minute drive away from The Perth Mint. The entire floor is choked full of exhibits for children to try on, and each area is separated by theme. There are also special exhibit areas, including a thrilling puppet theater show that the enthralled the kids. We missed the 2PM Planetarium show though and didn't have the time to wait in the area for the next show.
The mall that Scitech is situated in – City West – doesn't have much though, apart from a large Harvey Norman and also small kitchen appliance store. There's a small cafeteria in the mall that sells overpriced pastries and beverages, but we didn't have much options.
The last stop for the day before heading back to the airport for our departing flight was a visit to my Ph.D supervisor from 15 years ago; Professor-Emeritus Heinz Dreher. He looks tough and lean now, while I look fat! We spent hours catching up.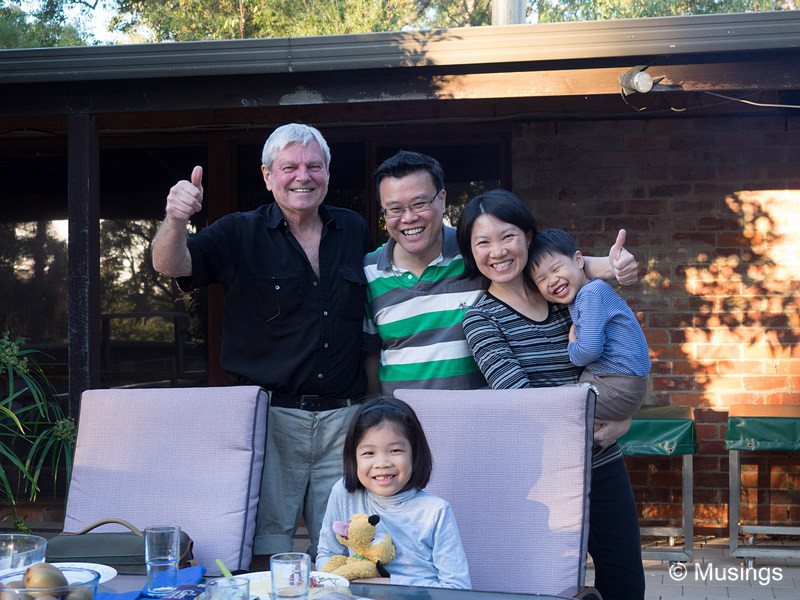 Last couple of posts to come in the next few days on some post-trip reflections!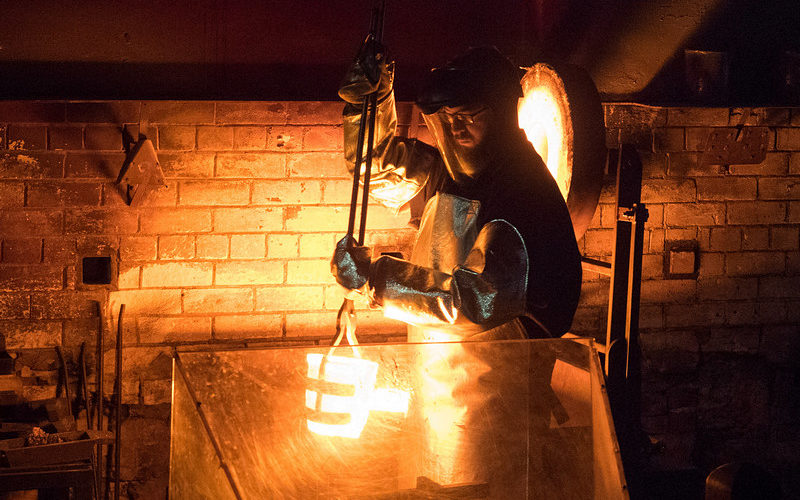 Western Australia – Day 11 – The Perth Mint
Day 11 and our last day in Perth. Our flight was late in the night – the nice benefit of choosing Jetstar as our carrier again – which meant we had a full-day to explore a few more sights before we head to the airport for our return home to Singapore. We've already done Perth parks yesterday, so it was museum day after all today.
The Perth Mint is rated as the current fourth top Tripadvisor attraction in Perth. Pretty uncommon for a museum to be rated among the top most attractions in any city, and many of the reviews off the review site note now that the gold pouring demonstration is really special. So, a quick discussion after Day 11 breakfast, and we decided our plan would be to check out the Mint, then Scitech, and then finish off the day with the visit to my Ph.D supervisor from 15 years ago.
To summarize: if you're going to visit the Mint, the about 45 minute guided tour is a must – not just for the gold pouring demo, but also that the commentary on the gold rush of the 19th century, how the Mint start and what it does today is informative and very well-presented. The family admission price was AUD48, and the tours begin every hour, partially on account that it takes about 25 minutes for the gold bar to be re-melted and to be ready for the next tour.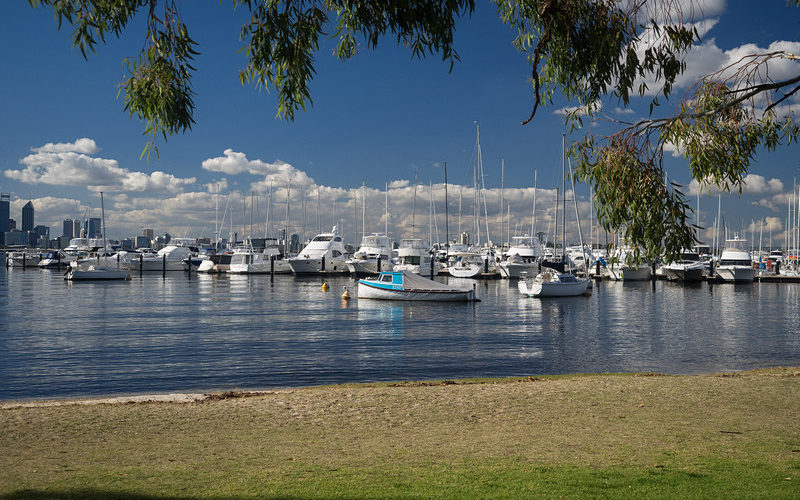 Western Australia – Day 10 – Elizabeth Quay and Matilda Bay Reserve
Next stop was a short 10 minute drive to Elizabeth Quay, though parking was painfully expensive (AUD12.60 for 3 hrs – ouch!). The area is a mixed-use development project, and you could easily spend hours exploring not just the Spanda side but also its entire circumference. Lunch was at Isle of the Voyage, which wipe up really yummy Beer Battered Fish & Chips There's also a children's playground beside this restaurant.
Tummies filled, we made our way next to Matilda Bay Reserve, a thin strip of grass land that has cafes, BBQ pits, and places to just chill while having a view of the many boats that are anchored in Matilda Bay.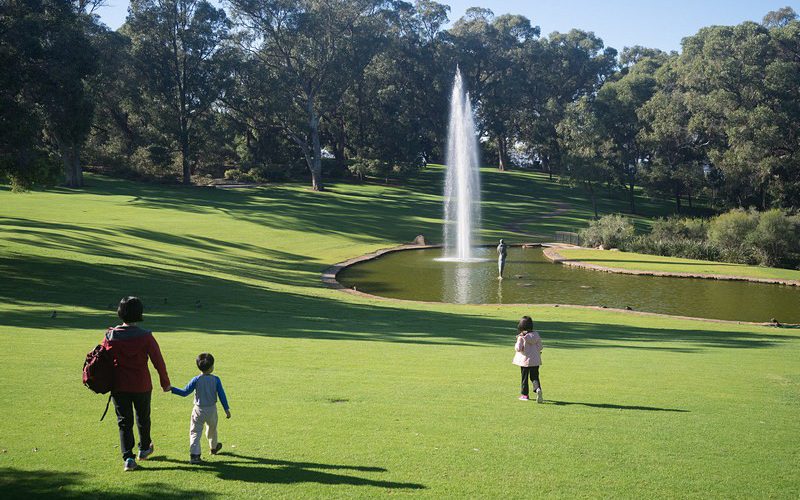 Western Australia – Day 10 – King's Park
Day 10, and one more day left to our vacation to WA. We planned to make the trip to Whiteman, north of Perth, to visit the Caversham Wildlife Park in the earlier versions of our itinerary, but after that was dropped in favor of just visiting Bunbury Wildlife Park, we could spend the entire day in Perth city itself. Rather than visit shopping arcades and the retail district, we went instead with parks. The most popular one in Perth is quite well-known – King's Park – and few tourists to Perth won't at least spend several hours in the 4.0 sqm park, especially along the Fraser Avenue stretch to get a unobstructed view of Perth city across Swan River.
I visited King's Park several times during my years in Perth, and the view of Perth's central business district remains magnificent – though I'd forgotten that the best time to visit is mid-afternoon, and not early morning when the sun is behind the city, making it really hard to get nice pictures. So, after spending several hours exploring the park in the morning, we headed elsewhere and returned to the park in the mid-afternoon.
Photos from the morning visit first. The birding shots were all taken using the GX85 and 40-150mm f2.8 + 1.4x converter:
And in the afternoon visit next. The place was quite a bit more crowded at this time, with tour buses offloading large numbers of guests, but the park is still large enough for the crowds to spread out.