Vietnamese food @ Orange Lantern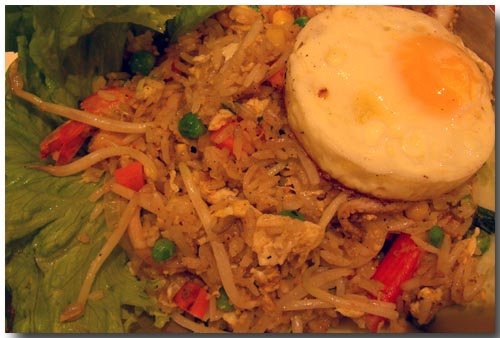 The second level of Hougang Mall was renovated several months ago, and now is the spanky home to a series of mid-price restaurants of many times: Japanese (Ichiban), Vietnamese (Orange Lantern), Chinese (Soup restaurant) and others. We checked out the Orange Lantern restaurant on Saturday evening for a simple birthday dinner. There was a special menu set for two person: for $28, we both got to choose an appetizer, main courses, and drinks.
Ling chose a beef meatball and brisket set which is about the best beef meatball soup I've tasted around, and for myself stir-fried seafood fried rice. We had an appetizer plate which included two really excellent poh piahs. The seafood fried rice in itself contained an impressive array of garnishing and fresh prawns, but by itself didn't taste that much better from the many other mediocre fried rice sold at foodcourts. Taken with the small plate of sambal chili however, the taste improved significantly. The items arrived briskly, and staff were very polite. A great dinner at prices that were pretty affordable.
Food: 8 / 10
Value: 3.5 / 5
Overall: 3.8 / 5. There's a large number of other cuisine items; we're gonna have to come back to this restaurant again sometime.