ThinkPad X1 Carbon
now browsing by tag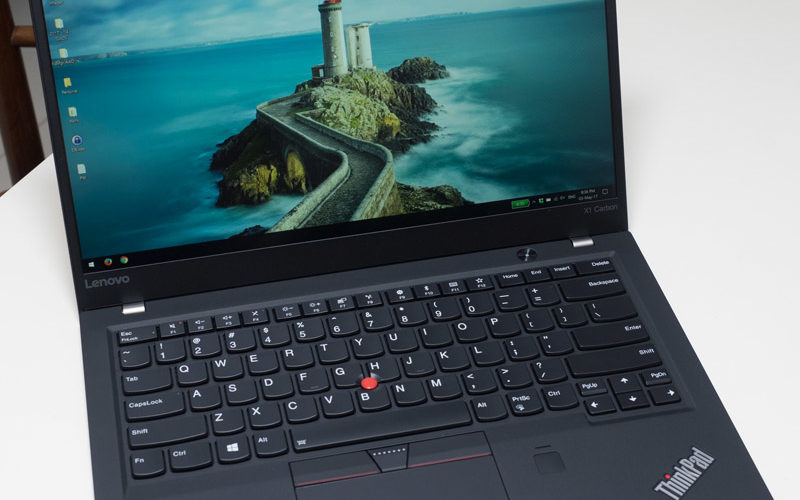 ThinkPad X1 Carbon 2017 – Part 3 – Breaking Down
And quite literally too, because the X1 Carbon broke down just 5 days after delivery.  After loading up the notebook with the office productivity tools, Microsoft Office, Photoshop, a Linux distro on VirtualBox, the machine strolled along nicely for all of about four days – and then inexplicably crashed (i.e. powered off) with no warning. No amount of cajoling and hard resets could revive it.
Well, time to see exactly how good Lenovo's technical support and Next Business Day servicing is.
A 30 minute chat with tech support for a bit more trouble-shooting, and the early diagnosis was that the notebook had suffered a motherboard failure. Unbelievable – it's a brand new machine that was just assembled a week before that, was it not?
Later in the day, I got a next update: that replacement parts were being ordered. Then three more days followed (one of which was the Vesak Public Holiday) before I received another call from Lenovo tech support saying they are going to try to do a one-for-one replacement instead – at which point I told them exasperatingly that the notebook has already been loaded with my programs and files. They can do whatever they need to – just so long as they get it fixed, and don't lose my data.
And over the weekend, the Lenovo warranty status portal reported that the issue had been resolved. Huh?!
At this point, it's almost six days after reporting the notebook failure, the notebook still is not working, and I've spoken to what looks like three different Lenovo Tech Support representatives.
Suffice it to say; Lenovo ThinkPads might be nice, but their support is abysmal.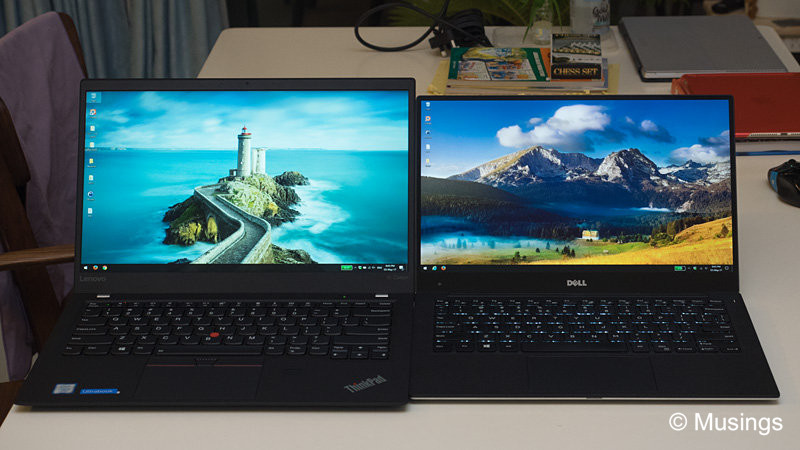 ThinkPad X1 Carbon 2017 – Part 2 – Early Impressions
And of early impressions of the new X1 Carbon 5th Generation (X1C5):
At 1.13kg, this is almost the lightest full-fledge laptop I've owned. I reckon the SP3/keyboard is even lighter still by about 100g though one might also argue that the SP3 is a tablet/hybrid rather than a full laptop. And the XPS13 weighs 1.29kg in comparison. The X1C5's entire case is covered with soft-touch material that not only feels luxuriant to hold, it's also finger-print and smudge resistant.
For those of us who care about these things: the top lid is fairly sturdy and resistant to pressure, though it shows the tinniest flex if you set your fingers to it. But the lids on the XPS13 and MacBooks are even more heavy duty and capable of double duty as a bludgeoning weapon!
I was concerned about the maximum brightness level of the X1C5's display panel. My particular unit has a AU Optronics B140HAN03.1 panel installed (couldn't find the specifications for exactly this model, but the closest appears to be this), which seems to be what everyone else is getting for this model. The panel is bright enough for indoor use, but its maximum brightness is clearly lower than what the XPS13 and SP3 can dish out. The Aftershock S17 has really shown that matte screens can put out visuals as gorgeous as glossy screens – but they need to be of sufficient nit brightness, and I feel the X1C5's display is just not great in this respect.
I've always felt that the XPS13's 3200×1800 pixel screen was way overkill – the resolution is just too fine for a small 13.3″ screen at native font sizes. The X1C5 panel is full-HD 1920×1080 pixels – which is a more suitable native resolution for me.
The X1C5 I configured doesn't include a touchscreen. I barely used the XPS13′ touch features, so I'm not missing that too much.
The X1C5 supports a variety of i5 and i7 7th generation Kaby Lake processors. The i7 processors as installed on the X1's seem to be getting mixed feedback; basically along the lines of marginally better performance in selected processor-intensive tasks compared to i5s but a lot more draining on the battery. These days, I no longer do programming or game engine work but crunch spreadsheets and data sets for analytics, so the i5 processor would have sufficed normally. Still – just to be safe, I selected the fastest i5 processor available at configuration – the i5 -7300U.
Lenovo keyboards are widely known to be among the best in their ranges, though some of their recent home consumer models have reduced the size of the right SHIFT key – a serious design sacrifice that has made touch and fast typists everywhere groan. Thankfully, the X1C5 uses a regular size R-SHIFT key – though like their ThinkPad enterprise models, the CTRL and FN keys are swapped around. I rate the X1C5 's keyboard to be better than the XPS13 in feel, key spacing and key travel and on par with the old MacBooks before their implemented their stupid Butterfly keyboards in their current line-up.
The glass trackpad isn't very large, but it offers an appropriate amount of friction though the MacBooks' are still better in this regard. Nice to note too that it supports Windows Precision Touchpad, and the trackpoint's buttons produce reassuringly soft click sounds when depressed.
I couldn't lift the X1C5's lid with just one hand without the laptop also lifting off its feet- the laptop is just too light for this single-handed feat. The same difficulty lies with the XPS13 too, and that laptop is slightly heavier.
The X1C5's fingerprint scanner is useful, though as earlier feared, it's not as responsive as the similar scanners on the Mi Max or Huawei Mate 9. I why the extremely fast sensor recognition on those phones have not made their way to laptops.
The X1's display bezels are pretty slim, though not as crazy thin as the XPS13's (see below picture for a comparison). On the hand, the X1's Integrated Webcam is in the normal and correct placement: at the top bezel, and not at the bottom like the XPS13's up-your-nostril Webcam.
The AC adapter with USB-C connector puts up 65W of power, and is also quite a bit larger than the XPS13's more modest 45W but very portable power adapter. I'll probably at some point look for a supplementary USB-C laptop AC adapter that's hopefully smaller than the X1's. The laptop charges up real fast using the 65W charger. I haven't done a precise test yet, but it seems to take just 5-6 minutes to juice roughly 10% of battery. That's crazy quick.
Like the XPS13, the X1C5 runs cool under normal load – which includes web browsing, video streaming, and office productivity for me. I haven't put the machine through any kind of stress testing yet (might do that in the next post), but under such normal use, the X1C5 also runs dead quiet as the laptop fan isn't running.
Next post to follow on issues and final takeaways of this X1 Carbon!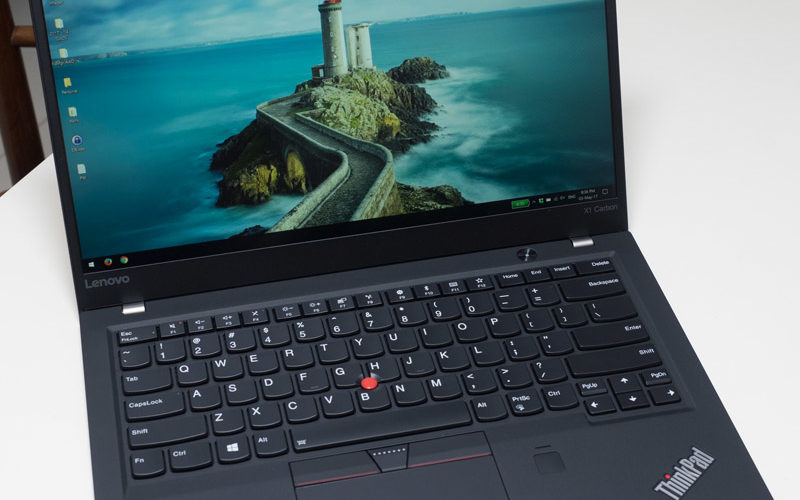 ThinkPad X1 Carbon 2017 – Part 1 – Finally Arrived
The X1 Carbon finally arrived yesterday – about 18 days from the point of order. And to get to the conclusion first before anything else: Marvelous machine, horrendous after sales support.
The longer version will take a couple of posts. While I've spent about half a day so far configuring and then installing the key productivity software I use at work onto it, I'd write my notes on impressions and usage after giving it a run for a few days.
The X1 Carbon as configured looks like this: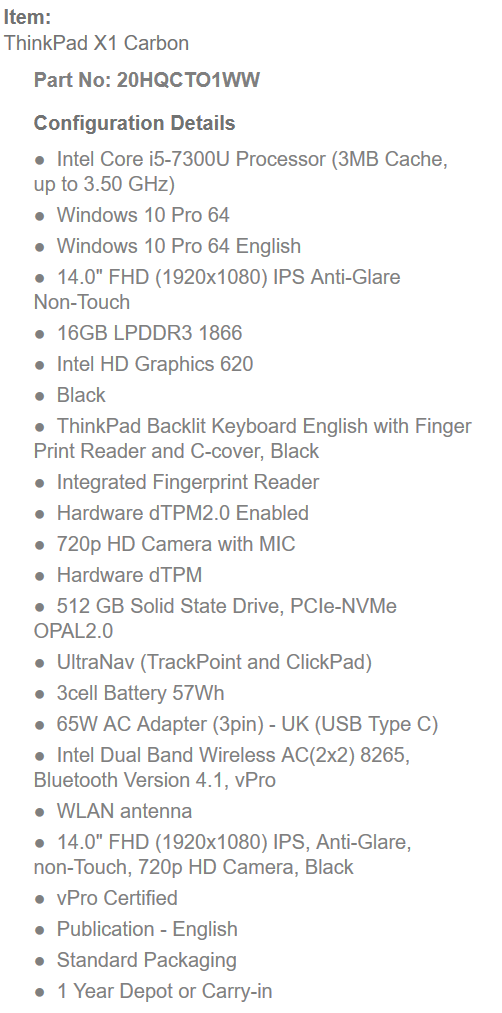 After the dreadful experience of an expensive MacBook Pro Retina 15″ failing just a few weeks after its one year warranty expired and thus needing a motherboard replacement, I try to ensure that every notebook I buy now carries at least 2 or more years of warranty. Unlike desktop PCs, one normally can't easily fix failing components – maybe aside from storage components, if the laptop itself lends itself to disassembly to begin with. The educational store version of the X1 Carbon also bundled two additional years of warranty on top of the standard one year, which really adds to peace of mind.
The entire package was delivered in three parts: the mouse, the bag, and the laptop itself: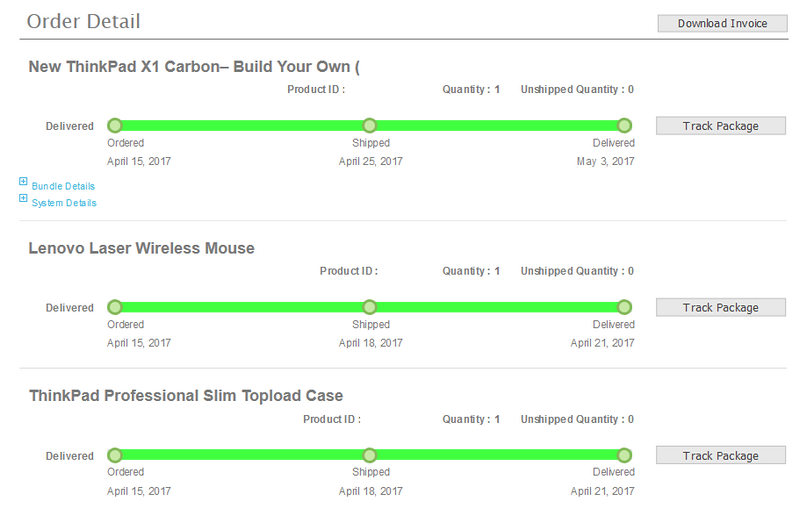 Your guess is as good as mine why the items didn't just come in a single parcel. It's not as though I can do anything much with a mouse or a bag (have got plenty of those already) sans laptop.
Lenovo's order tracking web site portal though is a mess. Firstly, the web site does not update real-time – and on several occasions, delivery updates were issued several days after the fact. For instance: the wireless mouse and bag were delivered as two separate parcels, and Lenovo's tracking portal only noted that the items were delivered 4 days after it arrived. But that's a small matter finally. What really peeved me was the flip-flop shipping timeline for the main unit itself.  It initially reported the unit would be shipped from manufacturing a week after order i.e. 22 April and delivered on 27 April. Then on the 23 April – yep a day after the initial projected shipping date – the site coolly reported that the notebook will now be shipped on the 29 April, with a projected delivery 5 May.
So, I called Lenovo to find out why had the dates changed. The service officer promised to look into it and also escalate it too – which they did, in the form of an email back a few hours later that essentially said, "We're sorry to not meet your expectations. Your projected delivery is 5 May." I replied back to say thanks for stating the stupid obvious and not answering my question: why was the projected shipping date changed. And for that, Lenovo never replied.
At least the notebook parcel arrived slightly before the updated delivery date of 5 May, with the tracking record below. But Lenovo's support scores a big fat zero in a) not being able to answer a simple question; b) not following through a promise to escalate beyond just repeating what I already knew.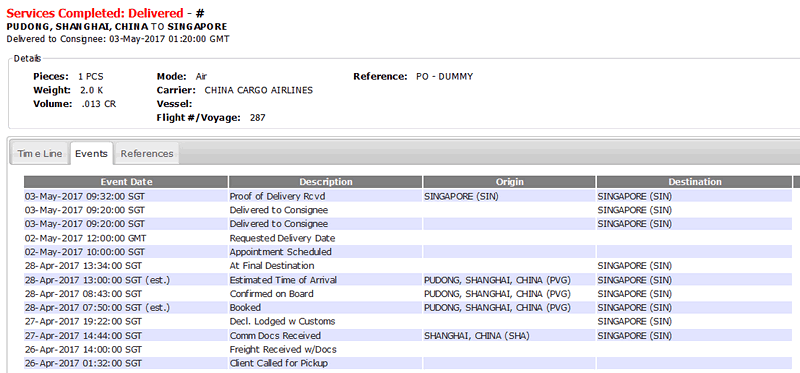 Still – the main unit arrived in one piece and worked right out of the box. More notes on it later!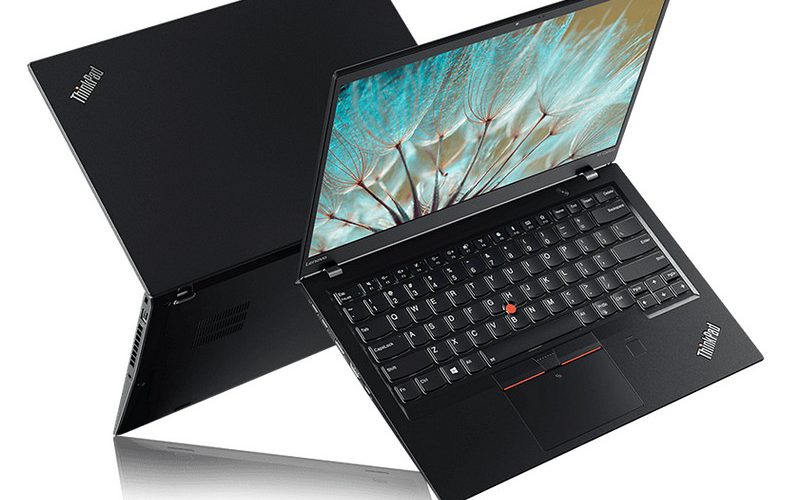 Notebook 2017
Continuing from a post from just over a month ago here. The month of March came and went past without Microsoft making a formal announcement on the highly anticipated successor to the Surface Pro 4. Insider information though revealed that the SP5 was going to largely see an upgrade from its processor to that of the Kaby Lake series, but not much else. Pretty disappointing.
I was also rethinking what my use cases for a new laptop was going to be. For certain, the 2.5 year old Surface Pro 3 isn't  keeping up anymore to what I use it for (note to self: never ever again buy a Windows laptop that comes with just 4GB RAM), and its general responsiveness seem to worsen with the recent Windows 10 Creators Update.
There were two scenarios. Either the replacement laptop will be for home use, or it will replace the Dell XPS 13 and bring that home to replace the SP3. My preference was for the latter, on account that the 256GB SSD on the XPS 13 was also straining under work use. I use a lot of media files when I teach, with my eyes starting to struggle with screen sizes of 13.3″.
So, with that, my couple of requirements for a work notebook replacement were:
Preferably a 14″ screen or larger for my old 'Uncle' eyes
8GB RAM + 512GB SSD, or at least end-user replaceable
USB Type-C support and preferably with Thunderbolt 3 support
Windows 10 Pro
At least 2 years warranty
On this, there are two nice benefits of being an educator. Purchases of personal IT equipment are partially claimable from work, and we also separately get great large discounts with selected notebook manufacturers, especially from Acer, HP, Asus, Apple, and Lenovo. The discounts offered from Acer, HP and Asus are routinely isolated to specific models however numbering usually 4-5 from each manufacturer, while Lenovo and Apple offer educational discounts on most if not all of its notebooks.
After several weeks of the usual reading-up and tabular comparisons,  the choices came down to:
Apple MacBook Pro 13: a factory refurbished configuration of 16GB RAM/512GB SSD is about SGD2.6K, with new units sold through its educational store a few hundred dollars higher. The general build and quality of Apple's MacBooks continue to be second to none, but I am pretty uncertain of its butterfly-type keyboards on both the 13 and 15s' even after spending a good amount of try-outs at the various Apple resellers. The number of complaints of spoilt keyboards on these new MacBooks is also unsettling. The non-Touchbar MacBooks comes with just two ports – both Type-C's – which would have made using all my USB 3.0 Type-A peripherals, including a ton of flash drives, portable drives and hubs, a real nightmare. The Touchbar version is going to stack an additional SGD400 to the asking price. Drivers to make full use of the Touchbar are still absent for Windows 10 too. Finally, adding Apple Care – a must after my old MacBook Pro 15 went bonkers after one year of use – is going to be another SGD300 too. So, tempting as owning a current gen MacBook is, it was just way more than what I was prepared to spend.
Lenovo Yoga 910: the Yoga 910 is rated by many sites to be one of the two best convertible laptops right now – the other is the HP x360 Spectre 13 (see below) – with both machines offering Energizer Bunny-like battery life of > 8 hrs under typical  use, premium builds, and support for USB Type C. Lenovo Singapore educational store is also offering very tempting discounts for this lovely machine: somewhere to the tune of about SGD500 less. And for a comparatively low price of SGD1679, one would get 16GB RAM/256GB SSD with 2 years warranty, with the storage drive being end-user replaceable. The screen is also a healthy 13.9″ size. In comparison, the HP Spectre x360 13 is going for slightly more at SGD2189 for a 8GB RAM/512GB SSD configuration, but with 3 years warranty. Both tempting options!
Lenovo ThinkPad T470s: was also in the final reckoning. There are very few reviews for this just recently released laptop too. None of the usual local computer stores I checked had it on display. The one web site that had the T470s reviewed in detail was clearly impressed with its general build quality and battery life, though the full-HD screen seemed to be a hit and miss affair over its rated screen brightness levels. The laptop also comes with a very welcomed suite of Type A and C ports too – a feature set that is absent on the Yoga 910 and x360. The notebook isn't actually as light or svelte as the Yoga 910 or x360 though, but its close enough. Unlike either too, the T470s and the X1 Carbon (below) are built for enterprise use. A 16GB RAM/512GB SSD/i5-7300U/WQHD screen configuration is SGD2477 after educational discounts.
Lenovo ThinkPad X1 Carbon: the fifth generation of Leonvo's top of the line notebook for Enterprise use. The X1 notebooks are basically like the ThinkPad T series: just lighter, smaller, and even better engineered. This model has been widely reviewed, with many sites uniformly praising its build quality and feature set, though not its asking price – it's Lenovo's most costly line of notebooks! Lenovo's educational discount however is significant: for a 16GB RAM/512GB SSD/i5-7300U/FHD configuration was SGD2677.

I've always liked ThinkPads, though the current one my workplace gives me is the X230 with its tiny and not elderly friendly 12.5″ screen. After weighing the pros and cons of each, the choices narrowed down to these two ThinkPads: T470s and X1. And several more days of agonizing later, the X1 Carbon it is. Coming in a fortnight (hopefully), with the Dell XPS 13 to come home in a swap. More posts about it to come soon!