Telunas
now browsing by tag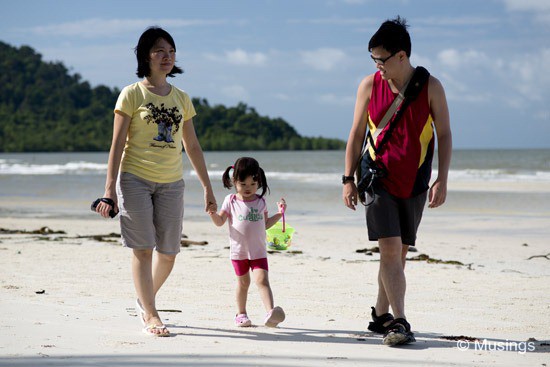 Hannah @ D800 – Part 2
Our Ang Mo bud took a lot of great portrait pictures of Hannah using his new and very tok kong (Hokkien for top-of-the-line!) D800 over the three weeks he stayed with us. Here're some of my favorites, including several that were taken before and after out Telunas visit.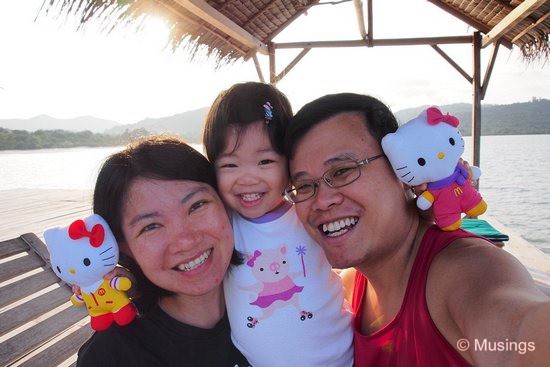 Hannah @ Telunas – Part 1
Ling remarked over the weekend that I haven't been doing any of my usual posts on our three year old girl. One remarkable change that's become evident in the last month is her growing ability to link sentences together to form conversations. Just earlier this year, she had difficulty stringing together sentences, but these days, she's able to reason and hold a two-way conversation. How quickly she's growing!
Here's the first of two posts, and it comprises several pictures of Hannah during our recent stay at Telunas Beach Resort. The bunch here were all taken using the E-M5 and 12-50mm lens. The next post will be Matt's pictures.=)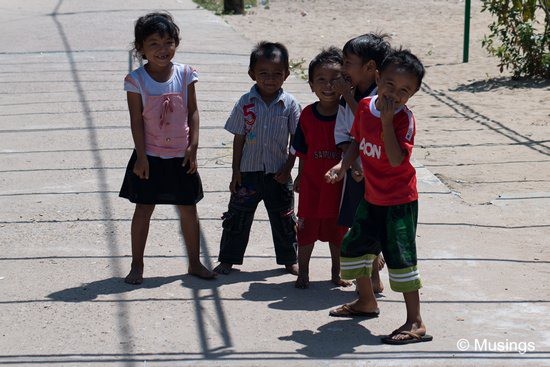 Telunas Beach Resort – Part 10: Ang Mo Perspectives
My first trip to Indonesia turned out to be a pleasant experience, and one with few complications. Indeed, everything was so uncomplicated that I was beginning to miss Singapore right from the beginning. The Telunas Beach Resort employs an excellent staff. If they dislike their jobs, they do a fair show of faking it. From the boat navigators all the way to the group hosts, everyone seems to relish their duties, performing them well and with a smile. Smiles where I come from are strictly optional and usually cost extra. I've been told that's because the coat hangers they've stuffed in their mouths are rented.
I felt right at home in my chalet. It made for a comfortable lounge if I felt like an afternoon nap (and frequently I did), and the bathroom, far less rustic than the rest of the accommodations, proved up to the task of cleansing me of sweat and any refuse that might have clung to me during my occasional swims. Except, that is, of a determined tick that had dug itself into my back. I only discovered it upon arriving back in Singapore. I truly hope I won't have a reason to blog about this experience again in the future.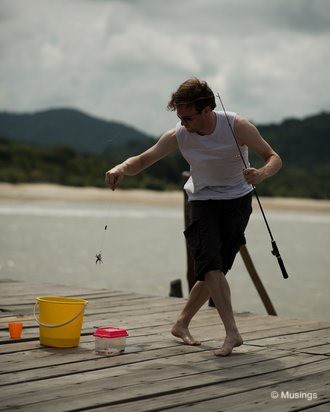 And yes, my room apparently channeled the breeze more efficiently than Yang's. What Yang didn't mention is that I needed not an additional oscillating fan but a goshdamned shovel each time that bountiful breeze deposited sand onto me through my bed-side window. Each morning upon waking up I considered myself lucky if the residing children weren't building sandcastles on my belly. At first I suspected shenanigans at play. It wasn't until I camped out in my bed late one night, laptop on my left, serrated knife coated with fresh sambal chili dipping sauce on my right (hey, it's all I could find), that I noticed the movie playing on my laptop featured a sandstorm in it every 5 minutes, perfectly synchronized with the incoming buffets of wind. I guess that was why I had to force that particular window open every morning and prop it outward (and also why housekeeping closed it each and every day). The joke's on me after all.
As Yang mentioned, eating lunch in a local's home on Jang Island was the highlight of my trip. Not so much because of being exposed to new experiences, but because of the deception I deployed: When our gracious host wasn't looking, I used a cucumber slice as an improvised spoon with which to shovel food into my mouth. (Yang later admitted to having done the same.) You'd think as messy as I am around the dinner table that using my hands to eat would be second-nature to me, but you'd be wrong. If I'm going to die at the dinner table (or dinner mat, in this case), it's going to be from choking on the delicious sambal prawns or homemade fishballs, not my right thumb. But seriously, I really enjoyed dining with respect to local and religious customs. I only wish I could get those last few rice grains out from underneath my fingernails.
The jungle hike ranks as a near second. Our guides Nick and Amin were conscientious and top-notch. I was also mightily impressed by the fortitude Yang and Ling exhibited by carrying Hannah nearly the entire way through. The jungle itself presented itself as an awe-inspiring environment demanding of respect. After a while, however, the thrill of telling myself, Hey me, I'm in the jungle! wore off and another realization began to rise to the fore: This reminds me of hiking through Missouri. The illusion of exoticism was shattered forever when an obstinate cow obstructed our slender path. It seems no amount of tropical fruits and vegetation is going to ever be enough to prevent one-thousand pounds of cow ass bringing you back to earth.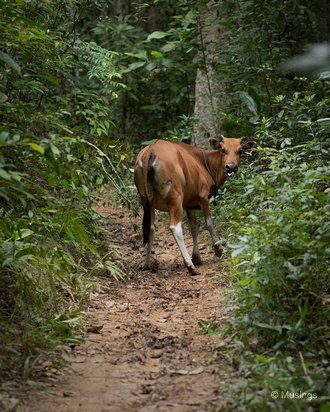 I can relate to Yang and Ling's disappointment about the state of the beach and the waters, but as someone who has lived all his life in a land-locked state in the center of the USA, my expectations are decidedly of lower standing. I also happen to live near a gargantuan man-made lake that is assuredly filled to the brim with sewage of some sort, and that doesn't stop half the population of the Midwest from vacationing there every summer. As long as floating dead bodies are removed in a timely manner, we'll swim in just about anything.
Another disappointment is that I never found myself in a situation that required me to bribe someone. It occurs to me that locals are under the impression that Caucasians want nothing more than to avoid corruption. Speaking as an American, I can say nothing is further from the truth. We prefer corruption when we're abroad because it's much cheaper than the corruption at home. Sure, bribes abroad require instant cash, whereas corruption at home is most often deposited directly from one's bank account during tax time; however, we tend to find cash exchanges much more personal and satisfying. So, for future reference: As long as the US dollar retains at least some semblance of strength, we Americans welcome any corruption you can manage to confront us with. You guys really lost out this time.
To those who asked me my impressions of the scorching hot Indonesian weather: Try walking 10km under direct sunlight every day in Singapore with a 6kg messenger bag sticking to the sweaty small of your back. I'm pretty sure you'll find hiking through the Indonesian jungle or sprinting across the jetty to the beach a pleasant experience by comparison. (And yes, yes, I'm a total idiot for walking so much in Singapore, but never mind that that's a stupid thing to do given the wonderfully efficient and relatively inexpensive public transportation. I never said I was smart, just used to the heat—the Singaporean heat.)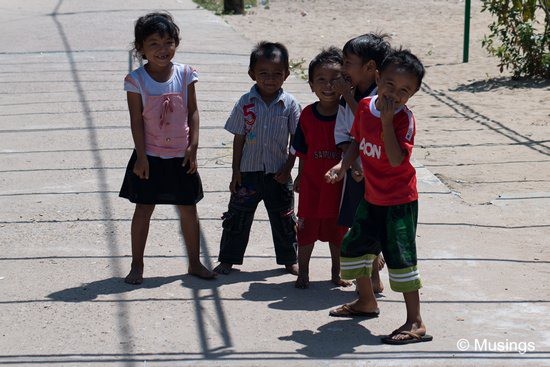 So, all in all, I had a great time, reinforced by great company. I don't think I would have enjoyed myself nearly as much on my own, so I'm eternally grateful to Yang and Ling for allowing me to tag along on this wonderful adventure. But after 6 days and 5 nights at Telunas Beach Resort, the barnacle had begun to form on my ankles. That's a sure sign you've got to get back to civilization.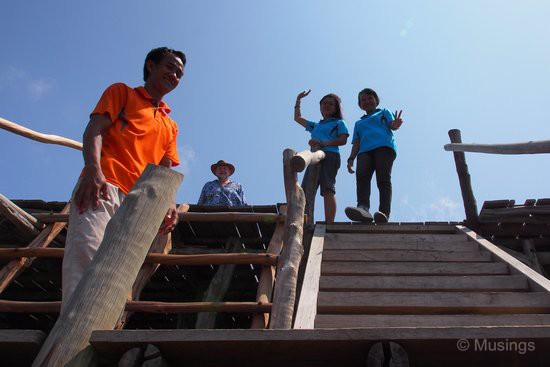 Telunas Beach Resort – Part 9: Overall Perspectives
Part 9 of our series of ten posts on our stay at Telunas Beach Resort. For the other posts, do check this link.
When it comes to our writing an overall impression of a property we've stayed for vacation, the one question we'll ask ourselves is always this: will we be coming back? From our six day stay at Telunas Beach Resort, it's a qualified 'yes'. And like our other stays, Ling and I are pretty much in consensus about our impressions of the Resort, its activities and hospitality.
Starting off with its strong points: the Hospitality and general feeling of 'home' and coziness the attending staff will pass onto you. The local hosting staff spoke very good English, and the other workers understood enough rudimentary English to answer simple questions too. The hosts – especially our assigned staff Hanna – were friendly and engaged us in friendly banter, making sure that our needs were taken care of and always making adjustments to customize our stay or make things easier for us, especially for Hannah.
Accommodation. The Chalet room was large enough for the three of us – it can readily house a family of four – and bathroom facilities were excellent for a resort of this type, and definitely superior to what I recall at Rawa. At SGD205 per night for the chalet with three meals included, the Resort's price point was also a big advantage for us too.
Apparently for two days during our stay too, the big boss and one of three owners himself was also staying in the Resort. The staff were candid enough to share some cute observations (nothing awkward rest assure to any Telunas staff members who stumble upon our blog) about their working relationships between their bosses and themselves!
Also, there were only two families staying during our last two days; ours/Matt, and a trio of middle-aged Australian visitors who were also in for a six-day stay. There was a true sense of seclusion and idyllic peaceful living that was exactly what I was looking forward to (more on that later under 'Problems').
Dining was fairly good to excellent. Visitors first need to get past the fact that the Resort's canteen is the only dining place on the island, and not to expect the usual international buffet spread comprising of at least a dozen items. Ling, Matt and Hannah for certain enjoyed everything that came out of the kitchen, me somewhat less so because of my lack of affinity for specific food types i.e. apple pies and banana crepes. Food was always plentiful, and with three meals a day, there is really no need for you to bring additional snacks for your stay. And if you really want your can of Coke or packet of Pringles, the canteen sells them at reasonable prices. Definitely unlike the super marked-up prices you come to expect from most other properties. Given the general humidity and warm ambient temperatures in June though, I would have preferred the drinking water to be kept at lower temperatures to combat the scorching heats we experienced, but that's a minor thing.
Activities wise was a mixed bag but mostly still good. My strongest impression was the Jungle Waterfall Hike for both the beautiful waterfall and cool freshwater pond there, and also its painful hike carrying Hannah! Matt's biggest impression in contrast was the Malay Village Lunch, and I suspect on account that he's done a lot more hiking and waterfall visits than I have. The Waterfall Hike is well worth the time spent, and the walk will be easier in dry weather compared to the mud we traversed over. The Malay Village Lunch was a little pricey but it would be a real eye-opener if you haven't experienced dining with locals in this fashion before. The Candlelight Dinner was alright too, though depending again on when the sun is setting during your visit, you might want to get started on it a little earlier or dine in near total darkness! As for general fishing, we caught nothing – but Matt fished plenty of crabs around the jetty.=)
And the swimming! The three of us didn't eventually swim, given the fact that waters were really murky, and Ling has some serious questions about whether the waste generated by guests was going directly back into the sea. Matt had no such reservations however, and many other guests took real advantage of the two leaping platforms – like the 6m one below – at the jetty.
The one activity disappointment for us was Shrimping, the more so after hearing all the hype about it. Whether you get to see/catch anything is a seasonal thing, and we did go ahead with it after hearing the Resort's frank advice on the probability of catching anything. Ironically, Ling had far better luck just wading out in low tide to where rocks were, and in broad daylight armed only with a flimsy paper cup. She returned in 5 minutes with 8 shrimps!
Transportation. We concur with other Tripadvisor reviewers that the private boat option from Sekupang to Telunas is the way to get to/from, even considering the cost of SGD270+ each way. You get to decide when you want the boat, and the Telunas staff will accommodate. If you want to save cash, Telunas can advise you on other visitors' movements the same day and you'll save some money by sharing the private boat rides.
As for the problems. Tripadvisor rates this place as one of the world's best all-inclusive family resort. I'm not quite so sure if it's of that sterling rank, and Ling is even less accommodating; she felt that the Resort is somewhat over-rated. The Resort saw a very large group (~50) of young adults from an institution in Singapore during Day 2 to 5 of our stay. Apparently, this particular institution makes annual Community/Teambonding stays to Telunas. While you can expect a certain level of profanity and rowdiness coming from young adults, the group was still on the overall well-behaved. However, their presence also meant that during the four days they were there, the place felt real crowded. There was competition for lazing-around facilities – e.g. the sitting areas in the canteen, dining space, beach chairs etc.
To be fair, in my reservation inquiries with the Resort, they did make aware that there would be a group of students during our period of stay, and they tried their best wherever possible to separate that group via students' itinerary from the rest of the guests. Matt also chuckled to say that American high-school kids are far worse, because there would be nothing left standing by the time they're through! But if you're coming to Telunas intending to get away from crowds and you care only for family/couples guests, you'll want to be inquire whether there are similar such groups during your period of stay and decide accordingly.
The more serious challenge though was whether the Resort is really optimized for large group stays, or family stays. I think it's the former, because some of the most fun things – e.g. the Jungle Waterfall Hike, beach pizzas, low-rope – seems to be geared towards large groups. I certainly think there could be more Resort-organized activities for small families, outside which you really then need to make up your own itinerary. The staff love young people and had fun activities planned out for the student group. But there seemed to be less confidence in the air concerning what the other family guests like us could do. We were contend to just laze around when we had nothing planned for the day.  Thanks to Ling, we spent half of our stay exploring the beaches! But unless you're trained like her to spot bubbler crabs, hermit crabs, tube worms, kingfishers, toucans, shrimps and whatever else lives on these beaches, it's hard to experience the natural biodiversity of these beaches, or to just enjoy walking on the beaches as we did.
I've also written that our period of stay in June wasn't ideal. The weather was scorching, and our room was relatively less breezy than Matt's, necessitating the use of an additional standing-fan (the Resort immediately obliged to the request). The beach wasn't in a clean state and had more debris than what you'd spot in the kilometers of East Coast beach back in Singapore, let alone the more pristine beaches in Rawa or Redang. The best time to visit is apparently in December to April where the water is clearer and of pleasant blue hues than the murky green we observed.
The last challenge is a minor one. Sunrise and  sunset is partially blocked by low hills and vegetation. Quite unlike Rawa, where we easily climbed a gentle hill to see the morning sun rising, with a similarly uninterrupted view of the sun setting from the jetty there. Travelers thinking of amazing photographic moments will need to be temper their expectations or work a little harder to get the shots they want.
In sum, I think we might return back here for a second visit, if nothing else because during the December school holidays, the beach resorts off the Mersing coast will be experiencing monsoon. Telunas waters should be clear, though we'll want to check with the Resort first then! Hannah for sure enjoyed the six day stay, though not to the point where she was reluctant to leave. She said "I miss my big dog-dog, my big sheep-sheep, my small sheep-sheep…" etc. etc.=)
That wraps up our review of Telunas Beach Resort. The tenth and last post will comprise some of Matt's pictures and his commentary.=)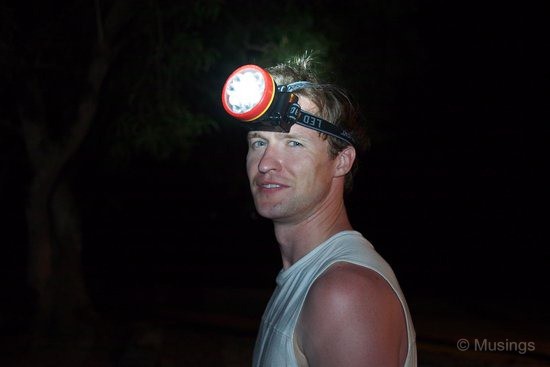 Telunas Beach Resort – Part 8: Shrimping
Part 8 of our series of ten posts on our stay at Telunas Beach Resort. For the other posts, do check this link.
What's 'Shrimping' I hear you say? Basically, it's an activity where you go out onto the beach at night armed with head-mounted spotlights and miniature harpoons, and scan the area at low-tide for shrimps. Apparently, these fellows can be spotted easily since their eyes turn red at the spotlights.
Unfortunately, the season for Shrimping was not in our favor. Specifically, waters were warm, and waves weren't calm An earlier party had gone out two nights before and returned with exactly one shrimp. We thought we couldn't fare any worse, so off we went for it on Day 4. Boy, were we proven wrong – we ended up with zero shrimps! In all, a real disappointment. The Shrimping exercise was all at night so I couldn't get very many pictures in (I was in a balancing act holding Hannah's hand,a harpoon, and the E-M5).
The irony was the following morning, Ling waded to the other side of the beach at low-tide at mid-afternoon, and returned with eight shrimps. And all she used was a cup!
The next post – Part 9 – on our overall impressions of Telunas Beach Resort.=)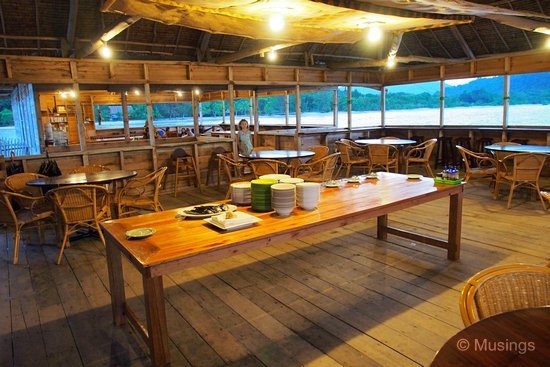 Telunas Beach Resort – Part 7: Makan Sutra
Part 7 of our series of ten posts on our stay at Telunas Beach Resort. For the other posts, do check this link.
For guests, there is no restaurant to speak of on the island. Essentially, each accommodation package comes with three square meals a day. Guests are invited ('summoned'?) to meal time at the canteen with a loud bamboo gong at 7:00 AM, 12:00 PM and 6:00 PM. In short, you eat what they give you and when they give you, unless you're going to pack in your own SAF MREs, potato chips, or cup noodles into your luggage case (there's no need to for the latter two by the way; the resort canteen sells them at prices just slightly higher than on mainland Singapore – not too bad).
If that sounds bad, it really isn't. Communal dining is always a fun experience, and the guests there all behaved themselves. Perhaps that there was always excess food on the table meant that I didn't see the atypical Singaporean behavior of making a straight line for whatever they want most and hoarding it for themselves. Breakfast was often western-styled with the odd Asian dish, and throughout the six days we stayed, we had toast, pancakes, cinnamon rolls, mee goreng, and done-on-the-spot omelets. Lunch and dinner routinely saw rice, a meat/fish dish (fried sesame prawns were out of this world), a vegetable dish (e.g. xiao bai cai, long beans with corn, vegetables in coconut milk) and another side (their onion rings and fish soup were super), supported by desserts (cakes, apple pies, banana crepes) and condiments (Matt scooped up the super hot belacan chili and ate it by the spoonful). The menu was rotated every 4 days or so during our stay.
Coffee and tea was available 24/7 and DIY. And for our class of accommodation, we had the option of having our choice of teas and coffee brought to our room each morning for us to sip on our balconies. We didn't go for that option though, preferring for our beverages to be brought into the canteen for communal breakfast.
To be fair, those of us spoilt on luxurious buffet spreads at other Resorts might feel a little underwhelmed. Then again, for what we paid for the accommodation and that all meals were included (they're also available at SGD12+/adult), I certainly had no complaints. Food was replenished quickly, and as a general rule, delectable. On the occasion when we returned late from the Jungle Waterfall Hike, food was already laid out on the table for us to dine.
My only complaint? There were two large water dispensers to keep us hydrated. I would have appreciated a couple of ice blocks dumped into the dispensers to keep the water cold! Our stay was at some of the warmest months of the year, and room temperature water meant slightly lukewarm-ish water. Ugh.=(
The next post – Part 8 – on Shrimping.=)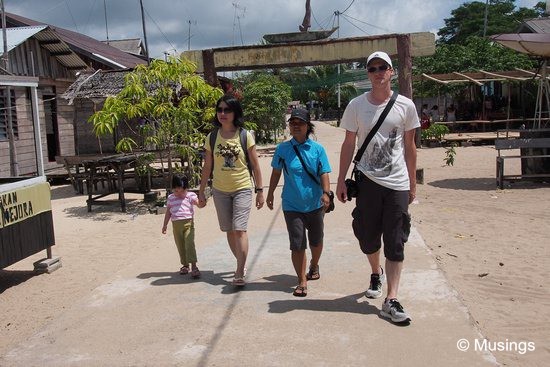 Telunas Beach Resort – Part 6: Malay Village Lunch
Part 6 of our series of ten posts on our stay at Telunas Beach Resort. For the other posts, do check this link.
Another activity that was mentioned on the Telunas Beach Resort was a visit to a nearby Malay fishing village for lunch. Basically, guests will be hosted by a Malay family for a home-cooked meal, with the family possibly one of the Telunas local workers' who might be able to receive guests on their off-day, or a family that is known to the Resort through its numerous local contacts. There weren't many traveler reviews mentioning this activity on Tripadvisor, though one noted that it was a humbling experience to visit a local family and seeing the vast difference in living conditions against what they enjoyed back at home or even at the Resort (i.e. running and clean water, heater, fans, electricity).
The both of us have seen and experienced rural living before. Some of Ling's relatives are in fact also Indonesian fishermen and we visited and stayed with them at Medang in 2007. But since the activity was yet another thing to do and we thought Matt would be interested in the experience too, we went for it.
Just prior to the visit, we were asked if we had aversions to spicy food. That, as always, elicited the usual nudge and winks from us since Matt was with us. We chuckled and told Elsa (one of our two Telunas hosts) that Hannah eats everything, and for Matt, the hotter the better!
The home that was hosting us was situated on Jang island, which was south-west of Sugi island. Ian, a petite staff, was our guide and we took off on Day 4 late morning for a 15 minute boat ride to the island. Like the other islands we've seen, getting up and down the jetty involved climbing a steep wooden ladder, and Hannah required the help of locals to hoist her up and down the boat and jetty!
The village was relatively more developed and 'advanced' than where we stayed at Medang. Most houses were brick, mortar and glass window constructions. There was also a relatively modern-looking school and mosque too.
The Indonesian gentleman who hosted us was a fisherman by trade, and had three children of about high-school age. He didn't speak English, so we conversed through Ian. He seemed pretty experienced in entertaining guests to his home, showing us pictures of visitors from Singapore (including a group from what we were told to be Nanyang Girls' School) who stayed overnight in his place to experienced living in the village. Perhaps because of the absence of fans in the house and also that there was a stillness in the air right in noon-time heat, Matt and I were perspiring profusely throughout lunch!
Our lunch comprised three dishes; a vegetable dish (bean sprouts and xiao bai cai), tomato prawns, and fishball soup. This might seem simple fare for Singaporeans, but they were marvelously done and delicious. In fact, Hannah loved the hand-made fishballs so much that she kept going for it and we had to nearly use force for her to stop.=)
Lunch done, we learned that our boat was coming a little later as it'd gone to pick up an arriving group of Caucasians to the Resort. That gave us about half an hour to explore the area. It would had been a real photographic treat for me were it not for the scorching heat though, and I made a beelilne for whichever shade I could find whenever I could. Hannah fared quite well the earlier day at our Jungle Waterfall hike, but in the about 15 minutes we were out in the relative open, she got a visible tan!
In all, I think the Malay Village Lunch will be an eye-opener for visitors who'd like to see the real living conditions of the locals. It wasn't quite the same illuminating experience for Ling or myself, and I felt that the event was rather pricey at SGD100 though Ling suspects it's largely because of the boat ride itself. Oh well. At least Hannah thoroughly enjoyed the food. She licked her plate clean (with some assistance from Mommy), had at least a dozen fishballs and four bananas.=)
Next post – Part 7 – on the food at the Resort.=)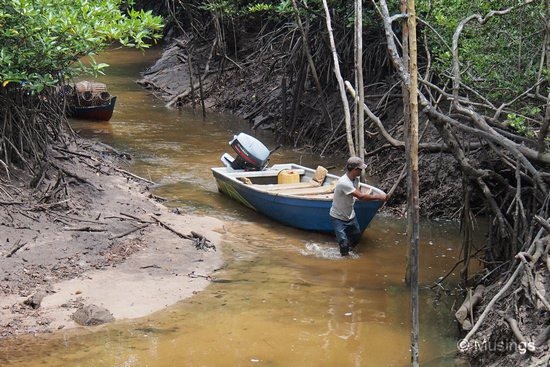 Telunas Beach Resort – Part 5: Jungle Waterfall Hike
Part 5 of our series of ten posts on our stay at Telunas Beach Resort. For the other posts, do check this link.
One of the suggested highlight activities of a Telunas stay is the Jungle Waterfall Hike. This is by no means our first visit to a South-East Asian waterfall of course, and that a 12 km hike was necessary to get to the waterfall was daunting. And to get to the start-point of the hike involved a 20 minute boat ride to the other side of the island. However, the payoff would be a dip into a freshwater pond supported by two jump-off points too.
If we were the only two travelers, this would had been an easy decision. But we decided early on that Hannah would love the experience of dipping into the freshwater waterfall pond too. We just had to mentally prepare ourselves of cajoling/carrying/piggy-backing her the 12 km each direction!
Fortunately, Ling's always thoughtful when it comes to preparing our party for this sort of thing. We were armed with military grade sunblock and insect repellent that was so pungent that all the mosquitoes in the vicinity probably ended up feeding themselves on the numerous chickens or odd cow we hiked past in the trail. We brought our a piggy-back harness for Hannah too, but ended up using the superior harness the Resort offered for loan.
The boat ride was through fairly calm waters, and took us through very shallow mangrove swamp waters. Our jolly Telunas staff guide, Nick, explained that ideally, visitors should make the hike when it's high-tide as it'd mean we can take the boat further in and shorten the hiking distance. Moreover, we were a pretty small group of ten – our party of four, another family of four, Nick, and another local guide who was also one of the two boatsmen – which meant that the boat they used was a pretty small one that could fit through the narrow and winding streams of the swamp.
The vast majority of the trail was muddy, which thankfully was made easier to walk on through long planks for the worst parts. The ground was pretty wet from earlier rain however, and it wasn't easy navigating through numerous sections of the trail. Hannah initially wanted to walk, but she quickly lagged so far behind the point-man that she gave up and asked to be carried 10 minutes into the hike. Ling and I took turns to carry her, and the sum of that experience is one word: painful LOL.
The 12 km hike took us a total of about 100 minutes. Earlier visitors had noted that they spent about 15 to 20 minutes at the waterfall, but we ended up staying for 50 minutes! The water was marvelously cool and also reasonably clean. There is an alcove too that you can stand at and enjoy the full blast of the onrushing waterfall waters. It felt like a power massage!
Our Ang mo bud didn't try the waters himself, despite all our encouragement. He was quite contended to stay on the rocks and got in some nifty long-exposures of the fast-moving waterfall and also streams.
The return journey was a lot quicker than getting-there. One of the boatmen offered to carry hand-carry Hannah, which we took up the offer for half the journey back before I took over again.
In all, was the 24 km hike both ways worth it? Definitely, and more so if you don't have to bring/carry a three year old.=) And for visitors to our blog, you really should stay longer than the 30 minutes the Resort review suggests. The Telunas staff didn't (of course) pressurize us to leave early, and we made up for the time by double-timing on our return journey. Or maybe it was just that we were so hungry for lunch by the time we were done!
Next post – Part 6 – on the Malay Village Lunch event.=)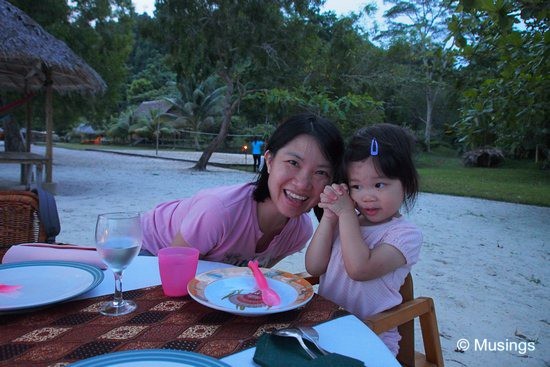 Telunas Beach Resort – Part 4: Couple's Candlelight Dinner
Part 4 of our series of ten posts on our stay at Telunas Beach Resort. For the other posts, do check this link.
Ling cracked a little joke on Matt after we firmed up our request for our Couple's Candlelight Dinner on Day 2 evening. She said in jest, "Matt, we're sorry – but we need to find you a baby-sitter."
It was a candlelight dinner alright, though not quite for just the two of us. Hannah joined us for it, so it was really a family candlelight dinner! The activity was priced at SGD50+. Essentially, a table was laid out by the beach, and dinner comprised of a cone of yellow rice, beef rendang, deep-fried chicken, a-char, ikan bilis/peanuts, a beansprouts and coconut mix, and condiments. Dessert was the banana crepes that Tripadvisor guests have raved about. Food was in excess again for the three of us, and as with the other meals, delicious.
Ironically though, it got dark so fast that 20 minutes into dinner, we were struggling to see what we were eating! Within 40 minutes, it was nearly pitch dark with the only illumination coming from two candles which weren't given off very much light. We hastily finished up dinner (keep in mind that there was heaps of food) before something foreign crept into our yellow rice LOL.
So; suggestion for visitors. Check to see how fast evening turns to night, and if you need to, ask to start the Candlelight dinner earlier.
The next post – Part 5 – on Jungle Waterfall Hike!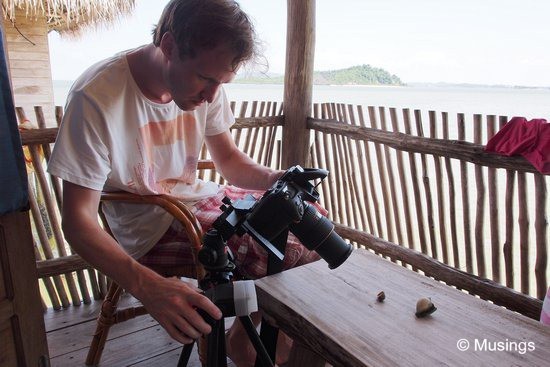 Telunas Beach Resort – Part 3: Hermit Crabs and other Animals
Part 3 of our series of ten posts on our stay at Telunas Beach Resort. For the other posts, do check this link.
I have to hand it to Ling. Whenever we're out on a trip or visit to a place that's close to nature, you can count on her to point out all things to show Earth's natural biodiversity! Sugi Beach – where Telunas Beach Resort is situated at – isn't a pristine or clean beach, and we saw trash on the beach. But as Ling – being who she is – was still able to spot fine specimens of a small range of critters. She did heave sighs of disappointment at the state of the beach and the amount of trash the tides were bringing to shore, then went about her critter-spotting business.
On the first trip out, the two girls brought back to the chalet several small specimens which Hannah delighted in playing (scaring to death?) with, and we released them back to the beach by the end of the day. The critter below was one such hermit crab Hannah and Ling found on Day 2 morning, and was about half an inch long.
That very same late afternoon, Ling walked till quite far down the distance, and returned with two much larger fellows. One whose shell measured an inch long, and the other (below) even bigger at more than 1.5 inches. The two critters were hyperactive, and when we set them down at our balcony, immediately made a beeline for what they determined were escape routes!
Matt and I went all paparazzi on the two fellows, though the larger crab was by far the more photogenic one. Matt's D800 was capable of far better image resolution than my E-M5 could. The pictures I managed – two samples above and below – pale in comparison.
This other specimen was a small fellow at just one centimeter long that Ling found on Day 5. We let him scurry about for a bit before letting him back into the beach.
Ling – with eagle-like eyes – also spotted several several fine specimens of sea anemone on the beach on another one of our trips out to the beach. These are about two-inch wide, and tentacle-like. The rest of us with untrained eyes would have happily just thought these to be debris or splotches of dark sand! They apparently need seawater to survive, and will naturally shrink back into their tube to prevent dehydration in low tides.
And this is a Sand Bubbler Crab. A male Sand Bubbler Crab. How does Ling even determine that? I have no idea LOL.
And one inch long shrimps that Ling caught – effortlessly using a cup!
Next post – Part 4 – on the Candlelight dinner on the beach.=)