Sweet potato porridge @ Home
Well, this entry should be flagged "by demand".:)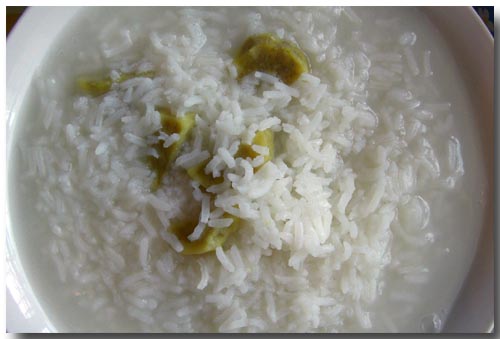 Seriously, as what Ling told me the other day, sweet potato porridge is known here in Singapore as a "poor man's food", largely because of the very low costs that go into its preparation. Apparently, many in our parents' generation were either prudent in spending or that they weren't as affluent as typical Singaporeans seem to be these days. So, their meals often were porridge cooked with cubes of sweet potatoes.
These days, it's still a semi-popular dish but it's hardly ever sold in eateries. Possibly because it's so easy to prepare and the low cost makes it sort of silly for any hawker to setup shop just to sell this porridge, unless his version of the fare has some special taste in it. The way I do it for two person portions is like this:
Empty 1.5 cups of rice into the pot, rinse it once, and fill the pot with at least one third full of water. Boil. Cut the sweet potato into small chunks of around 1 to 1.5 cm sized cubes.
Once the water's started to boil, toss the potato chunks. Stir and mix it up a little.
Boil for around 10 more minutes or until the porridge turns reasonably viscous, then divide into bowls. Wait for the porridge to cool a bit, then serve.
Thing is, sweet potato porridge in itself is really tasteless. The trick is to eat it not by itself, but as a replacement for the rice item, and accompany it with other dishes with strong sodium tastes. My personal favorite is pan-fried luncheon meat. Yeah, that's not terrifically healthy stuff, but even Ling has been won over by the combination.:)