Sigma 24-60mm
now browsing by tag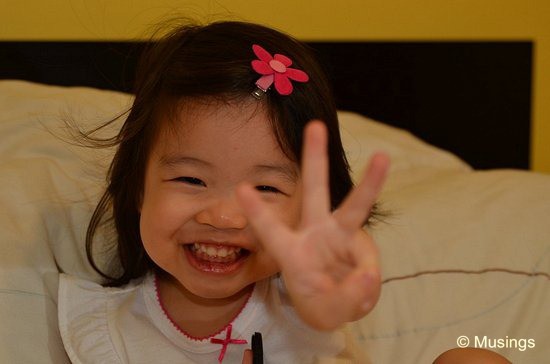 Hannah @ 24-60mm f2.8
The Sigma 24-60mm f2.8 saw a lot of use when Hannah was a year old, but hasn't been anymore of late since I picked up the 35mm and did micro-AF tuning of the 50mm. I picked up the full-frame lens for a terrific bargain at SGD385 in 2008, and that price only because it was getting replaced by a newer and much more expensive model. The lens initially had some back-focus issues with the old D300, but after calibration at the Sigma Service Center, it has become the sharpest all-rounded lens I've got, alongside the 35mm.
Here's a bunch of pictures taken casually this evening just before Hannah went to bed. I was fooling around with the flash unit's wireless mode, basically haphazardly tossing it onto our dressing table – and not noticing that the table's half-height mirror was right beside it, sending light all over the room and casting nasty shadows about.
Lesson learnt of course. Hannah's poses were, as always, priceless though.=)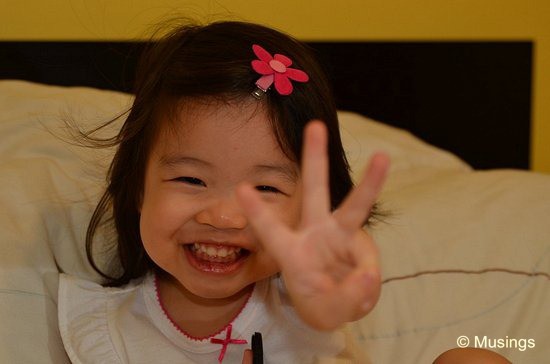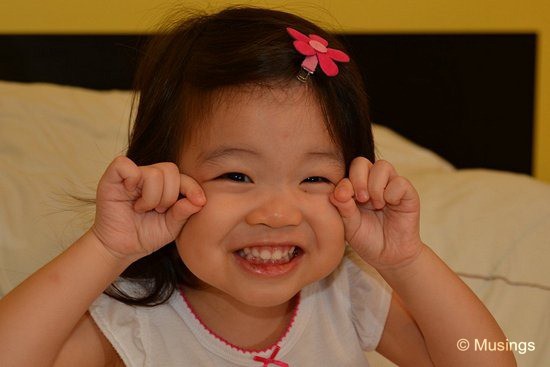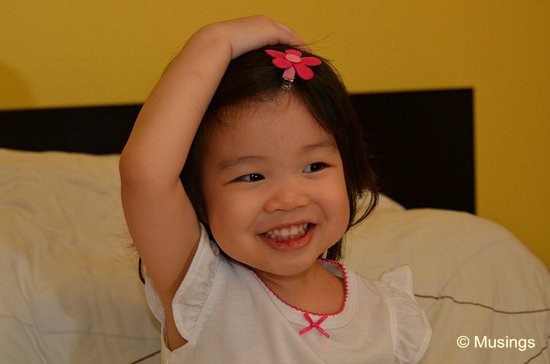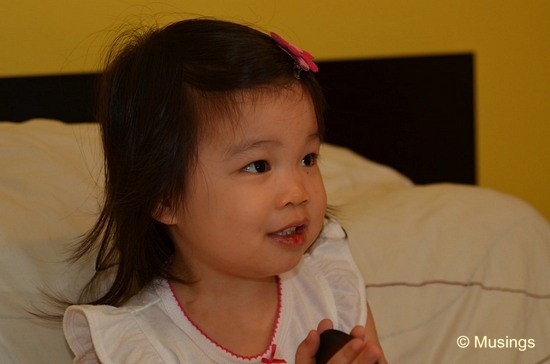 Chinese New Year 2012
The first day of the lunar new year didn't go well. Hannah cried at home before we headed to our family home, cried some more there and in fact every time we tried to get her to sit together for a family picture, and cried yet some more at in-laws. It was a pretty tiring day for the both of us, having to pacify and cajole her!
I lugged along the Manfrotto tripod and a new remote trigger for the D7000. Several of the pictures were messed up though and required quite a bit of recovery work in Photoshop. I'm still figuring out how to properly work the D7000, and didn't set metering properly, and mistakenly trusted the LCD panel playback view more than the Speedlight SB600's i-TTL flash output, leading to several pictures somewhat underexposed.
At least the key pictures turned out still alright, albeit a couple with post-editing cleanup.
And finally, a funny picture from the previous night during the Reunion dinner.=)
Boys with Toys
It's incredible that nearly four years have passed since I picked up my Nikon D300. I've just sold away that much-loved camera, and the next owner remarked that I take incredibly good care of my equipment because that four year old camera still looked as good as new!
Though there still is a worldwide shortage of Nikon DSLR bodies – none of the five stores I checked here in Singapore had stocks of the D7000, nor any indications when it would be replenished – I got lucky with an online store here which imports camera equipment. The shop was pretty confident it would be able to acquire an export unit of the D7000, so I gave them a try by putting in an order for it a week ago. The order came through on Monday morning, and I've just picked it up. The unit I got too was absolutely straight-out-of factory with zero number of shuttle actuations – nice.=)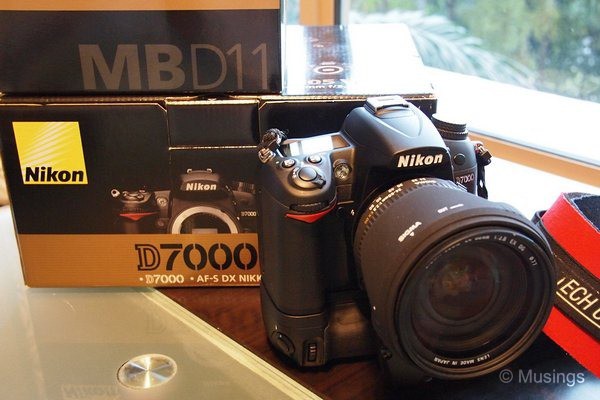 Funny story here too. The store also realized that there was a waiting list of customers all wanting this unit, and half-jokingly said that if I had not picked up my newly arrived unit quickly, they would sell it to someone else immediately!
How the D7000 fares as a DSLR has already been well-reviewed in many photography-enthusiast sites, so I won't do a blow-by-blow analysis in this blog entry. Instead, I'll just center on the specific things that matter to me and how the new D7000 compares to my old D300.
Better than D300
It's lighter.
It's smaller.
Next-gen sensor, so better low-light performance.
Worse than D300
It's cheaper and feels exactly that. Not nearly built like the D300 tank. Some parts feel real plasticky.
Shuttle-release sound not quite as awesome – really!
Multi-selector/dial button feels stiff.
Fewer dedicated functional buttons and levers. I'm already missing the levers for metering and focusing.
Top control panel LCD is small – I was squinting at the digital readout.
Oh well. More notes and quips to come soon. At least the unit seems to work perfectly out of the box, and I have been able to get some nice shots of Hannah with her favorite game:
Christmas Tree!
Though we've been staying here at The Rivervale for five years now, we've not gotten a Christmas tree for our home before. The catalyst this year round is Hannah – she's fascinated with the Christmas tree lights! So, over the weekend we went on a spree around Ikea Tampines and the Giant Hypermart next door to pick up what we needed to set it all up. I didn't have a strong persuasion on the type of tree, apart from that I really prefer a artificial one – and only because I didn't want to have to do major clean-up with a 'live' tree after Christmas!
Many pictures to follow. =)
Pigtails!
Ling has started tying Hannah's hair into little pigtails.:)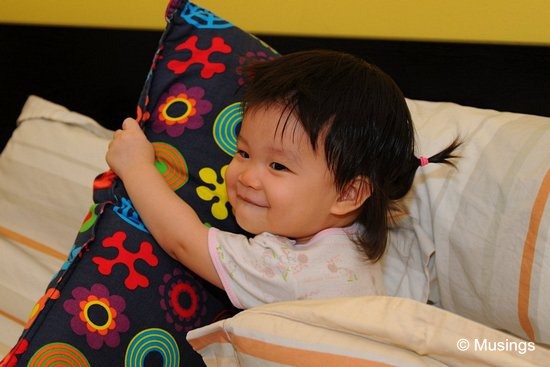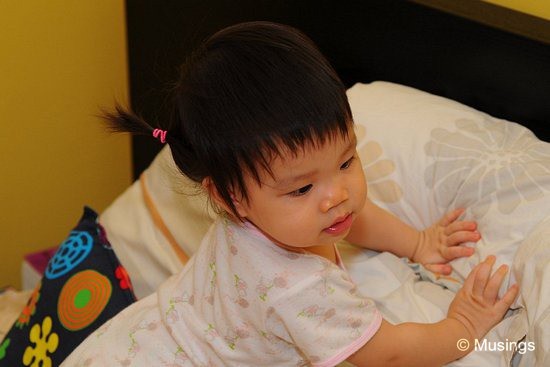 And Hannah doesn't seem to mind – or notice. :)
Baby in Bed
More fun baby pictures of our baby girl.:) These were taken on Tuesday evening. Right when we were setting her down to her bed for the night, I thought the juxtaposition of colors would make for a nice picture with Hannah in it. There're broad strokes of white, red, blue and green – and a giggling girl to boot.:)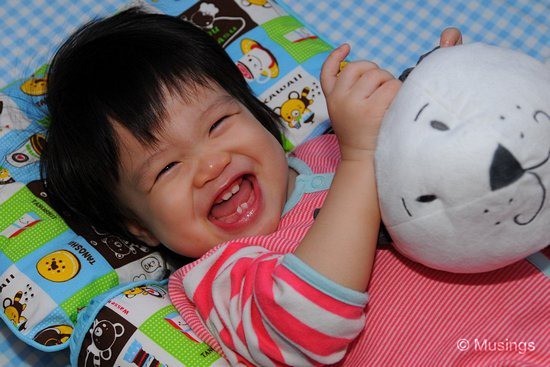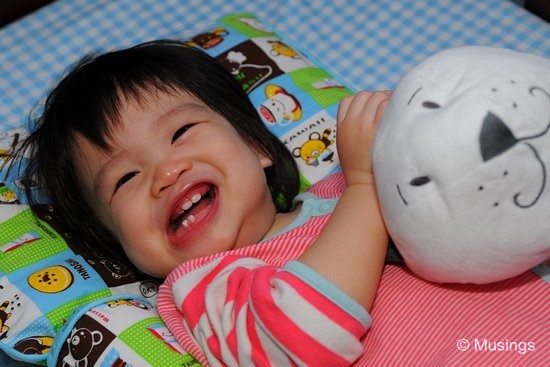 I think we're real lucky that Hannah laughs easily. Or maybe it's just a baby thing.:)
The Red Clock
The play yard we picked up several months ago has been experiencing minimal use recently, since Hannah doesn't react very well anymore to roaming about with plastic partitions. We routinely let her walk around the living room and study these days, and she's learned to sit by herself at the entrance of the kitchen and not enter unless one of us asks her to. Wonderfully learned behavior of the part of our little girl.:)
That said, our favorite spot – as in for Daddy and Daughter – still remains our bed in the master bedroom. She'll climb all over the mattress and linen, play hide and seek with the little red clock, and – of late also – sprawl herself on the bed, giggle and on the occasion stone too. All under my watchful eyes though. While she's learned to recognize the danger areas, e.g. where the edge of the bed mattress is, there still is always the possibility of her accidentally falling and hitting herself on the bed's wooden frame.
Plenty of photo opportunities when she's at play with the little red clock, though it no longer works very well anymore since she's been pulling at its knobs and dials.:)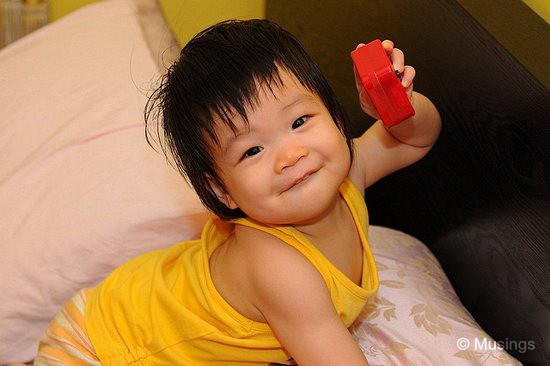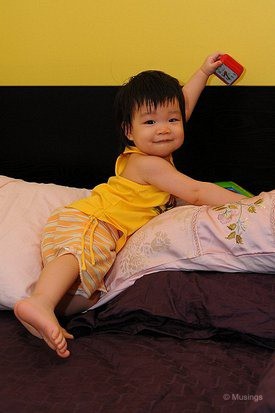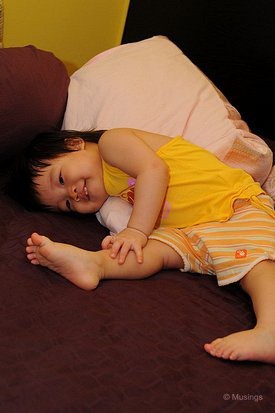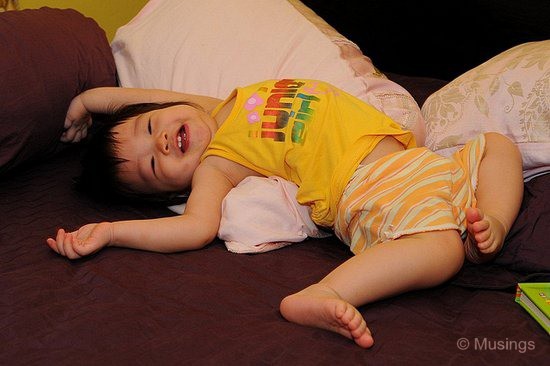 Nana & Mommy
Day three of the long weekend! We were originally intending to head down to Ikea and Tampines Mall for brunch and to pick up replacement cabinet handles for the kitchen but decided not to squeeze with the rest of Singapore at these two popular joints. So, it was the usual haunt at Compass Point – Ling always has stuff she can buy at Kiddy Palace. Couple of pictures before we headed out first.:)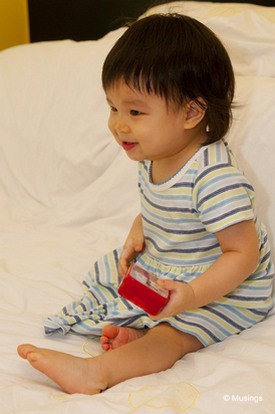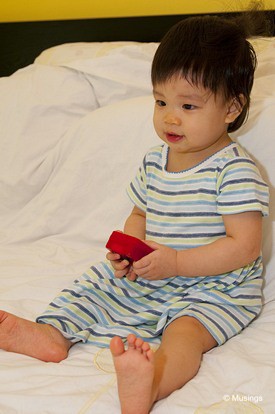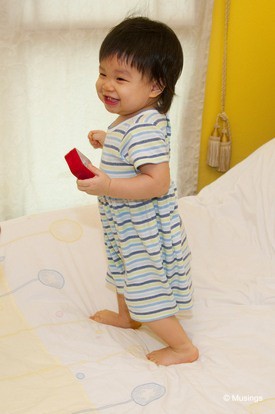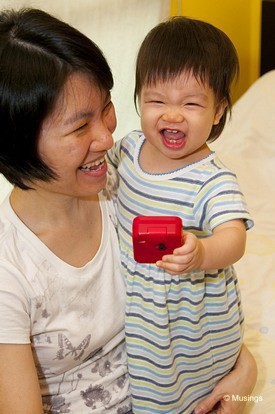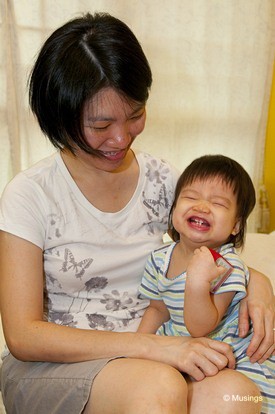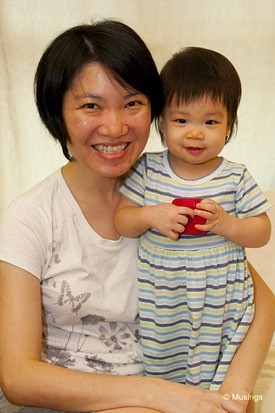 And the following at the mall itself by Ling: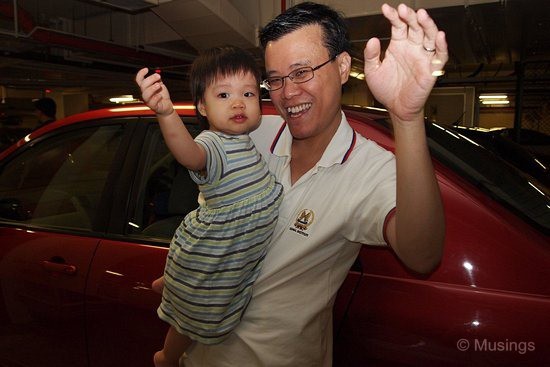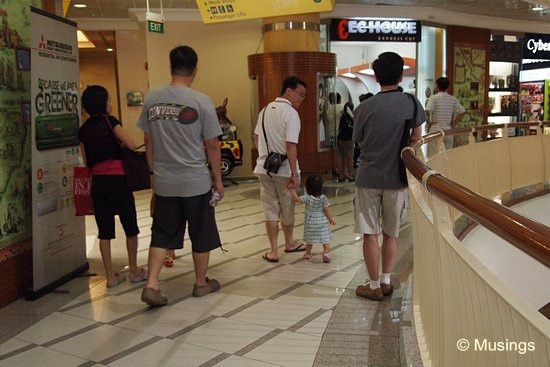 Hannah taking a walk with Daddy.:)
Bedtime @ 1 Year 6 Weeks
Hannah's almost exactly 1 Year 6 Weeks old today. And I realized that of late while I've taken a whole bunch of pictures of her during weekends, I've hardly taken very many shots of her during the evenings.
So here's a couple that I took just now at 9 PM when we were setting her down to bed. You can see her two new teeth growing from her lower jaw in the first two pictures too: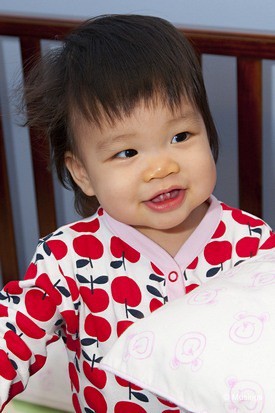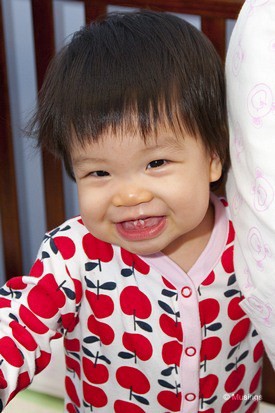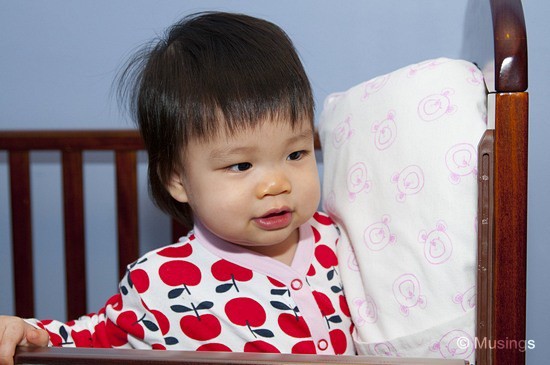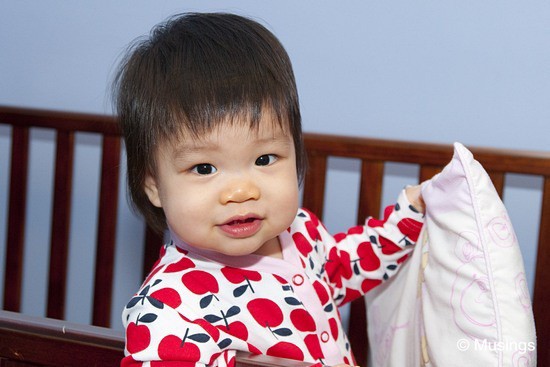 She's normally pretty hyper chirpy most evenings, but this evening was strangely quiet and even docile. She was contended to quietly sit on my lap while I was answering emails on the computer.:)
On All Fours
From what I know, babies start learning to walk at about their first birthday. Hannah's just two weeks away from turning one, and it's been delightful watching her learn how to stand steadily without support. Not entirely successfully yet as she'll usually either lose her balance after a couple of seconds, but she's learning! Ling was trying to catch her attempts to stand on her own on video over the weekend, but wasn't successful.
One thing Hannah's very adept now though is crawling on all fours. In fact, it's quite a cute sight to see her scurrying about the house! She's very quick, and displays her trademark look of determination – pursued lips, look of concentration – when she follows Ling around the house on the marble floor: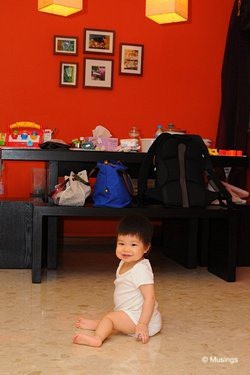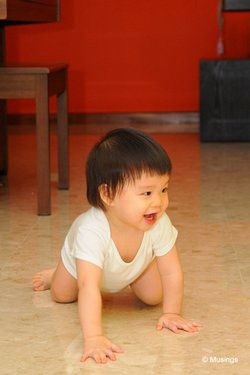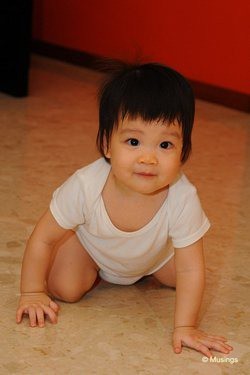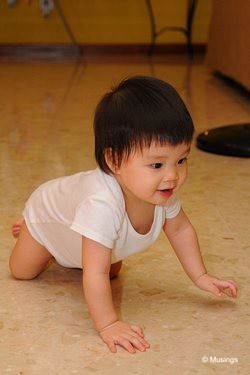 It's a lot of sweaty work on Hannah's part though. It's hard to see from the reduced in size pictures here, but if you look at the larger Flickr images, you'll be able to see her beads of sweat.:)