San Francisco 2009
now browsing by tag
San Francisco Videos – SF Seagulls
The last video in the series. By far, the single most exhilarating moment of the 8 day trip was the flock of seagulls that flew alongside our cruise ship at San Francisco Bay.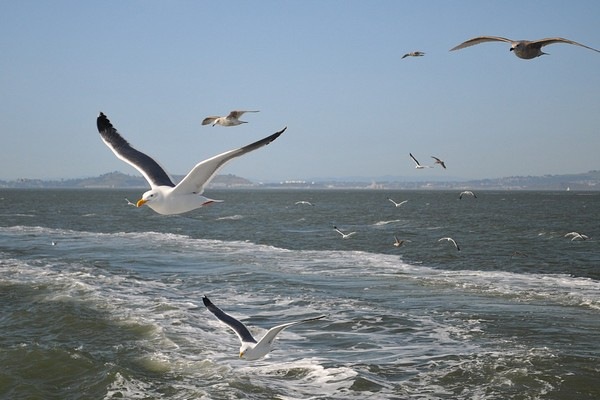 Original write-up and more pictures here, with the video segment below. You can also see Alactraz island in the background somewhat on the left of the frame.
San Francisco Videos – Golden Gate Bridge
It sure was hard juggling between the D300 and the Panasonic HD Cam while trying to hold myself steady during the chopping cruise ride at San Francisco bay. But I managed to get a bit of video footage. Pardon the segment here too- the HD Cam didn't have very good wind noise cancellation, and it was a really rocky ride!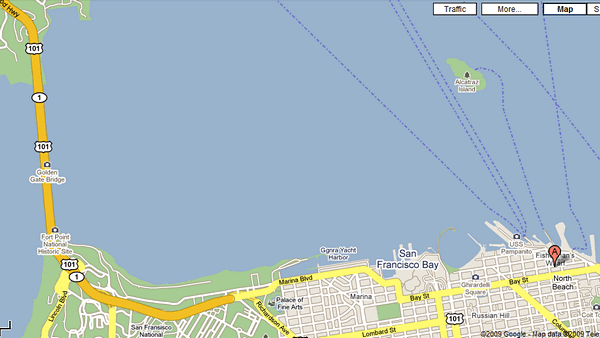 The video segment below doesn't do ample justice to the sheer massive size of the super structure.
Original write-up linked here too.
San Francisco Videos – Transportation
A short video segment of transportation in the city. This one was taken while the tram was traveling along Market Street on my way back from Pier 39 one afternoon.
San Francisco Videos – Palace of Fine Arts
The Palace of Fine Arts is one of the iconic spots in San Francisco, even if it's less well-known or visited than say the Golden Gate Bridge. The dome, adjacent lagoon and park has been used as a backdrop in entertainment media, most notably in Michael Bay's The Rock – during that scene where escape convict Sean Connery meets his long-lost daughter in a touching father-daughter scene.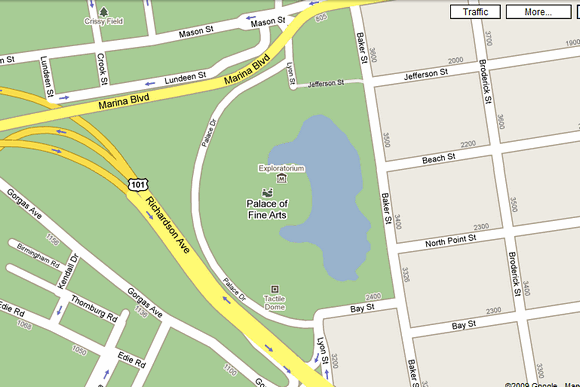 I wrote a longer entry of the spot some months ago and linked here.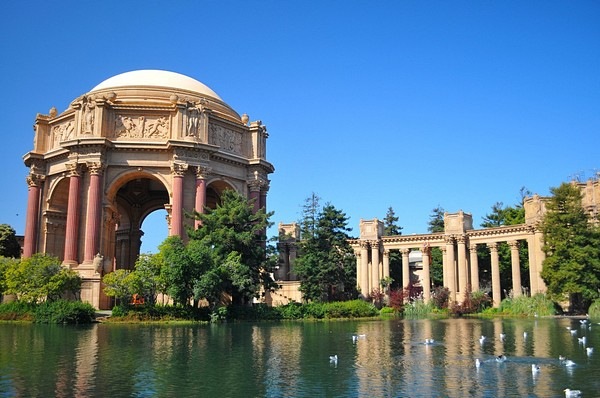 Here's the short video segment.
San Francisco Videos – Yerba Buena Gardens
The about 8 hours of HD video I took during the San Francisco trip have been left on the computer hard disk for a while, so I finally got round to encoding some small snippets. I'll be uploading these video segments in the next couple of posts.
Starting off is a brief panning segment on my day of arrival, Sunday, 22 March at noon. We'd landed a few hours prior and dispersed to our respective hotels. Mine politely declined to let me check in early – they insisted that the rooms would only be available at 2 pm – so I left my luggage at the Concierge and walked about the city.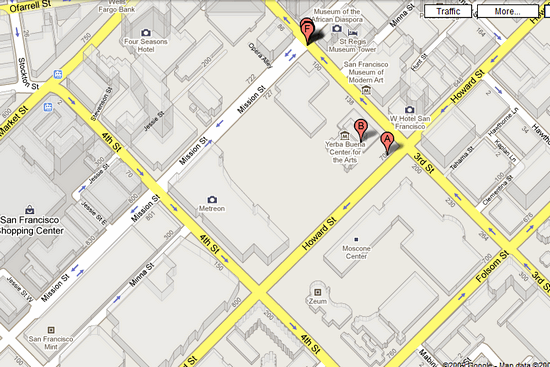 The video of this spot is taken at the Yerba Buena Gardens, which is just opposite the Moscone Convention Center where the 5 day GDC event was, and also facing the SF Museum of Modern Arts. It's a lovely spot with open lawns to chill. The photos are here, and the video segment below.
Photographic post-mortem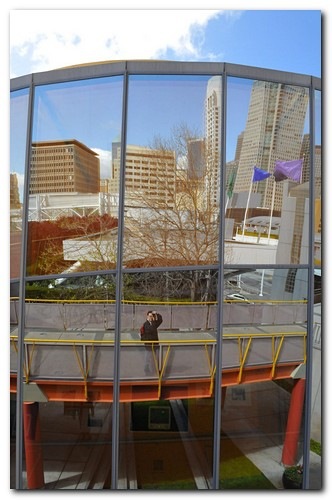 Every trip I make I get a more refined idea or perspective of what to do the next time. So, photographic post-mortem of the 8 day trip:
Leave the Sigma 10-20mm UWA lens at home. I like the lens, but the distortion that comes from setting the lens at the widest angle takes just too much work to correct in Photoshop. Of the three lens I bought to San Francisco, the cheapo 18-55mm VR lens got the most work: 98% of all the images were taken with it, with the remaining on the 55-200mm and for the keynote addresses when I wanted close-ups of the speakers. I'm gonna stare very hard at the 16-85mm VR lens from Nikon when I'm at home. It's just a pity the lens is a cropped sensor one.
Monopod > Tripod. Especially when you're travelling alone sans Tripod Girl. I couldn't take night shots, but I don't think I would have anyway on the streets of San Francisco. Deploying a large tripod with lots of crazy people walking around – bad idea. But using the monopod helped stabilize images of down to 1/8 second shutter speeds.
HD digicams FTW. In just one 8 day trip, I've taken more video than I've taken in the last 4 years traveling using the mini-DV camcorders. Hard to go wrong when the Panasonic HDC-SD20 has 2.5 hrs of battery juice in it and soaks up as much video time as you've got storage space.
Leave the SB600 at home. Didn't use the flash unit at all, which alongside the AA battery charger added nearly a kilogram to the baggage weight. The flash unit is really necessary when you intend to include people in your photos outside fillers, but very few of the images I triggered did.
MB-D10 is very useful. This battery grip for my D300 wasn't cheap at SGD299, but it was loads easier to take portrait perspective pictures. And lots of people beo my camera as a result LOL.
The MSI Wind is a godsend. No more limits to the number of photos or video I can take on any trip. I shot everything in RAW, and just dumped everything from the CF card to my MSI Wind every night. Ditto for the HD video files. In all, I took 1900 frames and 8 hours of video over the 8 days. That's about 43 GB of material to process at home now. As an added bonus, the 5 hour battery life on my MSI Wind let me write 3 blog entries on the 11 + 8 hours return flight and edit the images in them – with plenty of juice left in the battery thereafter.
Other advantages: I had two spreadsheets on the netbook to keep track of whether I was going to break my baggage weight allowance (of 23 kg). There was 19.2 kg of baggage arriving at San Francisco, and a lot more outgoing. I picked up nearly 5 kilograms of vendor brochures, CDs, materials at The Expo event as I went on a booth crawl finding out about each company's most current game technologies and talking to their product managers.My outgoing baggage was 22.8 kg – just 200grams shy of 23 kg and having to cough up more dough for excess baggage.
Global Village Part II
Part II of Global Village is written on a Northwest Airlines flight flying between San Francisco International Airport and Narita International.:)
Everything's big. Think: every meal you have is the upsized version. No need to tell the server you want the mega version of the meal. It's the norm by default.
Tons of 1 cent coins. And no clue what to do with them. The BART rail system ticket vending machine wouldn't accept them. Part of the problem I think lies in that price tags for every thing you want to buy is the item price before tax is included in. So, a fridge magnet with a price tag that says USD3.99 isn't USD3.99. You'll need to crank out the actual amount with sales tax added in because that's what you need to pay. Which means that calculator function on your mobile finally gets some use.
If you want to be a lemming, buy an Apple. In Singapore, owning one of those fruit handphones is making a fashion statement. In the US, not having one is a fashion statement. Just about everyone who isn't a tourist has them. I board a cable car from Market Street to The Embarcadero and I'll count at least ten persons fiddling with their iPhones. I saw a couple of LGs, and a few Nokia E71s. But precious few Sony-Ericssons, one or two Samsungs, no other Nokia models, and hell no Motorolas. That's smart marketing for you: partner with AT&T where you sell the iPhone for USD299 but bury each buyer with a 2 year contract. No wonder Apple doesn't care a hoot about sales in Singapore – they don't need to when they're already flooded the US market with their overpriced yet under-featured toys.
The grid like street layout. Which was a great thing as it's easy to find your way around. Roads invariably run straight and often in perpendicular angles to other roads. So, if you want to find any place, the only thing you really need to know is which roads intersect at this place. Chinatown Southern Gate? The intersection of Bush Street and Grant Avenue. Moscone Center South Hall? Intersection between 3rd Street and Howard Street. In comparison, street layout in Singapore is non-intuitive and if not utterly stupid. The roads at home wind, turn around, split, merge.
Australians are friendly. I'm now convinced that the Australians are some of the most friendly people around. I was always greeted with 'hellos' and 'how's it going?" whenever I was making payments for my groceries at Coles or Woolsworth supermarkets, or boarding a bus to get somewhere. I'd return the favor by waving the drivers thank you's and goodbyes when deboarding. In San Francisco, service providers can just ignore you, and on occasion, just display nonchalant service attitudes. I was making a purchase on Friday evening for stuff that my manager had asked me to pick up, and when I inquired if it'd be possible to claim tax refunds at the airport, I got a shrug and a couldn't-care-less "You can always try."
At night the city wakes up. And not in the good sense. Every 15 minutes past midnight, I'd hear sirens in the distance. Either the cops are responding to yet another shooting somewhere, or an ambulance is racing to ferry an injured person to the hospital. On the day I arrived in the city, four Oakland city police officers were killed by the same felon totting an AK-47 in two separate shooting incidents. And two of the officers were SWAT – i.e. bad ass highly trained elite operatives – when they were attempting to take down the shooter. And yesterday, two women in a vehicle were shot dead in their car as they were leaving a department store. All those people whining about Singapore repressive laws, well, just try living in one of these places.
Every biker owns a designer motorcycle. There weren't a lot of motorcyclists in the city, but the few who are all owned hyper-powered bikes that make a huge din when they go.
There're still places I didn't visit in this trip of course, and certainly enough for a return visit if there's another opportunity again. But next stop in this country: hopefully it'll be an East coast city instead then.:)
Global village Part I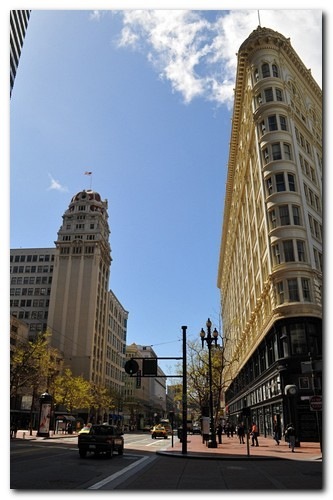 I'm writing this at the San Francisco International Airport. I arrived 2.5 hours early, got through baggage check quickly enough (though I had to remove shoes and belt), and now I've got 2 hours to kill before my flight to Narita International in Tokyo takes off.
Here's a thought: after having spent 8 days in San Francisco and visited quite a few places – including all five of the city's main attractions covered under the City Pass admission – these sights weren't for me the true eye openers.
Running off my head: The Exploratorium had all the interactive exhibits, but the experience wasn't refreshing. The Palace of Fine Arts just outside it had the neo-Roman-inspired architecture, but I've seen them in photographs before. The natural sciences museum, the California Academy of Sciences, and Aquarium of the Bay, was very well done-up, new, and had beautiful animal and marine life exhibits, but you can see the same at any done up marine aquarium exhibit. And the SF Museum of Modern Arts – well, let's just say it takes a bit of effort for me to properly enjoy drawn art. And the Golden Gate Bridge… well, it's just a big orange bridge, impressive as it was cruising underneath it.
The most indelible memory I'll have of my stay here is the flock of seagulls that flew with us (blogged here). As for the other memorable experiences of the trip, here's a list:
Listening to black dudes chat. You've seen and heard them on TV, but until this point I'd always thought their colloquialisms were exaggerated just for entertainment. But they *do* talk that way, especially the way in which this phrase is appended to every statement:
"You know what I'm saying?"
So if I were to transcribe a local conversation I have with the bak chor noodles seller at Hougang Mall into black dude style, it'd go like this:
"Hey brutha; give me one of those bowls of bak chor noodles. You know what I'm saying?" (Must be said with elaborate hand gestures)
"You want chili with it? You know what I'm saying?" (add more hand gestures)
"Na dawg. Just leave the chili out of the bowl. You know what I'm saying?"
"Ok, $3 then. You know what I'm saying?"
etc.
No kidding. It's fun hearing them chat. They really are a unique culture unto themselves. And all the black dudes I met seemed friendly, though I'm sure Matt has a more informed opinion.
Italian-Americans mafiasos talk just like in The Sopranos. Like the above, I'd thought that the Italian-Americans in the show talk only that way in the show. But boy was I wrong. No wonder the TV show had no issues offing characters each episode. There're easy replacements for characters everywhere. You could take for example any of the Italian-American limousine drivers outside my hotel, given them a few lines and a gun, and they could be the newest member of the Soprano family just released from jail and inserted into the latest episode. No speech training or makeup required. They already look and talk the part.
Crazy people everywhere. On the street, I ran into street protesters of one issue or another, doomsday soothsayers, people who'd yell at the top of their voices talking to themselves, people preaching their take of Christ to passer-bys.
Then there's the spitting culture. People spit. They'll collect a huge amount of whatever that's in the throat and in a huge din, ptui out it goes.
Then the other night, while I was walking along Market Street back to my hotel at 9 pm after a networking event, the dude in front of me veered to the right, plonked himself in front of the closed entrance of a department store, and let out a steady stream at its door step.
Then this early Saturday morning when I had two hours before checking out of my hotel, I went out on a morning walk and saw three piles of clearly human shit beside a post box 50 metres from my hotel. There must had been three guys huddling together each taking a dump. Or just one guy doing a huge dump, but shifted the weight of his legs twice.
Continued in the next post!
Game Developers Conference
The Game Developers Conference here at San Francisco's Moscone Convention Center isn't just a conference where bespectacled geeks gather and talk about video games. It's a festival and celebration of technology, the visual arts, story telling, sound and music – just about every other creative element that goes into an interactive multimedia experience.
My participation in gaming conferences in the last 6 years have been centered on academic conferences on critical game studies. The GDC has hundreds of summits, lectures, seminars, round table discussions and keynote addresses occurring simultaneously at any hour during the five day event, and they cover different aspects of development as opposed to understanding games as a cultural and social phenomenon.
A small sampling of photos from the first day of the Main Conference (the 3 day event was preceded by two days of summits):
The massive crowds. Last year's event saw 18,000 attendees, speakers, exhibitors, and participants. No idea how many this year: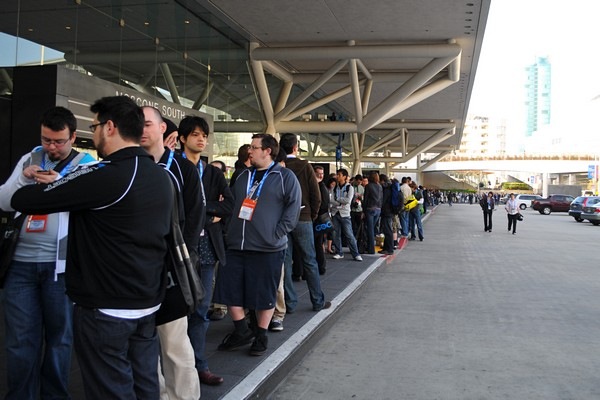 Conference Event Director Meggan Scavio opening address: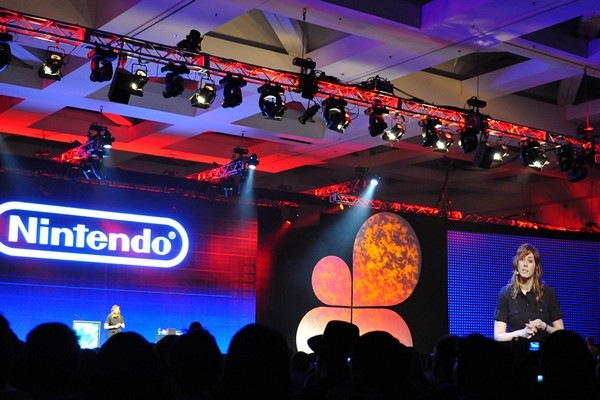 One of the many breakout sessions: this one was on technical, design and social ramifications centered on online multiplayer games. Speakers were two developers from Insomniac Games, an American-based game studio who recently published Resistance 2 which I wrote an entry here about recently.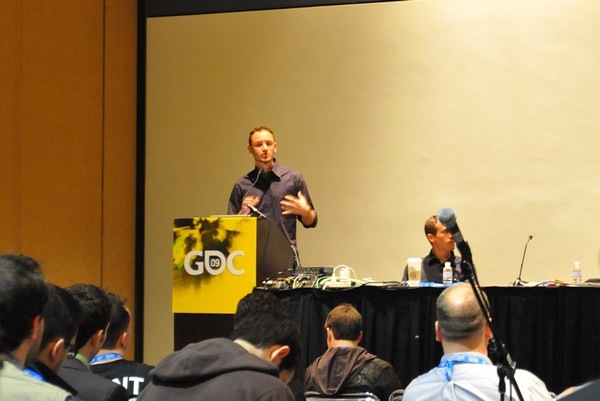 Hideo Kojima, producer and director of the Metal Gear Solid series presented with the Lifetime Achievement Award at the 9th Annual Game Developers Choice Awards.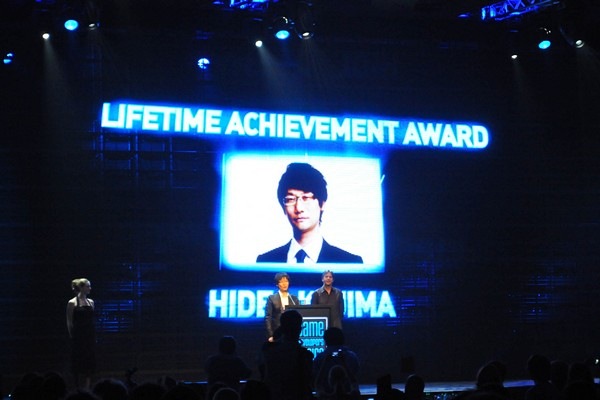 There's also the Expo where all the game studios, technology providers, and higher learning institutions in the industry all gather under one roof as a sales showcase exhibiting their newest gadgets as used in game development.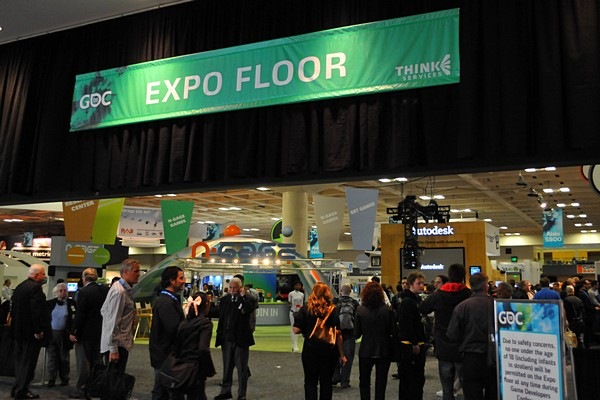 This game uses your eyes to control movement in a game: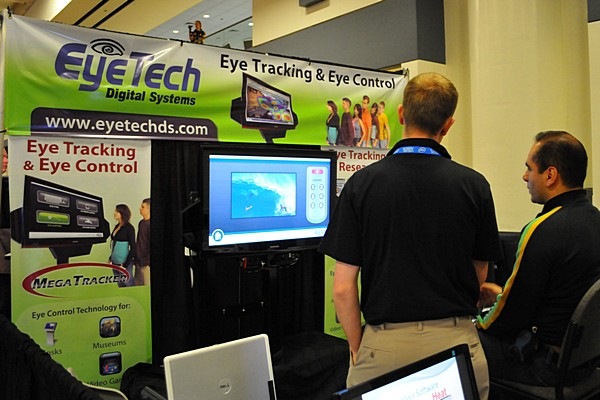 This one uses your brain waves to control your character – no kidding.:)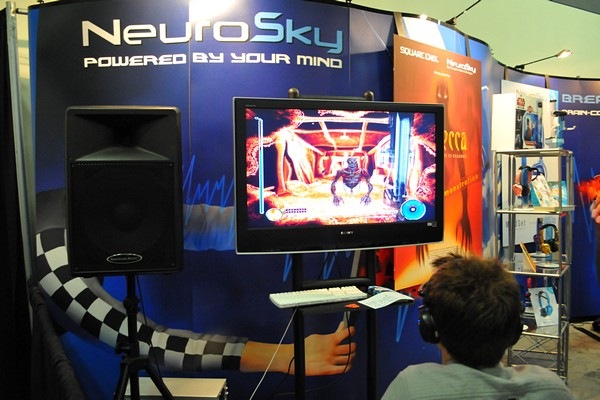 San Francisco Bay Sea Gulls
The pictures speak for themselves.:)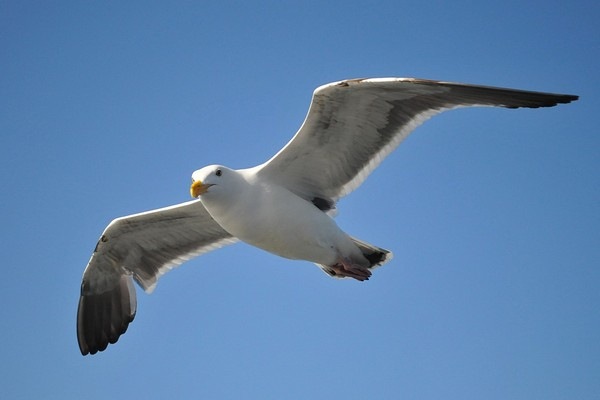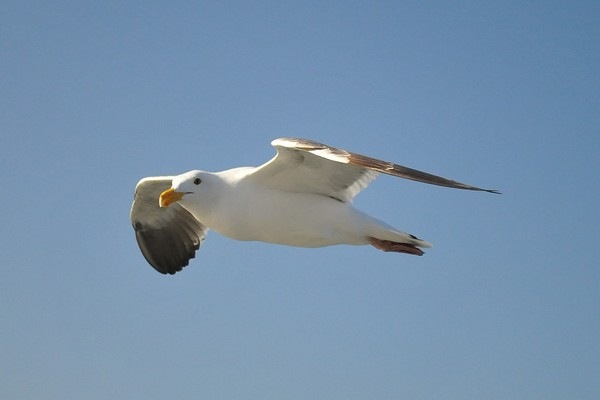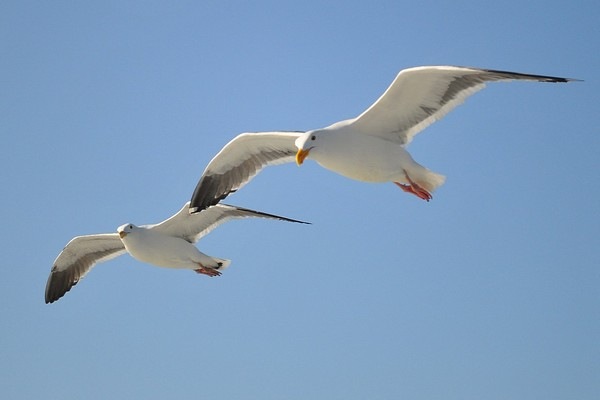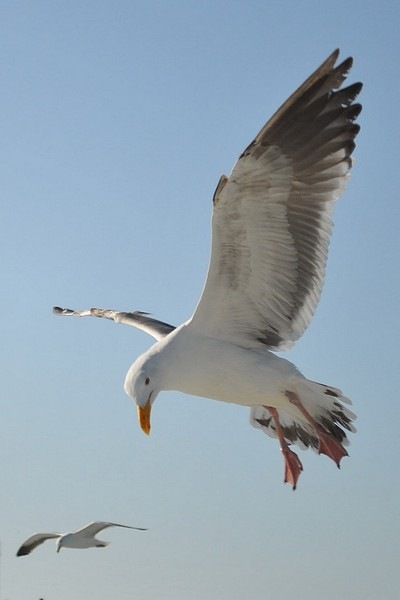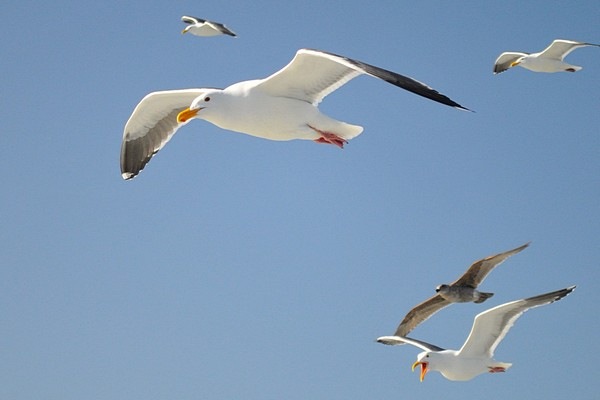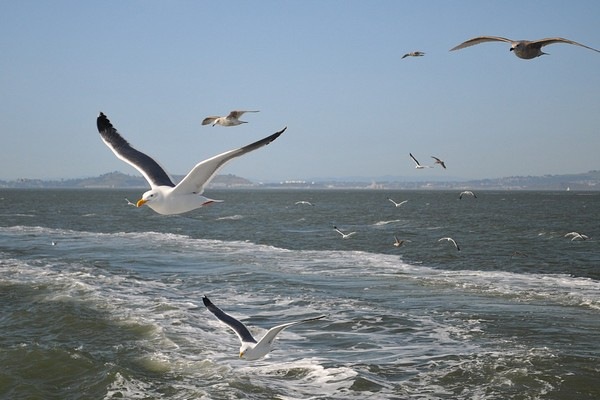 And here's the best part: they were not shot on the Nikon 70-200mm F2.8 lens – the one that costs a bomb. I took them on my el-cheapo USD180 Nikon 18-55mm LOL.
It was an incredible sight… the flock of seagulls flying alongside our boat as it traveled back to Pier 39. They all flew so close it would had been possible to reach out and touch them. I took 111 pictures over 5 minutes, many of them just stunning close-ups of the seagulls. A small selection here.:)