Samsung Gear 360
now browsing by tag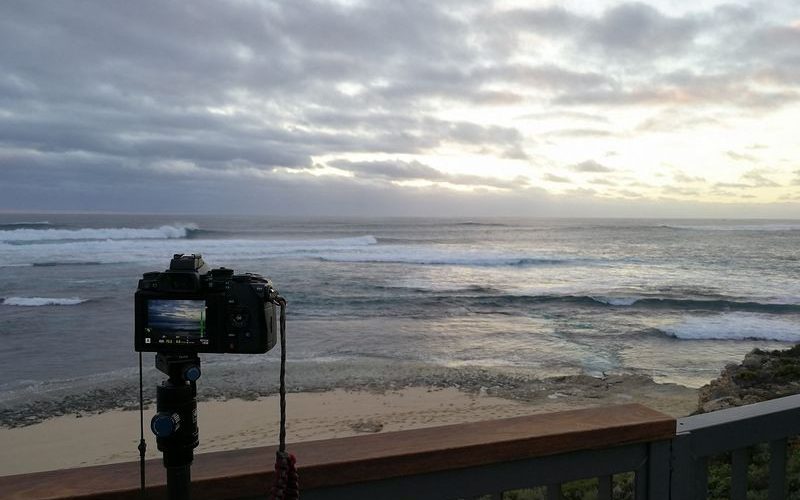 Western Australia – Equipment Comments
Just a few more posts in our WA series – honest! And this one is for tech junkies – comments on how various gadgets and toys fared during the trip!
The Olympus E-M1 continued to perform admirably on it's third major overseas outing. Oddly though, the camera occasionally required a few seconds to power-up from a cold-start. Might be something to do with the age of the battery – one of the two BLN-1 battery is about 5 years old now, and its internal circuity might be starting to fail.
The Panasonic GX85 did amazing well in its first major overseas trip! The GX85 was mostly coupled with the 40-150mm f2.8 with 1.4x converter throughout the trip, and I was able to get pretty good picture retention rates, with the C-AF modes able to track moving subjects. There was some minor annoyances though: the camera seems to have its own mind sometimes by selecting its own aperture against what I really want to shoot at. Specifically, I can set aperture on the Olympus m4/3 bodies set on Aperture-Priority and don't ever worry about it again. But the GX85 will sometimes change f-stop on its own even on Aperture-Priority. I'll have to read up a bit more about how Panasonic m4/3 bodies treat A modes.
Two batteries accompanied each of the bodies, and on most days, the one battery apiece for the E-M1 and GX85 was able to last for an entire day of shooting on most days. That is, excepting the really heavy days during the day tours, though the batteries were also routinely nearly drained by the day's end. Sill, the weather in WA wasn't cold enough at usually between 18 to 7 degree Cs for either the E-M1 and GX85's batteries to discharge faster.
The number of exposures I triggered on the E-M1 and GX85 was about 3,250 and 2,251 respectively, about 227 using the Samsung 360, and another hundred or so using  Huawei Mate 9 – a total of about 5,828 pictures. And of that, I processed and finally kept about 3,331 of them – a keeper percentage of about 57%. This WA trip goes well past the 5,013 exposures I took for the 23 day New England trip in 2010 (still the most memorable trip ever!) but I kept 4,327 of them then – or a much higher 86% retention. A huge number of shots for this WA trip were on burst mode – particularly the animal feedings – while the ones in New England were of a lot of scenery, which don't require shooting on drive modes.
Three lenses came along for the trip: the 12-40mm f2.8, the 40-150mm f2.8 with 1.4x teleconverter, and the 17mm f1.8. The approximate picture distribution was 65% 12-40mm, 34% 40-150mm, 1% 17mm. Yep – just a small handful of pictures taken using the prime!
I was really happy with the videos taken on the Huawei Mate 9, despite the initial trepidation before the trip. Between that and Ling's Samsung Note 5, we took about 79 videos, most about a 1 to 3 minutes long each. The 4K videos coming out of the Huawei Mate 9 did take a bit of processing though as the Dell XPS 13 wasn't able to handle the 4K videos well. A comparison between the 2K videos taking in Melbourne using the Samsung Note 5 against the 2K downsized from 4K videos on the Huawei Mate 9 showed that despite the lower frame/s – the Note 5 can shoot at 60fps – there was simply a lot more visible resolution and detail for videos taken using the Mate 9, and less obvious jello-effect too when panning the phone around.
Sirui T-024X CF tripod/C-10S Ballhead: were instrumental in enabling some of our family photos and doubled-up also as the tripod for the Samsung Gear 360. It was light enough also for our 8 year old daughter to help carry around. Call me a traditionalist – but I simply don't think smartphones take very good wefies!
Samsung Gear 360 (2017): already posted separately on this. The pictures were so-so, videos disappointing – but I got perspectives that traditional cameras simply cannot obtain, and the camera was purchased on the cheap.
But the most valuable item that accompanied us this trip was:
Hank – our guide at Margaret River – was quite interested in this camera bag too. Despite it being more than 4 years old now, it still looks as good as it did on the first day. Dirt simply rolls off it!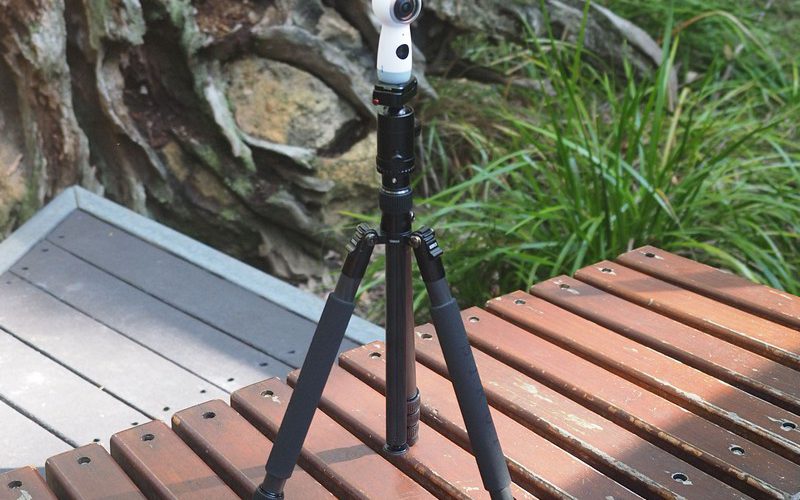 Samsung Gear 360 (2017) – More Notes
We took just a small number of 360 videos and photos using the Samsung Gear 360 (2017) I acquired just a few days before starting on our trip. The Billingham Hadley Pro bag at any one time contained the iPad Air 2, the Xiaomi 15,000mAh powerbank, the E-M1, GX85, three lenses (17mm, 12-40mm, 40-150mm + 1.4x converter), straps, the circular polarizer filter, spare batteries, and this 360 camera. Between the two cameras, the Huawei Mate 9 which did the lion's share of work for videos, I just didn't have enough hands anymore to also fish out the Gear 360 as much as I wanted!
Still; my comments on the Gear 360 2017 edition after the 11 day trip to Western Australia:
The gear's very smooth plastic surface makes the device a tad slippery to hold. While it doesn't give the sense that you're holding a bar of soap – like what the most recent Samsung Galaxy phones can feel like – I still found myself having to very consciously hold the device lest it slipped out out of hands and kiss hard concrete on the floor.
The battery easily offers enough juice for a day of shooting. Charging using the USB-C port didn't take long either (about an hour at most each time for a fully flat battery?)
Processing stills and video using ActionDirector, the Samsung-supplied software, is pretty easy, and without needing a Samsung Galaxy phone either. You connect the 360 camera into the PC, transfer files to say a desktop folder, then drop that entire folder into ActionDirector. The software program immediately starts processing them in the background and will save them into a working directory that you can easily take out from later.
Stills-wise, the camera does reasonably well in strong daylight. But as the sun goes down, so does the quality of images – significantly.
Video fares don't look as good after processing in ActionDirector, and YouTube further compresses them until they look like a pixelated mess.
There are obvious imperfections in the stitching – particularly for video, somewhat less so for stills.
Limitations of the current consumer-level technology aside, I still have a long way to go technique-wise too. Specifically:
This thing desperately needs its own good and dedicated tripod. It was too much of a hassle to bring out even the Sirui tripod that's designed for traditional cameras, so a number of videos included my fingers and thumbs. It's also very hard to keep the camera level when holding it high above your head!
Once the camera starts recording, keeping at least one meter away from the camera is a very good idea.
As with spherical lenses, objects look a lot further than they really are. I incorrectly judged the positioning of the camera in several video recordings.
In summary, consumer-level 360 cameras are still a long way off from what the really expensive 360 cameras are able produce. But that said, they do provide very unique perspectives that traditional camcorders and digital cameras are unable to record. Compared to the other consumer-level 360 cameras that cost between $500 to $900, we got the Samsung Gear 360 (2017) comparatively cheaply at just SGD284. I recommend that if you must get a 360 camera to record these types of stills and videos to get this model. Don't spend more than that, and recognize the limitations of what the devices at this stage can produce.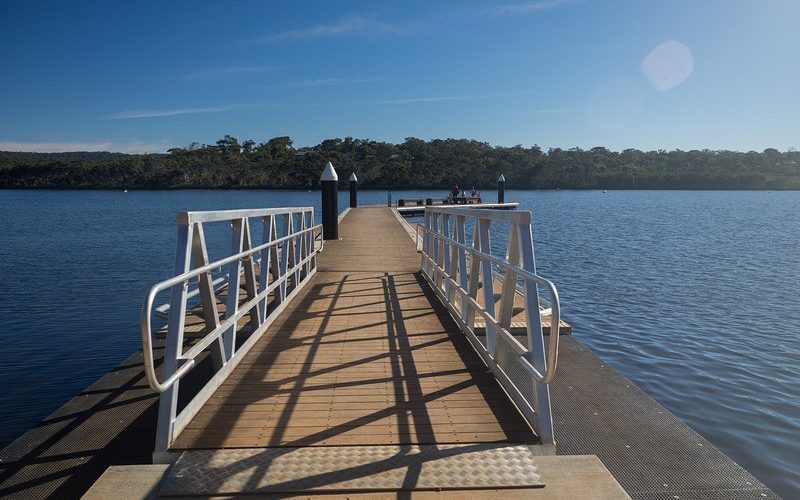 Western Australia – Day 3 – Walpole
Most visitors traveling from Margaret River/Pemberton to Valley of the Giants will want to stop by Walpole – which is a relatively close 20km away from the Valley. It's a very small and laid back town but has the most important necessities – a few cafes and restaurants, petrol station, pharmacy, and also a convenience store. There are also several scenic spots, and thanks again to Ling's eagle eyes, we stopped by the Nornalup Inlet, which is just behind the town and mostly hidden away and thus very easy to miss.
With lunch done, it was another long 120km drive back to Pemberton. Continued in the next day's post!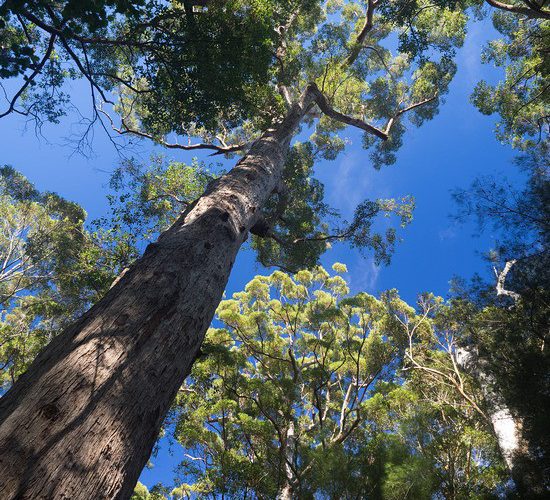 Western Australia – Day 3 – Ancient Empire Walk @ Valley of the Giants
The walk through Ancient Empire is taken by many visitors right after the Treetop Walk: after you walk among the top-most leaves of the majestic Tingle trees, you go back to level ground to walk among them. A completely different experience here for certain!
The early versions of our itinerary didn't include the Ancient Empire, on account that we didn't do this walk in 2003, and I didn't even know such existed. Thanks to Ling who did a bit more research over the area and strongly encouraged we do it – and the family admission price bundles the two together even if not. The walk is well-paved with wooden planks and nets that further add grip in wet weather, and one round in the circuit can be completed in about 45 minutes – if you especially take your time. A speed-walk will probably take just 10 minutes on the other hand.
We started our walk at about 11AM, and saw a few more groups of visitors than at the Treetop walk we'd just finished. Still plenty of space between groups, and we had no difficulties taking our time to setup family shots on remote trigger, nor the numerous 360 photos and videos we did (will post those when we're back at home!). Tripadvisor notes again though that the place can get real crowded, so one will have to be mindful of visitation times.
There is also a guided tour that runs every few hours, though the ticketing officer at Admissions remarked that it's not necessary to wait for the guided tour – on account that the trees have informative plaques where relevant. Or maybe she was just trying to persuade us not to be on the guided tour and save everyone the effort? LOL.
A 360 degree view of the Ancient Empire:
We spent about 1 hr 45 minutes at the Valley, then drove the relatively short 20km back to Walpole – more on that in the next post!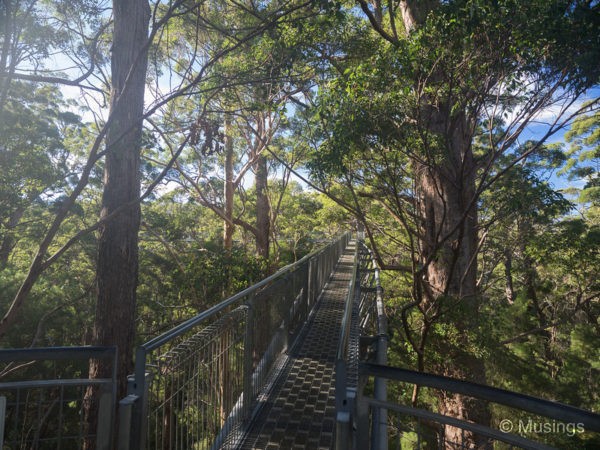 Western Australia – Day 3 – Treetop Walk @ Valley of the Giants
Day 3 saw us heading to one of the key highlights of our itinerary: the Treetop and Ancient Empire walks @ Valley of the Giants. The 600m long walk goes up to 40m above ground level, and therefore at a height where it's possible to reach out to touch the leaves at the top-most branches of the tall Tingle trees. The valley is so-called on account of its 400 year old trees – and very magnificent and majestic they were.
I previously did the same Treetop walk in the 2003 trip, but weather conditions couldn't had been more different: the 2003 trip in December saw overcast weather, while the 2017 trip saw wonderfully sunny weather and despite it being winter, the sun warmed things up considerably to make for a very pleasant and cool walk among trees. Family admission for the four of us was AUD52.50, and the walk lasts about 45 minutes leisurely, after which we continued on with the Ancient Empire walk next. The park had opened for an hour or so by the time we arrived Friday today, but there perhaps just two other groups of visitors about, making for a very pleasant and quiet walk as we made our way up the boardwalk. Tripadvisor notes that the place can get choked with hordes of noisy visitors armed with their selfie sticks and spoil the general ambiance, so it might be a good idea to either go fairly early like we did, or later in the day.
A word of the journey to the Valley too: the Valley is about 125km from the Forest Lodge Resort in Pemberton, and the directions there from our lodging are simple. In effect though it took us about 1 hr 45 minutes to get there on account that most of the road there was single lane in either direction, and quite narrow – which made me uneasy when vehicles in opposing directions zoomed past us without bothering to slow down. The distance between vehicles were often less than 0.5 meters! As a result, we drove slightly-under the speed limit, which perhaps annoyed the two to three vehicles which occasionally crept up from behind us, frustrated that we won't racing at 120km/h on a 90km/h road. Well – we like living, so there LOL.
Furthermore, the timing we drove outbound and in the return journey were early mornings and early afternoons: and the very bright morning and afternoon sun cast very strong reflective light on the road, and when mixed with hard shadows from trees in quick alternating fashion made it difficult for my eyes to adjust back and forth.
One more thing: on the Valley of the Giants road itself, you will come across a side-road branching off from the left that is barred with a gantry but also says "car park". Ignore that: the main entrance and car park is several minutes down that road.:)
A 360 degree view of the Treetop Walk:
The Ancient Empire walk in the next post!