Reflections
now browsing by tag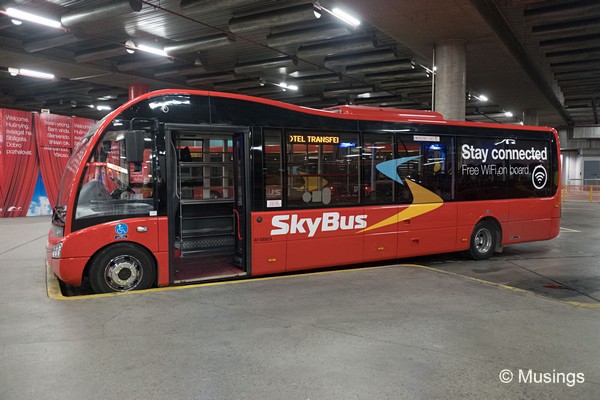 9 Days in Melbourne – Final Notes and Such
While reading up for our Melbourne trip early on and doing general searches for itinerary planing for a family with kids, I was startled to find that the majority of local blogs seemed to be by 'social media influencers' or sponsored content writers. Non-sponsored and non-influencer agency affiliated bloggers who write about life experiences like us seem to be uncommon nowadays. We used to have at least three friends in our church small group who also independently blog about life experiences, family and kids 7-8 years ago – but none of them do anymore.
I reckon it's a larger trend that you see in digital spaces now. Social media networks are a lot easier to write for, with access controls to boot. And for those who still write for the web, fewer today want to volunteer information for (totally) free anymore. We first started seeing it in digital newspapers, then technological and hobbyist sites and beyond now. Revenue or incentives in the form of adclicks, complimentary or sponsored services to sample etc. can be indeed hard to pass up especially once your site is past a certain following, and possibly even mandatory to pay the bills for a high-traffic web site.
So, we're blessed we have no such need or desire to be sponsored. Our corner here on the Internet doesn't receive quite the same traffic as influencers, so we have no pressures.:) While our about 17 year old blog has a stub tagline ("Reflections of parents of young kids"), we don't have a consistent focus on what we write. We don't desire to be affiliated with any social media companies, are completely self-funded and independent and do not derive any income from this site, and do not have any embedded code snippets to track your browsing behavior (unless they are built-in by my domain host provider without my knowledge!). And when we talk about a particular experience with a place, product or service, it's exactly as it is – and not because someone asked/paid/encouraged us by giving complimentary stuff and we're thus obliged to say nice things, claims of honesty or not.
I guess I'm an unconvinced skeptic on the real authenticity of evaluations on sponsored content – more so after our experience of Club Med Bintan turned out to be vastly different from the slice of heaven some lifestyle bloggers had made sound like.
But that musing aside – we've written 20 blog posts – including this one – of our Melbourne trip. That's a lot less than the whopping 60 posts about the Boston trip in 2010 – our Ang Mo bud will relate particularly memorable experiences we had at a Indian restaurant, watching people vomit while whale-watching, and also of a visit to gay town LOL – or the nearly as many 58 posts about our Japan trip that same year. We've already covered our overall comments for each of the key places we visited. Here's our summary and notes if you're planning for a similar family vacation to the city.
Plan your own itinerary, and decide exactly how much time you want to spend and what places to visit. The majority of attractions have up to date web sites that you can visit and mine for information and directions. Pay special attention particularly to weekend admissions, as kids are admitted for free in some places on weekends. Check also if your hotel has bundled admissions with discounts too.
Take the SkyBus from the airport to your place of stay in the city center and save yourself a bundle of cash from taking a private car or cab. It's easy, runs frequently, and shouldn't take more than an hour to get you from the airport to your stay.
The city is stroller and pram friendly. There's the occasional elevated pavement ledge that you have to roll up onto. But by and large, we had no difficulties navigating Peter's stroller along the pedestrian pavements and traffic junctions we walked along extensively during our stay. One thing though: cross roads only at designated crossings, and look left and right even then. Cars coast along fairly slow – perhaps 35-40 km/h – in the city center, but trams are quicker. Our Great Sights guide said as much: putting aside the hefty fines involved in breaking traffic rules, getting run over by a pretty fast tram will ruin your vacation – likely permanently.
There are plenty of places to eat, and breakfast places were open as early as 0600hrs. We visited in June and winter season for Australia, so several dining establishments closed early by 1700hrs, though there always remained enough options if you're willing to explore a little further. If you're staying in accommodation with a reasonably large fridge and cooking facilities, then it's also practical to get fresh produce from QVM and cook (keep in mind that you might still need condiments though). Alternatively, if your accommodation has a microwave oven – like ours did – then hot microwaved food from Coles and Woolsworth awaits you.:)
If local fare is your thing, then there's Chinatown along Little Bourke Street. We also spotted Pepper Lunch, Ajisen Ramen, and even something called Breadtop which offers pastry and bread items very similar to Singapore's own Breadtalk.
There's a free tram service in the city center itself, but we ended up not using it at all. We just walked everywhere and often from one end of the city center bounded by the free tram service boundaries (where Pegasus was located) to the other end (Spring Street). There are some gentle inclines uphill here and there, but nothing like the joint-hurting up/down/up hill of San Francisco city. That we walked was just as well, because the myki ticketing system just seemed too much of a hassle for tourists.
If you have no Google Maps or your phone ran out of battery and you are now lost, look for the city's visitor info guides. They are in unmistakable red jackets, and are strategically located at several key junctions and will readily offer you advice on where/how you need to get to.
Within the city center itself and walking distance are a number of reasonably easy to reach places. You could set aside about 3-4 days to visit the key sites within the center, and perhaps another day just for shopping if that's your thing.
Driving is an option, and traffic within the city isn't intimidating with plenty of road signs and landmarks to spot. What might be less appealing though are the parking charges. The alternative is to rent cars only on selected days to do self-drives to the places outside Melbourne.
The majority of the day tour offerings are centered around these places: the Great Ocean Road, Dandenong Ranges/Yarra Valley, Mornington Peninsula, Ballarat, and Philips Island. I reckon you could fill up as many days as you need to by booking a couple of these day tour outings – though keep in mind again that weather can significantly impact the experience you get on the tour. Remember also to inquire if you can get discounts if you book more than one day tour with the company.
If there's bad weather or your feet are just tired, you can head for the nearest hotel. There are often one or two city's cabs hanging around at the hotels' entrances.
If you're visiting in winter but do not have a lot of winter clothing and hope not to spend a lot of money buying them first in Singapore, then head to Target Center or Queen Victoria Market first thing and get what you need at bargain bin prices.
Mobile Internet is great. Optus My Prepaid Daily Plus is an absolute must with its very low daily Internet costs, and you can get as many data SIM cards as you have smart devices. If there's a long queue at the Optus shop at the ground floor @ Melbourne International Terminal, don't sweat it. Just get to the city center first, and then to any one of the many Optus shops there to buy the cards you need. Top-ups are easy too, either by purchasing additional top-up cards at convenience stores and supermarkets, or via Optus' online payment system. Remember to preload Google Maps for the city, and rely on your smart device's GPS locator. That can really cut down on your mobile Internet costs. Notwithstanding that, many cafes and restaurants also offer complimentary WIFI.
This wraps our principal posts on our Melbourne trip. All in, I reckon a 8 day stay is pretty good for this city, and anything above 10 days would be stretching it, unless you're really wanting to take it real slow. Hope all this helps if you're planning for a Melbourne trip. We might try Sydney next June, since that again was my initial preference for this year's holiday. More to come at some point.:)
Experiences of a Second-time Mom: Delivery, Breastfeeding & Confinement
Here I am into the third week of the Chinese 30-day confinement feeling the need to pen down some thoughts and events for keepsake. Pardon my lack of sobriety if my writing appears strange.
The Birth of Peter
With Hannah, it was the appearance of 'show' (the discharge of bloody mucus plug from the cervix) that signaled us that I was about to go into labour. With Peter, my water bag broke around midnight while I was already in bed but awake. I felt a pop in my belly and thought "hmm, water bag?" but was too lazy to get up. Then I felt what I thought was the initial but real labour contractions where a mild ache was felt on the back. I began to feel slight dampness on my shorts and decided that I better get up to confirm my suspicions. True enough, I was 'leaking' on my way to the bathroom and when I stood in the bathtub, the water gushed out. I panicked. I quickly rinsed myself clean and woke Yang up. We started getting ready our bags and Hannah in 20-30 minutes and called a cab to go to Thomson Medical Centre where I was to delivered Peter.
After checking that my cervix was dilated 1.5 cm, the nurse on duty admitted me into the birthing ward. When the contraction pains were reaching my endurance threshold, I asked for the epidural to be administered. The process of administering the epidural this time was significantly more uncomfortable. And I experienced one side effect of vomitting. Other than this, the rest of the labour process was just lying in bed waiting for the contractions to cause the cervix to dilate to 10 cm before pushing the baby out. My gynae was out of town and he had arranged for a replacement gynae in his absence to deliver our baby. The replacement gynae was a friendly Dr Lawrence Ang and he arrived around 6-7 am to check on me. He remarked that the dilation process was fast and the cervix soft and that I could push the baby out soon. By 9.13 am, Peter came into the world with just a couple of pushes and daddy was put on the spot by the doctor to cut his umbilical cord. And I thought we might have a casaulty after that. Lol. :D
Breastfeeding
Well, I thought I got it right the second time. Despite my great weakness straight after delivery, I opted for total breastfeeding during my 3-day stay at the hospital. With what my episiotomy wound, vomitting and general tiredness from labour, I breastfed Peter and his suction was good. But once we were home, my supply couldn't keep up with his demand during the rest of week 1 and I resorted to supplement with formula milk. Big mistake? Peter started preferring formula because it required less effort to suck. My milk supply has definitely improved from Hannah's time but Peter has a bigger appetite. He is a strong boy too. Sigh, I guess my breastfeeding efforts will diminish over time again.
Confinement
We got a different confinement lady (CL) this time as the previous one was unavailable. I prefer the current CL because she doesn't impose the traditional Chinese confinement practices on me, was flexible in the choice of ingredients used for dishes and wasn't constantly wanting to engage me in chatting. We got one domestic incident though. She chipped the tip of our precious Japanese hand-made chef knife by using it to separate frozen meats. At least she didn't melt our stove area which the first CL did. Lol. :)
I'm thankful that my parents in-law have been very helpful in buying and bringing foods and fruits on a weekly basis for my CL to cook or prepare for my meals. My mom has been coming over too and didn't utter a word about following the dreaded confinement practices or questioning the CL about me. I confess that I still feel quite stressed out whenever she pops by during this period.
Thanksgiving
Throughout the pregnancy, we were concerned about the effects of Peter's single umbilical artery (SUA) on his health. He was given a clean bill of health by his pediatrician on the third day after an ultrasound check on his two kidneys. Really thank God for a healthy baby boy.
Thank God too that Peter was born after the terrible period of haze in Singapore where the PSI soared to 400. The air is definitely cleaner now for breathing. :)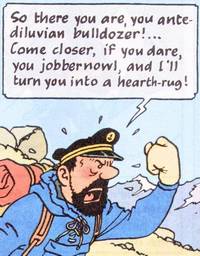 !@#!!!%%
It might be middle-age or just maybe the slowly but ever steadily increasing demands and expectations at work, but I've increasingly become an angry driver when on the road. Not in aggression or exhibitions of dangerous driving, mind you – nothing quite like that. But specifically in venting on the (apparent to me at least) bad habits and uncouth behaviors of many drivers around here.
For instance:
A car cuts in from the right into our lane with barely inches to spare and without signaling.
CY: "Crazy driver. I hope he bangs his car into a tree!"
Ling: "Dear, please don't curse!"
Or this:
A sports-type car with all the black-dark tint windows and what sounds like a nitro-injected engine whizzes loudly past us, with wound-down windows, and an arm stretched right out with a cigarette.
CY: "I hate smokers. Doesn't he know that his arm can hit motorcyclists? I hope he gets lung cancer!"
Ling: "Darling, please don't curse!"
Or even something like that:
A car window wounds down, and out comes an entire mouthful of spit.
CY: "I hate people who spit! I hope he chokes on his saliva!"
Ling: "Dear, you shouldn't be wishing evil on others!"
The both of us drive defensively and scrupulously abide with our traffic laws – and when someone doesn't play by the rules of the land, I get morally indignant and vent to the much more civil wife who has to listen to me mouth off the most inventive curses I can muster – the above three aren't nearly representative of my creative juices.
The funniest thing though is that I don't possess ill intentions to those fellows whose driving behaviors irk me. Rather, the venting is actually a sort of verbal engagement I've got going on with Ling, and it does make for funny conversations in the car – though she usually often ends up sighing in resignation.
Not that this might keep going on for that much longer, given the prices of today's Certificate of Entitlement. We just might not be able to afford a car in the years to come.=(
The secrets of language acquisition in infants and toddlers
This is probably the final segment on my gleamings from the book 'Nurture Shock' by PO Bronson & Ashley Merryman.
A disclaimer here first – I'm no linguist and definitely not anywhere close to being regarded as a language expert. Where the English language is concerned, Yang speaks and writes better than I do. I had to sit for a English proficiency test in order to gain entry to a local university. You get the idea :)
The authors of the book has a chapter devoted to exploring why some children pick up language skills sooner as compared to others. In other words, why do some children speak sooner, better and more confidently than others? According to findings, baby DVDs did little to encourage infants to grow in the area of speech. So, save your moola on buying into all that hype. It was observed that infants learn faster from watching real humans speak than being parked in front of the black box watching educational videos. They learn best by watching how your mouth and facial muscles move as you speak. Monkey see, monkey do. That's the current wisdom. :)
Another interesting observation was that children progress faster when other persons around them respond to topics that interest them. For example, if a child point her finger excitedly at a dead flower on the ground and her grandmother picks it up and talks about it in a similar tone of excitement, the child will often quickly absorb new vocabulary associated with the moment. I've seen a mother who put her daughter down when her kid alerted her to a little bird that flew over them. The mother dismissed her daughter's interest and observational skill and muttered something like her daughter was only interested in birds. Perhaps the mother was not in the right mood. But it was an opportunity lost.
I noticed that Hannah learn better when I let her rope me into her daily chatter about her nursery school, toys, games, etc. I simply 'played' along with her enthusiasm in various subjects. I'd casually slip in new words or proper grammar in my communication with her and leave it up to her to pick them up. And she would almost always subconsciously or consciously copycat me to express herself in the topic too. And it has been amazing how the young brain could so effortlessly remember those new words which were uttered only once sometimes.
Since the beginning of nursery school this year, Hannah has developed a positive attitude towards learning the Chinese language. I don't know what is her Chinese teacher's secret formula but I do know that Hannah is fond of this particular teacher. She often mentions her in our conversations. My guess is that this Chinese teacher practises "people don't care how much you know until they know how much you care" (quote by John C Maxwell). Children are also sensitive and sensible towards the level of care shown by people around them. In the area of language, I believe that head knowledge and the heart must work hand-in-hand to bring out the best in a child's development. And a head start in language acquisition should help a child communicate her needs and feelings better and reduce unnecessary frustration that growing up brings.
The Theory of Two
For a long time, Yang and I were content with having just one child. My decision was largely influenced by Yang's perception of my ability to manage another kid. Other minor reasons include my age (higher risk of conceiving a baby with Down Syndrome) and stretching our finances.
But time has a way of changing minds.
As Hannah grew up, we noticed that she gravitate towards other kids to play whenever she had the opportunity. Companionship. She likes to play with her cousin 'Natasha jie jie' and talks about it even after the event was over. We started having second thoughts since then. Another compelling reason for me to seriously consider having no. 2 is to allow Hannah to be able to share the burden of caring for two aged parents in the future. A few verses from the Old Testament of the Bible came to mind as I write this post:
Two are better than one,
    because they have a good return for their labor:
If either of them falls down,
    one can help the other up.
But pity anyone who falls
    and has no one to help them up.
Also, if two lie down together, they will keep warm.
    But how can one keep warm alone?
Though one may be overpowered,
    two can defend themselves.
A cord of three strands is not quickly broken.  -Ecclesiastes 4:9-12 (NIV)
According to one commentary, this section emphasizes on the "obvious benefits of companions. The intimacy and sharing of life brings relief for the problem of isolation and loneliness. A companion can offer assistance, comfort, and defense." Of course, this can also apply to life partners such as husband and wife. Okay, I'm going to pretend that I did not see that 'cord of three strands'. :) Three kids! No kidding?!
Now that God has granted a no. 2, we are hoping that the baby would be a girl. Well, I know it is terrible planning on our part. We chose Hannah's primary school based on the assumption that we were not going to have any more children. Her targeted primary school is an all girls' school. And we have bought a new property within 1 km of that school. So, if no. 2 is a boy, he might have to be enrolled into a less than ideal primary school near our new home. Not fair right? Sigh. He could enroll into daddy's reputable primary school but that would mean traveling long distances every school day for SIX YEARS! Argh. "Lord, please let the baby be a girl." Hee hee :)
Gleamings from 'Positive Discipline for Preschoolers' Book: Revenge
Out of the four mistaken goals in misbehaviour, i.e. undue attention, misguided power, revenge and assumed inadequacy, we have not observed the last two in Hannah so far. *keeping fingers crossed*
So, this post is especially for you, Matt. :) BTW, I'd be sharing mostly from the book.
The intention of a toddler taking revenge at others is to make them feel as bad as he/she does. Scenario: Mommy had a hectic day and when she returned home and saw that her daughter had messed up the living room by spilling orange juice onto the floor for the umpteenth time, she immediately yelled at her and called her a naughty girl. The mommy cleaned up the mess and declared that the daughter won't get to watch her favourite cartoon programme on TV that evening. Later during bedtime, the daughter refused to let mommy read to her saying, "Don't want mommy! I want daddy!" Mommy felt hurt and discouraged that her own daughter rejected her after all that she has done for her.
Sometimes I reprimand Hannah for unintentional misbehaviour. The most recent incident was her spilling water onto the floor when trying to reach for a new Dora mug left standing on the dining table. She really made quite a mess and my immediate reaction was "Hannah, why did you spill water again!?" and I angrily took the mug away from her hand. She looked remorseful and on the verge of bursting into tears. Thank God I caught myself in the act soon enough and tried to make amends by asking Hannah to fetch a rag to mop up the water and use a calm voice to teach her to ask for permission to touch new things. I recognised that I was partly responsible for the spillage as I should have known better that a new brightly-coloured Dora mug within reach was a big temptation for a curious toddler.
We hope that Hannah wouldn't become the vengeful sort of girl. So far, she always seek to reconcile with us whenever we become angry or upset at her misbehaviour. Her usual approach to reconcile is to stalk the parent and ask to be carried in a teary manner. Another approach for lesser crimes is looking at us with a smile and persuading the parent with "mommy happy…mommy not angry…"
According to the book, we would be motivated to tackle the unpleasant revenge problem if we begin to see that a hurtful child is a hurting child. Instead of responding to the child with punishment, we could choose care and support. The rationale is that if the child is feeling hurt, it does not make sense to make him/her feel worse.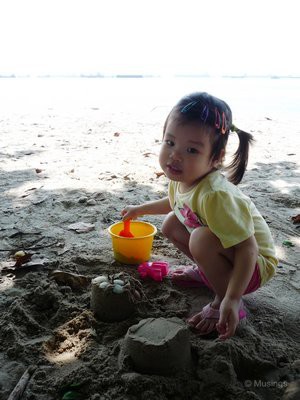 Below are some steps towards reconciliation:
1) Deal with the hurt feelings of the child: Speak to the child that you could see that he/she is feeling very hurt for what you have done. Acknowledging his/her feelings would make him/her felt understood and valued in the family.
2) Apologize if you caused the pain: There are times when a child was really at fault and other times when he/she is only partially at fault. If you have over-reacted or blown it out of proportion, swallowing your pride and admit that adults aren't always right could go a long way. Quoting from the book: "Children are delightfully quick to forgive, and you may discover that the hugs that follow apologies bring you even closer."
3) Listen to your child's feelings: Ask sincere questions to allow your child to articulate his/her feelings verbally or non-verbally (if the child is too young) with body gestures such as nodding. This helps to deepen the sense of trust between parent and child.
4) Make sure the message of love gets through: Telling your child how much you love him/her and how important he/she is to you heals the pain tremendously. Both will become fast pals real soon.
5) Make amends, not excuses: Once the hurt feelings are dealt with, both the parent and the child need to address the problem created in the first place. In the scenario of the spillage of orange juice above, mommy could offer to the daughter a rag to wipe up the spill and assist her in the cleaning.  If the daughter refused and retreated to one corner, the mommy could take this opportunity to teach by kindly cleaning up the mess and wordlessly proceed on with the rest of the evening. This requires patience and role-modeling.
The above strategies are recommended for preschoolers. :)
Hannah: Days of Growing Up
Hannah is fast growing away from her budding cuteness as a junior tot.  She is taller now and not easy to carry her in our arms for too long. And that simple innocence in her round eyes and pure happy delight in her giggles – I'd miss them when she is past that stage. *Emo-ing*
But we have a consolation. A good video camera to capture those precious moments so that we could enjoy her little-ness anytime. Below is a small selection of these moments we managed to save.
1) Hannah trying her first popsicle (alas, it was too sour for her!). I love her tender 'bye-bye' at the end of it.
2) Hannah at her favourite playground. She always asked to watch this video clip. :) And she always laughed at herself when watching it.
3) Hannah upgraded to using adult spoon one of the dining-out occasions.
4) Hannah enjoying herself in front of the video camera. :)
Gleamings from 'Positive Discipline for Preschoolers' Book: Power Struggle
Yang got me this parenting book as a surprise birthday gift recently as I kept extending its borrowing period with the library. :)
The last time I shared something from this book was about a month ago. I touched on Hannah wanting undue attention from us. Besides demanding for our attention, she has also engaged in quite a bit of power struggle with us (more so with mommy). The book called such a display from toddlers 'misguided power'.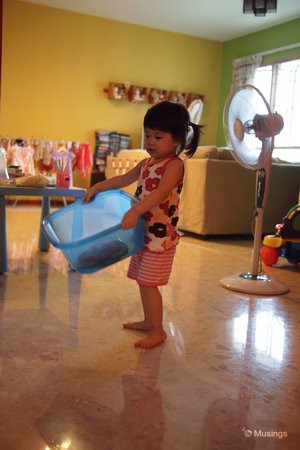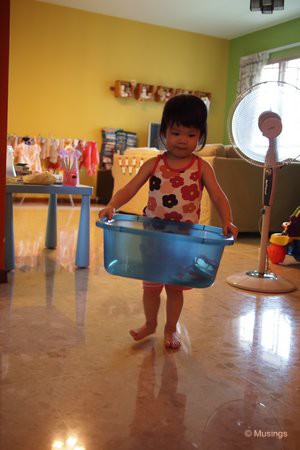 The recent major outburst has been during her bedtime routine. The mere mention of "it's time to bathe now" would set her on the whining motion. And then she would refuse to take off her clothes, want to take this take that with her to the bath tub, want to sit on the toilet seat repeatedly even after she has emptied her bladder, wail while I tried to shower her, transition to the hysterical mode while I put clean clothes on her and continue throughout until we put her to bed. I remember the first few nights we had time-outs for her, i.e. let her ventilate on her own. I tell you, our girl is a natural loud hailer. And one with a great stamina at that too. We felt sorry for the neighbours who have to put up with her loud tantrums. Whatever good advice and tips I have read from the book were all thrown out of the window when I came face-to-face with this tiny but formidable giant. She wanted her way and I insisted on mine. Neither would give an inch.
Yang often stepped in to act as our peace-maker. That was when I began to see the value of two parents instead of one. Some of his strategies include reinforcing my expectations with Hannah in a softer tone, giving Hannah the option of having daddy to bathe her, holding her hand to walk around the house to calm her down and very occasionally using her favourite iPad as a carrot to coax her into cooperation. I took the opportunity to calm down too while Yang dealt with Hannah.
Still, we have to drive home the message to our girl that mommy and daddy have rules at home and she would do well by obeying them. For instance, she has been wanting to read almost all her books during the bedtime routine and I started to set a rule that she could only read one book. I allowed her the option of choosing which book she wanted me to read to her. Whenever she tested the boundary, I would remind her of the rule calmly and walk out of her room if she disobeyed. So far I have walked out a couple of times and it took her about 5-10 minutes to come looking for me to reconcile by holding my hand or asking to be carried. She would go "mommy mommy" in her sweet child-like voice or give a sad, teary gaze that made me feel sorry to have treated her with much sternness.
A friend who was on her way to being a mother once asked me about the joys of parenthood and I found it hard to put into words. I mean there are strong indications out there in public (e.g. handling wailing kids) that speak against any joy of being a parent. But there is joy nonetheless. It is in her snuggie little hug, in her happy face when she looks up at you, in her peaceful sleep, in the way she goes "yayyyyy" when she runs gleefully, in her amazing trusting nature, in her effort to sing and dance and imitate funny sounds after you…you feel hopeful around her in this broken world…and she makes you desire to be a better person. Or at least that is how I feel around our daughter.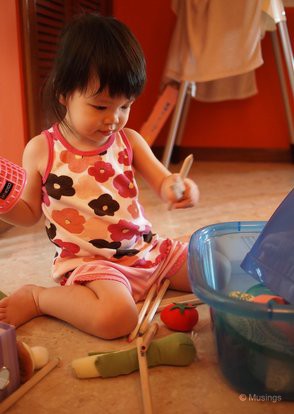 Oops, I have digressed! Okay back to the book. The authors advised the following responses when the tot gives you the "you're not the boss of me" attitude:
offer limited choices
turn misguided power to useful power by asking for help
shut up and act with kindness and firmness (it's true, silence speaks louder than words in times like this, and kindness touches the heart)
make a date for problem-solving (applicable from 3 years onwards)
distraction (works big time especially for tots below 3 years)
Thank God that we are gradually gaining the upper hand of the situation at the moment. I'm beginning to see a certain pattern and suspect certain trigger points for her tantrums. May God grant us much wisdom and will-power to be better parents.
Hannah's Progress Report from Playgroup
I used to write remarks and testimonials for my students when I was a full-time teacher. There were certain dos and don'ts stipulated pertaining to our choice of words. No matter how disruptive or unaccomplished the kid was, I was required to word my remark in a positive manner but still be able to suggest the intended meaning. It was quite a challenge for a low language proficient person I was (still am!). It was also an art I've acquired over the years.
For example: "Outspoken and sociable, Clara is a live-wire in her class. There has never been a dull moment with her during lessons…" Reality: Clara (not her actual name) is talkative and disrupts an otherwise conducive learning environment in her classroom.
We just received Hannah's progress report from her playgroup teacher – yes, you got that right, tiny tots do get assessed these days too. We read it with some amusement and agreed or disagreed with some parts – but that's okay. All children have different pace of learning and we were not too overly concerned if Hannah appeared to be lagging in certain areas of development. But what caught our attention was the overall comments her teacher wrote at the bottom. Hmm, "very smart" eh? The asian + teacher spirit in us caused us to read in-between the lines and connect with a recent report from her nanny about her misconduct at school. See below!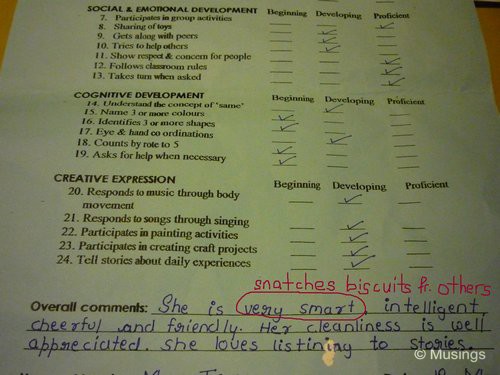 Could that be the idea at the back of her teacher's mind when she wrote it? Ha ha :)
Gaming, Women and Society
A year ago I received a fairly large group of JC students who were at my institution as part of their immersion program to better understand video games in society. One of the topics I spoke to them about was on gender in computer games, and there are two widely debated areas of interest in this theme: the representation of females in games (think Leisure Suit Larry, Lara Croft etc.), and the dominance of masculine game themes that also ties in with the kind of physical differences between men and women that in turn lend to certain advantages in games (e.g. spatial orientation). That shouldn't be a surprise, because conventional wisdom tells you that women don't play games, and even less want to develop games.
What a lot of people don't realize though is that in the 2008 industry findings on demography, 40% of gamers are women and 44% of online gamers are women. Ok; so that industry finding likely includes people like my mom at Lentor who plays loads of Solitaire, or any one of my several dozen neighbors in Frontierville. But there are a lot of women gamers – proportionately, nearly as many as men. But for some reason, while there's a sizable number of women who play games, very few actually want to develop them.
That situation has proven to be quite an interesting challenge for the industry, because it makes immediate marketing sense that if you want games to appeal to a gender segment, you'd need persons who understand the needs of that segment. There's a few; like here and here, but it's not enough.
Part of the complication I think has to do with the kind of inclinations the general public has of computer games – that its just for entertainment, and it doesn't help that a lot of the commercial games you find on retail feature male-dominated themes (e.g. violence). But thankfully that's changing pretty fast, with the kind of funding the industry receives towards the development of game-based learning and edutainment. Or that at the national level, there's a lot of interest in serious games. Put in another way, the educational sector has realized that games aren't just for fun any more, and there are real instructional opportunities. That's why industry is looking seriously at attracting the fairer sex to game development through attractive grants and scholarships from industry giants like Sony like this one here.
Which brings a thought. While I got inducted into video games at a pretty early age at 12 years old and one year later at 13, programmed my first video game – a graphical text-based adventure – my position in the industry today lies more along the domain of game studies, or the discipline that looks at video games as social and cultural phenomenon, as opposed to game development. It's been an interesting transition. I have three degrees; one in computer engineering, one in business, and one that's only nominally in 'information systems' but really entrenched in social studies and behavior. I should blog about this rojak mix sometime soon now that I have the benefit of retrospection years after the fact.:)