Pregnancy
now browsing by tag
Babies and Sound
I'm a big fan of the Terminator series of films. So as soon as McG's Terminator Salvation reached local cinemas here, I got to booking the tickets.
Unfortunately, for possibly the first time since 4 years, I'll be watching a theatrical screening alone. How's that? Well, Ling wants to watch the show, but won't be doing so for Hannah's sake. She was afraid that the inevitable loud audio track in the theatre would damage our baby's hearing.
Initially I thought that was must mummy paranoia – until I did a quick search for information on this topic. And guess what – there's some factual basis. E.g. one source says: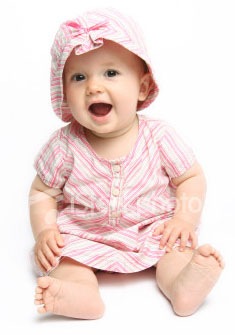 While there have been no studies done to confirm that loud music, such as that found at concerts, can cause damage to a foetus, statistics have shown that women who work in an environment that requires hearing protection have babies with higher rates of hearing loss and there is growing evidence that excessive noise can have a detrimental effect on foetal development.
The greatest risk to the baby as a result of exposure to loud music comes from the physiological changes that can happen to the mother. Loud noises can trigger the mother's body to release stress hormones, which may negatively affect the growing baby. Here, the risk of damage to the foetus is greatest during the first 14 to 60 days after conception, when the baby's central nervous system and vital organ formations are still taking place.
No kidding! I need to get my hands on a pair of home headphones now if I'm going to be able to enjoy my diet of loud, noisy and bombardistic movies when Hannah pops.:)
Belly Dancing
Here's a little home-video for keepsake. Hannah has been so active towards the end of the last trimester. I derive quite a bit of entertainment and amusement just by watching the movement (i.e. her stretching, poking, punching and spinning) she created on my belly. The video clip shown here is one of her milder 'dances' (It was not that easy to capture it on video ok! She has her 'moods').
I shall entitle this video clip 'The Nah Nah Dance'. Hee hee. :P
Nesting Instincts
Some say that pregnant ladies will exhibit nesting instincts when the due date draws near.
I started on tidying Hannah's room about 2 weeks ago. Thoughts of decorating the room also flooded my mind. Just recently too, I finished a cross-stitch work on Hannah's name. Each letter took me about 2-3 hours. Am tempted to start another one with her birthdate, birth time and weight and then framed it up to be hung on the wall. Wanted to get a strip of pretty wall paper to go round the liliac-coloured wall but could find the time to get it done.
I'm getting really heavy and also clumsy in the way I walk. My feet have started to swell since last week – sigh. Hannah weighs about 3.2 kg today. I hope that she won't grow too big so that it won't be too difficult for her (and me!) to squeeze her way out. Ya. :)
Due date: 12th June 2009. Any time really.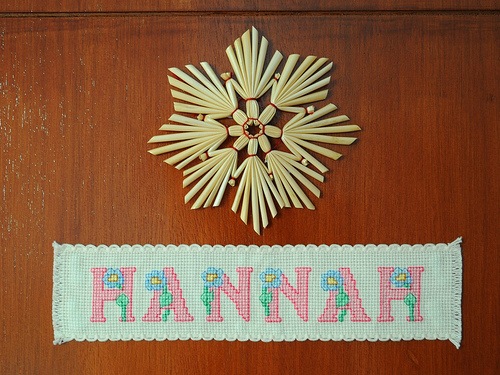 The lonesome loner
Not everybody gets to enjoy the comfort of companionship all the time – I suppose. I know of students who felt friendless and helpless in a new school environment. I've heard of young kids who felt lonely when their siblings or parents are away. I know of people who felt lonely as single adults. I have come across married women who felt lonely even after having found a life partner.
Being almost a 100% introvert, I often prefer to be left on my own, i.e. being alone, in my own world. At my workplace, I usually steer clear of crowded tables at the canteen during lunch time. Crowds drain energy from me. Perhaps that's why nature appeals to me. It is quiet and / or devoid of man-made activities.
However, I hated the emptiness in the house after Yang left for his trip to San Francisco. Perhaps I didn't realise that he was very much part of me since we knew each other and got married. The loneliness is especially unbearable when I have nothing to distract my mind. This brings to mind that one day when we are advanced in years (God willing) and one of us may call home to the Lord sooner before the other, how are we to cope with the separation? May the Lord strengthens us in our hour of need and gives us hope for the great reunion to come. How great the joy must be to be at home with your loved ones and with the Lord.
Baby Names Wrap
The other day I saw our baby daughter kick! Not through the Ultrasound, but through little bumps off Ling's belly as though our little tot couldn't wait to get out LOL.
Ling's been rubbing her tummy (a lot!), talking soothingly and clucking like a mother hen. She was also asking over the weekend if we should make up our minds about our coming baby daughter's name now, as she'd like to start talking to her by name. So, we've finally decided on Hannah Foo Jiexin, with the earlier reference posts for her Christian name here, and her Chinese name here.:)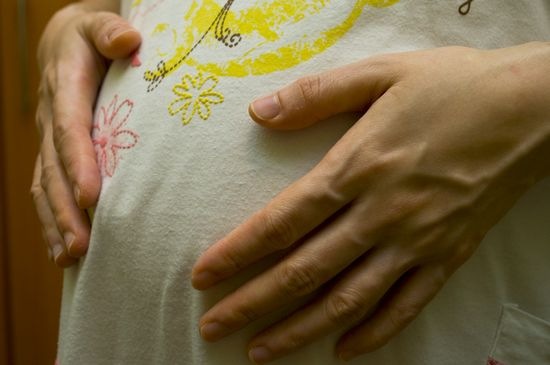 Baby Names – Chinese Version
Here in Singapore, Chinese names given to newborns typically follow a name structure that's kept consistent for each generation. For instance, my generation was "Foo Chek *". For the next generation, it's "Foo Jie *".
Mum has been thinking of a couple of alternatives for us to choose. So, we went by Lentor for dinner, after which we sat down to look through all of them: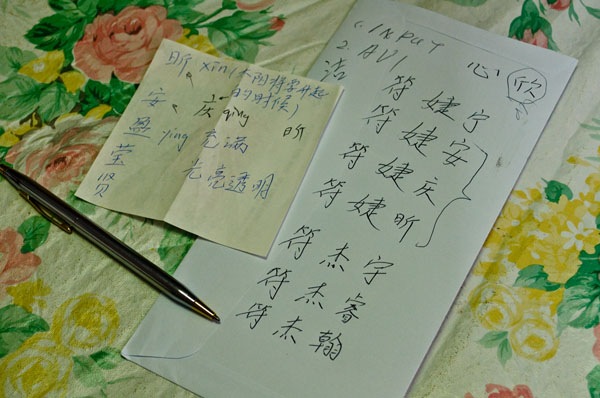 One of the nicest things about having Chinese names is that each character is rich in its meaning. Mum highlighted three possibilities:
Foo Jie 'an' – 符婕安 – Peace and tranquility
Foo Jie 'qing' – 符婕庆 – To celebrate
Foo Jie 'xin' – 符婕昕 – Dawn, and the sun rising
We discounted 'qing' pretty quickly. We didn't want our baby girl turning into a party animal LOL. Of the remaining two, I'm Ok with either though I think Jie 'an' sounds phonetically closest to 'Agnes' and 'Hannah'. Ling thinks 'an' is a little non-descript, and much prefers 'xin' instead as it's a lot more meaningful.
Yeah, I took a picture of the paper she scribbled the characters down. One day, we're gonna show this picture to our girl and let her see the different possibilities then.:)
Baby storehouse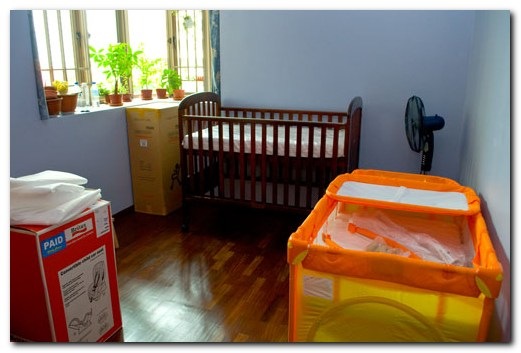 The guest room / kid's room / Matt's old room has become a little store house of late, what with the growing collection of equipment and materials we've been getting in preparation for our baby girl.
Several of the large items we ordered from Kiddy Palace the other day have arrived this afternoon: from left to right, the car seat, the baby pram, the cot, and the play pen. Mummy Ling wasn't at home, so a befuddled daddy had to listen to an old Uncle / delivery guy explain how to assemble, dismantle, adjust etc. the cot and the pen.
Help – should have had a video recorder to tape down the instructions LOL.
Lessons: "In all things…"
We usually close of our bible study with prayer requests. And recently Ann jokingly remarked that I don't seem to have many requests.:)
There's a long-winded explanation for that. I don't have many specific requests because putting aside all my posts here about toys I'm interested in LOL, I really don't have many actual needs and wants.
Why's that? It comes from a simple truth that I believe in: that everything I have and every difficulty I face is part of God's plan for me, and while I'll pray for confidence and courage, I won't pray for specific outcomes unless it's absolutely clear in my head what God's will is.
My belief stems from a promise God made, and it's in the epistle Paul wrote to the Thessalonians who were under persecution for their beliefs. Worried, Paul said to the Thessalonians:
"In all things give thanks for this is the will of God in Christ Jesus concerning you all." (1 Thess 5:18)
I was first struck by this verse when doing my quiet time while in full-time NS 17 years ago, and it's remained in my head ever since. This is one of my three 'anchor' verses that I always remember, and it helps simplify the challenges and situations that come on all too often.
There are three key phrases in this verse:
– "In all things…", which well means in everything.
– "Give thanks…"
– "The will of God…", it's God's will.
In everything that happens, give thanks because this is part of God's plan for you. Paul didn't tell the Thessalonian converts to give thanks only when the going is good, and not to give thanks when their goats were lost somewhere, or when they were faced with some huge calamity on their door step. Rather, things are happening because it's part of God's plan, and there will be some lesson, learning value, or opportunity that will come as a result.
Normal or not?
It has been a trying period for us after my gynae informed me that my test results showed that our baby may have chromosomal abnormality, especially Down Syndrome.
At my age, the average probability of conceiving a baby with Down Syndrome is 1 out of 311. But for me, the probability turned out to be 1 in 38. To add to my grief, I was also high risk for two other chromosomal abnormalities. Having taught sexual reproduction in human beings to my biology students for the past 8 years, I know too well of the defects of Down Syndrome and the options that laid ahead of us. I felt like being told that I have a terminal illness and my days were numbered. The difference was that our baby's days were numbered before she was born.
I was comforted and thankful that Yang was firm about keeping the baby regardless of his / her health status (we didn't know the gender then). The trauma and guilt would had been too much for us to bear if we were to opt for abortion so we didn't consider that option at all. So we committed everything unto Him who is able to keep us from falling and went ahead with amniocentesis to confirm whether the baby has those defects. I'd rather know whether the baby was healthy then than 'discovering' it after delivery. Some mental preparation and time for 'acclimatising' to the reality is, in my opinion, better than being thrown into the deep end when the baby does arrive with a genetic defect.
The scenarios of caring for a Down Syndrome child kept coming to mind every day since my gynae broke the news. As much as I want to trust God for His good and perfect will, the future looked bleak and I lacked courage to want to try for a second one. I wasn't angry at God for our situation. In fact, I was wondering whether He was punishing me for my sins. Whatever reason He had, it must be good because of His nature.
And I'm thankful for understanding and supportive parents-in-laws.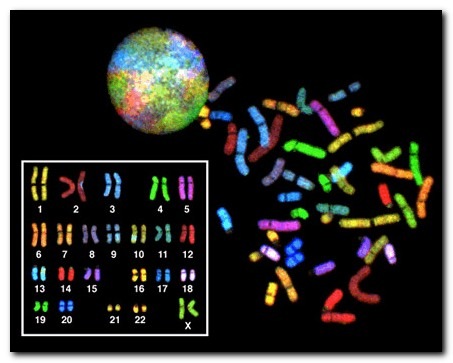 During this period of waiting and wondering, I did muse about an abnormal child having greater blessing than a normal person. For example, a normal person can be laden with all sorts of cares and burdens of this world but an abnormal person can be most care-free and content in life. Of course, a mutant is a mutant and often a social stigma. Nevertheless, I'm glad that more and more people are willing to accommodate non-normal individuals as part of society.
So I went for amniocentesis 2 weeks ago. I was a bit frightened because it involved a small risk of miscarriage. Yang was at the hospital with me then. A doctor inserted a thick needle through my abdominal wall to reach into my amniotic bag (water bag) to withdraw a sample of my amniotic fluid. It contained cells shed from the baby and these were cultured and then screened for any extra chromosome amongst the 23 pairs of chromosomes a normal human being should have. This screening would also reveal the sex chromosomes of the baby, whether XX or XY.
On Tuesday night, a staff from my gynae's clinic called me to break the good news that the baby was normal and a girl (XX)! Yang and I were so relieved and also grateful to God. We want to thank everyone who prayed for us and encouraged us (we didn't share about our struggle with many). We are grateful to God that Pris, our small group friend, reminded us that all children are gifts from God. She and our small group didn't know our situation then.
Finally, "Consider it all joy, my brethren, when you encounter various trials, knowing that the testing of your faith produces endurance. And let endurance have its perfect result, that you may be perfect and complete, lacking in nothing." James 1:2-4
And it's a…
… a
GIRL

!!!!! Yippee!!!

I get to choose the name for our daughter hahahaha!!!! :)

We just got the happy news. Ling will be doing a follow-up post later in the week on the results of the scan.:)