Phuket 2017
now browsing by tag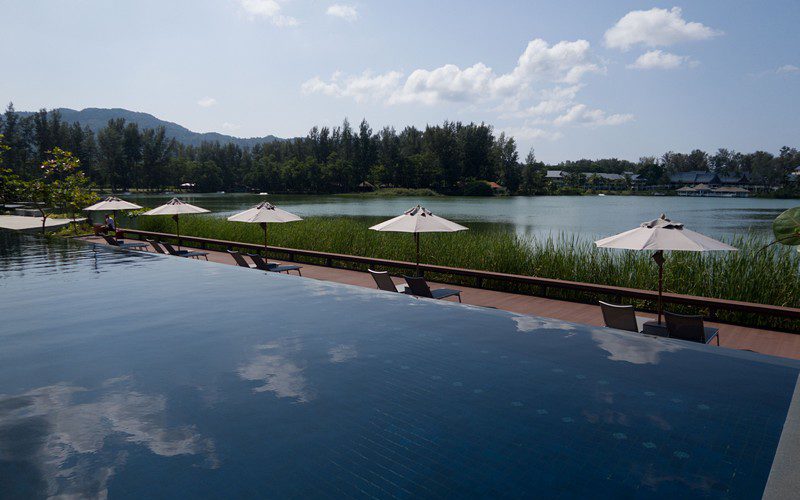 Phuket 2017 – Final Notes and Such
Our last post covering our December 2017 trip to Phuket. As is our practice in our family vacations, aside from an overall itinerary commentary, we normally also finish off with final notes and travel advice.
Phuket has certainly changed quite a bit when Ling and I last visited in 2008. To start of, the island today seems to offer more children-friendly activities. Ok – this might of course be that neither Hannah or Peter had joined our family before our last trip and so we weren't paying special attention to child-friendly places to visit and things to do. But in 2017 at least, there are lots of things for young kids. Aside from the usual beaches, there are several fairly new and very large shopping malls now – Jungceylon especially impressed us with its sheer size – indoor playgrounds, and the Splash Water Jungle Park of course.
Oddly too, I found the Thais to be much less hospitable on the overall than our last visit. Specifically, there were fewer smiles and much less warmth all round, and this is my sixth visit to Thailand already. The Sino House reception was friendly enough, but Cassia Phuket was matter-of-fact. Maybe the sheer volume of tourists to the island has also won the locals' patience thin?
Phuket has also become more expensive in several places and areas. The price difference when it comes to dining in different parts of the island is astonishing. Street restaurants has inched up somewhat but were still normally about SGD6 to SGD8 per person for average eats, but in the more swanky parts of the island – e.g. the Laguna area where we stayed in at Cassia Phuket – and Patong Beach, you could easily pay twice that for essentially exactly the same thing in the same class of restaurants. The best value for money meals we had were in the outskirts of Phuket Old Town where Sino House was located.
The admission prices need a mention too: they've gone up significantly as well, and admissions to tourist spots like the Splash Water Jungle Park, UpsideDown House and TrickEye Museum, are now pretty much in-line with admission prices in Singapore, if not even more expensive.
Compounding this too was also that some restaurants charged VAT (value-added tax), while others didn't – but you couldn't always say for certain looking at the menu. Several restaurants and places of interest too also charged the additional 3% for credit cards, while others didn't. Something I also appreciate too from our two recent holidays in Australia – that what constitutes a child enjoying discounted admission is somewhat consistent between places. Not so in Thailand: some places went with height (e.g. TrickEye Museum), others went with a specific age.
Sunblock is a must. While there was a persistent cold breeze about most parts of the island, the unrelenting sun – sans clouds for most days – meant the kids received more than their usual blast of UV rays. Note too: if you're a believer that higher than SPF50 means better protection (be warned though: experts say there are gimmicks about), bring sufficient quantities from home. The pharmacies we checked out carried sunblock of up to SPF50 and not higher.
Of the areas, Phuket Old Town was relatively free of tourist masses, so dining was also the most decently-priced. The area remains generally busy though with lots of locals about with their daily business. Patong was outright chaotic, and prices racked up to match the tourists' willingness to pay. Laguna was the most peaceful of the areas we were at as it's the most upmarket of the places we ran about in. There are tourists, yes – just not many.
It's pretty easy to get around the island if you're engaging private drivers, either by contacting one of the numerous private car/cab companies around the island (email us for a reliable contact that we used for several days), or GrabCar – which we used exclusively for the second half of our trip. The general cost of travel using these two options though is not cheap. In fact, we spent almost as much on transportation getting from place to place as dining! I had the distinct impression that there was some kind of cab cartel operation on the entire island pegging minimum prices for private hired cars.
An example of costs below, all one-way:
Phuket International Airport to Cassia Phuket, 20km: 800THB/SGD32, private driver. 1km: 40THB
Cassia Phuket to Splash Water Jungle Park, 22km: 800THB/SGD32, private driver. 1km: 36THB.
Sino House to Jungceylon/Patong, 15km: 450THB/SGD18, GrabCar. 1km: 30THB.
Sino House to Phuket International Airport, 32km: 670THB/SGD27, GrabCar. 1km: 21THB.
From the km to THB ratios above, GrabCar seems cheaper indeed, but there's also context to it. Sino House is a little more centrally located than Cassia Phuket, and there were fewer GrabCars for hire in Laguna area than Phuket Town.
A note on the quality of service too: the prearranged drivers were always timely – if not early even – and got us to where we needed to go with minimum hassle. The GrabCar drivers were a bit more of a mixed bag. On a few occasions, we waited for well more than the suggested app waiting time (e.g. 2 minutes away turns out to be 15 minutes waiting). At Jungceylon, we had to cancel two times because both drivers kept going to the wrong pick-up location – literally the other side of the mall – and did not seem to want/could not come to the correct pick-up point. Granted, Jungecylon is huge place, but I couldn't quite figure out why the two drivers just didn't want to drive to the correct point near Bangla Road. We eventually gave up and walked to where the first two drivers had arrived to and got a correct Grab Car pick-up on the third try.
Speaking about traffic: do budget sufficient time to get from point to point. For the first half of the trip, we largely traveled eastwards or northwards. Traffic between Cassia Phuket and PES/Splash Water Jungle Park and Ao Po pier were fairly light and we got to and back in good time. The second half of the trip was totally reversed where we traveled from east to west: traffic slowed to a crawl between Sino House between Patong, and back too.
Likewise too, watch out for motorbikes in the built-up areas. This is even the more important for (normally) traffic rule-abiding Singaporeans like us, because the motorcyclists seem to think that traffic lights do not apply to them. H and I almost got ran over a few times by motorbikes just outside our hotel even when lights were in our favor.
I've already blogged about elephant rides. It's a shockingly cruel activity to take part in, and only encourages an animal tourism industry that needs to die, quickly. On the last few days of our visit, there was an elephant-riding incident involving Chinese nationals and someone died as a result. I'm aware of the practicalities of these native elephants in Thailand  – as in, with the huge loss of natural wild land for these giants to inhabit, where else would they go and how would they be fed. So, at the risk of oversimplifying a terrifically complex industry, staying away from elephant parks altogether isn't a good solution either. But there is really no reason to ride these animals who are by nature not meant to be ridden. So, visit the ethical sanctuaries instead and support their conservation and protection efforts.
Phuket was crowded in several places, and also much more expensive than expected – largely from transportation, admissions, and dining around the Laguna area. But we were blessed with wonderfully sunny weather, and an incident and illness-free trip. There are still fairly quiet spots on the island, and things to do which do not involve hordes of tourists. The island isn't particularly pram-friendly though especially if you intend to do a lot of exploration and walking around – something to keep in mind if you have kids that want to be in prams.
For sure, the tourist-y spots were crowded with visitors especially from China. Rather than yet write my opinion again about what I think of them as tourists, I'll write just two things I personally observed in two separate occasions over our visit:
Day 2: There was a three-generation Chinese national family on our sea kayaking trip. In the mid-afternoon, the mother – in full view of the guests on the boat – whipped out her boob to feed her boy, startling guests on the boat.
Day 6: A middle-aged Chinese national lady accompanied by what seemed to be her daughter let drop a huge blob of saliva straight from mouth to floor – on the bright, clean titles in Jungceylon shopping mall – in front of me – then strode away.
Our expenses outlay was, ballpark, like this:
Flight (Jetstar): SGD1038
Accommodation @ Cassia Phuket: 18,800THB/SGD771
Accommodation @ Sino House: 11,000THB/SGD453
Full day trip: John Gray's Hong by Starlight: 9,800THB/SGD404
Half-day trip: Phuket Elephant Sanctuary: 9,270THB/SGD380
Dining: 8,200THB/SGD336
Admissions: 8,800THB/SGD361
Transportation: 7,150THB/SGD293
This was still a good trip on the overall – certainly way more so than the disappointing 7 days we spent in Ko Phangan. I reckon 8 days is a nicely leisurely length of stay if you have young kids, and you can lengthen or shorten it depending on whether you want to do the additional side-trips like island visiting.
So – our next trip in June? We're thinking of either an idyllic island with clear waters stay (Redang, Rawa maybe?), a Hokkaido trip, or maybe back to Australia and Sydney this time to enjoy winter. More on that at some point next year.:)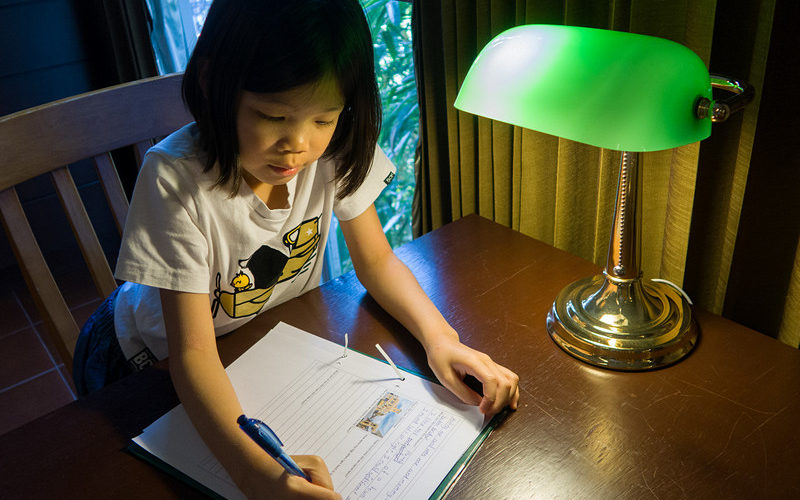 Phuket 2017 – A Child's Perspective
One thing we started during our Western Australia trip in June was to get our girl to keep a journal of things she sees and experience everyday. I reckon I'll have to do something similar for Peter on our next vacation – even if I don't think he can manage writing in six months time, he should at least want to draw something out.
Some changes to her journal, taking on board observations we made from the June experience:
Lines to guide her handwriting. It gets progressively worse!
More guidance: rather than just leave space for her to write, her improved journal now includes questions we ask her.
Portrait rather than landscape mode. It's easier for her to write a document in portrait mode – I think!
And these are selected comments, right from the horse's mouth.
Next – and last post in our Phuket Dec 2017 series – on the overall trip!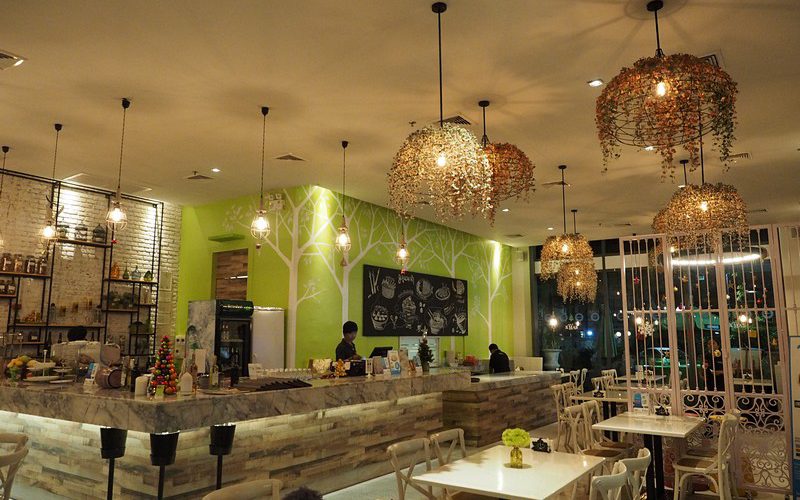 Phuket 2017 – Eat Till We Drop
Ling and I really like Thai food. And we're lucky in that in Singapore, there is wide range of options that suits all budgets when it comes to Thai food cuisine. Interestingly, the Thai restaurants here that we're familiar with are also fairly mid-priced, so it's easily possibly to get a decent meal without breaking the bank. The wife though quips that there's a lot of sugar used in this style of cooking, which also accounts for the fairly high diabetes rate in the country.
We've already remarked that dining prices for food on Phuket ranges widely depending on what part of the island you're in, and the general 'class' of the restaurant doesn't matter as much as it would elsewhere. Keep in mind too that we're not food connoisseurs or bloggers – we eat to live – and the stuff we order has to keep in mind our two children's palettes too. All that said, here's a selection of comments at the places we ate at.
S Cafe @ Canal Village
This is a small cafe with both indoor/air-conditioned and also outdoor seating, and one of the two restaurants we visited in Canal Village. The offerings are both local and also international, and we dined here for both lunches and dinners several times while staying at Cassia Phuket. Wait service is attentive, and there's also complimentary WIFI. Prices are a bit on the higher-side, with the main items from 220THB/SGD10 and above. The restaurant doesn't charge taxes charge separately, so the cost on the menu is what you'll pay.
Albatross Cafe @ Canal Village
This one's all outside seating, with about a third of seats covered, and the remaining water-facing and quite al fresco. It's quite a nice view in the evening. The restaurant is a little less modern and in the early evening, the wait staff seemed flustered as they were struggling to keep up and we had to wait our turns to have our order taken. The menu prices are cheaper than S Cafe, but the restaurant will charge taxes separately.
Jungle Deli @ Splash Water Jungle Park
The kids have to be fed, after several hours of excitement at the waterpark. This is one of the several restaurants located within the park. It offers a few indoor/air-conditioned seating, but we sat on the outside as the weather was really pleasant and cooling. Most menu items are about 200THB and above. Taxes and such are already included in the menu prices.
Believe Café @ Amphoe Muang
This is a small cafe just a few minutes walk from Sino House. Aside from the standard fare, there are also numerous fusion items. Prices – unlike those in the Laguna area – are decent with main items starting from around 80THB. This was supposed to be just lunch, but we stuffed ourselves silly with Hawaiian Pizza Toast, Ham+Cheese Pizza Toast, Green Curry Chicken, and finally Sliced pork with spicy Thai sauce. And total damage? Just 406THB/SGD16.
Kasa Japanese Restaurant @ Limelight Avenue Phuket
The Limelight Avenue Phuket has several restaurants/eateries on the first floor (we dined at three LOL), with Kasa being the only one offering Japanese cuisine. Prices are again a fairly reasonable 160THB onwards, though their Sashimi items were quite expensive. We had the Tonkatsu set, Salmon Fried Rice, and Japanese Pork Curry and ran up to 632THB/SGD26.
Lemongrass Restaurant @ Limelight Avenue Phuket
This restaurant offers Thai cuisine, is beautifully decorated especially on the inside, and offers both indoor/air-conditioned and outdoor seating, and items were in the 120-150THB range, with taxes already included. We had a number of items: Green Curry, Stir-fried Broccoli, Sun-dried pork slices, and Omelette with pork – and the bill came up to 600THB/SGD24. Very reasonable for the high quality of cooking and also ambiance.
Tomtom Coffee @ Limelight Avenue Phuket
Phuket's equivalent of pricey beverages the likes of Starbucks and Coffee Bean. We had the Ham & Cheese set with Latte, Dog Pretzel set with Latte, and Pepperoni Pretzel – and ran up to 460THB/SGD19.
And finally, just to complete this post: we landed back in Singapore at 7:30PM. And this is what we had straight away at Changi:
Next, Hannah's perspective of Phuket Dec 2017!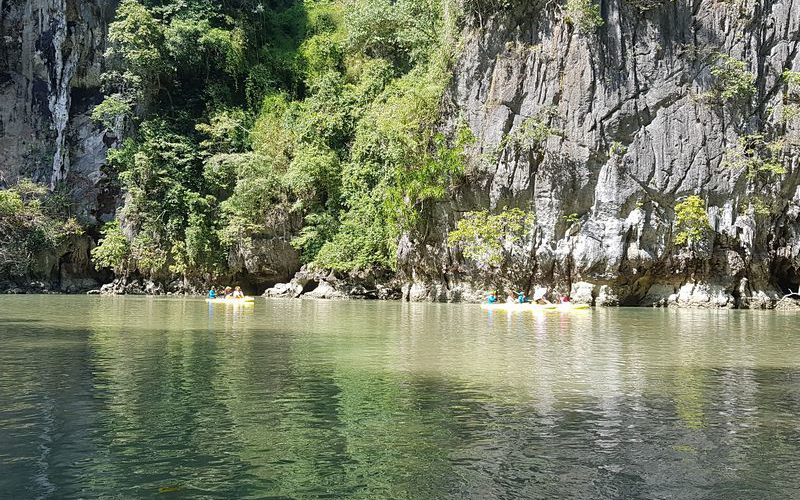 Phuket 2017 – Itinerary Retrospection
Eight days in Phuket, and as we still have an hour to kill before hailing a Grab Car for our ride from Sino House Phuket Hotel to the airport, I wrote up a retrospective post on the itinerary covering what worked well and what I reckon can be skipped. This will get posted after we get home @ Minton.
Flights in and out: we're glad we went with Jetstar. The flight arrived in Phuket mid-morning, and departed mid-afternoon. These were the best timings for us, as the kids could get what's close to a normal night of sleep before leaving, and we were also able to reasonably maximize our period in Phuket island too.
Day 1
Cassia Phuket: Our nightly rate was SGD192 for a 2 bedroom loft suite with pool/lagoon view. The loft suite is really nice and roomy, and the hotel on the overall is also modern, and clean – all located in a fairly newly-developed, upmarket but yet still quiet side of the island. But the room view comes with a cost: the master bedroom was warmed up from the full-blast of the afternoon sun everyday. So, if the view doesn't matter to you, consider going for what should be cheaper loft suites without the pricey views.
Canal Village: The two restaurants – S, and Albatross cafes – serve up both Thai and also international cuisine, but the menu price items are also significantly more pricey than elsewhere on the island. Be prepared to spend SGD10-15 each for most ala carte main menu items. Albatross cafe sits beside the lagoon, so you get pretty nice views while you dine, especially at night – but S cafe has seating inside the restaurant itself, and you'll get air-conditioning. Pick your poison!
Day 2
Bang Tao Beach:A small stretch of beach that's shared between guests @ Cassia Phuket and the adjacent hotel, Laguna Phuket. The beach itself is about 7 minutes walk from Cassia, shaded and reasonably well-paved – but you might be  alittle uncertain finding the way there the first time you try walking the path.
John Gray's Sea Canoeing 'Hong by Starlight': This 10 hour tour is now currently rated the top-rated trip offered in Phuket, the second one being Simba Sea Trips that we did in 2008. The experience is incredible, the tour operators a pretty confident and well-oiled machine. You will need to temper your expectations of it being a serene experience of just you, yourself and nature though – as there are a lot of operators all gunning for the same area. John Gray's package though is environmentally responsible, and their timing a little off-sync from the other operators – so from about mid-day onwards, the number of canoes all jockeying for elbow space falls significantly. We paid 9,875THB / SGD402 for the four of ours, and it was worth it. Very highly recommended.
Day 3:
Phuket Elephant Sanctuary: This Save the Elephants project isn't the only one in Thailand, given the country's notorious animal tourism industry and the truly awful conditions the animals are trained and treated for entertainment. But it's likely the only ethically-responsible park for elephants on the island itself, no matter what the other parks might be claiming too – and the proof isn't just in the introduction videos, but every thing we saw in the park. The Caucasian project/park managers were on-hand to keep a general eye on things, the mahouts had no cattle-prodding instruments with them, only food and treats for the elephants, and the gentle giants basically roamed around to do whatever they felt like doing, with the rest of us following and observing. We paid 9,270THB / SGD378 with a 3% credit card charge added for the four of us. Pretty pricey for just a morning tour, albeit with a great vegan lunch provided – but if you can spare the cash, go for it and witness a truly eye-opening experience that will leave you shredded on the insight about the plights of these stunning beauties.
Day 4:
Splash Water Jungle Park: A lot of fun for our two kids, though from the adults' perspective, the park's rides are not particularly different from the other water theme parks we've already visited at this point. You can easily spend about 3 hours here if you go at a leisurely pace, and longer too if you'd like to also grab a bite to eat at the couple of restaurants in the park. Do remember that there are also other eateries just outside the park, many within easy walking distance. Admission for us was a fairly high 3,600THB, and you might get discounts if you buy tickets online too.
Day 5:
Sino House Phuket Hotel: This small hotel is all about good rates (we paid SGD151 per night for two interconnected rooms), large rooms, overall cleanliness and good location (for us) that was well away from the drunken crowds and bus loads of rowdy and loud tourists from the usual country far up north of Singapore. But if you need higher-quality stays and luxury, this hotel is not for you.
Phuket Trickeye Museum: This little museum was just a manageable 6-7 minutes walk away from Sino House. It shouldn't take more than an hour even if you posed for every exhibit. The experience is semi-special, but the 1,600THB admission for the four of us I felt was just too high compared to what you'll get out of it. Keep in mind too that your main takeaway from this museum are the photos, and you will need some decent photography skills, spontaneous human subjects, and a good amount of luck to get really nice photos.
Limelight Avenue Phuket: A small fairly modern shopping mall with the key essentials, and just a few minutes walk from Sino House too.
Phuket Indy Night Market: Right beside Limelight Avenue Phuket and opened on Wednesdays to Fridays. On the nights the Market is opened, don't have dinner at Limelight. Go eat at the market for real, authentic street Thai food. Very highly recommended!
Day 6:
Patong Beach: A must-visit at least once in your life, if only just to see what the fuss really is about. The day and night time vibe is also completely different, with the partying starting from early evening onwards. A day-time visit to the beach will be safe enough if you're towing along young kids, like we were.
Jungceylon: A huuuuuge shopping mall that you can spend hours in. Lots of shops, stores, eateries and restaurants – and several of the well-known chains have multiple outlets in the mall too.
The Kids Club Phuket: A short 5-6 minute walk from Jungceylon if you also take shortcut I wrote about in my blog entry. This indoor playground is reasonably spacious, and there were very few visitors the weekday afternoon we went by too. Admission, like many of the other Phuket tourist spots, is rather pricey at 350THB for a child's full-day play, and 100THB for each accompanying adult. Remember too that socks are required, and you can save yourself from having to spend SGD2 for a pair of socks.
Day 7:
The UpsideDown House: Like the Trickeye Museum, this tourist spot offers a relatively new experience, but offering an even less generous entertainment hour to baht ratio than the Trickeye Museum. We paid 1,420THB to include the Treehouse/Maze, but suggest you dont – the house is passable if you're in a mood to spend, but the Treehouse/Maze is simply not worth it.
Ikea Phuket: A short 5 minute walk away from UpsideDown House, and a great place to relax in the furniture store and enjoy the affordably priced snacks and beverages.
Central Festival Market: Also a short 5 drive away from Ikea Phuket, and a decent-sized mall with the usual suite of Asian restaurants, department stores of all kinds, and also a cineplex.
We didn't do much on the last Day 8, basically taking our time to leisurely pack for our flight home, and a last visit to Limelight Avenue Phuket for lunch.
Essentially, our itinerary can be spit into two parts: Days 1 to 4 were spent north of Phuket, and Days 5 to 8 just in the central part, as we dropped our Day 7 activities in the Rawai area which is located in south Phuket.
Legend for the map above:
1 – Cassia Phuket / Canal Village / Bang Tao Beach
2 – Ao Po Pier (Hong by Starlight dispatch point)
3 – Phuket Elephant Sanctuary
4 – Splash Water Jungle Park
5 – Sino House / TrickEye Museum / Limelight Avenue Phuket
6 – Jungceylon / Patong Beach / Kids Club Phuket
7 – UpsideDown House / Ikea Phuket / Central Festival Phuket
While our Phuket 2017 trip was 8 days long, one could easily pack in more activities into this period. There are numerous island-visiting trips offered from a large number of operators, including to Banana Beach @ Rawai Island, Maiton Island, and the Phi Phi islands. Be prepared for crowds though, as several of these day tours operate at bargain-bin prices, and inevitably bring about the usual avalanche of bargain-seeking tourists.
Next posts on our gastronomical experiences in Phuket!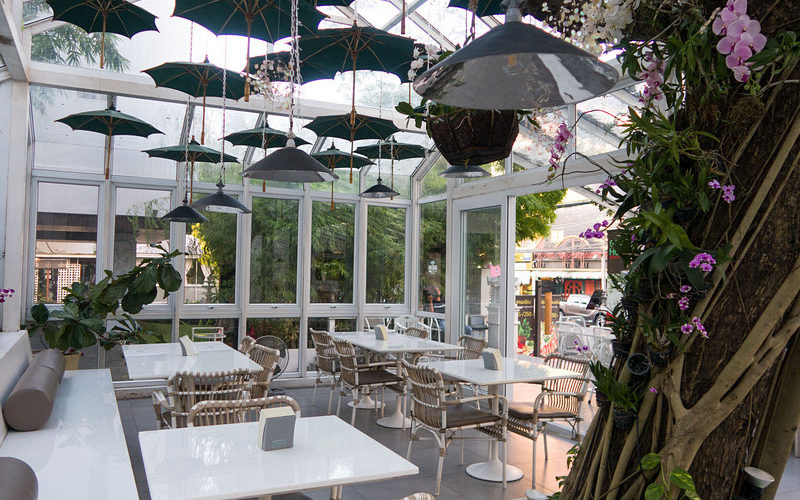 Phuket – Sino House Phuket Hotel
Our second place of stay for Phuket Dec 2017 is situated at the eastern side of the island – the opposite and western side of the island is where Patong and party creatures would gravitate towards. The eastern side doesn't really have interesting beaches, no – but it's also where Phuket Old Town is, and also one of the two major arteries connecting the north and south parts of the island runs right through the area.
There actually seems to be several Sino establishments on the island – Sino House, Sino Inn, and Sino Imperial – all roughly in the same vicinity of Phuket Town, but differing also somewhat in pricing. Sino House is relatively the most pricey stay at about SGD151 per night for the four of us, but make no mistake though – none of these are five-star establishments, and I'll be hard-pressed to rate even the most luxurious, comparatively, of the three to be four-star even.
Our notes:
Our booking was for a Family Junior Suite with fairly good floor area of 60sqm or so. I initially thought that this would actually be a single unit of that size with two bedrooms – e.g. like what we had in Cassia Phuket. But it was only on check-in when we learned that their suite is actually two adjacent units that are interconnected by lockable doors, like our stay in Club Med Bintan. The kids took the room with two super-single beds, and the adults took the other room – which had an oversized king-sized bed. The four of us could easily sit on the bed to watch family TV – actually a whole bunch of Tom and Jerry cartoons we'd carted over from Singapore LOL.
Our three night stay cost SGD453 – compared to the SGD771 we paid for four nights at Cassia Phuket. The latter was a much nicer hotel of course, but the price difference isn't anything to snort at either.
Each of the two rooms are large. Ours for instance, apart from the very large bed, separate night tables, pseudo-walk-in wardrobe and bathroom stall, and its own living area too with sofa, a meidum-sized four seater dining table, kitchen, mid-sized fridge and so on. Everything in the room and mini-bar is also complimentary, with bottles of water and soft-drinks replenished everyday. The hotel does require you to keep the emptied glass bottles in the room though, otherwise they'll charge you for them.
The decor is Chinese-styled. Specifically, this is the first hotel I've stayed in with very fragile and expensive looking large porcelain vases for decor. So, the first thing we had to establish for our two kids, and particularly Peter, was no-touching zones!
The complimentary daily breakfast buffet was in a lovely glasshouse-styled restaurant near the hotel's car porch. The breakfast buffet was quite ordinary, and since the glasshouse has a living and fairly large tree inside it and the restaurant just beside the main road, we had to contend with the occasional fly and insect about during breakfast.
Sino House is within easy walking distance of the Trickeye Museum, and other smaller museums (we eventually gave these a miss), the Phuket Indy Night Market, and – importantly – Limelight Avenue Phuket, a small modern shopping center with a decent Japanese restaurant ('Kasa'), a Thai restaurant ('Lemonglass') that we really liked, a pub joint, a Starbucks-styled Tomtom coffee outlet, a few other young-people eateries, a foodcourt that seems more catered for locals than tourists, and finally a convenience shop.
And lastly, the location is ideal for visitors who do not want to be near crowds. We saw only a small handful of non-locals about in the area, and I suspect there is a large high-school also somewhere in the area. As every day mid-afternoon when school is out, there would be many students in their smart uniforms about.
There are bits that didn't work for us though, and some of these are not particularly just minor annoyances.
The hotel and rooms are worn, and could use some large-scale refurbishment. The rooms are clean, yes – but the overall feeling of the place feels very 1980s-ish, and nothing like the modernistic chic of Cassia Phuket. Ling refused to sit on the sofa as she said it doesn't look clean (I had no qualms), and the both of us felt minor itchiness at our feet every morning after sleeping on the beds. The kids were OK though.
In-room WIFI was not reliable. Signals don't drop-out, but even when they are holding, there is frequently no-access. I reckon it's to do with backend or proxy issues. But when there's a live connection, Internet download/upload speeds are pretty OK, and quicker than Cassia Phuket's.
There were very occasional power resets. The power comes back right-away, but it can be a little annoying.
Air-conditioning is powerful, and we frequently had to dial down its power even – but it's also fairly noisy.
The hotel has a single lift for guests, but there is a horrendously pungent smell in the lift. Ling says it smells of urine, with her nose (and eyes) of an eagle. The  smell is bad enough that we preferred to walk up and down to our units – 307 / 319  – whenever we could.
In all, this was an OK stay – but we can only recommend it for its attractive rates, cleanliness, great location (especially Limelight) and very large rooms. If you're looking for something that even approaches luxury, then I reckon you will want to look elsewhere for a place to stay.
Next post is a retrospection of our Phuket Dec 2017 itinerary!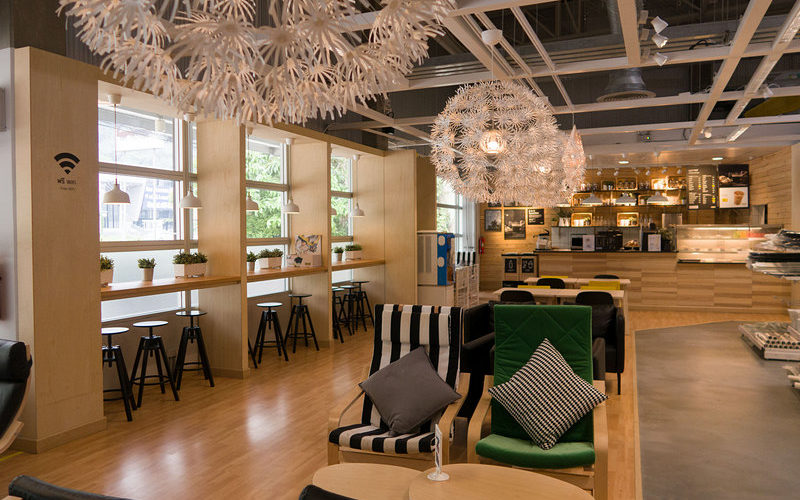 Phuket – Day 7 – Ikea Phuket and Central Festival Phuket
We finished The UpsideDown House, maze and tree house in less than an hour – as Ling quips, a pretty expensive 1,420THB/SGD 58 thrill where we would also have no absolute certainty that the pictures are any good until we post-process them. As luck would have it, Ikea Phuket is a very close 100-150m away – easily manageable walking distance even with two kids in tow.
There were barely any visitors to the store as we'd just arrived after their 10AM opening hour. The store isn't nearly as big as the Ikea Alexandra, let alone the Tampines store back at home – but it's still admirable on the amount of stuff they got to display with so little floor-room. The items seemed about the same as what we see at home. Most importantly, the store has a small cafe that offers beverages; hot/cold coffee for the adults, and ice-cream for the two kids – at the rock bottom F&B prices that Ikea is well-known for.
The general area – from which Ikea seems to be at the edge of – seems to be filled with large home decoration and furnishing stores, which are still relatively spaced apart to make walking point to point a fairly demanding activity. So, we hailed a GrabCar to bring us next to Central Festival Market, a shopping mall that we'd passed by yesterday on our way to Patong/Jungceylon.
The mall is also an exemplar of never judging a book by its cover. On the outside it looks a little worn, but the inside is huge, beautifully decorated and loads of restaurants, shops and department stores. It's still not as large as the gargantuan beast that's Jungceylon – but easily the size of Raffles City. A cineplex – SFX Cinema – occupies one end of the third floor, with ticket prices between 150 to 220THB. And cutely, on the same floor, there are six Japanese/Korean restaurants side by side/opposite sides all eye-balling each other LOL.
Since we had pretty much the rest of the day to spend at this mall, we opted to catch shows. The Last Jedi for myself, and the kids and Mommy went for the new Pixar animated film, Coco – at 200THB per ticket. Point to note: make sure you choose the correct screening, as the shows typically run in both English and Thai, so you'll want to select the correct language screening. The automated ticketing booth we initially purchased tickets from took our money but refused to release tickets, but the helpful manual ticketing staff – after the usual language difficulties – understood our dilemma and got their supervisor out to reprint our tickets, and their technical staff to open up the booth to see what had spoiled inside it.
We were all done by the late afternoon, so it was a final short 10 minute GrabCar trip back to Sino House for a quick rest, before dinner at the Lemongrass Restaurant.
This about wraps up the main posts for our Phuket 2017 trip. Next post is on Sino House Phuket Hotel!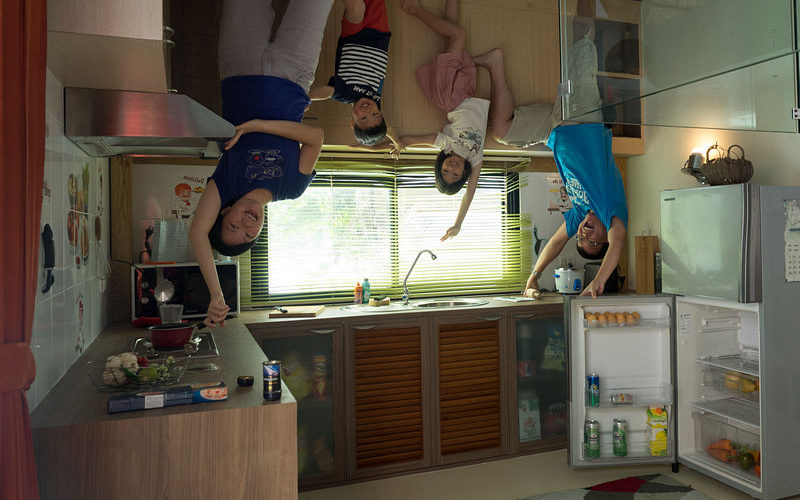 Phuket – Day 7 – The Upside Down House
Our original pre-departure itinerary for Day 7 was centered around the Rawai area of Phuket: with a visit to Rawai Park in the morning, the beach in the early afternoon, and Phuket Seashell Museum for the rest of the day. But all that got thrown out after Day 6 – on account that after a bit more researching, we doubted if Hannah would enjoy Rawai Park after all as the park seemed more suitable for younger kids. Ling was also worried if Peter could take any more sun – he's already pretty much baked to a brown shades after six days now, since his skin is relatively the least developed among the four of us.
So, we decided to do indoor places for Day 7, our last full day on the island – and checked out The UpsideDown House and its surrounding amusement park – a fairly small spot about 10 minutes away from Sino House. I did list this spot in the very early versions of our itinerary, but chucked it largely on account of its very pricey admission rates.
Our notes:
There seems to be confusion about opening times. Tripadvisor says it opens at 9AM, Google says it's 9:30AM, and the attraction web site says 10:00AM. We got there at 9AM nonetheless as the journey from our hotel took shorter than expected. Upon arrival, we were told by staff that they're indeed opening at 10:00am – but since they were ready, they let us and another Indian family that also just arrived in.
There's a bunch of 3D murals outside the house, similar to those in the Trickeye Museum, though not done up nearly as nice, and there are no floor guides nor suggested poses that you can adopt.
There are actually multiple attractions in the small area: the UpsideDown house itself, a treehouse/garden maze, a tilted 'drunk' house, and what looks like a VR experience. Admission rates are quite pricey, with the four of us paying 1,420THB for the first two attractions.
The inverted house actually comprises two levels of activity, with the main area being the second level and a patio level that has just a fairly small number of exhibits.
Basically, every furniture item is inverted and nailed to the ceiling. What you need to do is to pose, then flip the picture vertically to get a sense of illusion that you're the one who's inverted, not the furniture. The difficulty of course – like the Trickeye Museum – is that it's tremendously difficult to nail those pictures. It's very easy to accidentally include telltale signs in the picture that'll destroy any sense of illusion you're trying to cultivate. My advice: get the staff's help to either tell you how to pose, or ask them to take your pictures.
Admission to the Treehouse/Maze costs just a little more extra, but the maze is very small – nothing like Amaze'N Margaret River that the kids really enjoyed in June this year. The kids finished it in 10 minutes.
Bottom line: this amusement park costs a lot of money for the fairly little it's offering, so it's hard for us to recommend it if you want to get your money's worth. Only go if money is no objection.
Day 7 continues at Ikea Phuket (?!?!) and Central Festival Phuket in the next post!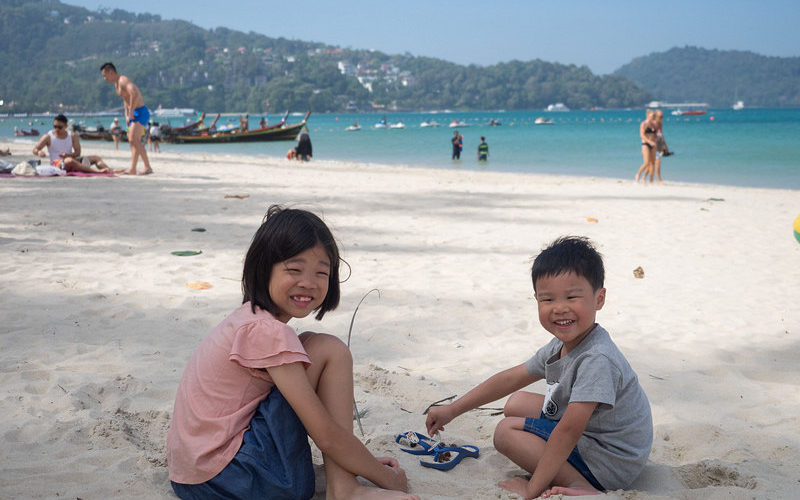 Phuket – Day 6 – Patong and The Kids Club Phuket
Even without kids, neither the wife nor myself are party animals, instead preferring very sedate leisure activities like gardening/baking/cooking for the wife, and photography/music/computing for myself. Still, and largely out of curiosity to see what the fuss is about, we went by Patong on Day 6 – an area which Wikitravel quips is the party capital of Asia.
Arguably the most famous stretch of Patong is the beach that sits at the end of an equally infamous stretch – Bangla Road, with its rows of pubs, street food stalls, convenience and souvenir shops, and of course Thai girls. We'd never bring our two young kids to this area at night of course, so played entirely safe by heading to the stretch on Day 6 morning.
There was plenty of activity already at 10AM mid-morning, but we found ourselves a nice spot at the end of Bangla Beach to soak in the sight, and the kids to get cracking with sand. Truth to tell, I was expecting a lot more chaos – even for mid-morning, and the beach was also quite a bit nicer than I'd expected – with reasonably white sand, though Ling scoffs that that doesn't mean that the sand is actually clean.
There were quite a few usual touts on the beach offering the usual wares: drinks, elephant rides, joy rides, water sports etc. The ang mos were of course also out in force already sun-bathing. And there were also a group of young adult Chinese nationals who seemed more interested in posing pretty selfies in their bikinis, sunglasses and selfie sticks than actually enjoying the beach itself.
We figured we'd had enough after about an hour, so took the short 5 minute walk back Bangla Street to Phuket's massive mall – Jungceylon. The mall is huge, with selected commercial establishments having more than one outlet in the mall itself. For instance, Starbucks, Swensens, McDonald's, Coffee Club at least all had two or more outlets in the mall, routinely at opposite sides of this gargantuan mall. Lunch was at the more sedate and quieter basement foodcourt, where we stuffed ourselves silly again with a range of Pad Thai noodles.
Tummies filled, it was another short hop back to Bangla Road where The Kids Club Phuket is situated. There were lots of shirtless ang mo dudes walking about Bangla Road by this point, no doubt either heading to the beach, or having a beer brake while in the middle of it! Kids Club is clearly marked on Google Maps, but there's a short cut to get there by taking a side-road rather than the main road that Google Maps will suggest you take.
Admission prices for our two kids and accompanying adults were 900THB for the unlimited full-day play, and as we forgot to bring our own socks, forked out another 320THB for four pairs at 80THB each. But it was pretty worth it: this indoor playground is fairly large, has lots of activity areas, pretty clean – and best of all, there was barely anyone about. Besides two other Caucasian kids, Hannah and Peter pretty much had the entire playground to themselves.
Our two certainly had more energy to burn than we though: because after almost 2.5 hrs, the both of us were more restless and wanted to head back to Sino House, while H and P looked like they could go at it for a couple more hours LOL.
Day 7's exploration of The UpsideDown House is in the next post!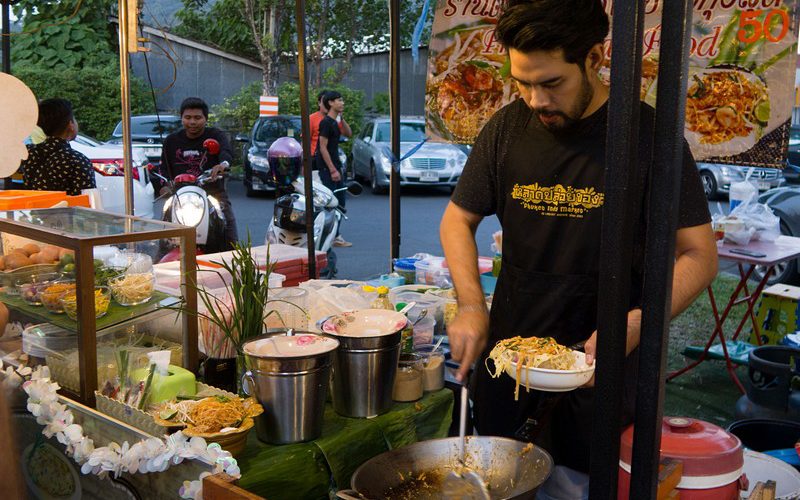 Phuket – Day 5 – Phuket Indy Market
I'll do a post on the places we dined at the end of our trip. But generally speaking, the eateries and restaurants' menu prices around Cassia Phuket are a lot higher than those around Phuket Old Town so far.
The Phuket Indy (Night) Market is a very easy five minutes walk away from Sino House Phuket Hotel, and is opened on Wednesday to Friday from the late afternoon onwards – so we took a look and ended up having what Hannah likes to call 'messy food for dinner'. What that means, literally, is that dinner comprises numerous small snack items – and we had several rounds of Thai fish cakes, coconut juices, coconut smoothies, milk shakes, skewered pork slices, strawberries in a cup, Thai-styled Maggi noodles, Pad Thai (stir-fried noodles), sea weed flavored potato chips, Thai omelette, and Chicken satay. And as though that wasn't enough food, Ling picked up more snacks even for supper LOL.
Food!
And random shots of stalls: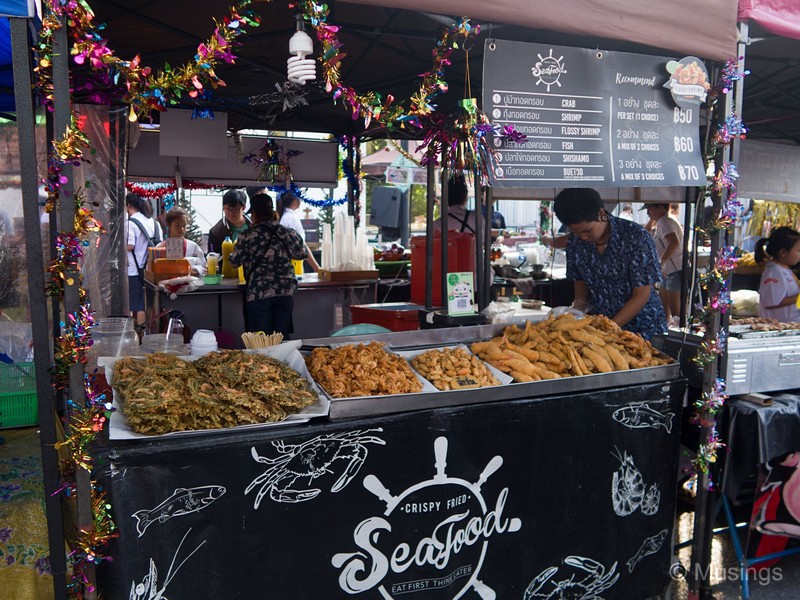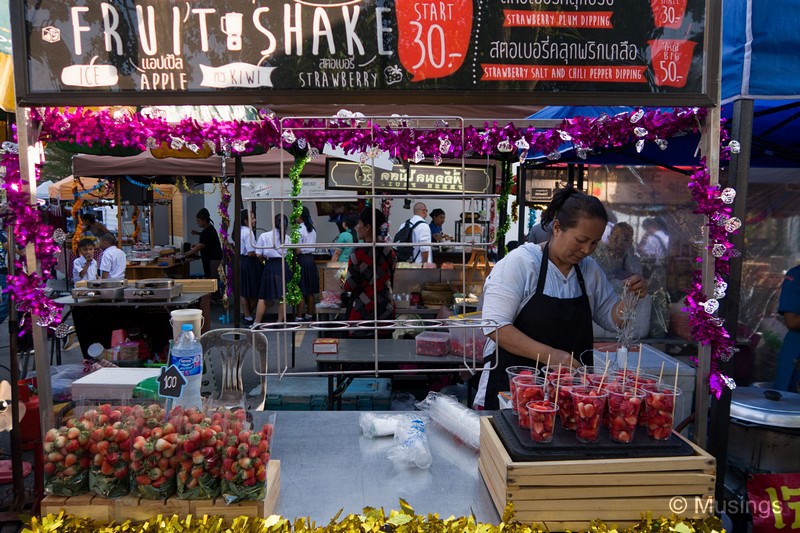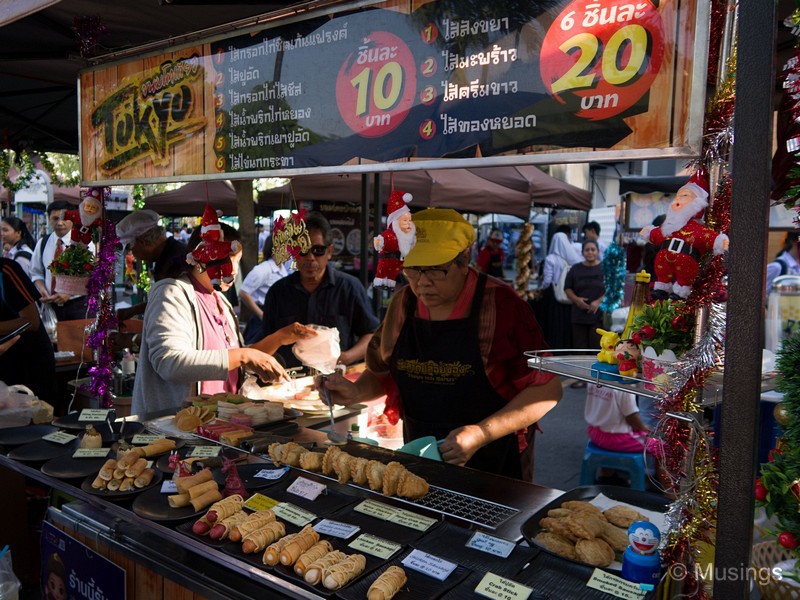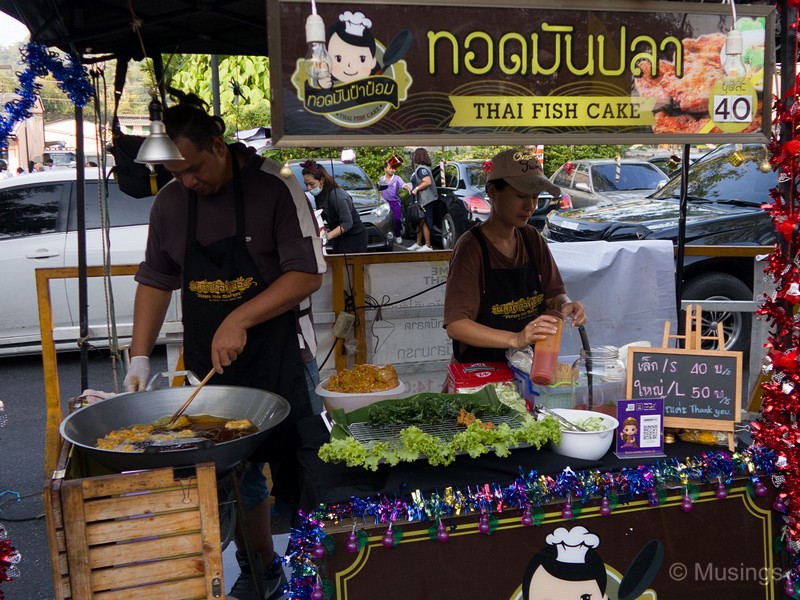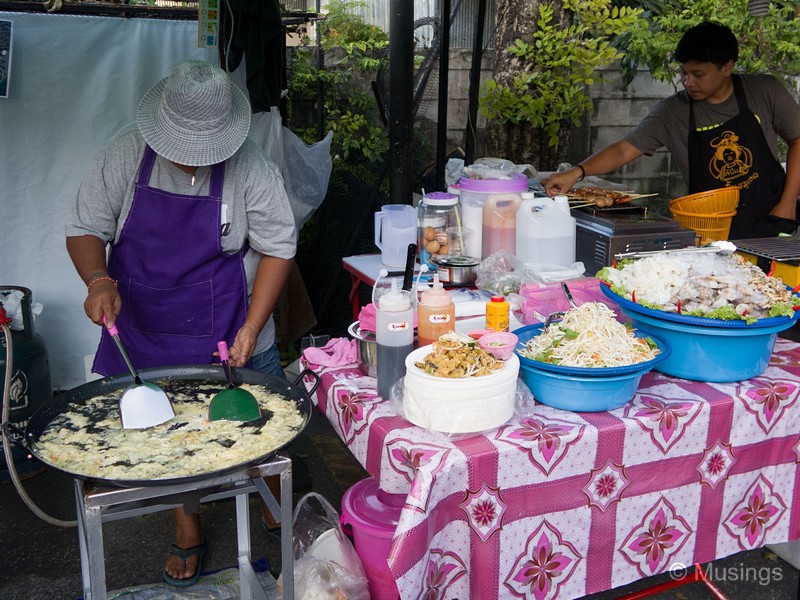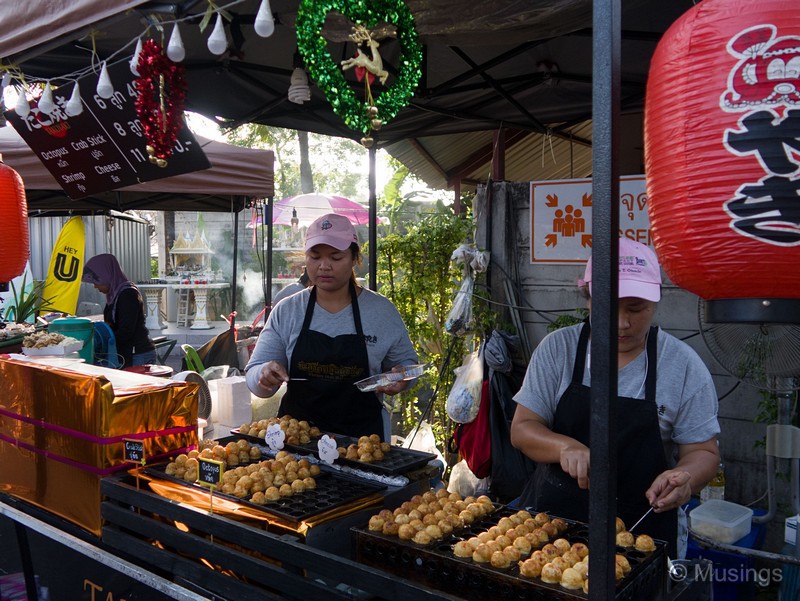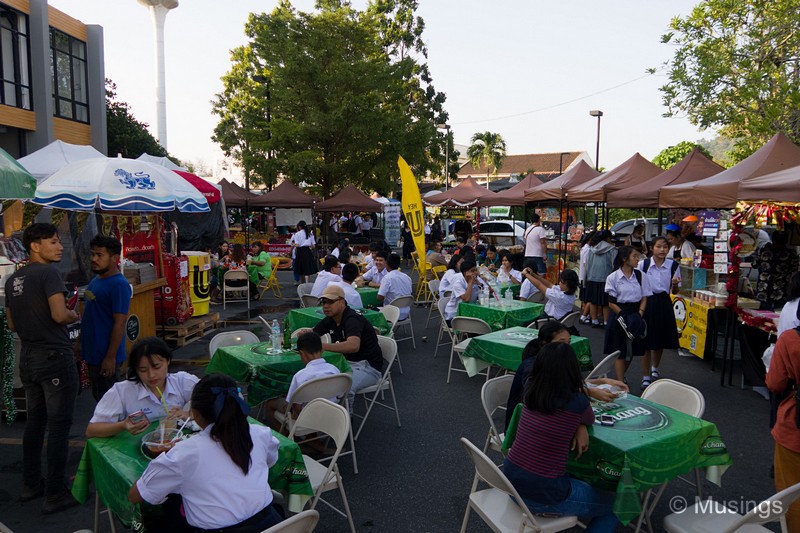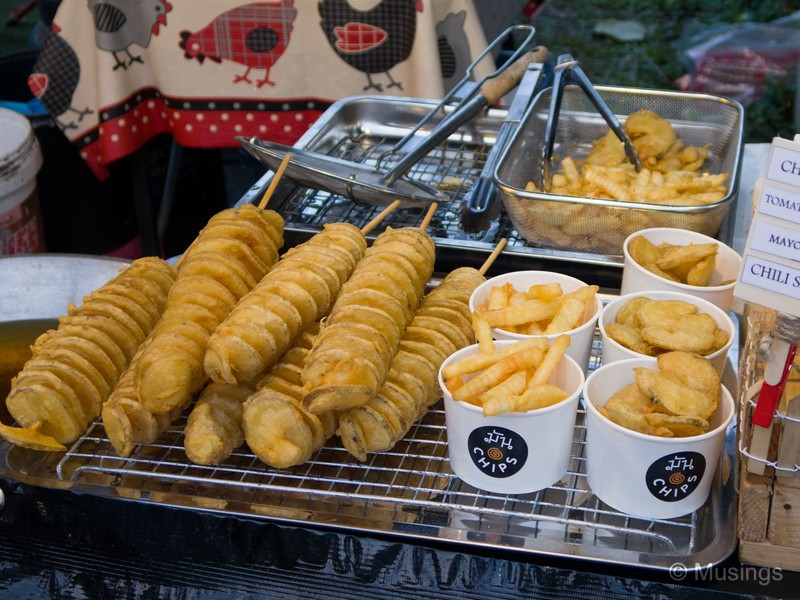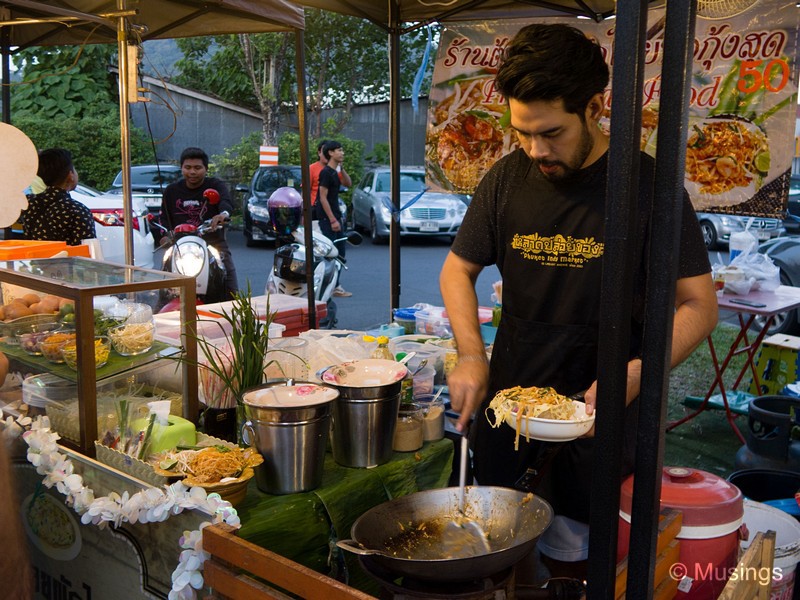 Don't bother eating at restaurants – just get your fix of Thai street foot at this gem. Highly recommended for a visit!
Day 6 in the next post @ Patong area!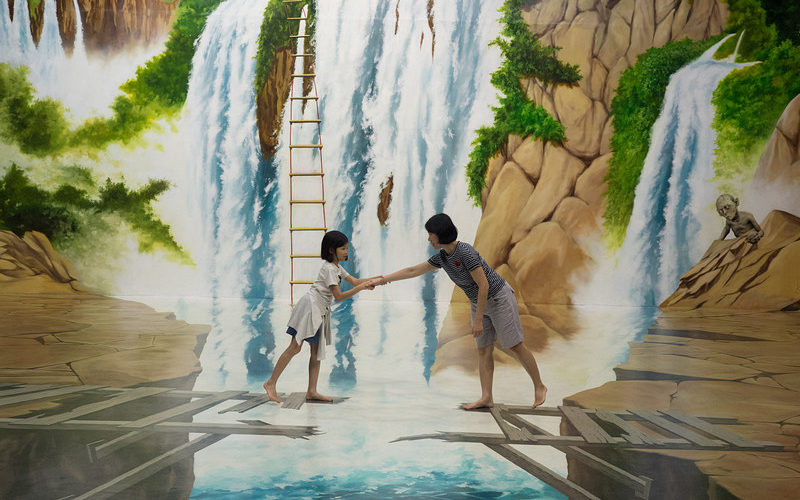 Phuket – Day 5 – Phuket Trickeye Museum
We haven't been to the Trick Eye Museum situated at Resorts World Sentosa yet, so figured that we could just as well make do with the Phuket equivalent of that. The museum is a convenient five minute walk away from Sino House Phuket Hotel. We'd arrived at our second place of stay at 11AM-ish on Day 5. The hotel notes that early check-ins are possible on request and depending on availability – but as our room would only be ready at 2PM, that gave us a good three hours to visit the museum and find lunch somewhere in the vicinity.
Our notes:
The museum has dozens of cleverly done-up wall murals that can provide almost life-like 3D illusions of interesting scenes. To help in this, each exhibit has a suggested pose, and also a marked-out spot on the floor for optimal picture taking. Some of the exhibits will require near-gymnastic-level abilities, but others are fairly simple. Also, getting the right camera angle can be tricky, as with also replicating some of the suggested poses too.
The place was relatively sparse of crowds at the late morning we were there, so we could take as much time as we wanted at each mural. I reckon it'll take at least an hour if you're going for a Completion Achievement and pose for every mural.
Some of the Tripadvisor reviews remark that this museum is suitable for all ages. I don't agree: you need to be at least a little agile for several exhibits, and all round sense of humor. We were unable to get Peter to pose correctly for most of the murals, and even Hannah struggled to get the same look too.
Admission into the museum is relatively high at 500THB for each adult, and another 300THB for child. Peter was just past the 1.1m maximum for free child admission. The museum is indeed interesting, but unlike other parks or places of interest, there is minimal maintenance involved in these exhibits – so I'm not certain why the place has to charge such high admission prices.
In all; I reckon this place is a so-so place to check out if you can stomach the high admission prices. But if you're already flinching at the thought of paying 500THB for each adult and expect your money's worth, then you might want to give this museum a miss.
Some of the photos that turned out reasonably better than the rest: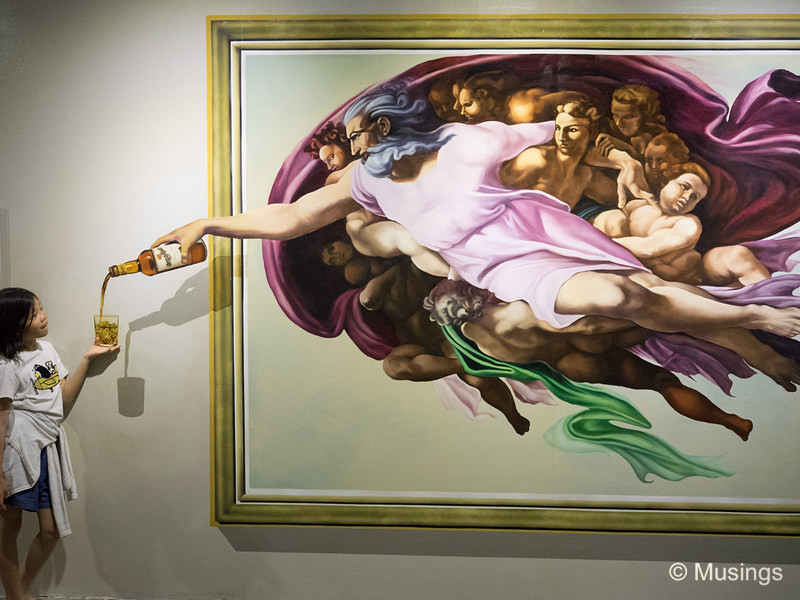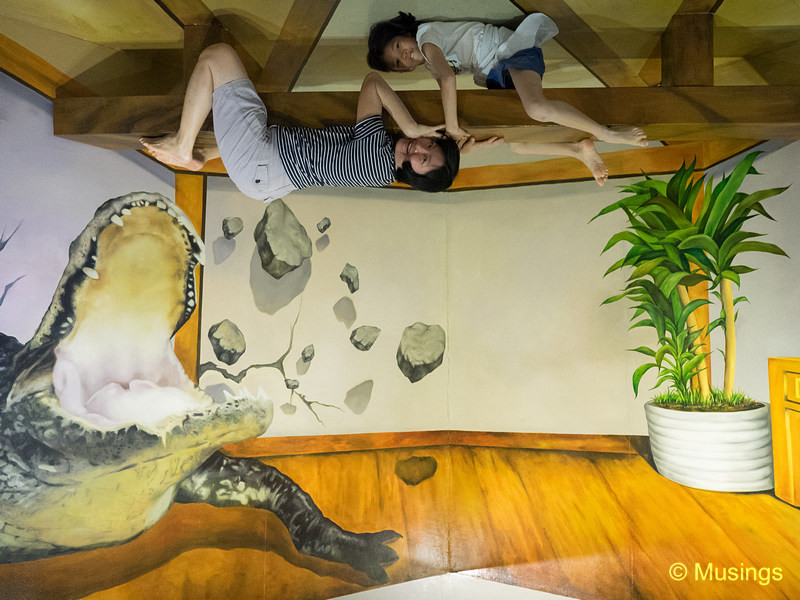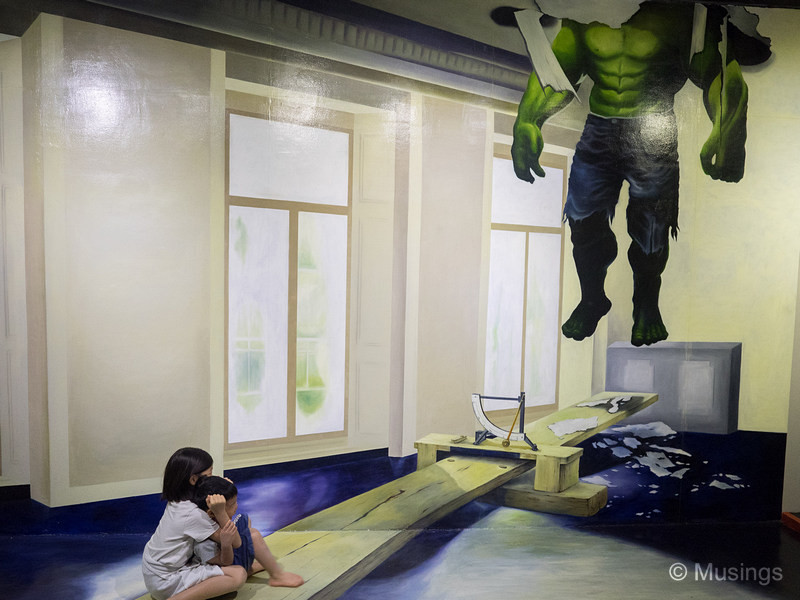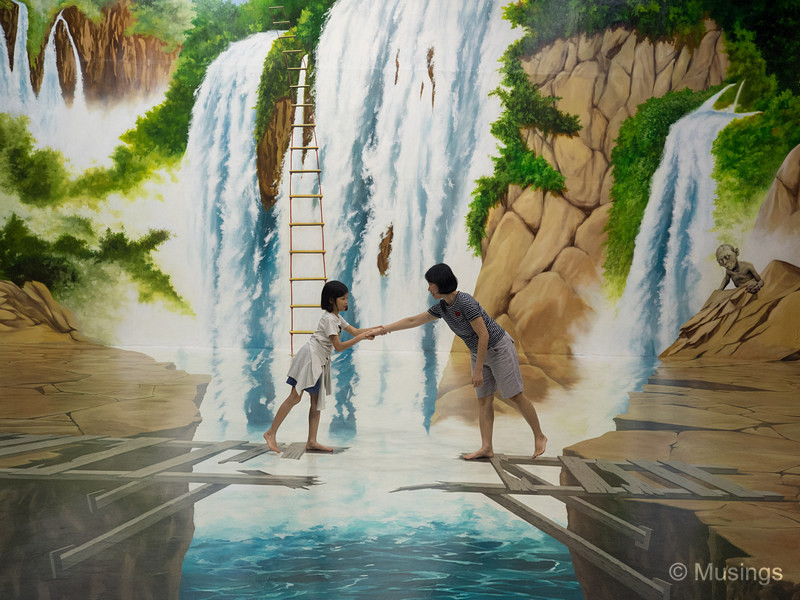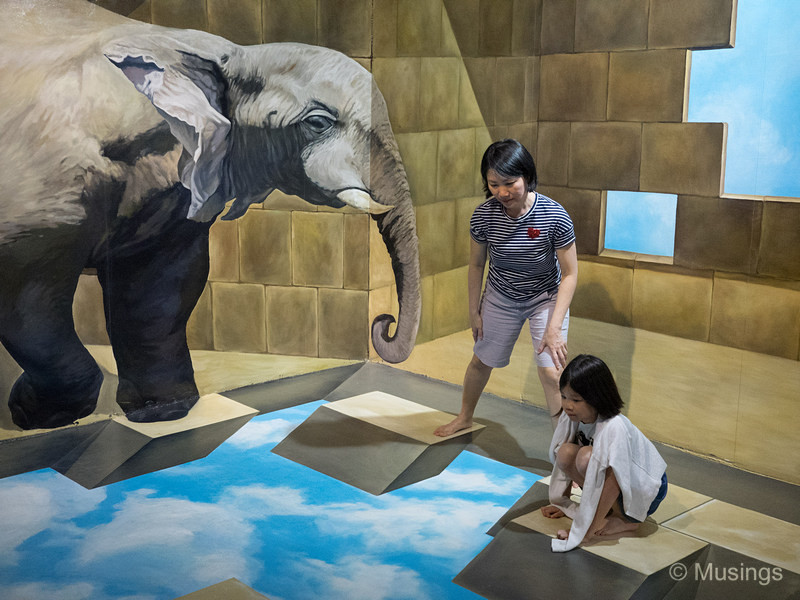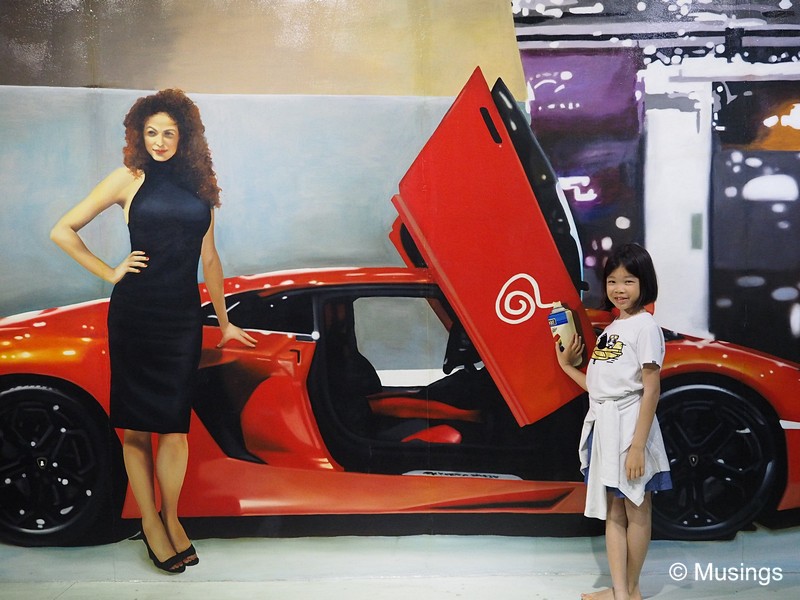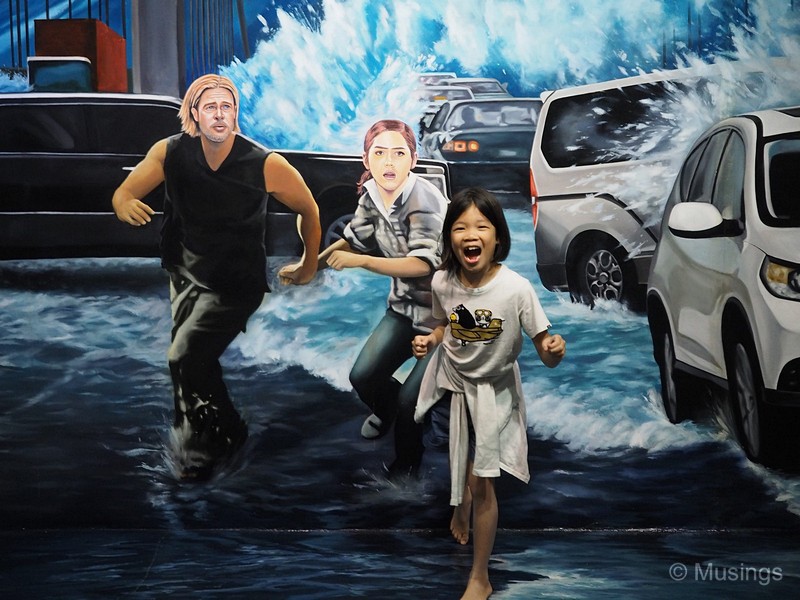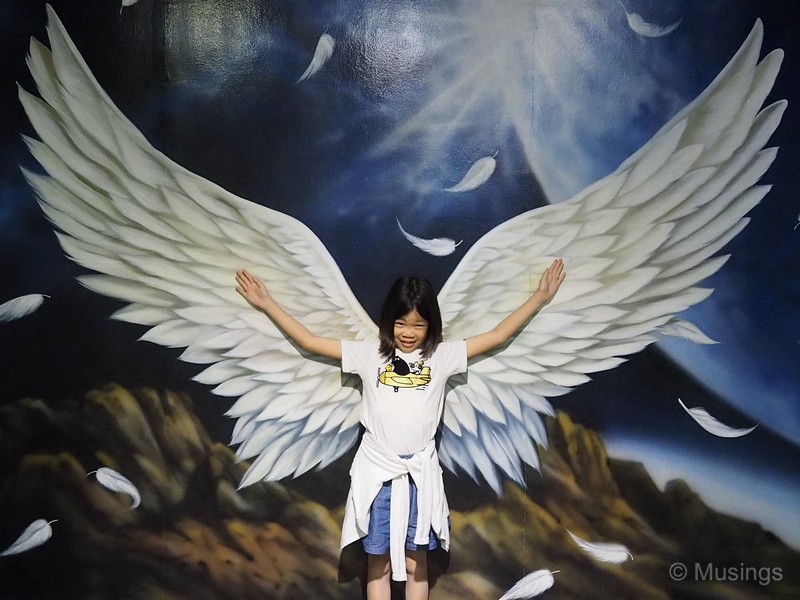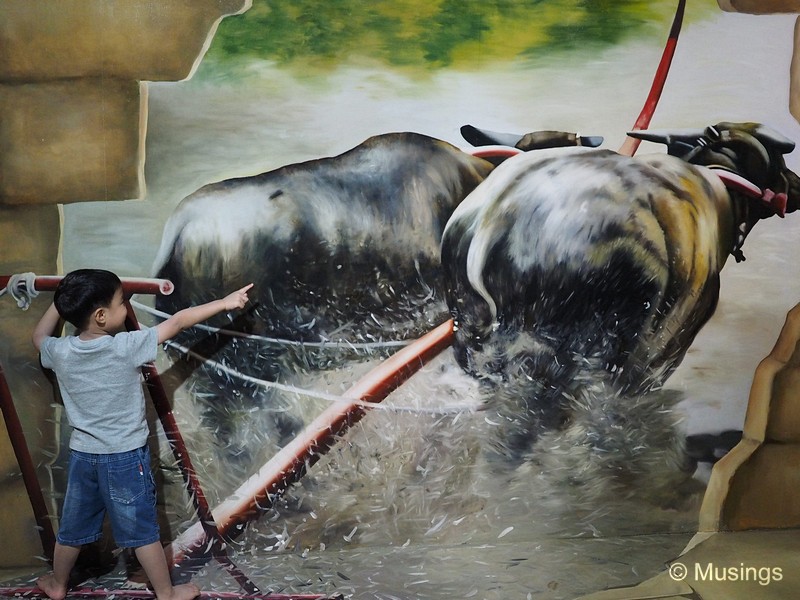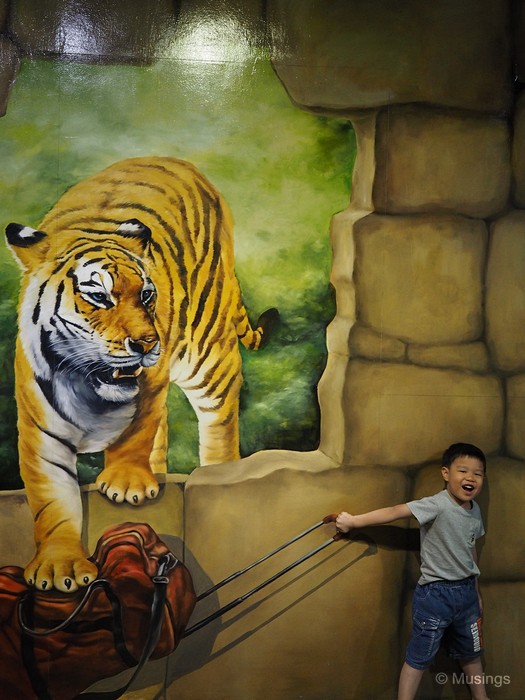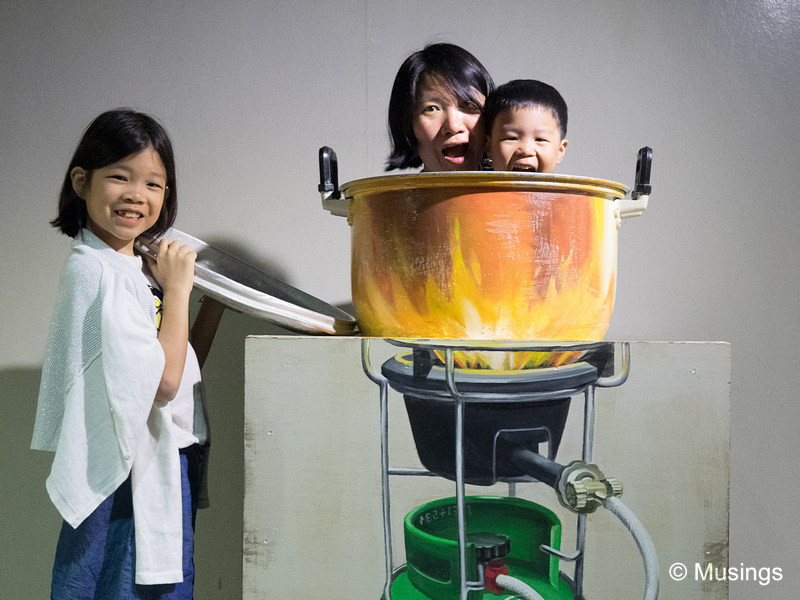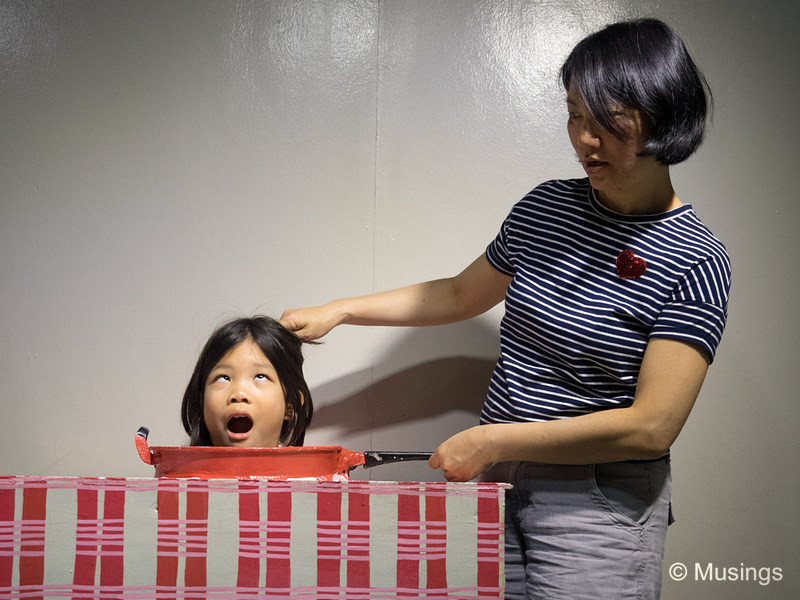 A visit to the nearby Indy Night Market next!