Perth 2017
now browsing by tag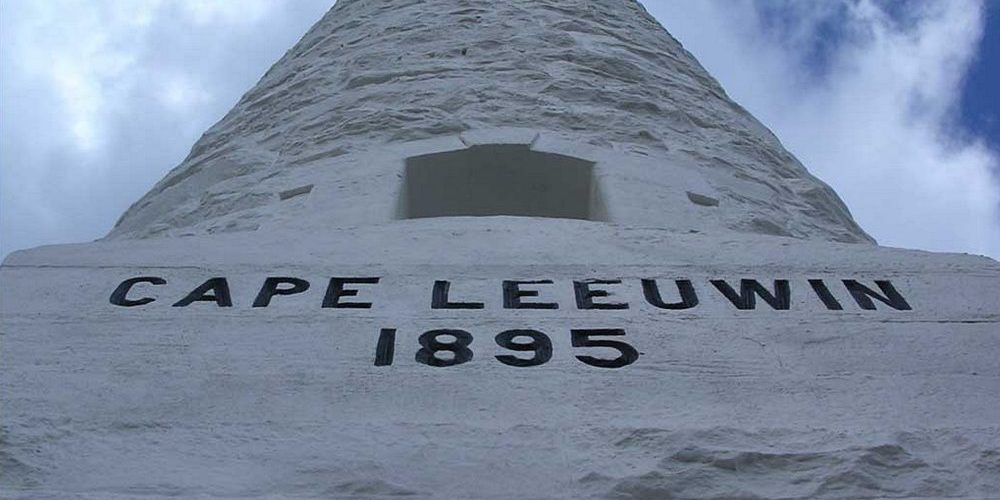 11 Days in Western Australia – Itinerary v3
With the two more challenging accommodation places in Margaret River and Pemberton chosen and booked, things were a bit more clear now – how far/near the stays were to places of interest, logistics, any activities that were part of the stays themselves etc. I could now also take a more informed look back at the rest of the itinerary written up in December last year to see what was and wasn't going to work.
There were a couple of key changes to the base itinerary against the late December version, and still keeping in mind the things that our two kids would especially enjoy:
Dropped: Dolphin/Penguin/Sea Lion cruise @ Rockingham. I read that mid-June is the nesting season for the resident penguins on Penguin Island, and our projected visitation date would be just when this season begins. The couple of operators I checked all had blacked-out periods mid-June onwards. Hannah is going to be really disappointed. With the cruise dropped though, we had an extra half-day to play around with now. The Donnelly River Cruise @ Pemberton was also dropped, on account that I wasn't sure how the two kids were going to like a cruise in cold Winter! Cape Naturaliste Lighthouse also went, as we'd be already visiting the relatively more impressive Cape Leeuwin Lighthouse. Lastly, the Dolphin Discover Center @ Bunbury was removed as we we would have needed more time to do the really fun activities – time we would not be able to spare as Bunbury was a stopover.
Amended: Moved our Fremantle segment from almost the last day all the way front, and in so doing created a free full-day to spend in Perth – hooray!
Added: Added Lake Cave (which many visitors rate as the best of the four caves in the region), Millers Ice Cream and Rotary Park and Trail @ Margaret River which many visitors rate as the best of the four caves in the region, and a short visit to Bunbury Wildlife Park while on our way back to Perth. Thanks to the full-day in Perth we've got now, considering adding Caversham Wildlife Park (very pricey as it is though) and if so, the Whiteman Park that's just next door.

Here's what the itinerary looks like now: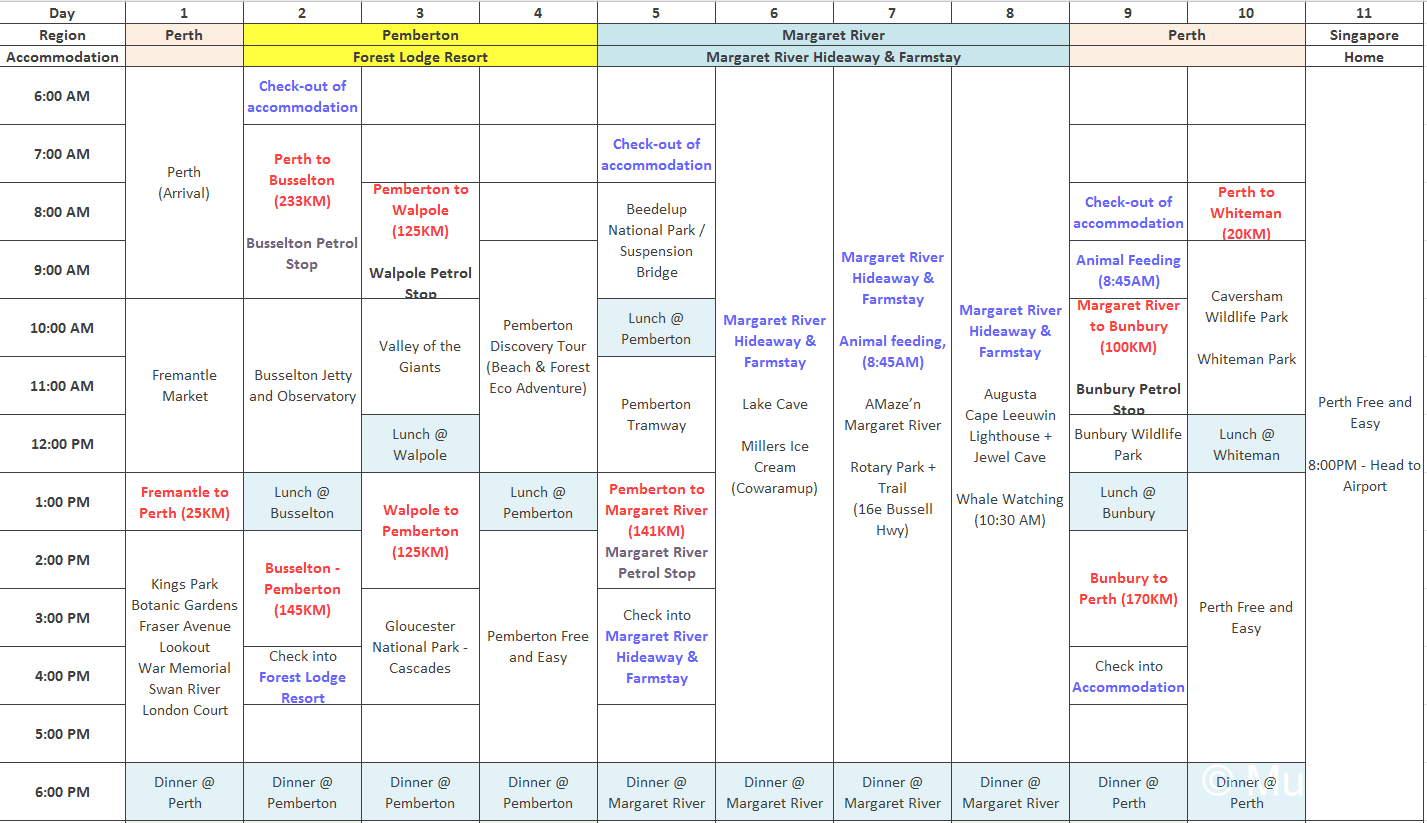 In all likelihood, more changes to come soon though. We still have pockets of free-time in Pemberton and Margaret River. Moreover, once we've determined our places of stay over the three nights in Perth city itself, I reckon we'll scout around for things to do around those places!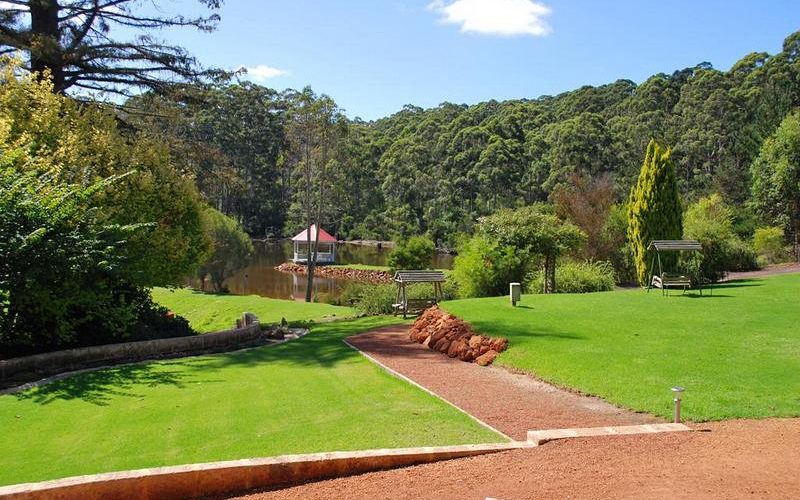 11 Days in Western Australia – Accommodation Arrangements
After some back and forth about when our travel windows for the upcoming June school holiday period would be, we managed to find a two week window where the both of us would be able to responsibly take time off work. And within this, we decided on an 11 day travel period, that we'd head to Perth and Western Australia, and went about finding appropriate airfares to and back.
There are several airlines that fly between Singapore and Perth directly  and even more if you don't mind flights with stopovers – though most of these stopover flights will see you first flying north further away from Perth before turning around and flying in the right direction LOL. As for direct flights, and as we wanted to maximize our length of stay:
Scoot: inconvenient arrival time in Perth (early night), great departure time (late afternoon)
Jetstar: good arrival time (early morning), good departure time (late night)
Emirates/Qantas: inconvenient arrival time (late night – almost midnight), OK departure time (late morning); pricey
Singapore Airlines: good arrival time (early morning), inconvenient departure time (midnight); pricey
So, on balance, Jetstar seemed the best bet. So, after flight booking was done, we immediately went about working out the two more tricky accommodations: farmstays in Margaret River as there are just a few of these in the region, and thereafter, our Pemberton stay – since there are very few properties there too.
For Margaret River farmstays, we were looking at two options:
Margaret River Hideaway & Farmstay: short 5KM drive away from the township, fairly modern, 57 acres farm = ample space for the kids to run around, possible discounts for a Whale Watching trip that we're also planning for.
Sunflowers Animal Farm: convenient location too, pony rides, a lot of animals – though like the above, also not a working farm. Unfortunately, fully-booked for our period of stay.
So, it was choice #1. Its cottages were not available anymore over our 5D4N period, so we had to settle for studios instead. Still – I'm glad that we were able to find a farmstay to begin with! It was also encouraging to read one blogger's post and also the property's Tripadvisor reviews who praised the general cleanliness and hosts' hospitality – and unusual to see a property reply to every review not using stocked replies even.
Pemberton: there's a small number of motels and Bed & Breakfasts in this small town. Unlike the Margaret River accommodation though, our current itinerary over the 4D3N here involved very little of Pemberton itself. Rather, we would be using it as a central location to get to the more interesting places around it.  I'd previously stayed at Karri Valley Resort back in 2003's trip. It was a pretty decent place back then, helped by the lake that it sits beside, though the more recent views also seemed a bit more mixed than before.
Still, we were able to book a two bedroom chalet at the Forest Lodge Resort. The property looks lovely with its small lake, beautiful gardens, and visitors have shared on Tripadvisor about the countryside feel about the place. With any luck, we'd might like the place so much we'd just end up staying in the chalet and not venturing out LOL.
More posts in the coming weeks!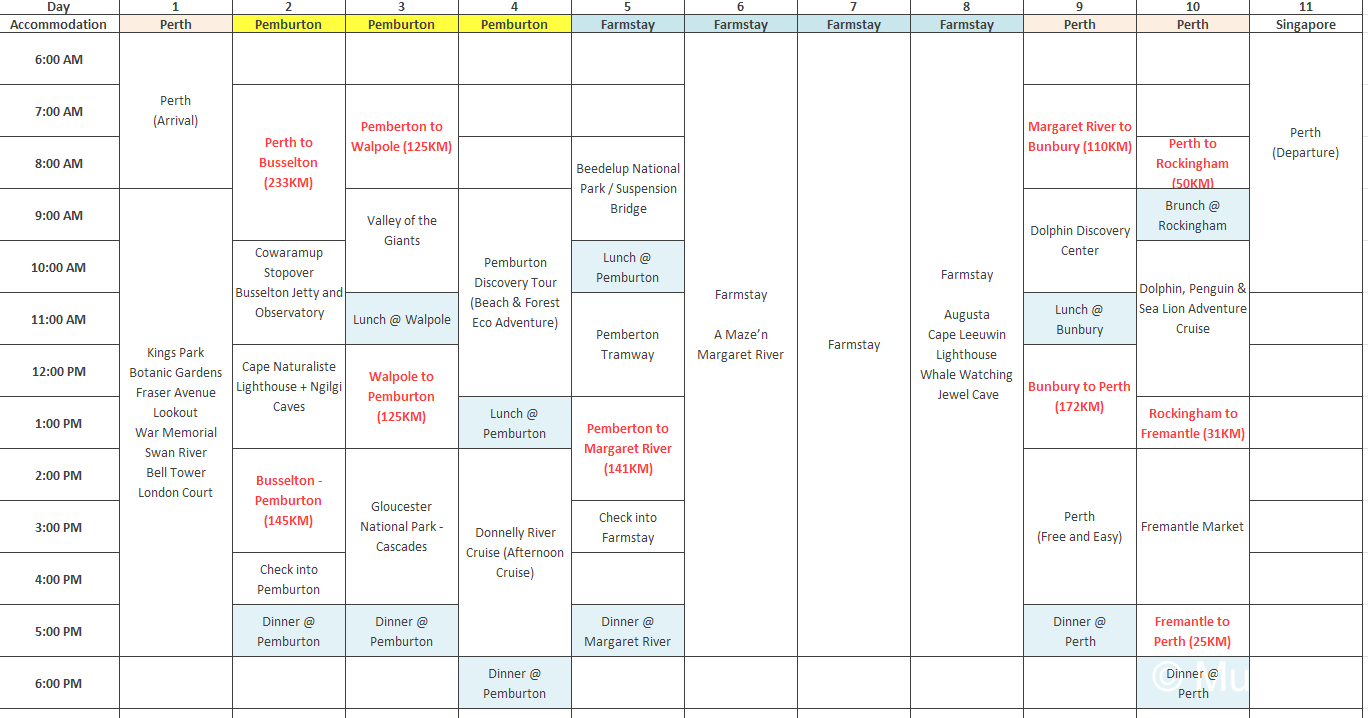 Vacation, June 2017 – Perth (?) v2
We had plenty of discussion time over the long new year holiday weekend, and have revised our Perth itinerary quite substantially. The first version of the proposed 11D10N trip would have seen us driving a fair bit as soon as we land – about 4 hrs and 281KM. Since there was a good chance we'd be having a red-eye flight, Ling was worried that we'd be too zonked out as soon we'd land – especially if Peter decides to keep us awake by not sleeping on the plane! The other consideration was that the itinerary required us to be perpetually on the road most days, requiring changes of our stays almost every night. Moreover, as we were reluctant to drive in the evening, our foray north of Perth also did not seem that worth while after all. We'd only have just two days left in our stay, and can only travel as far as Cervantes – about 200KM north of Perth, and the more interesting bits of Western Australia seemed to be well beyond that.
So, we reworked out Perth itinerary to:
Stay in Perth for the first evening and only drive out after a good night's sleep
Reduce the number of times we'll have to change our accommodations
Increase the duration of our Farmstay
The itinerary is now much slower-paced and spread-out, and here's what it looks like (itinerary below is clickable to a larger version).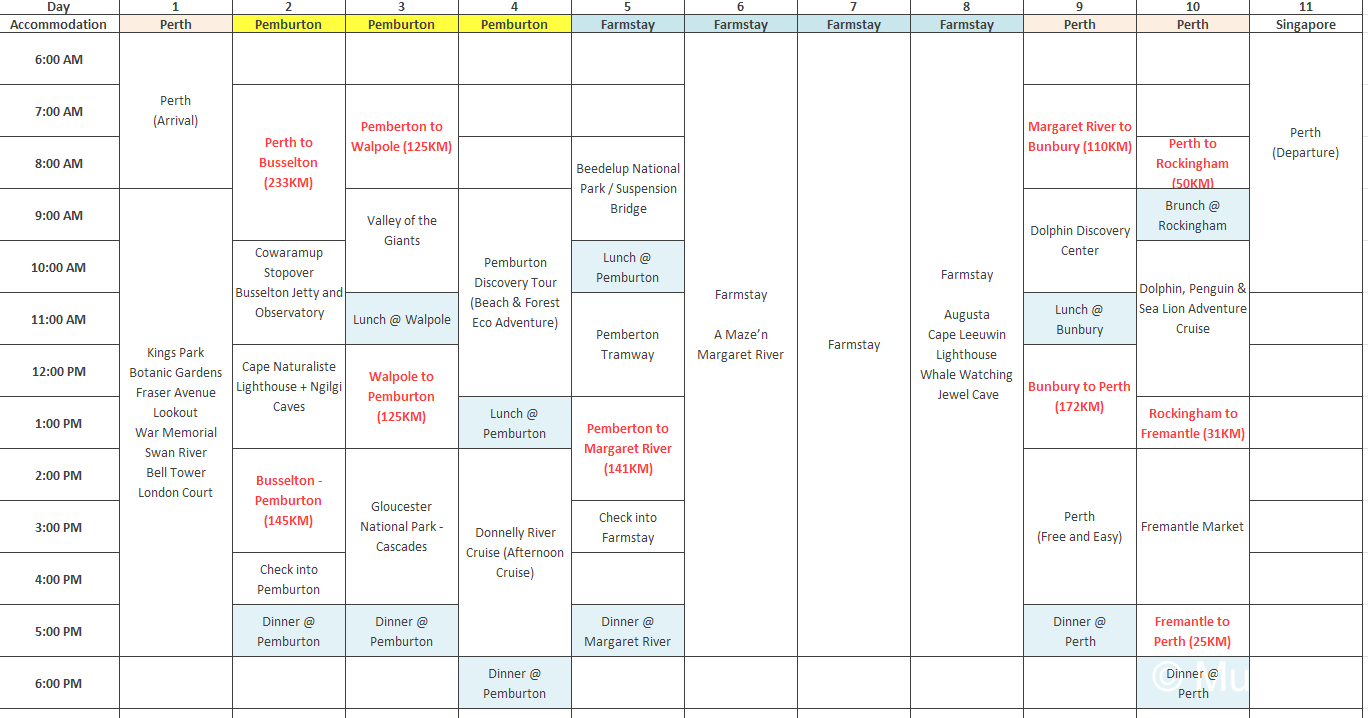 This updated Perth itinerary looks pretty much set – if we do decide to go with this region come June! As an alternate, here's the Sydney equivalent that I've started scratching out:
Day 1: Sydney to Katoomba (Blue Mountains).
Days 2 to 3: Katoomba
Day 4: Katoomba to Farmstay
Days 5 to 6: Farmstay
Day 7: Farmstay to Sydney
Days 8 to 11: Sydney
The above outlay is rather unusual, since most visitors to Sydney typically just do a day trip to the Blue Mountains to see the sights there rather than plan to spend 4 days. We figured we'd really just take our time in the area to soak in the sights, enjoy the mountain air, and just chill.:)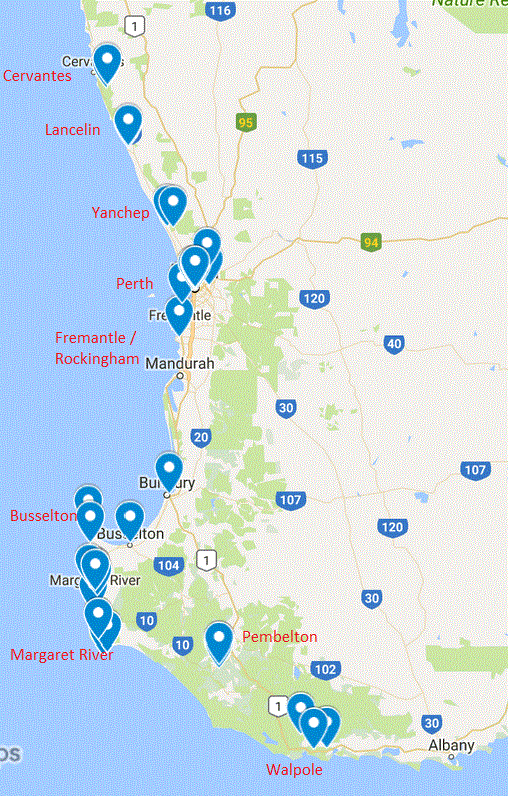 Vacation, June 2017 – Perth (?)
There's a popular quip among some Singaporeans here that there's only one reason why we toil at work: and it is to pay for our twice a year vacations in June and December. And our planning for a new holiday spot begins as soon as we're done withe the last one! So – my last post of 2016 centers on possibilities for our travel spot in June 2017.
The planning for our Melbourne trip in June this year took just over a week to nail down most bookings and itinerary items – and it wasn't a particularly complex trip to plan for, since we stuck to the city for half the time, and all outbound trips were taken care of by day tours. Since we've started planning much earlier for the June 2017 trip, we figured we'd reduce as far as possible our day tours (and save a lot of money) and get to as many places as possible on our own, and with two young kids in tow too.
The first itinerary we've written up is for a 11D10N day trip to Western Australia, self-drive and will see three main segments: Perth itself, down south to Margaret River/Permberton/Walpole, and finally up north of Perth to Lancelin, and the total driving distance should be a pretty manageable 1,600KM in all. Ling has been to Perth twice now – both times to visit me during our dating days haha – while I also visited the Margaret River region with family 13 years ago too. But as these things go and for this period of years, family vacations are really more for the kids than for the parents. The map is embedded below, with pins to indicate the places we're looking at: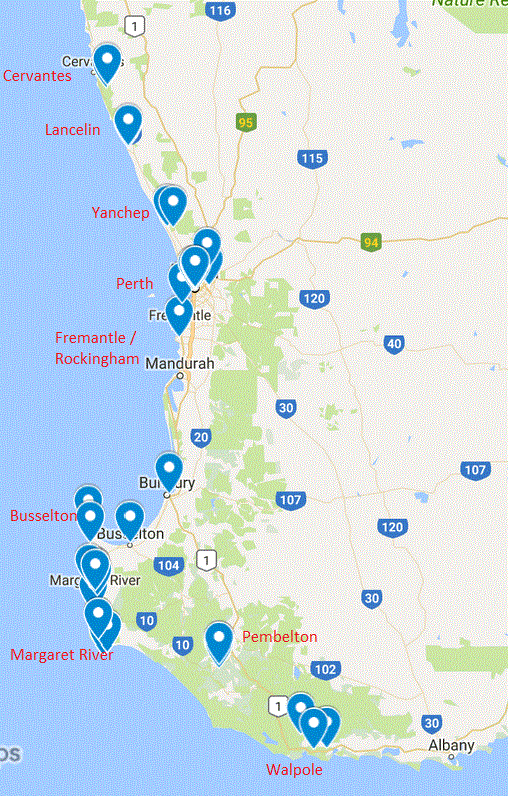 And a brief summary of what this 11 day itinerary looks like at the moment:
Day 1: Perth to Busselton (Busselton Jetty and Observatory). Busselton to Margaret River
Day 2: Margaret River to Augusta (Cape Leeuwin Lighthouse, Whale Watching, Boranup Karri Forest, Jewel Cave). Augusta to Pemberton
Day 3: Pemberton (Gloucester National Park, The Cascades, Pemberton Tramway, Beedelup National Park). Pemberton to Walpole
Day 4: Walpole (Valley of the Giants, Treetop Walk, Giant Tingle Tree). Walpole back to Margaret River/Pembelton
Day 5: Margaret River/Pemberton Farmstay
Day 6: Margaret River/Pemberton to Busselton (Choc Factory, Cape Naturaliste Lighthouse, Ngilgi Caves). Busselton to Bunbury (Dolphin Discovery Center). Bunbury to Perth
Day 7: Perth to Rockingham (Penguin Island). Rockingham to Fremantle (Fremantle Market). Fremantle to Perth
Day 8: Perth to Yanchep (Caversham Wildlife Park, Yanchep National Park). Yanchep to Cervantes (Pinnacles Desert)
Day 9: Cervantes (Nambung National Park). Cervantes to Lancelin (Lancelin Sand Dunes). Lancelin to Perth.
Days 10-11: Perth
This version of the itinerary will have us staying at six/seven properties:
Margaret River (1 night)
Pemberton (1 night)
Walpole (1 night)
Margaret River/Pemberton Farmstay (2 nights)
Perth (2 nights + 2 nights)
Cervantes (1 night)
The main considerations and parameters for this itinerary were:
That we'd drive and get from point to point only when there's daylight, short as it will be since it'll be winter.
The farmstay will be a key highlight for the kids, but there are only about six farmstays in our consideration and they tend to get booked fast. So the itinerary has to plan around that stay.
Depending if I can take additional days how for this vacation stretch, we might get real ambitious and go beyond Walpole and to Albany, though the sights there are more coastal than of national parks.
Well, that's one itinerary. Along the way we'll work out alternate itineraries to different cities/countries, so more to come soon.:)