Panasonic 25mm f1.4
now browsing by tag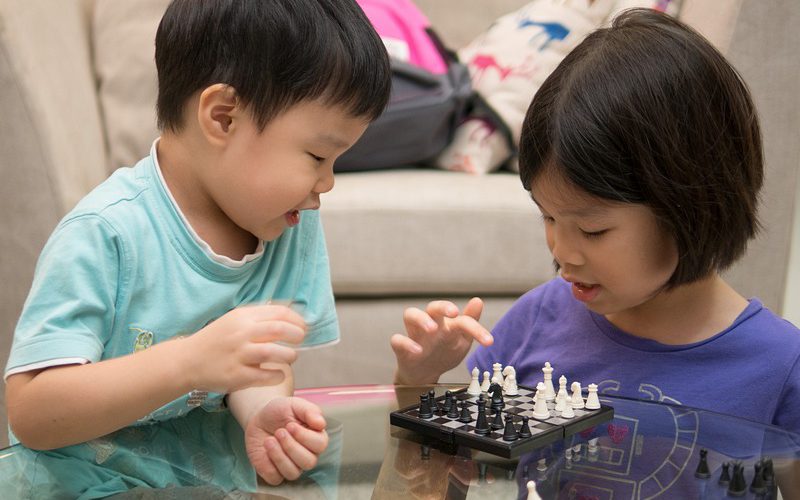 Chess with Kids
As parents, we consciously limit our two kids' exposure to mobile gadgets as much as possible. While both Hannah and Peter do enjoy the occasional time they get on the iPad, neither seem particularly hung up about it when they don't get that time – though in Hannah's case at least, I wonder if it's because her After school care already has such devices for the kids to congregate over already, and she has her fill of them as a result.
In any case, we supplement their free time with other home activities. Ling has a repertoire of gardening and baking projects that Hannah will typically actively join  in, while Peter usually just looks on. Of late too, and possibly in part because her friends' induction at After School Care, Hannah now plays chess. We've been diligently putting time aside every day to play at least one game, normally after dinner. And it's fascinating to observe how quickly she's improving with practice. Since Monday, we've played about nine games now. And while it's been eight wins with one stalemate in my favor, over this short period of a week, I increasingly have to work harder each match! She's mastered most of the types of moves permitted in each chess piece, and can anticipate the most obvious opponent countermoves one to two steps ahead. Though she's still missing a clear understanding of the relative prowess of chess pieces and what are considered good or bad trades, and also perhaps a sense of long-term strategy. Those I'm sure will come over time with more practice.
H's starter chess board is the same type I had as a primary school student too: a small 5″x 5″ board with tiny black/white chess pieces with magnet attachments. Cheaply made of plastic that goes for just a few dollars @ Popular Bookstore. And pieces on the 5″ board are too small for my chubby fingers! Now that she's really getting into the game, I've placed an order for two other wooden handcrafted sets. The first is a slightly larger 7″ x 7″ set that's going for SGD14 @ eBay and shipping from India. The 7″ set should make a world of difference compared to the small dingy 5″x 5″ board we've been making do, yet still small enough for Hannah to bring around. The second is a much larger 11″x 11″ that's a bit more costly at about SGD45, also wooden handcrafted and shipping from Poland. This one we'll keep at home to play.
It's certainly fun to reflect on how our kids play the kind of games we used to as children at their age. I wonder what will be next! :)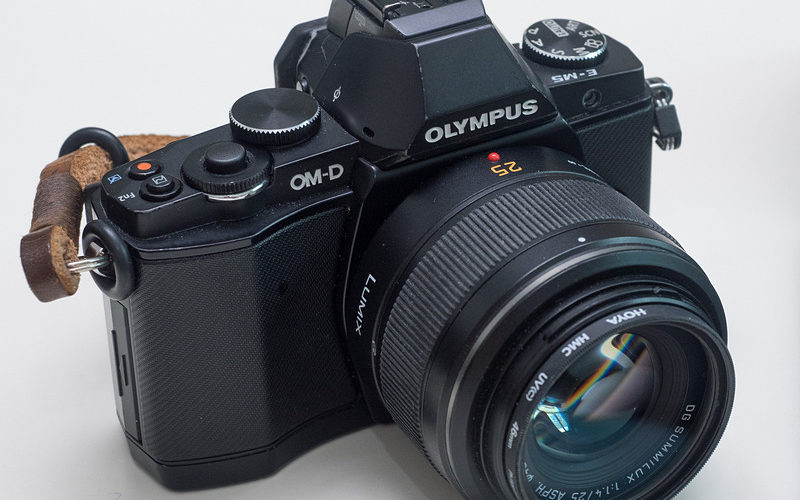 Shooting with the Olympus E-M5 + Panasonic 25mm f1.4
The other weekend's series of camera + prime lens pictures was so fun to do I reckon I'll do a regular series on this on our blog. This week's combo is the E-M5 with 25mm. The Olympus E-M5 is the oldest of my four m4/3 bodies that I still use regularly. I've been quite careful with this particular body, though given that it's seen quite intensive use over the almost 5 years I've had it, the scruff marks on the body are now quite obvious to the naked eye. The E-M5 isn't without its middle age quirks too; the camera doesn't always power-up now when the power lever gets flicked on, though it normally does on the second try!
I've also had the Panasonic 25mm f1.4 for just over four years now, with my particular copy purchased on Amazon JP and shipped here through Tenso, a Japanese parcel-forwarding company. The lens is also showing its age too, though its rubberized lens grip acts also as a protective layer from it getting scruff up with nicks and bangs like my E-M5.
The 25mm remains the fastest and only f1.4 lens I own. Its light-gathering ability of course makes it great for low-light shots, and of the kids especially in ambient light – though it's also less useful say for night-time shots of scenery. The shallow depth of field also makes any composition with not one but both kids a more considered undertaking, since it's seriously easy to have one of the two just out of focus.
The lens is still balanced nicely with the E-M5. The lightning quick AF on the E-M5 plus the fast shutter speeds that the camera reaches for when coupled with a f1.4 lens makes it easy to catch decent pictures of fast-moving kids who don't keep still – especially Peter. In fact, there's no reason to engage continuous AF on this combo when single AF works great here.
A selection of this week's pictures shooting with the E-M5 and 25mm exclusively. All were wide-open at f1.4, and between ISO200 to 400. The first four were also just before weekday bedtime so with the Nissin i40 flash gun.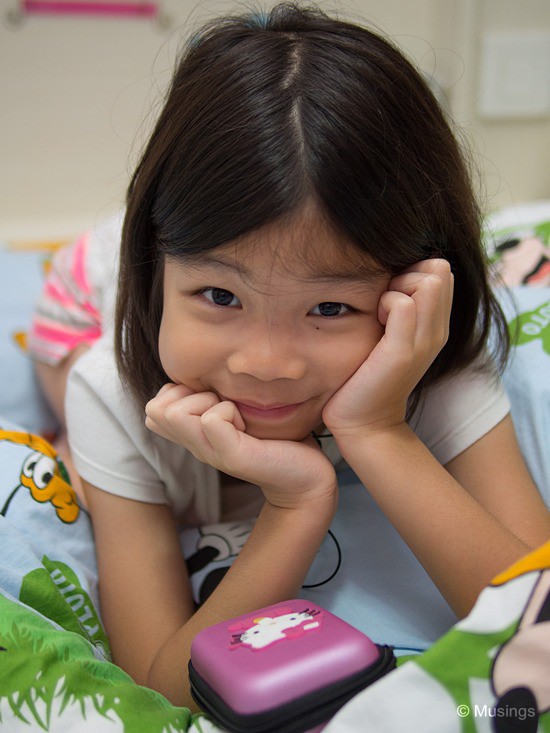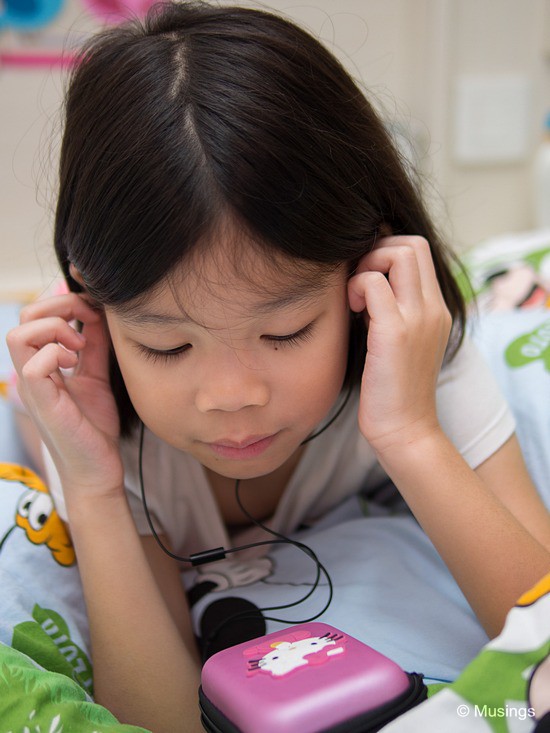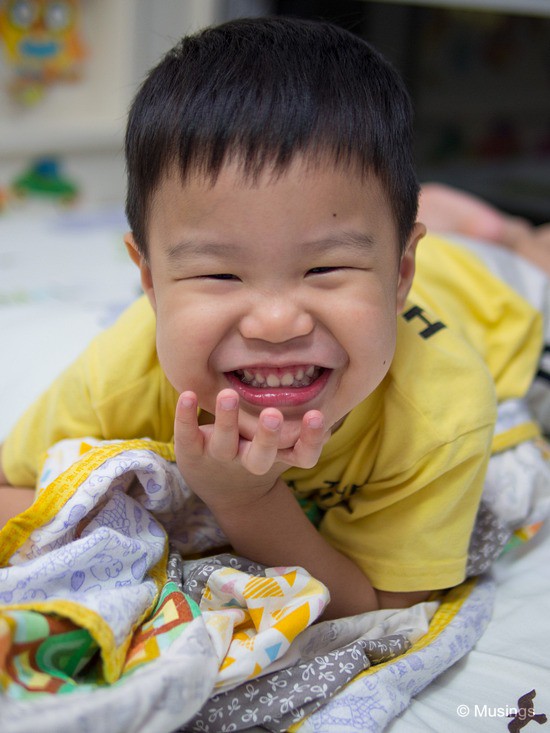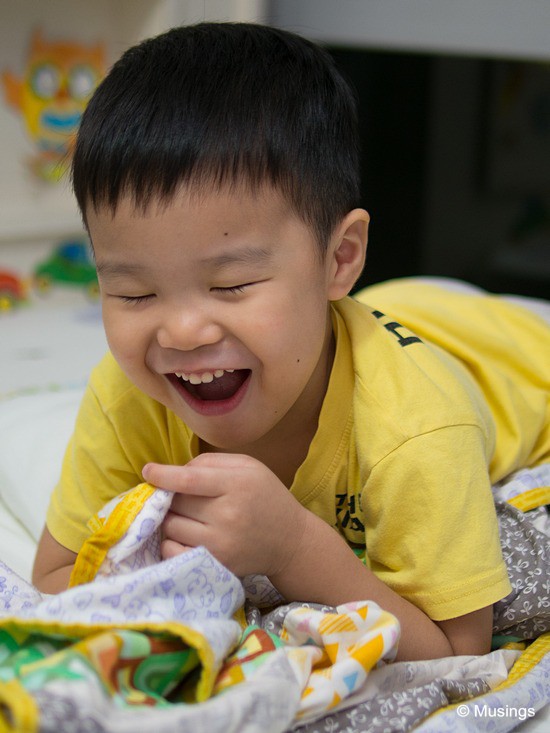 And over the weekend:
Next post in this series will be the Panasonic GX85 + Olympus 45mm f1.8!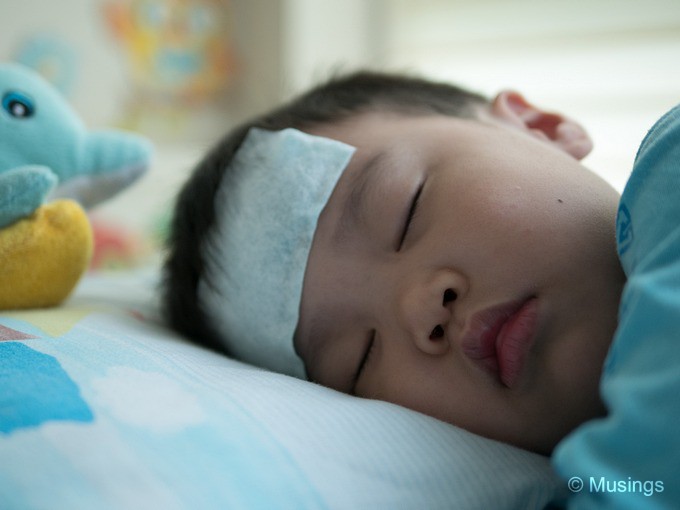 Panasonic GX85 – Part 4 – Pictures
Previous parts of my notes on the GX85 here, here and here.
The out of camera RAWs from the GX85 seem to be very slightly less saturated than the Olympus' m4/3 cameras I've got, but they're no less pleasing and can be edited to taste in processing anyway. Also, while the camera – like the E-M5/E-M1 – does not use/uses a weak low pass filter, the pictures I get from the trio of primes – 17mm, 25mm and 45mm – also seems slightly less sharp than the Olympuses. Like color, it's not something that can't be fixed in processing and I haven't done enough shooting with this camera yet to tell if it's really a characteristic – but it's interesting to note nonetheless.
The 12-32mm optically stabilized pancake lens is compact in collapsed mode, and focuses briskly. I also especially like that it's 2mm wider than the Olympus pancake equivalent 14-42mm, as the wider angle makes for more possibilities than a slightly longer focal length (32mm vs 42mm). The lens is reasonably sharp in the center but somewhat softer at the edges – so one has to stop the aperture down somewhat if sharpness at the edges is important. I don't reckon that the overall image quality can't match that of the 12-40mm f2.8, but the latter is also a much larger and also costly lens.
Few more notes too on my ongoing experience with the GX85.
The camera offers a Pinpoint AF feature which enlarges the AF box for precise focusing, and you can customize the time the magnification box appears. I don't use it a lot when taking quick shots of the kids, but it's a useful feature for more methodical shooting.
Hannah is fascinated with the camera's facial recognition. Up to six persons can be registered with three facial images each. You can even include each person's birthdate, and the camera will then calculate the person's age as an optional info item that can be added in a JPG image text stamp.
Setting up and starting WIFI remote control is easy and quicker than on the Olympus E-M1. On the latter, it's a two-step process: enabling WIFI, and starting the connection itself. On the GX85, it's a one-step process. On the other hand, I still haven't been able to get the other WIFI functions to work: including transfer to PC and Lumix Club.
Filenames in the GX85 defaults to P103**** and there's apparently not possible to customize it within the camera. Editing filenames is a standard feature in Olympus' cameras, and even more important as I routinely use all three m4/3 cameras – the E-M1, E-M5 and E-PL6 – and editing the filename prefix allows me to distinguish quickly images that are taken by one of the three. Since this is the only Panasonic m4/3 camera I'm using now, it's not a major deficit – but still.
In all, the GX85 is a solid camera. It suits most of my needs and fits my shooting style quite neatly. And for the bargain price I got it at, I reckon this is a serious contender for serious enthusiasts wanting to get into the m4/3s system.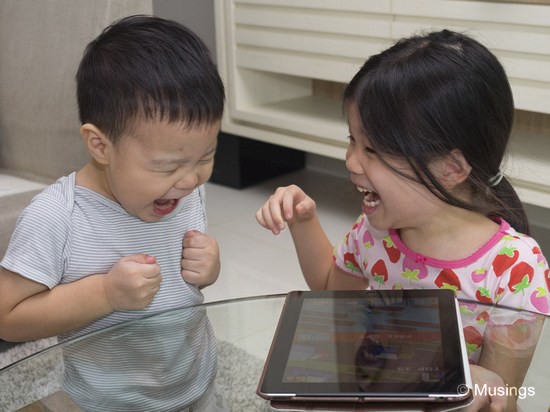 E-M1 vs E-M5
My first impressions of the E-M1 against the E-M5 after several days of use!
The E-M1's overall ergonomics and handling surpasses the E-M5, easily. The handgrip makes it easier to balance the camera's weight against mid-length zooms, and the two configurable front and back dials are slightly stiffer and ribbed, and make accidental turns less likely than the E-M5.
Couple of neat functions not present on the E-M5 – including configurable exposure bracketing, built-in HDR, faster top-shutter speed, and WIFI support though its phone-control implementation seems a little more clunky than Panasonic's on my LX100. Still, I can finally take family pictures using quality prime lens glass and a smartphone remote!
The image processing software in the E-M1 is also supposedly improved from that of the E-M5's, though I haven't pixel-peeped to be able to tell where the differences are. Finally, the E-M1 offers better weather-proofing, though I honestly don't think I'll ever be bringing this out in rain LOL.
The E-M1's 0.74x magnification electronic viewfinder makes picture composition much easier than the E-M5's 0.58x. and with higher EVF resolution to boot too.
Its eye-cup also feels more securely locked in-place in its holder than the E-M5's. I'm already on my third E-M5 eyecup, with the last two accidentally dislodged and lost. That it's slightly protruding is both an advantage and disadvantage though: my nose is less likely to come in contact with the rear monitor (transfer of facial oil smudges onto the monitor – eek), but it's also harder to see the entire viewfinder without having to pan my eyeball about when peering through the viewfinder.
The mode-dial lock is a nice touch – press once to lock, press again to unlock. The mode-dial on the E-M5 is too easy to accidentally turn too. On more than a few occasions, I triggered severely over-exposed shots because the E-M5 dial had without my knowledge switched to Shutter-priority mode.
Much harder to slide the memory card slot cover open!
The On/Off lever is now on the top-left panel, compared to the bottom right on the E-M5's back. Not a good change since it's impossible now to fish-out the camera from my bag and flip it on in a single motion.
The E-M1 is obviously heavier than the E-M5 though still fairly light for a DSLR-styled camera. Coupled with the 12-40mm f2.8 though is a very different story; the lens and camera is now inching closer to the weight of my last APS-C DSLR with a similar lens – the D7000 with the Sigma 24-60mm f2.8. Coupled with even a light flashgun like the Nissin i40 will make one nervous about hauling the E-M1 about, even with its handgrip. That makes a handstrap or vertical battery grip almost a necessity.
Some casual shots of Peter and Hannah next: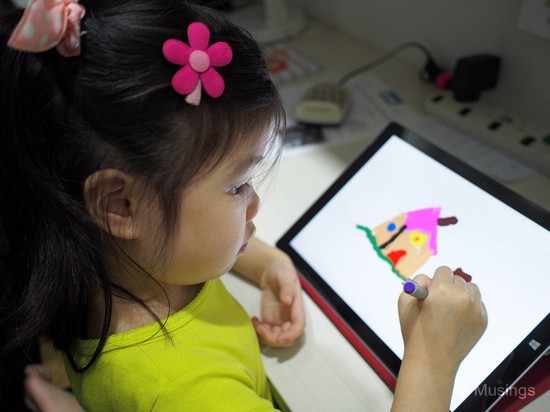 Kids @ 17mm, 25mm etc. – Part 27
Monsoon has passed since the last week. The weather has been gradually warming up during the day alongside rain becoming an infrequent occurrence. And while nights remained quite cooling, it won't be long before the island creeps into daily temperature highs of 33°C and beyond. The transition in weather has also made our two kids more vulnerable, and Peter experienced mild-temperatures on and off in the last fortnight, and Hannah is just recovering from a week long bout with skin rashes, possibly an allergic reaction to seafood at a family dinner we had a fortnight ago.
Ling was remarking that Peter doesn't look like his age at all. At past 19 months now, he still has a baby-ish look about himself and were it not for the fact that he has a healthy pair of legs that let him run around, could be mistaken for an infant that's just a year old. While he's unable to say words beyond "jie jie" ("big sister") and "daddy" and loud Homer Simpon-like "DOHs", he's better able to understand simple instructions we give him. Like:
"Peter, put that toy back on the table."
"Peter, go to your jie jie."; and of course…
"Peter, get your bu** over here NOW!!!"
He's also less clingy to Mommy now too, after Daddy made a concerted effort to bond better with him, and will happily follow after me when he's called to without the accompanying hollers and screaming from a couple months ago.
But then again, he's also been doing quite a few stunts that's been making us tear our hair out, including:
Upsetting Ling's plants, and eating the soil that spill out.
Taking Hannah's hair-clips and dropping them into the toilet bowl.
Taking an entire toilet roll, and also dropping it into the toilet bowl.
Taking Ling's NASA stress ball, and biting pieces off it.
Ling was especially furious about the last one, since the stress ball was a beloved memento. We're of course not to the point where we'll punish Peter for misbehaving since he's not fully cognizant of his actions, but it won't be long now before he gets introduced to 'time-outs' for bad behavior.
All this said, Hannah has been a real help. As Ling put it on Facebook:
God gave us a healthy son albeit a very lively one. Sometimes I do fret over the stressful situations his liveliness brings and forget that he is a blessing. Over a peaceful dinner at home just now made me realised this and that God has also blessed us with a wonderful daughter who helped to keep Peter occupied so that the adults could eat 'in peace'. Let me not forget that and be thankful!
Pictures.:)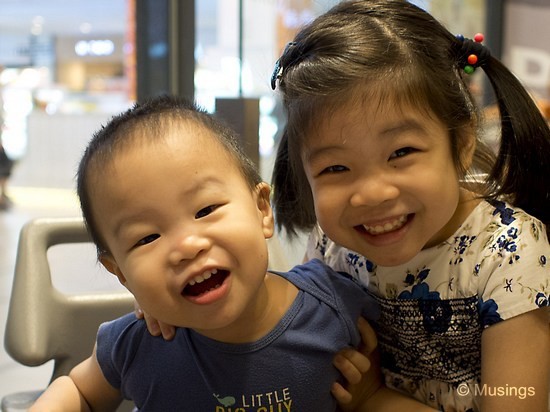 Kids @ 17mm, 25mm etc. – Part 26
Incredibly; more than 3 months have whizzed past since I last did a photo post on our two kids!
Hannah has been growing both in understanding the world around her and also in her sense of independence and decision-making. We've successfully taught her to shower on her own now since last month/year, though she still needs the occasional help bringing down the showerhead from its holder, or hanging up her wet towel in the yard. She also can easily find things on her own to entertain herself with, and – nicely too and something we observed from young about her – isn't obsessed with TV or electronic gadgets. She'll, very occasionally, ask if she can watch TV for instance (her current favorite are Tom & Jerry cartoons, no doubt a consequence of having watched tons of it over Cartoon Network while in Koh Phangan) or play her Mickey Mouse Clubhouse games on the iPad, but doesn't mind if she can't.
Peter on the other is quickly turning into more than four handfuls. At his age of 19 months now, we've concluded that the amount of care and labor that goes into managing him has long surpassed what Hannah required at the same age and even younger. Peter is a fussy eater (vomits food that he doesn't like), doesn't easily go to bed for naps or overnight, and gets into baby tantrums at the slightest unhappiness. Ling in fact quipped yesterday that the effort to take care Peter is easily twice that of Hanny. The difference between baby girls and baby boys – until this point we'd never realized how true such differences can be.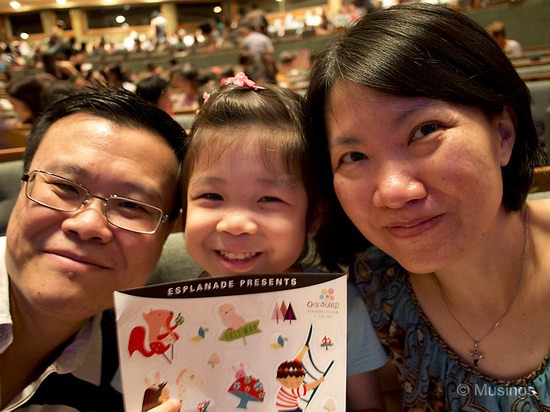 Kids @ 17mm, 25mm etc. – Part 25
We benefited from a long holiday/weekend last week by taking advantage of a public holiday with an additional day of Leave added on to do things with Hannah and Peter. The highlight of the four-day break was to bring Hannah out – on Children's Day – for a visit to the Singapore Science Center, followed by a ballet appreciation performance @ Esplanade with the Singapore Dance Theater. Going to the Science Center especially brought about a huge sense of déjà vu. It wasn't so long – alright 35 years ago – when my parents brought us to the Singapore Science Center, and now we're bringing our kids there too to, hopefully, inculcate in them an early appreciation for science.
Hannah's reaction to the ballet performance was a lot more mixed though. She enjoyed the first couple of numbers, and possibly because there were too many numbers in the about 80 minute performance, she got distracted and started fidgeting mid way through. From a look around the the reasonably packed theater, lots of other kids too were also getting restless. Still, at least for the attending adults, I learned a thing or two about ballet – like what it means and takes to earn the title of 'ballerina', the trust they need to have with their (male) partners, and why their costumes are adorned in certain ways. Watching the performers and especially the two or three lead ballerinas, left me again with awe on the kind of physicality their art demands.
Pictures.:)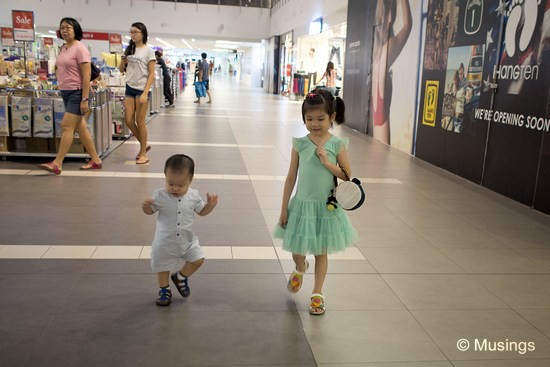 Kids @ 17mm, 25mm etc. – Part 24
Our extended family had a wedding over the weekend when a cousin had her traditional wedding ceremony. The cousin is actually from Hainan, but has been working in Singapore for almost a decade now, and has become close to our family – especially parents – over the years. I guess it's also Mom's connection back to her birth country from so many years ago. Our cousin is a sweet lass and she married a local Singaporen who works in the infocomm sector and who during the groom's speech at the banquet wowed everyone with his mastery of Mandarin.
Hannah was fascinated with the entire occasion; right from when the groom came to the family home to 'win' the bride (the gate custodians – who would have guessed – were her cousins and her, none of whom were older than 10 years old – to seeing the new bride in her gown, and the 10 course dinner – "Wow daddy – there's so much food!!"
Peter on the other hand has been a little more cranky than usual in the last week. In fact, he whines and goes into mini-bawls too easily, which Ling guesses is partially because of his inability to articulate his wants and desires to us. Totally unlike Hannah at the same age, who was often contend to wait for us. We're really hoping that come December when we go on our vacation, Peter would be better able to communicate and hopefully be a little less impatient.
On the other hand, we've been trying whenever opportunity presents itself to let Peter exercise his little legs outside, under our and Hannah's close watch though. It's always fun to watch toddlers walk. They basically just baby-stomp around all over!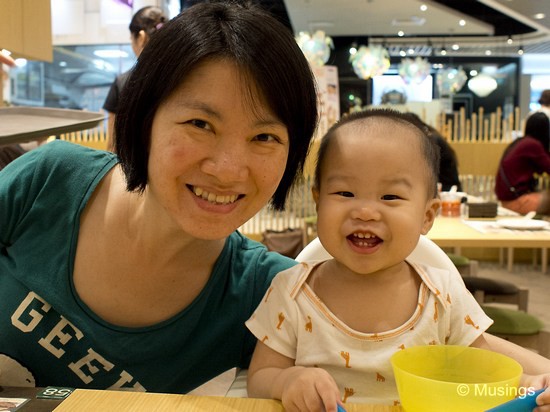 Kids @ 17mm, 25mm etc. – Part 23
Another three weeks since my last post on our two kids. The most significant development between the two is that Peter is now – for all purposes and intent – mobile. Yep, he's able to confidently prop himself up and briskly baby-stomp around the house now, and only occasionally losing balance. That's added a new spin to home safety, since one of us parents need to keep a loose eye on him when he's awake and scurrying around our home – it's not entirely baby proof yet – and it helps that Hannah is like a Meekrat, playing sentry and alerting us loudly if she sees her baby brother doing something dangerous!
The two kids have been taking turns becoming mildly ill over the last fortnight though. Nothing serious and just minor colds and some coughing on Peter's part, but it might be again due to the changing weather over the last month from warm and humid to somewhat cool most days.
We've also been finding ourselves lightly comparing between our two kids at similar ages and developmental ages. Peter is of course a lot stronger as a baby and louder than Hannah was at the same age years ago. Must be a baby boy thing. Hannah on the other hand picked up simple words a lot quicker. In fact, at 1 year 2 months, we recall that she was able to call either of us, while Peter at this point is just managing "da… da", presumably in reference to his daddy. Similarly, we had our small group friends over at our home last Friday, and observed that comparing him to another baby boy who was younger by a few months, Peter still seems… baby-ish, while the other boy was looking distinctly more mature!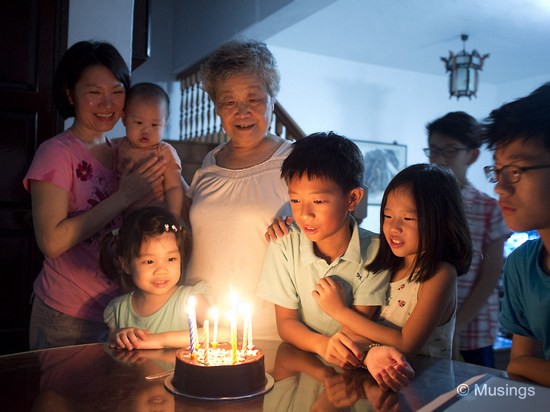 Kids @ 17mm, 25mm etc. – Part 22
The weather has turned – surprisingly – cool since last week after the National Day weekend, with flash storms occurring at several points during the week. Quite interesting to think about it, since just over a year ago, we were pretty much living in daily smog, and for some reason, the haze has not returned for the most part to our island. It did hit a few parts of our neighbors up north in Malaysia, but judging from the news, it still wasn't up to the extremely unhealthy levels of June 2013 even then. There are still a few dengue clusters about the island, but thankfully too, our area in Hougang has dropped off the dengue hotspot list since the last fortnight too.
On the personal front; my detailed health screening returned the other week to report that I was in good health at the age of 42, for the most part. Because the report also noted that I was approaching high-blood pressure and also have high (bad) cholesterol. Quite a timely wake-up call, because I resolved immediately thereafter to exercise regularly and eat healthily. For the former; I tried swimming at the Minton lap pool, but unfortunately, the pool gets frequently misused by residents who treat the pool as a water play ground for young kids rather than an exercise pool. Next best option; stairs-climbing! I've been walking up from the ground to the top floor at our apartment block at least 3-4 times a week now, and have been steadily improving the number of iterations I do a complete cycle. Started off with 2 iterations and I'm now up to 4 – the latter of which makes it roughly about 56 floors of stairs. Good stuff!
As for our two kids, we have a few developmental notes to make since the last fortnight too.