Olympus 75-300
now browsing by tag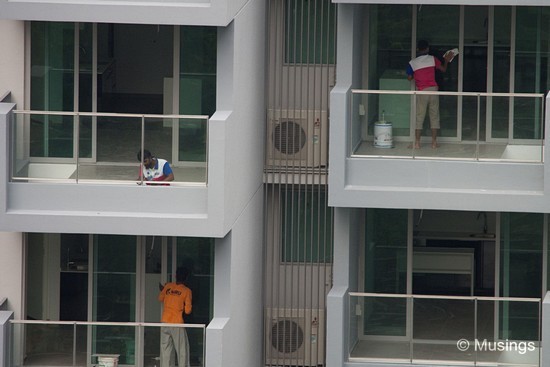 Work-in-Progress – Part 40
The Minton finally TOPed last week on the 29 November. Though now comes the real wait – keys collection, and since the project is so large with so many apartment units, we've been hearing anywhere between 3 to 6 months for key distribution to complete. Our block though is among the first phase of blocks to get keys – not that it really matters that much to us now though, since whether we move in January or June next year now doesn't make any difference to school and nanny arrangements for Peter and Hannah.
Still – we swung by the project site on Saturday morning to see if kaypoh residents like us will be allowed in for a walkabout. Taking long shots for the last 24 months from the surrounding HDB blocks was interesting only up till a point! No such luck though – the compound was still secured, and with estate and security guards now whom as someone remarked, looked like they meant business. Or maybe it was just the newness of their new postings.
Just a couple of pictures this time. Since we're all receiving keys soon, I've only posted pictures of interest than the usual establishing shots.
Work-in-Progress – Part 39
It's been another 3 weeks, and The Minton has still yet to reach temporary occupancy status. No one seems quite certain what's the cause for the hold-up, but at this point and how long we'd been told key distribution will take, it looks increasingly likely we won't be starting our renovation for the new home this year at all now, and it's even a stretch if we'd be able to move in around Chinese New Year next year. It's a bit of a dampener, since after all the effort we took to get renovation quotations back in September, we'll have to get updated quotations now by the probable time we get the keys.
Oh well. I swung by for another visit in mostly cloudy weather again. As expected, there wasn't any real development going on nor changes observed, apart from placement of new exterior furnishings, and what looks like minor touch-up and rectification works still going on.
As before, do check the Flickr Album for the large-sized pictures.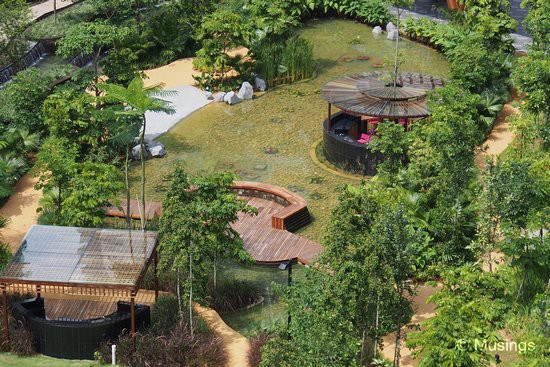 Work-in-Progress – Part 38
The Minton development has seemingly stalled for a couple of weeks now. From visual exterior looks, and apart from some minor patch-up work, the condo seems done and ready for temporary occupancy. The process of attaining the issue of TOP – temporary occupancy permit – seems more complicated however, and from checks on the BCA site, inspections to reach this status have still not been successful. Sigh. The latest word though is that another filing of documents has just been made a few days ago, and this time round hopefully TOP will be issued – whereupon we'll finally be able to get keys, and begin the process of selecting our ID and renovation can finally begin.
I was remarking to Ling that even though there clearly hasn't been significant development for several weeks now, not having visited the site for 3 weeks now for visits have made me feel as though I've been neglecting my duties to photo-record The Minton's development! The Saturday noon-time visit saw pretty cloudy weather though – we've been experiencing fairly frequent flash-rain for the last few weeks now – so the pictures below don't showcase the visual vibrancy I've obtained from other visits.
A couple of panoramas below too, all stitched from multiple shots.
The larger sized and other pictures are available here at the Flickr album again.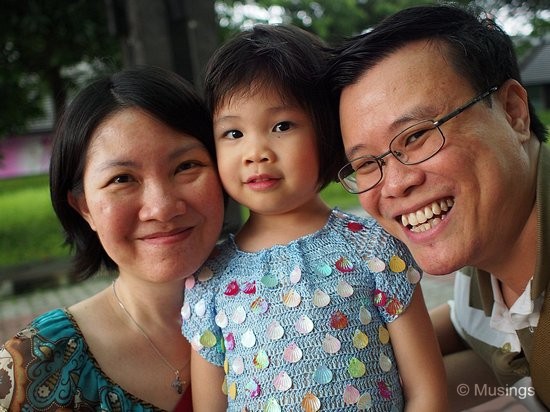 Hannah's Year End Concert
To be honest, after our impressions from last year, I wasn't looking forward to Hannah's concert this year.  While the kids clearly enjoyed themselves at these events, there are concerns from parents on social media about how costly and logistically challenging are some of these events sometimes for kids to have their five minutes of fame on-stage. Still, when the time of the year came about when the kids at Hannah's kindergarten started practicing for their individual class skits, we supported her for it. Hannah was clearly enjoying learning the dance and practicing whenever she could at home, and we couldn't bear for her not to be part of the occasion.
On the overall, this year's concert at Kallang Theater – we both had our university graduation ceremonies here in the 1990s – was much better organized, and Hannah being just a mite older was already better able to appreciate the nuances of her dance performance. What was even the more interesting was watching our 4 year old daughter interact with her friends and classmates. She seems a pretty popular girl in the class, though we think it's unlikely at this age for any child not to be well-liked in class LOL, running and leading us about to look for her friends before and after her concert.
Interestingly, there were still kids getting stage-fright and we saw quite a few frozen in fear while the rest of their classmates sashayed away. One was so traumatized that one of the teachers had to go onto stage during the dance routine and calm him down. I felt rather sorry for them. It does bring to mind what Ling mused about; that no matter the misgivings the both of us might have about these concerts, and the extravagant logistics and costs involved, the kids do get the opportunity to be on stage and hopefully learn to build confidence for themselves.
A variety of lenses with the two m4/3 cameras came along for the trip. The ones at home, of us as a family and her with her friends were taken on the E-PL6/17mm; the concert proper with her on-stage was with the E-M5/75-300mm, and almost maximum zoom. We were seated far back behind, and the stage pictures turned up amazing well – even despite shooting at ISO3200.
Last interesting bit. The weather turned from humid to a terrific thunderstorm right after the concert ended at around 1600 hrs. So, we ducked into Kallang Leisure Park next door to have an early dinner, running into many other kindergarten kids and their families and also several more of Hannah's friends. At one point, one family of Hannah's classmates shared that the two of them are so close that when Hannah falls sick and doesn't attend school, their girl would tell her parents herself she doesn't want to attend school without Hannah being around either LOL.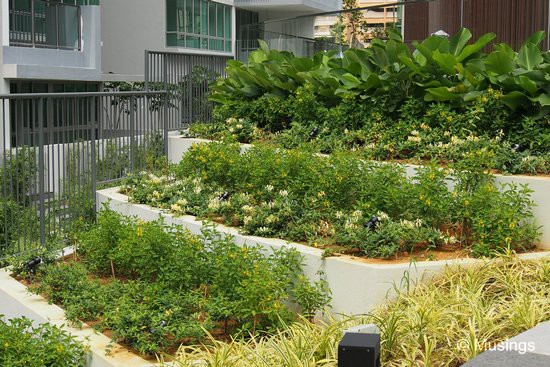 Work-in-Progress – Part 36
The start of a long weekend for myself. It's semester break at work so I'd applied for Leave some months ago with the (optimistic) hope then that TOP would be about this point. There was, momentarily, some excitement yesterday evening when a resident received a note from his sales agent that TOP had been reached – but that turned out to be a false alarm. A quick check on the BCA web site yielded no new updates on TOP status.
The visit this mid-afternoon turned out to be quite a bit of a disappointment, imagery wise. The sun was for the most part hiding beneath thick cloud layers, only popping out for brief moments (you can see them in a couple of pictures below) – which made for pictures that were, frankly, dull in comparison to the last visit where there were gloriously blue skies. Not much visible development again, so I continued with panoramic compositions again for a couple of spots that I didn't cover in the last visit.
This was the E-PL6's first visit to The Minton too, and acquitted itself admirably. And yep, as far as I could tell, no perceptible difference in images compared to the E-M5.
And here are the panoramic compositions:
The larger sized and other pictures are available here at the Flickr album again.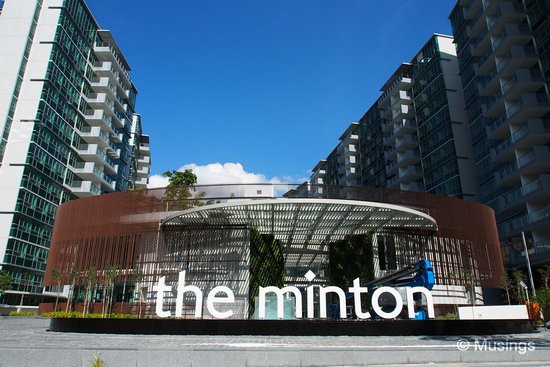 Work-in-Progress – Part 35
We've been experiencing some wet weather for the second half of this week, but that cleared up on Saturday past noon-time to reveal wonderfully sunny and clear weather for the rest of the day – enough to go by for a quick visit to The Minton site for pictures again.
As in the last several visits now, there doesn't seem to be major visible improvements to exterior works, though from the construction sounds going on still, I'm guessing interior works and touch-up are still going on. I remembered while working on the transitional montages this week that it's been a long while since I've done stitched panoramas, so went about composing a couple. These really do show how large the project is – all 1,145 units and its supporting facilities and landscaping.
These panorama pictures, alongside others for this afternoon's visit are available here. And lastly, a third transition montage I did yesterday – and this time of Tranquil World.
Mega-sized version here too.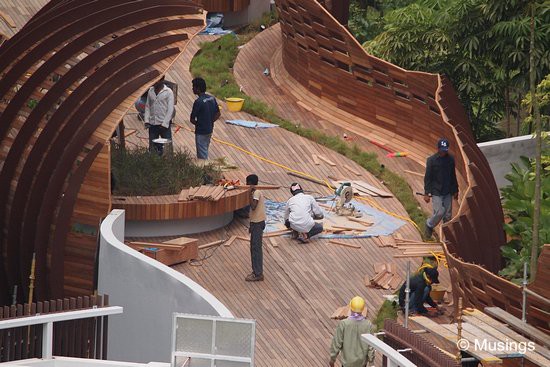 Work-in-Progress – Part 33
Like the last visit to The Minton site, it's getting harder to spot visible or significant changes to the ongoing construction now. Given how close the project now is to the award of Temporary Occupancy Permit, I guess most of the work now is internal to units that did not pass inspection, or still require touch-up work. The front facade signage has also been lit up now, reportedly looking quite lovely with its purplish lighting. We'll go by on an evening soon to check that out.
We've also started picking up several digital and printed issues of Squarerooms, a local interior design publication that features lots of ideas, discussion plans, things to do with homes and so on, and been pouring through them figuring out what we're going to advise our appointed designer later on once we receive keys. More to come on that soon too.
In the mean time; pictures from this afternoon's visit. The larger pictures are available here at my Flickr album.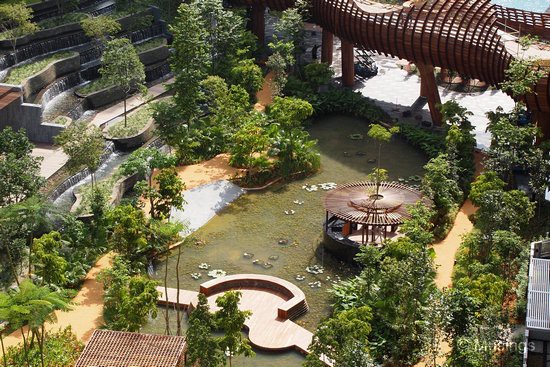 Work-in-Progress – Part 32
Another week and another visit to the construction site of The Minton. Bit of unfortunate news too; the BCA web site indicated on the 18th September that some plans submitted required resubmission while the rest were noted as "In order". I'm not sure what this means since I'm not in this industry, but my guess is that TOP while close will still not be imminent as long as resubmissions of documents are required. That will just mean more delays to the start of key distribution. Sigh.
Still, this Saturday's afternoon visit saw that the site is gradually winding down its major development activities and moving into touch-up work. Large containers filled with debris were about and ready to be carted away, and workers in small groups could be seen patching up and making good defects, paint spot areas and the like. I paid special attention also to shrubbery surrounding the compound too, given the growing sense of anxiety among many of the FB residents that the place isn't as private as one might had though.
Work-in-Progress – Part 31
Bit of both good and also bad news at The Minton project. On the first; the TOP inspection earlier this week was passed successfully, according to persons on the inside and across several sources. No clue if that's really true – running a query on the Building and Construction Authority status of plan application hasn't yet revealed the updated status yet – but if so, actual TOP should follow in a few weeks'. Hooray!
On the down side – given the sheer number of units in the condo, key distribution and release is going to take a long while, with some projections running at six months now, and depending on the phase of stack release a few years ago during purchases. That might mean that our unit's keys might only be released at the end of this year. That'll certainly delay our renovation plans, even if we're not really in a hurry to move. Boo!!
Still; here are the pictures from my weekly paparazzing our new home. This particular visit was on a sunny and warm Saturday noon.
More notes on our visitations to Interior Designers, wardrobe specialists, and other contractors.=)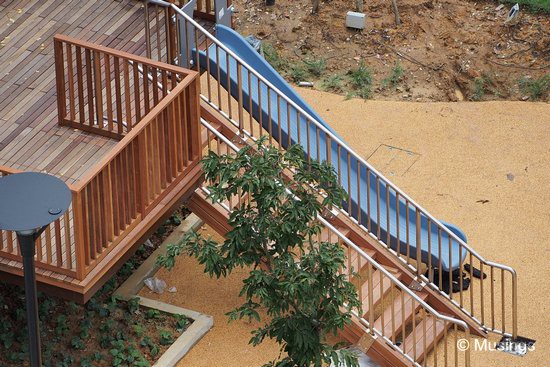 Work-in-Progress – Part 30
The weather on our island has been, surprisingly, quite wet and cold over the last several days – and it's not even November monsoon yet. We've been experiencing rain everyday for nearly a week now, some of which has been intense enough to cause flash floods and bring down grown trees onto vehicles even. Thankfully no real injuries have been caused yet, aside from lots of the usual inconveniences from sudden downpours i.e. traffic jams and the like. We finally got a little sun on Sunday mid-afternoon – enough for me to quickly pop by The Minton construction site for another weekly look-see.
In general, some progress is visible, though the initial TOP of end-September is starting to look less likely. Sigh. If we don't get our keys by mid-October, that will mean we won't be moving in this year after all, what with the about two months it will typically take for our apartment's unit renovation to complete.