My dad loves watching the NBA. It must be something about those tall black American players with their 3 point shooting and slam dunk moves.
Myself; I remembered following the stunning debut of the American 'Dream Team' basketballers at the 1992 Summer Olympics. Thereafter, there was always the resurgence of my interest in basketball every 4 years at the Olympics, though their performance at the 2004 Athens games was terrible and fortunately picked up again in the recent 2008 Beijing Olympics.
Now Matt is a big fan and player of basketball. In fact, when he was here in Singapore, he had this idea of hitting the public basketball courts in Hougang to show the neighbor players there a thing or two LOL. I supposed some of his interest rubbed off on me, and also that I loved watching those NBA players do their thing in the Olympics. I didn't know much of the game of course, aside from differentiating between 2 and 3 pointer shots.
So, another sports games type I was trying my hand at recently is basketball. Here's a picture from NBA 2K9: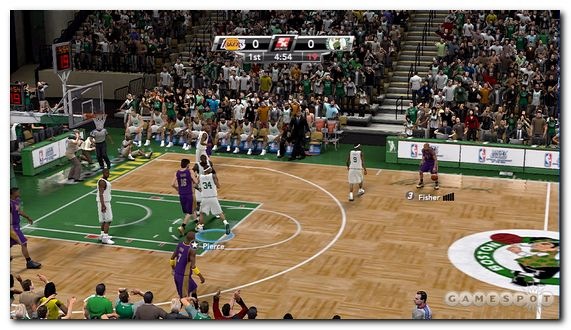 One has to hand it to those game creators. The visuals are amazing life-like, as are the little background and ambient animations like spectators cheering, walking about, waving, team managers shouting instructions from the sidelines.
I'm not especially good at the games yet though. I get royally trashed by 2 digit margins in NBA 2K9, and only recently have I fared better in the somewhat more forgiving NBA Live 09, winning by a 4 points margin.
Both are game demos still at this point, but I'm gonna have to ask Matt (he's the expert in this genre) whether it's possible to dumb down opposing teams in NBA 2K9: just so low skilled players have a chance of actually winning any given match LOL.