NTU
now browsing by tag
Choirs & Choruses
One of the interesting bits about Ling and me is that we were both choir conductors.:)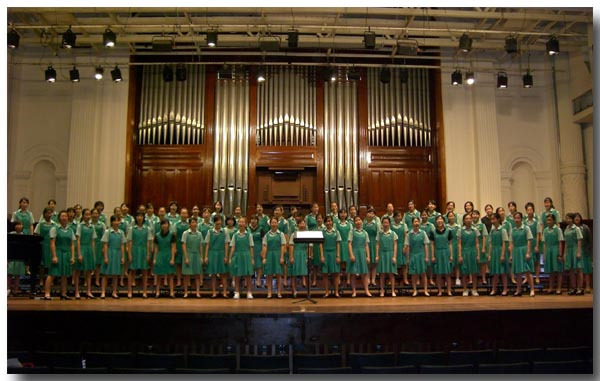 Even though I applied to join choirs during during week 0 of my first year studies in NTU 17 years ago, I had no vocal training whatsoever. My singing exposure was limited at that juncture only to the bathroom, with the repertoire comprising baritone arias from Mozart (especially Se vuol ballare from Mozart's Le Nozze di Figaro) and selected numbers from Gilbert & Sullivan's operettas.
As it turned out, I had different experiences for the two choirs I applied. The Hall III choir was reputed to be one of the best hostel choirs around NTU, so I gave a shot at that. Though instead of qualifying as a singer, I was selected to be conductor instead even though I had zilch conducting experience. I tried out also for the NTU choir but the auditions were running immediately after a week long Hall Orientation Camp. I'd been shouting / yelling during the hall activities, and I ended up croaking during my round.
So it was the Hall III choir. I had to learn conducting from scratch, and with my choir coordinator in tow, we hit the old dusty Musical Scores section at the old National Library at Stamford Road to look for songs and choruses to sing.
It's fun to think of it now, because 17 years later, I still conduct, but only in pseudo-fashion. As in when I hear inspiring music, my hands automatically start moving to beat to the music. In fact, I have a secret wish: to, one day, conduct a choir again singing one of these choral pieces:
"Dixit Dominus Domino meo" from Dixit Dominus by Handel. This is the opening number from a choral work, and based on Psalm 110.
"Die Himmel erzahlen die Ehre Gottes" from Die Schöpfung by Haydn. Haydn's better known for his symphonies, but this oratorio ("The Creation" in English) is considered to be his best vocal work. The words of the song were originally in German, and it translates to 'The heavens are telling the glory of God'. You can imagine the grandeur of the piece if that's what the song is about, and it doesn't disappoint.
"Sing Ye To The Lord" from Israel in Egypt by Handel. From the finale of his oratorio, this is one of the most rousing choruses ever, and my favorite ahead any of the numbers from Messiah by the same composer. The text is from Exodus XV: 21 "Sing ye to the Lord, for He hath triumphed gloriously; the horse and his rider hath He thrown into the sea.", and has a short soprano section before the chorus and orchestra moves in. Very, very grand.
I don't think I'll ever conduct again of course, since I've forgotten just about everything conducting. But the music still excites and inspires.:)
Picture of Ling's choir rehearsing at the VCH, and from an earlier post here. More posts on choral music to follow.:)
Hong Kong Squatters II
Continued from my previous post!
The NTU hostels themselves in the early 90s varied in age and quality. There were seven hostels, the newest one (VII) built like a swanky hotel resort. The hostel I spent my first two years in was Hall III. And back then, this was the most run-down, HDB 1 room-apartment block like, with small dingy rooms shared often by two students. The floor tiles were coming off. There were just two power points in the room. The cupboards creaked. The bathrooms were communal. In fact, we had a nickname for the hostel: and it was 'Hong Kong Squatters'.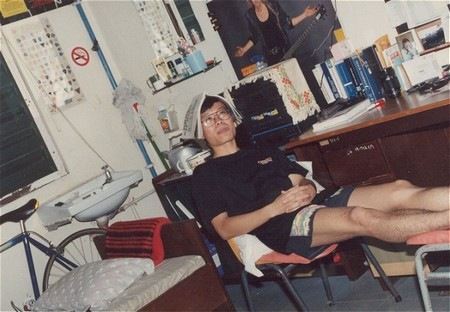 I stayed in a double-occupancy room in my first two years. My first year roomie was studying in the Engineering faculty. He was a pretty nice fellow, but wasn't very studious preferring instead to spend time with his jam band (he played the bass guitar). I remember if vaguely that he failed a couple of his papers in the first academic year and had to return for supplementary examinations in the semester break.
My second year roomie couldn't had been more different. He was the vice-president of the NTU Christian Fellowship group. And till today, he still remains one of the most nicest, genial, gentle person I've ever met. I never saw him raise his voice against anyone or anything. He kept a meticulous routine of waking up, praying, doing his quiet time, and studying. He used the computer only for work while the rest of us on the floor were staying up late nights for Dune II and XCOM: UFO Defense accompanied by grades on a down-spin. He was the sort of man mothers-in-law would absolutely adore and hope for their daughters to bring home.
In short, he was the most wonderful roommate I had, and also the most scary one! Next to him, I felt like the most wretched sinner who cut lectures, was sloppy in attire, played too many games, and ate maggi mee all day.
In all seriousness though, at times I wonder how he is right now. I'm certain he's doing well.
I got lucky in my third and final year. Four new hostels were built in time for the start of the academic year, and for the first time, I was given a room with single occupancy.
These days, whenever I'm back in NTU to attend a seminar or some event, I'd take the opportunity to visit the campus grounds. It's all great memories.:)
Picture here taken with me making a face in my small dingy little room in 1992.:)
Hong Kong Squatters I
One of the big differences between NUS and NTU lies in that the main campus of NUS is in a semi-central location of Singapore. NTU, on the other hand, is located on the western end of the island. To get into NTU, one had to take a train all the way to the furthest-most station in the MRT line, then switch to feeder buses for another 10-15 minute ride into the campus itself.
It's not all bad of course. NTU has a bigger campus (2 square kilometres compared to NUS's 1.5), and it's nicely tucked in a lot of greenery whoops SAF training jungles. It's not unusual to be on campus and be hearing loud 'whoooomps' occasionally: tank live-firing somewhere LOL.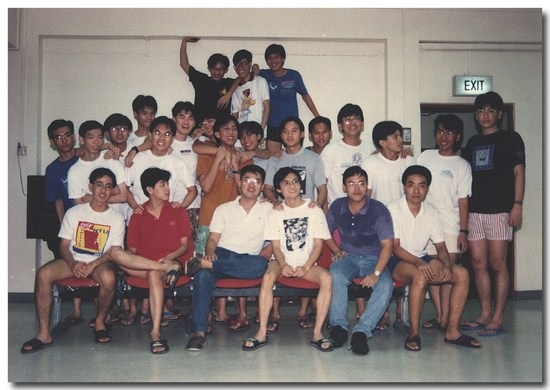 Now, the semi-remote accessibility of the university also meant that a lot of students wanted accommodation on campus. Unfortunately, in the 90s, hostel accommodation was hugely competitive. To qualify for a room, under-grads had to accrue enough 'points', and these points came by way of the activities you were participating in. The levels of activities, appointment bearers, types of events organized and ran… all of these were credited with different points using a system that few back then could make head or tail of.
Still, we took it all on good faith, and at the end of every academic year, hostelites would be sweating over whether they accrued enough points to qualify for a room, what type of room, and which hostel too.
Now, at this point I was staying at my family home in Lentor. Commuting to to NTU was a 1.5 hour journey, and with classes starting at 8 am every day, the thought of having to get up at 6 am just wasn't appealing then. So, from the get go, I applied for hostel accommodation, and like every other hostelite, was for the next few years caught up in the 'Point system'.
The photo here was taken in 1993 for our yearbook; that's the entire floor of male residents in my hostel. Easy to spot me – I'm the bloke wearing an ACS polo LOL.
Continued in the next post.:)
The World at Sydney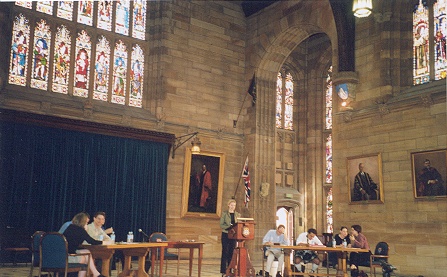 Since I was writing recollections of my extra-curricular activities the week before last, here's another entry on debating at NTU. The Australasians tournament in Melbourne '95 was an eye-opener, and from that point till 2000 I got involved training polytechnic, secondary school, and JC debating teams, and also adjudicated in several other local and regional tournaments.
The highlight was in 2000 when we headed to Sydney for the World Universities competition. This competition is the largest of its kind, and unlike the World Schools, the participants at World Universities span the age range. In Singapore at least, undergraduates tend to be those compacted around either the post-diploma/'A' levels/NS age group. Elsewhere from the world, and certainly so for Australia, there were a number of adult debaters who were also post-graduate students. And with that age came a more mature understanding of content matters and tenacity to boot when delivering their speeches.
The host university this time was the University of Sydney, and this institution isn't merely regarded as one of the top institutions in Australia. Their debating team has on more than a few occasions won the competition. The tournament saw participation from more than 100 Universities around the world, and NTU as I recall it sent three teams, with three motherhens, whoops adjudicators; two staff and myself. No, at that point I was no longer a student of NTU (I was legitimately a student of Curtin University at that juncture), so I registered as NTU-Alumni.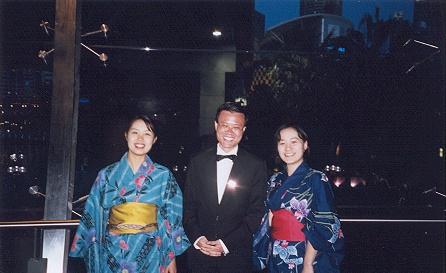 We were housed on campus, and the building I stayed in was St. Andrews' College, and there was an incredible feeling of history and heritage as walked through its corridors. I wish I'd taken more pictures of the place. The NTU teams fared well too in the tournament, though they were eliminated from the competition during the advanced knock-out rounds. The championship was eventually taken by Monash University.
The thing about these tournaments ultimately isn't about debating, but about meeting people doing the same thing as you are but in other parts of the world. I certainly enjoyed all the social functions, and this picture here never fails to make Ling a little green-eyed. The lovely ladies are from the Tokyo Woman's Christian University. No, that's not me getting drunk during our Championship Dinner event (I'm teetotaler!), but me blushing furiously.:)
I've got a longer writeup at this link here, which I remember I was writing and updating on the fly on a daily basis at Sydney's Internet cafes. And you have to keep in mind that this was pre-Internet blogging days.:)
Long hair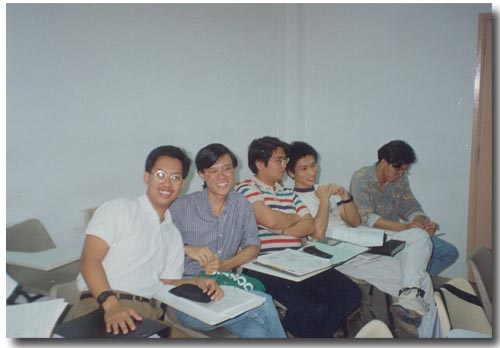 While digging through my 11+ year old CDROMs looking for old debating pictures, I ran into other pictures that were taken during my student days.
Here's one from 1994. This isn't too visible from the picture, but I kept my hair long when I was in my final year in NTU. Not till past the shoulder length sort of thing, but just about long enough to have tied it up using a band.
How did that come about? Well, I figured that since I was in my last year as a student, I'd better start trying out things I would not be able to effect when I started working proper soon. My Godmum was amused. My mother was less so but she was tolerant enough not to banish me from the house. And I wasn't dating anyone that year, so I didn't need to impress anyone.
Which is really sort of cute, since that's been the only point in my life so far I've kept my hair past the short crop with a partial left side parting. These days, Ling knows I get really uncomfortable when my hair grows long, and it'll be a trip to one of those cheapo/quick-n-dirty 10 minute pseudo-Japanese barbers to cut it short again.:)
"Mr. Speaker sir…"
I wrote this entry several weeks ago to post up when I'm too busy to write current entries. So here it goes.:)
A student blogger on the other blog I write for was noting how quickly time has passed in his course, and how in the matter of a few months he won't be seeing his classmates, lecturers, and school anymore. His whole cohort will be starting on their 4 – 8 month industry internship program.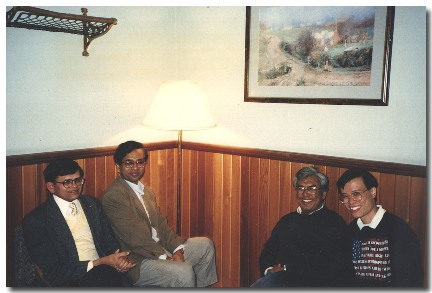 Truth to tell, it's the student experiences when I was in school that provided the most memorable moments. Ok, so I don't remember every nugget, but my memory is still reasonably fresh of my bachelor degree days at NTU onwards. So, following up from an earlier entry, one of the activities I was heavily involved in was debating. I went from being on the reserve list as a freshman to captain for the faculty team in my second year, then captain for the university team in my final year, and adjudicator just before I convocated.
The first competition I adjudicated in was the Australasians Intervarsity Debating Championships, which was hosted by Monash University in Melbourne, June 1995. NTU sent two teams of three student-speakers each, and being older and just finished my final year examinations, I was the trainer-mentor-chaperon aka Mother Hen during the trip.
At that point 13 years ago, adjudicators while still students like myself were very uncommon even though they are the norm in current competitions today. In fact, adjudicators then were University teaching staff. So, to get selected and then represent NTU as a adjudicator while still a student was a bit of an achievement. The tournament didn't use adjudicator panels in the preliminary rounds then (and that's also changed for some of the international tournaments too), so I was all alone to have to listen to six persons debate extempore style for each of the seven prelim rounds.
The debaters themselves spanned quite the range. I remember that the Philippine teams were always passionate. Many also had an attractive timbre in their debating voices. The local i.e. Aussie teams all spoke the language fluently and exhibited comfort levels in employing quips and humor that weren't common in other teams. The Malaysian and NUS-Singapore teams were hard to differentiate given how similarly we speak English. And there was that running joke about the NTU teams – whether we were a Singaporean or really an Indian national contingent given how dominant was Indian scholar representation on the NTU teams.
I was blessed enough too to emerge relatively unscathed in the rounds I adjudicated too. And boy, do complaints fly like wild during these tournaments. How so? Well, bear in mind there is always a winner and a loser in a debate, the loser does not like losing, and the losers still comprise each University's brightest and most eloquent students to have made it this far. Put it together and you get complaints galore. So, maybe I took meticulous notes. Or I was just persuasive. Or more likely I was just super loh-soh i.e. long-winded in my verbal assessments that teams readily accepted my verdict just so I'd shut up and they'd be able to move onto the next round.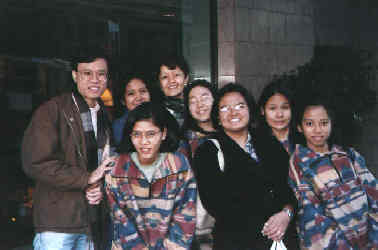 And all that is just the debating part of it. We had time during our 9 day trip to hit the sights, and that was where the fun really began. The 1995 trip was my first to Australia, though at that juncture I of course had no idea I would be a frequent traveler to Australia 8 years later during my doctoral studies. We went on day trips up and down the coast. We walked. We hit their local cuisine.
And that wasn't the end of it. Because on the very last day, the NTU team checked out late from the hotel despite my stern reminders the night before that we would be paying an extra night's stay if they weren't timely. They got a terrific earful from me, especially because I was the one footing the additional hotel bill for their slovenly attitude. The Student Affairs Office at NTU promised to reimbursed me for the bill, but I never got round to it – bleh.
But all these are memories, and great wonderful ones at that. The two photos here; one is with my other fellow adjudicators. Notice how old and wizen they look compared to my youthful appearance. The other is with the University of the Philippines that I'd adjudicated and became friends with thereafter. I started work about 5 months after the trip- I had to return to national service to fulfill three months of training that I'd deferred. And while there's been many great memories at work over the 13 years I've worked, it's been student memories that'll brighten my day.
So, yep, I know how Ling felt during her recent Venice trip mother-hening her choir girls.:)
What I really wanted to be
Truth to tell, I didn't always want to be a teacher. Heck, growing up with a family where nearly every person on my maternal side was a language teacher, I wanted to be anything but a teacher.
Why I eventually became a teacher is a long story, but this entry isn't about my turning academic. It's about what I really wanted to be when I was young. And in no order of merit, it was…
An opera singer. Like the late baritone Hermann Prey. My idol. I dreamt of singing the part of Figaro in Mozart's Le Nozze di Figaro. In fact, when the selections from the opera play from one of our classical music CDs in the car, I'll be singing in Italian. No clue if Ling is amused.
A classical pianist. Like the great Russian pianist, Vladimir Horowitz, who played only on Steinway & Sons grandpianos. I dreamt of performing Mozart piano concertos, e.g. like the really beautiful No. 22 in E Flat, at Carnegie Hall.
A cellist. Like Jacqueline du Pré. Of all the orchestral instruments (the piano doesn't count), this is the instrument I love listening to the most. There's an incredibly sexy and rich timbre to the string instrument.
A vigilante for The Weak and The Oppressed ™. Think, cape, mask, cowl, and jumping off roof tops. No kidding. Lucky I didn't. Maybe reading all those comic books weren't exclusively all beneficial.
A lawyer. This one was a late-adolescent thing, and it largely came because when I was in NTU and the captain for the faculty, hostel then finally University debating team, I had so many friends who'd ask why I was in Computer Engineering and not Law. Could be because I was a vicious debater who said very angry, rude, and unpleasant things when I debated. And I think my friends generally associated all those personal characteristics to lawyers.
And here's a funny note: as recently as a few years ago, the videos of my speeches were still apparently used as training videos to teach new debaters at NTU. Or maybe those videos were used as negative exemplars to show unnecessary levels of viciousness in debates. In any case, those Indian debaters were like 8 years after I graduated and able to recognize me during alumni functions when I have no clue who they are. They all go "Mr. Yang, it's such a pleasure to finally meet you in person" and I go "Erm, ok!"
So there you go. I really didn't want to teach, but all that changed, well, 15 years ago. But it's fun to think about such alternative life-paths.:)