Netbooks
now browsing by tag
Keeping An Eye
When I'm at home rarely a day goes by where I don't visit technology related sites at least several times a day.
There're a couple of identical sites that I've got on my Bookmark Menu on each of my desktops and notebooks, and they're Liliputing for netbooks and UMPCs, Laptop Magazine and Notebook Review for notebooks, Digital Photography Review and Imaging Resource for digital photography. There're other sites I bookmark of course, but these are the ones I'll without fail visit several times a day as they also report news as opposed to just just product reviews-centric.
There're two products that I'm keeping my eye on: the first is the Acer Aspire 1410/1810 netbook, and the other is the Panasonic DMC-GF1.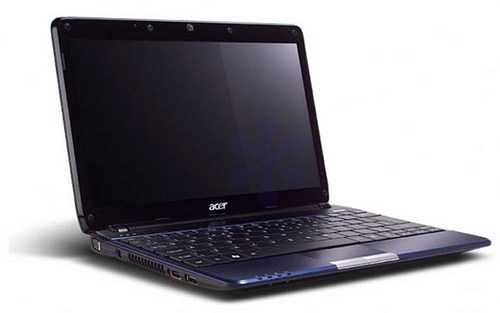 I like my MSI Wind a lot and it's been terrifically functional for the price I paid for it. The newer upcoming netbook models are going to be based off a newer line of super low-voltage processors from Intel – which will be faster / more powerful than the MSI Wind's generation of Intel Atom processor based notebooks, capable of better HD Video playback (missed this especially during the San Francisco trip) and still offering very long battery life.
Funnily, I haven't had great luck with Acer notebooks. The Acer Travelmate 3001 ultraportable I had for a few years – I did a good chunk of my doctoral thesis on it – had to be repaired three times in 18 months from various faults before it finally settled to better reliability.
But this new Acer netbook model is rated to 9-10 hours of battery life, uses the Intel SU3500 processor, has a higher resolution and larger screen while just a mite larger than the current netbook models. And best of all, the price of it should be, hopefully, about SGD800 when it arrives in Singapore. Tempting!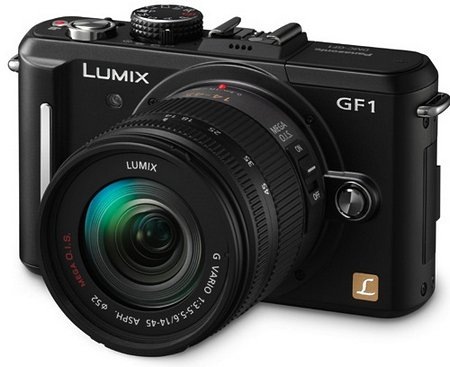 The other toy I'm keeping my eye on is the competing Four-Thirds standard compact camera to Olympus' E-P1: the Panasonic DMC-GF1 supposedly irons out several of the design-related issues from the Olympus camera; e.g. auto-focus speed and the lack of a built-in flash unit for small fill-light purposes.
Unfortunately, the GF1 is going to be as costly as the E-P1 at SGD1300+. Just crummy. Hopefully Nikon and Canon comes up with their own line of larger-sensor compact cameras rather than keep producing compacts that only cram yet more pixels into their already tiny sensors in their P and G series respectively.
All wired up
If there's one thing I missed when I was in Perth, it was quality Internet access. The University network was pretty good, but public Internet access was a different matter. For the first year, I was using dial-up 56K connections, and thereafter for the next few years, an ADSL 256K line that cost a bomb + utilized bandwidth shaping.
Now, one has to keep in mind this was in 2003 to 2006, and home cabled Internet in Singapore was the norm with speeds reaching the several Mbps at that point, and even faster now. So, despite the many complaints people here have about one thing or another e.g. transportation, taxi-drivers, GST, one thing I think that is done right here is telecommunications infrastructure.
Some aspects aren't as great or affordable as say in Hong Kong or South Korea, but it's not too bad. You get Wireless@SG, 3G Internet access on the go, digital voice travelers, powerline access which I blogged about the other day, and cabled Internet access of up to 100 Mbps.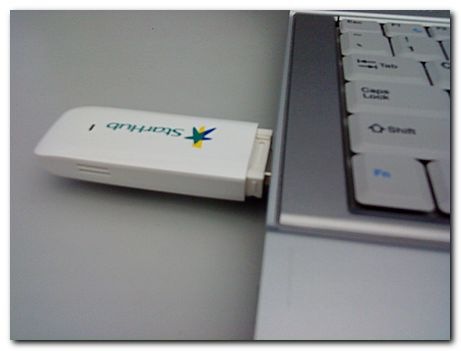 Now, while Wireless@SG is free, its reliability can be a mixed bag. You get it in malls, office buildings and public institutions, and even so, while you're usually certain of getting a connection, it drops on occasion. So, I recently applied for the mobile Internet service that is offered complimentary for the current home Internet service I'm already on.
OK, so a lot of people are already on the service. It took me a while to get onto it because there wasn't a pressing need to earlier. What changed? Well, we were at Thomson Medical Center the other day for Ling to do a detailed baby scan, and to my horror, I discovered that Wifi is no longer freely public-accessible. Apparently, registration I'm guessing at the reception is required. What a bummer. A netbook with no net access. Duh.
The Maxmobile service I got on solves the problem nicely. As long as there's phone coverage, there's access. The MSI Wind doesn't have a built-in SIM slot though, so I have to use a USB dongle pictured here. And it takes a couple of minutes to get a connection on the Wind's Windows 7 (it zips through on Vista on the NEC notebook though).
But hey, it works, and I'm now empowered again… during TMC visits LOL.:)
Windows 7
One of the best things about having more than a few notebooks and PCs at home is that one of the machines get designated as the throwaway toy and you can really try all sorts of stuff on it. And if it breaks, you don't lose anything apart from having to spend a bit more time again doing another low-level format of the thing.
So, since getting the MSI Wind, the little netbook's designated guinea pig for all sorts of stuff for me to try on since I don't dare risk my desktop PC, the gaming notebook and certainly not the IBM Thinkpad at work. Like Ubuntu, the open-source Linux-based OS I was trying out a few weeks ago on it, and now Windows 7 Beta. I installed the latter onto the Wind yesterday evening and it worked right 'out of the box' needing only a further driver installation for the wireless network card. In fact, this post is written by this nifty program called 'Writer' from Windows Live Essentials.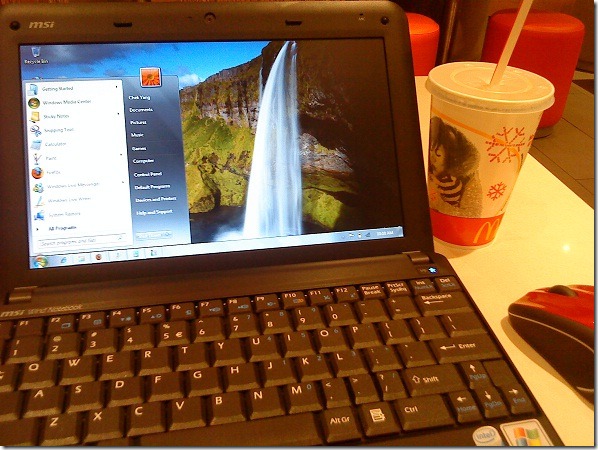 The two of us were stoning at the Mcdonald's Forum outlet along Orchard Road after the 7:30 am service… waiting for Yotei to open just so we can have make use of a $30 lunch voucher.:)
Toys and babies
Matt was asking about a new toy I picked up. But ah no; this isn't about toys for the coming baby.:)
Ling has started making regular trips to Thomson Medical Center and in about five months will be delivering there. Now, suspecting that I'd be bored to death during the inevitable waiting during those visits, I started looking for a suitable notebook to accompany me on these visits some months ago. Pretty simple requirements: just light enough for me to carry around easily, long battery life, and low cost. After all, I've got two other notebooks already and spending a few thousand on a third just doesn't make sense when its use is focused.
I've blogged about ultra mobile PCs here in May last year, and these netbooks are quite the rage over here now with models as low as $500. In terms of port configuration, processor and display specifications, most of the current notebooks available are somewhat similar. Where they differ is in chassis design, cost, physical dimensions, and battery life.
Of the lot, the Samsung NC10 was the pick. Amazingly long battery life at 6.5 hours. Unfortunately, the thing isn't available in Singapore and I had no luck with the UK vendors I tried ordering from. So, I ended up with the next choice of the list: an MSI Wind.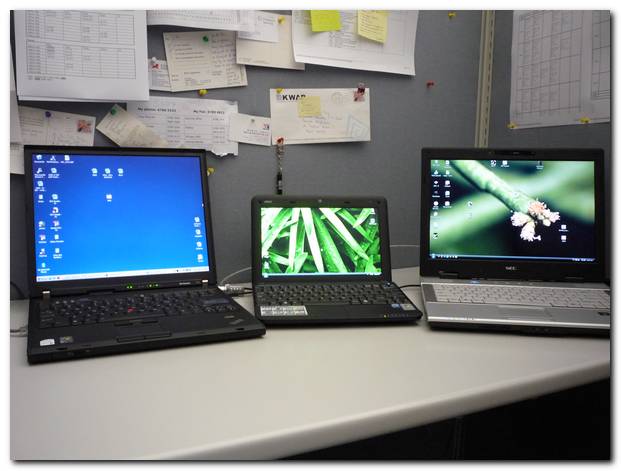 That's the three notebooks in the lineup now: the Thinkpad T60 I use at work, the MSI Wind sandwiched in the middle, and the NEC Versa E6310 that I also use in school when doing special talks or demonstrations.
The Wind is pretty amazing, the moreso when one remembers that notebooks were the size and weight of bricks just 13 years ago. It looks dimunitive compared to its two siblings on the left and right, but the keyboard's still perfectly alright. No, I can't do my 120 words per minute on the keyboard but it's close.:) The screen resolution of 1024 by 600 requires a good amount of vertical scrolling when browsing web pages. But that's a trade-off for the 5 hours I get before the battery chokes, and that the machine is so light I can see myself carrying it around to TMC.
The cost? A shade over $700 and also the last major purchase of 2008.:)
UMPCs. Oh my… so kawaii!!!!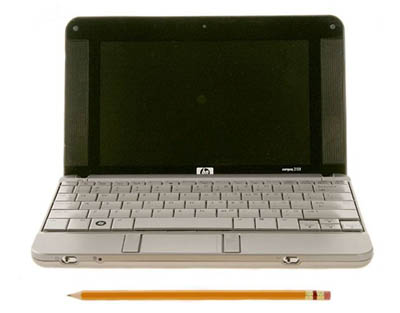 Notebooks have to achieve balance between weight, battery power, performance and form factor, and as satisfied as I am with the two notebooks I use, the want to carry around PDA-sized and truly portable and light notebooks is always somewhere at the back of my mind.
So, one of the technological developments I've been keeping an eye on has been the production of UMPCs, short for ultra mobile PCs. These notebooks utilize smaller screens of 9-10 inch or smaller, very small form factors (with semi-cramped keyboards), very low-powered processors, and typically without optical drives. Asus for instance produced the wildly popular EEE PC last year and sold a couple million units, and has followed it up with a newer model that retain the original's diminutive size but increased the potency of the unit's hardware. And best of all is the price; just $760.
I can imagine a couple of uses for it right off. For starters, it's small enough to carry anywhere, and has the necessary connections for Wireless@SG. During vacation, one can use it to store and check on photos taken. E.g. even though the 3 inch 900 pixel screen on my D300 helps a lot in checking on pictures, an LCD screen – even a 9 inch one – will help loads more.
Notebook manufacturers besides Asus for certain have all realized the potential of low-cost, budget UMPCs, and are all coming up with their own models. MSI is just about to start selling theirs and HP has theirs out for a bit already. This is going to be really interesting to watch.:)