Minton
now browsing by tag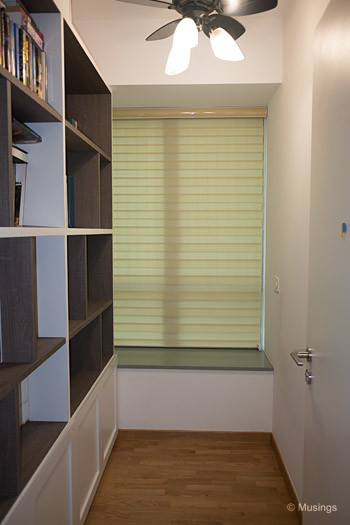 The Minton – Post Renovation Two Years On – Part 2
Second part of our post two years into staying at The Minton, and this time round, my notes on what we're planning for our mini-renovation project next year.
To be fair; much of our apartment is still swimmingly fine and without any real major issues. Well, apart from that half of our initially installed LED Downlights failed, though thankfully the replacement units we bought from a different vendor have worked just fine and we've been able to dismount the faulty ones and mount the new units without too much difficulty on our own. And there's also the slowly de-coloring grouting in the living/dining hall that would likely cost a lot to replace, never mind the having to move all our furniture somewhere while it gets rectified.
So – that aside, here's what we're currently planning.
Re-purposing our Study Room
This is the '+1' in our apartment. The room as delivered is just long and wide enough for a study table that can run along the full length of the wall. But our initial renovation intention from 2014 was to treat this as a mini-library. Basically, we had our ID design and fabricate strong and reinforced book shelves. The book shelves almost 30 months later have borne up incredibly well – zero sagging despite bearing the weight of a lot of our books – paperbacks, very large coffee table books, and even heavier photo albums. The remaining space held Peter's cot after we moved in.
A couple months back though we decided to move him out of the cot to join Hannah in their bedroom (something about wanting the kids to enjoy each other's company more), gave his cot away to a Minton neighbor who was just about to deliver her baby – and now we have a room that looks like this:
We can't fit a full-sized upright piano in the room, so that was tossed early on. Alternatively, the room can maybe hold a 50-60 cm deep study table on the opposing wall – we'll likely have a designer fabricate one so that it can run the length of the wall, though there's really enough table surfaces elsewhere in the house for us to do work – with books or multiple notebooks.
The last possible function: toss in a bean bag, and just treat it as a lounging area.:)
And we'll likely have to find a different fan configuration for the room too. The current Crestar Idol 30″ ceiling fan is attractively looking, but is also severely constrained in its ability to move air around because of the room's size and keep persons in it cool.
Paintwork
Not the entire house for sure, but little spots especially in the external parts of the apartment. There're a few hairline cracks on the balcony wall – nothing serious of course though a little unsightly:
And maybe just a mite more serious are these paint bubbles that have started appearing on the front balcony wall. We reckon it's that there's some water seeping into the underlining paint layers, and we'll have to watch if it gets more serious in the next months. And if it does, whether something needs to be done about it.
Fans
Our unit's facing means that we get terrifically frequent breezes and outright strong winds about 4 months a year – usually from around October to February. On the other hand, the front-balcony also gets a royal roasting from direct sun between April to October. It's great for Ling's plants of course, but it's also gets terrifically hot that apart from the occasional laundry and also for the several rows of Ling's plants, we really can't do anything else on that balcony. This was one thing we didn't fully anticipate in our main renovation project. Specifically, we should have fitted one of those industrial-sized ceiling fans from the get-go.
Since we can't enclose the entire balcony in glass and just air-condition the thing up – and mind you, I am ready to fork out that expense if such major alterations were permitted – Renovation Project 2017 will see a new fan mounted on the ceiling.
And we're also thinking of installing a fan into the kitchen too. Crazy idea eh? We really like our Minton home, but if there's one thing I can name about it being deficient compared to our first home @ The Rivervale, it's that the latter's kitchen was large and so airy that we routinely had to close the kitchen windows to cook, as the frequent breezes was causing havoc on the gas stove flames. Our Minton unit's kitchen is smaller, more claustrophobic, and just doesn't move air well. I don't know how Ling manages it when she cooks, but it's terrifically uncomfortable for me, the Must-Have-Air-Conditioning-Everywhere-I-Am person I am.
Though whether we can even find a ceiling fan for this setup is going to be a long shot even. We might have to make do with a wall-mounted fan.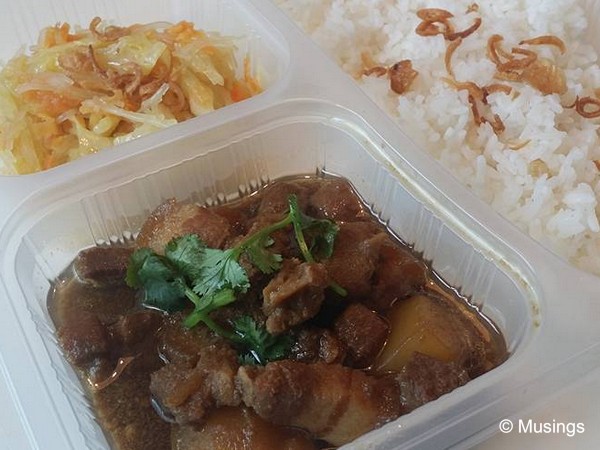 The Minton – Post Renovation Two Years On – Part 1
It's been more than two years since we've moved to The Minton and I figured it's time to do another annual post on little things we've observed about our home, and our plans beyond that too.
Adults are too busy to use amenities
That's in specific reference to us, and not as a general rule. One of the main selling points of the condo was the wide-ranging facilities. As in, what other condo can boast of having a full-sized and air-conditioned badminton dome. As it turned out and funnily, we've still yet to use that dome – and it's not just on account that we're not badminton players. The dome is also used for other selected sports activities – e.g. Yoga, Zumba. We've been invited several times now by our neighbors to join into these fitness groups (and they sure look fun!), but Ling is too busy at this point, and me – no thanks. I have too much flab, and would rather just jog in the gym! And the latter is just about the only facility that we use.
Hannah is a different story though. She has swimming lessons now every week at the pool. So, it's not quite a total loss against the quarterly condo maintenance fees we pay for.
Commercial and retail establishments
Apart from the wide-ranging facilities, our condo also has several units designated for commercial and retail businesses. Briefly: the mini-mart is still there and quite convenient when we need some household appliances or common food items double-time (e.g. "Ahhhh… we forgot to buy onions from NTUC!!!"). We also had Peter enroll in the condo's childcare center this year for several months, until they had to suddenly close down, leaving parents scrambling. Quite displeasing, but at least Peter is now as happy (if not more so!) in the other childcare center we found him. There was also a pizza joint ran by a bona fide Italian person, but they had to vacate after about a year. They made pretty yummy pizzas for residents to buy, but I wonder if the business volume was ever sufficient to sustain their ongoing operations.
More recently, there's a in-condo hair salon which also serves kids (super convenient), and also a new cafe which dishes up home-cooked styled food and a daily changing menu. The cafe has been quite a big hit among residents, with genuinely tasty food, reasonably-priced, and run by a very pleasant and friendly lady and chef. In fact, one of the longest-running threads in The Minton Residents Facebook group are the daily reports from residents on what the cafe is serving for the day LOL.
Just a very small sampling of the daily stuff that's whipped up for residents to try out:
Poolside vs Amazonian Lily Pond
This is one of those almost accidental decisions that we didn't realize the significance of until well into the fact. When we decided to purchase a unit @ The Minton almost 5 years ago, we had an inclination for a quiet apartment. Our previous home @ The Rivervale was peaceful for the most part, until the previously nominally-used road our unit faced became a major connector for the just-about then completed Kallang-Paya Lebar Expressway. As luck had it, the Minton apartment configuration we wanted – a 3+1 bedroom type – against the actual units remaining when we were committed to purchase resulted in us having to choose a unit that was facing the very Tranquil World. A happy coincidence we thought at that point.
Well, more than 2 years living here now, I reckon that our unit's facing is one of the most lucky coincidental outcomes we've had. The Minton main pool is an extremely popular area for kids and partying adults young and old alike. And early on, there were feedback from residents whose units faced the main pool complaining about the noise generated. Because of how sound can bounce around the compound or get especially amplified by the surrounding blocks, we can occasionally even hear kids screaming out their lungs at something fun at the pool from our end of the compound, and it's probably even worse for the pool-facing units. Still, at least the pool users are mostly well-behaved, and the condo's guards are fairly strict in keeping the peace in the night hours. So past about 10PM, the pool returns to its serene state.
And before one thinks that the Amazonian Lily Pond-facing units are heaven, we 'enjoy' a potpourri of barbecued and grilled food aromas from the three BBQ pit locations. Every. Single. Weekend… without fail.
Getting In and Out
While the condo is situated along a main road, we're also lucky in that the end of the road – Lorong Ah Soo – where the Minton is situated is actually not too heavily used. So, the traffic junction that resident vehicles have to turn out from moves vehicles pretty quickly. And the three different vehicular exit points also help loads.
It's quite a different story just further down the road in the early morning though. Two popular schools sit right along Lorong Ah Soo, and it can be a bit chaotic every morning when school-going children get dropped off in the two-lane road.
Well; next post to come soon once I think of more things to say about our home. We're also planning for a mini-home renovation project in 2017, so a post somewhere in this series will deal with that!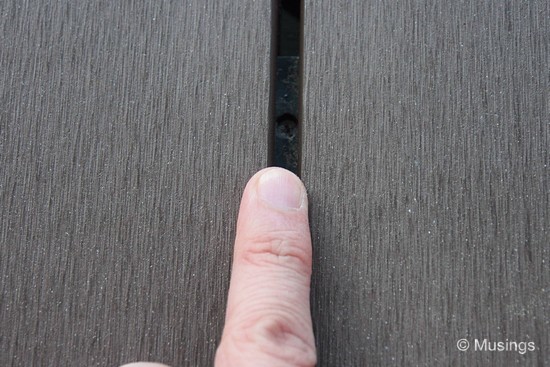 The Minton – Post Renovation One Year On – Part 3
The third – and probably last post on our Minton renovation one year on – unless there are more things to say later in the years to come! Previous post here.
Children's Bedroom double-beds: this was one of the key design features in our renovation project 18 months ago, and while Peter hasn't moved into the room yet (he still sleeps each night in his cot currently in the Study room), the upper bed here is at least one of his frequent play areas. The invisible grills in the room have given us relative peace of mind since without them, it really wouldn't take any effort to climb from the upper bed out of the window. The multiple storage bays built into the bedroom have also been really helpful in keep both children's clothes out of sight too.
+1/Study Room configuration: we're waiting for Peter to 'graduate' from his cot so that he can vacate the +1/Study Room. After which the first thing that's going in is one of those large bean bags.:)
Decking: we didn't write about our decking considerations and final decisions made during our 2014 renovation project, but deciding on the basic material type, material color and also vendor to go with was one of the harder renovation decisions we made last year. Briefly, there are two broad types of decking material: natural wood (e.g. ironwood, Chengal, teak) and wood plastic composites, which basically is a synthetic wood type.The considerations we had in mind included:
The amount of direct sunlight that would hit the decking
The amount of rain that will hit the decking during each year end's monsoon
The kind of furniture and also usage that decking would be put through
How much maintenance we were prepared to keep up with the decking's outward appearance
How the decking would be installed
Cost (of course)
From anecdotal observations, most people seem to prefer natural wood decking since it doesn't have that odd artificial look that's inherent in WPCs – you know, analogous to computer-generated faces against real human faces that we see in the most Terminator film – and with natural wood, you can at least re-sand and varnish periodically and the decking would look like new again. Still, we read and also saw through pictures worrying on either side, and don't think we could really finally say which material type is better all-round. We finally decided on an Australian-branded decking type sold and installed by a local reseller, on account of the very long warranty the reseller was providing, the overall package price, method of installation (no drilling involved), and also that the method of installation permitted wider than normal gaps. A note on the later: we went with a larger than normal gap of 5mm between planks. It resulted in a somewhat less pleasing look visually, but also provided a much better water drainage system when the inevitable monsoon rain cycle begins.
More than 18 months, and the decking has fared pretty well with a few caveats. None of the planks have warped, chipped, broken etc. but there has been surface scratches and plant acid burns into the material as a result of our usage – basically the children's toy vehicles running forcefully over the decking, and the many potted plants excreting fluids that over time burn into the deck planks. Not enough for the decking to look unsightly at all, but I guess it's just the nature of the material.
Solar Film: the solar film still looks solidly in place, and we don't even notice that it's there anymore. And the apartment interior is still reasonably bright enough for us.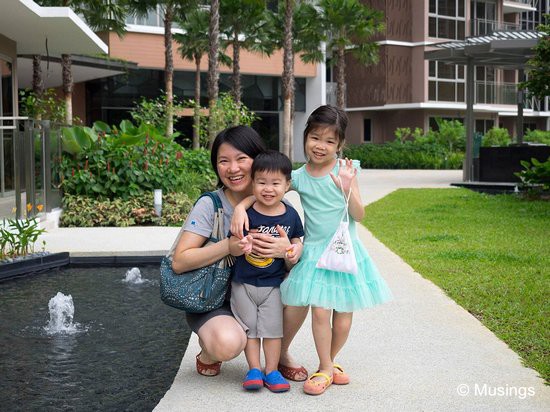 Visiting Bartley Residences
One of those very Singapore-an things to do on weekends is to check out new homes in new apartment projects. There's been a large number of such new developments in the north-east side of the island. Heck; our old home at The Rivervale at one point saw six such new developments all in eyeshot! Visiting showrooms is a great way to see what apartment developers are up to, but there's always that little sense of unease when we get tailed by property agents during a visit and routinely have to fake our guest names and contact numbers just so that we don't get harassed by the agents later on.
A friend at work had just received keys to her new home @ Bartley Residences, a 702 unit project that just TOPed a few months back, and invited us to go by to take a look over the recent weekend. Which we did, and here are some of our quick observations – especially in comparison with our (relatively) new home @ The Minton. Just casual impressions too since our encounter here was just an hour or so visit and exploring the grounds. Not commenting on the finishing and the general workmanship at BR either, since we only visited one unit. But from what I'm hearing, the general quality of that isn't different from what Minton residents had too at the point of key collections.
Bartley Residences (BR)'s location is a key advantage and more central than that of Minton's. It sits directly opposite a train station and Maris Stella High School, one of the brand name boys' schools. The wife quips that even persons who stay under 1 KM will need to ballot just to get their kids in. It's also just a couple minutes drive away from a CTE connection. Super convenient.
On the flip-side though; the major road that connects to the sideroad leading into the condo is also a major artery that connects residents from the East to the more central areas of Toa Payoh, Bishan, Ang Mo Kio and beyond in Bukit Timah. We go by the road occasionally on weekend peak hours, and routinely will hit slow-traffic. I wonder if this bottleneck is gonna be a source of daily frustration for residents trying to get home! The Minton on the other hand isn't exactly near an MRT station – 12 minutes of brisk walking is involved to get to either Kovan or Serangoon stations – and isn't near a connection to the expressway either. But it does run beside a fairly major main road, which – fortunately – isn't congested… yet (?!).
The side-road that leads into the condo is also pretty narrow, with at least one of two sides occupied by landed property. Not in itself a problem, since the condo sits among low density housing, but the narrowness of the side-road might pose challenges. We observed a lot of cars parked on one side of the road – and lots of empty or re-purposed driveways in the private houses. Once the main body of residents move into the condo, the side-road leading in and out of the condo onto the main road might get real crowded.
There are 702 units at Bartley Residences, compared to the 1,145 units @ Minton. The latter can feel crowded sometimes, though that feeling is somewhat alleviated by that the blocks are at least spaced relatively far apart facing-wise.
The condo sits on a gentle incline which the developer has employed to good effect. We explored the Kid's splash pool and were wowed by the views the deck offered: a pleasingly far view to Maris Stella High and Bartley Secondary Schools, and well beyond too.
The condo feels cosy, especially in how the pool-facing blocks hug the pool's circumference, with good use of plants to and greenery to provide a lush garden pool feel to it. The Minton main pool in contrast is more functional and probably has to fit multiple intentions – including pool-side BBQs, the garden awnings, and also for lots of kids running about with pool-side toys.  The BR main pool is also literally right at the door for the patio units, which might be a good or bad thing depending on one's expectations of privacy. The Rivervale's poolside patio units had two barrier types – a walkway, and also taller than human height flora – such that pool users would never be able to peer into homes.
I thought that the main pool seemed relatively small for the number of units it has to support, while Minton is at the other extreme with four separate pools – a pretty large main, lap, heated, and children's – and you can imagine the ruckus on weekends at all four pools. Not really idyllic living anymore LOL.
The general BR compound is beautifully landscaped too, and Ling especially liked the numerous little relaxation corners where residents can hide out and chill. The planted flora/greenery is already of sufficient height to provide a degree of privacy to patio units, unlike the Minton units back in 2014, though by this point now the flora has grown to sufficient heights.
I like the general aesthetics of the blocks. BR's blocks are a mix of white, browns with embedded design patterns that run along the entire height of blocks. Not quite like Minton's more industrial look of concrete, steel and glass.
No bay windows at BR! Bay windows are awful for already small rooms – a room constraint we had to think very hard to get around @ Minton.
No planter boxes at BR too and hence no wasted space on the balconies.
The developer-supplied washing machine and dryer stack is elegantly tucked and hidden away inside the kitchen. Definitely beats the experience we had squeezing our brains on how to fit our own laundry stack into our yard toilet last year.
There's a huge tree that sits on one side of the compound, which is a protected specimen that's hundreds of years old. The tree looks awesomely huge and I felt like a midget standing beneath it. Certainly one of the key highlights of BR. Several blocks surround this tree, and also a further-on view of low-rise houses yonder too. Very serene! And right beside it is a children's playground with several fixtures – something that's sorely lacking at Minton. We do get a crochet lawn beside the children's treehouse – the lawn of which has been re-purposed to a mini-soccer pitch / BBQ extended area / picnic lawn / children's badminton field / playing catching field / morning Qigong area – and of late, even a drone launch pad.
We saw just one vehicle entrance and exit point at BR, compared to the multiple points of vehicular entry/exit @ Minton. Three in the latter! Good in the sense that it spreads things out quite a bit, bad because the access control can be uneven across all points of entrance/egress. The manned main guardhouse and vehicular gantry at BR is also placed exactly where it naturally should be: right at the property's main entrance.
There's a picturesque cascading waterfall adjacent to the main pool, and deck chairs that are immersed into the shallow end around the pool too. Very neat! The pool is also surrounded by blocks and quite private, like at The Rivervale. The Minton pools are relatively more exposed.
The rooms in the sample apartment we visited were rather small. In the oft chance that the sample isn't representative, the apartment sizes reported on other sites are also telling. E.g.: a Bartley Residences 3 bedroom size is ~1,022 sqf compared to Minton's ~1216 sqf, and the 3+1 configuration (ours) is 1,162 sqf at BR compared to 1,495 sqf at Minton. These aren't trivial differences in sizes and seem to be the norm for newly built condos. I wonder how much smaller can apartment developers shrink units until they essentially become unlivable! Part of the generous floor area of Minton units though is taken up by those massive balconies in most units here, with the joke being that our front balcony is larger than our bedrooms.
The sliding door-type of wardrobes in each room is also more practical than the swung out wardrobe doors @ Minton, which posed further constraints on the furniture we could fit into the bedrooms.
The final verdict? Hannah liked Bartley Residences, and said "We should come here more often and swim in the pool!". :)

The Minton – Post Renovation One Year On – Part 2
Continuing on a widely spaced thread on our Minton home, post-renovation one year on. The last post in the series is here.
If there is any one aspect of our home renovation that has not worked well, it's been our choice of supplier for the LED downlights. We picked them up from a large supplier located in the Ubi area, and had them installed by our ID's general electrician. As I recall it, the first units started failing barely 3 months into our moving in, and along the way, several more did. Our initial experiences of the LED downlights are here, and here.
I'll have to do an accurate tally of the units that failed, but here are the failure numbers off the top of my head:

The 8 failures are over the 18 month stretch, and I think roughly split between the LED light emitting unit, and the driver unit. As I recall it, the first four failures (all 3-in-1s) occurred in the first year, and were exchanged without complaint at the warehouse. The remaining ones zonked out about this year – after their guarantee period – which meant we had to look for options.
Clarifying our usage too: the lights are not heavily used. In fact, two of the dead units were in a part of the living hall and were rarely switched on. One of our Minton neighbors got their LED downlights from the same supplier and experienced failures of their 3-in-1 lights too.
We scouted around for alternatives, and eventually settled on a Qoo10 supplier who has a new warehouse over in Woodlands. This supplier has a web site – which gave us a slight bit more confidence than the previous supplier which had nothing of this sort, though the web site still states their old Jurong warehouse address. We've had enough bad experiences with 3-in-1 types now, unfair as it might sound to tarnish all lights of this type because of one bad experience with a supplier. The new units, according to their supplier, have some components made in the US while assembly is in China.
Pictures of the new units:
This time round too, we picked up spares so that we can replace them on our own if it comes to that later. Funnily; these replacement lights at about $19 each cost less than the old ones at $28. Our neighbor – who shared the similarly bad experiences with the old LED lights – helped us install the replacements, and judging from what's involved, I'm fairly confident that I'd be able to do the same later if I need to. Oddly though – the traumatic experience our ID's general electrician had last year when installing the LEDs seem unfounded. Our neighbor was able to mount/dismount the old lights with relative ease.
Oh well. Hope these new ones work better this time round. And if not, at least we have spares to replace several more.:)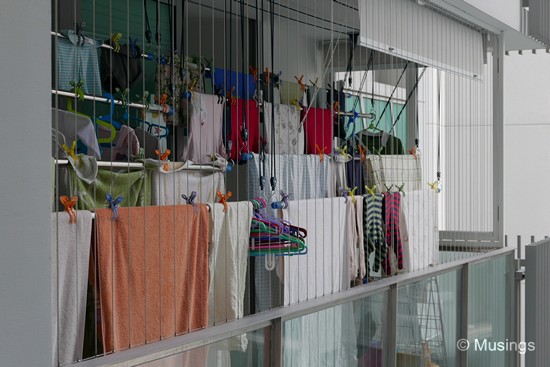 The Minton – Post Renovation One Year On – Part 1
It's just past a full year since our Minton renovation project ended, and I thought it'd be fun to do a retrospective review of how the new home has been since it's now lived-in for a year. Most things and design decisions have worked very well – surprisingly! – but there's been a couple of others that with the benefit of hindsight, haven't worked as well. Long post, so split into a couple of parts – and starting off with the things that have worked well.
Fans: One big difference between our old Rivervale home against our Minton place now is in our type of fans. Our current place is already a little more airy than the Rivervale one – though this is also seasonal – but after the frequent tripping over of electrical cables lying about on the floor from standing fans in our old home, we went all-out for ceiling fans in the Minton a year ago. The Crestar fans in the Living, Master and Children's rooms are still working as well as they did when first installed and providing plenty of air circulation. The Fanco 36″ in the Workroom remains under-powered – a mistake in choice back then that's necessitate turning on the air-conditioning a little more frequently there just to keep things comfortable in the room. The fans do occasionally make a bit more din when our part-time cleaners clean the fan-blades, but they're not causing enough ruckus at this point to bother us – thankfully!
Clotheslines: A year ago we were wondering if this was way-overkill to install eight ceiling clotheslines in the yard balcony on top of the clothes rack we got from Ikea, but they have turned out to be tremendously useful, given the amount of laundry we do. We also realized how lucky we were to have purchased a unit with a yard balcony of decent length which could be our dedicated laundry area.
Work Room Tables: This was another risky design requirement we made last year – how and if we should squeeze 3 of us in a room to do actual work. At the moment, the configuration has worked well enough, and we removed the rollers on our work room chairs too so there's no chance of chairs slamming into each other. Hannah also seems versatile enough to do her homework anywhere in the house.
Invisible Grills: The grills have also been as they were a year ago; the cables still seem tense, and no signs of rust (yet?) too. We did hear of a neighbor going with the same grill vendor who didn't have as much luck though – the grills showed signs of corrosion. The one gripe we have is pretty minor – the plastic caps to cover holes along the grill frames have been dropping off, like this:
Solar Film: Food for thought though: whether Films are of any real perceptible benefit might come down to whether you've experienced the house without Solar Films installed first. We did for a couple of months last year and can say with certainty that the Films will help. That said, we were never under any illusions that the films all around the house were gonna turn an apartment experiencing afternoon heat into a chilled igloo. At this time of the year now, the afternoon sun is shining directly into the wide part of the house, heating up the children's bedroom (below), the workroom and to a lesser degree, the Master room. The films do help by bringing the general temperature a couple of degrees down – though it's still not enough to make the rooms bearable for working and living in the afternoon heat without turning on additional air-conditioning.
Front Balcony: We had grand and lofty ideas about how to use the fairly large front balcony space before moving in – and that included a general lounging around area and also children's play area. But given the general humidity of the island in general, the Front Balcony has turned into our little stretch of green for Ling's plants, and also for drying items that need direct sunlight (the yard balcony where the laundry normally goes does not experience direct sunlight for the most part).
More notes in the next post, soon.:)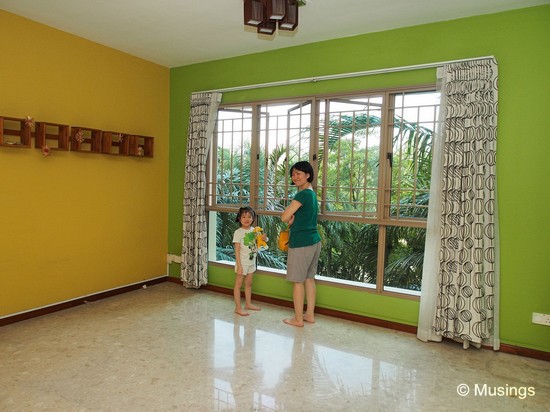 Moving Out @ Rivervale
One key decision we had to make this year about our Minton home was what we'd do with our current and first family home @ The Rivervale. Truth be told, most people around us advised us not to sell our old property but to rent it out instead, as the long-term returns were higher. For instance, the rent alone from the home would have paid off our monthly installment of our home loan for Minton, and with spare change too. On the other hand, we (or rather, it was mostly just me) didn't want the hassle nor potential complications of renting out an apartment, and wanted to be debt free sooner to that we could start significantly investing in our children's education funds.
We finally decided to sell away our Rivervale home only in February this year – about a month before moving to Minton. The next decision we made was not to sell away the old place before we had properly moved and settled into our Minton home. Much of it lied in that we didn't want to rush through the sale process. We wanted a good sale at a price we were comfortable with, and to owners who would, hopefully, treat the place with the same respect and care the first owners did before they sold it to us in 2006.
Unfortunately, our delaying the sale of our old home also meant that the general price trends of resale homes were depreciating over the last months. It wasn't a disconcerting drop fortunately, but not small enough on the other hand to make us laugh it off.
We didn't spend a lot of time in our hunt for the right property agent to sell our old home. We simply collected a stack of publicity collateral various agents had been stuffing into our mailboxes, shortlisted a couple of them (don't laugh now – but we went mostly with how nice they looked in their pictures!), invited them over for discussions, saw their portfolio, then decided. Of the three agents we interviewed, one was nice and probably competent but seemed somewhat unfamiliar with the nuances of Rivervale units or the general area. Another was quite aggressive, had a fabulous track record, but didn't quite endeared herself to us. The third – but actually first agent we spoke to – was – a jovial and bubbly lady who was apparently specialising in the sale of Rivervale units. As it turned out too, her daughter was Hannah's friend and bus-mate in school too. A lucky match. We negotiated the asking commission, decided on the targeted yet achievable sale price, signed off on the exclusive arrangement to sell, and went with it in early June.
To our agent's credit, and probably also because she had a well-honed system (i.e. do A, then B, then C, then D etc.), there were quite a few viewings over the next few weekends, and she kept us posted each time on these viewing arrangements. The actual confirmed sale of our unit to a family came almost exactly a month later with the new buyer exercising the Option to Purchase. We were alright with the counter-proposed sale price offered by the buyer, appointed the lawyers at our own end, and began the sales paperwork. The sales transaction would take three months to complete.
Almost two months have passed since that point, and earlier this week, we just almost finally cleared everything in our Rivervale home. We arranged for the handymen who work the condo to come clear off the bulky items – the Ikea sofa, the handed-me-down TV console, our master bedroom frame, the IKEA bookshelves and chairs, the Zen-like dining table etc. Thereafter, we took the opportunity to take a final round of pictures to remember our first home. As Ling mused; seeing our old home bare off furniture reminds us of what the place looked like 8 years ago too. Peter will be too young to remember the place, but Hannah might – and there will certainly be pictures to remind her!
We'll miss our Rivervale home; the cool breezes we enjoyed in the living room everyday, the great neighbors, the large space the condo sat on, and the general serenity in the condo's amenities and common areas. Hope the new owners take care of the place!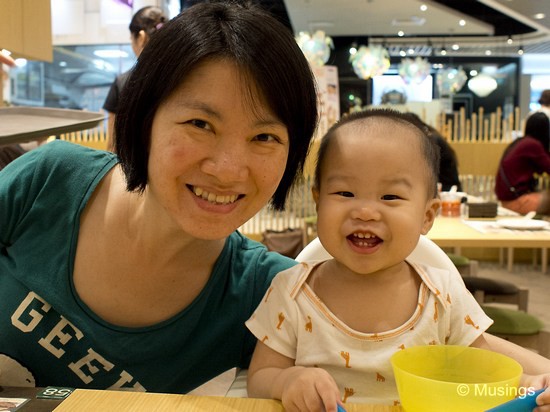 Kids @ 17mm, 25mm etc. – Part 23
Another three weeks since my last post on our two kids. The most significant development between the two is that Peter is now – for all purposes and intent – mobile. Yep, he's able to confidently prop himself up and briskly baby-stomp around the house now, and only occasionally losing balance. That's added a new spin to home safety, since one of us parents need to keep a loose eye on him when he's awake and scurrying around our home – it's not entirely baby proof yet – and it helps that Hannah is like a Meekrat, playing sentry and alerting us loudly if she sees her baby brother doing something dangerous!
The two kids have been taking turns becoming mildly ill over the last fortnight though. Nothing serious and just minor colds and some coughing on Peter's part, but it might be again due to the changing weather over the last month from warm and humid to somewhat cool most days.
We've also been finding ourselves lightly comparing between our two kids at similar ages and developmental ages. Peter is of course a lot stronger as a baby and louder than Hannah was at the same age years ago. Must be a baby boy thing. Hannah on the other hand picked up simple words a lot quicker. In fact, at 1 year 2 months, we recall that she was able to call either of us, while Peter at this point is just managing "da… da", presumably in reference to his daddy. Similarly, we had our small group friends over at our home last Friday, and observed that comparing him to another baby boy who was younger by a few months, Peter still seems… baby-ish, while the other boy was looking distinctly more mature!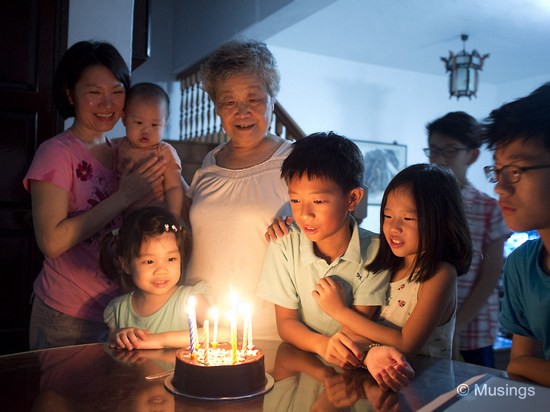 Kids @ 17mm, 25mm etc. – Part 22
The weather has turned – surprisingly – cool since last week after the National Day weekend, with flash storms occurring at several points during the week. Quite interesting to think about it, since just over a year ago, we were pretty much living in daily smog, and for some reason, the haze has not returned for the most part to our island. It did hit a few parts of our neighbors up north in Malaysia, but judging from the news, it still wasn't up to the extremely unhealthy levels of June 2013 even then. There are still a few dengue clusters about the island, but thankfully too, our area in Hougang has dropped off the dengue hotspot list since the last fortnight too.
On the personal front; my detailed health screening returned the other week to report that I was in good health at the age of 42, for the most part. Because the report also noted that I was approaching high-blood pressure and also have high (bad) cholesterol. Quite a timely wake-up call, because I resolved immediately thereafter to exercise regularly and eat healthily. For the former; I tried swimming at the Minton lap pool, but unfortunately, the pool gets frequently misused by residents who treat the pool as a water play ground for young kids rather than an exercise pool. Next best option; stairs-climbing! I've been walking up from the ground to the top floor at our apartment block at least 3-4 times a week now, and have been steadily improving the number of iterations I do a complete cycle. Started off with 2 iterations and I'm now up to 4 – the latter of which makes it roughly about 56 floors of stairs. Good stuff!
As for our two kids, we have a few developmental notes to make since the last fortnight too.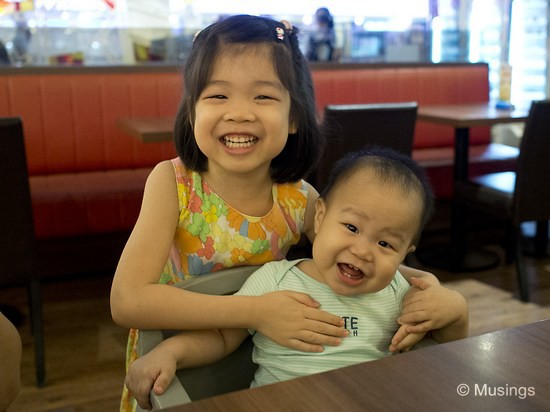 Kids @ 17mm, 25mm etc. – Part 21
We drove past Jalan Besar yesterday Sunday late-morning on our way to brunch, and it occurred to us that it's already been past six months where we'd spent most of our spare time outside work on the hunt for electrical fixtures and installations for our Minton home. Ever since moving and settling into our home, our leisure hangout places have also gone through a bit of a shift. Back at our old place, the places where we'd head out to on weekends would routinely be Compass Point, Hougang Mall, Hougang1, and Greenwich Village, where both our workplaces are situated. Nowadays, it's Serangoon Nex, City Square Mall, Bugis Junction, and we'll be also adding Toa Payoh hub soon enough to that mix too.
What has helped a lot of course is that our Minton home is located at a relatively centralized location than the north-easterly Rivervale was. And that in turn has made getting to downtown places easier too via private transportation. Unfortunately, the same can't be quite said for public transportation. It's closer to downtown, but our new home requires quite a bit more walking distance to get to either one of the two MRT stations that the condo is equi-distance from.
Ling has lots of little anecdotes to share too about our two kids. For instance: a month ago, Hannah surprised her by saying this:
Hannah: Mommy, thank you for growing didi for me.
Mommy: ?? You're welcomed, sweetie.
Both Hannah and Peter enjoy playing with each other since Peter started to sit up and recognise faces and voices. Sometimes we wonder whether the age gap of 4 years has something to do with it. We were certainly surprised to hear the daughter thanking us for giving her a brother.
Another one of these conversations:
Hannah: Mommy, what are you going to do with the cheese?
Mommy: I'm going to let it melt and mix it up with the corn.
Hannah: What is melt?
Mommy: It's when something solid becomes liquid. Okay, it's like when you put ice on the table and it becomes water.
Hannah: Okay, for example ah, when you eat ice cream and it du..du..du..du..du…and it melts. The hot air around it makes it melt.
Mommy: Oh yah…

And more pictures now.:)