Melbourne 2016
now browsing by tag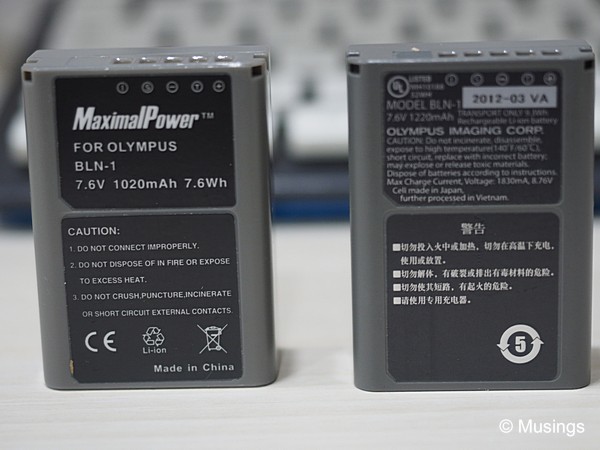 9 Days in Melbourne – Equipment comments
Whoops. Spoke too soon about the last post on our Melbourne trip being the third and last of the retrospective posts. This one is about things that worked especially well equipment wise, and things that broke and just didn't work. All for our collective memory so that we don't do them again.
Before we had kids, we routinely brought along for vacations an entire bag full of camera bodies, filters to do different things, wireless triggers, heavy lenses and even that full-sized Manfrotto carbon fiber tripod/ballhead in the ThinkTank Bazooka case. Things are different now though, since our backpacks now have to hold stuff we need for our kids – diapers, wet wipes, children water bottles, meal bibs, emergency medication, and spare clothing. I brought along far less camera equipment this time round for the Melbourne trip; just the E-M1, the two Olympus Pro f2.8 lenses, Fujifilm X70, and the Panasonic TM700 camcorder. And summarily:
The E-M1 performed superbly again in its second overseas outing.
The 12-40mm and 40-150mm f2.8 lenses and especially the latter worked well beyond my expectations. The close-ups of Lemurs @ Melbourne Zoo were tack sharp center-wise, and the lens was able to resolve very fine detail – right down to strands of Lemur fur at 100% crops.
I'd ordered from Amazon UK a couple of third party E-M1 batteries ('MaximalPower' brand) and brought them alongside the OEM ones as batteries in cold weather routinely don't hold their charge as well. But I ended up not having to swap batteries at all. Even though a typical day of activities saw about 400-450 pictures on the E-M1 – and there was still power to spare at the end of each day.
The JobyPro camera strap worked great, and the strap length was easily adjustable depending on what I was carrying on my back.
The X70 was mixed. It was convenient as a small camera that fitted into my jacket pocket, responsive in starting up and general usage – but just slow in AF when indoors. The lack of optical stabilization, especially important in low-light shots, was a real clunker, and I obtained far more picture keepers using the E-M1 with the 12-40mm taking wide-angles in low-light than with the X70.
Our old Panasonic TM700 was also carted along  with an extra battery and its dedicated charger in our luggage case, and never got taken out. In its place, the Samsung Galaxy Note 5 took pleasing video.. for the most part as there were still that jello effect when panning around and also frequent focusing issues. Still, looks like it's time to retire the TM700 – it's served us very well in the last 6 years now.
Ditto also for the little Nissin i40 flash. That got brought along but never left the luggage case.
The iPad Air 2 was great for reading when sitting down on a bed or in a seat at the cafe, but terrifically unwieldy when on the move. When my mobile broadband contact ends in a few months, I'm going to seriously consider getting the iPad Mini 4 when I renew for the contract bundle.
The Google Nexus 7 – which we stored all the children cartoons – were used only on selected evenings when the kids wanted something other than the ABC Kids' Channel. But then Peter got extremely restless on the flight home and significantly stressed Mommy out, and he only calmed down after we remembered we had the Nexus 7 in our carry-on luggage, and turned it on for Tom and Jerry cartoons.
The Anker 5-port USB charger I'd ordered from Amazon a year ago was worth its weight in gold. 40W through 8 amps – yummy – and wrapped in scratch-resistant material.
The Mi 16000mAh Power Bank never got used. The devices it was intended to sustain beyond their typical battery lives – the iPad Air 2, our two smartphones, the Google Nexus 7 – all had enough juice to last for the day's activities.
The Thule EnRoute Blur 2 Backpack could hold a huge bunch of stuff: two tablets, the Surface Pro 3, the Mi 16000mAh Power Bbank, medicine, lightning and micro USB cables, a small umbrella, a water bottle, the Aztech MWR647 4G Mi-Fi, all our AA/AAA/TM700/E-M1/X70 spare batteries (could not be sent as checked-in luggage at the airport), the E-M1/12-40mm/40-150mm in protective padding, the X70, all our passports, an A4 folder of our key itineraries and map printouts – all still with plenty of space to spare. Shoulder straps were comfortable and helped a lot in distributing the weight. And the backpack could also fit comfortably underneath the airline seat too.
The Aztech MWR647 4G Mi-Fi usage was mixed The Optus Prepaid data SIMs were so affordable that we got enough for all our mobile devices. The Hotel WIFI connections were occasionally unstable, so I tried using one of our spare Optus data SIMs in it, but oddly, connection continued to be flaky. I couldn't say for certain if the Mi-Fi router was wonky, or 3G/LTE network coverage inside the hotel itself was bad as well.
The shiny new Mi Note 3 – bought specifically for this trip – kissed hard concrete on the very first day of our vacation. It had been left display face-down in Ling's backpack (made of fairly thin canvas), and the backpack accidentally hit a hard surface. The tempered glass layer shattered, and when removed, the top third of the Mi's display screen was similarly damaged. The phone is still functional – just dangerous to use as there are tiny bits of glass loose in the screen now. Heart-breaking.:(
So in summary for our next vacation:
Bring only the two Olympus Pro lenses for the Olympus E-M1.
Rethink on keeping the Fujifilm X70.
One spare battery is enough for the E-M1.
Ditch the filters… unless we're traveling without kids.
Ditch the Panasonic TM700.
Ditch the Mi 16000mAh Power Bank. Bring along the smaller Mi 5000mAh one – just to be safe, y'know.
Ditch the Nissin i40. Alongside the 4 Eneloop batteries and its charger.
Ditch the Mi-Fi router if data SIM cards are cheap and easily available.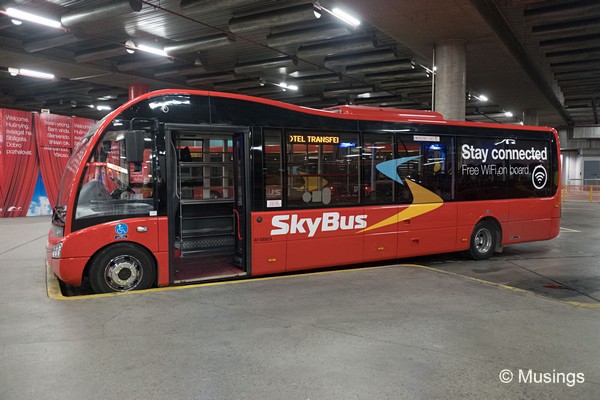 9 Days in Melbourne – Final Notes and Such
While reading up for our Melbourne trip early on and doing general searches for itinerary planing for a family with kids, I was startled to find that the majority of local blogs seemed to be by 'social media influencers' or sponsored content writers. Non-sponsored and non-influencer agency affiliated bloggers who write about life experiences like us seem to be uncommon nowadays. We used to have at least three friends in our church small group who also independently blog about life experiences, family and kids 7-8 years ago – but none of them do anymore.
I reckon it's a larger trend that you see in digital spaces now. Social media networks are a lot easier to write for, with access controls to boot. And for those who still write for the web, fewer today want to volunteer information for (totally) free anymore. We first started seeing it in digital newspapers, then technological and hobbyist sites and beyond now. Revenue or incentives in the form of adclicks, complimentary or sponsored services to sample etc. can be indeed hard to pass up especially once your site is past a certain following, and possibly even mandatory to pay the bills for a high-traffic web site.
So, we're blessed we have no such need or desire to be sponsored. Our corner here on the Internet doesn't receive quite the same traffic as influencers, so we have no pressures.:) While our about 17 year old blog has a stub tagline ("Reflections of parents of young kids"), we don't have a consistent focus on what we write. We don't desire to be affiliated with any social media companies, are completely self-funded and independent and do not derive any income from this site, and do not have any embedded code snippets to track your browsing behavior (unless they are built-in by my domain host provider without my knowledge!). And when we talk about a particular experience with a place, product or service, it's exactly as it is – and not because someone asked/paid/encouraged us by giving complimentary stuff and we're thus obliged to say nice things, claims of honesty or not.
I guess I'm an unconvinced skeptic on the real authenticity of evaluations on sponsored content – more so after our experience of Club Med Bintan turned out to be vastly different from the slice of heaven some lifestyle bloggers had made sound like.
But that musing aside – we've written 20 blog posts – including this one – of our Melbourne trip. That's a lot less than the whopping 60 posts about the Boston trip in 2010 – our Ang Mo bud will relate particularly memorable experiences we had at a Indian restaurant, watching people vomit while whale-watching, and also of a visit to gay town LOL – or the nearly as many 58 posts about our Japan trip that same year. We've already covered our overall comments for each of the key places we visited. Here's our summary and notes if you're planning for a similar family vacation to the city.
Plan your own itinerary, and decide exactly how much time you want to spend and what places to visit. The majority of attractions have up to date web sites that you can visit and mine for information and directions. Pay special attention particularly to weekend admissions, as kids are admitted for free in some places on weekends. Check also if your hotel has bundled admissions with discounts too.
Take the SkyBus from the airport to your place of stay in the city center and save yourself a bundle of cash from taking a private car or cab. It's easy, runs frequently, and shouldn't take more than an hour to get you from the airport to your stay.
The city is stroller and pram friendly. There's the occasional elevated pavement ledge that you have to roll up onto. But by and large, we had no difficulties navigating Peter's stroller along the pedestrian pavements and traffic junctions we walked along extensively during our stay. One thing though: cross roads only at designated crossings, and look left and right even then. Cars coast along fairly slow – perhaps 35-40 km/h – in the city center, but trams are quicker. Our Great Sights guide said as much: putting aside the hefty fines involved in breaking traffic rules, getting run over by a pretty fast tram will ruin your vacation – likely permanently.
There are plenty of places to eat, and breakfast places were open as early as 0600hrs. We visited in June and winter season for Australia, so several dining establishments closed early by 1700hrs, though there always remained enough options if you're willing to explore a little further. If you're staying in accommodation with a reasonably large fridge and cooking facilities, then it's also practical to get fresh produce from QVM and cook (keep in mind that you might still need condiments though). Alternatively, if your accommodation has a microwave oven – like ours did – then hot microwaved food from Coles and Woolsworth awaits you.:)
If local fare is your thing, then there's Chinatown along Little Bourke Street. We also spotted Pepper Lunch, Ajisen Ramen, and even something called Breadtop which offers pastry and bread items very similar to Singapore's own Breadtalk.
There's a free tram service in the city center itself, but we ended up not using it at all. We just walked everywhere and often from one end of the city center bounded by the free tram service boundaries (where Pegasus was located) to the other end (Spring Street). There are some gentle inclines uphill here and there, but nothing like the joint-hurting up/down/up hill of San Francisco city. That we walked was just as well, because the myki ticketing system just seemed too much of a hassle for tourists.
If you have no Google Maps or your phone ran out of battery and you are now lost, look for the city's visitor info guides. They are in unmistakable red jackets, and are strategically located at several key junctions and will readily offer you advice on where/how you need to get to.
Within the city center itself and walking distance are a number of reasonably easy to reach places. You could set aside about 3-4 days to visit the key sites within the center, and perhaps another day just for shopping if that's your thing.
Driving is an option, and traffic within the city isn't intimidating with plenty of road signs and landmarks to spot. What might be less appealing though are the parking charges. The alternative is to rent cars only on selected days to do self-drives to the places outside Melbourne.
The majority of the day tour offerings are centered around these places: the Great Ocean Road, Dandenong Ranges/Yarra Valley, Mornington Peninsula, Ballarat, and Philips Island. I reckon you could fill up as many days as you need to by booking a couple of these day tour outings – though keep in mind again that weather can significantly impact the experience you get on the tour. Remember also to inquire if you can get discounts if you book more than one day tour with the company.
If there's bad weather or your feet are just tired, you can head for the nearest hotel. There are often one or two city's cabs hanging around at the hotels' entrances.
If you're visiting in winter but do not have a lot of winter clothing and hope not to spend a lot of money buying them first in Singapore, then head to Target Center or Queen Victoria Market first thing and get what you need at bargain bin prices.
Mobile Internet is great. Optus My Prepaid Daily Plus is an absolute must with its very low daily Internet costs, and you can get as many data SIM cards as you have smart devices. If there's a long queue at the Optus shop at the ground floor @ Melbourne International Terminal, don't sweat it. Just get to the city center first, and then to any one of the many Optus shops there to buy the cards you need. Top-ups are easy too, either by purchasing additional top-up cards at convenience stores and supermarkets, or via Optus' online payment system. Remember to preload Google Maps for the city, and rely on your smart device's GPS locator. That can really cut down on your mobile Internet costs. Notwithstanding that, many cafes and restaurants also offer complimentary WIFI.
This wraps our principal posts on our Melbourne trip. All in, I reckon a 8 day stay is pretty good for this city, and anything above 10 days would be stretching it, unless you're really wanting to take it real slow. Hope all this helps if you're planning for a Melbourne trip. We might try Sydney next June, since that again was my initial preference for this year's holiday. More to come at some point.:)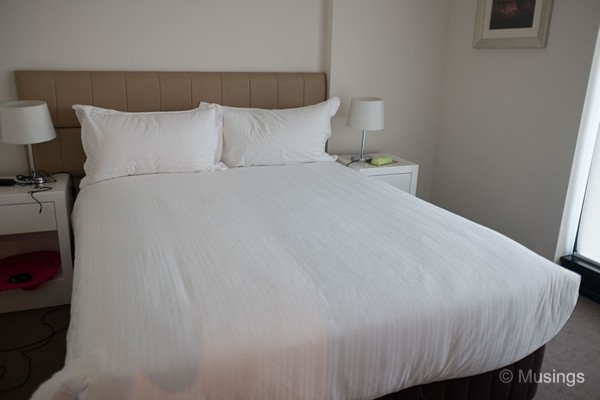 9 Days in Melbourne – Pegasus Apart'Hotel
I reckon our family is at a point where it's not easy to find appropriate accommodation when we're visiting urbanized cities for vacations. Basically, our kids are too young to be in separate rooms from us. For our Melbourne stay, we were initially seriously considering Airbnb stays or service apartments. None of the options were going to be cheap if we wanted stays at the city center – and this was a requirement since while I've driven quite a bit in Australia, I didn't want to have to pay through my nose for parking in the city center.
We got lucky though – we found a place in the city that had suites with two separate bedrooms. It was large enough for all of us, wasn't a service apartment block as there was daily room service and the usual hotel amenities, and at a great price point of about AUD216 per night. Heck – the package was even cheaper than several of the Airbnb options I initially listed, bigger, and offered daily cleaning and room service. So, an early booking to Pegasus Apart'Hotel was made as soon as our travel dates were firmed up. The booking portal allowed for late cancellations too, which also set my mind to ease as we continued to look for better options over the in-between months – and eventually found nothing that could match up to what Pegasus was offering.
So; our comments on our stay:
Pegasus is situated along A'Beckett Street and very near Queen Victoria Market – about 5 minutes walk away. The street itself is also perhaps 7 minutes walk from Melbourne Central, and is well-lit at night. Vehicular traffic is fairly light along this street too. Interestingly, the hotel does not figure as a pick-up point for two of the three tour operators we went with (only A Tour With a Difference did and picked us up at the hotel entrance), and you'll have to walk around the corner to the more expensive hotel – Radisson Flagstaff – just next door. It's a short 2 minute walk though, so isn't too bad.
The 60sqm two-bedroom suite was smaller floor-area wise than some of the places we've stayed – e.g. Santhiya @ Koh Phangan's massive 110sqm – but the area was well-designed. Aside from the two bedrooms, there was a small living/common area with two sofa pieces, a dining table, and a well-equipped kitchen with sink and washing tools, toaster, microwave oven, wine glasses, lots of cookery and utensils, and a mid-sized fridge to contain all the fruits you will buy from QVM. The fridge had a freezer compartment too if you're thinking of cooking up a royal feast. Simple complimentary beverages were also placed on the kitchen top – and in a nice touch, small fresh milk cartons for beverages were in the fridge too. Finally, there was also a safe box in one of the bedrooms.
Beds were comfortable enough, though not providing the kind of pocket spring coil support if you're not sleeping alone on it. As in – were it not for the fact that we all slept like the dead every night, Ling would have woke me up every time she got into our out of the bed.:)
The bathroom offered the usual hotel amenities and toiletries, and was connected to the common area and not bedrooms. Convenient as it meant we could use the bathroom late night without worrying about waking up persons already sleeping. The stall produced good water shower streams, and could go up to super-hot temperatures. Useful in winter!
A single air-conditioning unit serviced the suite. It being winter, the air-con unit was probably superfluous, but I reckon it might not be sufficient in a hot summer. The suite had two standing fans, one for each bedroom. There was no radiator in the suite though, so we could not walk around the suite in T-Shirts and shorts about without freezing.
Full-glass panes on all outward facing sides of the suite. Someone on Tripadvisor remarked that some rooms might get a less than appealing view, as the Queen Victoria Market-facing side of Pegasus partially faces the back of another residential apartment block. We were lucky though. We didn't experience this problem. Ours was a high-floor unit at 14th floor, and we had a great view of Queen Victoria Market and the north-western edges of the city.
The windows are normally closed with the handle unscrewed and kept in one of the kitchen drawers – i.e. it should be safe for kids. Still, once you check in, do make sure that the windows are indeed secure, and that the window handle is well out of the kids' reach.
There was a roughly about 42″ wall-mounted LCD TV in the living area. We got a good spread of Aussie channels though not the international channels like BBC or CNN. TV reception is great – probably because it's all via cable – and unlike the other hotels we've been to, our kids actually spent a lot of time with the two children TV channels in the evenings and mornings. The TV though was mounted a little too high on the wall – your kids' necks might strain.
There's a pool and gym, and laundry room all on the second floor. We didn't use the fitness facilities – didn't bring the appropriate attire for it – but did do laundry. The washer cost AUD5 to use and about 40 minutes to complete a cycle, and dryer usage was AUD4 and also about 40 minutes for a normal cycle too. It's decent for a quick wash so that you don't have to bring that many clothes.
The hotel offered complimentary WIFI throughout and also in the rooms. ID and password were easy to commit to memory and type (important for mobile phone users!). Reliability though was spotty, with the occasional disconnections. Access speed was also variable. I occasionally hit 2.5 to 3 Mb/s download speeds, but on other days, speeds could slow to far less than that. Or maybe someone in the hotel was doing heavy torrenting haha. In all, it's about as good as what most hotels offer, though if you're spoiled like me with 1 Gbps home Internet speeds, the hotel WIFI speed can be exasperating.
Concierge staff were polite and helpful though not what I'd call warm. I noticed that the hotel is also popular with flight-crews. On three different days, we saw flight crews checking in/out. All of them Asian airline crews too. And on another afternoon, a Singaporean tour group from what seems to be the local tour operator CTC was also checking in.
There's a restaurant on the ground floor that serves morning breakfast if your stay package already includes that. Don't feel compelled to include it though. There's a nice cafe – Queen's Kitchen – just one minute walk from the hotel entrance with a decent-sized dining area, and offers a variety of sandwiches, grilled breakfasts, and pizzas at good prices. And there are are even more cafes just a few minutes further away, especially on the Queen Victoria Market side.
Room cleaning timings were a little off. On two occasions, our rooms were serviced in the mid to late afternoon, and when we'd already returned to the hotel. There's also room service if you're hungry, but really – just take the lift down, walk out and get grub from a proper cafe!
All in; we weren't expecting a five-star quality stay at Pegasus, certainly not at this price-point. But the hotel is well-located, suite was large enough for us, functional where it mattered, and there was nothing really problematic. Easy recommendation if you're like us – looking for a place for a family of four.:)
Next is the third and last post wrapping up our Melbourne vacation.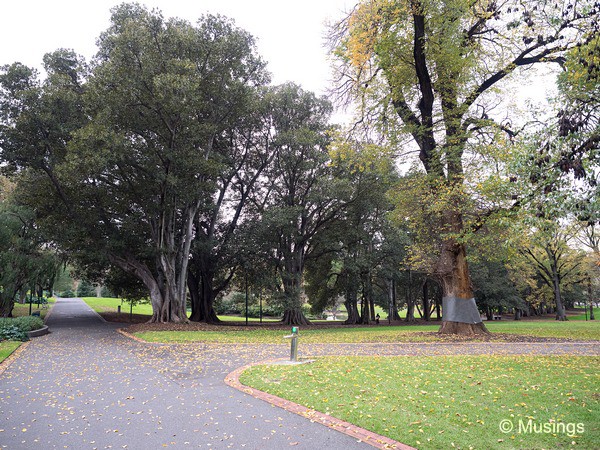 9 Days in Melbourne – Retrospection
The 10 days vacation – not 9 on account that we left Singapore on 12 Jun SUN and landed on 21 Jun TUES –  was really our family (with Peter)'s fourth vacation in the last 1.5 years. The previous three – Koh Phangan, Legoland Malaysia and finally Club Med Bintan all faced difficulties of one sort or another, whether it was the state of accommodation or the lack of really any sort of proper itinerary to spend our time. This Melbourne stay though went much better on account that there were a lot of things to do, even in winter, and the city center compact enough for us to explore on foot.
Here are three posts to close off our vacation. Starting off with briefly again – our itinerary listing the key places we visited and a few summary sentences for each alongside a recommendation on how much time you might want to spend if you are with kids – like us!
Day 1: Arrival and Melbourne Central
SkyBus from Melbourne International to City Center: Convenient, easy to book, and runs frequently. Trip each way takes 30 minutes, and an additional 5-10 minutes for the Complimentary Hotel Transfer.
Melbourne Central (1 hr): Hard to miss with the iconic glass shaped cone. Lots of mid-range shopping options, and a decent-sized food court on the second floor. If you're looking for cheap clothes (e.g. to tide through wintering in the city) though, walk a bit further to Target Centre Melbourne along Bourke Street, or check out Queen Victoria Market.
State Library of Victoria (1+ hr): Just opposite Melbourne Central, free to enter, awesome interior sights, and a kids' activity area while adults can chill.
Day 2: Day Tour with Gray Line Melbourne
Ballarat Wildlife Park (1.5 hrs): About 90 minutes from Melbourne city if you self-drive, though going with a tour operator will include great accompanying commentary on the rich history of the town. We highly recommended visiting the park if you have kids, and also timing your visit with the guided tour.
Sovereign Hill (3+ hrs): Lots of things to see and try out, and interesting photo opportunities. If your day tour itinerary doesn't include Ballarat Wildlife Park, then you can just as well spend the entire day in this historical mining town and try out everything.
Gold Museum (0.5 hrs): Skip it unless you have an interest in this expensive element, or the admission price is already included in your day tour package.
Day 3: Melbourne Zoo and City Center
Melbourne Zoo (4 hrs): Kids will love the Lemur Island, and go about chasing the sea gulls in the picnic lawn near the Giraffes enclosure. Butterfly farm is a must-visit too – just watch where you're stepping on lest you thread on butterflies on the ground!
Botanic Gardens (2 hrs+): Huge park though not quite as dense in sights as say our very own Singapore Botanic Gardens. The most interesting bits seem to be the south-eastern side of the park which we did not get to.
St. Paul's Cathedral (1 hr): Admission is free, but photography will involve a small AUD5 fee. European and the old American city churches are more awesomely built than this one, but still OK for a quick visit.
Block Arcade (0.5 hrs): Visit because it's conveniently located, even if you don't intend to buy anything.
Queen Victoria Night Market (2 hrs): Visit on a Wednesday evening and get your dinner grub there. Don't buy at the first hawker you see. Best to go early for dinner too especially if you have kids – unless they can walk and eat at the same time.
Day 4: Queen Victoria Market and Melbourne Aquarium
Queen Victoria Day Market (3 hrs+): Go in the morning and get fresh fruits for your stay. Apart from fresh produce and meats, lots of shops offering a variety of apparel, household items, knick-knacks etc.
Melbourne Aquarium (2 hrs): Probably more memorable for kids than it would be for adults, more so if you've visited other international aquariums elsewhere.
Day 5: Great Ocean Road Day Tour with A Tour With a Difference
Great Ocean Road (2 days): Worth a trip if you haven't seen it before, though kids might not find the experience particularly interesting. Good weather extremely important. Lots of day tour operators make trips every day, so chances are good you can squeeze in last-minute bookings once you have a better fix on the expected weather. Try to go with a 2 instead of 1 day tour, though this might conflict with whether you can do last minute bookings then, since most operators do only 1 day tours. Our review of our tour operator is here.
Day 6: Lots of Gardens, Melbourne Museum and St. Patrick's Cathedral
Carlton Gardens, Parliament and Treasury Gardens (2 hrs): We weren't deliberately going out of our way to visit these three spots – just that they were en route to other places we were visiting. A wet winter is probably not the best time to lounge around and enjoy the parks, so adjust the amount of time you're spending depending on the weather.
Melbourne Museum (3 hrs+): Large museum with lots of things to see and learn, and you could spend half a day here and more if your legs can hold up and your brains haven't fried from information overload!
St. Patrick's Cathedral (0.5 hrs): OK to go by for a quick visit, but skip if it's out of the way. Unlike St. Paul's Cathedral, there's no photography fee.
Day 7: Dandenong Ranges with Great Sights Melbourne
Grants Picnic Ground (1 hr): Nice spot to feed the dozens of Cockatoos that will swoop down from the tall and majestic Eucalyptus trees. Read the advisories carefully though: do not feed the birds human biscuits (you could be fined), and do not feed them out of your hand.
Puffing Billy Train (1 hr+): The shortest ride – from Belgrave to Menzies Creek – is sufficient to get a taste of it, though this stretch isn't particularly spectacular from a sights point of view.
Yarra Valley Chocolaterie & Ice Creamery (1 hr): Popular stopover for visitors to Yarra Valley. Top-up for your sweet-tooth, but also spend a bit of time outside the establishment for lots of photo opportunities at the front lawn looking into the Valley.
Healesville Sanctuary (2.5 hrs): OK if this is the only wildlife park or zoo you're visiting. But Ballarat Wildlife Park and Melbourne Zoo make for better visits, even from a kid's perspective. Recommendation is to skip it, and go with either the half-day Puffing Billy Train trip, or a full-day but visiting other places in Dandenong Ranges.
Day 8: Street Exploration
Woolsworth, Melbourne Central Shopping Centre, Target Center Melbourne, QV etc.: Lots of walking around the city center and dodging into malls to escape from the rain. Keep an eye out for Tim Tam offers @ Woolsworth and buy buy buy!
Day 9: Queen Victoria Market and Flagstaff Gardens
Queen Victoria Market (3 hrs+): QVM is a fun enough place for repeat visits and to spend a bit of cash and buying lots of things you probably don't absolutely need. Sort of like Daiso.:)
Flagstaff Gardens (1 hr): Largely because Hannah spotted the children's playground when the SkyBus Hotel Transfer was turning into A'Beckett Street, and really wanted to play here. Kids loved the playground.
Next post on our place of stay: Pegasus Apart'Hotel.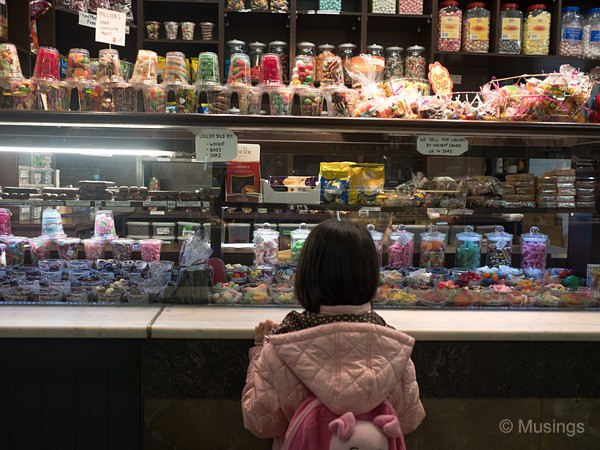 Melbourne – Day 9 – Queen Victoria Market, Flagstaff Gardens and Homebound
Our last day of our stay in Melbourne. Pretty much free and easy for the day, and after four days of rain, the weather was decent and sun out for good parts of the morning too. Our activities were planned around key timings: specifically that our hotel checkout had to be before 1100hrs, the SkyBus Hotel Transfer to Southern Cross Station would be at 1500hrs, and the Emirates flight home would be at 1800hrs.
Breakfast was at an early 0800hrs and at Muleta's Cafe, a little eatery just 4 minutes walk from our hotel, along Queen Street and directly opposite Queen Victoria Market. The cafe has a pretty wide menu with several pages of beverage. Ling was tempted to try their pancakes/waffles, which – according to the cafe's billboard has been well-received by diners – but we decided to start with just the "Everybody Loves Benny" eggs benedict, and a "Mr. Big" which comprised of the usual hashbrows, scrambled eggs, bacon, grilled mushrooms, and sourdough bread. Which with hindsight was the right decision – because the portions that came were huge. The four of us had a lot of problems finishing the pile of food.
Breakfast, a return to the hotel to finish packing and a quick check-out done, we returned to QV Market with several hours to burn. There are hundreds of makeshift stalls in the Market selling a variety of apparel, footwear, leather goods, souvenirs, little household items and the like – not counting the fresh produce, condiments and neighboring deli opposite. I reckon that visitors could easily spend 3-4 hours going from stall to stall, and best of luck resisting spending small dollars buying little items! We fought hard the temptation to spend small dollars, but still left with a couple of shoulder bags and several household decoration items.
Just opposite our hotel and along William Street is Flagstaff Gardens, with a decent-sized children's playground. Ever since our SkyBus Hotel Transfer bus drove past this park, Hannah has been pining for a visit to it – and she finally got her wish on our last day. The kids certainly enjoyed this one, with the swing clearly one of Hannah's favorite highlights of this vacation.
Our luggage inbound was fairly modest with a normal size 26″ case, and a smaller 22″ case which contained mostly Peter's diapers. We probably ended up using just 3/4s of the diapers, which posed problems – alongside all the Tim Tams and presents we'd bought, we now had a problem fitting everything back into those two cases. We were pretty tempted to buy an additional 28″ case just to buy all the interesting knick knacks and little household decoration items at QV Market!
We were still feeling royally stuffed from the huge breakfast at Muleta's, so made do with a light lunch back at Queen's Kitchen. And we're off back to the airport in 30 minutes. Next post back home in Singapore and some retrospection of our trip.:)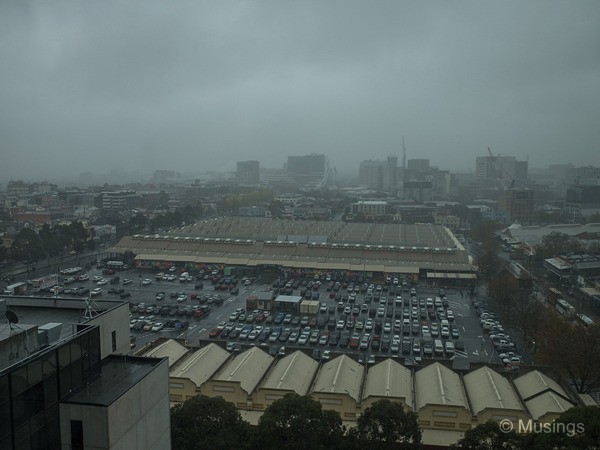 Melbourne – Day 8 – Exploration and Such
Day 8 in Melbourne saw more round the clock rain throughout, with low mist layers occasionally blanketing the city up till the late morning. We still had a few more items left in the relatively busy itinerary – including going up the Eureka 88 Tower, Fitroy Gardens, Parliament House, and Royal Exhibition Building – but decided to drop them all off because of inclement weather. We are though, again, situated in a pretty nice location in the city center, so after breakfast at the little Queens Kitchen cafe beside Pegasus Apart'Hotel and that the rain had slowed to a small drizzle, we walked out again to the central area – Target @ Bourke Street, Woolsworth QV @ Lonsdale Street, and a lunch stopover at Romano's inside QV – to pick up presents and other things to bring home.
Largely also because our lunch times on the non-tour days have been quite late – typically between 1400 to 1500hrs – and that it's often very late afternoon by the time we're back in our hotel, we've been also buying packed dinners to microwave. Oh yes – our room has a microwave oven, a fairly large fridge, and a bread toaster situated in a small kitchen. We've not gone to the point of actually cooking meals here from fresh produce yet, but hot food off the microwave in cold winter was a reasonable and convenient alternative.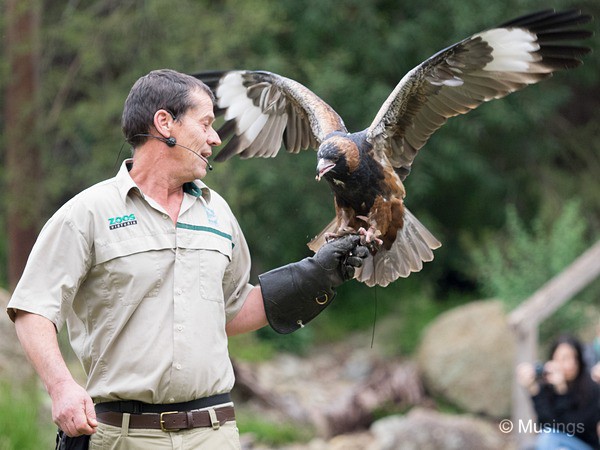 Melbourne – Day 7 – Healesville Sanctuary
Yarra Valley Chocolaterie & Ice Creamery was just a couple of minutes drive from the Fergussion Winery & Restaurant, and we stopped here for a short 25 minutes before continuing on.  As is fashionable in many Chocolateries these days, the establishment goes with open-concept – large glass windows allow visitors to get a close look at how the various chocolate types are made. Most of the building is used by the retail shop that sells a large variety of chocolate food items and other memorabilia, and the opposing end a busy cafe. There are also large bowls of free dark, white and normal chocolates for visitors to sample at the entrance.
The nicest thing about the Chcolaterie though is the large lawn that's at the front of it, permitting visitors an obstructed view of many kilometers of farmland, groves, wineries, roads to the distant hills beyond.
Healesville Sanctuary is a further 20 minutes drive away, and we got to the place at about 1415hrs, staying for about 2 hours. We both had very mixed feelings of the place – here are my comments about it:
The Sanctuary has an Australian bushland setting and comprises 200 animal varieties, and the compound is fairly large for the relatively small number of animals it homes. That in itself poses immediate problems; basically, for visitors who're used to zoos with high enclosure densities or things to see – e.g. everywhere you turn, there's something fascinating that'll catch the eye – Healesville Sanctuary is nothing like this. Enclosures are not typically beside each other.
I appreciate the bushland theme as well, but a lot of times, I felt that more care to the care of this natural environment for the park was needed. Flora seemed to had been permitted to grow freely, and some of the enclosures looked quite run-down (especially one of the koala ones).
The admission tickets for the park was included as part of our day tour package, but a look at the ticketing information left us a little startled on our way out. It was a hefty AUD31.60 per adult – same as Melbourne Zoo – but there just is far less to see.
The last issue we had with the Sanctuary is that the enclosures were almost all non-interactive. The kangaroos – which Hannah was really looking forward to feeding again – were in a more or less open enclosure, but our guide actually warned us not to go near them. Quite unlike Ballarat Wildlife Park where the 'Roos roam free, were all very tame and visitors were encouraged to feed and touch them.
As for the good bits: we were in-time for the 1430hrs bird show, and that at least didn't disappoint, with several large birds swooping very low to fly just over visitors, and each time they circled for another pass, visitors were wowed. The aviary also has a large number of small but colorful native birds to the country, and despite the slowly darkening light, I managed to get a number of pretty decent shots of the birds perched on branches. The park is also supported by a large number of friendly volunteer guides who'd bring visitors around the place and share insights at each enclosure.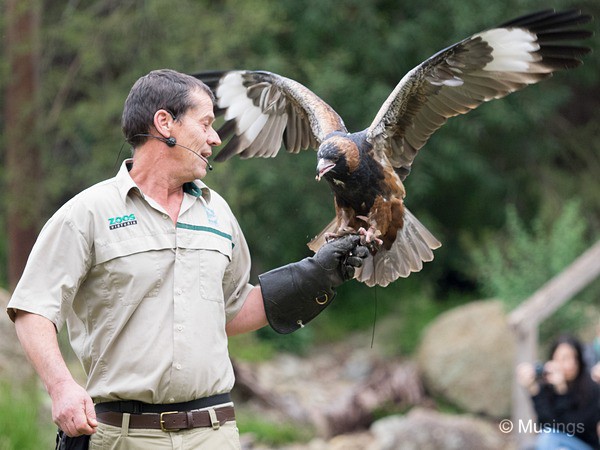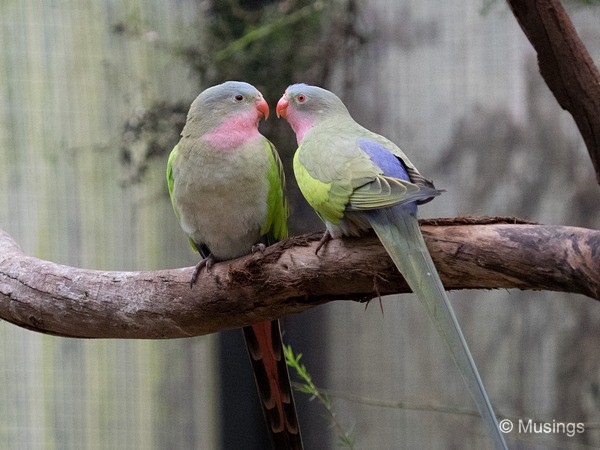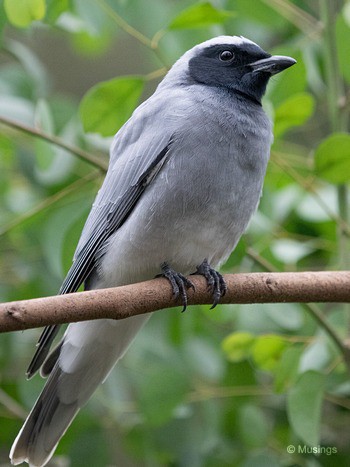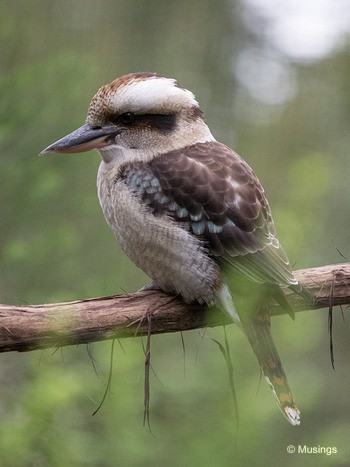 In summary; we both consider the Ballarat Wildlife Park visit a far more memorable and personable experience, smaller it was and hosting fewer animal species. If you've been to there already and are considering Healesville Sanctuary specifically for kids also , then we think the Sanctuary can be skipped. If you're interested in birds though and aren't with easily bored kids, then the place is still about alright after you've adjusted expectations.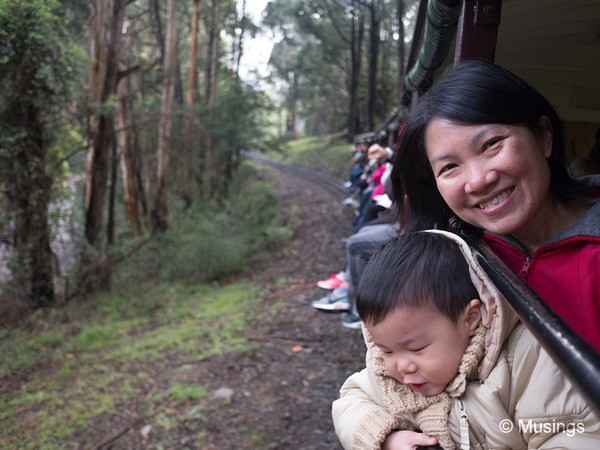 Melbourne – Day 7 – Dandenong Ranges
For our two kids at least, the day they were most looking forward to ever since we talked about the itinerary was the Puffing Billy Train ride, included in our third and last day tour for Day 7. The historic steam train is run and lovingly maintained by a team of professional staff and also a member society comprised of hundreds, and who dress up and turn the place to look and feel like that of a 19th century steam train setting.
The Train ride sits inside the Dandenong Ranges, a group of four hills that are pretty near Melbourne itself – just 35km away and slightly less than an hour away – unlike the other two tours, you can't just zip along the free way at 100km/h to get to the destination since you're really traveling through Melbourne suburbs. Lots of day tours operate out of Melbourne to bring visitors to the Ranges, and after spending a day here with the afternoon at Healesville Sanctuary, our summary is this: the Puffing Billy ride is great, the Ranges are beautiful, wineries a must if you a wine connoisseur, but skip the Sanctuary unless you have kids and haven't visited any other wildlife park (more on that in the next post).
The Ranges are filled with towering Eucalyptus trees that rise as high as you can see – your neck muscles will get a good workout – and form quite a majestic sight as we traveled through the Dandenong Ranges National Park. Our first stop was the Grants Picnic Ground, a small stop where were there Cockatoos aplenty which you can feed by purchasing bird seed at the nearby souvenir shop. Unlike Hawdon Avenue though, these fellows are quite a bit wilder, larger, no less brave, and can scratch. In fact, the guides specifically advised visitors not to feed the birds out of their hands, instead providing metallic trays and bowls for that. The souvenir shop also sells the usual gifts and memorabilia, which unlike the usual gift shops, were priced quite reasonably.
It was another 10 minutes ride from Grants Picnic Ground to the Belgrave Station, the start point of our ride on the Puffing Billy Train ride. The train tracks actually run for a bit of distance – and will seem even longer as the train coasts along at a leisurely 15-20km/h. Our tour offered what is largely a taster for a 30 minute ride from Belgrave to Menzies Creek Stations, which is about sufficient for you to get a feel of the ride, though the later stops seem a lot more scenic and could be worth the additional expense and self-arrangement.
One of the key highlights for the ride of course is that you can sit on the carriage ledge and let your legs dangle right out. It might sound dangerous, but it's perfectly safe for adults, and even Hannah could manage – though we had to keep an eye out for her at all times and ensure she didn't slip off the train. Peter got to try it too with Ling holding onto him from behind, though the open weather was likely too cold for him to enjoy it much!
Lunch was Roast at the Fergussion Winery and Restaurant, a small family-owned and run winery and that didn't seem as commercialized as some of the other wineries. Lots of signs on the vineyards requesting that visitors do not touch the plants, as diseases and viruses could apparently be passed along – from humans to the plants that is! The rose bushes planted on the edge of the vineyards are apparently specifically to help with that, since viruses will attack those first before the vineyards themselves, and provide at least some heads-up warning for farmers to react.
More in the next post: the Yarra Valley Chocolaterie & Ice Creamery and Healesville Sanctuary.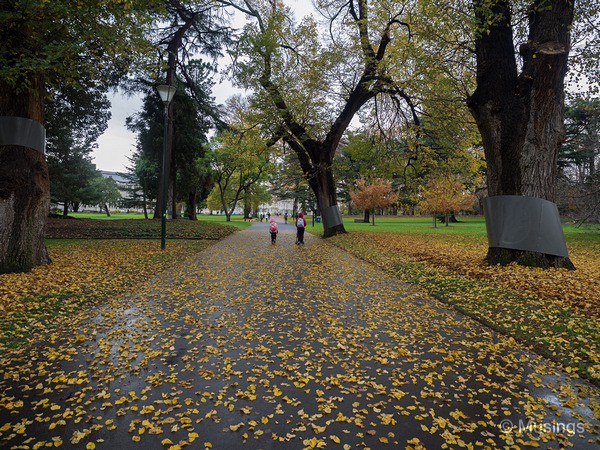 Melbourne – Day 6 – Melbourne Museum, Gardens and St. Patrick's Cathedral
According to our planned itinerary, Day 6 was to be our Gardens and Museums day where we'd visit the Melbourne Museum, Royal Exhibition Building, Cook's Cottage, Carlton, Parliament, Treasury and Fitzory Gardens and finally St. Patrick's Cathedral. Lots of walking involved. Possibly because of the super long day on the road at the Great Ocean Road trip yesterday, both Ling and the kids were still a little tired today, and the weather was slightly rainy, chilly with an ongoing wind and all round fierce overcast. We dropped several items from the itinerary – sticking with just the Melbourne Museum, Carlton, Parliament and Treasury Gardens, and finishing with St. Patrick's Cathedral before heading back to the retail district around Melbourne Central.
The Melbourne Museum doesn't disappoint. It's a pretty large compound and set in modern architecture – since it's current location is a pretty new building that opened in 2001 – and comprises several large exhibits. We visited perhaps about 2/3s of the permanent exhibits over 3 hours before the kids got a little tired (Peter had already dozed off in his stroller), and that included the Science and Life Gallery that featured several overhanging large dinosaur skeletons and many other prehistoric findings, Mind and Body Gallery (Ling remarked that this exhibit is a lot better done up and informative compared to Singapore Science Museum), Forest Gallery (this one is too small and rather underwhelming), Evolution Gallery, and finally a special exhibition on World War I as seen from the Australian perspective. The latter was sobering, with lots of letters, photos and artifacts from Australian soldiers who served in the Great War, many of whom perished in the war.
There was another special exhibition on Jurassic World that required a hefty additional admission charge, so we gave that a miss.
The place is also wheelchair and stroller friendly. In fact, possibly because it was both a weekend and also that school exams had just concluded, the place saw long queues at the ticket booth waiting for entry. The ground floor also has several children play areas. Again, a very nice touch in several places we've visited in Melbourne.
Admission fee is AUD14 for adults and free for kids. Definitely worth the price of admission, and 3 hrs won't be enough for one to really visit all the exhibits, let alone the special ones.
St. Patrick's Cathedral has a Gothic-styled architecture, and it shows that clearly in its dark stone work. Unlike St. Paul's Cathedral, this one was bereft of photography donations nor a souvenir shop and saw only a small handful of visitors, and we stayed for a short while to be immersed in the ambiance – though when we about to leave, a bus load of what sounded like Singaporean tourists on a package tour entered and serenity ended there and then.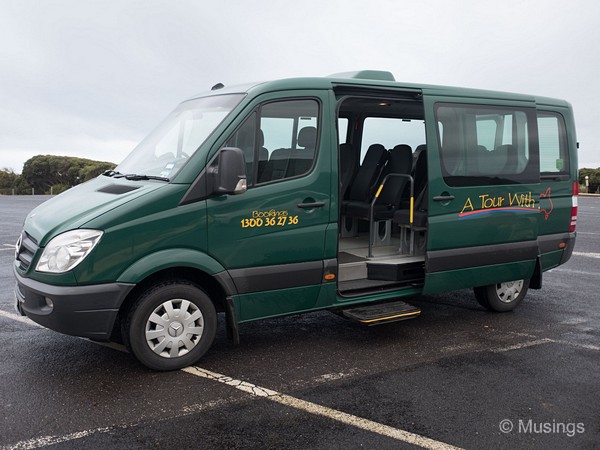 Melbourne – Day 5 – A Tour With a Difference
We went with A Tour With a Difference for our Great Ocean Road trip, and here are some comments about them.
In mind that Great Ocean Road visit is extremely popular with visitors, we were expecting to see hordes of tourists. Probably because of the inclement weather it wasn't that bad the day we went – yesterday – but there were indeed a lot of tour buses – some medium sized, others very large – ferrying their busloads from spot to spot. I'm glad we decided to find a small operator who was specialising in small groups to bring us around. A Tour With a Difference is aptly named, because they go in small buses which can sit 11 excluding the driver and the actual number of guests on our trip was even smaller at 10.
Our tour comprised a young couple from Illinois (who quipped that they were not Republican, and that they had been asked that question every where this trip haha!), two ladies from India, and a mom-daughter pair from Singapore too. Our guide was Brian, who incidentally was also the owner of the company. Interestingly, he wasn't born in Melbourne but in South African from Caucasian descent, and moved to Melbourne 37 years ago, and has been doing the Great Ocean Road tour for at least a decade now, possibly more.
His experience with the various spots really showed. He provided rich commentary along the way and seemed to know every road's evolution. He nailed the travel times right down to the minute as we went from spot to spot. And one other example comes to mind: as we did the 30 minute walk through Maits Rest Rainforest. There was one other large group that was just behind us led also by what seemed to be a fairly young guide – and she seemed to be going through the motions. Brian on the other hand seemed to know every tree and its history along the path, and related stories of the path as we walked.
But the both of us agreed that the most special thing on this trip was the very high level of hospitality and thoughtfulness he showed. It was lots of little things: including Peter's car seat, ready umbrellas as we took a walk through, ponchos as we visited the Apostles, frequently checking if the air-conditioning was alright for us, hand-sanitizers after the bird-feedings – even right down to providing detailed comments and advice on each of the item menus when we stopped for lunch and dinner at the small town restaurants. The price of travel was also about right in the middle compared with other operators, and the small additional expense compared to the lower priced ones was worth the comfort and also better customized experience. And unlike with Gray Line operator whose guide gently reminded us to write comments and reviews if we were happy with the Sovereign Hill/Ballarat Wild Life Park trip, Brian didn't ask about it. I reckon that his business does well enough just by word of mouth.
If we had to dig for challenges with this operator, it's that whether you can go with them really depends on whether there are sufficient numbers of persons on a tour. The Great Ocean Road trip is quite popular so we didn't have difficulties. I wanted to go with this operator for our other two day tours too, but couldn't – on account that there still simply wasn't enough travelers on the dates we were looking at when it was time for me to confirm the tours.
Still, we have nothing but the highest praise for Brian and his company, and they qualify for an easy recommendation from us!