Melaka 2012
now browsing by tag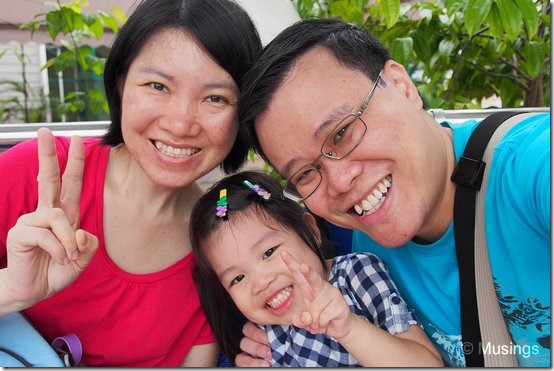 Melaka – Retrospection
If our trips to Melaka and Sugi island has shown us any one thing, it's that our 3.5 year old girl is ready for further trips outfield. She survived the 4 hour bus journey to/fro Singapore and Melaka very well and quite fuss-free, took to whatever we fed her – even Indian food – and generally listened to Mommy and Daddy's instructions. No tantrums, no standoffs etc. Maybe it's just that we have got a relatively compliant daughter to begin with, so here's to hoping that our second child will be the same.:)
Our stay at The Majestic was near perfect. Housekeeping was brisk and so prompt in fact that we had to on several occasions turn housekeeping away. Comparatively speaking, I don't think the staff service at this hotel has been the warmest I've observed – that accolade still goes to Telunas Beach Resort – but The Majestic comes very close. Staff were consistently friendly and went out of their way to please. One incident especially sticks in my mind: we were waiting for the sixth floor lift to take the lift down to the lobby. The lift door opened to show a staff member with a small push-cart of maintenance items. The lift was comfortably large enough for all of us to join in on our way down, but the staff immediately exited and vacated the lift for us and courteously kept it open and assisted us in pushing the appropriate lift buttons (not that we needed it).
Every staff we encountered – the concierge, the restaurant waiters, the doormen, and even the maintenance workers contracted to do some painting work while we were there – all offered greetings at every turn. Several even engaged Hannah by chatting with her, though our girl – shy as she normally is – normally needed prompting from us to reciprocate. Likewise, we returned the courtesies whenever we received it. Hopefully it goes a bit of a way to show that not all Singaporeans are unhappy or grouchy.
Our daily breakfasts at the hotel's restaurant were idyllic and quiet affairs well-attended to by staff, and yep no screaming children or Singaporeans tripping over themselves at the buffet queue. There was one minor hiccup though; the concierge staff mistakenly advised us on our third day that ala carte items didn't come with our stay package even after our repeated requests for clarification. Thankfully, that still got resolved pretty quickly by the duty manager who overhead our discussion with the concierge, and immediately stepped in to apologize on behalf of his staff, clarified, and followed-up to make sure everything was in order in the subsequent days.
The hotel's pool was pretty small too; at perhaps around 10 by 3 meters. But the pool was very clean and though the hotel was fully booked during our period of stay, we had more/less the pool to ourselves during the two occasions when Hannah swam – or paddled about rather.
Apart from fine-dine breakfasts, we ate like the locals everywhere else. The cleanliness of the eateries took some getting use to, especially us as Singaporeans spoiled on normally clean eating surroundings. In fact, the less seen about the possibly less than savory preparatory conditions for some of the food we had, the better it was for me! Ling was especially bothered by the pollution. The coffee shops we ate at had no rules about patrons puffing away indoors, so on several occasions, we hurriedly had to finish eating if only to escape what seemed like Smokers Wild joints. A couple of smokers did notice that we had a young girl with us, so helpfully accommodated by moving to a further seat whenever it was possible, but others couldn't care less.
There's always just one question we ask ourselves to gauge whether a vacation was generally worth the expense:would we return to the place again? For this trip to Melaka, the answer would be a reluctant 'no' for myself, but not for any reasons to do with the cuisine or the stay at The Majestic. The food was on the overall decent and accommodation was great. It's just that there wasn't very much to do in the city itself outside eating and lounging around. There were a couple of sights worth checking out of course, but they were also quite crowded. Probably because the core area of Melaka is so compact, everyone zeroes in on the same place. There's about a day's worth of sight-seeing in the core city itself, but that seems about it.
In sum, If your intent for the vacation is to just spend time with family and to just relax, a small and luxury property like The Majestic fits the bill nicely. I'm already thinking of which other place to go to on our next short trip in the next 6 months; we'll probably check out Batam. A visitor's blog has some notes about a property stay that she's frequented, and it looks intriguing.:)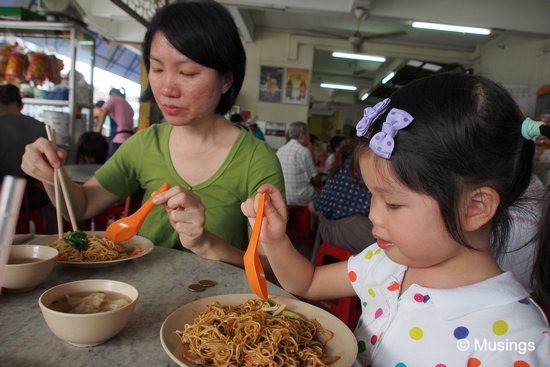 Melaka – For Foodies, the not so good and lagi worse – Part 4
While most of what we had for makan in our five day stay in Melaka was great, we had a small share of bad luck in Melaka. One of which was deserved – i.e. we walked right into the restaurant knowing it was going to serve mediocre food – but in another case, the stall was well-reviewed elsewhere in blogsphere but was a disappointment for us instead.
Fish Porridge @ Wang Food Court
Reviews for this fish porridge stall at Wang Food Court shows up on a couple of blog and foodie places online, and Ling marked it out as a must-check-out eating place when we were planning for the trip. The foodcourt is situated beside Hotel Grand Continental, which itself was just a short 5 minute from The Majestic. We popped by the foodcourt on our first day after checking into the hotel in the early afternoon, but most stalls at the foodcourt were closed, necessitating a return visit on the second day evening.
The stall offers a variety of fish-based fare. We both tried the fish porridge (MY$3.50 and upwards), and found it surprisingly nothing like what the reviews online raved. Ling was especially disappointed that the fish didn't seem fresh and the soup base for the porridge was bland. I'm not normally a fan of fish-based porridges or soups, but frankly, even the fish soups in my school canteen taste better. Also, I wasn't expecting stellar customer service, but even that seemed lacking. We both found the middle-age lady serving us unfriendly; her tone when taking our orders was curt and she snorted a loud "沒有" ("don't have") when we politely asked for an additional small serving bowl for Hannah.
Also; the fish slices had bones in them; so some caution is necessary if you've got young children with you.
Mei Sin Café
This café is also just very nearby The Majestic, and we dropped by for a quick lunch on day 4 on Saturday just before noon. We weren't expecting much when Tripadvisor ranks this at #114 of #162 granted though that it's just got one review to its name. The coffee shop was pretty packed with lunch-time crowds, so we were still a little hopeful. So, we ordered the char kway teow and wanton noodles. And the food was, well, still bland with the latter just a little more tasty than the char kway teow which needed a lot more black sweet sauce. Sigh.
At least the service was much better. The elderly gentleman whipping up the kway teow was friendly. This guy was a one-man show; cooking, serving, and collecting back used dishes all by himself. Interestingly, each plate of noodles was cooked separately. The aunties manning the wanton noodle stall were even warm, chatting with Hannah, and even obliging Ling's request to cut the noodles up into smaller strips for our little girl.
On a different note; we picked up a couple of trays of pineapple tarts from Malacca Jonker Nonya Enterprise on our way to Pak Putra yesterday evening. The baker must be proud of her 100% homemade tarts, since her name is even included in the cover packaging. We're going to try these when we're back at home – and if they're good, Ling's probably gonna write up about it here.:)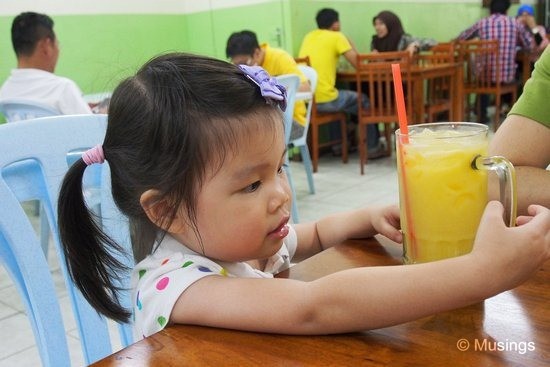 Melaka – For Foodies, the Good and Decent – Part 3: Pak Putra Tandoori & Naan Restaurant
On our last evening in Melaka, Ling and I both wanted to try different cuisines. We had quite a bit of Indian cuisine just yesterday, but I still wanted to try this Tandoori restaurant that's rated #1 of all restaurants at Tripadvisor. Ling on the other hand wanted to try Milk crabs at a Chinese restaurant just outside our hotel. What to do – we have only so much stomach space to go around.
Thing is; we've had mostly average to abysmal luck with Chinese food in Melaka (you'll read about this in our Foodie post #4) and I wasn't that keen to test luck again, whereas all the Indian cuisine we've tried in Melaka – putting aside the fact that it was all Carbo heavy – have been pretty good. Moreover, Pak Putra Tandoori & Naan was in the approximate direction of Jonker Street that we were going by anyway.
Now, finding the place was supposed to be easy – except that this time round, iOS maps were just plain wrong, pointing us to an address that was about 100m away from the actual place. We wandered around the area for nearly 45 minutes before eventually finding the restaurant – imagine the relief we felt.
The restaurant is like many other local Melaka restaurants we've dined at; it's spartan, totally functional and without the usual amenities i.e. air-conditioning that Singaporeans expect at eating places. A quick visual glance at the other patrons also having dinner gave us early confidence though: both Chinese, Indians and Malays were robustly tucking into Naans, and we saw a mix of patrons: families, couples, singles and even a couple of elderly Caucasians, mildly surprising since the street was some distance away from the very touristy Jonker Street.
Feeling all adventurous, we ordered three Naans: a garlic/butter, an onion, and a double-cheese which was highly recommended by a Jonker Street salesperson we'd just bought pineapple tarts from. The Naans come with their own gravy, but we added Tandoori chicken which a lot of other patrons were also having, and a mutton daal. And a large Mango Lassi (of course, Matt). The Tandoori chicken was barbequed well on the outside though small bits of it were still a little bloody. Its meat was succulent with strong flavor and a slight tinge of chili. The mutton daal on the other hand was just prefect; thick, lots of spices, and generous in its helping. The mutton dip was so good we just ignored that accompanying Naan dip altogether.
The bill came to MY$33.50 (S$13.50); slightly pricier than the other Indian fare we've had in Melaka, but still way cheaper than back in Singapore and delicious to boot.
The walk back to The Majestic took 50 minutes, and ended with Ling grumbling if we could avoid finding #1 rated restaurants that were so far from our accommodation LOL.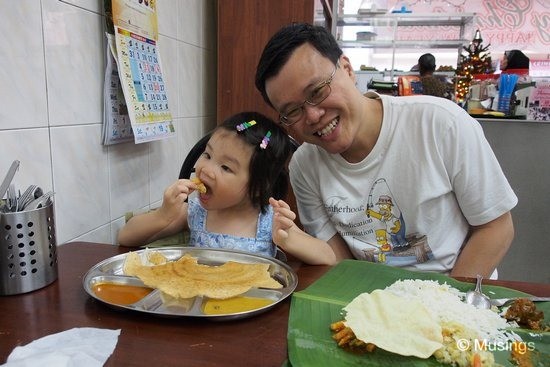 Melaka – For Foodies, the Good and Decent – Part 2
This one's for our Missouri bud.:)
One local blogger in SIngapore has remarked in his posts about Melaka; that generally speaking, the grittier the place, the tastier the food is likely going to be. We haven't quite put that theory to absolute test yet, but having tried several Indian eateries and stalls in our Melaka stay, we're ready to say that Indian cuisine is good everywhere we go. We covered these three places on our third day: lunch, dinner and supper.
Restoran Saravanna
After reading the blogger's post of the Indian fare whipped up at this roadside restaurant, we gave it a go for lunch. The place was almost directly just opposite The Majestic at Jalan Bunga Raya Pantai; you just cross the road, walk about 10 meters, and there it is.
Like many other Singaporean Chinese, we all love Indian food, though when it comes to knowing for certain what to try, we can get a little clueless. For this time round, we tried the Roti canai – which is the Malaysian equivalent of Roti pratas – and had a couple of egg and eggless ones. Bit of novel experience too; that gravy helpings are DIY. There's a contraption comprising several metallic containers of gravy variants, and you help yourself to it (though you don't get to horde the entire gravy train to yourself though – it's communal).
Total damage for 2 egg, 2 kosong canais, Ling's Teh Halia and a can drink for me was MY$8 (S$3). Nowhere can you find similar and as delicious fare at this price in Singapore.
Vazhal Elai (Banana Leaf) Restaurant
This restaurant, located at 42 Jalan Munshi Abdullah, was a lot harder to find. Tripadvisor's entry for this eatery is "Banana Leaf" restaurant; only that the place's signboard says something else. It didn't help too that the iOS and Google maps gave conflicting instructions where this eatery was. We ended up wandering around looking for the place on the first evening, settling for Lu Yeh Yan eventually. We found the place the second time round just now. Compared to Restoran Saravanna, the place looked and felt cleaner with its brighter décor and looked recently renovated.
We were the only Chinese in the restaurant at dinner time, and got quite a mix of both curious and also amused looks at these two obvious non-locals with a three year old girl who didn't stop chattering, the moreso when I fished out the E-M5 to take pictures of what we were having! The fare served in this restaurant was common Indian fare, judging from the menu pasted on the wall, but it sure was authentic. I had the mutton, Ling had the chicken and vegetable sides alongside white rice, all served on banana leafs – literally. Hannah had the Thosai. Just look at her:
All delicious, and we cleaned our plates excepting Hannah; she wanted to leave some room for the candy cookies back at the hotel. Damage was MY$16 (S$6.50). The funniest thing was that Ling was still hungry. So, without stopping, we headed back in the general direction of the hotel and stopped for…
Puteri Erra Roti John
This stall was located at a foodcourt also almost directly opposite The Majestic at Jalan Bunga Raya Pantai.
There was a long queue for this fellow's Roti Johns; at least a dozen and another half were served before it came to our turn. Ling chuckled that the joint is like a factory line; someone just concentrates on frying the bread, someone else does the vegetable and gravy dressing, and a third person does the packing and serving. Ling ordered two, but was misheard and we got three instead at MY$2 each ($0.80). The stuff was pretty oily but once you get past the fact that eating one of these will make you feel like you've just deducted a few more days out of your life, they were still incredibly delicious.
And no; we didn't finish all three – it was too much food LOL.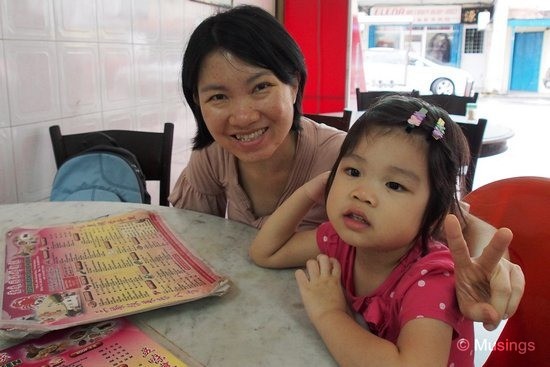 Melaka – For Foodies, the Good and Decent – Part 1
For our Melaka 2012 trip, I organized the accommodation and itinerary while Ling handled the transportation and makan places. Like our experience in Japan, we found both good and bad eating (or just plain sloppy) eating places in Melaka, and these are supposedly decent dining places in countries where cuisine is otherwise deemed as a highlight for any visitor to the country.
Aside from our daily breakfasts at The Majestic which came as part of our stay package, we dined for the most part like the locals did; literally street side stalls with cars wheezing past less than a meter away, food courts, and coffee shops. Ling had done quite a bit of homework and Googling about finding out the good eating places and fitting them into our general itinerary and areas to visit each day.
Lu Yeh Yen
This was a Chinese restaurant just 5 minutes walk from The Majestic, with opening hours between 1800 to 0200 hrs. The restaurant is pretty easy to find as it's located beside a small Chinese temple; in fact it seemed that you could dine on the temple grounds itself too. We went by the restaurant on the first evening, and though it was just us and a couple of other patrons (interestingly all Caucasian), our food took a while to arrive – nearly 30 minutes. We had the sweet/sour pork ribs, salted vegetable soup with toufu, fried rice, and mixed vegetables. The bill totaled MY$34 (S$13.50). Each dish – we asked for smallest portions – was between MY$6 to MY$9.
There was sufficient food to go round for all of us, and taste-wise was alright and about equivalent to the neighborhood zi-cha eateries back at home. Not much care was given to each dish's presentation though, The wait staff were responsive and helpful though not what I'd call warm or friendly.
Nadeje Cake House
This came by way of Doreen's recommendation; that its Mille Crepes was something we absolutely had to try for tummy pleasure. This little eatery is tucked away at one of a series of parallel side roads about 7 minutes walk from Dataran Pahlawan Melaka Megamall. We found the café without much difficulty, thanks in good part to iPad maps and also the café's striking black-colored exterior facade.
We initially thought that we'd just stop for cakes, supposing that this place wasn't going to offer anything else. When we saw that the place also had an menu comprising western main courses, we decided to have lunch here too. That turned out to be a bit of a mistake. The café wasn't crowded during the near lunch hour we visited. Wait service was attentive and took the initiative to get appropriate cutlery for our young daughter.
Cake slices were around MY$9, with main courses MY$10 onwards. We tried the Tiramisu and Original Mille Crepe, both of which were suitably creamy and marvelous. Beverages were a pretty exotic Pineapple Yakult mix and Ice Chocolate Latte, both which were ordinary. The main courses though were disappointing: we found the cream Carbonara and Mushroom Cream Soup plain and diluted respectively. Bill was MY$51.50 ($20.50) The little cup containing the sweetener for the Latte had a prominent ant swimming at the top, which the wait staff replaced apologetically after I pointed it out. Interestingly, the Tripadvisor reviews for this place is mixed, with some noting problematic wait service standards. We didn't face any such difficulty, though that might had been also because the hour we went was off-peak.
On the overall, recommended for the yummy cakes but not for the rest of the menu.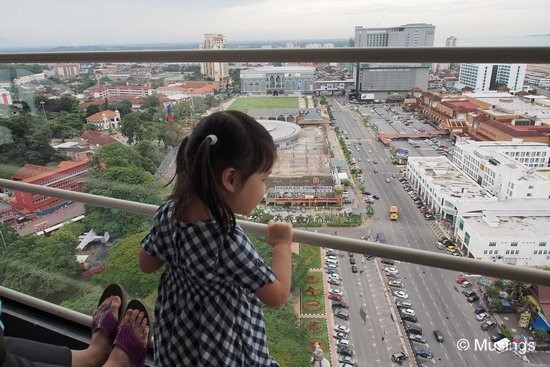 Melaka – St. Paul's Hill & Menara Taming Sari
Our initial fears of the somewhat decentralized location of our hotel proved unfounded when we went about our first sightseeing activity on the second day of our Melaka trip. The itinerary I wrote up had us visiting St. Paul's Hill, the Menara Taming Siri (Melaka Revolving Tower) and Dataran Pahlawan Melaka Megamall on the second day.
Part of the outbound journey to the first stop – St. Paul's Hill – was a little tricky given how scarce pedestrian crossings were at along the main road, which resulted in us making mad dashes, usually carrying Hannah, across the road. Nothing quite as scary as in Shanghai or Beijing though; the drivers here in Melaka at least seem to be respectful of pedestrians, unlike in China where I felt like though I was to be roadkill. The weather mid-morning journeying up was both good and bad; good because there was a fierce overcast which saw the sun tucked safely away, bad because there was a very slight drizzle.
We navigated our way to St. Paul's Hill without too much difficulty, thanks to the iOS maps on the trusty and new iPad – yep I double checked the directions with Google maps before we made the trip LOL – and the climb up was expedited by stone steps all the way up. There wasn't much to see up top as the hill isn't very high, but you do get a good part of the 360 degree view of Melaka, with the Menara Taming Siri being the most significant landmark in the viewpoint.
The Melaka Revolving Tower was a 10 minute short walk nearby, but we stopped by the Taman Merdeka park midway. This is a pretty small park with several crowd pleasing vehicle exhibits, including several carriages of a train and a turbo-prop plane. Our girl gamely took on the challenge that many other local kids were making a beeline for; essentially posing beside the vehicles.
The Revolving Tower is reportedly one of the more interesting sights in Melaka. It features an air-conditioned gyro tower that goes up 80 meters above ground, offering a full 360 degree view of the city. Pretty pricey at MY$20/adult and MY$10/child, and the ride isn't very long at about 10 minutes. But the view was spectacular, helped also by the clear– if overcast– late morning weather. Hannah certainly enjoyed the ride, and asked for a pair of binoculars too so that she can see better "things that are far far away"!
The last stop was the Dataran Pahlawan Melaka Megamall, a fairly recent and large shopping mall just a few minutes walk away from the Tower. Prices for the branded apparel shops were about similar and in fact higher than in Singapore, so we ended up not buying anything, except for a pair of butterfly wings that Hannah wore and adored.:)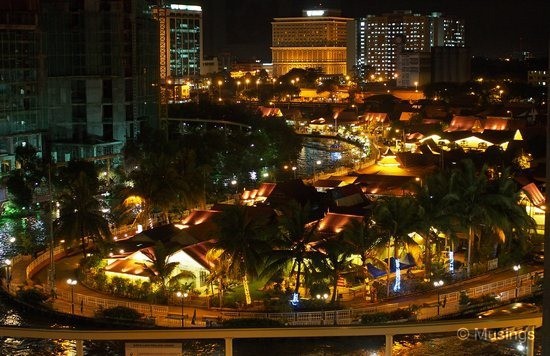 Melaka – The Majestic
This might be just a Singaporean thing, but whenever we're heading to another country in South-East Asia, we just zero into Tripadvisor's ranked list of hotels, and start looking from the top of the list. We had a couple of options initially on which nearby place to go to for our year-end short vacation this time round, though this was made somewhat limited in range of choices given Ling's pregnancy i.e. must be reached by boat or coach only. Most of the city hotels around the two states I looked at – Johore and Melaka – were ordinary with many of their top hotels barely scrapping a four star rating.
One property though in Melaka was a little different; The Majestic was built from a 1920s Colonial-styled mansion, and the 4.5 star top-rated hotel in the state. Once we booked a five-day stay there at per night rates of around MY$480++(S$191), our trip was pretty much locked in.
Getting to the hotel from our coach drop-off point at Melaka Sentral was straight-forward if pricey by Singapore standards. The journey was just a few kilometers, but the cab driver's fee was MY$15. We liked what we saw from the moment we approached the hotel entrance; reception staff were welcoming with cold towels for us to freshen up, and we had a no-fuss check-in. Accommodation documents were pre-prepared and the reception was already expecting us. I also especially appreciated the fact that we were able to check in at noon – two hours before the usual check-in – without needing us to ask for it too. The hotel is also pretty small at just 54 rooms too.
Our Deluxe room of 35sqm was located on the six floor, and a young Japanese concierge lad carted a pot of Lychee-flavored tea also showed us to the room, orientating us to the room's amenities. Both girls loved the room, with Hannah proudly claiming the additional bed we asked for her and that she liked it more than her bed at home. Ling was even more impressed with the branded (Crabtree & Evelyn) toiletries and also the Clawfoot bathtub. The hotel staff were all very friendly and offered warm greetings at every turn. Lots of other amenities accompanied our stay too; the rainshower in the standing shower stall, complementary nonya kueks for supper, breakfast (the main buffet spread was ordinary but the accompanying ala carte main courses were much better), and a decent room view of Melaka River. Cleaning staff also snucked into the room while we were out for dinner to do a quick interim cleaning too.
On the downside; there's some renovation going just opposite the hotel now, and coupled with the narrow sideroad the hotel is situated at, meant we had to be extra careful navigating the pavement-less stretches with Hannah. As Ling's best friend Doreen remarked too: The Majestic isn't in a terrifically centralized location, though the more 'happening' parts of the city are still a doable 20 minute (30 with Hannah) walk away. There wasn't in-room wifi and the somewhat unstable Internet access was via Ethernet cable only. Lucky I erred on the side of caution and brought the Samsung netbook instead of the Ethernet-less MacBook Pro Retina. The last problem annoyed Ling especially, and it's room sound-proofing. Our stay was accompanied by lots of ambient audio; we got to enjoy the neighbor chattering outside our room and also frequent drainage sounds of bath usage from the nearby rooms, and it's by no means soft.
In all, though this is just the second day of our five-day stay, I feel confident to give this hotel a conditional recommendation. It's pricey for the per night rate compared to other hotels in the city, not in the best location and soundproofing is a concern. On the other hand, if you're interested in a comparatively quiet stay otherwise without lots of other guests running around, this place is pretty good.:)
More notes on our 2012 December stay at The Majestic here.