Panasonic LX7
now browsing by tag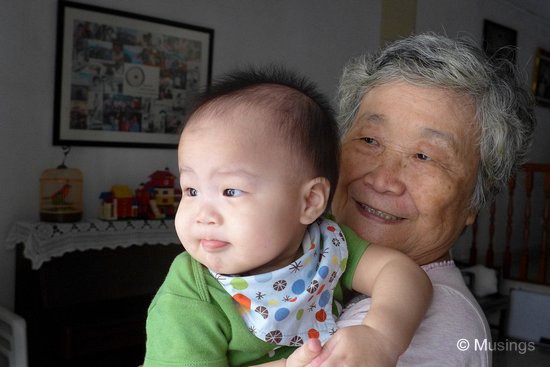 Kids @ 17mm, 25mm etc. – Part 18
Amidst the torrent of blog posts on our Minton home renovation project, it's been a while since I wrote a post on our kids, so here's one. Of the big changes in the last month or so, we experienced a one in the form of a change of the children's nanny. It wasn't an easy change as we weren't given much time for both parents and kids to make the change, but we were fortunate (and definitely very blessed!) to find one at short notice who'd be able to take care of both kids, and whom is also a Christian too. The new nanny's home is also situated at both our work places' general vicinity – which has both pros and cons. Good because picking up the children after work is easy, bad because it means Hannah has to wake up even earlier now to make the time for her daily school-bus pick-up (the school bus needs to travel further from the new nanny's place to her school).
Peter has also just started teething, which he's – thankfully – been able to ease into, alongside an increasing acceptance of solid foods that both nanny and Ling has been continuing for him. Unfortunately, he's also been experiencing a bout of gastric flu, which – operationally – means that about five to six times a day, he'll unload big time baby-style into his diapers! Each unloading has required a quick shower of his bottom, an exercise he initially wailed loudly about but seems to have gotten used to the routine.
The experience between Peter's first year has been very different from Hannah's. We only now realized how true is that old mommys' observations of how much stronger baby boys are compared to baby girls. Peter baby punches, pinches, kicks, squirms, and scratches – and the both of us have our battle scars to show for it LOL.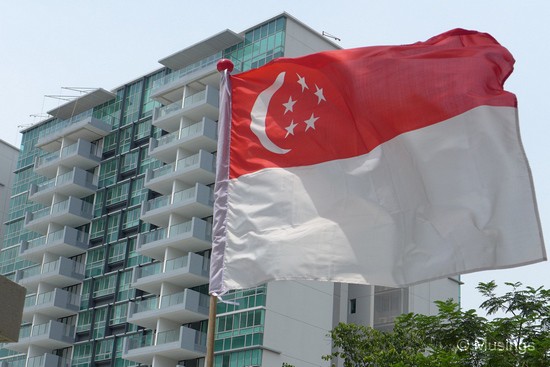 Work-in-Progress – Part 24
We were pretty lucky that I'd already applied for paternity leave the latter part of this week, what with our confinement helper having to head home earlier than originally planned for. Daddies can be really helpful around the house during these periods – i.e. menial labor, taking care of the other children, and generally doing the little things, odds and ends to make sure that Mommies keep their sanity with a just-born baby.
I got to sneak out during lunch time though after Hannah fell asleep after her late morning feed for a quick visit to The Minton condo site to see how things were. Lots of little improvements made, especially in road tiling and such.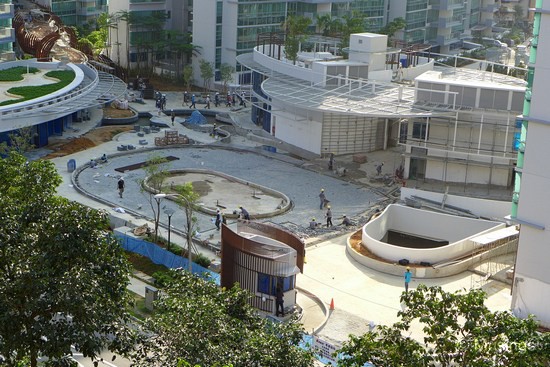 Work-in-Progress – Part 23
Our next visit to the ongoing construction of The Minton condo, and a look at the exteriors again. There's still a lot of discussion and predictions on when residents are going to be receiving keys to their units for their inspection and handover. The optimistic fellows believe it's impending (as in mid-August), but I still think September to October is more likely. Not that it matters that much to us anyway, since we're not in a hurry to move.=)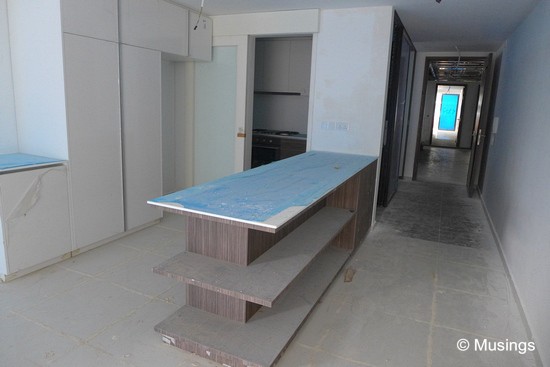 Work-in-Progress – Part 22
For several weeks now, the FB group has also been seeing a lot of residents making visits into apartment units still in construction at The Minton condo. Visitations when construction is still going on is obviously dangerous unless you're dressed in the appropriate protection gear and wear, so visits have largely been on the weekends after construction has ceased for the day. Even then, there were still concerns expressed that visitations into units that are ready for inspection might result in accidental damage, though I wonder how that can realistically happen. It's not as though the units are made of paper, nor are the curious visitors going in with hacksaws and hammers to vandalize the place. Ling was sharing with me too that years ago when her family home at Bedok was nearing completion and before inspection and handover, her family also walked in for visits without a care.
Still, the general feeling is that visitors should exercise caution in these visits so that they don't accidentally damage anything – so I kept my time looking into the units to an absolutely minimal. As in popped in for a minute, took pictures, went right back out. This will also be my one and only visit into units before handover – it was only to satisfy my curiosity!
8 July update: apparently some residents who visited recently during work hours were warned off by the contractor. Not sure what happened there, but visiting during work hours can not only be dangerous, the workers themselves have to also look out for visitors while they work. I won't be checking out interiors anymore myself until handover given how much attention is being heaped on it. Hope the pictures here don't inspire anyone else to do something dangerous!
Work-in-Progress – Part 21
It's been a fortnight since our last visit to The Minton condo's construction. The last weekend was a terrifically busy one with Peter's birth, our return from the hospital, and setting up the confinement nanny at home. There's been several residents at the Facebook group who've been visiting inside the compound on weekends after construction has stopped for the day; so on a humid Sunday late afternoon, I went by for the same on top of the usual long and wide shots from the neighboring HDB blocks.
The next series of photos are shots of inside units.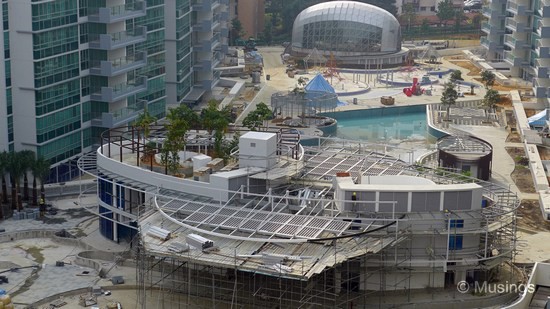 Work-in-Progress – Part 20
After an absolutely horrendous week of smog, the sky started clearing up from yesterday afternoon. The air is still by no means in the healthy range, and the health agencies monitoring the haze have warned that the somewhat clear skies these two days is a very temporary respite. But many are out of doors to take the opportunity to get out of the house, breathe some (relatively) fresh air albeit still with the slight smoky stink and enjoy whatever bit of clear skies we can before the smog welcomes us back from tomorrow onwards.
There weren't many workers about the The Minton condo compound. Perhaps it was a slow start to a weekend day, or that construction temporarily halted when the haze breached into hazardous levels on Thursday and Friday.
This will very likely be the last visit to The Minton construction site before Ling goes into labor, after which we'll probably be out of our regular reporting on the ongoing work of their new home for a couple of weeks until – maybe – late July or so. Everyone on the Facebook group is still guessing when TOP-completion will be though, with the optimistic fellows still believing it to be end of this month, and the pessimistic ones, well, sometime next year.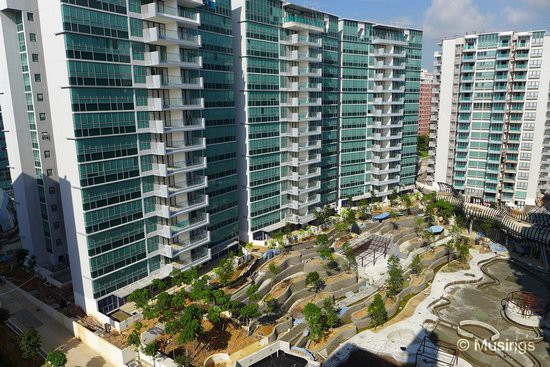 Work-in-Progress – Part 16
Yeah it's been just 2 weeks from our last visit to The Minton condo, but with many residents keeping their fingers cross (or hopes high) that completion is just a month away now, I decided to really pick up the pace of our visits. It'll be real fun in the years to come later to look at these old pictures of our new home while it was still in construction!
The weather here has been quite humid and unpleasantly hot, but at least the bright sunny blue skies did make for nicely contrasting colors in the pictures. Most of the changes since the last visit were in the many tree and plant saplings that have sprouted up, removal of work fences in several areas giving us the first good solid look of the place from the front and at ground level, and also internal furnishings.
Any one knows any good interior designers? =)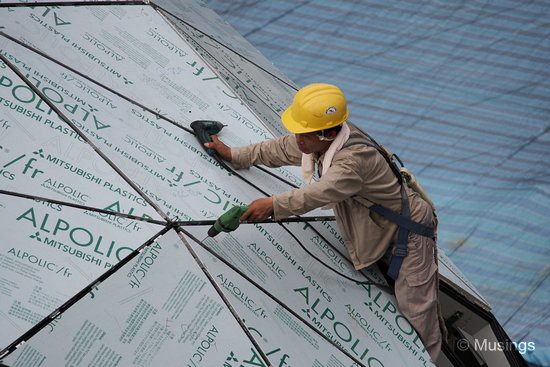 Work-in-Progress – Part 15
There's been lots of excited discussion in our new home's The Minton FB group about when the project will complete. A couple of residents are confident it'd be done by June, though every time we go by for a photo-visit, the project still seems at least several more months before it'd be ready for us to begin interior renovation work. Either way, it's highly likely we'll be moving by the end of the year, so we'll be increasing just slightly our frequency of visits.
There are lots of condominium apartment projects everywhere we look right now, with at least 4-5 in the immediate vicinity of our home already. Funnily, it seems from our casual observations that the building pace of those projects are a lot quicker than The Minton. Then again, while our forthcoming new home is solidly a 'mass-market' project, there are benefits to the sheer number of resident units and size of the project. What one loses in exclusivity, one gets lots of nice amenities that aren't typical of projects with this level of cost per square feet: an air-conditioned badminton dome, several swimming pools, a sizable landscape garden, spa facilities – not that we'd likely ever going to use a lot of these facilities anyway though.
Our usual selection of pictures below, with the E-M5 + Olympus 75-300mm and LX7 pulling photographic duties.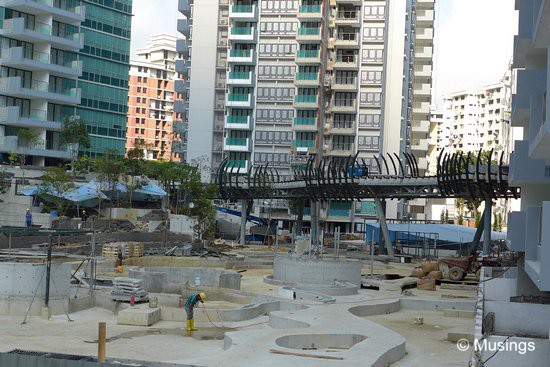 Work-in-Progress – Part 14
Our April-month visit to the construction site of our new upcoming home at The Minton condo, and also an opportunity to bring out the recently acquired Olympus 75-300mm II for a spin. This is a pretty low-price consumer lens that I got for cheap here, and I didn't expect miracles from the comparatively slow aperture speeds the lens operates with. On the m4/3s camera system, the lens' focal length is the equivalent of 600mm on a full-frame, and yep the longest I've ever shot at.
Thankfully, lighting was all good on a bright and humid Saturday mid-morning, so the pictures were all shot at a pretty quick 1/1000s shutter speeds. The wide-angle shots were all taken again on the LX7.:)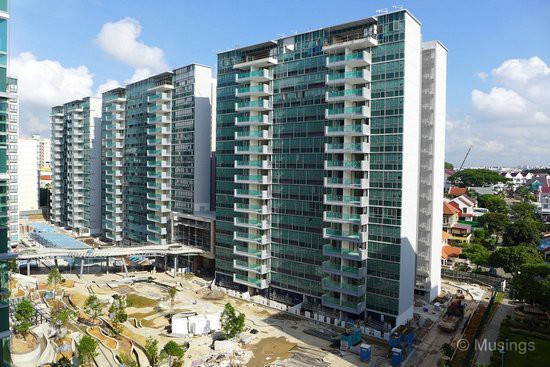 Work-in-Progress – Part 13
Another month and our thirteen visit to the site of the on-going construction of our new home @ The Minton condo. From the looks of progress, it seems now extremely unlikely that the place will be ready for residents to move in come June. My best estimate now is in September – if we're lucky and there are no delays! Ling has been looking at bunk beds for Hannah and her little brother and just chanced across a furniture shop situated in Funan Center that she'll want to check out soon. The gear along for the visit was again the LX7 and E-M5 + 55-200mm lens for the long shots.