Panasonic 20mm f1.7
now browsing by tag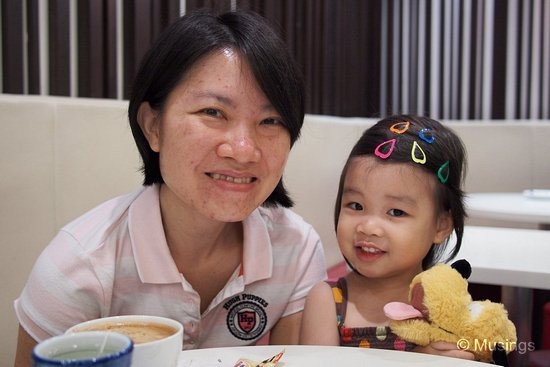 Pluto
Shortly after I picked up the Goofy stuffed toy from Hannah's favorite character from the Mickey Mouse Clubhouse cartoon series, I asked her to pick her second favorite character – which she immediately replied 'Pluto!!'. The toy arrived over the weekend from an eBay reseller in California, and Hannah's two bed companions are now Goofy and Pluto.
And what's the third character going to be? It's Donald LOL. The first two pictures were taken at Saturday morning's brunch at the newly renovated Hougang 1. The small mall used to be named Hougang Point, but since its refurbish was completed a month or so ago, the place has been added to our list of regular brunch haunts. The new Kopitiam foodcourt is a lot more cheerful looking now with bright lighting (it used to look really dreary), though the hawker stalls aren't different from the usual suite of stall types you find in typical foodcourts here.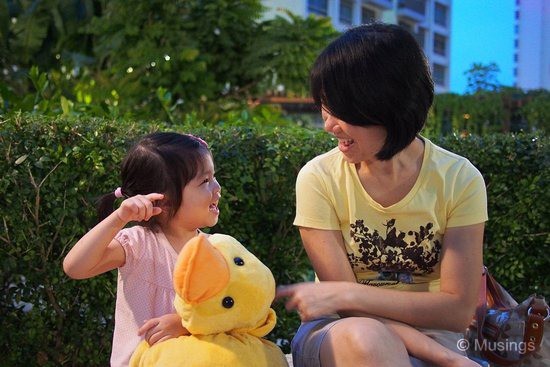 Hannah @ Evening Light
It's been a while since I've taken evening pictures, and have forgotten how wonderful the colors can turn out with a good low-light lens. The following were taken yesterday evening at our cellgroup friend's apartment block near Punggol Drive. We'd arrived early, so explored the nicely landscaped herb garden at the second level for a bit. The garden had several fruit plants that seemed nicely cultivated. All taken  using the E-M5 and 20mm lens.
A bit of a funny incident yesterday too. Hannah has learnt not to reply 'what?!" whenever we ask her a question. While driving home yesterday, when Ling inadvertently responded with the same when she couldn't hear what I was saying, Hannah chimed immediately; "Mommy, cannot say 'what'!. It's very rude, you know!"
That got us chuckling, and again mindful of how quickly young children pick things up and are able to apply them to all kinds of situations they believe similar.:)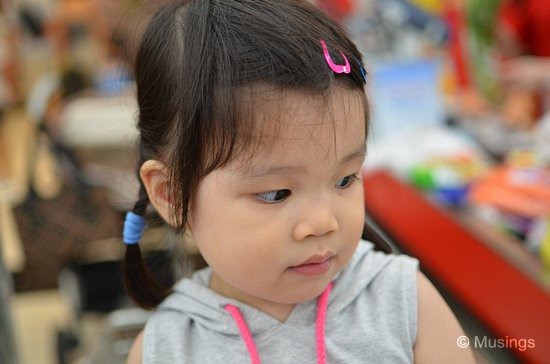 Hannah @ 20mm f1.7 – Part 4
It's semester break for the students at my institution, though not really so for faculty. Still, it does make available small periods in which I can clear the huge bunch of Annual Leave I've accumulated. It's harder to get Hannah to smile naturally for the camera these days. Not impossible – we just find ourselves having to work a lot harder than before! I suspect it's to do with the fact that she's wised up to my antics when she sees a camera pointing in her general direction. In fact, she understands this whole concept of picture-taking now, what with Ling lending her her Sony camera to try taking pictures of us.:)
The first group of pictures here below were taken across two weeks; last weekend and this couple of days.
These two below were with the D7000 + 35mm f1.8 while we were out at Serangoon Nex for weekend brunch @ Swensens. I've picked up a Bosstrap – similar to our Ang Mo bud's one – a couple of weeks ago and have it semi-permanently tethered to the D7000 now, though bringing a D7000 with a gunsling-styled strap out to a very public shopping center still makes me feel a tad conspicuous!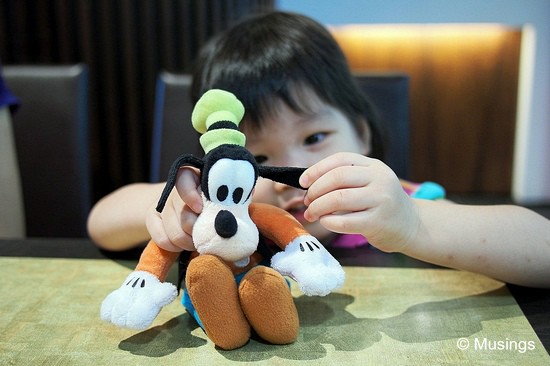 Hannah @ 20mm f1.7 – Part 3
Hannah's Blurb book was completed last night. And after two more rounds of checking, it was finally sent to the printer early this morning with an order of two books. The book weighs in at 220 pages and 289 pictures. I bit the bullet for the most pricey and highest quality paper options too – professional grade paper that's manufactured by Mohawk – figuring that photographic memories of Hannah are well worth the expense. The final cost per book was about USD109 – almost two times the price of USD57 for Hannah's last book. Ouch.
The weekend was a little more busy than our usual laidback vegetating/playing at home. We had a delightful dinner event with our small group on Friday evening, followed by a one year birthday bash for one of Ling's cousin's baby boy. The Lumix 20mm f1.7 was the lens of choice again, and I think I'm really getting the hang of this lens now. Early on a year ago, a lot of pictures came slightly blurry when shot at wide-open; but with the correct hand-holding technique, nearly all the pictures are tack sharp in the center now.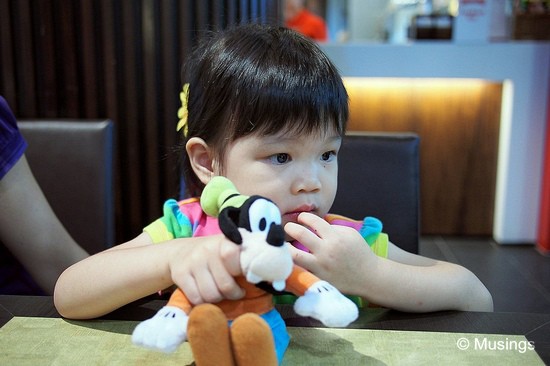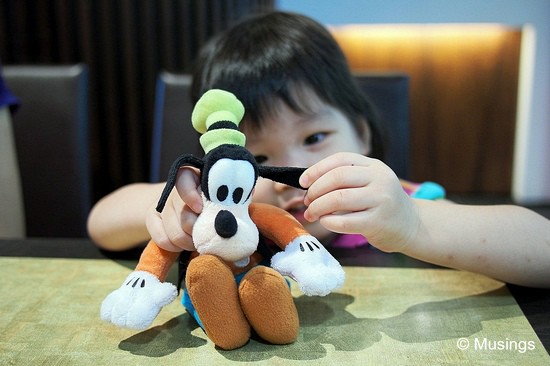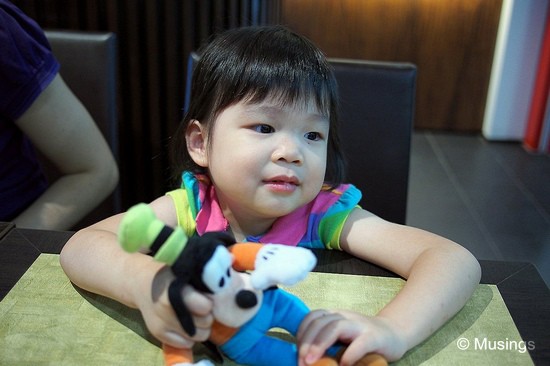 Hannah still adores her Goofy toy, though just over the weekend, she asked me to also buy her a toy of her next favorite character – Pluto, and would you have guessed that!
Ling took a bunch of pictures at the party. Liked this one best. How we get her to giggle is to tickle her. Easy.:)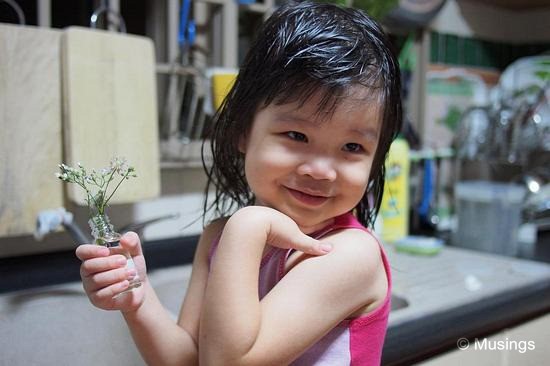 Flowers and Goofy
Weekend dinners are often early when I'm on cooking duties, since we often have early brunches before 10 AM. That usually leaves us with quite a bit of time in the early evening to bring Hannah out on walks either to the playgrounds at the ground floor, or Punggol Park just next door. Ling has an eye for plant life wherever she goes, and over the last weekend, she plucked a bunch of wild flowers for our girl. Hannah has become quite attached to flowers like these, and on an earlier occasion even wailed buckets when she accidentally dropped one of them in the car while on our way home.
She got another present just this evening too, courtesy of Daddy. Of the cast of Disney cartoon characters in Mickey Mouse Clubhouse, our girl adores Goofy most. Not sure why she didn't pick one of the other two more feminine characters i.e. Daisy or Minnie. Oh well. I ordered a stuffed toy of Goofy for her from a UK Store, and it arrived today, alongside a collection of six books each based on the cartoon that I'll read to her as part of our nightly routines:
Goofy now accompanies her to bed.=)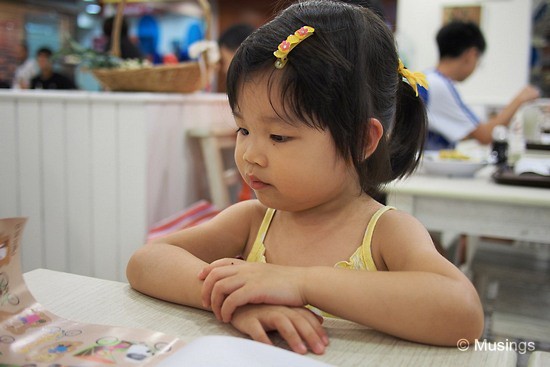 Hannah with the E-M5 – Part 3
Couple of developments over the last fortnight. We found that Hannah was in the (bad!) habit of saying "What???" whenever we called out for her. Not sure where she picked that up from! We took to gently correcting her to reply more politely when someone calls her, and within 2 days, she was able to say "Yes, Mommy/Daddy"?" instead of a "What?".
A harder habit to correct though is her inclination to go all emotional and near tears and look pitiful whenever she doesn't get her way or we don't respond to her instantly when she calls for us. Whether it's wanting to go to the toilet, wanting to take certain toys with her etc. Each time, we get her to stop crying first, and only then allow her to express her request. Not quite an easy behavior to correct, though we still manage to get her to stop crying each time first before telling us what she needs from us.
A couple of pictures from the weekend. =)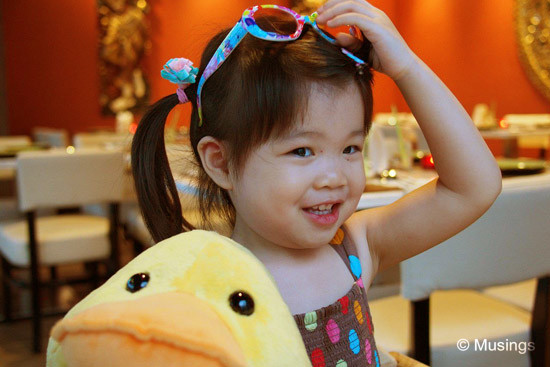 Hannah is Three Years Old!
Our girl turned has turned three years old! Over the last one year, she's become smarter, more savvy, more coherent, and loads more challenging for us! Her presents from uncles/aunts, parents, nanny and daughter, and parents include clothes, a huge duck, sun-glasses, swimming goggles (both for our upcoming trip), and lots of sticker books. Four cakes too; one for her class party a fortnight ago, another from 'Uncle' Matt, one from her nanny's daughter, and one from us. The fridge's so stuffed with cakes it's gonna take us a while to finish the lot.=)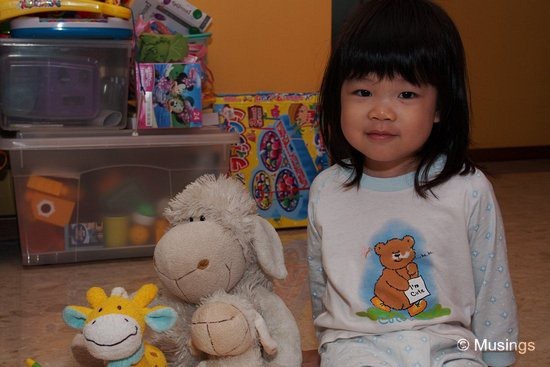 Hannah with the E-M5 – Part 2
There's an adage one commonly finds on photo-enthusiast discussion forums, and it goes like this: the best camera you can have is the one that's with you. That's one of the reasons why the iPhone 4 has turned out to be quite the big hit; since you carry the smartphone everywhere you go. While my D7000 still performs significantly better in AF and handling and also offers (slightly) better image quality, shooting with the E-M5 is just a lot more fun! Not to mention too that it's also lighter, and I find myself carrying the camera around whenever we're out of home with Hannah.
A selection of pictures from the weekend again, and taken using the 12-50mm and 20mm f1.7.=)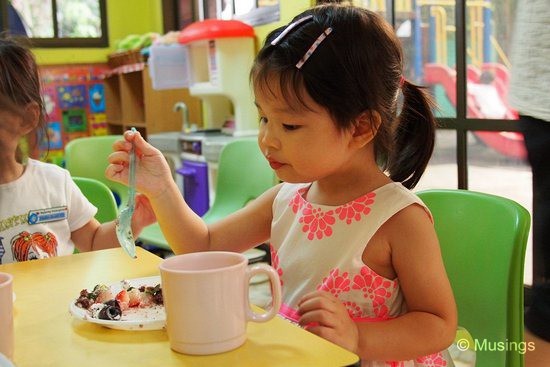 Hannah's First Birthday Party
Hannah had her (pre-)birthday party in school on Friday morning. Her birthday's still more than a week away, but this was the last opportunity for her to celebrate with friends before her pre-nursery school closed for the June holidays. Ling arranged for the little celebration with her class (Tulip 1) with a Blackforest cake and little goodie bags for the tots. This wasn't the only birthday celebration on that day. Other classes were having similar events – made for quite a bit of a noisy occasion!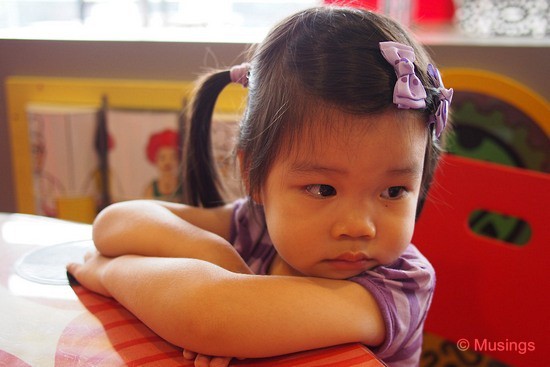 Hannah with the E-M5 – Part 1
Come tomorrow, It'll be exactly a day away from Hannah being a month to three years old. Despite what she might sometimes seem like from the pictures here, be assured that when we say she's becoming assertive, we mean it! The both of us have frequent stand-of moments with her – for example over what toys she brings out of home, what clothes to wear, drinking milk – though thankfully, none of the stand-offs have been more than 10-15 minutes. She certainly hasn't taken any of her assertion out of home, so we're thankful for small favors.
The E-M5's a pretty easy camera to use, though I'm still getting used to the myriad of customizable options in it's multi-layer menu system (the Nikon's menu organization for me is still more logical and definitely neater). The two dials are real helpful; I've set one to program-shift, and the other to exposure compensation; definitely way easy to do adjustments now without taking my eye off the viewfinder, as compared to making the same adjustments on the E-PL2.
More pictures coming tomorrow too.=)