There are little observations I've made too throughout my 9 day stay.
Service standards are incredible. I never met a single customer service person who failed to display the highest levels of courtesy, whether that person is a taxi driver (whom I nearly had to wrestle against just to let me carry my own luggage – he was an elderly gentlemen and I didn't want to impose), the very sweet wait staff at Restaurant Matsuri whom I think got used to seeing this obviously non-Japanese guy carrying a D300 into the restaurant every evening to take pictures of what they placed on the table, or the train operator who jogs from the back to the front of the train during track switches.
The MRT train operators walk at a leisurely pace by comparison, which as my old NS recruit Platoon Sergeant would swear, "You walk SOMEMORE!!! No f******* sense of urgency!!!"
Being greeted both by colleagues, students and strangers everywhere. At the end of each day, the students all stood at attention, bowed and thanked me for my lectures. And they were not children: they were 19 to 20 year olds. In Singapore, the students of similar age are all rushing to get out of the class and back to their MP3 players, notebooks and DOTA, PSPs and what nots.
Precious little honking and impatient drivers. I did hear honking here and there: but they were invariably light taps to give a thank-you when the other driver gives way.
No crazy people around. Or maybe I just didn't run into them. I'm thinking of San Francisco, and the wandering city vagrants, or those guys with big placards proclaiming the end of the world.
High levels of cleanliness everywhere. The city wasn't state of the art, with the tallest building maybe stopping at 20 levels high. There were portions of the city, especially in the suburban areas where my college was located at, which were abandoned, derelict and so on. But the city had no issues with litter. No one spitted, no one tossed tissue paper, and on early mornings when heading to work I sure didn't see stacks of unfinished Nasi Lemak or 7-11 drinks on the pavement.
And the Japanese sure dress very well! Every morning and evening, the transportation system and road networks would be congested by people going to and returning from work. Their dressing was splendid, with the school-going individuals, and up till year 4 of college, in smart uniforms, accessorized by winter apparel, including scarves, gloves and so on. Attire among staff at the college was more varied, with some of the older staff dressed in suits while others were in smart-casual.
There's a last picture I'm posting here: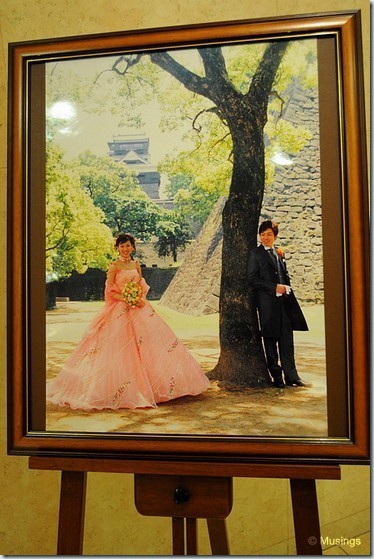 This large framed photo sat right in front of the hotel lift lobby, and showed a Japanese bride and bridegroom with Kumamoto Castle in the backdrop. I passed by this picture everyday in and out of the hotel.
It's not just that the picture's beautifully taken. Rather, it shows the juxtaposition between what's traditional in Japan, and what they've taken from the West since Commodore Matthew Percy of the strutted into Edo bay with four US Navy warships in 1853. And despite that transformation from 150 years ago, the Japanese have not lost their distinctiveness or identity.
So well, I guess the next time I'm heading here will be to Hokkaido (likely) or Tokyo (less likely). I've staved off Ling's expectations each time on account that it'd cost a bomb and in the vicinity of at least $6-7K for the both of us for a long-enough period of stay worth the travel. But now that all the pictures have been posted up, it's even harder to use this excuse now LOL.