Kumamoto 2009
now browsing by tag
Departed with Memories – Part 2
There are little observations I've made too throughout my 9 day stay.
Service standards are incredible. I never met a single customer service person who failed to display the highest levels of courtesy, whether that person is a taxi driver (whom I nearly had to wrestle against just to let me carry my own luggage – he was an elderly gentlemen and I didn't want to impose), the very sweet wait staff at Restaurant Matsuri whom I think got used to seeing this obviously non-Japanese guy carrying a D300 into the restaurant every evening to take pictures of what they placed on the table, or the train operator who jogs from the back to the front of the train during track switches.
The MRT train operators walk at a leisurely pace by comparison, which as my old NS recruit Platoon Sergeant would swear, "You walk SOMEMORE!!! No f******* sense of urgency!!!"
Being greeted both by colleagues, students and strangers everywhere. At the end of each day, the students all stood at attention, bowed and thanked me for my lectures. And they were not children: they were 19 to 20 year olds. In Singapore, the students of similar age are all rushing to get out of the class and back to their MP3 players, notebooks and DOTA, PSPs and what nots.
Precious little honking and impatient drivers. I did hear honking here and there: but they were invariably light taps to give a thank-you when the other driver gives way.
No crazy people around. Or maybe I just didn't run into them. I'm thinking of San Francisco, and the wandering city vagrants, or those guys with big placards proclaiming the end of the world.
High levels of cleanliness everywhere. The city wasn't state of the art, with the tallest building maybe stopping at 20 levels high. There were portions of the city, especially in the suburban areas where my college was located at, which were abandoned, derelict and so on. But the city had no issues with litter. No one spitted, no one tossed tissue paper, and on early mornings when heading to work I sure didn't see stacks of unfinished Nasi Lemak or 7-11 drinks on the pavement.
And the Japanese sure dress very well! Every morning and evening, the transportation system and road networks would be congested by people going to and returning from work. Their dressing was splendid, with the school-going individuals, and up till year 4 of college, in smart uniforms, accessorized by winter apparel, including scarves, gloves and so on. Attire among staff at the college was more varied, with some of the older staff dressed in suits while others were in smart-casual.
There's a last picture I'm posting here: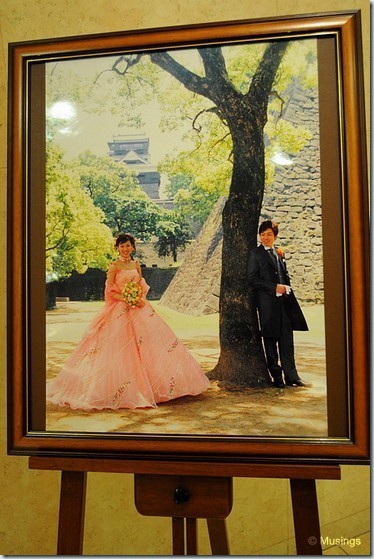 This large framed photo sat right in front of the hotel lift lobby, and showed a Japanese bride and bridegroom with Kumamoto Castle in the backdrop. I passed by this picture everyday in and out of the hotel.
It's not just that the picture's beautifully taken. Rather, it shows the juxtaposition between what's traditional in Japan, and what they've taken from the West since Commodore Matthew Percy of the strutted into Edo bay with four US Navy warships in 1853. And despite that transformation from 150 years ago, the Japanese have not lost their distinctiveness or identity.
So well, I guess the next time I'm heading here will be to Hokkaido (likely) or Tokyo (less likely). I've staved off Ling's expectations each time on account that it'd cost a bomb and in the vicinity of at least $6-7K for the both of us for a long-enough period of stay worth the travel. But now that all the pictures have been posted up, it's even harder to use this excuse now LOL.
Departed with Memories – Part 1
Matt and I were having an MSN chat the other day while I was still in Kumamoto, and one part of it went like this:
Matt: "It is a shame you won't get to see Nagasaki, though."
Me: "Yeah. But Ling is now determined to visit Hokkaido. I think she feels it's crazily unfair I'm in Japan and she's in Singapore.:)
Matt: "Haha, you think? Duh! : ) Frankly, I think it's unfair you're in Japan and I'm in the US!"
The visit and exchange program to Kumamoto has been an incredibly enriching experience. It's not merely this whole thing about visiting another country and a culture you read about so much in media, and so pervasive among youth in Singapore even.
Rather, living and teaching in Kumamoto for an intensive winter program has let me intently interact with my Japanese counterparts and students on their own home ground.
Moreover, I'm glad that my first visit to Japan has not been to a place like Tokyo or Hokkaido. Kumamoto isn't a tourist prefecture, with the number of tourist-y 'sights' amounting to less fingers than you've got on one hand. And throughout my 9 day stay, the number of Caucasians I saw numbered about 2 – maybe – altogether.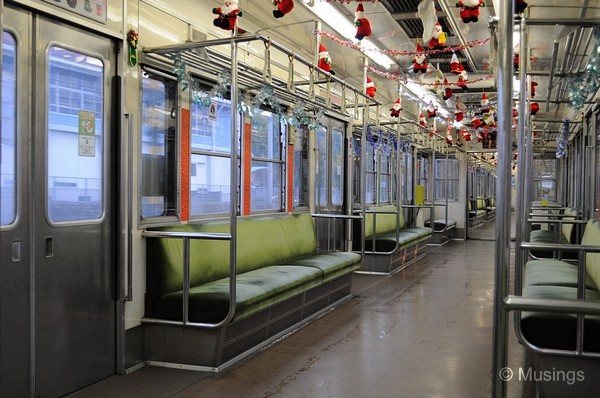 But what I saw and experienced I think is an accurate representation of what life in Japan is like for the average Japanese, or as much as I could experience from a 9 day stay. It's a taste of the country: not artificial and intended only for tourist consumption, as would be inevitably the case to some degree in the tourist-y cities of Japan. One of the most telling signs was the near absence of English translations everywhere: including restaurant menus, maps and street sign posts. Kumamoto City just isn't regarded as a city for travelers from outside Japan. Heck. Even English communication with their frontline reception staff in the hotel and embedded restaurants was crazily difficult. It just goes to show how unaccustomed was the city to non-Japanese travelers.
And aside from the amazing business-class dinners I had everyday, I walked and commuted by train to work, returned during peak hour traffic, and walked some more back home (hotel) every night like the average Japanese Joe. If it wasn't for the fact that I was obviously under-dressed for winter with just thin long pants, a short-sleeved shirt and my Karri Valley Resort windbreaker, I would have looked almost like a local – until I was spoken to in Japanese and my pathetic response would be "I'm so sorry but I don't understand!"
Continued in the next post!
Kyushu from the Air
The flight to Kumamoto City on the 12 December was packed with Japanese high-school girls. From what my Japanese counterpart remarked when I was at their college, at about this time of the year, as many as 20,000 of their students will be in this region for vacation, a safe holiday, and to escape from winter and to enjoy the strong Yen currency versus Asian currencies.
The flight back to Singapore 9 days after that date was quite the contrast: it was an at-most one third filled flight, with mostly Singaporeans comprising the passengers with just a small number of Japanese travelers. Fukoaka Airport is more a transit point for persons visiting other spots in Japan (if any), and also for business travelers. So, I had the row of seats to myself, which made it possible to take my last series of pictures on the flight back itself.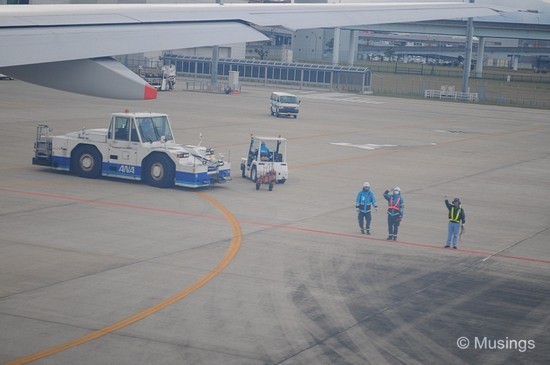 Like the one above: the Japanese ground crew actually wave to departing airplanes! Just like what you saw in those old World War II films.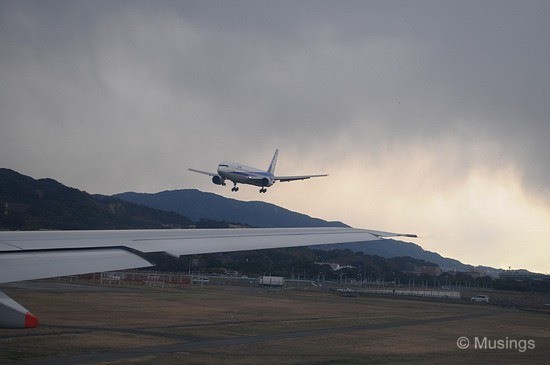 Our plane was fourth in the airport pattern: three planes landed in sequence before we were cleared for immediate take-off.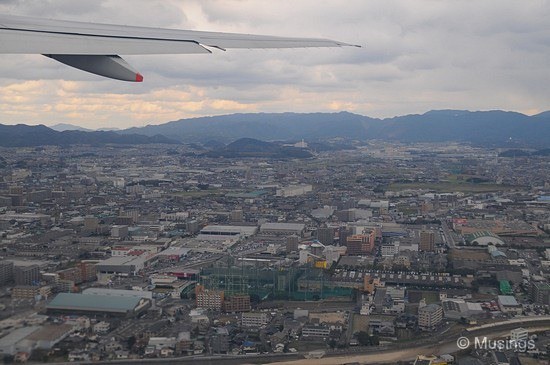 Just a couple of seconds after wheels-up, and before the plane did a 180 degree turn to head south towards Singapore. It was a late morning flight at about 1030, but the weather was still really murky.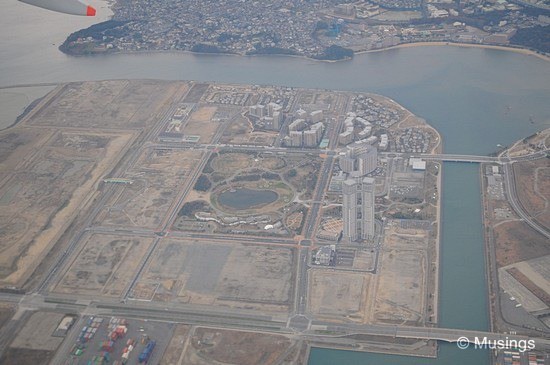 There was an interesting cluster of super-high rise office blocks in what looked like a spot of reclaimed land. The place looked like a business park of some kind, and still under construction.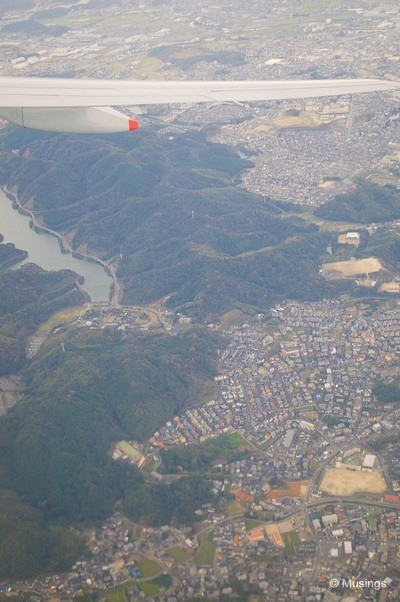 And lastly, Kyushu from about 5000 feet I think. Huge urban sprawl and the many hills on the island.
There're several other pictures taken but of clouds, and on landing approach passing over Indonesia. Quite a stunning view, and the pictures are here.:)
Kumamoto in HDR – Part 4
And the last stack of HDR compositions: of Kyu-Hosokawa Gyobutei. These were the hardest HDR exposures I've done so far: they're all handheld shots taken indoors.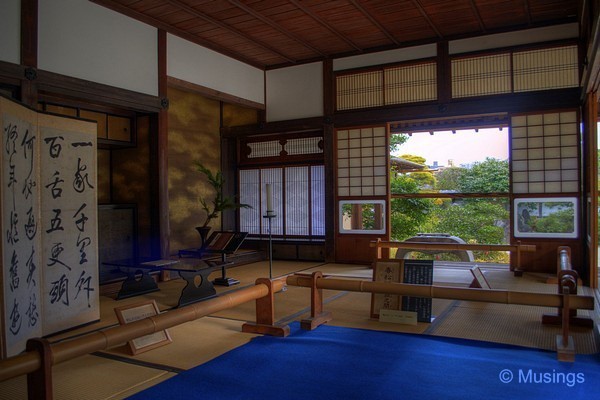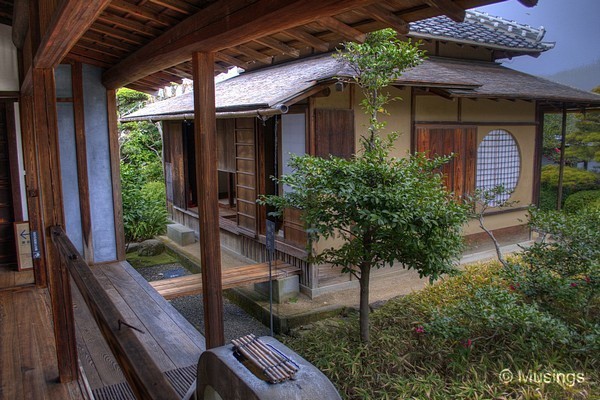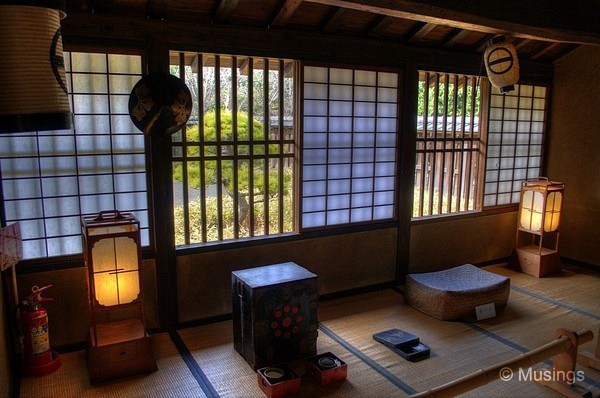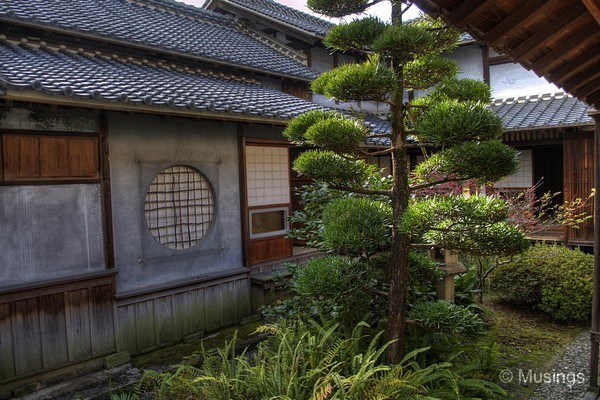 Well, that's a wrap for all the pictures taken of my stay in Kumamoto, Japan. Next up are the HD video files I shot – but I'll do those later; maybe early next year or something.:)
Kumamoto in HDR – Part 3
Another stack of HDR compositions taken in Kumamoto City, and this time of Suizenji Gardens  Several of these I stabilized with the Gorilla Pod, with the composition itself was created from 9 exposures.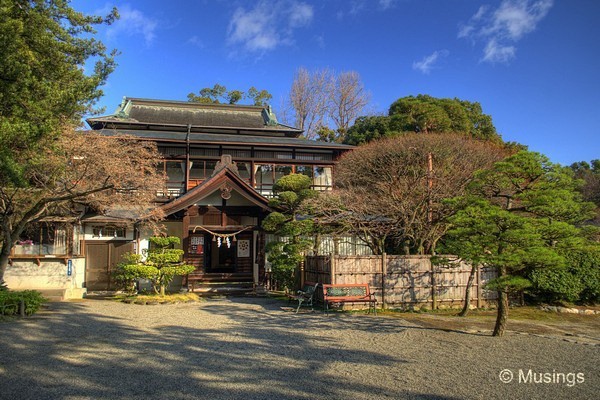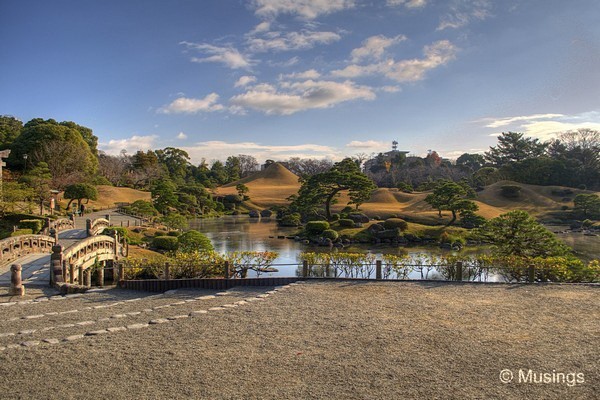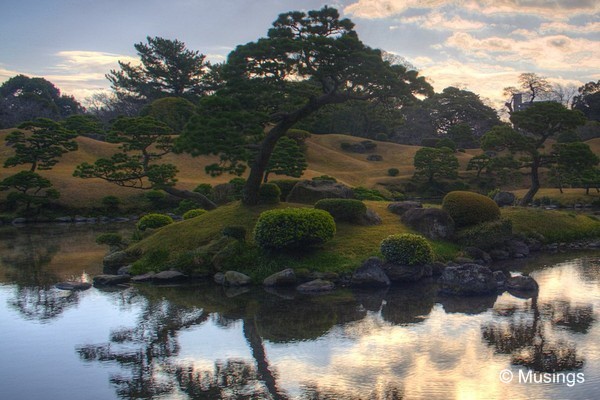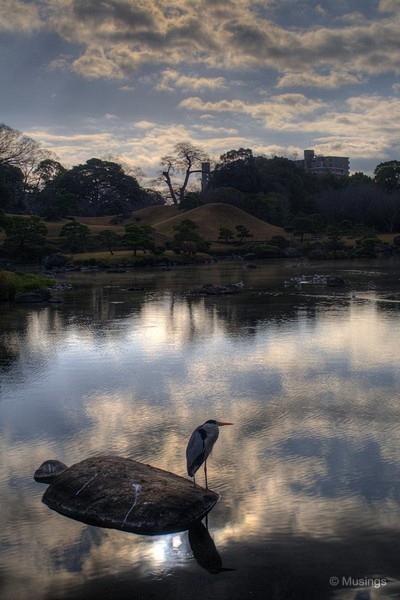 Kumamoto in HDR – Part 2
Time to work on the HDR compositions! Here's Part 2.:)
I finally managed to get some much nicer bracketed exposures of Kumamoto Castle on Saturday morning – the day before departure. Like the picture taken from my blog post "Meals with a View", these exposures were taken at the balcony garden in front of Restaurant Matsuri: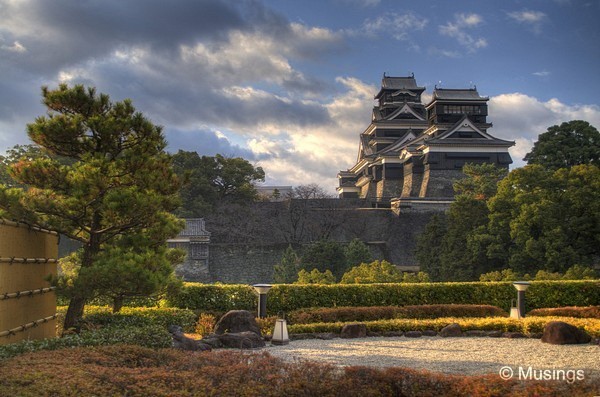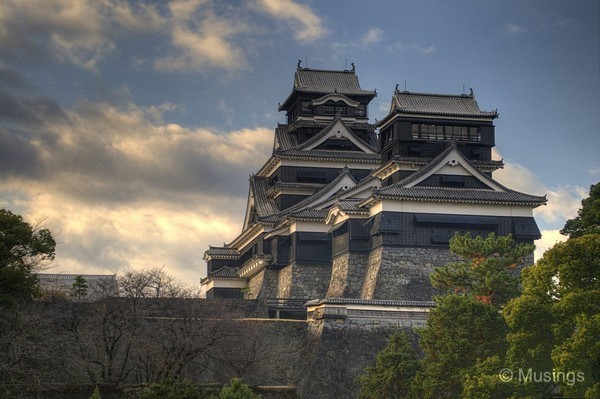 Both of these two HDR compositions were created from a five bracket shot series each.
I went easy on tone mapping to get a more naturalistic look for the next three compositions. Firstly, the one below was taken near the entrance of Kyu-Hosokawa Gyobutei: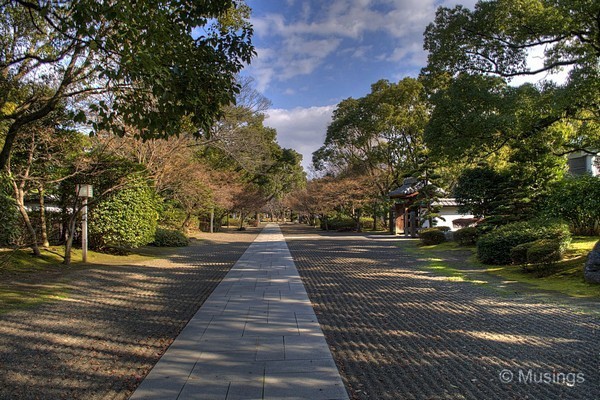 And these last two compositions along the road running around the outskirts of Kumamoto Castle. The wall on either side of the two pictures is Hyakken Wall.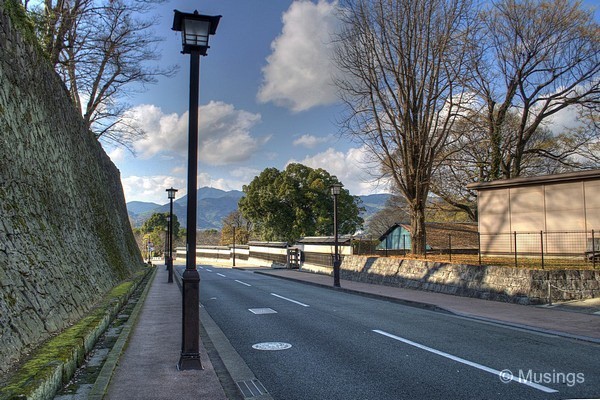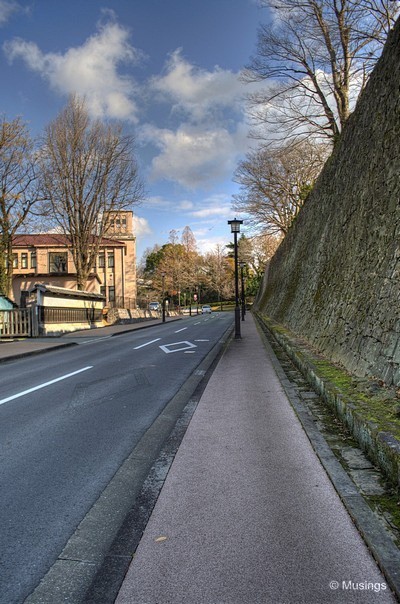 There's two more stacks of HDR exposures left: and that's for Suizenji Gardens and Kyu-Hosokawa Gyobutei. Those are a lot harder to process as lighting was either awful – as in the case of Suizenji Gardens – or low light, as was the case for Hosokawa Mansion. I don't think they're going to look as nice as those here in this post.
Street Pictures
Though I decided to bring along the Sigma 18-250mm lens at the last minute while packing for the trip 9 days ago, funnily I never got round to using the lens. It sat in my luggage bag during my entire stay in Kumamoto City. Oh well.:)
Anyway; here're random pictures I took of streets and roads during my stay in the city.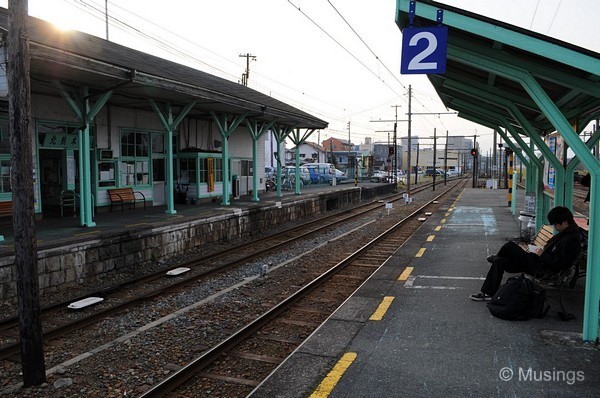 Above: Train stop. Took these to work everyday.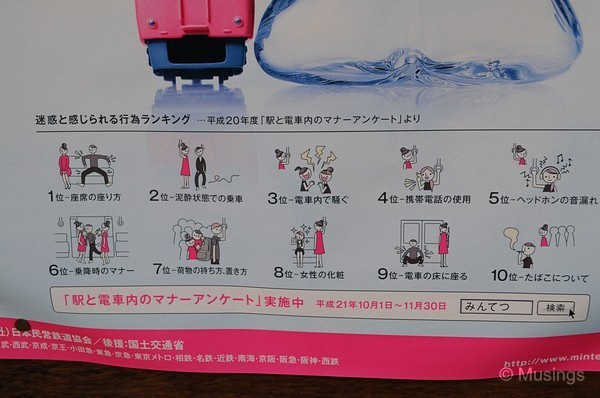 Above: Dos and Don'ts on the train, including what looks like: (1) Don't occupy two seats; (2) Don't walk when you're drunk; (3) Don't talk loudly; (4) Don't talk on your mobile phone; (5) Don't blast your earphone music; (6) Give way etc.:)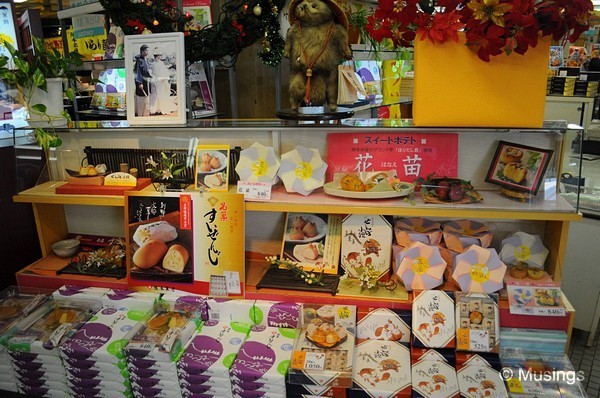 Above: Every shelf display was a delightful display of colors!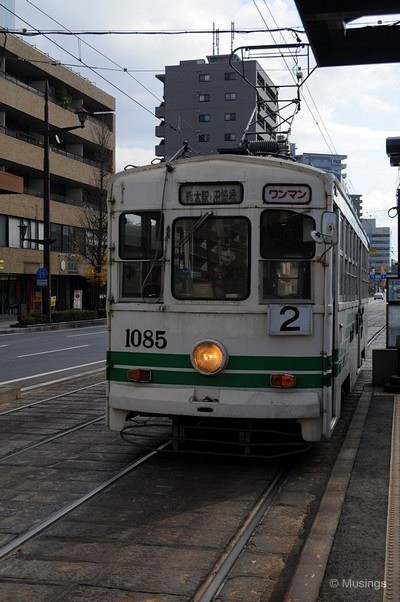 Above: An oncoming train in the city. Took this picture just before boarding the train that brought me from Suizenji Gardens back to my hotel.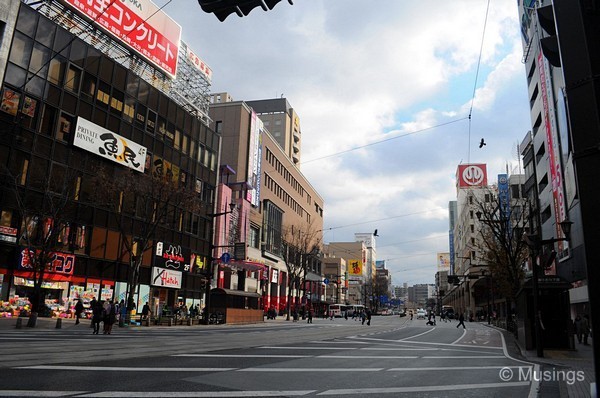 Above: Exploring the city at about one big cross junction.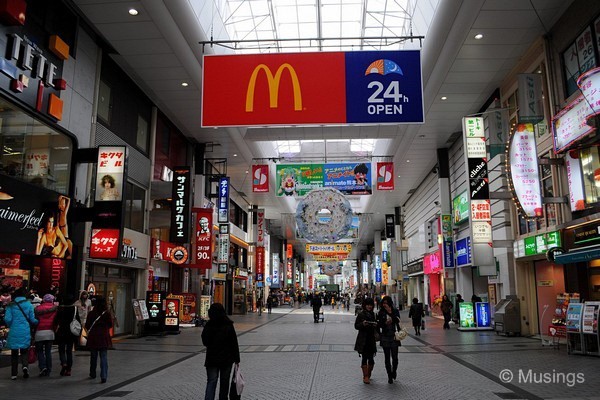 Above: At the Kamitori shopping arcade.:)
Kyu-Hosokawa Gyobutei
The last place I took a quick look at was Hosokawa Mansion, which was a short 10 minute walk from the hotel. This is a 300 year old samurai mansion that was the former residence of the Lord of the Hosokawa-Gyobu Clan, has a land area of 990 square meters, and comprises 24 rooms. Entrance fee was 300円 (SGD4.60).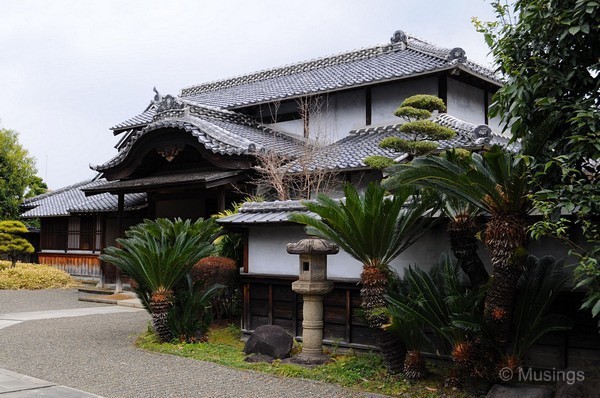 Above: Ongenkan, or Main Entrance. According to the English brochure guide, the roof is karahafu-styled and the platform denotes a position of high status. Apparently only the Lord himself, his high-ranking retainers and important guests could use this entrance.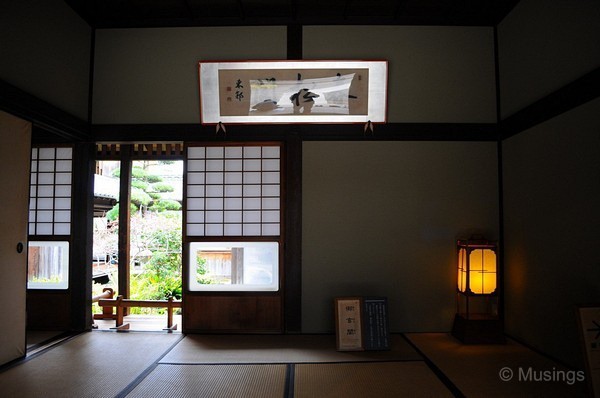 Above: The main hall, and below: Guest room.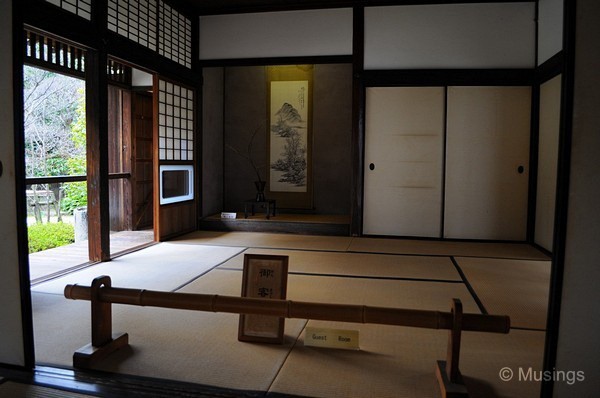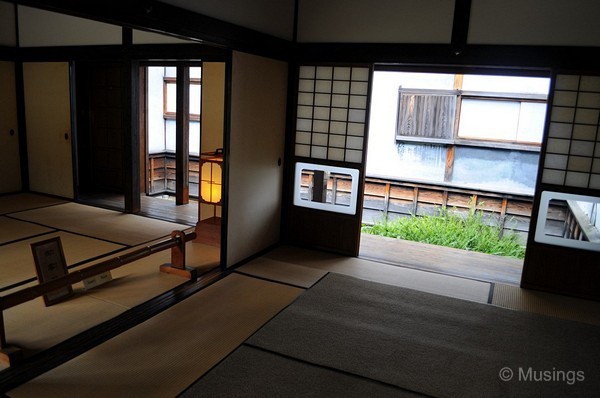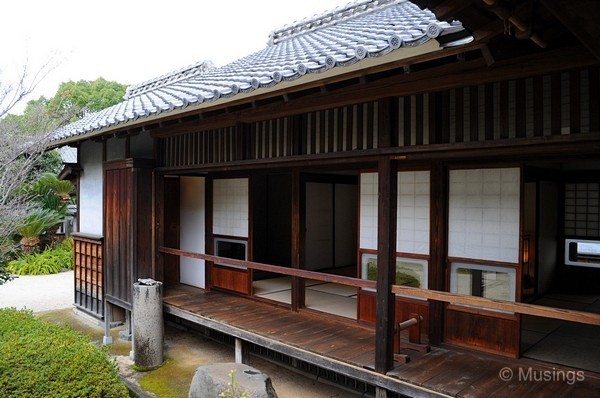 The bathroom's below: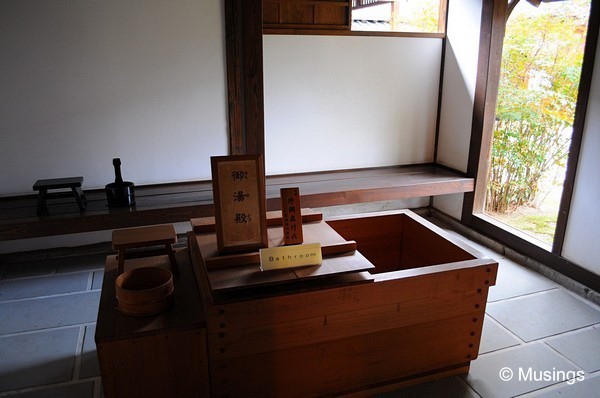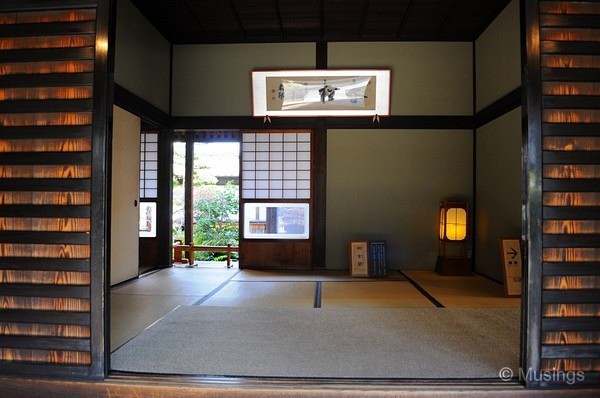 There weren't many visitors to the Mansion at the time I was there (Saturday afternoon), so it was a very quiet and low-key visit. I video-recorded a walkthrough the entire mansion too – think Ling's gonna be interested to take a look at it when I'm back.:)
Suizenji Gardens
Suizenji Gardens (水前寺公園) was one of the two sites in Kumamoto I really wanted to take a look, and I was fortunate to manage some free time today to pay a visit. The park is considered one of the four best gardens in Japan.
Unfortunately, the weather again was pretty fouled up, and though it didn't rain, there was little sun and even started snowing while I was in the park itself! Just ugh. Temperature was about 0-1 degrees, and it sure was difficult taking pictures when the entire body was shivering LOL.
The park while stunning in landscaping and its flora lovingly tended to by its caretakers is in reality rather small. I'll put it very roughly at perhaps a quarter the size of Singapore's own Botanic Gardens. Moreover, the park itself is surrounded by urbanization and all the trappings of modern civilization. It wasn't easy composing pictures without seeing some apartment block in the distance.
in any case: here's a selection of pictures: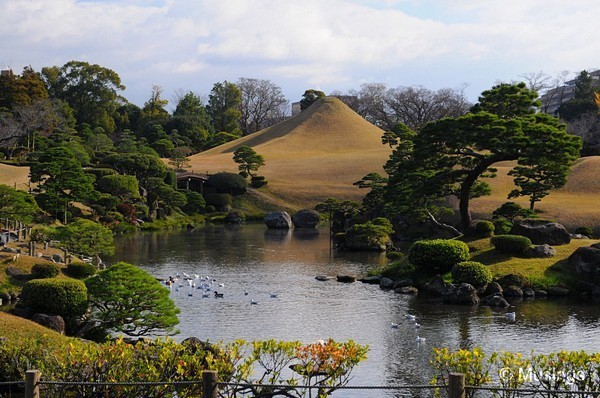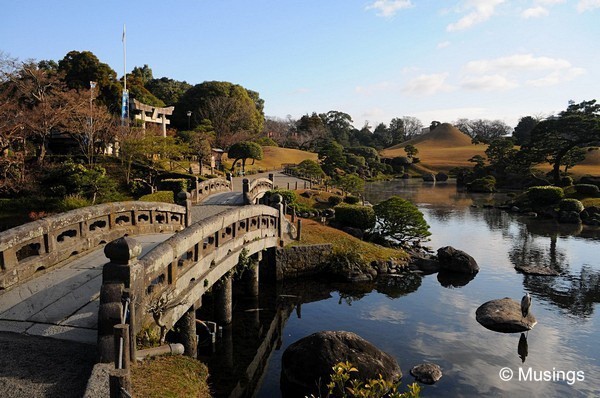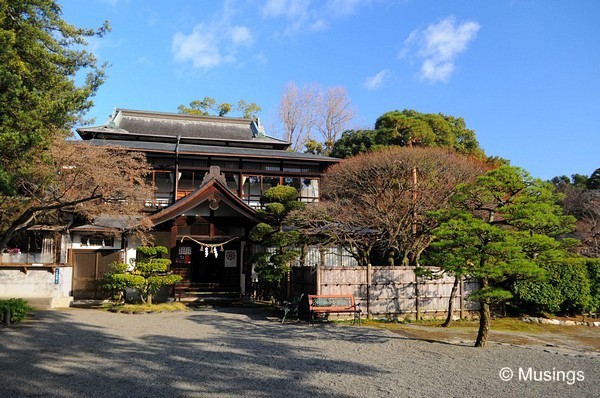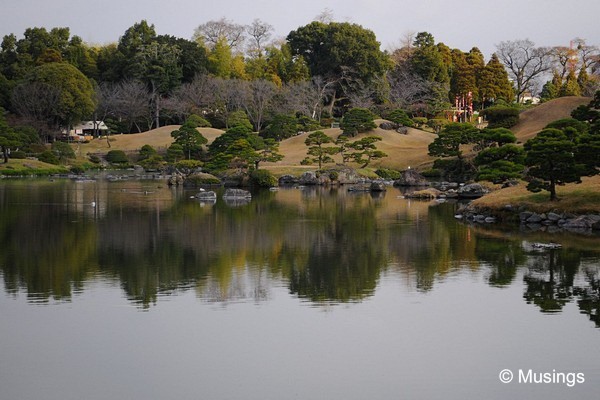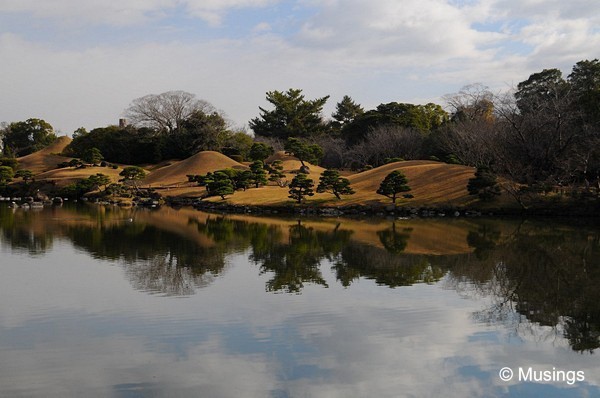 I took a couple of hundred additional exposures too for HDR compositions. Will post them up when I'm done processing them.:)
Oishi!! – Part 4
Friday evening was the last day in which dinner was complimentary from my hotel.
Dinner last night was exquisite as always though the restaurant wait staff were terrifically busy as there was a small wedding reception hosted in the restaurant too. The married couple were dressed in full traditional costumes, with the bride looking exactly like what you see in paintings – magnificent hairdo (though from my end it looked suspiciously like a wig), a huge kimono; and several of the guests were also in Japanese-styled suits and kimonos too.
Their reception table was partitioned off, though I managed to just take one picture of the happy couple (won't post it here though).
So, coming back to dinner; it started with a very interesting long porcelain plate of appetizers: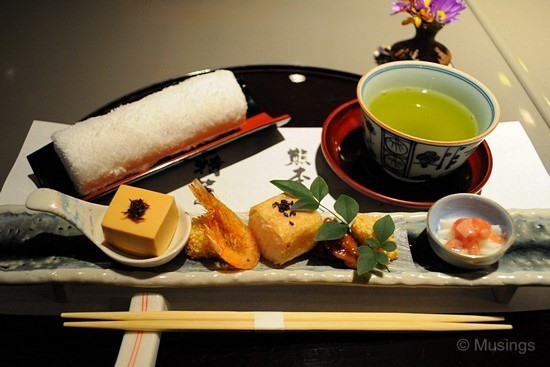 Then raw meats: was that beef I ate…?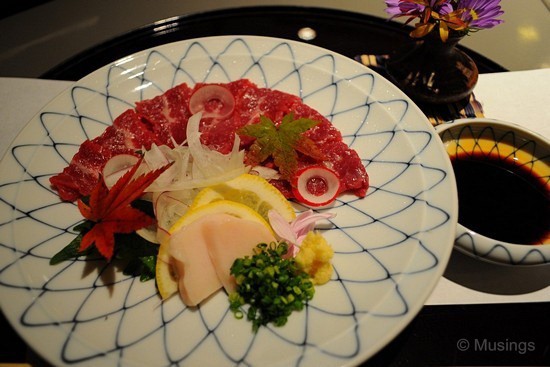 Then Japanese-styled meat balls: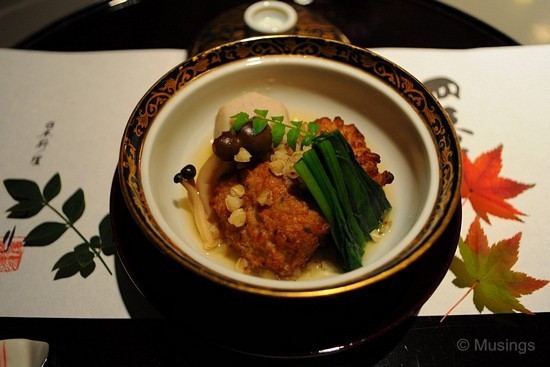 Can't remember what the name of this is: but it's kaige something something!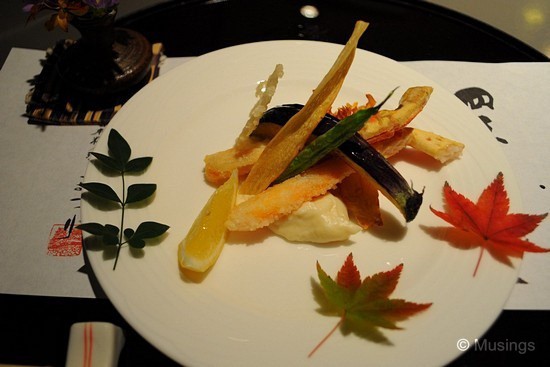 And finally the main course (didn't take pictures of the dessert):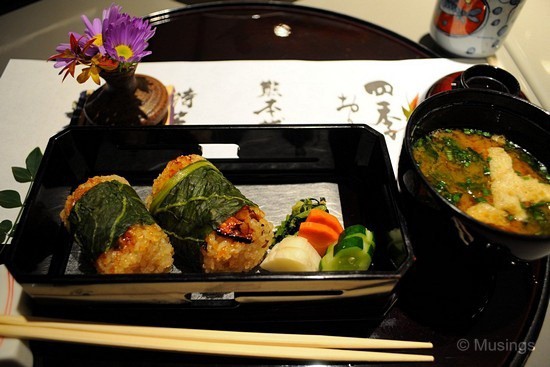 It's just incredible: I've had six evening of Japanese fine dining, and none of the dishes on each evening were repeated. Just goes to show the huge variety of cuisine here. Though at this point I'm already getting a little tired of Japanese cuisine. It's delicious, but right now I'm already dying for roti prata, roti john, char kway teow, bak chor noodles etc.!
So, for tonight's dinner I'm wondering: shall I go back to KFC / MacDonalds…? :)