Koh Phangan
now browsing by tag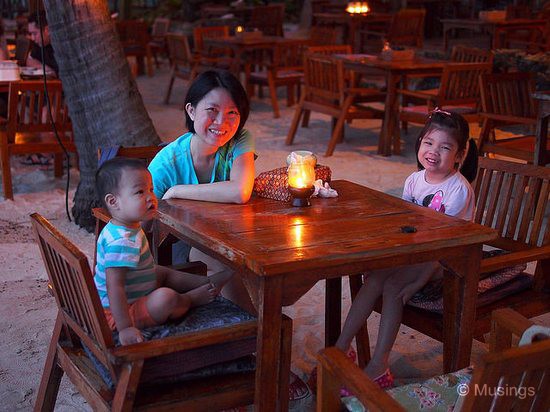 Dining @ Koh Phangan
The accommodation package we chose at Santhiya @ Koh Phangan was half-board – breakfast was provided, and the other meals would be of our own arrangements. Our stay though was at the fast North-East corner of the island, with the town center and most of the island's other resorts on the opposite corner – south, and south-west, and very hilly and winding roads in-between these two spots. Fortunately, there was a small village within walking distance of Santhiya that we visited, and it had several streetside restaurants, alongside several other beach-side restaurants along the way too.
Santhiya's Chantara Restaurant – where we had our daily breakfasts – was of course a deluxe five star-esque-styled hotel restaurant with all the trimmings. Unfortunately, dining was not cheap – and in my opinion was charging way too high even after considering that this is a hotel restaurant – that we largely skipped dinners at this place, outside the BBQ buffet the third evening, and the following evening with Ling and the kids after I got violently ill from food poisoning.
The much talked-about little village beside Buri Rasa Koh Phangan is actually a short 10 minute brisk beach walk way from Santhiya, though because of our two kids and also the strong waves and winds on several evenings, made the walk across the beach harder than it should had been normally. One of us had to carry Peter at least throughout most of the way. Still; we checked out two streetside restaurants on the first two evenings of our stay: Again & Again, and Bamboo Hut. Both whipped up authentic Thai cuisine, at about SGD4-5 per dish item, and both times – mindful of what the kids could take at these tender ages – stuck to pretty safe fare. Basically light curries, lots of stir-fry vegetables, and the occasional meat item too. The bills came to between THB 400-450 / SGD16 to 20.
I recovered somewhat enough to venture out again on the fifth evening for dinners again. The Beach Love is Phuwadee Resort's main restaurant, and offered not only Thai cuisine, but also Western-styled fare, including burgers, sandwiches, and even pizzas. Hannah had one look at the pizza items and wanted to try one badly – so we had a western-styled dinner this time round involving club sandwiches and a Hawaiian pizza. Not surprisingly, the prices for such more exotic cuisine were higher than the local fare – and THB500 / SGD20 this time round. The restaurant has baby-friendly furniture too, so if adult seating is too dangerous for your child, this restaurant is an option.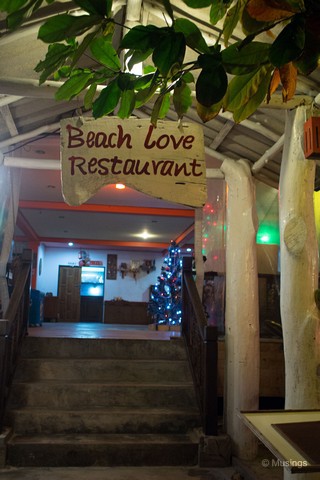 The sixth and last evening was at Baan Ta Pan Noi Restaurant / Thongtapan resort, the beachside restaurant closest to Santhiya. The restaurant had uniformed wait staff who spoke pretty good English, were quite friendly, but no baby-seating oddly. We had a bunch of local dishes again and ate our fill for THB 655 / SGD26. The restaurant has a lovely ambiance too with their tree-lined lights, and are situated on a pretty flat beach area. Of the bunch of restaurants we dined at outside Santhiya, this one would had been our favorite.
Not surprisingly too – the prices of fare increase the further one is away from the village, notwithstanding the premium prices we were paying for dining at our Resort, though quality-wise, the local fare were savory but close enough all times round that we couldn't really distinguish between them, putting aside price-differences and presentation of fare. All-in, if you're staying at Santhiya, there's no reason not to at least visit these restaurants and save some money.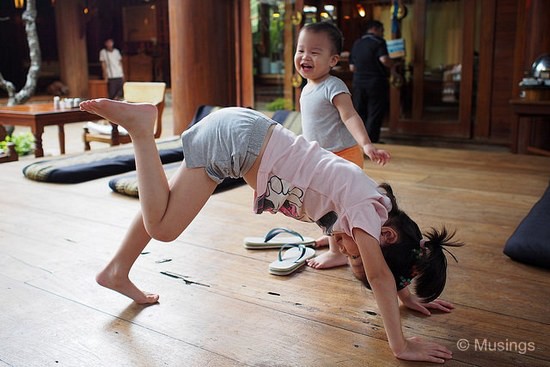 Kids @ Koh Phangan
Of our two kids at our week-long stay in Koh Phangan, Hannah – easily – enjoyed it more than Peter did, and probably more than the both of us too. Peter was already a little cranky for the first half of the stay, and from the second half, picked up from me the viral infection and experienced a bucket load of tummy trouble – so bad that we nearly ran out of diapers and had to come up with interim solutions involving toilet paper LOL.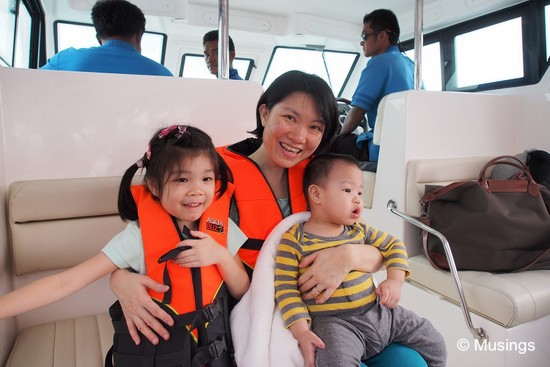 Santhiya @ Koh Phangan – The Not Good
The issues we had with our stay at Santhiya began almost immediately after we landed at Koh Samui airport. Sigh.
Upon landing at the airport and after clearing customs and collecting our luggage, we headed to the Arrivals pick-up point and waited there stupidly for 45 minutes, before a friendly local who was also waiting for his pick-up gestured that we were supposed to go to the other pick-up point – which I assumed was the Departures drop-off – for our ride to the Koh Samui pier. Yep you've guessed it. We had no idea there was this other pick-up point that while was just a few minutes away, was not within eye-shot. We were thus late for our pick-up for our scheduled speedboat transfer to the resort's pier. Not that our late arrival mattered, since the choppy waters meant that the speedboat could not directly transfer us to the resort's pier, but instead brought us to the back-up location – Baan Tai pier, which was on the opposite end of the island. The boat ride in choppy waters was terrifying for Hannah and Peter, but there was more to come. Between the pier and the resort were winding roads up and down hills, and a very bumpy stretch of muddy road where our 4×4 vehicle had to inch forwards trying to navigate the path.
Thing is; I'd read a lot about the transportation options getting to the resort, and opted specifically for the direct speedboat transfer from Koh Samui to the resort as I wasn't sure how the kids would handle bumpy rides. I also checked my correspondence with the resort to see if they said anything about the other pick-up point. Nothing on that end either. When I pointed this out to the Guest Relations Officer at the Resort, all I got was an apologetic reply that the choppy waters meant that the speedboat could not bring us to the Resort's pier, but there was no offer of a refund or even partial discount off the premium we paid for it.
The unit as I described previously is indeed lovely and well-decorated, but it's not without its sets of issues. For starters, the teak wood floor base did not seem to absorb vibrations well. In fact they seemed somewhat hollow beneath. While I didn't for a moment think that the structure was going to collapse under its weight anytime soon, it did mean that we had to tiptoe everywhere we were in the unit, less our foorsteps gave the rest of our family nausea. The problem was less pronounced in the common areas like the main restaurant, presumably because it was less elevated than the villa units, but we had to frequently confine Hannah to her bed when Peter was trying to nap, lest her foot steps around the villa wake him up.
Oddly too, we faced power disruptions several times a day – especially at night. It wasn't a big thing, since the disruption came back on simultaneously each time, but I observed that their WIFI router reset each time too in these power outages, which meant an inconvenient re-login reconnection back to the router
And talking about Internet access, believe or not – Internet access was better in the toilet end of our villa than the main living/bedroom areas. In fact, WIFI was so spotty in the latter areas that it was practically unusable for a good part of our stay. The Internet access in the main restaurant and concierge areas were much better though, so you'll want to head there if you have serious work to do.
And the mosquitoes – ugh. We live in the tropics and know more than a thing or two about mosquitoes. But the situation in the Resort can get pretty bad. One evening while waiting for dinner, we hung out at the concierge lobby – and Ling with her eagle-eyes, smacked a total of five critters in the space of 15 minutes. And Hannah got one even. The mosquitoes for the most part didn't get into our villa, but on the occasion when a couple did one evening, gave all of us bites (excepting Peter who slept in a mosquito net).
Most seriously though was the overall pricing of dining in the Resort. Granted that this is an island, and I guess most fresh produce has to be brought in, but it was hard to believe the dine-in prices at the Resort's restaurants when a nearby village with numerous street-side restaurants were whipping up local cuisine at a fraction of the price. Stir-fried mixed vegetables for instance cost 330 THB in the Resort, and 70 THB in the village's restaurants. I don't think higher prices for better service standards at least, hygiene probably and culinary quality are unusual, but the price difference was almost 5 times in this case. That's just too much differential in my opinion.
On the third evening, we had the international buffet at 799 THB an adult – and I had food poisoning. Yep, me – a Singaporean who's used to stomach abuse with all the wildly different food available here at the International crossroads – vomited and stayed sick for the next 2 days, making miserable a good part of my stay. Oh, maybe it had nothing to do with the buffet, but the nausea and vomiting started 30 minutes after we finished. Too close to not draw a relation. Peter didn't get spared too, picking up a touch of diarrhea at the last few days.
Topping it off; our vacation was at a period when the weather was mostly gloomy. That caught us by surprise, as we'd thought this part of the world wouldn't be experiencing monsoon. Not at all the fault of the resort of course.
All-in; would I recommend Santhiya? Yes on account of the generally good condition villas and exclusiveness of the Resort – but with caveats. Specifically: be aware of the transportation options and risks, live with the mosquitoes, be prepared to take the 10 minute brisk walk to the nearby village for meals, and bring diarrhea medication – just in case!
Next couple of posts to come on the various other parts of our stay, and additional notes on our stay @ Santhiya.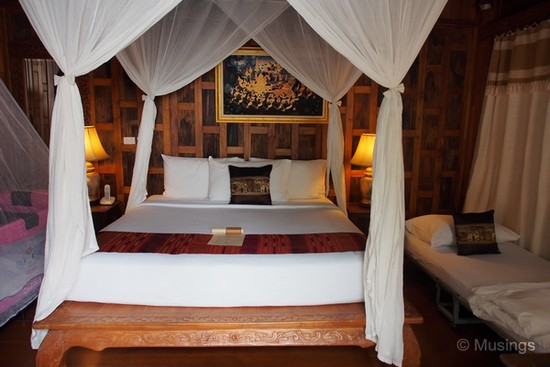 Santhiya @ Koh Phangan – The Good
Well – six of seven days later into our 2014 vacation at the Santhiya @ koh Phangan, I've got decidedly mixed feelings about the place! Some parts of it were indeed as advertised, while others weren't – and to top it off, we had a few unexpected mishaps.
Some brief facts about our stay first: we stayed at the Hideaway Pool Villa for a seven day stay, opting for also the private speedboat transfer. Total damage was about TBH58K, or about SGD2,351. Not exactly cheap for resort-centered stays, more so that this resort isn't situated in an overpriced everywhere Singapore.
Firstly; the good things.
The villa sits on a pretty secluded north-easterly spot on the island, and has its own private beach that's marked out by inaccessible rocks on one end, and by more rocks on the other end. Not easily accessible from the rest of the island too (more on that later). The villa we stayed in was also reasonably private. While the villas themselves are not spaced that far apart, foliage and trees are cleverly used to isolate one unit from the next. Our villa also sat near the top of one steep incline, which meant that we could occasionally hear vehicles that were trying to get up-hill. Not loud enough to be of a bother at all, but it's there if you're the type to notice these things.
The resort spans a very large 18 acres spot, and uses the space to maximum advantage with beautifully landscaped features all around. The beach, main restaurant and main pool sit on the lower end of the resort, while the other restaurant and pool are situated at the upper end. The villas and units are served by buggies which serve guests round the clock for those who don't want to manage the climb. The resort is also reasonably new, opening its doors in July 2006. There are 60 villas in the Resort, and two other accommodation buildings housing maybe another dozen or so units. All in, it's a fairly large resort with very few units.
Our villa, like the others in the resort, had golden teak wood with intricately carved wood as a central theme. We like the general architecture of the unit, though our specific unit configuration wasn't what we'd initially expected. Specifically, some of the villa units feature outdoor shower areas. I did inquire during our back/forth correspondence about outdoor bugs that might invade the shower areas (wouldn't want Hannah freaking out in the middle of the night!), but the resort assumed I was requesting the units with the indoor shower type, and allocated one such. That did mean that we had somewhat less common space after the children's bedding was put in, but hindsight, it worked as well – since the cloudy weather and occasional rain brought out a host of insect inhabitants to run around in the outdoor areas!
Our villa's pool – one of our eagerly anticipated highlight – didn't disappoint. It was as large as it looked from the pictures, reasonably well-maintained, and also deep enough at the deepest end for swimming. Make no mistake though; you won't be swimming length-wise laps in this pool, but it's somewhat wide enough for you to swim circles around it at least. The kids certainly loved the pool. We spent several afternoons lazing on our pool's deck chairs; with Peter napping in his cot, Hannah scampering around anything that caught her current attention, and Ling reading a borrowed library book about life in North Korea (duh – yep!).
The resort never felt crowded, and the over the week we were there, guests were mostly Caucasians (especially Germans), and we encountered just one other local Singaporean family. Yep; no other Asians, and certainly and thankfully no misbehaving or rowdy North-Asian tourists!
The staff were as a rule, friendly and hospitable – well, at least apart from one buggy driver who did not smile, did not greet, and instead gave us a cold hard look whenever we boarded his vehicle to/fro the common areas and our villa. Other than that, we found the staff accommodating and attentive, and possibly even over-staffed during meal times that we never needed to call long for attention. Oddly though while the staff were hospitable, we observed that they didn't as a rule make attempts at polite conversation to most guests. The smiles were genuine, but unlike some of the other five-star establishments we've stayed, the staff didn't attempt to engage most guests beyond greetings. Housekeeping was brisk and spot-on too for the most part, excepting one evening late in our stay when they missed their housekeeping service. We observed a team of four (two chambermaids and two pool boys to scoop leaves out of the pool, and clean the general surroundings), and we had four bottles of water brought to our villa twice.
Breakfast was a mix of Asian and Western cuisine types. The fare was generally savory, though by the time we got to the midpoint of our stay, we were getting a little tired of more/less same spread each morning! The restaurant and adjourning areas was large enough to host a sizable number of guests, so we never felt like we were rushing for seats, nor did we feel compelled to finish up and go to make space for others (not that we ever chose to overstay our welcome). There was in-restaurant live local music each day too, which added more local flavor to the ambiance.
More in the next post – the not-so-good.
Ko Pha Ngan – Planning
We finally decided last evening on our December vacation spot, going ahead to book a flight for all of us, and also put in a booking for our choice of accommodation too. For a week in December, we'll be at Ko Pha Ngan – an island just north of Ko Samui – and likely staying at the Santhiya Resort. Though I had a budget to work with, there were so many options and accommodation permutations within that budget trying to find that elusive mix of the best accommodation with the best options on the best travel times and dates that I pretty much gave up and went with what looked like the best balance between our requirements.
Of the places:
Nha Trang was a real possibility but we ended up dropping the city from the shortlist as the layover period time would had just too long for Peter. We did think about spending a couple of days in Ho Chi Minh to ease out the layover, but that would have stretch our vacation period even longer. We were told by the resort that while the weather was going to be cool, it would likely also be rainy – what a bummer.
Maldives got added to the shortlist late in consideration, but got dropped just as quick after the projected cost of an approximately week-long stay would have over-shot our budget by quite a bit.
In the end, it was basically a toss-up between Ko Samui and its neighboring island Ko Pha Ngan, both on the east coast of Thailand. The resorts we especially liked in Ko Samui were pretty decent, well-appointed for the most part, and many had their own pools villa-styled, and were pretty large, with several unit areas of a hundred square meter area and more. The size of a middle-size HDB apartment easily. But the cost of these accommodation at Ko Samui were relatively high, and the beach qualities quite variable. We did especially like the Buri Rasa Village, as it had among the most promising beaches around, was nicely located – but the cost accommodation unit we looked at was a tad small at 80sqm, and the main/common pool rather small too. But we eventually decided on Pha Ngan.
Pha Ngan is less dense in terms of its accommodations but also less varied in range, and also reputedly offering slightly better beaches too. Accommodation options were very slightly cheaper if also less swanky. While the pictures of the beaches looked more attractive than the ones we saw at Ko Samui, we weren't willing to chance for a swim only at beaches. That meant we needed a resort with a decent-sized main/common pool, and also – if we could find it – a unit with a larger private pool too. There weren't many accommodation options of a particular 'quality class' on the island, and among these, only the Santhiya ticked all the boxes: a fairly large villa at 115sqm, a larger than normal villa pool, and a large common pool, and the accommodation cost somewhat high but just within what we were prepared to spend. As a bonus too; the resort had its own private beach, the villa option we booked was well-away from the beach-front too  (and thus hopefully quieter), and the resort grounds apparently quite spacious.
Ling was initially a little skeptical about heading up to Pha Ngan rather than staying on Samui, and wondered if it was a self-contained island; because if it wasn't, it'll mean we've have to frequently travel back to the main island every time we wanted to do something else (like eat outside the resort LOL). Thankfully, the island seems the former – with its own town center, restaurants, infrastructure, natural areas and the like. Not that there's a lot to do in either island, but this trip we're primarily intending to just stone and vegetate rather than sight see.
More to come later once I've worked out a sort-of itinerary!