Two colleagues of mine – both Apple fans – and I were talking about the Macbooks and iPhones yesterday afternoon. One was surprised, like my Kumamoto colleagues last year during the teaching trip, that I used my Macbook Pro primarily to run Windows 7 and not the Apple OS. As I explained to them: I like the Macbook Pro's hardware design and form factor, but I dislike their OS. Once the other notebook manufacturers catch up in terms of notebook build (HP's Envy series sure looks close in addition to Sony's overpriced Vaios), I'll likely go back to using a dedicated Wintel notebook.
The mobile phone and techforums are yet again abuzz with the latest installment of the newest Apple debacle over signal loss in the iPhone 4G if you hold that phone in a certain way. Shockingly, Bloomberg uncovered information that suggests Apple was actually already aware of this a year ago when their senior antenna expert pointed out that the 4G phone's design was going to lead to signal loss.
Apparently, Steve Jobs not only did not apologize for the 4G design flaw that's led to owners experiencing signal loss and even reception disconnections, he's even all but claimed "but hey, every other phone has the same problem as ours", and dragged in Samsung, HTC, Nokia and RIM, manufacturers of the Blackberry devices.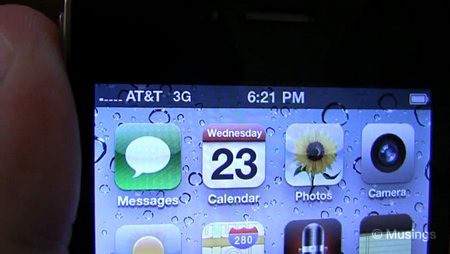 One's never certain what's going on in Jobs' head, given the enigma he is. But one thing's for sure: in the last 12 months, it's been one PR Fail after another for Apple. First, it was the employee suicides from Foxconn, the company that pundits call the slave labor camps for Apple and a bunch of other computer hardware manufacturers. Then there was the shocking police raid on Gizmodo's editor's home after he did a world scoop on the insides of the then-yet to be released iPhone 4G. And now finally, this.
Not surprisingly, Nokia and RIM isn't taking Jobs' latest tirade lying down. But Nokia's certainly a lot more polite. They said in their press statement:
"Nokia has invested thousands of man hours in studying human behavior, including how people hold their phones for calls, music playing, web browsing and so on. As you would expect from a company focused on connecting people, we prioritize antenna performance over physical design if they are ever in conflict."
They didn't mention Apple and Jobs' attack on (their) mobile phones, but there's no mistaking that their response was directly specifically at the 4G's antenna design issues.
The RIM co-CEOs however, practically snarled back at Jobs when they issued the press statement below: (formatted for easier reading):
"Apple's attempt to draw RIM into Apple's self-made debacle is unacceptable. Apple's claims about RIM products appear to be deliberate attempts to distort the public's understanding of an antenna design issue and to deflect attention from Apple's difficult situation. RIM is a global leader in antenna design and has been successfully designing industry-leading wireless data products with efficient and effective radio performance for over 20 years. During that time, RIM has avoided designs like the one Apple used in the iPhone 4 and instead has used innovative designs which reduce the risk for dropped calls, especially in areas of lower coverage.
One thing is for certain, RIM's customers don't need to use a case for their BlackBerry smartphone to maintain proper connectivity. Apple clearly made certain design decisions and it should take responsibility for these decisions rather than trying to draw RIM and others into a situation that relates specifically to Apple."
OUCH LOL. The online forums are a hilarious read right now with many pointing out that this is the equivalent of RIM's response to Apple to go *(expletive)* themselves for dragging them into their own cesspool of a mess.
In moments like these, I sure am glad again that I dumped the iPhone. It's hard to support a company that displays this level of arrogance.