iphone
now browsing by tag
iGrip
Two colleagues of mine – both Apple fans – and I were talking about the MacBooks and iPhones yesterday afternoon. One was surprised, like my Kumamoto colleagues last year during the teaching trip, that I used my MacBook Pro primarily to run Windows 7 and not the Apple OS. As I explained to them: I like the MacBook Pro's hardware design and form factor, but I dislike their OS. Once the other notebook manufacturers catch up in terms of notebook build (HP's Envy series sure looks close in addition to Sony's overpriced Vaios), I'll likely go back to using a dedicated Wintel notebook.
The mobile phone and techforums are yet again abuzz with the latest installment of the newest Apple debacle over signal loss in the iPhone 4G if you hold that phone in a certain way. Shockingly, Bloomberg uncovered information that suggests Apple was actually already aware of this a year ago when their senior antenna expert pointed out that the 4G phone's design was going to lead to signal loss.
Apparently, Steve Jobs not only did not apologize for the 4G design flaw that's led to owners experiencing signal loss and even reception disconnections, he's even all but claimed "but hey, every other phone has the same problem as ours", and dragged in Samsung, HTC, Nokia and RIM, manufacturers of the Blackberry devices.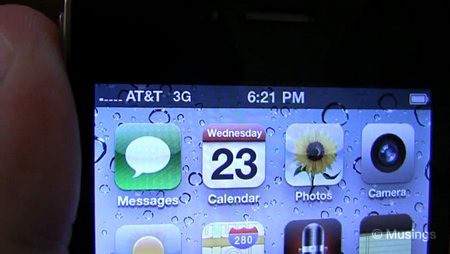 One's never certain what's going on in Jobs' head, given the enigma he is. But one thing's for sure: in the last 12 months, it's been one PR Fail after another for Apple. First, it was the employee suicides from Foxconn, the company that pundits call the slave labor camps for Apple and a bunch of other computer hardware manufacturers. Then there was the shocking police raid on Gizmodo's editor's home after he did a world scoop on the insides of the then-yet to be released iPhone 4G. And now finally, this.
Not surprisingly, Nokia and RIM isn't taking Jobs' latest tirade lying down. But Nokia's certainly a lot more polite. They said in their press statement:
"Nokia has invested thousands of man hours in studying human behavior, including how people hold their phones for calls, music playing, web browsing and so on. As you would expect from a company focused on connecting people, we prioritize antenna performance over physical design if they are ever in conflict."
They didn't mention Apple and Jobs' attack on (their) mobile phones, but there's no mistaking that their response was directly specifically at the 4G's antenna design issues.
The RIM co-CEOs however, practically snarled back at Jobs when they issued the press statement below: (formatted for easier reading):
"Apple's attempt to draw RIM into Apple's self-made debacle is unacceptable. Apple's claims about RIM products appear to be deliberate attempts to distort the public's understanding of an antenna design issue and to deflect attention from Apple's difficult situation. RIM is a global leader in antenna design and has been successfully designing industry-leading wireless data products with efficient and effective radio performance for over 20 years. During that time, RIM has avoided designs like the one Apple used in the iPhone 4 and instead has used innovative designs which reduce the risk for dropped calls, especially in areas of lower coverage.
One thing is for certain, RIM's customers don't need to use a case for their BlackBerry smartphone to maintain proper connectivity. Apple clearly made certain design decisions and it should take responsibility for these decisions rather than trying to draw RIM and others into a situation that relates specifically to Apple."
OUCH LOL. The online forums are a hilarious read right now with many pointing out that this is the equivalent of RIM's response to Apple to go *(expletive)* themselves for dragging them into their own cesspool of a mess.
In moments like these, I sure am glad again that I dumped the iPhone. It's hard to support a company that displays this level of arrogance.
Cambridge and Abouts – Part 2
The posts on my MIT trip here are all tagged as 'Boston' – but that's really a bit of a misnomer. Because while all the attractive sites of visitation are indeed in Boston, I'm really living and working in the neighboring city, Cambridge.
According to the Wikitravel's article on Cambridge, this city has a thing about 'squares'. There's Potter Square (nearest to where I'm staying), Kendall Square (near where I work), Harvard Square (where Harvard is), and Central Square – which I haven't visited yet – among others.
Several of these key city areas are all linked via the 'T' subway. The subway transportation network linking Boston and the immediately-surrounding cities is pretty intuitive. The lines are all color-coded (e.g. 'Red' – which is the line I'm staying along, 'Green', 'Orange'). I certainly had an easier time figuring it out compared to the unnecessarily complex compass direction-based names used in Singapore's MRT. Occasionally, I still have problems remembering all the different lines: EAST-WEST, NORTH-EAST, NORTH-SOUTH and what nots.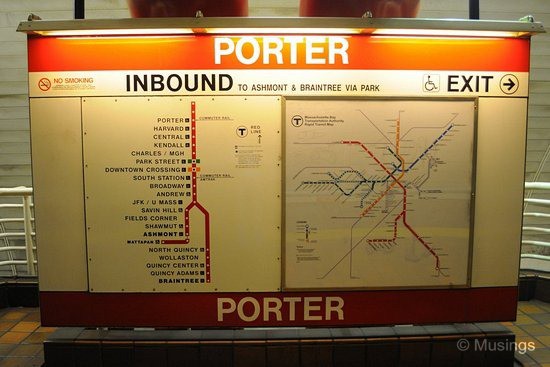 The train levels in each train stop vary greatly in depth. The Kendall/MIT one for instance – where I alight each day when heading to work – doesn't go very deep, but the one for home – Porter – runs at least two or three floors of depth. There's a very long escalator ride each time: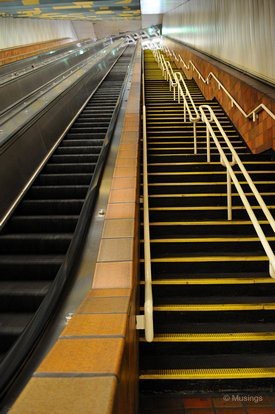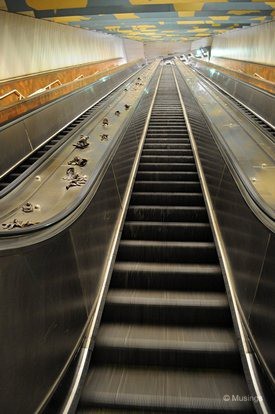 Not photoshopped, and the two pictures above don't even begin to hint how high the escalator goes. And it doesn't even go up to the ground level!
The train level platforms are all open: and imagine – back at home there's talk about whether these levels need barriers to stop people from jumping onto the tracks in suicide attempts.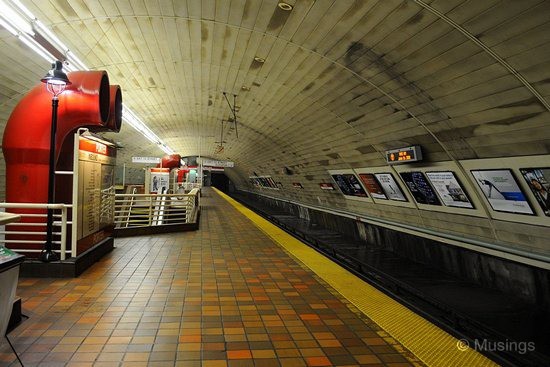 Incoming trains are routinely announced by the station's broadcast system, and awaiting passengers will feel an oncoming strong gush of air too indicating an impending train arrival. Sort of like a huge air-conditioning unit supplemented by ten 18-inch fans all switching on at the same time and blowing into your face.:)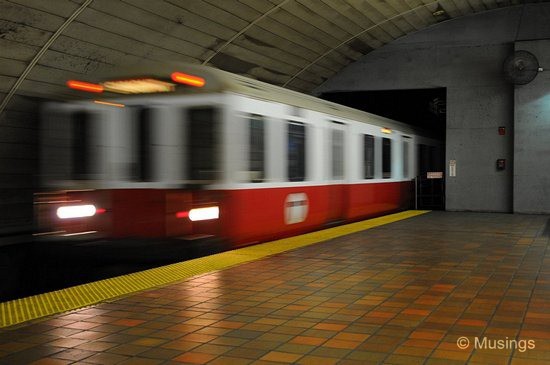 The trains themselves aren't terrifically wide though. In fact, they seem slightly narrower than Singapore's, and certainly much more so compared to those wide carriages I rode on everyday in Kumamoto City last December.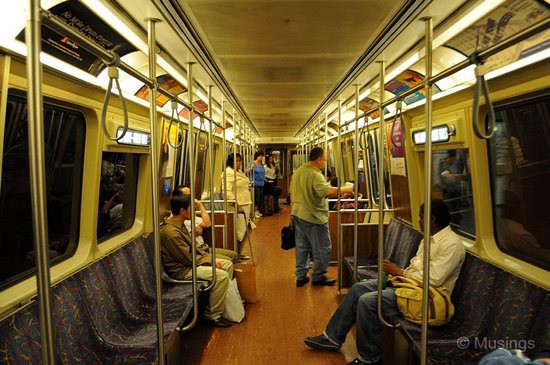 The trains tend to be quite pack during the usual peak hours, an indication of how much Bostonians rely on the public transportation network considering how expensive is parking and difficult driving is in the city.
One funny sight though which I first remarked when during the San Francisco trip last March was that the iPhone is really ubiquitous. In a row of six passengers, I'll see five of them (at least) all using their iPhones for music playback or just fiddling with them in general. On occasion I'll see the odd Blackberry and the candy-bar styled mobile – but those are more the exception than rule. Just for fun, I'll bring out my Android Galaxy S and playing around with it just so to show the other passengers who bother to look that there's really a world outside the iPhone. Frankly, owning an iPhone no longer makes you distinct. It makes you part of a compliant lemming crowd in my opinion.
In any case: now that I've covered the transportation and residential part, I'm gonna do a next post on the Streets of Cambridge. When I have enough pictures anyway. Before that though, I still have posts to do after visits to the Museum of Science, the (VERY!) lovely Butterfly Garden in that Museum, the Museum of Fine Arts (lots of Monet and Renoir), the Boston Public Library, and the Skywalk Observatory:)
iPhone 4, Androids and New Media
The iPhone4 was just announced a few hours ago at the Apple WWDC 2010. Not surprisingly especially considering the several prototypes that have got leaked then dissected in the earlier months, there wasn't really anything terrifically surprising about Apple's new upcoming phone – and apart from the very high 960 x 640 pixel resolution display, there seems little else that's really grabbing people's attention the way the 3G did 2 years ago. Pundits are already pointing out that Apple is going to have a hard time dominating the smartphone market with its new toy this time, what with the landscape completely now changed with the availability of so many excellent Android-based phones (like mine LOL).
After having spent nearly a week with the Samsung Galaxy S, I'm still terrifically happy with it. It's responsive, speedy, and I like the feeling of not supporting the new evil empire. I've dumped onto the phone nearly every one of Hannah's HD videos (all 14 GB) taken since February this year, and the 'droid handles all of it very well. This is going to be real important for me since I'm going to miss our dear girl when I'm away.
Here's a fun photo that was taken over the weekend. There was a new Toastbox breakfast place situated at the basement level of Compasspoint. Items were relatively pricey, and the fare was only about average. Hannah took an interest in the new phone too.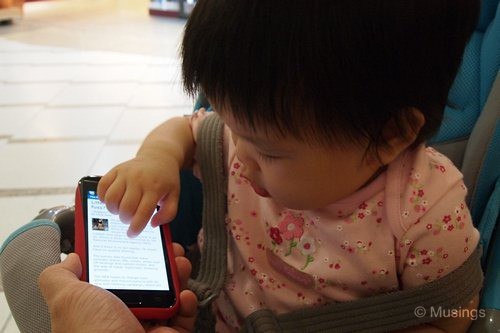 Hannah approves.
Jasmine and I were discussing over Hannah's birthday party too about kids' exposure to Facebook and mobile phones today, and it's given me food for thought on whether and how should children be taught responsible use of technology and social media. It's not an easy question to answer, and I don't think there's going to be a one-size-fit-all solution. As much as we might like to think of sites like Facebook (or whatever is the in thing for the day) being especially risky for younger persons what with the dangers of sexual or opportunistic predators that lurk around, the reality is that technology and new media have become so pervasive that if you don't introduce them to kids at some point, they're going to find out on their own anyway and you would have lost that window of opportunity to guide them in their first explorations.
Well, it's something for me to think about and likely write on once I get my thoughts together on it.
These are the Droids you are looking
The Samsung Galaxy S Android phone from Singtel arrived just within its delivery period yesterday afternoon, and Ling was at home to pick up the package. Curiously, Singapore's the first country internationally to get the Galaxy. The phone will only be available in the US much later this year.
Having spent a day on it, I'm very happy with it. Certainly more so than with the mixed feelings I had when I first picked up the iPhone 3G 14 months ago.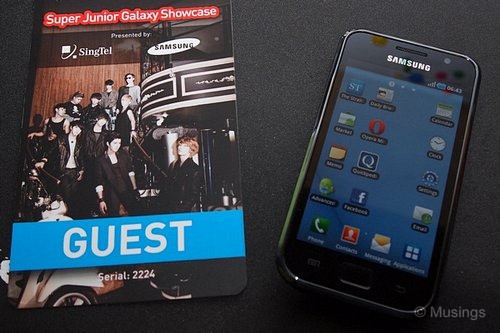 The package came with two Super Junior boyband tickets. Had no interest in them, so gave them to two of my students. These tickets are auctioning online now for ~$400. I must had gone mad.
—
Anyhow: my comments:
Everything about the Galaxy feels way, way more responsive than the iPhone… which was terrifically sluggish by comparison, even after restoring the phone back to factory state. The iPhone 3G was just s l o w.
Lots of customization options, and certainly more than the iPhone too. Steve Jobs' idea was to build that walled garden but at the expense of control and modifying the phone to work exactly the way I wanted it to outside jailbreaking the thing (which I did).
Putting Hannah's pictures and HD videos onto the phone was a cinch! Just hook it up using the supplied USB cable, mount the device, and it shows up in Windows Explorer. Compared to the iTunes hoops that the iPhone made you jump through just to get media onto it.
All the productivity applications and utilities I use are free off the Android marketplace… compared to the about USD30 I forked out in the first month buying the same applications for the iPhone. The Galaxy even reads Powerpoint 2007 slides – very handy so I can prep my presentations on the move without printing out hard copies.
Living wallpapers – very nice!
And there's the hardware specification: the stunning super-Amoled supported by a larger screen and higher resolution. The upcoming iPhone 4G might equal or better these specifications, but if the experience of the iPhone 3G released here in Singapore is any indication, we might not be seeing it here until months after the US release.
On the other hand:
The Galaxy feels more fragile than the iPhone, with its thumbprint-inducing glossy plastic casing. Must get a skin or case for it.
The  Samsung's own TouchWiz UI is pretty slick. But the iPhone OS felt more cohesive, if very marginally so only.
But those were the only two things. On balance, the Galaxy for me is a far superior, useful and more productive device than the iPhone was. It's a keeper for me.:)
Bye Bye iPhone
Well, it's been a love-hate relationship with the iPhone 3G I've been using for 14 months now. The OS interface is gorgeous, and there continues to be a huge store of apps available for it.
But the phone hasn't been without huge issues too. E.g. paying for utilities which I feel ought to be baseline and built into the phone especially considering that there are phones which already offer that. Like a better SMS facility, or the ability to view Office documents, and document storage.
More seriously though is that since November last year, the phone has experienced SIM card problems which render it completely unusable unless I reboot the phone – but the freakin' phone doesn't even ring out an alarm when it happens to begin with so how would I know.
I've been keeping an eye on Android phones, and decided this morning to go for a crazily attractive promotion that Singtel was having: basically, the Samsung Galaxy S phone which has won rave reviews. The phone is suppose to retail at close to a thousand moola: but after completing the online order, it cost me just… $48.
Yeah – I was really surprised too! How did that happen?! Well…
– The voice/data plan I opted for will cost less than my current equivalent plan with M1 – wow.
– Singtel is giving me $150 worth of discounts as a welcome package.
– The package also comes with a pair of concert tickets for this South Korean boy band… and people are selling those tickets online now for between $400 to $500.
So, if I were to sell those tickets, I'll actually be coming out of this arrangement with a new phone and $400 richer LOL.
Only thing is that I won't be selling those tickets. Call me crazy; but I'll be giving them away to my students.:)
Much Ado About iPhones
The Internet-tech world is abuzz with the iPhone 4G Loser controversy right now – which really is more the irony that the news sort of replaces the screaming headline news of the recently released iPads earlier this month, and how local retailers here are selling their units for twice the retail price.
As the story goes: someone who was working on the iPhone 4G accidentally left it behind at a bar. The unit gets picked up by someone else who initially intended to return it to the owner, but upon realizing that the unit was the top-secret iPhone 4G, had a change of heart and instead put it up for bidding. Popular news site Gizmodo apparently paid an princely sum involving four-digit figures to pick up the device, which they next proceeded to dissect – and then determine that yep, it's the real thing. Apple, not surprisingly, now wants their toy back, and there's talk of law suits coming down Gizmodo's direction.
Opinion sure is divided whether the leak is deliberate on Apple's part. On the one hand, some think it's inconceivable that Apple would knowingly leak out what is a bonafide prototype of a hot product, knowing their penchant for jealously guarding product secrets (and people have committed suicide apparently out of terror of what Apple would do if you bloop there). On the other hand, others are saying this must be one of Apple's cleverest 'gotcha' tricks they're playing – they've deliberately let out the leak just to generate free publicity for their next big toy.
Either way, I'm tempted to just dump the Apple iPhone when the thing wears out and just go for an Android phone next. The phone's got a fatal defect now – at least two or three times a day, it'll state dumbly "No SIM card installed". And everytime that happens, instead of an iPhone I've got an iBrick.
Year in Review – 2009 – Part 1
It's come to that time in the year again where I get to look back at some of the most major decisions this year and and with the benefit of a mite bit of hindsight look at how they went. This is gonna be a long post, so it's gonna be posted in parts.
Switching to the iPhone (Win… maybe). Now that the novelty of the iPhone has worn well-off 7 months after picking it up, I've still got mixed feelings of what pundits call the Messiah Phone but thankfully it's still mostly on the positive side of things. Sure it's got a great UI and a huge online store which is choked full of both free and paid applications. I used its mobile Mail program a lot, and that it can sync with Microsoft Exchange for work email is a god send. On the down side though, the phone's still too clunky and prone to mysterious crashes.
Buying a portable HD camcorder (Mixed). The Panasonic HDC-SD20 camcorder I picked up in March this year was on account of Hannah coming along, and also for my San Francisco trip. I think of all the camcorders I've owned, I've shot more video on this Panasonic unit than all the others combined – especially of Hannah. That's testament to how useful the tool is. That it takes video in the MPEG4-AVC/H.264 codec saves a lot in by way of storage space, but at the (huge) expense of editing work. Either I fork out money for Adobe Premiere Elements, or I convert the .MTS file to a more editor-friendly codec like .AVI and work from there using free tools.
More seriously though is that the camcorder is awful in lowlight… and a month after I purchased the unit, all the other competing camcorder manufacturers came up with their own line of budget HD camcorders, many with even better specs. Ouch.:(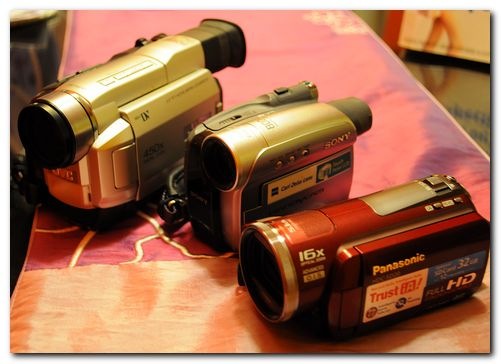 Buying the huge lemon, whoops iEcologi (Lost). Ling did a lot of homework on this one, and while she was well-aware of its less-than-desirable characteristics (especially weight and effort-to-floor cleanliness ratio) she was still absolutely sold on the utility of this product. We forked out a huge wad of cash for this baby, and since February, the number of times she's used it can be counted on two hands… maybe. It's painfully heavy, requires a lot of post-use maintenance, and requires way too much effort to get a clean floor that we could achieve by hand-mopping, Japanese style, in 1/5 of the time spent.
The one thing we can't do using the latter is sanitation which we don't need to yet, but Ling says as soon as Hannah starts crawling, she's going to dust off the cob webs off the iEcologi and use it more often. We'll see.
The MSI Wind (Win). This one's easy – considering that this little netbook has accompanied me to San Francisco, spent several nights at Thomson Medical Center, and has been thrown into and taken out of backpacks countless times… and has yet to miss a beat. Ok, so the limited screen resolution of 1024×600 means I have to keep scrolling vertically when I read stuff off the web, but it's hard to complain for the low price I paid for it compared to the immense amount of photo productivity I've got out of it. Why pay a lot of money for portable photo storage when there're netbooks.
Apple MacBook Pro (In Progress). The new wave of CULV processor-equipped and Nvidia ION-powered with 11.6 inch LCD screen netbooks hitting the shops were really tempting, and was initially my choice for replacement of my NEC Versa E6310. I eventually decided to go with the Apple MacBook Pro though, and even Ling was surprised at my change of heart. At this moment of writing, I've only had the unit for a couple of weeks so my evaluation on whether it was a good or bad decision is still in-process.
More in the next post.:)
Expensive Apples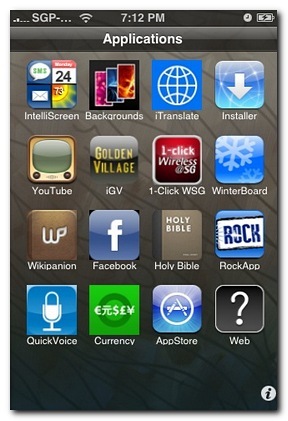 On the overall, whether the iPhone's of any good to a person depends on what's more important in that device to him. As a mobile phone, the iPhone really isn't very good. Messaging is difficult without an alphanumeric keypad or a T9 dictionary, and out of the box is crippled without landscape orientation or message forwarding.
As a productivity device for you to carry documents and files around, it's also poor. Short of jailbreaking the device and installing third party software like DiskAid, the iPhone out of the box doesn't allow you to directly access its built-in storage – which basically severely limits the device and its massive space to just music and video content. If document viewing and business productivity is important and forking out money for third party software is an effrontery to you, stay away from this phone too.
What does work is when the iPhone is used as a mobile Internet and entertainment device. Not to a netbook's ability of course. But viewing emails on the go work well, as does news and maps reading, and Youtubing. The music playback from other reviews is adequate and isn't nearly as good as say Nokia's line of music phones, but I don't intend for my iPhone to be a MP3 device – not when the Cowon D2 is a far superior player. And believe it or not: I got better audio through earphones on even the cheapo MSI Wind netbook than the iPhone – and it has a graphic equalizer to boot (missing on the iPhone).
The iPhone in my take isn't value for money. For what it brings to the table, you get beat back by SGD938 for the 8 GB model, and you'll need to fork out more for critical software that you normally get built-in in other phones.
So who then is this device for? Well, The Apple Faithful have never needed reasons to throw more money on overpriced toys that come out from their Gods at Cupertino, California. For the rest of us, I think it all comes down to whether you have (a lot of) money to burn, and whether portable Internet and entertainment is more important than phone functionality. If it's 'yes' to both, then well this is one device you'd enjoy.
Better Apples
The Fruit Phone has actually been called the Jesus Phones by bloggers and fans. It sure can do a lot once you get over what it can't do LOL.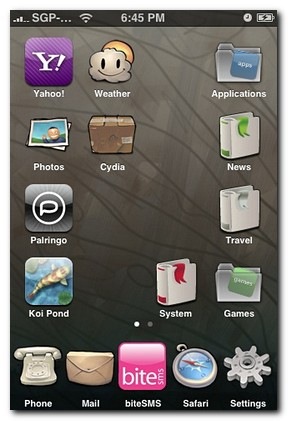 Great UI. I can't put on my finger on a single aspect of the iPhone OS that makes it so visually pleasing. I'm guessing it's a combination of the font styling, shadow effects, and overall color scheme. Windows Mobile 6.1 has improved a lot but is still a few steps behind in this department. But Google Android looks pretty close, and Palm Pre I think will match the iPhone OS in the visuals.
Range of protective accessories. You want casings, you've got casings – of every type, shade, color and material. They're not all cheap though, but the Chinese have got into the act with their cheap knock-off protective casings on eBay. I've never quite liked the silicon-material casings, so picked up one which was thin plastic with metallic linings instead.
USB charging. The two Sony Ericsson mobiles I had prior to the iPhone also allowed for simultaneous battery charging and data synchronization, as did the old Windows Mobile Dopod 577W I used 3 years ago. But not every mobile handphone even today supports this. That said, the iPhone uses a proprietary cable, which means I'll have to buy a second cable to use in the office. Would had been nice if a standard mini-USB cable was used: I've got many of those at home now.
Location sensing with AGPS! The positioning sensor isn't always accurate and can hit / miss by quite a bit, but when it does work, several applications become real useful: Google Maps, transportation guides, nearby car parks, shopping malls and shops etc.
(Some) Free applications that are really useful. On top of the news readers and transportation guides, there's Skype. Ling and I tried doing the Skype calling routine just now using the MSI Wind and iPhone – and it worked very nicely.:)
Concluded in the next post!
China Apples
No, this isn't a post by Ling about the apples imported from China sold at NTUC. Rather, there's a little imprint on the back of my Apple iPhone that says "Made in China". If there was ever a bad omen, this would be it!
In all seriousness though, the 8 GB iPhone I picked up for SGD 798 post W890i trade-in didn't give me any surprises. Not when the phone has already been reviewed, criticized and praised to death online with its every nuance and capability already exposed. That said, here's my list of likes and dislikes.
Starting off with dislike because it's a longer list than likes. I won't be making reference to the semi-dated hardware specifications (screen resolution, battery life, lousy camera, missing video out of the box) since there's not much that can be done about those now.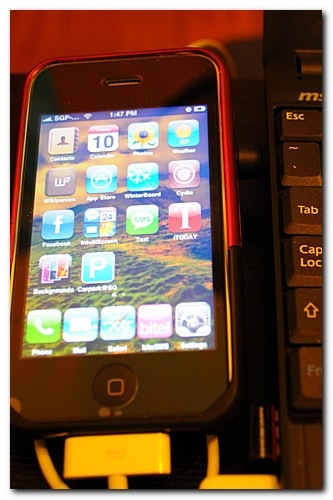 Dumb down out of the box. It's just strange that the The Apple Faithful is so forgiving towards Apple's paranoia in locking down and limit what goes into their devices. Must be subliminal mind control at work. If it wasn't for the thriving mod and development community that's providing widely available tools to jailbreak the phone, my decision to give the device a try would had been a non-starter. So, an hour after playing around with the device at home to see what the iPhone's default shipped state was like – just so I can say I gave it a chance – I jailbroke it. The device is essentially half-crippled otherwise.
No alphanumeric keypad to SMS with. No kidding. Every other smartphone or wannabe has an alphanumeric keypad for messaging – except the iPhone. I made so many mistakes using the onscreen QWERTY keyboard trying to compose a simple message that I all but gave up. Ok, so the upcoming OS upgrade will allow QWERTY keyboard in landscape orientation, but for the moment, you have to pay for SMS software to do this. Yuck.
No PC-to-iPhone messaging. So, every message that goes out now has to be on the yucky iPhone keyboard. No more of those uber fast messaging I've been doing for the last 3 years on Sony Ericcson phones. There's the Veency client-server software of course, but it's mind numbingly clunky. And also that Chinese Panda iPhone PC suite software – which I tried and promptly crashed.
No Bluetooth-syncing. Unbelievably too. I'm not asking to sync movie, music, or large data files. Just Outlook Contacts. And just exasperating that I can't do that without the USB cable.
No printed manual. OK, so there's the online manual. But I would have liked a printed version to be included in the box for me to look for the odd instruction I can't figure out on my own.
$$$ for key applications. Yeah it's nothing new here, but as many as there're applications in the iTunes store and Cydia, a good number of the essential ones will still cost you. Bleh.
Ok – enough gripes. Next post I'll write about stuff that worked for me.:)