iPad
now browsing by tag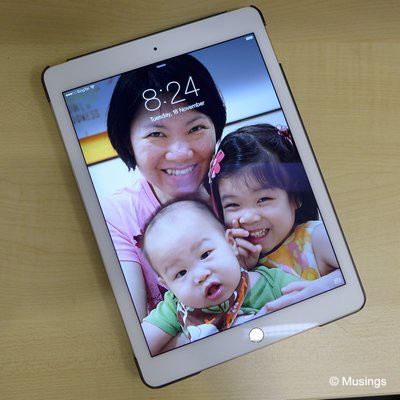 iPad Air 2
Ever since picking up the iPad mini Retina in June this year, my mobile data usage has shot up significantly, and each month at about its fourth week, I start having to put very close attention and ensure that I don't bust the data limit given in my current mobile phone plan.Case in point: a couple of weeks ago while at Hannah's K1 concert, I browsed for about an hour or so while waiting for her class' turn on stage – and within that period, chalked up almost 200MB of data usage. And mind you, these were just browsing through the bunch of hobbyist discussion forums I follow. I guess it's a sign of how much I've been using the 7.9 inch tablet on the go.
That got me started thinking seriously about subscribing to a dedicated mobile broadband plan. I was fairly certain what the upper limit of my usage was. But there aren't that many providers of such services here in Singapore, and in Singtel and M1's case, their pricing tiers and bundled mobile data are roughly in the same ballpark. Starhub provides a bit more data along its price tiers, but that increased data limit loses its luster as their package with tablet device deals seemed a little higher than its competitors. Since a new tablet was going to come with the subscription plan I was interested in, the big decision to make was which tablet. My preference was to go with an approximately 8 inch tablet again, but:
Samsung Galaxy S 8.4: regarded as one of the best ~8 inch Android-based tablets currently available. Slim, light, gorgeous screen and a decent processor. The discounts going with the bundled package though weren't particularly attractive against what you'd pay on retail. And while magazine reviews reported on its long battery life, actual user reports were less sanguine.
Galaxy Nexus 9: which was released at just about this time. Unfortunately, none of the telcos offered this tablet alongside its packages – possibly at least on account that the LTE versions of it weren't available yet.
iPad mini 3: Apple's update to the Mini Retina I've already got, but from all counts, is a very minor bump with its addition of Touch ID.
iPad Air 2: Slimmer, more powerful version of the iPad Air from last year.
The new iPad mini 3 was dropped from consideration quickly: I really didn't want another mini that was nearly identical to the one I've already got, specs wise. The decision came down to the Galaxy S 8.4 or the iPad Air 2. The latter package offered attractive discounts against what I'd pay on retail, but the price of a package with the 64GB model was still pretty hefty. And as the app stores go, as ardent an Android fan I am, the reality remains that tablet apps generally just run and look better on iPads than Android tablets.
So, the iPad Air 2 it was. And having used it for a week now:
Screen's good, and the color gamut is quite different from that of the iPad mini Retina, and also the iPad 4.
The iPad Air 2's processor is reportedly loads faster than the previous iPad generations. In normal use, things do feel just a tad more responsive, but the difference isn't large enough to startle.
The device is thin. In fact, so thin that you'll want to protect the tablet quickly with a good case! My first iPad slowly broke down after Ling accidentally stepped on it years ago. This new iPad will probably just break in two if the same happened.
Touch ID took some configuring, but once properly setup, has worked very well. Loads more convenient to unlock the tablet now.
Battery power does indeed seem to expend itself quicker than the mini or iPad 4.
All in, the iPad Air 2 is quicker, smoother, and more pleasing to use. Just a pity on the shorter battery life and also form factor – if only this device came in an 8.4 inch size!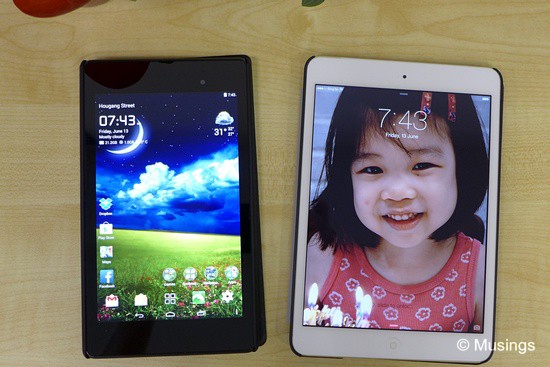 iPad Mini Retina and Old Flower Eyes
Six months ago I picked up the Google Nexus 7, that very compact Android tablet designed by Google. The tablet is still very much alive – to/fro from home and work every day, and inside the side pockets of my berms over the weekends. Something happened though that I didn't anticipate when I bought the Nexus 6 months ago – specifically, that I'd start developing Old Flower Eyes (short-formed to OFE for this post) earlier this year. For our Ang Mo buddy, Old Flower Eyes is a literal translation of a Chinese phrase that describes Presbyopia. The funniest thing is that I only realized I was gradually developing OFE in February this year, though the farsightedness started around the end of last year already.
As for what to do with it; the optician I went to to consult if I needed a pair of progressive glasses shared – with a chuckle – that a pair of such glasses will nicely solve the reading difficulties I've got, but I shouldn't get them yet – because my eye-sight has yet to worsen to the point it won't get worse. Gaaahh.
in the mean time, the Google Nexus 7 and its compact screen was making it harder to read things now. Oh, I had a custom ROM installed on it that allowed for a generous re-sizing on-screen fonts, but it wasn't fool-proof, and many a time, the font had to get so big, that a simple web page with any length of text would mean a lot of scrolling just to get to the end of it. I'd initially intended to pick up the third generation iPad mini at the end of this year to replace the Nexus 7 then, but the worsening eyesight basically brought forward that purchase, and I settled for an iPad Retina Mini LTE; the second generation model in its series.
The new iPad still fits nicely into the side-pockets for most of my berms, though not into the pockets any longer – not quite like the Nexus 7 which could fit easily, and even the jeans backpockets. The battery runs for quite a bit longer than the Nexus too for my usage pattern, though iOS 7 still feels constricted in how far I can customize the look and feel of the tablet, especially coming out from the Android OS. It'll be interesting to see how the iOS 8 fares, though judging from the many preview articles about it now, it'll still be some ways off from the sheer customization possible only on Android.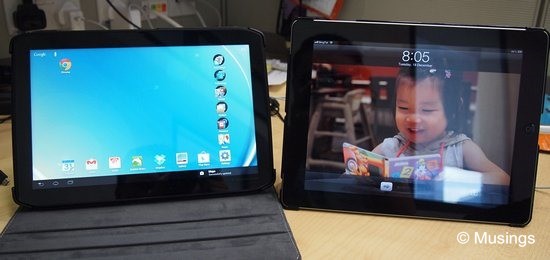 iPad (4) Retina
I had a Windows Live Messenging conversation with the wife yesterday afternoon, and it went like this.
"Dear, I have a confession to make."
"I know. You bought yourself a new toy?"
"!!! Dear, you're so clever.:)"
"When you have a confession, it's usually some purchase involving a certain sum of $$."
I blame this entirely on our Ang mo bud actually. He bought along his iPad Retina when he came to Singapore to visit in June this year and I got tempted LOL. Despite my dislike for the fruit company – the moreso now with its troll patent suits – Apple does continue to produce amazing tablet hardware. I'm less tempted with their phones, but the reality remains that the real Android equivalents of the recent iPad tablets simply aren't available in Singapore for them to be a viable alternative. I've had the Motorola Xoom for several months now, and while it works great as a media playback device (especially videos for Hannah to watch), it's general sluggishness and frequent browser crashes have made the tablet tiresome to use.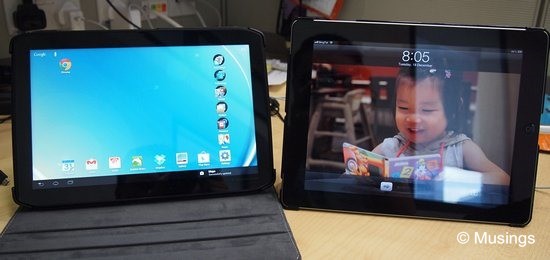 The new tablet is a pretty recent refresh of the earlier iPad Retina released this year, but with bumped up specifications – it's reportedly twice as fast as the earlier one – a slightly longer-lasting battery, and using a different power and data connector. Pundits are calling this the "iPad 4". Hannah's certainly thrilled, because all her favorite games are on the iPad.
As slick and smooth though as iOS6 is, the interface honestly looks real dated compared to the Android equivalent. And why I have to go through iTunes to transfer Hannah's videos onto the tablet is still beyond me. And while iOS maps look nice, I'm not going to trust directions on it, though what little I've seen from the Singapore maps seem about right.
Ling wasn't in the bit surprised of course. She chuckled: "iPad is still better right? Admit it."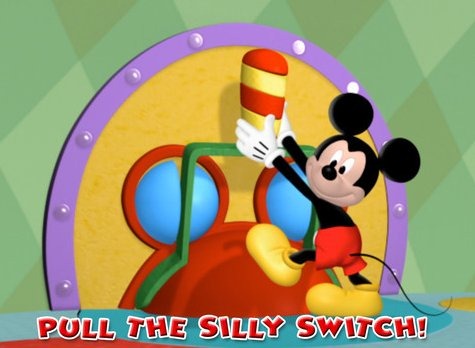 Mickey Mouse Clubhouse
Hannah – like us adults – goes through phases where she'll get really excited about a fun new toy or object every now and then. About a year ago, it was the ingenious "Where's My Water" on the iPad. For the last fortnight, it's been a Disney interactive feature based on its successful Mickey Mouse Clubhouse TV series. The game is a pretty hefty download at nearly half a gig, but since its release a few months ago, remains a free app on the iTunes store.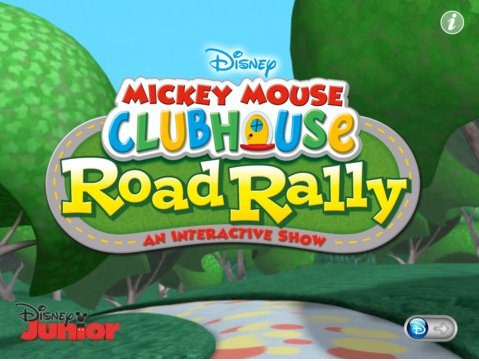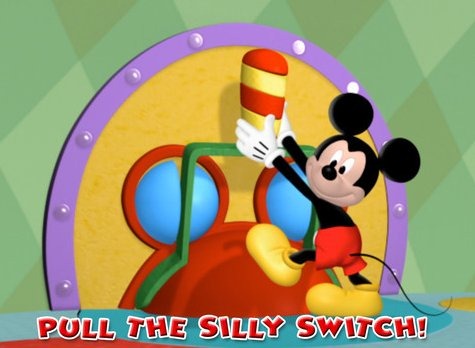 The app has several segments that sees Hannah interacting using the touch screen and motion sensors. The entire show takes about half an hour each time or so from my best guess to play through, and Hannah has still yet to get tired of it even after having completed it at least a dozen times now. In fact, she loves the characters so much that I've also started renting a bunch of episodes from the TV series too. At about the right time too, since we've just finished our second complete viewing through the about 100 episodes of Stargate Atlantis, and Ling remarked that we should start borrowing children's cartoons for Hannah to watch. I limit her playtime on the iPad or TV to about half an hour each evening though (for the rest of each evening, she'll be pleading for more!).
While waiting for the MacBook Pro Retina to arrive – at this moment it's still stuck at some DHL warehouse in Shanghai – I've been looking at children's operating systems to load up onto the MSI Wind for Hannah to start using. Still deciding which of the numerous Linux distributions to use!
Where's My Water?
Swampy the alligator has a problem. He lives in the city sewers and needs water for a bath. Unfortunately, that water isn't reaching his bath shower head because the pipes have all got messed up. Can you help him?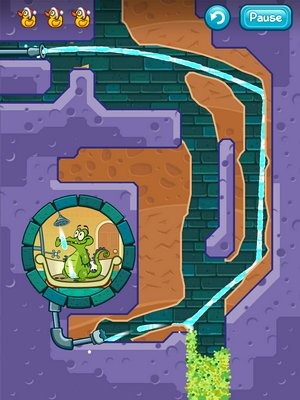 And so it goes for Hannah's newest thing. It's actually a lovely app created by Disney called "Where's My Water? ", and can be had for cheap at USD0.99. The game requires our girl to figure out little puzzles on how to guide water flow from source to Swampy's bath shower. The game comes packed with hundreds of puzzles, and some of the later ones are fiendishly difficult even for adults.
It's also become quite a bonding moment for daughter and daddy whenever we indulge in a puzzle or two each night for 15 minutes, and our girl will thereafter run excitedly to mommy explaining the different things she has been trying to solve each water puzzle.=)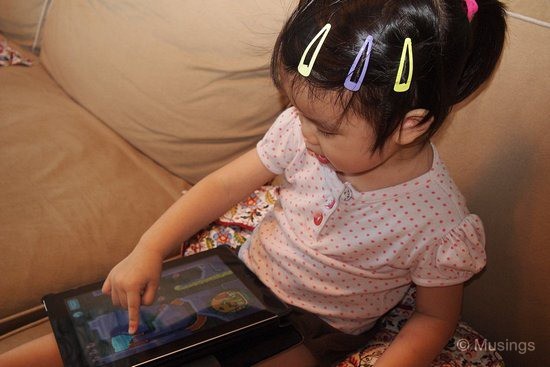 This isn't, of course, the only physics based puzzler around for tablet or mobile devices. There's the ubiquitous Angry Birds. But for some reason, Hannah never got quite into that even though she recognizes the animal creatures anywhere – she'll point at the animal plush toys at a toy store and say "Angry Birds!!!". On the other hand, she's loves Where's My Water!
As to fears on whether she'll get hooked; it doesn't look like it. She still very much loves the train set Ling bought her for Christmas, and still wants us to read with her her prayer book, or to do stickers with her.=)
"It just works…?" Not!!
I've had the iPad 2 for just over 2 months now. Never jailbroke it (it became possible just a few days ago). Never installed anything that didn't come off the iTunes store on it. Never used it for anything other than its intended use.
So, I decided to hook it up to iTunes this morning to see if there were any OS updates… and the iPad promptly crashed. Wouldn't even boot up. And the only option iTunes offered was to reset it back using Factory Restore. I lost all my applications and data, including an entire library of applications that I've collected for Hannah.
!@#!@#!@#!@#
And that wasn't the end of it. The Factory Restore failed the first two times even. And just when I was about to throw the iPad out of the window, the Factory Restore finally worked on the third try, inexplicably.
Apple's favorite mantra "It just works"?
What crock.
Jigsaws
Our dear girl has become quite attached to a jigsaw puzzle application I bought for her on the iPad. The application – My Jigsaw Puzzles HD – was another one of those USD0.99 apps, but the kind of engagement it has brought to Hannah far surpasses its very low price. The application uses pictures of cutesy animals that she recognizes from flash cards, and puzzles can comprise between 4 to 49 pieces.
Hannah's learned how to easily work out the 4 piece puzzles in just a few days, and navigate around the program, and can do the 9 piece puzzles with some Daddy assistance. Just incredible how toddlers pick up and learn new things!
Flashcards for iPad (INKids)
Since I started picking up apps for Hannah, I figured – what the heck; why not write reviews for a couple of them?
Shortly after picking up the iPad a few weeks ago, I started hunting around for applications to engage our little girl in. Granted, she's still pretty young at less than two years old, but as blogged elsewhere here, my dislike for the Fruit Company not withstanding, the iPad is a great parenting device.
One app that I tried out was a free version of a flashcards app, created by an Aussie company based in Newcastle, called INKids. This first app of theirs I picked up was called Flashcards. There are several other similar applications on the iTunes store, but this one is pretty slick. Starting up the application also runs up a little audio file that's of children yelling out the company name. As corny as that might sound, Hannah actually perks up whenever she hears it when the application starts. It's a great way to associate a product line to kids. =)
The Main Menu sorts all the Flashcards into eight sections, for example, Animals, Transport, Bodies etc. There are three other sections; one is a Word Match where you get three possible names for each subject and Hannah has to pick the right one, a Spelling Game that helps kids spell words through matching letters, and lastly a Shuffle facility that mixes up all the Flashcards.
The flashcards are very nicely voiceover-ed with a human. And that's something I don't take for granted; because I've got another flashcard application by someone else that uses what sounds suspiciously like an automated computer voice, leading to hilarious mispronunciation. All the artwork for each INKid's Flashcard application looks original too, and are beautifully drawn, iconic; and many of them contain audio samples too for objects or things that make sounds (e.g. animals).
The application is pretty configurable too. You can enable or disable the automatic pronunciation of words, record your own sounds for words, multiple language support, interval time periods between Flashcards. I would have liked it to be possible for users to add new Flashcards of their own (like in their next application called Futuba – will write about it later too), especially in view that there might had been more cards in the current suite, but oh well.
One especially nice touch is the ability to kiddie-Lock the application. It won't stop the application from returning to the Homescreen when the iPad button gets pushed, nor back to the Main Menu when Hannah hits the neighboring icon – but at least it's better than nothing.
The application costs USD3.99. Not as low as some of the other Flashcard apps, but it's really done up quite well, and I don't mind paying a little more for quality work like this here. The company has got two other iPad applications, and I liked this one so much I picked up the other two too.
Hannah loves INKid's Flashcards and it easily gets her approval. =)
Parenting Tools
A couple of colleagues and I were lunching this afternoon, and the lunch topic veered into the use of iPads as parenting tools. It was quite a funny conversation as we bounced around how the iPad is used as both incentive ("If you do well for this test paper, you will get one more hour with the iPad this weekend!"), and disincentive ("If you make Daddy mad, no more iPad for you!!!").
I've picked up a total of three paid Apps for Hannah so far, and boy – does she go through them real fast! She's nearly completely exhausted all the content in two of the kiddie educational game Apps already. All three Apps are from the same studio, and two of them are extensible – only thing is that I actually have to find the time first to create and record my own content first.
More pictures – thankfully non-iPad ones – and during Sunday brunch. =)
The Pad
If nothing else, ownership of the iPad has not given me any surprises. The tablet has been commented, praised, criticised, debated and reviewed to death; and like every other gadget I invest in, I didn't walk into the buying process without having thought it through, and done research. The iPad 2 – like every fruit device that's come out in recent years – is an engineering marvel. It's beautifully constructed, inspires confidence in build quality, and enjoys a very wide range of third party accessories to fit every fancy, color preference and wallet-ability.
It's further supported by an App Store that, still at the moment, surpasses what the Android market has – though this is projected to change by August this year. The Apple iOS is rock stable, and the tablet quite responsive on the overall. I've also been able to get it to work properly with my Galaxy S as a mobile Wifi spot – which has saved me a bundle of cash applying for a multisim card for 3G Internet access with Singtel.
That said; my opinion of the Apple OS still has not changed. After experiencing the Android OS, what I can get out of the Apple iOS in terms of customization and configuring it to work exactly how I want it to still pales considerably. It's just limiting. Even something as simple as, e.g. putting a weather indicator on the tablet is impossible on the iPad – but it's something that's standard on my Android phone. All I get are icons and the odd folder on the iPad. No widgets to speak of. No animated wallpaper. No desktop calendar. I want to do any of those, I have to hit an app. And heck no Facebook games or any Flash content.
Oh well. I've picked up a bunch of children games and interactive apps for Hannah, including a couple of paid ones that's come out of an Australian development studio. One is for flash cards, and the other a word guessing game; both for a very low price of just a few dollars. Good stuff. Hope that Hannah takes after it soon. =)