HDR
now browsing by tag
Kumamoto in HDR – Part 4
And the last stack of HDR compositions: of Kyu-Hosokawa Gyobutei. These were the hardest HDR exposures I've done so far: they're all handheld shots taken indoors.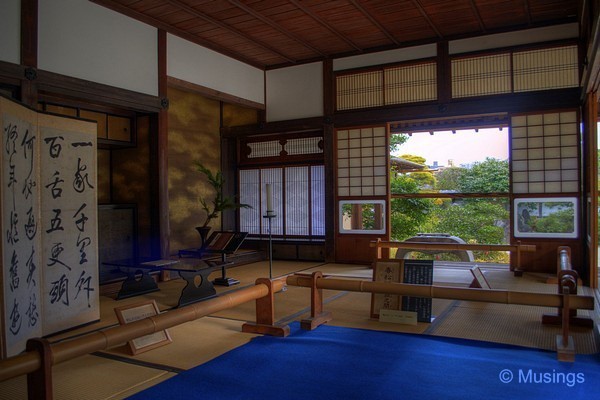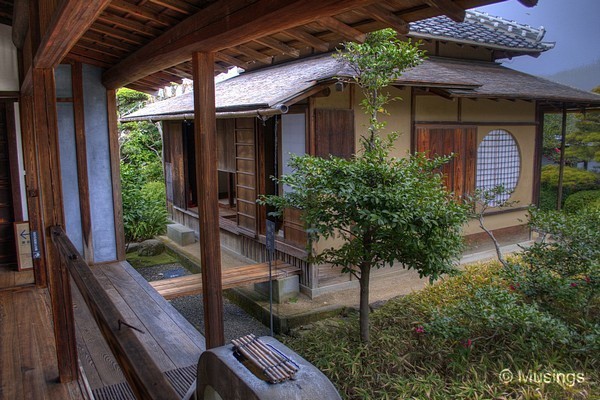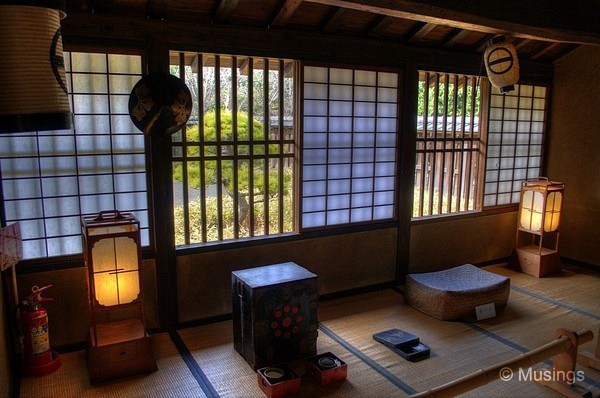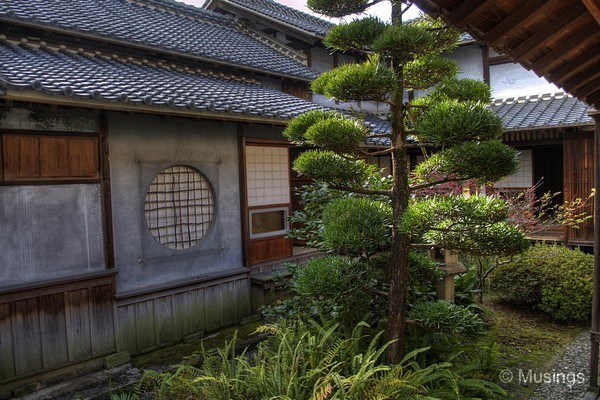 Well, that's a wrap for all the pictures taken of my stay in Kumamoto, Japan. Next up are the HD video files I shot – but I'll do those later; maybe early next year or something.:)
Kumamoto in HDR – Part 3
Another stack of HDR compositions taken in Kumamoto City, and this time of Suizenji Gardens  Several of these I stabilized with the Gorilla Pod, with the composition itself was created from 9 exposures.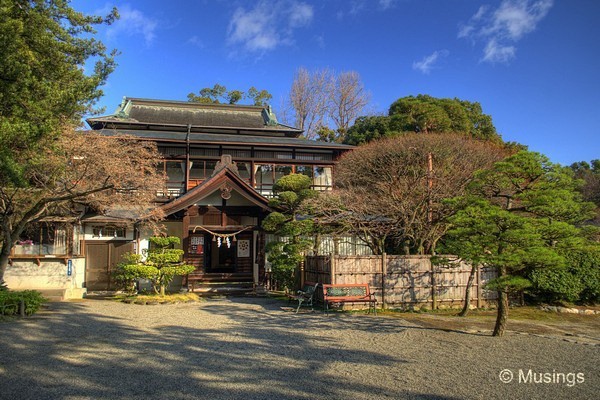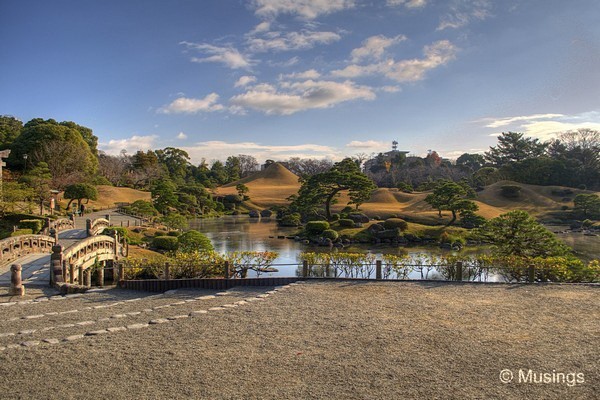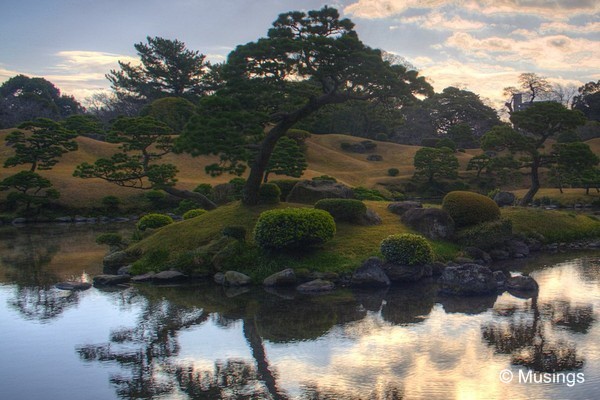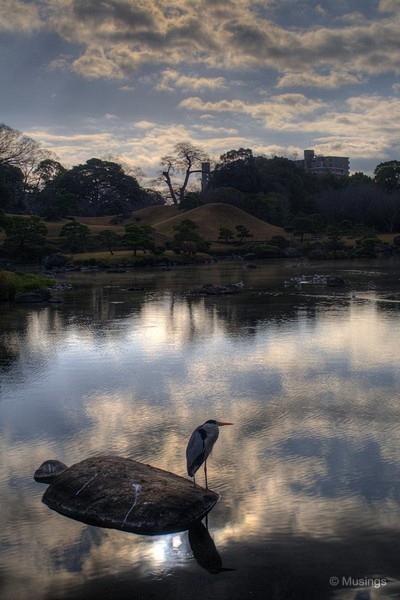 Kumamoto in HDR – Part 2
Time to work on the HDR compositions! Here's Part 2.:)
I finally managed to get some much nicer bracketed exposures of Kumamoto Castle on Saturday morning – the day before departure. Like the picture taken from my blog post "Meals with a View", these exposures were taken at the balcony garden in front of Restaurant Matsuri: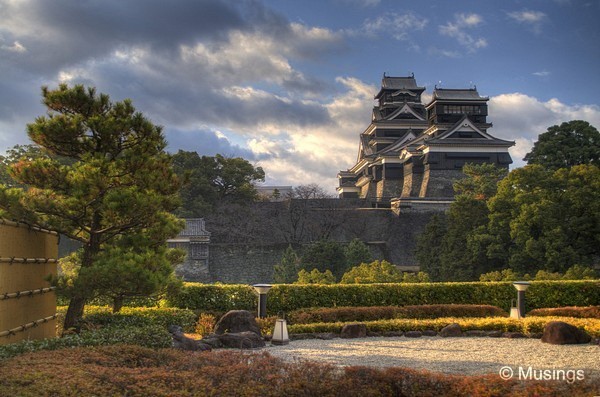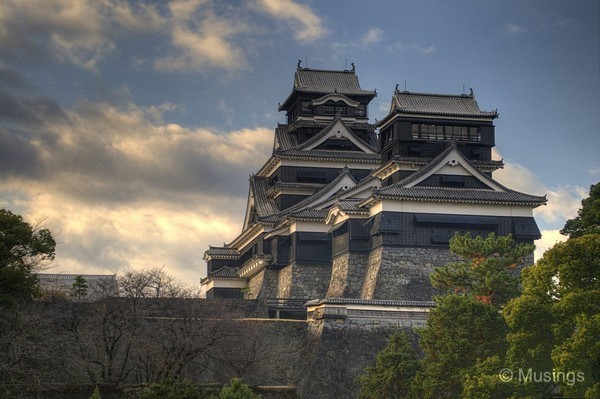 Both of these two HDR compositions were created from a five bracket shot series each.
I went easy on tone mapping to get a more naturalistic look for the next three compositions. Firstly, the one below was taken near the entrance of Kyu-Hosokawa Gyobutei: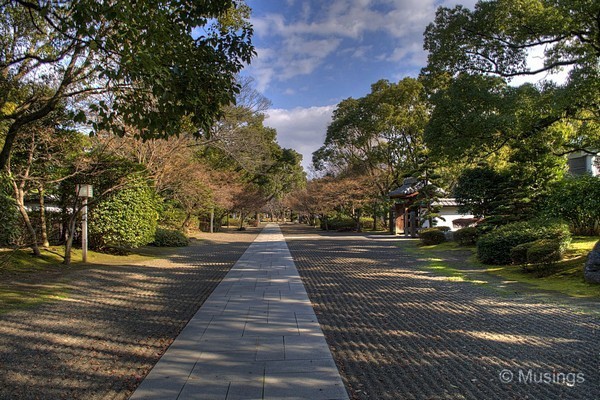 And these last two compositions along the road running around the outskirts of Kumamoto Castle. The wall on either side of the two pictures is Hyakken Wall.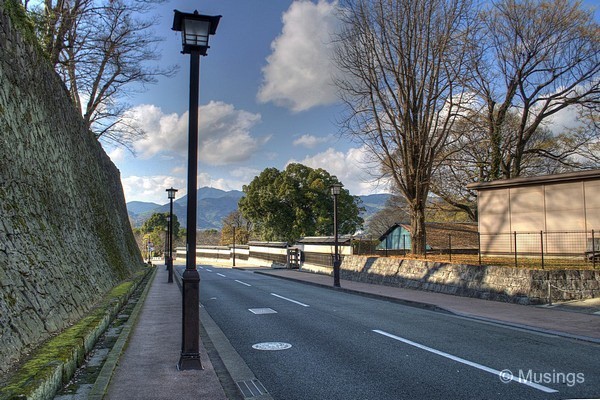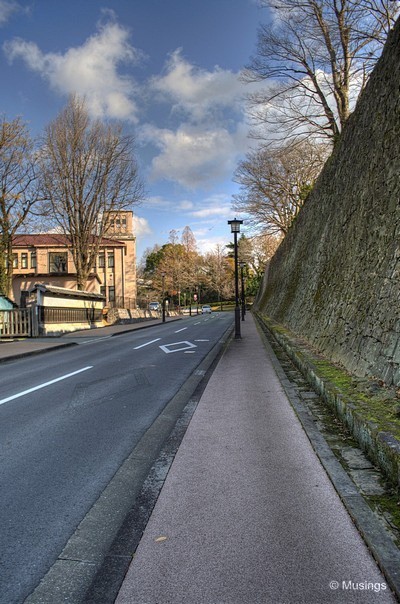 There's two more stacks of HDR exposures left: and that's for Suizenji Gardens and Kyu-Hosokawa Gyobutei. Those are a lot harder to process as lighting was either awful – as in the case of Suizenji Gardens – or low light, as was the case for Hosokawa Mansion. I don't think they're going to look as nice as those here in this post.
Meals with a View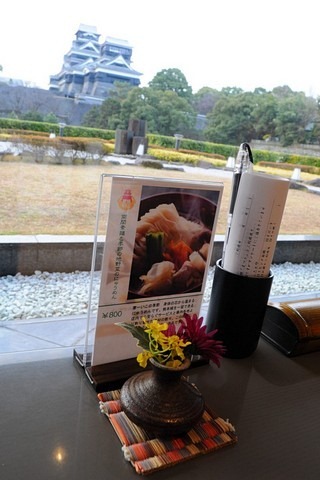 I've remarked on this blog here that Restaurant Matsuri at my hotel enjoys a magnificent view of the castle both by day and night.
I haven't been able to show pictures of this from within the restaurant itself so far, as I'm usually just rushing out of the hotel each early morning to make the 7:40 AM train, and the restaurant itself only opens at 7:00 AM for breakfast every morning – and that's not counting the 18 minutes it takes for me to walk to the train station itself. Breakfast, in other words, for all my teaching days is a mad rush.
Still, my Thursday activities started an hour later than normal yesterday, so I managed to enjoy a more leisurely breakfast that morning, and also take a few quick pictures. Most mornings I get to occupy my usual table, which is a nice private spot at the corner of the restaurant with a great view of the castle and it near the breakfast spread too.
The other picture below is a HDR composition merged from 5 pictures, taken from the balcony garden beside the restaurant. Yep I had to step out into the freezing cold for a couple of minutes, put the D300 on bracket + high-speed drive mode exposures, fired away, and ran back into the warm restaurant interior.:)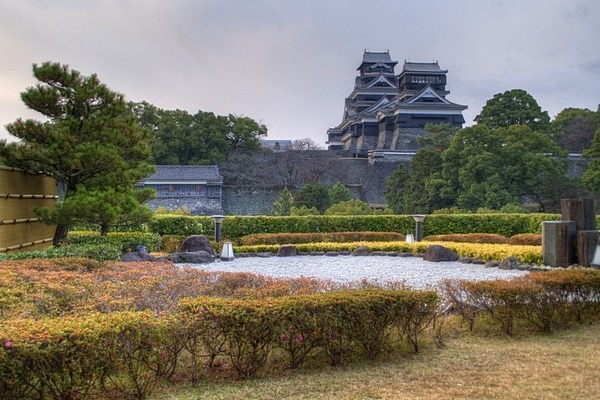 Kumamoto in HDR – Part 1
Wrote this post last Sunday, but posting it now.:)
One thing I haven't done much of when traveling is to take high dynamic range photographs. So, I was determined this time to take as much as I could. The Kumamoto Castle pictures haven't turned out well given the cloudy and overcast Sunday morning I was there, so the HDR pictures themselves also look a little, well, dull.
Either way, here's a selection from the 24 HDR pictures I took, each constructed from between 5 to 7 pictures each, separated by +/- 1 EV.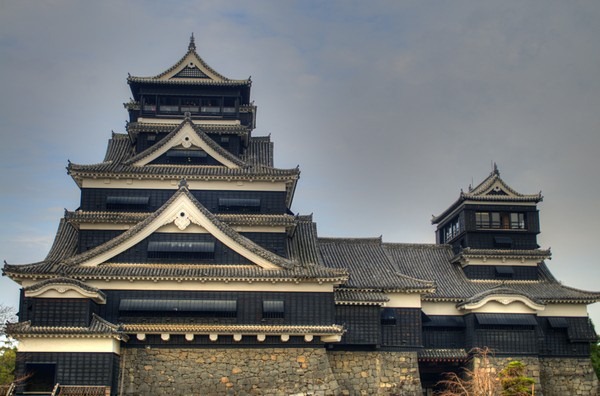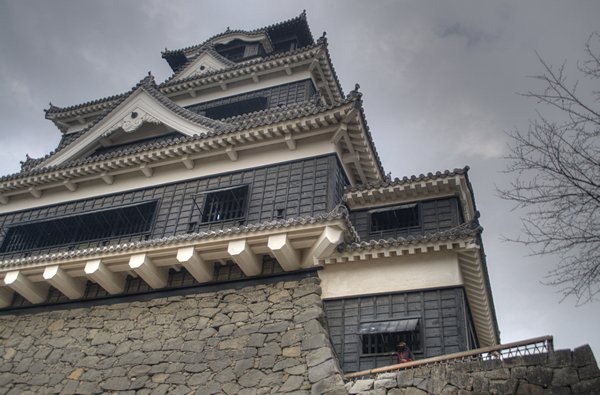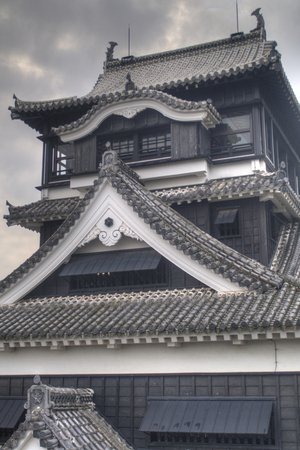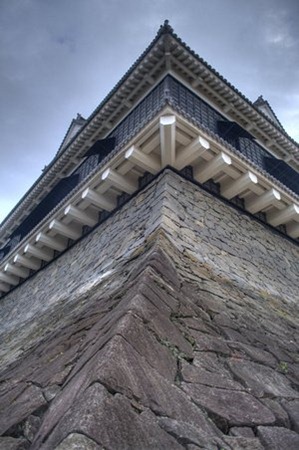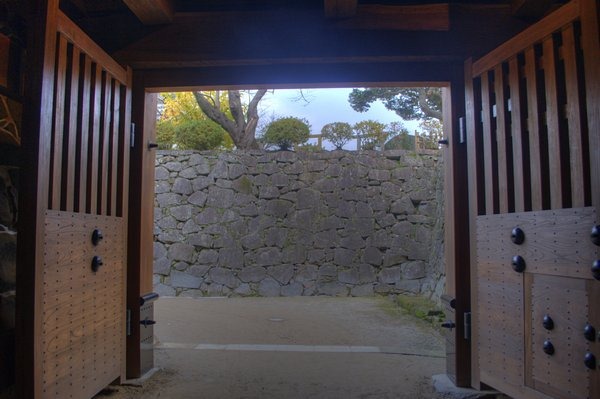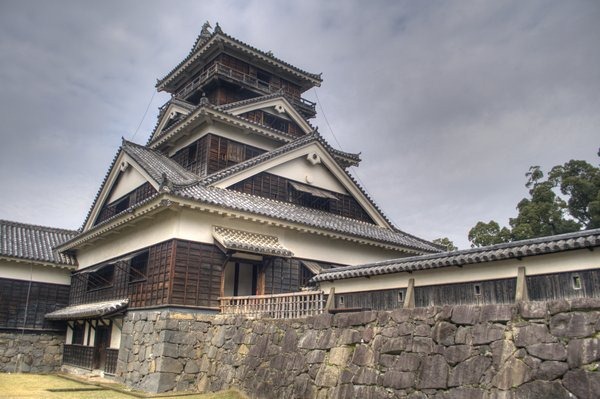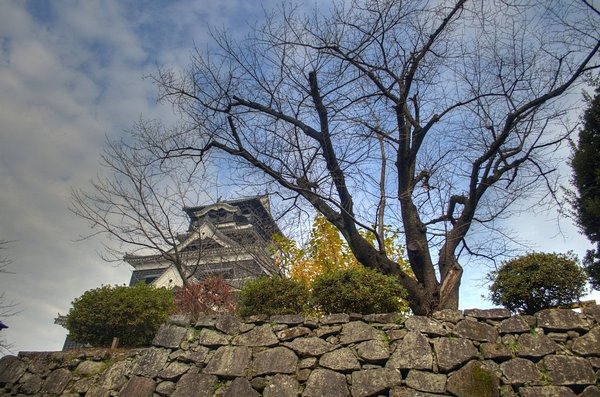 Each of the 5 – 7 frames to construct a HDR composition were taken hand-held, and a number of the HDR pictures had ghosting effects from people movement, and hand-held induced vibrations too.
The other spot I was planning to visit – time permitting and if I can find free time outside my teaching hours – is Suizenji Gardens, regarded as one of Japan's top four gardens. Hopefully the sky would be clearer the day I can go by. Either way, there'll be more HDR compositions to come.:)
Work those muscles!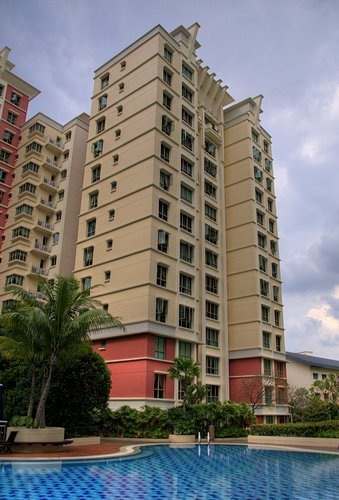 Since March this year, I've been slacking and letting my muscles atrophy.
Why March though? Well during that month, I was spending two evenings per week at the SAFRA Toa Payoh gym to work out. Part of national service obligation individual physical fitness proficiency etc. But I enjoyed the experience: working on those individual stations and running 6-7 kilometres each of those evenings on the thread mill.
But that was months ago, and after weighing myself recently on the bathroom scale, I realized in abject horror that I'd gained a bit around the waist. So, now that I'm taking a few days of child care leave this semester break to help take care of Hannah, I've also resolved to get a bit more physical and keep my tummy at minimally respectable girth.
Thing is, I can't run. Since the last 3 months or so, there's been some pain in my left sole. Think I must have fractured my left ankle from accidentally stepping on too many cables on the ground. So, I've turned to hitting the pool each day I'm on leave to swim laps around the pool.
And it's quite a refreshing experience. As a child, I enjoyed swimming. My two brothers and I each completed our individual bronze, silver, gold and long distance swimming proficiencies before we turned 12 years of age. Unfortunately, after I got to secondary school, aside from the odd week where we'd all head down to the ACS swimming pool for our P.E. – that's Physical Exercise, Matt ol' bud – sessions, I haven't swam much anymore.
Part of the problem is that I absolutely dread swimming in public pools. Way too much human traffic, and there's been some letters to The Straits Times of the public complaining about how sections of the pool were routinely partitioned off for private swimming lessons.
So, the pool at The Rivervale has been a god-send, underused by the two of us it's been since moving here. On weekday afternoons when I'm at home, it's just me at the pool, alongside a couple of young children playing at the kid's pool with domestic helpers keeping a loose eye on them and catching up with each other.
—
Oh yeah: the picture's a HDR merged from 5 shots at +/- 1 EV. Went easy on the tone map settings too. Taken using the Sigma 18-250mm.
Revisiting HDR
My first HDR – or High Dynamic Range – photographic attempts were over a year ago (blogged here) and didn't turn out so well. So, after reading the HDR book I picked up from Kinokuniya I went about the house to try out some of the quickie instructions in them. The book compares between the various HDR software programs out there. The one I've been using since last year is Photomatix Pro and they've just released a new version too. It was nice to see that the book references this software a lot.
Here's one very quick under 15 minute attempt: picture of the living room taken at 0 EV, f5.6, 1 sec exposure.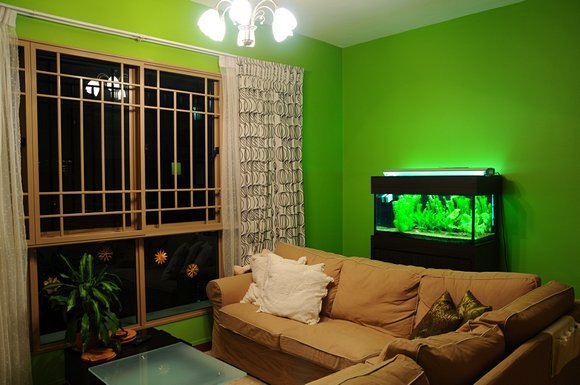 And the below is the HDR image generated from 5 pictures separated from +/- 2 EV:
The differences aren't too significant since the dynamic range for this particular set of pictures was quite limited to begin with. Still, you can see probably see (slightly) more detail in the shadows and highlights, e.g. in the lower left curtains, overhead light and window reflection.
I'm gonna see about heading out in late mornings or mid-afternoons in the next few days to see if I can get more outdoor shots.
HDR and CPL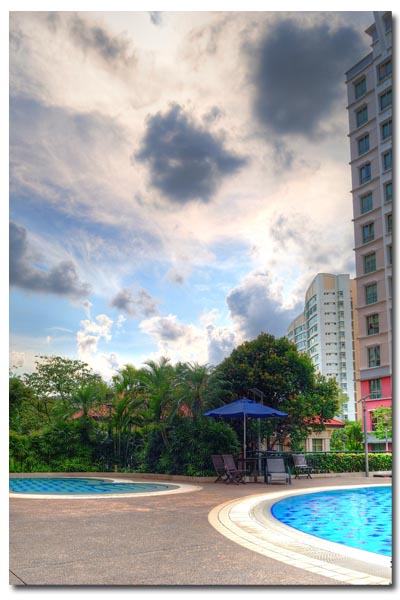 One of those things I've never really gotten around to doing is play around with Photo editing software. I've had them for years – e.g. the very first digital camera I bought in 1999 (a Canon S10) – came with a very early edition of Adobe Photoshop Elements. All the digital photos I've taken since that point I've rarely put through software processing outside cropping, resizing and adding shadow drop borders.
One of the most fun things about having picked up the D300 is that I'm now relearning all the stuff I've been missing out, and boy am I totally a noob in this sort of thing. I'm right now still wrestling with understanding how Photoshop curves work. Fortunately, there're a ton of online tutorials explaining how to achieve all sorts of effects in Photoshop.
One of the really nifty things I tried out over the weekend was creating HDR, or high dynamic range, pictures. The picture here is a really early attempt using a hodge-podge of different software; one to convert RAW to JPG, another to properly align pictures, a third to create the HDR picture itself, and a fourth to do some more adjustments.
Come to think of it, the final product here looks awful when I compare it to those taken by pros and experienced enthusiasts. E.g. look at the upper right corner of the picture. Looks awful. But hey it's just an early attempt after 30 minutes of reading tutorials.
Another effect I've been trying out is creating polarizer effects in Photoshop. It's pretty interesting stuff that range from simple use of gradient tools to darken the horizon, to inserting new layers with complex adjustments made to cyan colors.
The results haven't been satisfactory though. It seems generally agreed that it's tough to replicate in software the polarizing effect you can get from a high quality filter. Fortunately, I've just ordered one such filter that should be arriving by way of Matt – who when coming to visit us next month is going to be like a Santa Claus of sorts. If all goes well, he'll be bringing me a Nikon SB-600 speedlight, this circular polarizer filter, a midrange 55-200mm zoom lens, and finally a 10-20mm wide-angle. The latter I'm especially looking forward to as I've not dabbled much in wide-angle photography, but with our upcoming trip to the Ayara Hilltop resorts in June it'll be an excellent opportunity to.:)
Oh yeah; here're a few more of my early attempts in HDR.:)