I did a lot of reading on the replacement HDCamcorder I posted about the other week, and opinion sure is divided over two leading models: between the model I've been eyeing – the Panasonic HDC-TM700 – and its closest competitor, a Sony CX550. Without getting into technobabble between the two; the Sony was more expensive but with slightly better low-light performance out of the box. The Panasonic was about USD200 cheaper, slightly better resolution, a possibly more audible fan, and also the much vaunted 1080p mode which had traditionally been a feature only of those extremely expensive professional-grade video cameras.
Either way, it didn't seem as though the TM700 was going to be in Singapore stores any time soon, and judging from prior retail prices for earlier Panasonic models, I would be expecting to pay at least SGD2K for it.
So, on Tuesday morning I took the plunge and made an order for it on B&H Photo Video. The unit arrived via UPS delivery on Saturday morning: the final cost including GST, disbursement from the clearing office etc. was about SGD1500.
The unit's noticeably larger and heavier than the svelte HDC-SD20 it's replacing. I couldn't find a sexy red color similar to its older brother too, so went with the default gunmetal grey version of the TM700. Here's a quick picture taken of it using the E-PL1: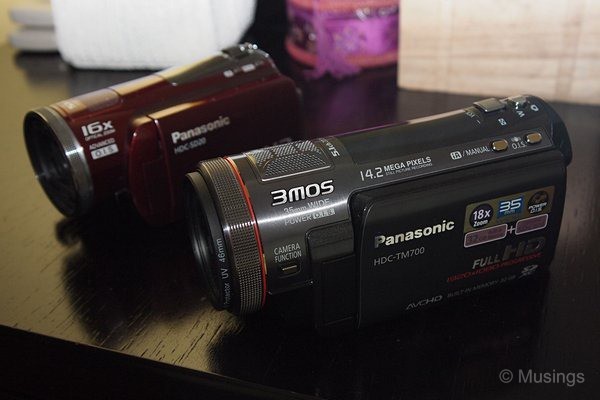 So what are the main features of the new HDCamcorder? Well – the features most relevant to me anyway:
– Somewhat better low-light handling than the SD20
– Wider-angle than the SD20
– Much better resolution and color than the SD20 in normal and good lighting
– Built-in 32GB flash memory with the SDHC slot
– Support for 1080 60p
– A ton of manual controls
I've been taking several home videos of Hannah already with it, and even for Ling's relatively untrained eyes in noticing video imagery, she's already remarked that the videos taken using the new camcorder look a lot sharper, fluid and smoother too.
OK – most notes to come after I've played around with it more.:)