Panasonic HDC-SD20
now browsing by tag
Panasonic HDC-TM700 – Part 1
I did a lot of reading on the replacement HDCamcorder I posted about the other week, and opinion sure is divided over two leading models: between the model I've been eyeing – the Panasonic HDC-TM700 – and its closest competitor, a Sony CX550. Without getting into technobabble between the two; the Sony was more expensive but with slightly better low-light performance out of the box. The Panasonic was about USD200 cheaper, slightly better resolution, a possibly more audible fan, and also the much vaunted 1080p mode which had traditionally been a feature only of those extremely expensive professional-grade video cameras.
Either way, it didn't seem as though the TM700 was going to be in Singapore stores any time soon, and judging from prior retail prices for earlier Panasonic models, I would be expecting to pay at least SGD2K for it.
So, on Tuesday morning I took the plunge and made an order for it on B&H Photo Video. The unit arrived via UPS delivery on Saturday morning: the final cost including GST, disbursement from the clearing office etc. was about SGD1500.
The unit's noticeably larger and heavier than the svelte HDC-SD20 it's replacing. I couldn't find a sexy red color similar to its older brother too, so went with the default gunmetal grey version of the TM700. Here's a quick picture taken of it using the E-PL1: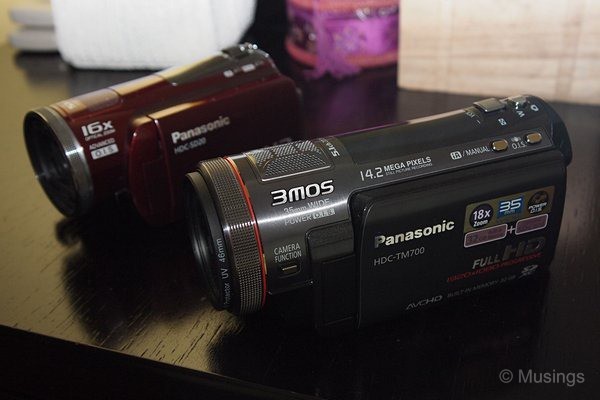 So what are the main features of the new HDCamcorder? Well – the features most relevant to me anyway:
– Somewhat better low-light handling than the SD20
– Wider-angle than the SD20
– Much better resolution and color than the SD20 in normal and good lighting
– Built-in 32GB flash memory with the SDHC slot
– Support for 1080 60p
– A ton of manual controls
I've been taking several home videos of Hannah already with it, and even for Ling's relatively untrained eyes in noticing video imagery, she's already remarked that the videos taken using the new camcorder look a lot sharper, fluid and smoother too.
OK – most notes to come after I've played around with it more.:)
"Knock knock"
It's not all gloom and misery at home though. Despite that all three of us are sick at home, there're still many of the usual baby happy and bonding moments we continue to enjoy with Hannah.
For instance, Ling observed this afternoon after her late afternoon dinner feed that Hannah's learned how to initiate touching foreheads with the both of us, and seems to enjoy doing so too. I excitedly reached for the video camera, and we managed to get her to demo for us.:)
Oh my – I croak like a frog!
Panasonic HDC-TM700
Another post about toys.:)
I picked up my first HD Camcorder – the Panasonic HDC-SD20 – more than a year ago mostly for Hannah's coming into our family. I was initially a little reticent about having my home-video processing work flow substantially changed because of the video codec used in the camcorder.
As it turned out, those fears were unfounded – on account that I ended up not doing any sort of video editing for all the videos I've taken of Hannah, in San Francisco and Kumamoto. The HDC-SD20 has been a great boon for us to record Hannah's life journey in the first 10 months: memories that have become very precious for the both of us. Even Ling – as observed by the several videos she's posted up here – has become reasonably skilled in using the camcorder.:)
The SD20 has one big flaw though: it just doesn't handle low-light situations well. Granted that these things are consumer-grade and not low-light performers to begin with given their uber small sensors. But when I compare the indoor video I've taken using the old mini-DV camcorders versus the SD20, the latter's video imagery is really, really awful even in comparison. I've got a workaround at the moment: I ordered a cheapo third party video light source that'll get attached to the SD20's tripod stand, but it's really only a temporary solution. Moreover, with my at least a month-long and maybe longer trip to Boston coming up, I wanted another camcorder at home for Ling to continue taking Hannah's videos and putting them up for me to see when I'm away.
—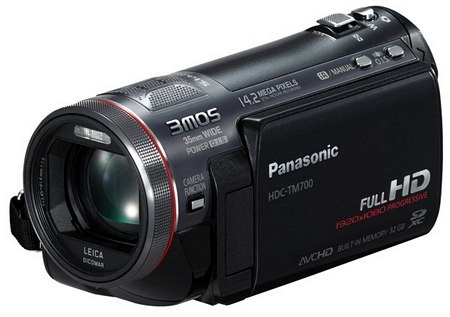 So, enter the potential upgrade. Some of the best consumer-grade camcorders are made by Panasonic, Canon and Sony. I've been keeping an eye out for their models, and was pleasantly surprised to read of a new Panasonic model that succeeds Camcorderinfo's best model of the Year in 2009, and is likewise already in the running for the same of 2010. The unit makes use of a different sensor system, does amazing well in low-light, and shoots in 1080p 60 frames, a frame rate and quality level that was previously only found in professional-grade video cameras that cost a lot more money. And this unit retails for a relatively low USD999.
The recently announced camera isn't available in Singapore yet though, but is already online. I'll likely wait for a bit longer to see if it reaches Singapore shores soon – it's already listed on the local Panasonic web site – but as these things go, prices get marked up substantially. So, I'm already thinking about making an order for it online, likely B&H Photo Video, once more reviews for the camera are available and they all attest to the unit's quality.
And oh yes – speaking of Hannah videos. One trick I've found to keep her occupied is to let Hannah watch her own videos on the PC. She sort of sits there with eyes fixed and mouth wide-open watching herself on the LCD monitor, and just yesterday morning she showed signs of recognizing herself in the video footage! She showed this by reaching out for the video screen when the video clip zoomed in for a close-up shot of her. Evidence to come – if I'm lucky enough to catch it the next time it happens.:)
Play Yard Video
Here's another video but of a much happier Hannah while playing in the six segment play yard we bought her a week ago, and blogged about here.:)
Right in the last few seconds of this video clip Hannah demonstrates a reaction that Ling has been trying very hard to capture on video. Whenever I'm carrying Hannah and she's in her happy moods, she'd frequently turn her head up and look at me, make eye contact, smile shyly, then turn back to whatever she's doing.
She'd be doing this every 10 seconds or so, as though she's looking to me seeking assurance that I'm still around. It's a wonderful feeling to experience as her Daddy, but Ling hasn't had much luck getting that on video. But you'll see just a small hint of it right at the last 2-3 seconds of the video clip here before Ling switches the camera off LOL.
Bawling Babies
Here's a short video segment shot of Hannah going about her bawling on Wednesday night and blogged about yesterday:
The video doesn't quite present an accurate picture of her bawling – it was really, really much worse than this. And there's some degree of exasperation that you'd hear in my voice too. She'd been crying for about 45 minutes at this juncture, and nothing we were doing worked.
But what it does show is that Hannah's attracted to strong light emissions (watch how her face changes when the light source comes up), and this time round immediately stopped crying when her attention got drawn to it. She got so interested that she started reaching for the video camera and came close to falling off her chair while scampering over to mine (you'll see my hand trying to make sure she didn't fall LOL).
Not that it can be used all the time though: there's that whole thing about babies looking into bright light for too long, too often.:)
"Standing, standing…"
…standing on the promises of God my Saviour…" this song was reverberating in my head during one of our play times together.
I was deliberating whether to buy a play yard (see example) for Hannah so that she could play in a safe, enclosed area on the floor while I attend to other chores in the house. The only nagging thought I had was whether Hannah would want to play in it. What if it lasts only a day? Sell as a preloved item lor. Hmmm….?
Hannah has been exploring the things around her in the little space I created in front of our TV console. I thought this was great as she was learning more about the actual settings of her home. The only downside to this type of 'play zone' is that someone must keep a close watch on her at all times. She could scratch or bang herself against sharp objects.
May be I'd just give the play yard a shot. In any case, here's a little video of Hannah doing her latest feat, i.e. standing up using supporting structures around her. :)
Daddy I'm standing!
It's both delightful to see Hannah learn new skills, and a mite scary at how fast she's picking them up! Just barely two weeks ago she was still struggling to pick herself up from all fours to a standing position. These days, she can do it easily albeit by lifting herself up with support first. Just a few days ago, she gave Ling a good scare when Hannah nearly climbed out of her baby chair when Ling had to pop back into the kitchen to get some solids food ready for her.
Here's a quick video I shot of her having fun on a chair. You can't see my right hand, but it's just off-camera ready to catch her if she lost her balance; she didn't at all.:)
The video's a little grainy as it was shot in semi-low light. And oh yes – I meant the first and not second of March in the video – whoops.:)
Updates on Hannah's First Year Milestones
First Month: She smiled.
Second Month: Started to mimick sounds of words, e.g. 'er le', 'ok lah'. Slept through the night. Started to gain better support of her head.
Third Month: Started to giggle. Mumbled what sounded like 'mommy'. Stuck out her hand to do the superman pose. Responded to mobile by tracking its movements with her eyes.
Fourth Month: Turning over to her belly and vice versa. Able to nap longer. Shed a lot of her baby hair; almost went bald! Took a dip at our baby pool. Started to splash water in her bath tub.
Fifth Month: Started to support her body on all fours. Able to pull up her legs and suck her toes.
Sixth Month: Started on solid foods, mainly vegetables. Able to play by herself in her playpen for as long as 2 hours! Had her first Christmas.
Seventh Month: Adapted well to Infant Care Centre. Able to sit up unsupported. Started to crawl, eh with 2 hands and 1 foot and 1 kneecap. Called 'daddy' clearly. Started to eat fish. Overcome a flu infection.
Eight Month: Able to pull herself up to standing position using surrounding physical support. Said 'bath'. Raised her arms to be carried. Allowed mommy to trim her nails without much fidgeting. Started to eat chicken. Used crying method to get mommy's and daddy's attention (she had her own 'wailing wall' in her cot). Had diarrhoea and recovered. Had her first CNY celebration.
Here's a video below of Hannah in her usual happy self taken yesterday afternoon. She can stand on her own in her cot now.
Baby at Play
We wanted to take more videos of Hannah crawling about in the living room, but apparently she was more interested in her toys! :)
Eyes Like Her Mum
Ling was remarking on Saturday a few days ago that weekends were really starting to feel like weekends again for her.
How's that? Well, prior to her returning to work, every day seemed like the preceding one. There were several junctures during her 7 months as a stay-at-home mum where she actually lost sense of what day and date it was.
But now that she's working again, arriving at the weekend for a period of pseudo rest and recuperation with lots of housework to catch up on feels new but yet strangely familiar LOL.
The collective amount of time we get to spend with Hannah is less though with her in infant care every half-day, so it's even the more important for us to take pictures and video of her in her growing years before they pass. Even the not very interesting ones of her, since I imagine 20 years from now when she's independent, these memories will be very important for her and us.
So here's one of those semi bo-liao videos I took on Sunday just before heading out when trying to coerce her into saying "Dah Dee". Not a successful attempt though, since she still seemed unsure in front of the video camera. Nonetheless, you do get to see her smile and giggle a little.:)
And speaking of which: Hannah's eyes do look like Ling's: larger and more roundish, unlike mine which is almost always slit-eye-like. But the rest of her facial features is all me.:)