Fujifilm X70
now browsing by tag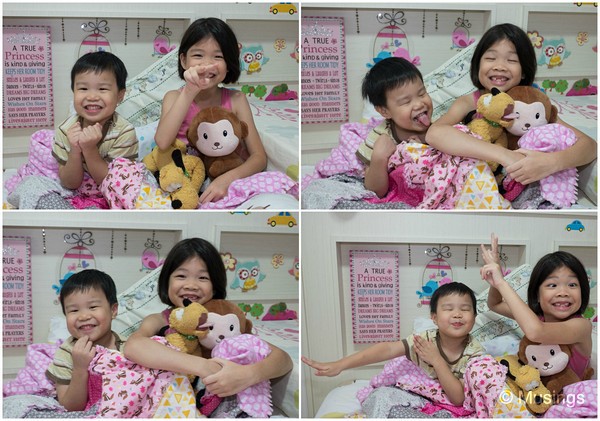 Kids @ 17mm, 25mm etc. – Part 30
The routine of the new 2017 year has settled in nicely over the last two weeks now. Peter is now in his second year at his childcare/kindergarten, and displays none of the separation anxiety he briefly showed a year ago. Interestingly, his teachers at the last Meet-the-Parents meeting said he's very well-behaved in school and mixes well. But at home, he's continuing to drive us (or rather Mommy) up the wall with his antics, which include all manner of variations of "not listening". When we recounted his behavior at home to his teachers, they quipped that it just might be because our second born is socially intelligent, and recognizes that there are different forces at play when he's around friends, teachers and other people. And while at home, he slips into his normal, real self LOL.
Hannah is now also in Primary Two, and doing pretty well in school – if the couple of academic and study awards she picked up at the end of her first year is any general indication. Though just two months into lessons, she's coping with her music lessons, and – from what her teacher says – and is very musical, something that pleases us both to no end and we're both claiming more genetic credit than the other for it! Well, like Daddy at least, she has good musical memory, picks up new pieces quickly and transpose them back on the piano by listening, and can improv – so there.
Funnily, between the two though, it just might be Peter having as strong a music gene as his sister, going with what Ling is observing. P sings and hums. OK, so all kids probably do, but this boy does it a lot. And at his young age, he can also recognize music pieces and say where he heard them. At the moment, much of his recognition comes off the numerous piano pieces I've been playing at home, and some of them would seem fairly complex music for young kids to digest.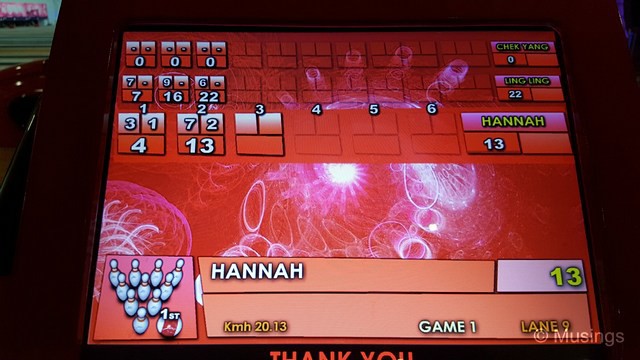 Staycation Activities @ Downtown East
We've got a rule of thumb, and it is to avoid 3D2N holidays as much as possible, even if it means forking extra to stay for a longer period and having to wreck our brains thinking of how to fill up the itinerary! The only 3D2N stay we've ever had at this point was at Capella Sentosa 5 years ago. The short duration was largely on account of cost, but that property still remains by far the best we've ever stayed at.
While we received admission tickets to Wild Wild Wet for all four days of our stay at D'Resort, we ended up just using passes for one day – as we accidentally dropped our entire ticket stack somewhere in the water park. We did put in a Lost and Found report at the Information Office and the park crew were nice to follow through it, but finally had no such luck finding them back.
I reckon it was just as well, as it forced us to think harder of what to fill up the rest of the days with. And of that:
Disney's Moana @ Downtown East Cathay: Peter's first late night cinema experience for a cartoon that hearkens back to the Disney themes from its films starting 25 years ago. This one was a gamble as we wondered how Peter would handle an 8:50PM screening – and we lucked out. It didn't take beyond the film's midpoint before he got grouchy (probably from just being tired) and generally annoying the heck out of Ling.
Orchid Bowl @ Downtown East E!Hub: you know you suck at something when your 7 year old daughter hands you your butt:
Then again, this is how she got there:
Longkang Fishing @ Mainland Tropical Fish Farm: with 'longkang' literally meaning 'drain' for our Ang Mo bud.:) Our parents' generation will quip that this was one of their leisure past times before Gen Y and Z's iPads, video games and smartphones. But Ling and I just a few years ago climbed down into a large drain opposite Hougang Mall to catch fishes to supplement our freshwater aquarium – and we caught several Corydoras even!
The Farm was just a few minutes drive from Downtown East, and we spent an hour there in a small tidily landscaped and man-made drain of about 18 meters long catching critters. There's a token fee of $4 per child for every 30 minutes, but the very nice and super laid-back auntie there gave our two kids 45 minutes of catching time.
Some bloggers have remarked how difficult it was for kids to catch these critters given how fast they swim. Funnily, we had no such difficulties. We caught 15 with most going between Hannah and Ling. I was taking pictures, but in the space of a minute also caught three too. The fishes do detect movement – I assume from the mid-morning shadows we cast onto the water – and typically scatter free quickly. So, the trick is simply to use the tiny nets provided in the opposing direction and where clusters of fishes are. We were able to scoop 1-2 critters this way a time.
We returned all we caught back to the farm though, since our home aquarium is already densely populated with tetras and snails. But the kids enjoyed this one – and the activity gets a solid recommendation from us.
Pasir Ris Public Library @ White Sands Shopping Centre: the E!Hub @ Downtown East is a little rundown, while White Sands has just recently undergone refurbishment. Its offering of stores and restaurants remain pretty much standard fare for Singapore shopping malls, but the also recently renovated public library is very nicely done-up. We stayed and left with about a dozen loaned books.
eXplorer Kids @ Downtown East E!Hub: we'd gone by this indoor playground earlier this year. The area was also just recently refurbished, and it looks slightly brighter now, with a few new play areas that we didn't previously see in our last visit. More importantly is that there's a current promotion for NTUC Members: each card holder can get free membership for up to two kids. More details here. The offer was good enough for us to drive back home to pick up our kids' birth certificates for registration.
Starbucks @ Downtown East: half of the indoor seating in the store were squatted by young adults pretending to study, but we managed to put together two separate tables to chill over brewed coffee, Hazel Nut Lattes, and Signature Hot Chocolate for the kids.
Hannah quips that this was our best vacation ever. Putting aside the bleh stay at D'Resort, it was certainly enjoyable also for us parents. We're start planning for our mid-year vacation spot for June 2017, so more to come on that soon enough!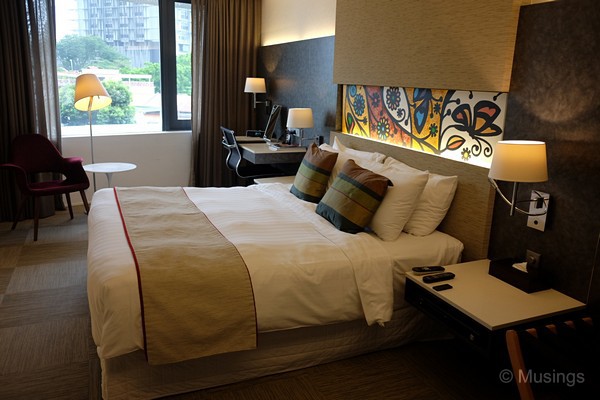 Wangz Hotel
We've been married ten years just a few days back, and it was as good an opportunity as any to offload Peter and Hannah at our parents' Lentor home and for us to have a day and night out without the kids. This would also be the two's first time away from parents, though both seemed to have not been especially bothered by that!
Our getaway was Wangz Hotel, currently rated #12 off all hotels in Singapore @ Tripadvisor. Admittedly it was a somewhat last minute booking of just a fortnight before the date, and we were lucky to find something that met our preferred wishlist items: free parking, something away from crowds, and at least well-received by guests on the usual review sites.
And our comments after our one-night stay (could only stay this long as I had unskippable meetings at work the following day):
It's a very small hotel of just six floors of 41 rooms and an additional floor for the restaurant at the top level. There's perhaps just 6-7 rooms on each floor. Parking is complimentary but subject to availability, and the basement car park has just 8 lots or so. But given the hotel's size and possible ratio of local guests, finding a free parking lot wasn't a problem at all. In fact, over just the single day stay, ours was the only guest vehicle parked in the basement.
The hotel is situated in Outram and just a couple turns away after exiting from the Central Expressway. There are late-night eateries and restaurants along the main roads, and several public buses that can bring guests to Great World City. There is also a hotel shuttle bus that takes guests to Outram MRT, Vivocity, and Orchard Road. Though the hotel was situated along major roads, our room was quite well-insulated from sounds both from outside the building and slightly less so from just outside the room. The hotel seemed also bereft of facilities found in large hotels like a swimming pool or children's play areas, though we've don't always use such in our stays anyway.
We were initially booked in for a Deluxe-type room. We checked in an hour earlier, was advised that our room wasn't ready yet but there was an alternate Canopy-type room already ready, with this room slightly larger and also with a long bath. The room different was just S$20++ – we went for it.
The room was situated on the fifth floor, very clean with modern fittings and decor, though the on-off switches took some trial and error to figure out what was controlling what. The flooring was especially interesting: it wasn't carpeted nor parquet, but a sort of heavily textured laminate. It was comfortable to step on, and also seemingly much cleaner than the usually rug-like flooring we see in most hotels. Air-conditioning was managed by a dedicated controller that was responsive to inputs. This shouldn't be a given as hotels normally use centralized air-cooling and controllers aren't always responsive.
The room has a complimentary Internet smartphone. Not that we needed it at all, but this is the first time we've seen a hotel provide such. In-room WIFI was easy to login, and most importantly – fast and provided stable connections.
The Sealy Posturepedic bed and linen were pretty comfortable and bed sheets satin-like. The frame though oddly sat on rollers, and we kept bumping into the bed and shifting it out of place each time.
The room towels were laundered with a very pleasing almond-like scent.
The mini-bar fridge and hot beverages – mostly Twinings – were all complimentary. Morning newspapers were also delivered to our room.
Amenities included a 37″ Sharp non-HD LCD TV with cable channels. The TV was adequate though wasn't able to produce particularly vibrant nor sharp video. There was an in-room DVD player as well that we didn't think of bringing anything from home to watch (though room services probably would have had a library of media to borrow from if we wanted).
The ensuite bathroom was also very clean with good water area control and therefore always dry, with a separate rain showerhead and long bath area. The shower area though has a full length window that looks out to the main road, so you'd want to pull the blinds down lest you provide free shows to vehicles driving past the hotel LOL. On the flip-side, water pressure from both the showerhead and rainshower was somewhat low.
Breakfast was at the roof-top restaurant, and very brightly and pleasantly lit on the early weekend morning, with the sun shining into it. The spread wasn't especially wide given the very small number of rooms and guests staying, but the item were mostly all well-prepared, and wait service was very prompt and polite.
Pictures next:
All in, this was largely an issue-free and also very pleasant and quiet stay, and the things that didn't work as well were all very minor. Considering the price we paid – which was quite well-below typical rooms of similar size and in-room amenities – we reckon our stay @ Wangz a great deal. Recommend for guests who don't want to stay in hotels along in the usual main city area.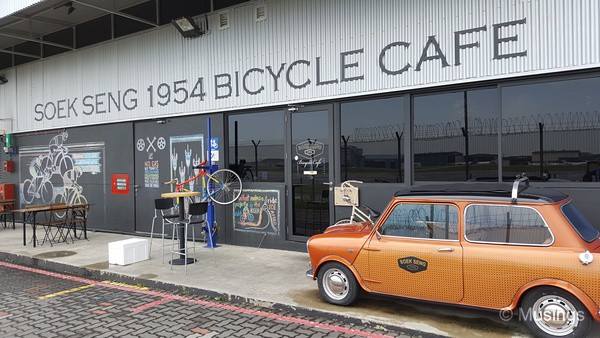 Soek Seng 1954 Bicycle Cafe
There are a couple of places one can hang out to watch planes land and take-off. For persons who cannot do without air conditioning, there's most people's favorite hangout spot: the viewing galleries @ Changi Airport departure terminals. In fact, the airport seems to recognize that those galleries are family outing areas and tourist spots themselves, and last we visited, they situated children indoor play areas for kids to alternate between watching airplanes and going up slides.
There's another civilian airport that isn't nearly as heavily used as Changi's, and it's Seletar Airport – and just outside it and along the length of the runway is Soek Seng 1954 Bicycle Cafe. This cafe apparently was just opened several months ago this year, and has garnered a strong following among vintage car lovers and biking enthusiasts, if the photos of its Facebook page are anything to go with. The place though located on Google Maps is a little harder to find in reality: we missed the right turn into the cafe from Seletar Aerospace View the first time round and had to double-back.
Once found: the place was fortunately fairly deserted on the Saturday mid-morning we went by for brunch. On a crowded day on the other hand, parking within the immediate compound might be somewhat limited with perhaps two dozen lots.
There are also two seating areas: one that's air-conditioned and very neatly decorated with bikes hanging high-up on walls, and a smaller semi-outdoor area towards the back of the cafe and where the kitchen is. We chose the latter as it offered a less obstructed view of the runway – though things as they were, we saw just four private planes taking off in the hour we lunched.
As for food: we had the Gyu Don and Fish & Chips. Ling found the beef slices in the former pretty tough (chewy?!), and the latter was ordinary. Wait service on the overall was also rather nonchalant. On the other hand, prices were reasonable, and with few patrons around, the entire brunch experience was breezily relaxed and laidback. The kids were fascinated with the general area and had the run of the cafe – though they would have liked to see more planes about.
Interestingly; just shortly after we paid up and were about to leave, two separate groups arrived: one group of a dozen decked out in hiking gear who looked like they were training to climb up a mountain, and another slightly smaller group who all showed up in vintage Volkswagens Beetles! The place probably was going to turn lively from that point.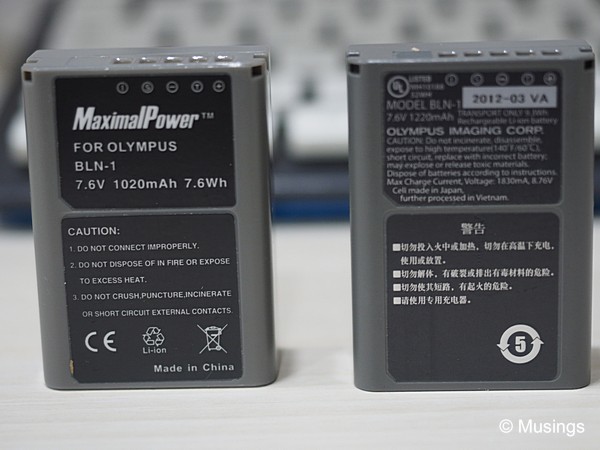 9 Days in Melbourne – Equipment comments
Whoops. Spoke too soon about the last post on our Melbourne trip being the third and last of the retrospective posts. This one is about things that worked especially well equipment wise, and things that broke and just didn't work. All for our collective memory so that we don't do them again.
Before we had kids, we routinely brought along for vacations an entire bag full of camera bodies, filters to do different things, wireless triggers, heavy lenses and even that full-sized Manfrotto carbon fiber tripod/ballhead in the ThinkTank Bazooka case. Things are different now though, since our backpacks now have to hold stuff we need for our kids – diapers, wet wipes, children water bottles, meal bibs, emergency medication, and spare clothing. I brought along far less camera equipment this time round for the Melbourne trip; just the E-M1, the two Olympus Pro f2.8 lenses, Fujifilm X70, and the Panasonic TM700 camcorder. And summarily:
The E-M1 performed superbly again in its second overseas outing.
The 12-40mm and 40-150mm f2.8 lenses and especially the latter worked well beyond my expectations. The close-ups of Lemurs @ Melbourne Zoo were tack sharp center-wise, and the lens was able to resolve very fine detail – right down to strands of Lemur fur at 100% crops.
I'd ordered from Amazon UK a couple of third party E-M1 batteries ('MaximalPower' brand) and brought them alongside the OEM ones as batteries in cold weather routinely don't hold their charge as well. But I ended up not having to swap batteries at all. Even though a typical day of activities saw about 400-450 pictures on the E-M1 – and there was still power to spare at the end of each day.
The JobyPro camera strap worked great, and the strap length was easily adjustable depending on what I was carrying on my back.
The X70 was mixed. It was convenient as a small camera that fitted into my jacket pocket, responsive in starting up and general usage – but just slow in AF when indoors. The lack of optical stabilization, especially important in low-light shots, was a real clunker, and I obtained far more picture keepers using the E-M1 with the 12-40mm taking wide-angles in low-light than with the X70.
Our old Panasonic TM700 was also carted along  with an extra battery and its dedicated charger in our luggage case, and never got taken out. In its place, the Samsung Galaxy Note 5 took pleasing video.. for the most part as there were still that jello effect when panning around and also frequent focusing issues. Still, looks like it's time to retire the TM700 – it's served us very well in the last 6 years now.
Ditto also for the little Nissin i40 flash. That got brought along but never left the luggage case.
The iPad Air 2 was great for reading when sitting down on a bed or in a seat at the cafe, but terrifically unwieldy when on the move. When my mobile broadband contact ends in a few months, I'm going to seriously consider getting the iPad Mini 4 when I renew for the contract bundle.
The Google Nexus 7 – which we stored all the children cartoons – were used only on selected evenings when the kids wanted something other than the ABC Kids' Channel. But then Peter got extremely restless on the flight home and significantly stressed Mommy out, and he only calmed down after we remembered we had the Nexus 7 in our carry-on luggage, and turned it on for Tom and Jerry cartoons.
The Anker 5-port USB charger I'd ordered from Amazon a year ago was worth its weight in gold. 40W through 8 amps – yummy – and wrapped in scratch-resistant material.
The Mi 16000mAh Power Bank never got used. The devices it was intended to sustain beyond their typical battery lives – the iPad Air 2, our two smartphones, the Google Nexus 7 – all had enough juice to last for the day's activities.
The Thule EnRoute Blur 2 Backpack could hold a huge bunch of stuff: two tablets, the Surface Pro 3, the Mi 16000mAh Power Bbank, medicine, lightning and micro USB cables, a small umbrella, a water bottle, the Aztech MWR647 4G Mi-Fi, all our AA/AAA/TM700/E-M1/X70 spare batteries (could not be sent as checked-in luggage at the airport), the E-M1/12-40mm/40-150mm in protective padding, the X70, all our passports, an A4 folder of our key itineraries and map printouts – all still with plenty of space to spare. Shoulder straps were comfortable and helped a lot in distributing the weight. And the backpack could also fit comfortably underneath the airline seat too.
The Aztech MWR647 4G Mi-Fi usage was mixed The Optus Prepaid data SIMs were so affordable that we got enough for all our mobile devices. The Hotel WIFI connections were occasionally unstable, so I tried using one of our spare Optus data SIMs in it, but oddly, connection continued to be flaky. I couldn't say for certain if the Mi-Fi router was wonky, or 3G/LTE network coverage inside the hotel itself was bad as well.
The shiny new Mi Note 3 – bought specifically for this trip – kissed hard concrete on the very first day of our vacation. It had been left display face-down in Ling's backpack (made of fairly thin canvas), and the backpack accidentally hit a hard surface. The tempered glass layer shattered, and when removed, the top third of the Mi's display screen was similarly damaged. The phone is still functional – just dangerous to use as there are tiny bits of glass loose in the screen now. Heart-breaking.:(
So in summary for our next vacation:
Bring only the two Olympus Pro lenses for the Olympus E-M1.
Rethink on keeping the Fujifilm X70.
One spare battery is enough for the E-M1.
Ditch the filters… unless we're traveling without kids.
Ditch the Panasonic TM700.
Ditch the Mi 16000mAh Power Bank. Bring along the smaller Mi 5000mAh one – just to be safe, y'know.
Ditch the Nissin i40. Alongside the 4 Eneloop batteries and its charger.
Ditch the Mi-Fi router if data SIM cards are cheap and easily available.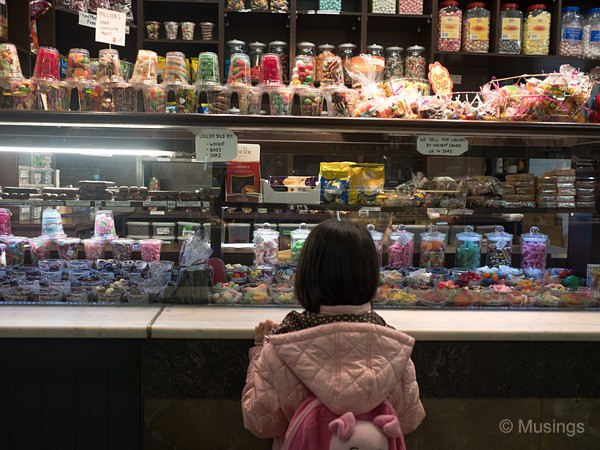 Melbourne – Day 9 – Queen Victoria Market, Flagstaff Gardens and Homebound
Our last day of our stay in Melbourne. Pretty much free and easy for the day, and after four days of rain, the weather was decent and sun out for good parts of the morning too. Our activities were planned around key timings: specifically that our hotel checkout had to be before 1100hrs, the SkyBus Hotel Transfer to Southern Cross Station would be at 1500hrs, and the Emirates flight home would be at 1800hrs.
Breakfast was at an early 0800hrs and at Muleta's Cafe, a little eatery just 4 minutes walk from our hotel, along Queen Street and directly opposite Queen Victoria Market. The cafe has a pretty wide menu with several pages of beverage. Ling was tempted to try their pancakes/waffles, which – according to the cafe's billboard has been well-received by diners – but we decided to start with just the "Everybody Loves Benny" eggs benedict, and a "Mr. Big" which comprised of the usual hashbrows, scrambled eggs, bacon, grilled mushrooms, and sourdough bread. Which with hindsight was the right decision – because the portions that came were huge. The four of us had a lot of problems finishing the pile of food.
Breakfast, a return to the hotel to finish packing and a quick check-out done, we returned to QV Market with several hours to burn. There are hundreds of makeshift stalls in the Market selling a variety of apparel, footwear, leather goods, souvenirs, little household items and the like – not counting the fresh produce, condiments and neighboring deli opposite. I reckon that visitors could easily spend 3-4 hours going from stall to stall, and best of luck resisting spending small dollars buying little items! We fought hard the temptation to spend small dollars, but still left with a couple of shoulder bags and several household decoration items.
Just opposite our hotel and along William Street is Flagstaff Gardens, with a decent-sized children's playground. Ever since our SkyBus Hotel Transfer bus drove past this park, Hannah has been pining for a visit to it – and she finally got her wish on our last day. The kids certainly enjoyed this one, with the swing clearly one of Hannah's favorite highlights of this vacation.
Our luggage inbound was fairly modest with a normal size 26″ case, and a smaller 22″ case which contained mostly Peter's diapers. We probably ended up using just 3/4s of the diapers, which posed problems – alongside all the Tim Tams and presents we'd bought, we now had a problem fitting everything back into those two cases. We were pretty tempted to buy an additional 28″ case just to buy all the interesting knick knacks and little household decoration items at QV Market!
We were still feeling royally stuffed from the huge breakfast at Muleta's, so made do with a light lunch back at Queen's Kitchen. And we're off back to the airport in 30 minutes. Next post back home in Singapore and some retrospection of our trip.:)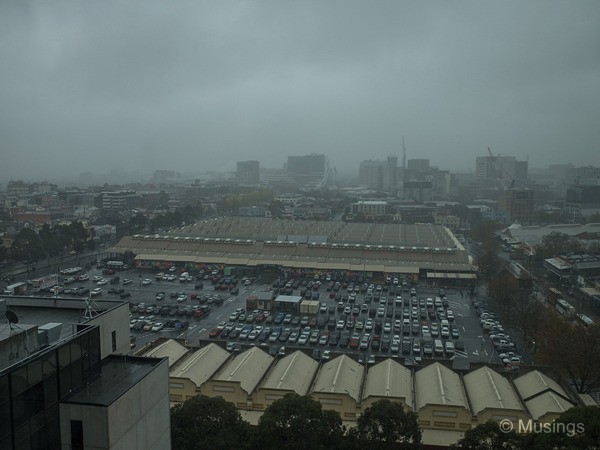 Melbourne – Day 8 – Exploration and Such
Day 8 in Melbourne saw more round the clock rain throughout, with low mist layers occasionally blanketing the city up till the late morning. We still had a few more items left in the relatively busy itinerary – including going up the Eureka 88 Tower, Fitroy Gardens, Parliament House, and Royal Exhibition Building – but decided to drop them all off because of inclement weather. We are though, again, situated in a pretty nice location in the city center, so after breakfast at the little Queens Kitchen cafe beside Pegasus Apart'Hotel and that the rain had slowed to a small drizzle, we walked out again to the central area – Target @ Bourke Street, Woolsworth QV @ Lonsdale Street, and a lunch stopover at Romano's inside QV – to pick up presents and other things to bring home.
Largely also because our lunch times on the non-tour days have been quite late – typically between 1400 to 1500hrs – and that it's often very late afternoon by the time we're back in our hotel, we've been also buying packed dinners to microwave. Oh yes – our room has a microwave oven, a fairly large fridge, and a bread toaster situated in a small kitchen. We've not gone to the point of actually cooking meals here from fresh produce yet, but hot food off the microwave in cold winter was a reasonable and convenient alternative.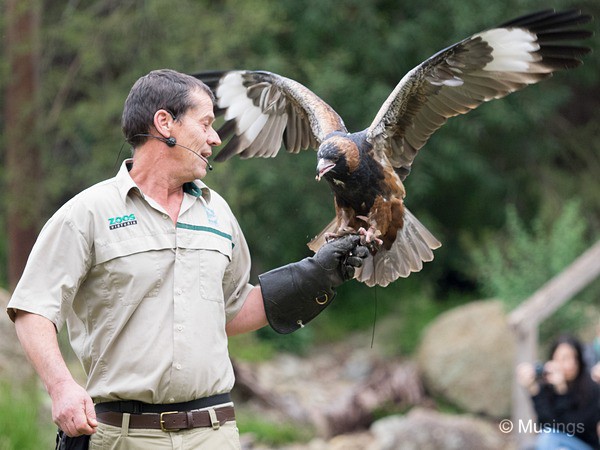 Melbourne – Day 7 – Healesville Sanctuary
Yarra Valley Chocolaterie & Ice Creamery was just a couple of minutes drive from the Fergussion Winery & Restaurant, and we stopped here for a short 25 minutes before continuing on.  As is fashionable in many Chocolateries these days, the establishment goes with open-concept – large glass windows allow visitors to get a close look at how the various chocolate types are made. Most of the building is used by the retail shop that sells a large variety of chocolate food items and other memorabilia, and the opposing end a busy cafe. There are also large bowls of free dark, white and normal chocolates for visitors to sample at the entrance.
The nicest thing about the Chcolaterie though is the large lawn that's at the front of it, permitting visitors an obstructed view of many kilometers of farmland, groves, wineries, roads to the distant hills beyond.
Healesville Sanctuary is a further 20 minutes drive away, and we got to the place at about 1415hrs, staying for about 2 hours. We both had very mixed feelings of the place – here are my comments about it:
The Sanctuary has an Australian bushland setting and comprises 200 animal varieties, and the compound is fairly large for the relatively small number of animals it homes. That in itself poses immediate problems; basically, for visitors who're used to zoos with high enclosure densities or things to see – e.g. everywhere you turn, there's something fascinating that'll catch the eye – Healesville Sanctuary is nothing like this. Enclosures are not typically beside each other.
I appreciate the bushland theme as well, but a lot of times, I felt that more care to the care of this natural environment for the park was needed. Flora seemed to had been permitted to grow freely, and some of the enclosures looked quite run-down (especially one of the koala ones).
The admission tickets for the park was included as part of our day tour package, but a look at the ticketing information left us a little startled on our way out. It was a hefty AUD31.60 per adult – same as Melbourne Zoo – but there just is far less to see.
The last issue we had with the Sanctuary is that the enclosures were almost all non-interactive. The kangaroos – which Hannah was really looking forward to feeding again – were in a more or less open enclosure, but our guide actually warned us not to go near them. Quite unlike Ballarat Wildlife Park where the 'Roos roam free, were all very tame and visitors were encouraged to feed and touch them.
As for the good bits: we were in-time for the 1430hrs bird show, and that at least didn't disappoint, with several large birds swooping very low to fly just over visitors, and each time they circled for another pass, visitors were wowed. The aviary also has a large number of small but colorful native birds to the country, and despite the slowly darkening light, I managed to get a number of pretty decent shots of the birds perched on branches. The park is also supported by a large number of friendly volunteer guides who'd bring visitors around the place and share insights at each enclosure.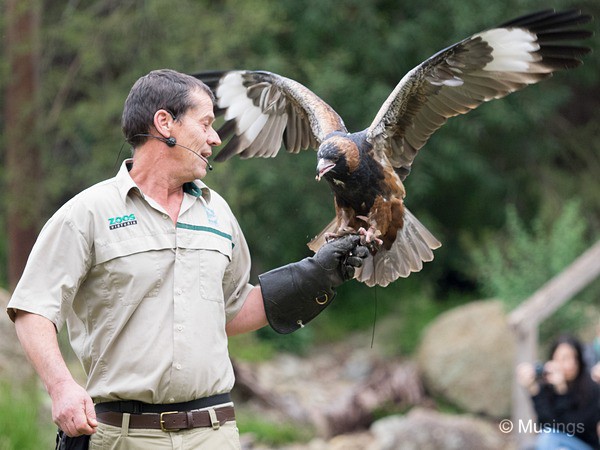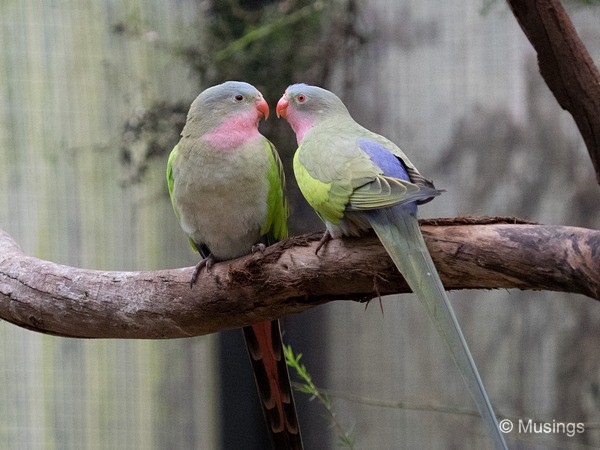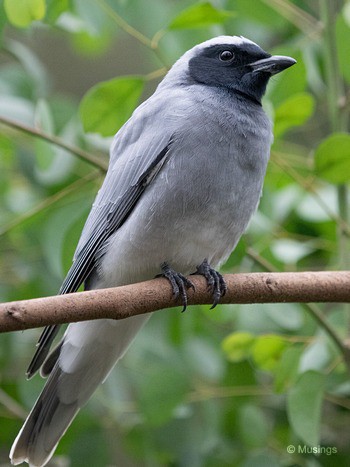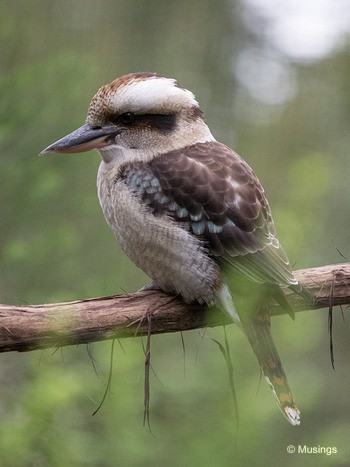 In summary; we both consider the Ballarat Wildlife Park visit a far more memorable and personable experience, smaller it was and hosting fewer animal species. If you've been to there already and are considering Healesville Sanctuary specifically for kids also , then we think the Sanctuary can be skipped. If you're interested in birds though and aren't with easily bored kids, then the place is still about alright after you've adjusted expectations.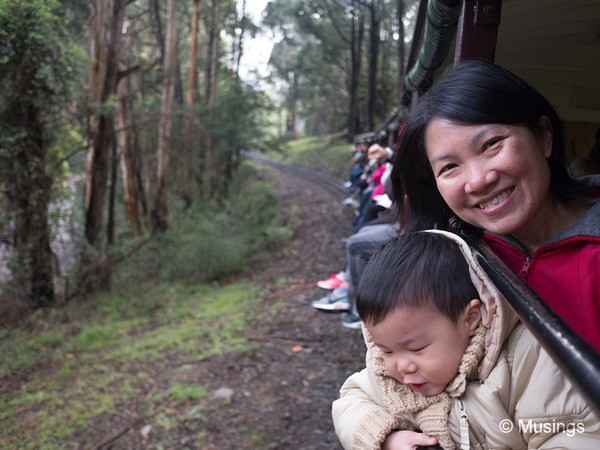 Melbourne – Day 7 – Dandenong Ranges
For our two kids at least, the day they were most looking forward to ever since we talked about the itinerary was the Puffing Billy Train ride, included in our third and last day tour for Day 7. The historic steam train is run and lovingly maintained by a team of professional staff and also a member society comprised of hundreds, and who dress up and turn the place to look and feel like that of a 19th century steam train setting.
The Train ride sits inside the Dandenong Ranges, a group of four hills that are pretty near Melbourne itself – just 35km away and slightly less than an hour away – unlike the other two tours, you can't just zip along the free way at 100km/h to get to the destination since you're really traveling through Melbourne suburbs. Lots of day tours operate out of Melbourne to bring visitors to the Ranges, and after spending a day here with the afternoon at Healesville Sanctuary, our summary is this: the Puffing Billy ride is great, the Ranges are beautiful, wineries a must if you a wine connoisseur, but skip the Sanctuary unless you have kids and haven't visited any other wildlife park (more on that in the next post).
The Ranges are filled with towering Eucalyptus trees that rise as high as you can see – your neck muscles will get a good workout – and form quite a majestic sight as we traveled through the Dandenong Ranges National Park. Our first stop was the Grants Picnic Ground, a small stop where were there Cockatoos aplenty which you can feed by purchasing bird seed at the nearby souvenir shop. Unlike Hawdon Avenue though, these fellows are quite a bit wilder, larger, no less brave, and can scratch. In fact, the guides specifically advised visitors not to feed the birds out of their hands, instead providing metallic trays and bowls for that. The souvenir shop also sells the usual gifts and memorabilia, which unlike the usual gift shops, were priced quite reasonably.
It was another 10 minutes ride from Grants Picnic Ground to the Belgrave Station, the start point of our ride on the Puffing Billy Train ride. The train tracks actually run for a bit of distance – and will seem even longer as the train coasts along at a leisurely 15-20km/h. Our tour offered what is largely a taster for a 30 minute ride from Belgrave to Menzies Creek Stations, which is about sufficient for you to get a feel of the ride, though the later stops seem a lot more scenic and could be worth the additional expense and self-arrangement.
One of the key highlights for the ride of course is that you can sit on the carriage ledge and let your legs dangle right out. It might sound dangerous, but it's perfectly safe for adults, and even Hannah could manage – though we had to keep an eye out for her at all times and ensure she didn't slip off the train. Peter got to try it too with Ling holding onto him from behind, though the open weather was likely too cold for him to enjoy it much!
Lunch was Roast at the Fergussion Winery and Restaurant, a small family-owned and run winery and that didn't seem as commercialized as some of the other wineries. Lots of signs on the vineyards requesting that visitors do not touch the plants, as diseases and viruses could apparently be passed along – from humans to the plants that is! The rose bushes planted on the edge of the vineyards are apparently specifically to help with that, since viruses will attack those first before the vineyards themselves, and provide at least some heads-up warning for farmers to react.
More in the next post: the Yarra Valley Chocolaterie & Ice Creamery and Healesville Sanctuary.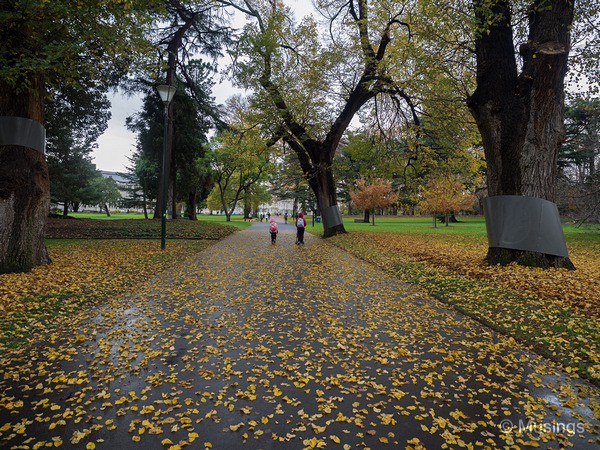 Melbourne – Day 6 – Melbourne Museum, Gardens and St. Patrick's Cathedral
According to our planned itinerary, Day 6 was to be our Gardens and Museums day where we'd visit the Melbourne Museum, Royal Exhibition Building, Cook's Cottage, Carlton, Parliament, Treasury and Fitzory Gardens and finally St. Patrick's Cathedral. Lots of walking involved. Possibly because of the super long day on the road at the Great Ocean Road trip yesterday, both Ling and the kids were still a little tired today, and the weather was slightly rainy, chilly with an ongoing wind and all round fierce overcast. We dropped several items from the itinerary – sticking with just the Melbourne Museum, Carlton, Parliament and Treasury Gardens, and finishing with St. Patrick's Cathedral before heading back to the retail district around Melbourne Central.
The Melbourne Museum doesn't disappoint. It's a pretty large compound and set in modern architecture – since it's current location is a pretty new building that opened in 2001 – and comprises several large exhibits. We visited perhaps about 2/3s of the permanent exhibits over 3 hours before the kids got a little tired (Peter had already dozed off in his stroller), and that included the Science and Life Gallery that featured several overhanging large dinosaur skeletons and many other prehistoric findings, Mind and Body Gallery (Ling remarked that this exhibit is a lot better done up and informative compared to Singapore Science Museum), Forest Gallery (this one is too small and rather underwhelming), Evolution Gallery, and finally a special exhibition on World War I as seen from the Australian perspective. The latter was sobering, with lots of letters, photos and artifacts from Australian soldiers who served in the Great War, many of whom perished in the war.
There was another special exhibition on Jurassic World that required a hefty additional admission charge, so we gave that a miss.
The place is also wheelchair and stroller friendly. In fact, possibly because it was both a weekend and also that school exams had just concluded, the place saw long queues at the ticket booth waiting for entry. The ground floor also has several children play areas. Again, a very nice touch in several places we've visited in Melbourne.
Admission fee is AUD14 for adults and free for kids. Definitely worth the price of admission, and 3 hrs won't be enough for one to really visit all the exhibits, let alone the special ones.
St. Patrick's Cathedral has a Gothic-styled architecture, and it shows that clearly in its dark stone work. Unlike St. Paul's Cathedral, this one was bereft of photography donations nor a souvenir shop and saw only a small handful of visitors, and we stayed for a short while to be immersed in the ambiance – though when we about to leave, a bus load of what sounded like Singaporean tourists on a package tour entered and serenity ended there and then.