Olympus E-PL6
now browsing by tag
Shooting with the Olympus E-PL6 + 17mm f1.8
The two month old Panasonic GX85 has been a ball of fun to use and I'm gradually adjusting to some of its quirks: for instance, ghosting in its EVF, and that I don't even notice its occasional tearing anymore. Despite that, I still find that the E-PL6 with the 17mm f1.8 provides me more keepers than my other m4/3 bodies with the other lenses. And this is despite the challenges my particular E-PL6 copy brings about: that both its touch-screen and rear mode dial have become finicky and occasionally having a mind of its own by deciding to change command settings on its own, and the loud shutter release sound it produces when I trigger a shot.
So; just for illustration, I shot our kids with this combo exclusively over this weekend, and here's a selection from the series of pictures.
It might just be that Olympus out of camera rendering is just a bit more to my taste than Panasonic's, and that the older 3 axis image stabilisation the E-PL6 uses is particularly effective with the 17mm. The low light advantage of a f1.8 stop helps a lot, as thus also the lens' very quick focusing mechanisms. And lastly, the particular combo looks great together – though the lens and camera body are actually two different color tones: the lens is silver, while the body is chrome-gold.

This was actually a pretty fun of picture series to do for these couple of days. Next weekend or so I'll do a next post – perhaps the almost 5 year old-now E-M5 with the Panasonic 25mm f1.4!

Panasonic GX85 – Part 2
Part 1 of my comments of the Panasonic GX85 here. The GX85 has some similarities to the E-PL8, but since I don't have one such unit, a comparison against the 3.5 year old E-PL6 will have to suffice. So, about the GX85. This is a long post, so it'll have to be split into a couple of parts.
Quite a bit heavier, deeper and larger than the E-PL6. The overall size will matter, since the camera is barely pocketable and only in a large jacket pocket. It's also offered in three colors: black with a silver top, brown, and fully black. The brown unit would have looked lovely with the 17mm f1.8, but every other m4/3 lens I've got is black. So, it was the black unit.  It feels dense and well-built, and the weight seems nicely distributed around its entirety.
A minimalist look when viewed from the front, and its top-panel is relatively free of dials, buttons and knobs. This is a personal preference of course, but I like dials, buttons and knobs! If there's any one thing that almost made me buy the Pen-F instead, it would be that. There's also a leather-type grip on the camera's right, but it's not sufficiently deep for you to get a good handhold if you're mounting large lenses. A wrist strap of some type is necessary (might do a post on that at some point too).
Very fast start-up and AF. The GX85 is good to go as soon as you flick the power-on lever (though if you've got the 12-32mm pancake lens mounted, you might need to extended out from collapsed mode first too). AF and confident. There's also a nifty feature to adjust to varying levels the size of the focusing box. A similar feature is also found on the Olympus cameras, but it isn't nearly as graduated as it's here on the Panasonic.
One of the most annoying things I felt on the E-PL6 was its plasticky and finnicky mode dial. It was too easily turned, and very often, I'd find myself in M(anual) or S(hutter priority) mode when fishing the camera out of the bag. The GX85's mode dial doesn't feel metallic either, and it's somewhat stiffer than the E-PL6. That it's slightly recessed from the edge of the camera helps, but unlike the E-M1, the absence of a mode lock button means that it's still possible for accidental changes of recording mode.
Most people won't bother about shutter sounds as long as it's not too loud. Odd as this might sound, I like the GX85's shutter release sound! It's reasonably soft, and offers a reassuring double 'thud' when triggering a release. If I had to rate my most recent cameras in minutiae like this from love to hate it, it'd be the GX85, X70, E-M1, E-M5, and the relatively loud and annoying ka-plak coming out of the E-PL6. And for fully silent shooting in quiet and stealthy environments (e.g. churches, weddings), the GX85 has an electronic shutter.
Fixed-position electronic view finder. Unlike the E-Ms', the viewfinder doesn't use a separate eye-cup – which is well and good. The E-M5's eye-cup is especially fiddly and comes loose easily. Two such have already been damaged from wear and tear, necessitating a costly replacement each time. As for the view inside the EVF itself, responses have been decidedly mixed. Many Internet gadget reviewers have remarked that the quality of the 2.76M dot effective field-sequential-typed EVF might had been alright some years back, but against today's modern cameras, its quality is a step-down. Its most serious issues include possibly visible color tearing. And also that the eye needs to be perfectly lined up against it, otherwise you might see ghosting in selected elements, especially aperture and shutter speed text information. I'd put the EVF on the GX85 below that of the almost 5 year old E-M5 now. Oh – It's still usable, just not anywhere near what you'd get with older cameras coming off Olympus.
The GX85's touch-screen monitor isn't fully articulating, which will make wefies with the kids tough, unless I go with a wide-angle lens and get lucky blindly composing a wefie that doesn't ungraciously snip off one of our foreheads in the frame! The monitor is flushed with the camera's back – nice! – and its hinge also feels extremely sturdy – distinctly more so than the E-PL6 – and decent size. The touch-screen itself is useful in configuring the camera and choosing spot AF.
On the other hand and unlike Olympus, the screen seems to have low nose-rejection (!) if Touch-AF has been enabled. I've had my focusing AF accidentally changed a couple of times now when my nose contacts the screen! Its got so bad that I've since configured one of the FN buttons to quickly disable the touch-screen, and turn it on only when I need to choose an AF spot.
More handling notes in the next post!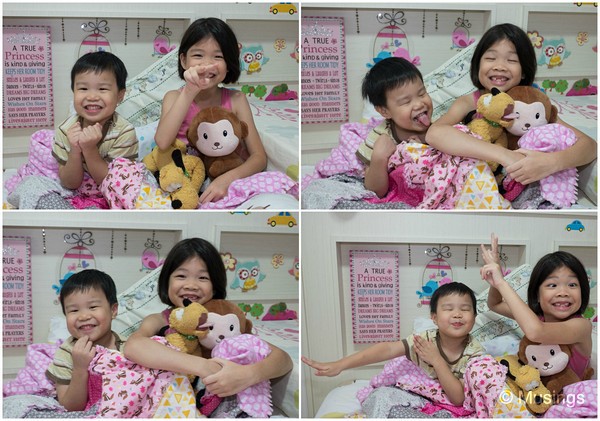 Kids @ 17mm, 25mm etc. – Part 30
The routine of the new 2017 year has settled in nicely over the last two weeks now. Peter is now in his second year at his childcare/kindergarten, and displays none of the separation anxiety he briefly showed a year ago. Interestingly, his teachers at the last Meet-the-Parents meeting said he's very well-behaved in school and mixes well. But at home, he's continuing to drive us (or rather Mommy) up the wall with his antics, which include all manner of variations of "not listening". When we recounted his behavior at home to his teachers, they quipped that it just might be because our second born is socially intelligent, and recognizes that there are different forces at play when he's around friends, teachers and other people. And while at home, he slips into his normal, real self LOL.
Hannah is now also in Primary Two, and doing pretty well in school – if the couple of academic and study awards she picked up at the end of her first year is any general indication. Though just two months into lessons, she's coping with her music lessons, and – from what her teacher says – and is very musical, something that pleases us both to no end and we're both claiming more genetic credit than the other for it! Well, like Daddy at least, she has good musical memory, picks up new pieces quickly and transpose them back on the piano by listening, and can improv – so there.
Funnily, between the two though, it just might be Peter having as strong a music gene as his sister, going with what Ling is observing. P sings and hums. OK, so all kids probably do, but this boy does it a lot. And at his young age, he can also recognize music pieces and say where he heard them. At the moment, much of his recognition comes off the numerous piano pieces I've been playing at home, and some of them would seem fairly complex music for young kids to digest.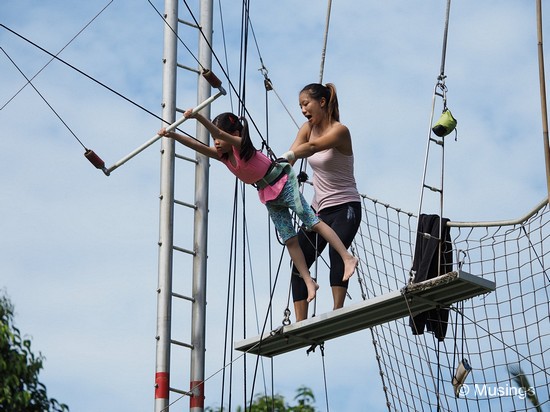 Club Med @ Bintan – The Pictures – Part 1
Of the whole bunch of us, I reckon Hannah probably got the most out of our Club Med Bintan stay. Ling wanted to try out a couple of activities (e.g. trapezing) but was trapped down by Peter who clung onto her and refused to let her go. But she was able to venture out to the beach several times to hunt for sea life. Peter was probably just thrilled to lots of things to touch (and eat).
As for myself, aside from swimming and archery, I pretty much spent all the rest of my time taking pictures and reading. In fact, on the latter, over five days I finished four books including one on the battle for Iwo Jima and written by the late Robert Leckie and whose story was told in The Pacific mini-TV series, and a quarter into a fifth –  Forgotten Ally by Rana Mitter, a critically acclaimed and compelling account of China's role in WWII, the struggles between early politicians like Mao Zedong, Wang Jing Wei and Chiang Kai-shek and why China is the way she is today. The National Library of Singapore's eReads is a godsend!
Of the whole bunch of cameras, lenses and accessories I brought along for the trip, surprisingly, usage largely centered on a few key pieces of all the gear I carted, and they included:
E-M1. This camera body was given a real run for the money, and didn't disappoint.
Olympus 40-150mm f2.8. Of the slightly under over 1,300 frames I shot, about 80% were on the E-M1 (the remaining were using the E-PL6 and also Samsung Galaxy Note 5), and of these, almost all were on this 40-150mm lens.
Billingham Hadley Pro in its first substantial outing. The National Geographic messenger couldn't comfortably hold the 40-150mm.
Joby Pro Camera Strap: worry-free tethering!
Surprisingly, the equipment that I used little of or barely touched included the:
Olympus E-PL6/Olympus 17mm f1.8: I took several dozen low-light shots in our dimly-lit rooms and also a couple more at the restaurant – but that's it.
Olympus 12-40mm f2.8: used it only for a small handful of beach and walking about shots and also our usual family wefie shots on the last day.
Nissin i40: never got brought out.
This trip was probably an odd one, since we didn't do any sight-seeing at all. Rather, the majority of the 950 or so shots using the E-M1/40-150mm were of Hannah's activities, and also at the evening concerts, where the combo really shined and producing amazing pictures under limiting conditions. Here's the first bunch of them; I took so many concert pictures that they'll have to go into a different post later!
Concert pictures next!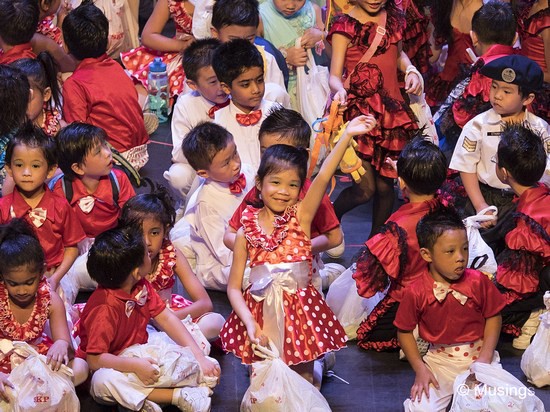 Hannah's K2 Concert
Hannah's last concert at her Kindergarten was today. Amazing how time flies – she's had four of these now, and now that she's at her last year as a K2 student, the concert was preceded by her graduation ceremony too. In the last couple of concerts, the Olympus 75-300mm did the honors, with the 600mm full-frame equivalent reach reaching every part of the stage with ease. This year, the lens of choice for the long shots from our Circle seats was the newly acquired Olympus 40-15mm f2.8.
After about 600 shots, the long and short of it is that the 40-150mm is worth every cent. The E-M1 was set to Single-AF, but hit the correct focusing point. The several stops of light-gathering ability also led to the lens' most significant advantage over the old Olympus 75-300mm, which meant I could get shots at 1/500s to freeze motion and ISO1600 – a combination of shutter speed and ISO that would had never been possible previously. The 1.4X teleconverter stayed in the bag for most of the concert after I decided I'd rather keep the extra stop of light than lose it to longer reach.
We did have experience a mishap though when it was Hannah's class turn to perform their dance number on-stage. Specifically, and in part from a misunderstanding on where our girl would be entering the stage from, I ended up taking taking pictures centered on what looked like Hannah when it wasn't her. Yeah – super dud LOL. Fortunately, Hannah was still very much in the frame; just not centered. The dance routine wasn't particularly memorable unfortunately too; the performances from the other classes were more interesting, and my casual shots of those performances using the 40-150mm turned out pretty well (won't post them here on our blog though).
A small selection of pictures!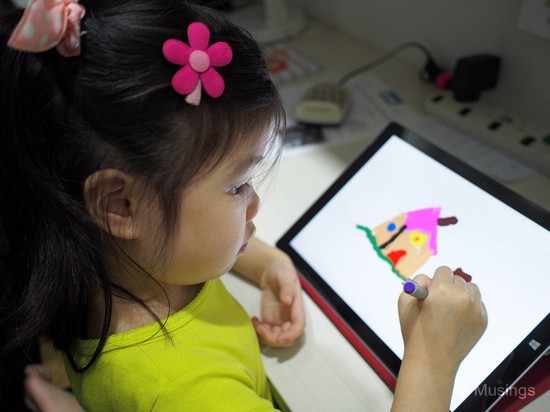 Kids @ 17mm, 25mm etc. – Part 27
Monsoon has passed since the last week. The weather has been gradually warming up during the day alongside rain becoming an infrequent occurrence. And while nights remained quite cooling, it won't be long before the island creeps into daily temperature highs of 33°C and beyond. The transition in weather has also made our two kids more vulnerable, and Peter experienced mild-temperatures on and off in the last fortnight, and Hannah is just recovering from a week long bout with skin rashes, possibly an allergic reaction to seafood at a family dinner we had a fortnight ago.
Ling was remarking that Peter doesn't look like his age at all. At past 19 months now, he still has a baby-ish look about himself and were it not for the fact that he has a healthy pair of legs that let him run around, could be mistaken for an infant that's just a year old. While he's unable to say words beyond "jie jie" ("big sister") and "daddy" and loud Homer Simpon-like "DOHs", he's better able to understand simple instructions we give him. Like:
"Peter, put that toy back on the table."
"Peter, go to your jie jie."; and of course…
"Peter, get your bu** over here NOW!!!"
He's also less clingy to Mommy now too, after Daddy made a concerted effort to bond better with him, and will happily follow after me when he's called to without the accompanying hollers and screaming from a couple months ago.
But then again, he's also been doing quite a few stunts that's been making us tear our hair out, including:
Upsetting Ling's plants, and eating the soil that spill out.
Taking Hannah's hair-clips and dropping them into the toilet bowl.
Taking an entire toilet roll, and also dropping it into the toilet bowl.
Taking Ling's NASA stress ball, and biting pieces off it.
Ling was especially furious about the last one, since the stress ball was a beloved memento. We're of course not to the point where we'll punish Peter for misbehaving since he's not fully cognizant of his actions, but it won't be long now before he gets introduced to 'time-outs' for bad behavior.
All this said, Hannah has been a real help. As Ling put it on Facebook:
God gave us a healthy son albeit a very lively one. Sometimes I do fret over the stressful situations his liveliness brings and forget that he is a blessing. Over a peaceful dinner at home just now made me realised this and that God has also blessed us with a wonderful daughter who helped to keep Peter occupied so that the adults could eat 'in peace'. Let me not forget that and be thankful!
Pictures.:)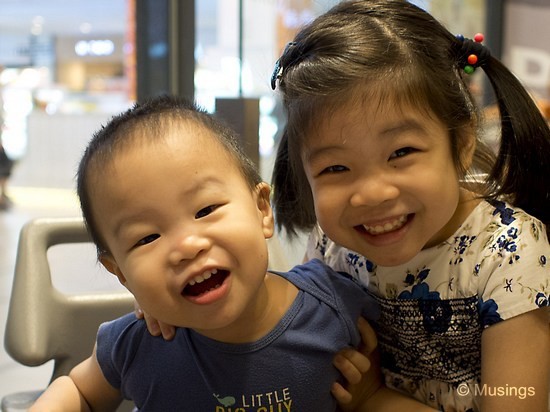 Kids @ 17mm, 25mm etc. – Part 26
Incredibly; more than 3 months have whizzed past since I last did a photo post on our two kids!
Hannah has been growing both in understanding the world around her and also in her sense of independence and decision-making. We've successfully taught her to shower on her own now since last month/year, though she still needs the occasional help bringing down the showerhead from its holder, or hanging up her wet towel in the yard. She also can easily find things on her own to entertain herself with, and – nicely too and something we observed from young about her – isn't obsessed with TV or electronic gadgets. She'll, very occasionally, ask if she can watch TV for instance (her current favorite are Tom & Jerry cartoons, no doubt a consequence of having watched tons of it over Cartoon Network while in Koh Phangan) or play her Mickey Mouse Clubhouse games on the iPad, but doesn't mind if she can't.
Peter on the other is quickly turning into more than four handfuls. At his age of 19 months now, we've concluded that the amount of care and labor that goes into managing him has long surpassed what Hannah required at the same age and even younger. Peter is a fussy eater (vomits food that he doesn't like), doesn't easily go to bed for naps or overnight, and gets into baby tantrums at the slightest unhappiness. Ling in fact quipped yesterday that the effort to take care Peter is easily twice that of Hanny. The difference between baby girls and baby boys – until this point we'd never realized how true such differences can be.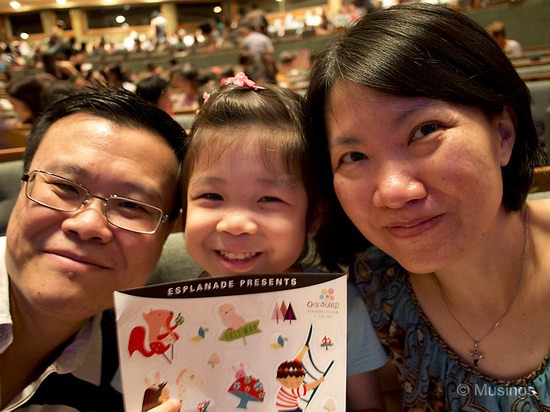 Kids @ 17mm, 25mm etc. – Part 25
We benefited from a long holiday/weekend last week by taking advantage of a public holiday with an additional day of Leave added on to do things with Hannah and Peter. The highlight of the four-day break was to bring Hannah out – on Children's Day – for a visit to the Singapore Science Center, followed by a ballet appreciation performance @ Esplanade with the Singapore Dance Theater. Going to the Science Center especially brought about a huge sense of déjà vu. It wasn't so long – alright 35 years ago – when my parents brought us to the Singapore Science Center, and now we're bringing our kids there too to, hopefully, inculcate in them an early appreciation for science.
Hannah's reaction to the ballet performance was a lot more mixed though. She enjoyed the first couple of numbers, and possibly because there were too many numbers in the about 80 minute performance, she got distracted and started fidgeting mid way through. From a look around the the reasonably packed theater, lots of other kids too were also getting restless. Still, at least for the attending adults, I learned a thing or two about ballet – like what it means and takes to earn the title of 'ballerina', the trust they need to have with their (male) partners, and why their costumes are adorned in certain ways. Watching the performers and especially the two or three lead ballerinas, left me again with awe on the kind of physicality their art demands.
Pictures.:)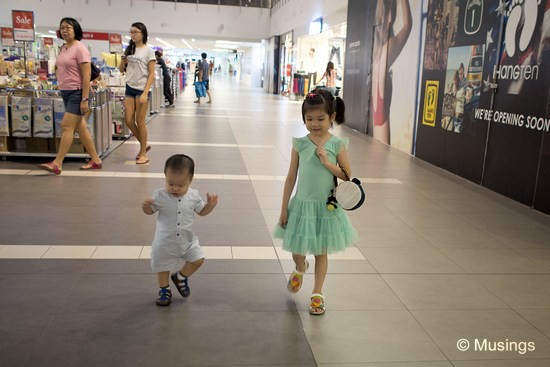 Kids @ 17mm, 25mm etc. – Part 24
Our extended family had a wedding over the weekend when a cousin had her traditional wedding ceremony. The cousin is actually from Hainan, but has been working in Singapore for almost a decade now, and has become close to our family – especially parents – over the years. I guess it's also Mom's connection back to her birth country from so many years ago. Our cousin is a sweet lass and she married a local Singaporen who works in the infocomm sector and who during the groom's speech at the banquet wowed everyone with his mastery of Mandarin.
Hannah was fascinated with the entire occasion; right from when the groom came to the family home to 'win' the bride (the gate custodians – who would have guessed – were her cousins and her, none of whom were older than 10 years old – to seeing the new bride in her gown, and the 10 course dinner – "Wow daddy – there's so much food!!"
Peter on the other hand has been a little more cranky than usual in the last week. In fact, he whines and goes into mini-bawls too easily, which Ling guesses is partially because of his inability to articulate his wants and desires to us. Totally unlike Hannah at the same age, who was often contend to wait for us. We're really hoping that come December when we go on our vacation, Peter would be better able to communicate and hopefully be a little less impatient.
On the other hand, we've been trying whenever opportunity presents itself to let Peter exercise his little legs outside, under our and Hannah's close watch though. It's always fun to watch toddlers walk. They basically just baby-stomp around all over!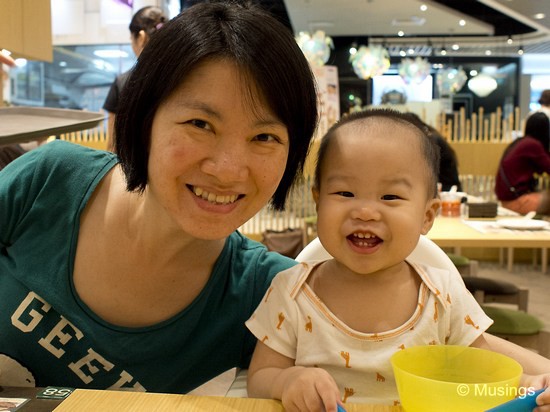 Kids @ 17mm, 25mm etc. – Part 23
Another three weeks since my last post on our two kids. The most significant development between the two is that Peter is now – for all purposes and intent – mobile. Yep, he's able to confidently prop himself up and briskly baby-stomp around the house now, and only occasionally losing balance. That's added a new spin to home safety, since one of us parents need to keep a loose eye on him when he's awake and scurrying around our home – it's not entirely baby proof yet – and it helps that Hannah is like a Meekrat, playing sentry and alerting us loudly if she sees her baby brother doing something dangerous!
The two kids have been taking turns becoming mildly ill over the last fortnight though. Nothing serious and just minor colds and some coughing on Peter's part, but it might be again due to the changing weather over the last month from warm and humid to somewhat cool most days.
We've also been finding ourselves lightly comparing between our two kids at similar ages and developmental ages. Peter is of course a lot stronger as a baby and louder than Hannah was at the same age years ago. Must be a baby boy thing. Hannah on the other hand picked up simple words a lot quicker. In fact, at 1 year 2 months, we recall that she was able to call either of us, while Peter at this point is just managing "da… da", presumably in reference to his daddy. Similarly, we had our small group friends over at our home last Friday, and observed that comparing him to another baby boy who was younger by a few months, Peter still seems… baby-ish, while the other boy was looking distinctly more mature!