Olympus E-PL1
now browsing by tag
Olympus E-PL2 – Part 3 – Initial Handling Notes
Continued from the last post!
It's not easy deciding whether the Olympus E-PL2 is a significant or a minor upgrade from the E-PL1. It doesn't help that Olympus doesn't seen to be phasing out the E-PL1 yet at the moment, and letting the two models sit side by side on the same shelf.
Functionally, they're pretty similar. In fact, I didn't even bother with the E-PL2's Instruction Manual. From the first pick-up at the Funan Center outlet of Alan Photo, I found myself instinctively navigating through the menus to toggling modes and options to make sure the camera was working properly before handing over the money for the camera yesterday morning.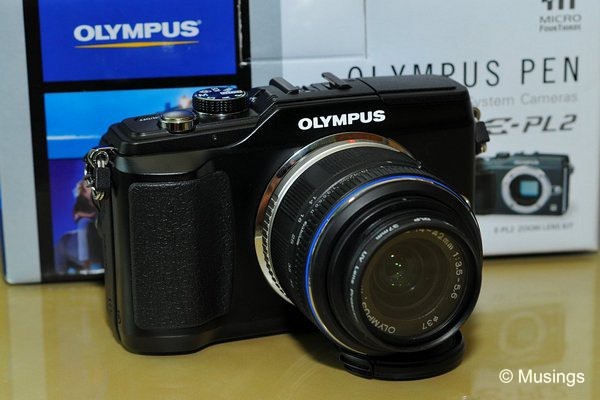 Here's a list of my small notes; ranting off and in no particular order:
– I went with the Black edition this time, just for a change. And I'm starting to have mixed feelings about the color. Sigh. Should had gone back to the Champagne Gold one, like my old E-PL1.
– Out-of-camera JPGs remain outstanding. I took a few shots outside at The Rivervale and they look just great. This is one camera I have no problems shooting in JPG.
– Flash recycling times have improved – nice!
– The hotshoe cover slides off easily. I took it off first thing and left it in the box, lest it slips off accidentally when in actual use!
– The new MSC Mark II kit lens focuses internally, silently, and very briskly (hooray!!!). Even Ling was impressed.=)
– The new kit lens however uses a different lens diameter. 37mm. Gaaah. What am I gonna do with the 40.5mm filters I bought for the E-PL1 now?
– On the other hand, the new kit lens feels a little more plasticky. Maybe it's the color.
– The 3 inch 460,000 dot rear TFT LCD is gorgeous. Not as pixel-dense as the D300, but definitely an upgrade from the 260,000 dot 2.7 inch LCD on the E-PL1.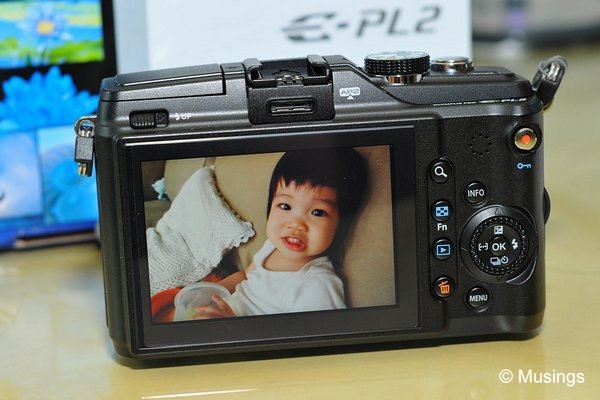 – The rear four button controller on the E-PL1 has been replaced by a control dial that supposedly offers faster navigation through menu options. I didn't care much for this though as the control dial itself is still too small to make rotation easy.
– Whatever happened to the volume control of the focus-beep? It's on or off now only in the new camera.
– Rotatable Ring strap eyelets included now as a design improvement over the E-PL1. I actually prefer the rectangular metal ones from the old E-PL1 instead. These new rotatable ones rattle.
– The UI really looks antiquated. It's functional yes, but not particularly pleasing aesthetically. Having seen the Sony NEX-5 and Samsung NX100 UIs, the Olympus one looks like it's from a 2000's rather than 2011 line of digital cameras. Maybe it's the font or the color scheme, or both.
– The E-PL2 feels more robustly made than the E-PL1. It's still a large plastic construction, but exhibits no flex at its joints.
In all; I'll put it somewhere between a significant and a minor upgrade from the E-PL1. The faster focusing is the singularly most important benefit for me, with the larger and higher resolution LCD following next. More and final notes to come after I've spent a bit more time using the camera. =)
Olympus E-PL2 – Part 2 – Looking for Alternatives
Continued from the last post!
I'd actually been looking for a replacement compact before deciding to sell the E-PL1. Initially, I toyed with the idea of an underwater-capable compact and/or setup, but dropped the idea when I found no end to the horror stories of supposed waterproof cameras, even the premium ones, going uplorry on their first swim.
There's been a series of very attractive and feature-laden high-end small cameras; some lens-interchangeable and mirrorless like the E-PL1, and others which are solidly in the 'compact' class but still offering very good performance. I narrowed the entire lot based on what I was willing to pay (up till about $1K), and ended up with my usual spreadsheet comparing between eight models: Canon G12, Nikon P7000, Panasonic LX5, Olympus ZX-1; Panasonic GF-2, Samsung NX100, Sony NEX-5 and the Olympus E-PL2.
The first four are all-in-one compact camera solutions, and in the case of the ZX-1, features a slightly larger than normal for its class sensor coupled with a marvelously bright lens with a large maximum aperture. Attractive price points too. Thing is; it's hard to go back to these compact cameras when you've experienced mirrorless formats which are just slightly larger but way more versatile and routinely offering better performance and optics. So, all four got dropped in consideration last week, and it was back to the micro four-thirds format (the GF-2 and E-PL2), the Samsung equivalent (NX100), or the Sony NEX system.
The Samsung NX100 got dropped out of reckoning next. Limited lens range and no optical stabilization were the killers for me, despite its APS-C sensor size and very low price point. The GF-2 was a recent update of the well-received GF-1 but it eschewed mechanical buttons and dials for touch-screen operations (yuck).
So, it became a toss-up between the Sony NEX and the Olympus E-PL2. That was a really hard decision to make. The NEX is slightly more expensive than the E-PL2, but is packed up the wazoo with features that are missing on the E-PL2, including in-camera panoramas and HDRs, super-slick UI, full 1080i HD video recording, and excellent noise handling in high ISO. Unfortunately, a couple of its quirks killed it for me too; relatively huge lenses compared to its diminutive camera body, very limited lens range, built-in flash can't be bounced and no option to mount an external flash.
So it was the E-PL2. Continued in the next post!
Olympus E-PL2 – Part 1 – Decisions
I sold my Olympus E-PL1 away late last week after having it for over a year and shooting about 6,000 pictures on it. I really liked the camera a lot. It was handsome looking, beautiful out of the camera JPGs, VERY reliable (it survived dunking in Niagara Falls!), and I found myself using it more than the D300 to take pictures of Hannah. And that's to say nothing of that the camera's a much more discreet device that I can bring around everywhere.
There was a single problem with the little mirrorless compact though, and it was the awful habit of its 14-42mm lens constantly hunting around for the appropriate focus point in low light. When I'm shooting in good light or outdoors, focusing is speedy. But indoors and with a hyper active Hannah, half the shots I took were invariably out of-of-focus. Occasionally that was because of subject motion – Hannah just wasn't going to sit still while waiting for the lens to decide its optimal focus – but even when Hannah was still, a lot of images still came out blurred for some reason even though at this stage I've developed pretty robust camera-holding techniques now.
Our friend Ann owns a similar camera and setup and I remember her remarking that that was a major difficulty for her too. Even Ling disliked using the E-PL1 because of this and preferred using that cheapo Panasonic LZ8 of hers.
For a while I thought it was an issue with the camera, until upon trawling the Internet for notes from other users, discovered that the focusing difficulty was a known problem with this lens and the E-PL1, and there was a revised edition of the 14-42mm (a Mark II) that solved this issue. Moreover, there was some kind of conflict between the lens' shuttle vibration and lens elements when shot at a focal length range and at certain shuttle speeds, which resulted in vertical blurring (detailed analysis here).
Unfortunately, I couldn't find someone to sell me a used copy of the updated lens, and a new one would have cost about $450 – ouch! Mildly exasperated, I decided to just sell the E-PL1 with the 14-42mm late last week for about half of what I originally paid for a year ago – within 12 hours of posting up the online ad, there were 17 persons all wanting the unit; should have asked for more – and look into an alternative.
More in the next post!
Hannah back at Punggol Park
Funnily, even though we can see Punggol Park from our living room, we don't go there for walks as much as we'd like. Hannah's certainly not been there very often. Her first occasion was when she was just two months old, and there hasn't been many occasions since. Ling's resolved to bring our girl down for walks more often though, which is what she did this Sunday late morning. Pictures.:)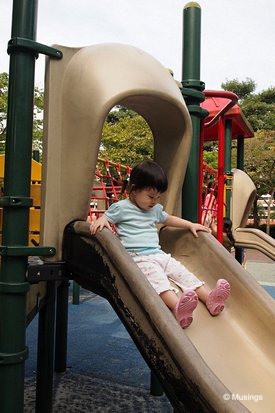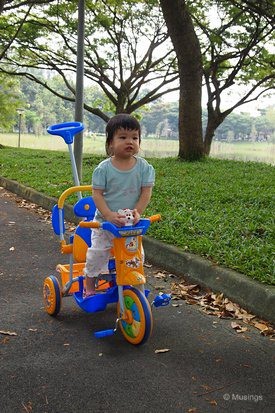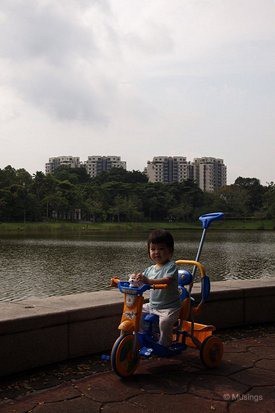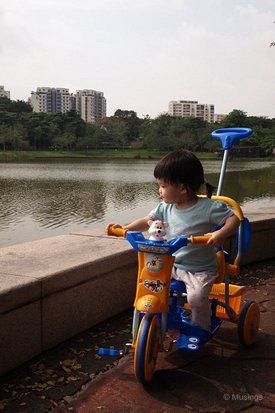 Punggol Boardwalk
Ling has this thing about going to places that are closer to nature. After our friend Ann visited and blogged about a new board walk that stretches along Punggol canal, we popped by earlier in the early evening for a quick visit then dinner at one of the newly established restaurants there.
Pity though was that the area was madly humid. The very unpleasant kind of sticky heat with a distinctive whiff of dry-ness in the air. Hannah is well-dressed with longs and pants though as Ling was paranoid that she'd get bitten by more mosquitoes!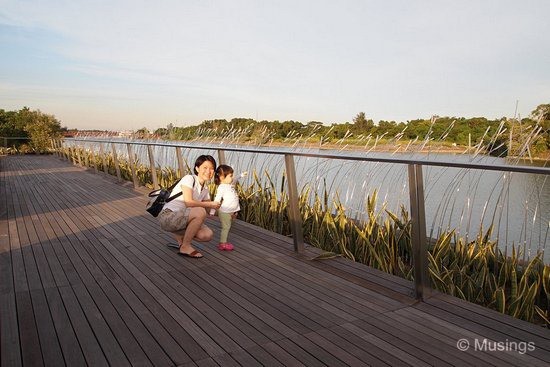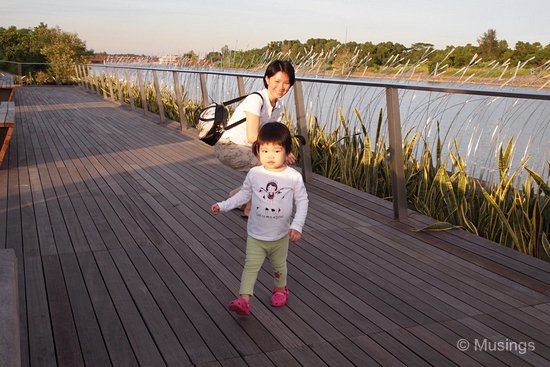 The boardwalk was newly built with segments of it still under construction. Lots of people starting to mill around close to 7 PM. While the area still looked pretty pristine and clean, I wondered aloud to Ling how long it'd be before the hordes invade the place and mess it all up.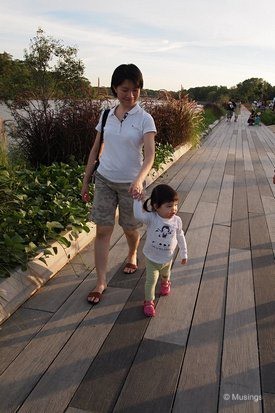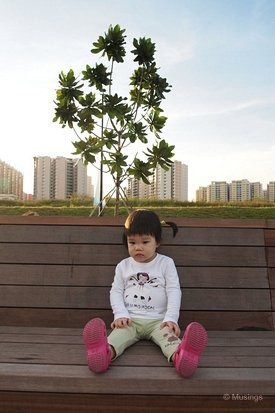 Oh well – enjoying it while it lasts!
TGIF
I was at an army camp yesterday afternoon for my bi-annual medical check-up to certify Singaporean males past 35 years old whether they're still physically fit to undertake the yearly physical fitness test. I cleared all the stages – but at one stage, the attending medic remarked; "Sir, you've got high blood pressure."
That really pretty much killed the rest of the day and week, though that I've got HBP has not come as a surprise. Since September last year's receipt of new work 'appointments', I've been coming home each night physically weary and emotionally drained. I do not innately enjoy management roles, and even though I've got 7 years of it under my belt before joining my current institution, I still find myself out of my natural element. As I remarked to my own reporting officer, I'm an exemplar of a product coming out of the Singapore education system – I can't think creatively and 'out of the box'. Nor am I especially clever at reading nuances or subtlety in communication. And I absolutely suck at differentiating between being forthright versus exercising discretion on when it's best to hold one's peace. All I can offer is determination, honesty, a good work ethic (hopefully), and an ability to see patterns, rhythm and organization in everything I do, see or hear.
—
I've found joy each night though especially in Hannah. We were at Hougang Mall for a kopitiam dinner again, and while Ling was away to buy and bring back her usual plate of noodles, I took these few pictures of Hannah: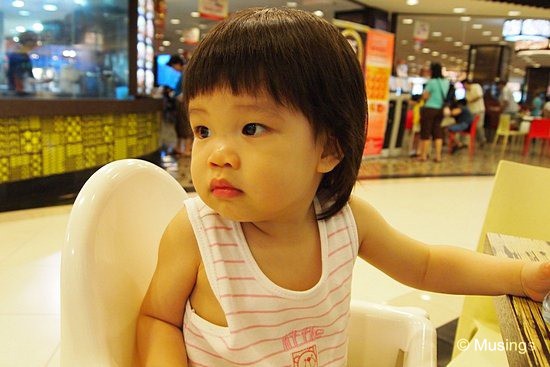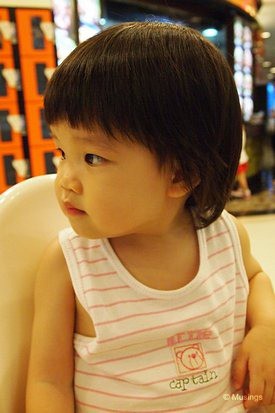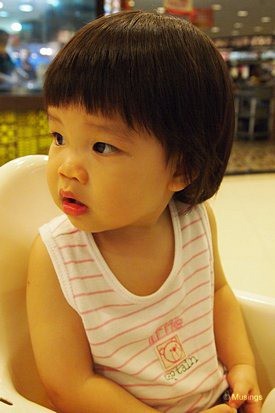 Hannah seemed completely lost in thought again as she gazed at some distant object at kopitiam. But as I watched her, there was again that indescribable sense of having been blessed with a lovely daughter whom we see growing each day, better using her senses and better able to understand the world around her.
Hannah @ 1 Year 7 Months!
After posting up nearly 50+ Japan posts in the last fortnight, it's time for Hannah posts again!
One thing that we were really thankful for was that Hannah adjusted very well to her nearly 11 day stay with grandparents at Lentor, and also the company of her cousins when they came by. In fact, mom said that we could continue disappearing for another 10 day holiday and Hannah would likely not miss us either! :)
We did try the video conferencing thing while we were away, but likely because of the really slow Internet connection at Lentor, the video feeds didn't work well at all, with frequent audio drop-outs, and that having an MSN video chat was like watching a slide show.
A couple of pictures taken the last weekend too. She picked up a nasty mosquito bite off her stay at Lentor (visible on the left picture below). She's also been able to confidently navigate herself walking onto escalators, something she still seemed a little unsure of a few months ago. It just doesn't seem very long ago when we'd carry her on the same.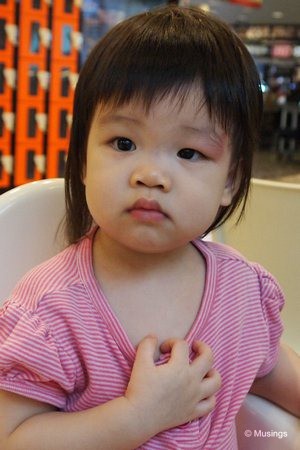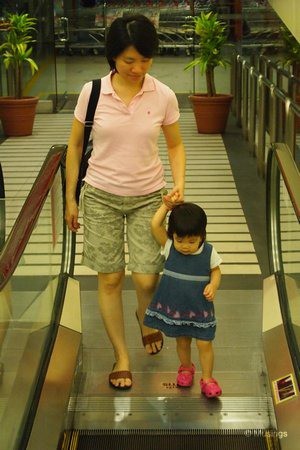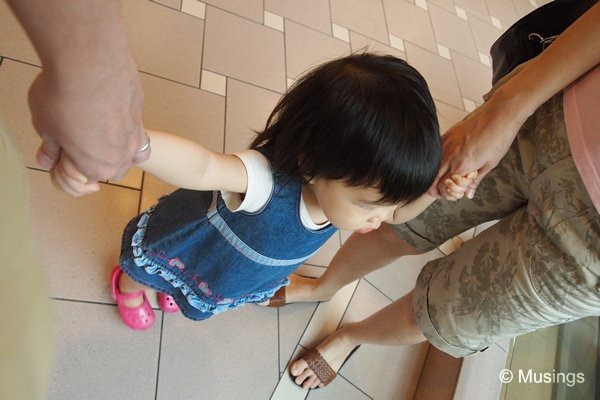 Day 10: Osaka – Walking About
We finished our visit to Kaiyukan, lunched at First Kitchen at the Tempozan Harbor Village next door to the aquarium, then traveled back the Umeda area. We still had several hours to kill before heading back to The Lutheran Hotel to pick up our luggage that we'd left at the concierge and head to the airport, so we explored the area a bit more on foot, eventually finishing at Yodobashi Umeda mall for shopping and dinner.
Dinner was at a level 9 restaurant called Hong Kong Chon Long offering Chinese cuisine, buffet style. There were several other eateries on the floor, but at this point in our trip, we were pretty tired of Japanese food already and were both tired from all the walking and just wanted a place to stone. Per head cost was about 2,100円 per person including drinks; relatively pricey for this floor, but the offerings were rather disappointing. I didn't enjoy the dim sum as they tasted as though they were made from the same shrimp paste – heck, even the Hougang Mall kopitiam whips out better dim sum than this. The Chinese-styled stir fry tasted better, especially the fried noodles and rice, and the sweet & sour pork ribs, though there wasn't really much range or variety.
Which led me to conclude to Ling; I think we should just avoid trying out non-local cuisine at this price range the next time we're in Japan. We should just stick to their national fare which they do consistently do better in, in our experience anyway.
Day 9: Osaka – Lunch @ Namba & Dinner @ Hanshin Department Store
Like most of Kobe and Kyoto, there was no lack of dining opportunities in Osaka and you're only limited by how crowded the restaurant is, the waiting time you're willing to accept, and your budget. When it came to lunch, we were about the Subway Namba Station area. This station is connected to the next one – Subway Nipponbashi Station – by a long underground mall. Having come off Tonkatsus, we were up for ramen this time. One Ramen restaurant called "Koten" at the underground mall seemed quite popular with the locals and the prices quite attractive. So, we ducked into this place for lunch.
By dinner time much later in the day, we'd explored the Shopping Arcades, stopped by First Kitchen – a Japanese fast food chain that offers pasta, burgers and salads – for coffee, and done the Osaka City night panoramas at Umeda Sky Building night. Heading back to the JR Osaka Station/Subway Umeda Station, we explored both the underground and surface areas for dinner opportunities. Found ourselves at the 14th floor for restaurants at Daimaru Department Store, and left has hastily when we saw the prices and the likes of restaurants like Le Figaro – wandered around a bit more, and it started snowing again LOL.
Eventually, we ended up at the Hanshin Department Store that's just across JR Osaka Station where there were several quiet restaurants at Basement 2 (Basement 1 has an totally crazed out wet-market for fresh foods, including huge mutant-sized crabs). Of the lot, we settled on a corner restaurant offering tempura sets which Ling and I both had. Interestingly, this restaurant was wait-staffed entirely by elderly folk, compared to the usual young adult wait staff we see everywhere else.