Olympus E-M5
now browsing by tag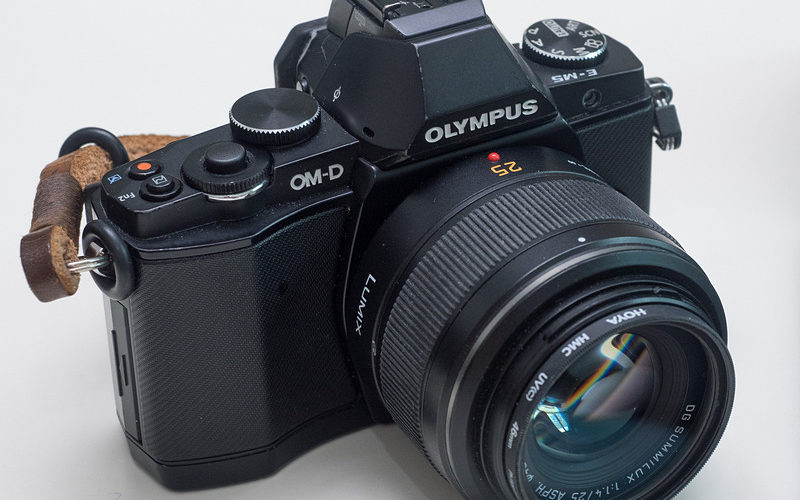 Shooting with the Olympus E-M5 + Panasonic 25mm f1.4
The other weekend's series of camera + prime lens pictures was so fun to do I reckon I'll do a regular series on this on our blog. This week's combo is the E-M5 with 25mm. The Olympus E-M5 is the oldest of my four m4/3 bodies that I still use regularly. I've been quite careful with this particular body, though given that it's seen quite intensive use over the almost 5 years I've had it, the scruff marks on the body are now quite obvious to the naked eye. The E-M5 isn't without its middle age quirks too; the camera doesn't always power-up now when the power lever gets flicked on, though it normally does on the second try!
I've also had the Panasonic 25mm f1.4 for just over four years now, with my particular copy purchased on Amazon JP and shipped here through Tenso, a Japanese parcel-forwarding company. The lens is also showing its age too, though its rubberized lens grip acts also as a protective layer from it getting scruff up with nicks and bangs like my E-M5.
The 25mm remains the fastest and only f1.4 lens I own. Its light-gathering ability of course makes it great for low-light shots, and of the kids especially in ambient light – though it's also less useful say for night-time shots of scenery. The shallow depth of field also makes any composition with not one but both kids a more considered undertaking, since it's seriously easy to have one of the two just out of focus.
The lens is still balanced nicely with the E-M5. The lightning quick AF on the E-M5 plus the fast shutter speeds that the camera reaches for when coupled with a f1.4 lens makes it easy to catch decent pictures of fast-moving kids who don't keep still – especially Peter. In fact, there's no reason to engage continuous AF on this combo when single AF works great here.
A selection of this week's pictures shooting with the E-M5 and 25mm exclusively. All were wide-open at f1.4, and between ISO200 to 400. The first four were also just before weekday bedtime so with the Nissin i40 flash gun.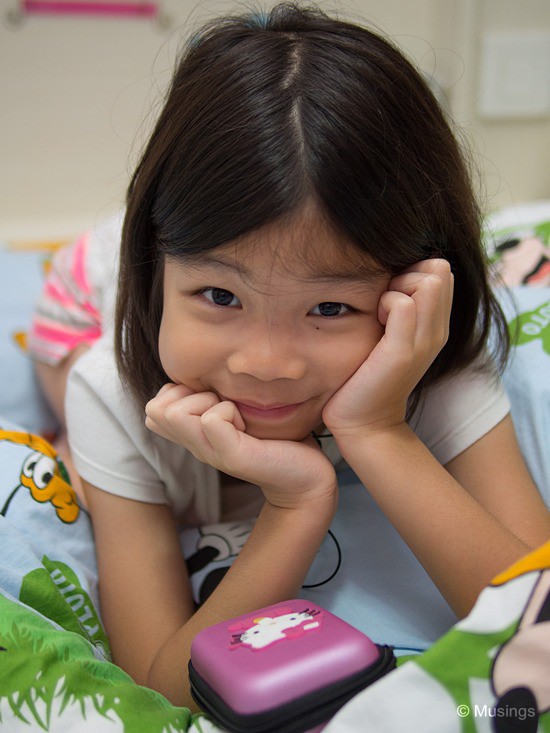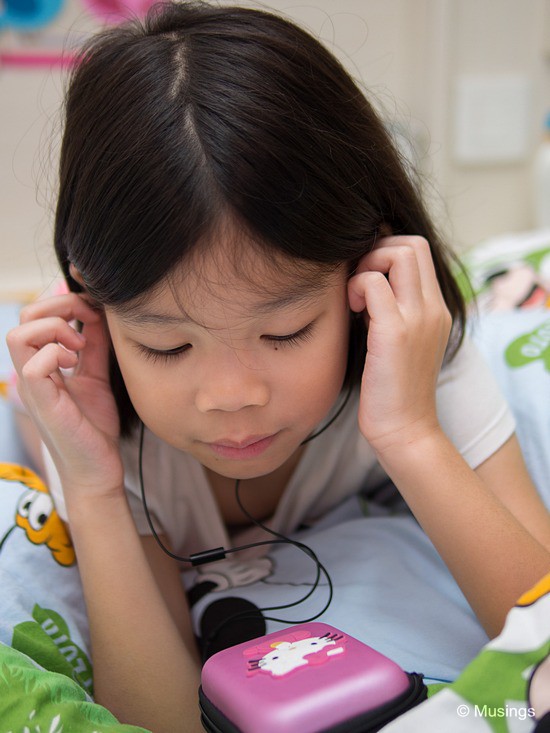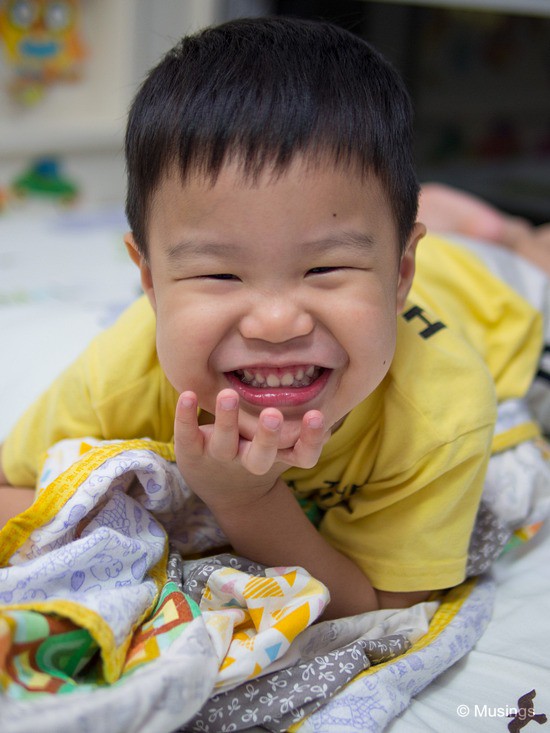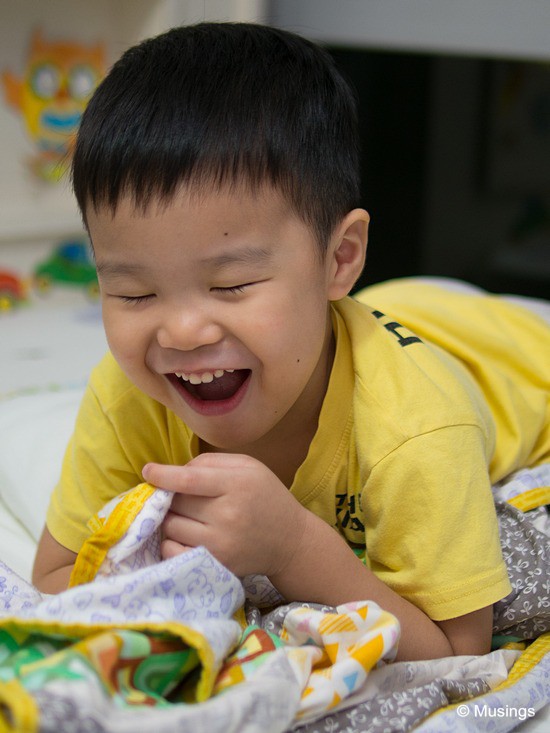 And over the weekend:
Next post in this series will be the Panasonic GX85 + Olympus 45mm f1.8!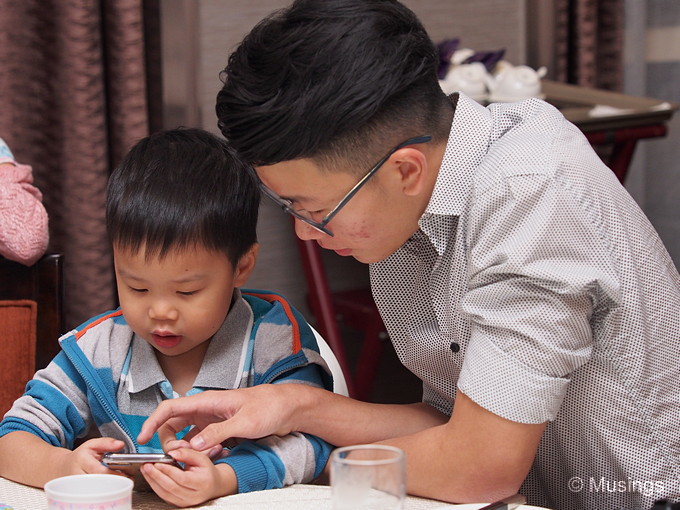 A Chinese Banquet with the Olympus E-Ms and Pros
A typical Chinese wedding in Singapore typically comprises several segments: the Fetching of the Bride, Tea Ceremonies, a religious segment (e.g. a church wedding), followed finally by the evening banquet. Wedding photographers are routinely contracted to cover an entire day packed with these events, and it can run from as early as 6AM and non-stop all the way till 10PM, and they are also often even asked to find time in-between to put together a montage of photos taken in the morning so that they can be shown during the evening proceedings.
Dad recently had a fairly lavish 80th birthday celebration banquet at Wah Lok Cantonese Restaurant @ Carlton Hotel, the same hosting hotel and also restaurant when we had our own wedding banquet 10 years ago. To be fair though, we've been several times to Wah Lok over the years, since it's one of the larger family's favorite Chinese dining places, and the family knows some of the restaurant's personnel well enough that we get pretty good service. All of our closest relatives and neighbors were invited to form four tables, and my role was the designate event photographer. Not a role I'm experienced in at all of course, but it was a fun opportunity to try a few new things, and perhaps also get a small degree of insight in to what banquet photographers do and the circumstances they work in.
The equipment outlay was pretty simple: both the E-M1 and E-M5, and both of the Olympus f2.8 pros: 12-40mm and 40-150mm, and the every trusty Nissin i40 for fill-in flash. The ceiling wasn't very low, so flash bouncing off the ceiling wasn't going to work well. Unsurprisingly, the Stofen-styled diffuser was throwing so much light around that there most persons' faces got harshly lit, necessitating adjustments in Photoshop. Shots taken with the i40's built-in flip card looked much better.
The two E-Ms are similarly configured, and the outputs of both are basically similar. The almost 5 year old E-M5 has started acting up though – it occasionally takes a couple of tries for the unit to power-on properly. Old age? And of the two lenses, the real champ was the 40-150mm. It nailed focus reliably and briskly, and made possible candid shots from halfway across the room. As for shot parameters: pictures were between ISO400 to 800, and for print and blog display purposes, totally usable, and flash sync was set to 1/60s.
A small sample of the pictures from last evening then.
If there's one other consideration the next time I'm asked to do an event like this again, it'd be that I'd seriously have to think about bringing a second flash-gun. Two camera bodies with two f2.8 lenses great! Having to repeatedly switch the flash gun between the two E-Ms – not so much LOL.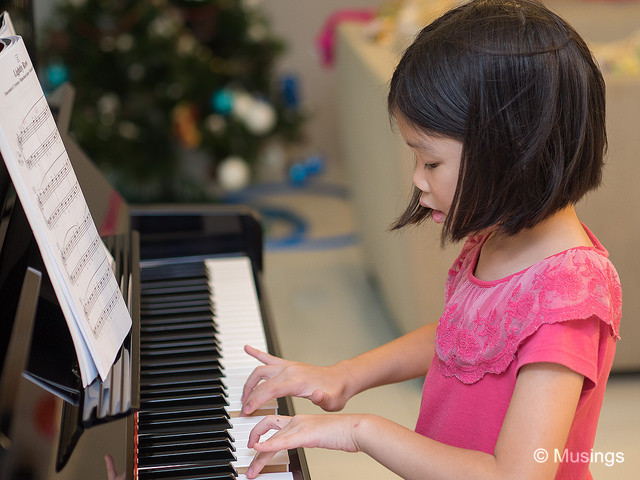 m4/3 – A 2016 Review
2016 was a comparatively slow year – new gear wise at least – for the cameras I use. I still keep a expenditure log of items I buy, and over the year, acquisitions were a low half-dozen items that totaled up to about $1.4K and mostly in part from the Fujifilm X70 I picked up in April:
Several MaximalPower BLN-1-compatible batteries for the E-M5 and E-M1
Fujifilm X70
Hoya Pro 1 Digital UV 49mm for the X70
Meike MK320 TTL flashgun for the Fujifilm system
Hoya Circular Polarizer 62mm for the Olympus 12-40mm f2.8
Another Meike MK320 TTL flashgun and for the M4/3, and currently on the way
Of the m4/3 bodies; the E-M1 has gone along not only for two vacations but along for a couple of event shoots (mainly concerts and student graduation events), and ergonomics and utility wise has proven itself as reliable as I can get them within my photography skill level, though I'm still wrestling with getting the best out of its support for Continual AF + Tracking. The almost five year old E-M5 still gets stashed in my everyday bag on account that it's just much smaller than the E-M1 and nearly as full-featured. The 3 year old E-PL6 though developed stuck shutter problems and has just been sent for repair at Olympus Service Center, and while it's yet to return, that the repair job could cost as much as $130 was a little annoying considering that many pre-loved E-PL6 can be had for just over $300 now.
Lens-wise; Interestingly, unlike the Sigma 70-200mm f2.8 I had for my old Nikon system, the Olympus 40-150mm f2.8 has seen far more use in a year than than the Sigma ever did. The Olympus accompanies the 12-40mm f2.8 for every event shoot I'm on now (and also when a second body like the E-M5 is real useful!), is marvelously brisk and confident in getting AF lock, and very beautiful proportioned too. And of the three main primes, the 25mm f1.4 still gets used the most, followed by the 45mm f1.8 and finally the 17mm f1.8.
For all intents from the kind of photography I do normally anyway, I reckon that my lens range has remained about complete in 2016. That said, I was wondering if there were still other lenses and things to explore acquiring for 2017. For instance:
E-M1 Mark II: Singapore was one of the two lucky countries around the world to get stocks slightly ahead of other countries. I tried one such unit while at the Olympus showroom, and came out of it impressed: even better ergonomics than the Mark I, quieter and almost near silent shutter release, and very fast AF were the most noticeable traits. From the first reviews, the new model also features substantially better battery life and better C-AF. What's less impressive though is the camera body size – it's almost as large as entry-mid level Nikon DSLRs now and also that it costs a small fortune. So no – I'll pass for the moment, not when the Mark I still suffices for what I do.
Olympus 12-100mm f4: released at about the same time as the E-M1 Mark II above, this one is Olympus' 'pro'-grade lens with the kind of focal range that is typically associated with travel zooms. Convenient as it might be when it comes to vacations, we don't travel as much these days and the 12-100mm range isn't for my kind of everyday use as well. And it's a full stop difference between f4 and f2.8. So; pass too.
Olympus 7-14mm f2.8: now we're talking! It's been a while since I shot ultra wide-angle, and the number of years I had the Sigma 10-20mm for my Nikons remind me that UWA shots are also not my every-day thing. That said, this is one lens that actually offers a (wide) focal length that I currently do not possess for the m4/3. So this one's a maybe – if I can find someone selling a pre-loved copy of it for cheap.
Olympus 75mm f1.8: still widely regarded as among Olympus' sharpest and the ultimate portrait lens, though not quite for indoor use given its focal length. And the focal length is covered already with my 40-150mm f2.8 albeit at a stop slower. Still, tempting – perhaps at some point in the future.
The Fujifilm X70 produces great shots and is usable in good lighting, but indoors it's a real dog for moving subjects with its AF constantly hunting about. I might just sell it away in 2017. Moreover, while deciding whether it was worthwhile to send the E-PL6 for repair, I did consider if I should just chuck the camera and get an equivalent compact replacement. And of that: the Panasonic GX80/85 is ostensibly a cheaper brother to the company's top-of-the-line GX8, though funnily, it offers very useful features not found on its more expensive predecessor. However, it's not exactly a small camera, and its screen doesn't flip-up for family wefies – so, nope. Olympus has also released its newest iteration in the E-PL line, the EPL8, and it sure looks nice with slightly bumped up specifications and updated features from the E-PL7. I had mixed feelings handling it at the Olympus showroom though: the camera didn't feel dense and not quite possessing the premium build I expect for its asking price.
So – my wishlist for m4/3 in 2017:
A camera about the size of the Panasonic GM5 with 2016-ish sensor technology.
With sensor stabilization (most of my m4/3 lenses aren't optically stabilized!)
Touch-supported and flip-up screen for wefies
Going for S$700 or less.
And if not, there are of course the 1″ sensor small pocketable compacts like the Canon G7X II, Sony RX100 Mark V, and the just recently released Panasonic LX10, with the first camera on the list there nicely discounted here though my preference is for a small compact m4/3 still. In any case, more to report next year if something new does come into the radar!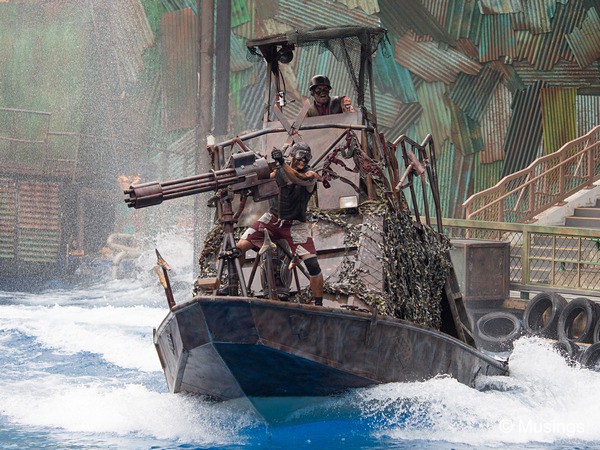 Universal Studios Singapore
I don't think there are many Singaporean families who've yet to visit Universal Studio Singapore (USS) – our island's very own theme park – since it's opening 5 years ago. We've largely put it off because the kids, at various points, were too young – and we also have this thing about avoiding crowds where possible!
Still, when my workplace selected the USS as this year's Family Day outing venue and in the month of September with heavily discounted admission prices, I figured this was about as good a time to visit as any. I reckon there's enough material online already about the place, so without getting into the park introduction bits, here are our summarized notes on the trip.
On account that Peter can only be energetic for so long in a typical day before he gets grouchy, our trip out to USS was early in the morning and we were right there lining up for entry when the park opened at 10AM. That probably isn't the best time for most visitors, since you only have a very small window to get to the popular rides before the inevitable long queues form up. Since the park closes at 7PM, it might just be better to get to the park in the early/mid afternoon onwards when the queues start thinning out.
Parking was easy though this early early in the morning with spots aplenty, though the charges were hefty. We paid $16 for an approximately 6 hour parking.
The most popular rides all begin on the right turn after Hollywood zone, and that was pretty much the direction most of the crowd made a beeline for as soon as they were past the gate at 10AM. If you're crowd adverse and don't mind missing the rollercoasters, take the left and start with the Madagascar rides.
And some brief comments on the rides and shows we got to.
Madagascar: A Crate Adventure: easy-going river boat ride that takes place inside the hull of the large cargo ship featured in the films. The seats are a little small for large adults though and uncomfortable.
Far Far Away: Shrek 4D Adventure: the preamble in the main holding area was a little too long and to the point where the kids got a little restless, but the 3D stereoscopic show itself was lots of fun – especially with the water, wind and seat vibration effects. The freely provided 3D glasses were flimsy though and not quite capable of providing anything beyond a small degree of visual depth.
Far Far Away: Magic Potion Spin: the children's Ferris Wheel Situated inside the zone's gift shop. Pretty long and slow moving queue (albeit inside a comfortably air-con room) since there are just six carriages that can sit at most two each. Nothing particularly exciting but it's at least a nice place to hide out from humid weather.
The Lost World: Jurassic Park Rapids Adventure: Peter couldn't be admitted into this one, so it was just Hannah and Ling – and from the way they described it, it was pretty fun though both got a little drenched!
The Lost World: Waterworld Show: very well-done up show that starts at 1:15PM. The arena-type sitting can sit hundreds, and avoid the soak zone if you don't want to get drenched from the water splashes from the Jet Skis nor the performers pranking the audience before the main show begins.
The Lost World: Dino-Soarin': another child-friendly ride, with the pterodactyls-styled cars going about faster than they look from the outside. Queues move slowly though as the ride is popular.
Sci-Fi City: Accelerator: whirling twirling ride with cars that can sit a family of four easily. Child friendly though those particularly susceptible to vertigo will want to give it a miss.
New York: Sesame Street Spaghetti Space Chase: another low-intensity and mostly sedate ride for children. Queues cleared pretty quickly.
New York: Sesame Street: When I Grow Up: situated inside the large Pantages Hollywood Theatre, and a reasonably done up live performance show featuring several of the show's most popular characters. The most fun part though was at the end when bubbles were released from the ceiling and floated down. The two kids had a lot of fun chasing all the bubbles down LOL.
It took us about 5 hours to do one round in the park, and we skipped most of the most popular rides, figuring that we'd likely come back in a few years when Peter and Hannah are older. Pictures below were taken on the E-M1/M5s with 12-40/40-150mm f2.8s. The E-M5/40-150mm performed very well again, capturing the action-centric shots during the Waterworld Show though we were seated well away from the front of the stage.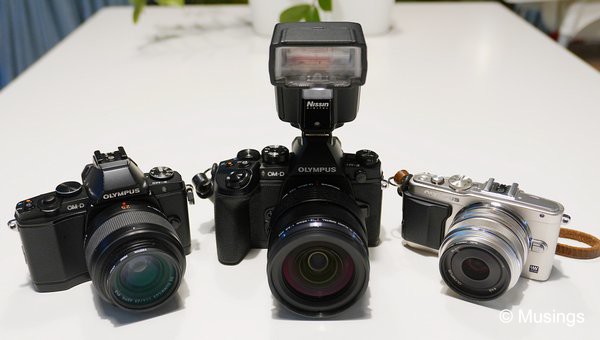 E-M1
I wonder sometimes if I suffer from minor GAS – Gear Acquisition Syndrome – a descriptor used among photography enthusiasts who love their photographic hardware as much, if not more, than taking pictures. I do take a lot of pictures at least, even if in the last year or so now, I've refrained from posting as many photos of our kids as before, due in large part to my wanting to increasingly guard their privacy as they grow older.
I was again tempted by the larger sensor serious enthusiast models, including the Fujifilm X series (the Fujifilm X-T1), and even Sony's full-frame Alpha series cameras (the A7 Mark II), both of which were at price-points that were broadly within my budget. But I ended up staying again with the m4/3s family for multiple reasons: that neither of the two other camera systems are still offering lenses with the same breadth or depth as m4/3s, that their lenses are for the most part more expensive and heavier, and finally, the generally more shallow depth of field in the m4/3s system also meant that their cameras are routinely more forgiving of focusing errors than say the full-frame systems.
The Olympus E-M1 is widely regarded as Olympus top-dog m4/s camera that is designed for serious enthusiasts and even professional photographers. The camera is a little long in the tooth now, it being announced more than 2 years ago, but pundits still estimate that it's a year away from being surpassed by the expected second iteration in the line. I've had the E-M5 for almost 3.5 years now, and thought long and hard if I should go for the next-up model this year. The E-M1 uses fundamentally the same sensor as the E-M5, but is otherwise very different in build quality, usability, the absence of a low pass AA filter, and overall performance.
The E-M1, alongside the M. Zuiko 12-40mm f2.8 'kit' lens – though this lens is anything but 'kit' in quality, goes for around S$2.5K in recommended retail price, and about S$2.25K street price. Ouch. I got lucky finding a nominally used set from someone who bought the set 2 months ago and had barely used it, with a shutter-count of less than 200. I picked it up for S$550 less than street-price for what is really a near-mint set. Good bargain!
The E-M1 makes it the fifth m4/3s cameras I've picked up – four are still in possession, and incredibly, all models from Olympus. The E-M5 is wonderfully light and still offers DSLR-styled handling. So, even though the E-M1 offers function that includes all of the E-M5's (maybe besides size and weight) and then some, I'm thinking of keeping the E-M5 as a second body for primes when I'm asked to do the occasional event photography at work. The E-PL6's rangefinder-esque form factor makes it also a joy to shoot, especially using touch-screen AF and shutter release. Coupled with the 14mm f2.5 pancake lens or the 17mm f1.8 (pictured above), the camera makes for a discrete photography tool that I can fish out in public faces like NTUC Fairprice and not feel too conscious!
Impressions of the E-M1 against the E-M5 in the next post.:)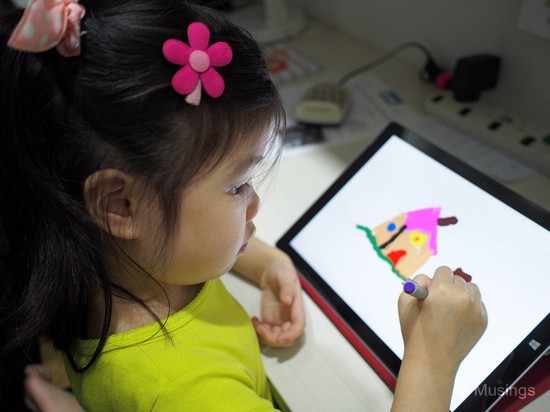 Kids @ 17mm, 25mm etc. – Part 27
Monsoon has passed since the last week. The weather has been gradually warming up during the day alongside rain becoming an infrequent occurrence. And while nights remained quite cooling, it won't be long before the island creeps into daily temperature highs of 33°C and beyond. The transition in weather has also made our two kids more vulnerable, and Peter experienced mild-temperatures on and off in the last fortnight, and Hannah is just recovering from a week long bout with skin rashes, possibly an allergic reaction to seafood at a family dinner we had a fortnight ago.
Ling was remarking that Peter doesn't look like his age at all. At past 19 months now, he still has a baby-ish look about himself and were it not for the fact that he has a healthy pair of legs that let him run around, could be mistaken for an infant that's just a year old. While he's unable to say words beyond "jie jie" ("big sister") and "daddy" and loud Homer Simpon-like "DOHs", he's better able to understand simple instructions we give him. Like:
"Peter, put that toy back on the table."
"Peter, go to your jie jie."; and of course…
"Peter, get your bu** over here NOW!!!"
He's also less clingy to Mommy now too, after Daddy made a concerted effort to bond better with him, and will happily follow after me when he's called to without the accompanying hollers and screaming from a couple months ago.
But then again, he's also been doing quite a few stunts that's been making us tear our hair out, including:
Upsetting Ling's plants, and eating the soil that spill out.
Taking Hannah's hair-clips and dropping them into the toilet bowl.
Taking an entire toilet roll, and also dropping it into the toilet bowl.
Taking Ling's NASA stress ball, and biting pieces off it.
Ling was especially furious about the last one, since the stress ball was a beloved memento. We're of course not to the point where we'll punish Peter for misbehaving since he's not fully cognizant of his actions, but it won't be long now before he gets introduced to 'time-outs' for bad behavior.
All this said, Hannah has been a real help. As Ling put it on Facebook:
God gave us a healthy son albeit a very lively one. Sometimes I do fret over the stressful situations his liveliness brings and forget that he is a blessing. Over a peaceful dinner at home just now made me realised this and that God has also blessed us with a wonderful daughter who helped to keep Peter occupied so that the adults could eat 'in peace'. Let me not forget that and be thankful!
Pictures.:)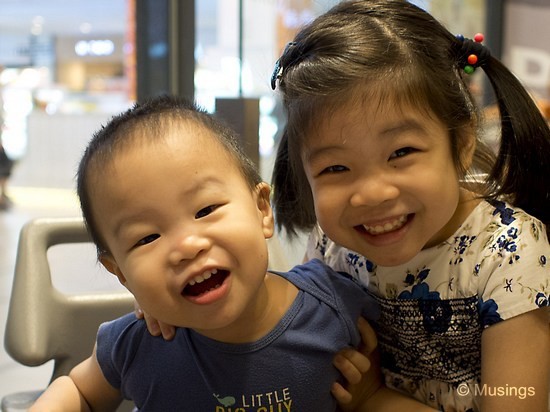 Kids @ 17mm, 25mm etc. – Part 26
Incredibly; more than 3 months have whizzed past since I last did a photo post on our two kids!
Hannah has been growing both in understanding the world around her and also in her sense of independence and decision-making. We've successfully taught her to shower on her own now since last month/year, though she still needs the occasional help bringing down the showerhead from its holder, or hanging up her wet towel in the yard. She also can easily find things on her own to entertain herself with, and – nicely too and something we observed from young about her – isn't obsessed with TV or electronic gadgets. She'll, very occasionally, ask if she can watch TV for instance (her current favorite are Tom & Jerry cartoons, no doubt a consequence of having watched tons of it over Cartoon Network while in Koh Phangan) or play her Mickey Mouse Clubhouse games on the iPad, but doesn't mind if she can't.
Peter on the other is quickly turning into more than four handfuls. At his age of 19 months now, we've concluded that the amount of care and labor that goes into managing him has long surpassed what Hannah required at the same age and even younger. Peter is a fussy eater (vomits food that he doesn't like), doesn't easily go to bed for naps or overnight, and gets into baby tantrums at the slightest unhappiness. Ling in fact quipped yesterday that the effort to take care Peter is easily twice that of Hanny. The difference between baby girls and baby boys – until this point we'd never realized how true such differences can be.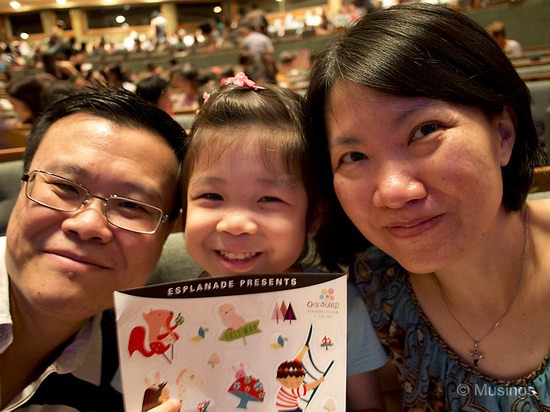 Kids @ 17mm, 25mm etc. – Part 25
We benefited from a long holiday/weekend last week by taking advantage of a public holiday with an additional day of Leave added on to do things with Hannah and Peter. The highlight of the four-day break was to bring Hannah out – on Children's Day – for a visit to the Singapore Science Center, followed by a ballet appreciation performance @ Esplanade with the Singapore Dance Theater. Going to the Science Center especially brought about a huge sense of déjà vu. It wasn't so long – alright 35 years ago – when my parents brought us to the Singapore Science Center, and now we're bringing our kids there too to, hopefully, inculcate in them an early appreciation for science.
Hannah's reaction to the ballet performance was a lot more mixed though. She enjoyed the first couple of numbers, and possibly because there were too many numbers in the about 80 minute performance, she got distracted and started fidgeting mid way through. From a look around the the reasonably packed theater, lots of other kids too were also getting restless. Still, at least for the attending adults, I learned a thing or two about ballet – like what it means and takes to earn the title of 'ballerina', the trust they need to have with their (male) partners, and why their costumes are adorned in certain ways. Watching the performers and especially the two or three lead ballerinas, left me again with awe on the kind of physicality their art demands.
Pictures.:)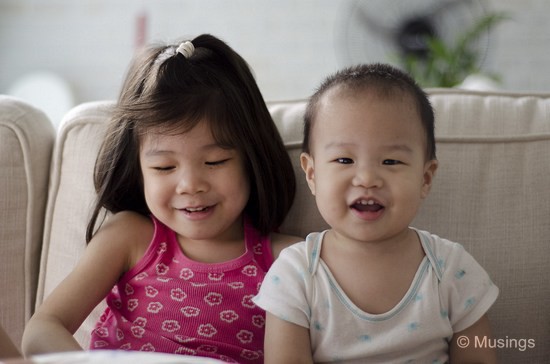 Revisiting the D7K
I've been using m4/3 cameras for more than 4 years now, and was running through my records the various camera bodies of this system I've picked up over the period.
March 2010 – Olympus E-PL1
April 2011 – Olympus E-PL2
May 2012 – Olympus E-M5
October 2013 – Olympus E-PL6
The E-M5 has been my workhorse camera for almost 2.5 years now and while it's starting to show its age through the usual nicks and bruises, still functions otherwise well. The E-M5 was joined by the E-PL6 a year ago, and both cameras have found permanent spots in my Messenger bag whenever we're out of the home.
I was curious though to see how pictures on a camera with an APS-C sensor fares against these m4/3s. Nikon has been pumping out new models of its full-frame cameras, but disappointingly, seems to have become uncertain on what to do with their APS-C DSLRs. The D7000 – which I bought in January 2012 – hasn't seen much use since I bought the E-M5. So, over the weekend, I dusted it off, brought out my two favorite primes for it – the 50mm and 35mm f1.8s – and took pictures at home of our kids.
The results were pretty mixed for sure. Running off my head:
I realized again how helpful the 5 axis built-in optical stabilization on the E-M5 is to picture taking. A small number of shots with the two Nikon primes – and these are both non-stabilized lenses – were out of focus to varying degrees because of camera shake.
The D7000's 'kaplak' mirror slap each time I released the shutter was very loud compared to the E-M5's very quiet shutter that I'd gotten so used to.
The D7000's back panel buttons and command dials feel a lot more premium than the squishy and small buttons off the E-M5.
I like the colors coming off the E-M5 than the Nikon D7000's – so much so that I found myself dialing up the image color saturation setting on the latter.
Bokeh off the two Nikon primes were marvelous, but the thinner depth of field caught me off guard. Made me realize again how forgiving are m4/3s when it comes to errors in focusing points.
The last observation was especially pertinent, since I sometimes wonder if I should give a (mirrorless?) full-frame system a go, and then become cognizant of that adage; that those systems can be extremely unforgiving, and your photographic techniques had better be pretty good already. There is a new but future camera purchase I'm thinking of though at year's end – will blog about it soon enough.:)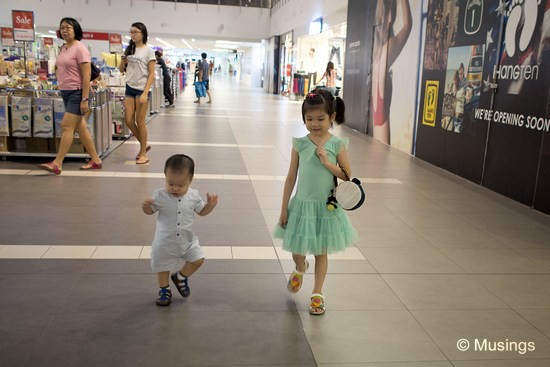 Kids @ 17mm, 25mm etc. – Part 24
Our extended family had a wedding over the weekend when a cousin had her traditional wedding ceremony. The cousin is actually from Hainan, but has been working in Singapore for almost a decade now, and has become close to our family – especially parents – over the years. I guess it's also Mom's connection back to her birth country from so many years ago. Our cousin is a sweet lass and she married a local Singaporen who works in the infocomm sector and who during the groom's speech at the banquet wowed everyone with his mastery of Mandarin.
Hannah was fascinated with the entire occasion; right from when the groom came to the family home to 'win' the bride (the gate custodians – who would have guessed – were her cousins and her, none of whom were older than 10 years old – to seeing the new bride in her gown, and the 10 course dinner – "Wow daddy – there's so much food!!"
Peter on the other hand has been a little more cranky than usual in the last week. In fact, he whines and goes into mini-bawls too easily, which Ling guesses is partially because of his inability to articulate his wants and desires to us. Totally unlike Hannah at the same age, who was often contend to wait for us. We're really hoping that come December when we go on our vacation, Peter would be better able to communicate and hopefully be a little less impatient.
On the other hand, we've been trying whenever opportunity presents itself to let Peter exercise his little legs outside, under our and Hannah's close watch though. It's always fun to watch toddlers walk. They basically just baby-stomp around all over!