Olympus E-M1
now browsing by tag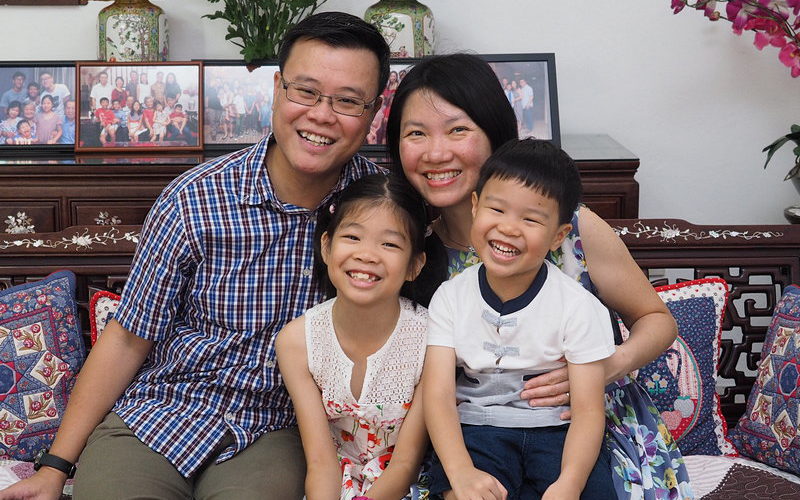 Chinese New Year 2018
It's become our tradition on our blog here to do a short post every Lunar New Year. Like last year, the E-M1 and 12-40mm f2.8 did the heavy lighting for the family shots. And for a change this year, the GX85 coupled with the 45mm f1.8 handled the couple shots.
We still haven't gotten round to having everyone sit or stand in exactly the same position each year though. But wouldn't that be an achievement!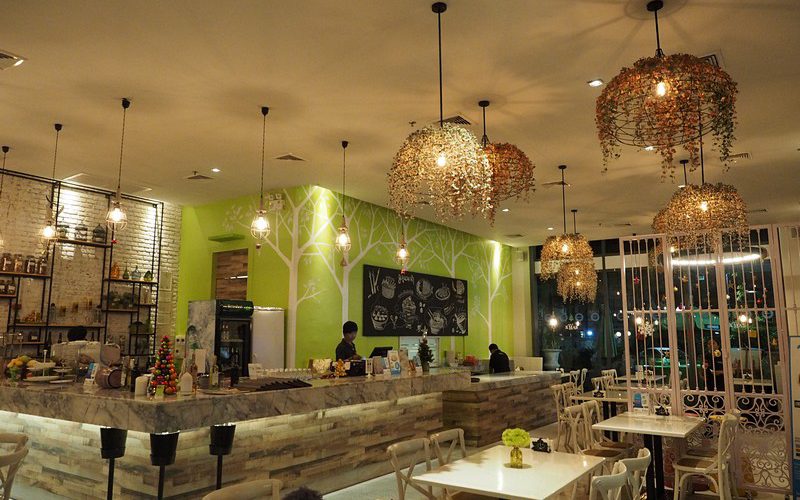 Phuket 2017 – Eat Till We Drop
Ling and I really like Thai food. And we're lucky in that in Singapore, there is wide range of options that suits all budgets when it comes to Thai food cuisine. Interestingly, the Thai restaurants here that we're familiar with are also fairly mid-priced, so it's easily possibly to get a decent meal without breaking the bank. The wife though quips that there's a lot of sugar used in this style of cooking, which also accounts for the fairly high diabetes rate in the country.
We've already remarked that dining prices for food on Phuket ranges widely depending on what part of the island you're in, and the general 'class' of the restaurant doesn't matter as much as it would elsewhere. Keep in mind too that we're not food connoisseurs or bloggers – we eat to live – and the stuff we order has to keep in mind our two children's palettes too. All that said, here's a selection of comments at the places we ate at.
S Cafe @ Canal Village
This is a small cafe with both indoor/air-conditioned and also outdoor seating, and one of the two restaurants we visited in Canal Village. The offerings are both local and also international, and we dined here for both lunches and dinners several times while staying at Cassia Phuket. Wait service is attentive, and there's also complimentary WIFI. Prices are a bit on the higher-side, with the main items from 220THB/SGD10 and above. The restaurant doesn't charge taxes charge separately, so the cost on the menu is what you'll pay.
Albatross Cafe @ Canal Village
This one's all outside seating, with about a third of seats covered, and the remaining water-facing and quite al fresco. It's quite a nice view in the evening. The restaurant is a little less modern and in the early evening, the wait staff seemed flustered as they were struggling to keep up and we had to wait our turns to have our order taken. The menu prices are cheaper than S Cafe, but the restaurant will charge taxes separately.
Jungle Deli @ Splash Water Jungle Park
The kids have to be fed, after several hours of excitement at the waterpark. This is one of the several restaurants located within the park. It offers a few indoor/air-conditioned seating, but we sat on the outside as the weather was really pleasant and cooling. Most menu items are about 200THB and above. Taxes and such are already included in the menu prices.
Believe Café @ Amphoe Muang
This is a small cafe just a few minutes walk from Sino House. Aside from the standard fare, there are also numerous fusion items. Prices – unlike those in the Laguna area – are decent with main items starting from around 80THB. This was supposed to be just lunch, but we stuffed ourselves silly with Hawaiian Pizza Toast, Ham+Cheese Pizza Toast, Green Curry Chicken, and finally Sliced pork with spicy Thai sauce. And total damage? Just 406THB/SGD16.
Kasa Japanese Restaurant @ Limelight Avenue Phuket
The Limelight Avenue Phuket has several restaurants/eateries on the first floor (we dined at three LOL), with Kasa being the only one offering Japanese cuisine. Prices are again a fairly reasonable 160THB onwards, though their Sashimi items were quite expensive. We had the Tonkatsu set, Salmon Fried Rice, and Japanese Pork Curry and ran up to 632THB/SGD26.
Lemongrass Restaurant @ Limelight Avenue Phuket
This restaurant offers Thai cuisine, is beautifully decorated especially on the inside, and offers both indoor/air-conditioned and outdoor seating, and items were in the 120-150THB range, with taxes already included. We had a number of items: Green Curry, Stir-fried Broccoli, Sun-dried pork slices, and Omelette with pork – and the bill came up to 600THB/SGD24. Very reasonable for the high quality of cooking and also ambiance.
Tomtom Coffee @ Limelight Avenue Phuket
Phuket's equivalent of pricey beverages the likes of Starbucks and Coffee Bean. We had the Ham & Cheese set with Latte, Dog Pretzel set with Latte, and Pepperoni Pretzel – and ran up to 460THB/SGD19.
And finally, just to complete this post: we landed back in Singapore at 7:30PM. And this is what we had straight away at Changi:
Next, Hannah's perspective of Phuket Dec 2017!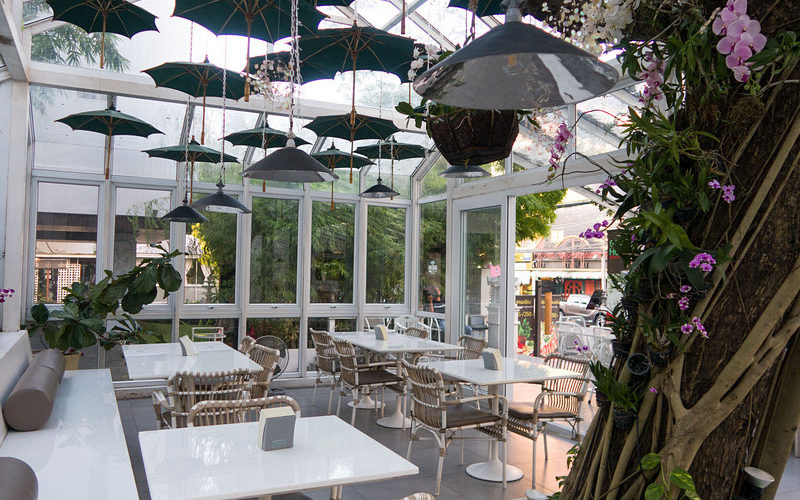 Phuket – Sino House Phuket Hotel
Our second place of stay for Phuket Dec 2017 is situated at the eastern side of the island – the opposite and western side of the island is where Patong and party creatures would gravitate towards. The eastern side doesn't really have interesting beaches, no – but it's also where Phuket Old Town is, and also one of the two major arteries connecting the north and south parts of the island runs right through the area.
There actually seems to be several Sino establishments on the island – Sino House, Sino Inn, and Sino Imperial – all roughly in the same vicinity of Phuket Town, but differing also somewhat in pricing. Sino House is relatively the most pricey stay at about SGD151 per night for the four of us, but make no mistake though – none of these are five-star establishments, and I'll be hard-pressed to rate even the most luxurious, comparatively, of the three to be four-star even.
Our notes:
Our booking was for a Family Junior Suite with fairly good floor area of 60sqm or so. I initially thought that this would actually be a single unit of that size with two bedrooms – e.g. like what we had in Cassia Phuket. But it was only on check-in when we learned that their suite is actually two adjacent units that are interconnected by lockable doors, like our stay in Club Med Bintan. The kids took the room with two super-single beds, and the adults took the other room – which had an oversized king-sized bed. The four of us could easily sit on the bed to watch family TV – actually a whole bunch of Tom and Jerry cartoons we'd carted over from Singapore LOL.
Our three night stay cost SGD453 – compared to the SGD771 we paid for four nights at Cassia Phuket. The latter was a much nicer hotel of course, but the price difference isn't anything to snort at either.
Each of the two rooms are large. Ours for instance, apart from the very large bed, separate night tables, pseudo-walk-in wardrobe and bathroom stall, and its own living area too with sofa, a meidum-sized four seater dining table, kitchen, mid-sized fridge and so on. Everything in the room and mini-bar is also complimentary, with bottles of water and soft-drinks replenished everyday. The hotel does require you to keep the emptied glass bottles in the room though, otherwise they'll charge you for them.
The decor is Chinese-styled. Specifically, this is the first hotel I've stayed in with very fragile and expensive looking large porcelain vases for decor. So, the first thing we had to establish for our two kids, and particularly Peter, was no-touching zones!
The complimentary daily breakfast buffet was in a lovely glasshouse-styled restaurant near the hotel's car porch. The breakfast buffet was quite ordinary, and since the glasshouse has a living and fairly large tree inside it and the restaurant just beside the main road, we had to contend with the occasional fly and insect about during breakfast.
Sino House is within easy walking distance of the Trickeye Museum, and other smaller museums (we eventually gave these a miss), the Phuket Indy Night Market, and – importantly – Limelight Avenue Phuket, a small modern shopping center with a decent Japanese restaurant ('Kasa'), a Thai restaurant ('Lemonglass') that we really liked, a pub joint, a Starbucks-styled Tomtom coffee outlet, a few other young-people eateries, a foodcourt that seems more catered for locals than tourists, and finally a convenience shop.
And lastly, the location is ideal for visitors who do not want to be near crowds. We saw only a small handful of non-locals about in the area, and I suspect there is a large high-school also somewhere in the area. As every day mid-afternoon when school is out, there would be many students in their smart uniforms about.
There are bits that didn't work for us though, and some of these are not particularly just minor annoyances.
The hotel and rooms are worn, and could use some large-scale refurbishment. The rooms are clean, yes – but the overall feeling of the place feels very 1980s-ish, and nothing like the modernistic chic of Cassia Phuket. Ling refused to sit on the sofa as she said it doesn't look clean (I had no qualms), and the both of us felt minor itchiness at our feet every morning after sleeping on the beds. The kids were OK though.
In-room WIFI was not reliable. Signals don't drop-out, but even when they are holding, there is frequently no-access. I reckon it's to do with backend or proxy issues. But when there's a live connection, Internet download/upload speeds are pretty OK, and quicker than Cassia Phuket's.
There were very occasional power resets. The power comes back right-away, but it can be a little annoying.
Air-conditioning is powerful, and we frequently had to dial down its power even – but it's also fairly noisy.
The hotel has a single lift for guests, but there is a horrendously pungent smell in the lift. Ling says it smells of urine, with her nose (and eyes) of an eagle. The  smell is bad enough that we preferred to walk up and down to our units – 307 / 319  – whenever we could.
In all, this was an OK stay – but we can only recommend it for its attractive rates, cleanliness, great location (especially Limelight) and very large rooms. If you're looking for something that even approaches luxury, then I reckon you will want to look elsewhere for a place to stay.
Next post is a retrospection of our Phuket Dec 2017 itinerary!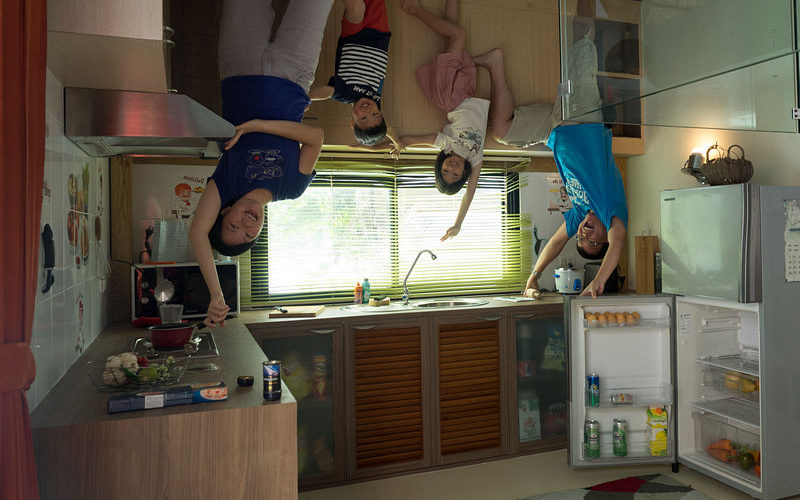 Phuket – Day 7 – The Upside Down House
Our original pre-departure itinerary for Day 7 was centered around the Rawai area of Phuket: with a visit to Rawai Park in the morning, the beach in the early afternoon, and Phuket Seashell Museum for the rest of the day. But all that got thrown out after Day 6 – on account that after a bit more researching, we doubted if Hannah would enjoy Rawai Park after all as the park seemed more suitable for younger kids. Ling was also worried if Peter could take any more sun – he's already pretty much baked to a brown shades after six days now, since his skin is relatively the least developed among the four of us.
So, we decided to do indoor places for Day 7, our last full day on the island – and checked out The UpsideDown House and its surrounding amusement park – a fairly small spot about 10 minutes away from Sino House. I did list this spot in the very early versions of our itinerary, but chucked it largely on account of its very pricey admission rates.
Our notes:
There seems to be confusion about opening times. Tripadvisor says it opens at 9AM, Google says it's 9:30AM, and the attraction web site says 10:00AM. We got there at 9AM nonetheless as the journey from our hotel took shorter than expected. Upon arrival, we were told by staff that they're indeed opening at 10:00am – but since they were ready, they let us and another Indian family that also just arrived in.
There's a bunch of 3D murals outside the house, similar to those in the Trickeye Museum, though not done up nearly as nice, and there are no floor guides nor suggested poses that you can adopt.
There are actually multiple attractions in the small area: the UpsideDown house itself, a treehouse/garden maze, a tilted 'drunk' house, and what looks like a VR experience. Admission rates are quite pricey, with the four of us paying 1,420THB for the first two attractions.
The inverted house actually comprises two levels of activity, with the main area being the second level and a patio level that has just a fairly small number of exhibits.
Basically, every furniture item is inverted and nailed to the ceiling. What you need to do is to pose, then flip the picture vertically to get a sense of illusion that you're the one who's inverted, not the furniture. The difficulty of course – like the Trickeye Museum – is that it's tremendously difficult to nail those pictures. It's very easy to accidentally include telltale signs in the picture that'll destroy any sense of illusion you're trying to cultivate. My advice: get the staff's help to either tell you how to pose, or ask them to take your pictures.
Admission to the Treehouse/Maze costs just a little more extra, but the maze is very small – nothing like Amaze'N Margaret River that the kids really enjoyed in June this year. The kids finished it in 10 minutes.
Bottom line: this amusement park costs a lot of money for the fairly little it's offering, so it's hard for us to recommend it if you want to get your money's worth. Only go if money is no objection.
Day 7 continues at Ikea Phuket (?!?!) and Central Festival Phuket in the next post!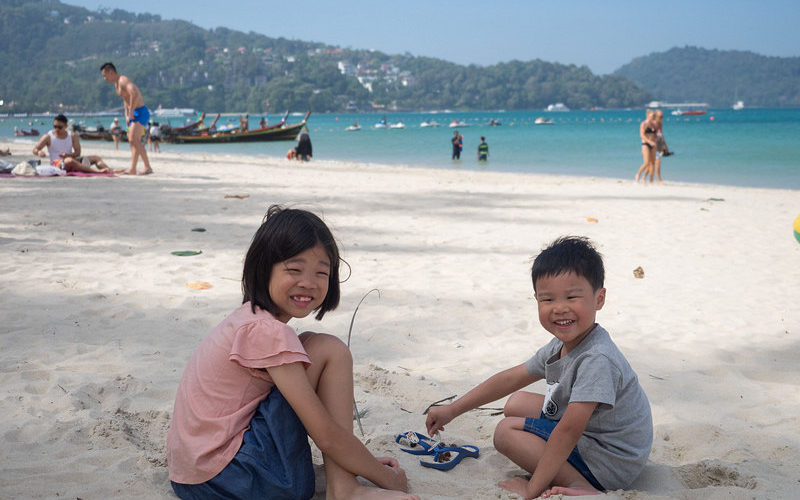 Phuket – Day 6 – Patong and The Kids Club Phuket
Even without kids, neither the wife nor myself are party animals, instead preferring very sedate leisure activities like gardening/baking/cooking for the wife, and photography/music/computing for myself. Still, and largely out of curiosity to see what the fuss is about, we went by Patong on Day 6 – an area which Wikitravel quips is the party capital of Asia.
Arguably the most famous stretch of Patong is the beach that sits at the end of an equally infamous stretch – Bangla Road, with its rows of pubs, street food stalls, convenience and souvenir shops, and of course Thai girls. We'd never bring our two young kids to this area at night of course, so played entirely safe by heading to the stretch on Day 6 morning.
There was plenty of activity already at 10AM mid-morning, but we found ourselves a nice spot at the end of Bangla Beach to soak in the sight, and the kids to get cracking with sand. Truth to tell, I was expecting a lot more chaos – even for mid-morning, and the beach was also quite a bit nicer than I'd expected – with reasonably white sand, though Ling scoffs that that doesn't mean that the sand is actually clean.
There were quite a few usual touts on the beach offering the usual wares: drinks, elephant rides, joy rides, water sports etc. The ang mos were of course also out in force already sun-bathing. And there were also a group of young adult Chinese nationals who seemed more interested in posing pretty selfies in their bikinis, sunglasses and selfie sticks than actually enjoying the beach itself.
We figured we'd had enough after about an hour, so took the short 5 minute walk back Bangla Street to Phuket's massive mall – Jungceylon. The mall is huge, with selected commercial establishments having more than one outlet in the mall itself. For instance, Starbucks, Swensens, McDonald's, Coffee Club at least all had two or more outlets in the mall, routinely at opposite sides of this gargantuan mall. Lunch was at the more sedate and quieter basement foodcourt, where we stuffed ourselves silly again with a range of Pad Thai noodles.
Tummies filled, it was another short hop back to Bangla Road where The Kids Club Phuket is situated. There were lots of shirtless ang mo dudes walking about Bangla Road by this point, no doubt either heading to the beach, or having a beer brake while in the middle of it! Kids Club is clearly marked on Google Maps, but there's a short cut to get there by taking a side-road rather than the main road that Google Maps will suggest you take.
Admission prices for our two kids and accompanying adults were 900THB for the unlimited full-day play, and as we forgot to bring our own socks, forked out another 320THB for four pairs at 80THB each. But it was pretty worth it: this indoor playground is fairly large, has lots of activity areas, pretty clean – and best of all, there was barely anyone about. Besides two other Caucasian kids, Hannah and Peter pretty much had the entire playground to themselves.
Our two certainly had more energy to burn than we though: because after almost 2.5 hrs, the both of us were more restless and wanted to head back to Sino House, while H and P looked like they could go at it for a couple more hours LOL.
Day 7's exploration of The UpsideDown House is in the next post!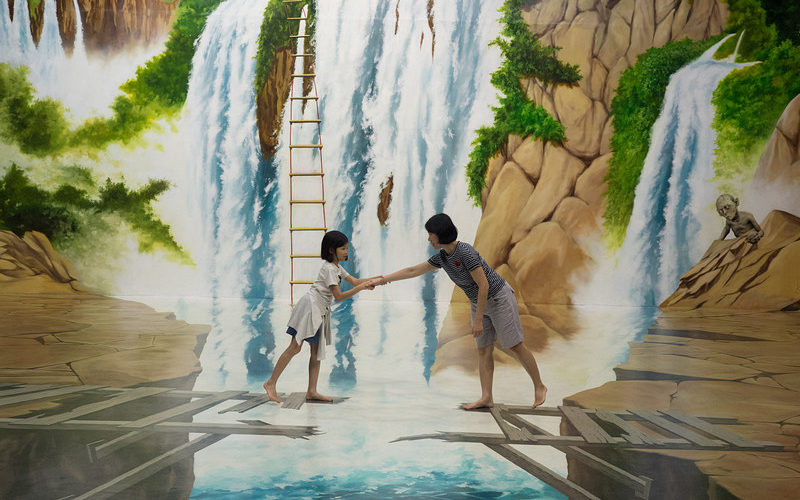 Phuket – Day 5 – Phuket Trickeye Museum
We haven't been to the Trick Eye Museum situated at Resorts World Sentosa yet, so figured that we could just as well make do with the Phuket equivalent of that. The museum is a convenient five minute walk away from Sino House Phuket Hotel. We'd arrived at our second place of stay at 11AM-ish on Day 5. The hotel notes that early check-ins are possible on request and depending on availability – but as our room would only be ready at 2PM, that gave us a good three hours to visit the museum and find lunch somewhere in the vicinity.
Our notes:
The museum has dozens of cleverly done-up wall murals that can provide almost life-like 3D illusions of interesting scenes. To help in this, each exhibit has a suggested pose, and also a marked-out spot on the floor for optimal picture taking. Some of the exhibits will require near-gymnastic-level abilities, but others are fairly simple. Also, getting the right camera angle can be tricky, as with also replicating some of the suggested poses too.
The place was relatively sparse of crowds at the late morning we were there, so we could take as much time as we wanted at each mural. I reckon it'll take at least an hour if you're going for a Completion Achievement and pose for every mural.
Some of the Tripadvisor reviews remark that this museum is suitable for all ages. I don't agree: you need to be at least a little agile for several exhibits, and all round sense of humor. We were unable to get Peter to pose correctly for most of the murals, and even Hannah struggled to get the same look too.
Admission into the museum is relatively high at 500THB for each adult, and another 300THB for child. Peter was just past the 1.1m maximum for free child admission. The museum is indeed interesting, but unlike other parks or places of interest, there is minimal maintenance involved in these exhibits – so I'm not certain why the place has to charge such high admission prices.
In all; I reckon this place is a so-so place to check out if you can stomach the high admission prices. But if you're already flinching at the thought of paying 500THB for each adult and expect your money's worth, then you might want to give this museum a miss.
Some of the photos that turned out reasonably better than the rest: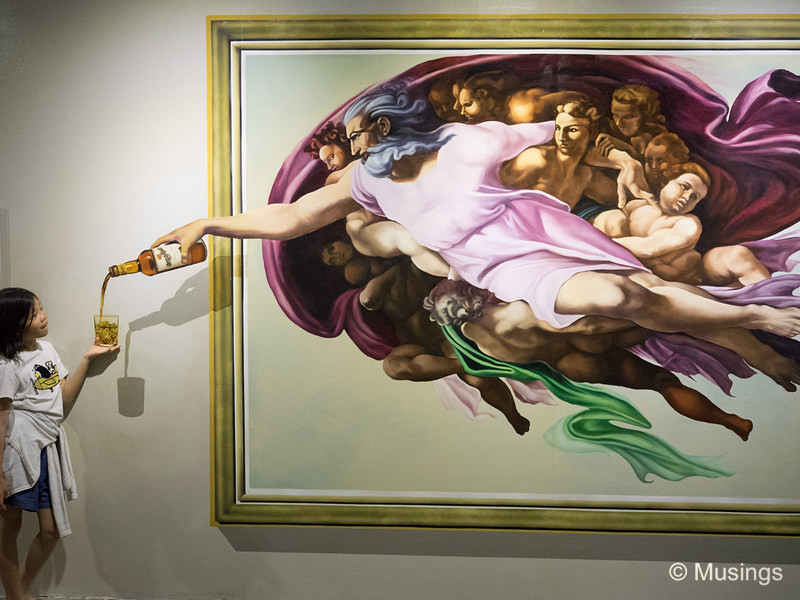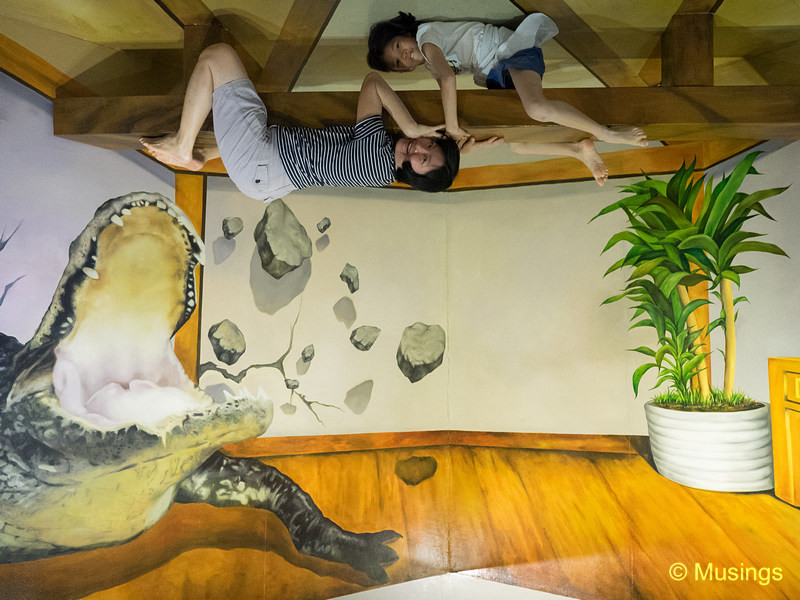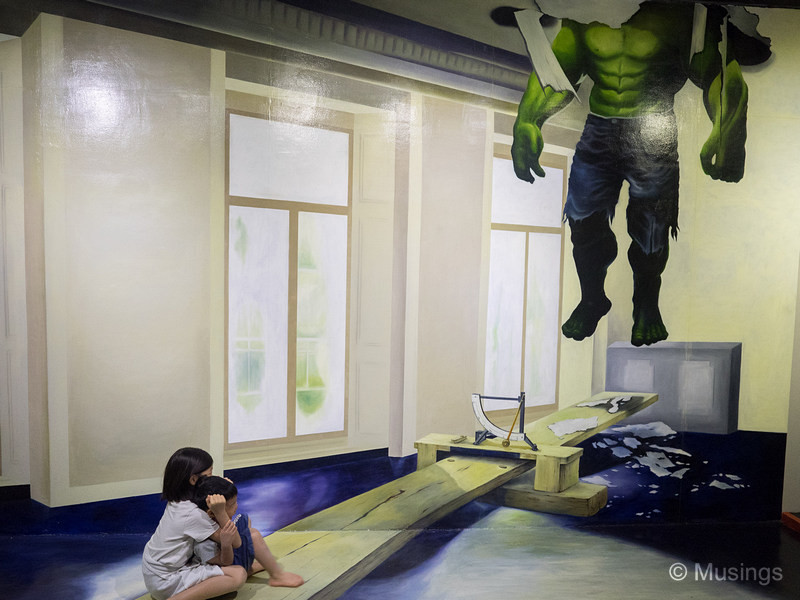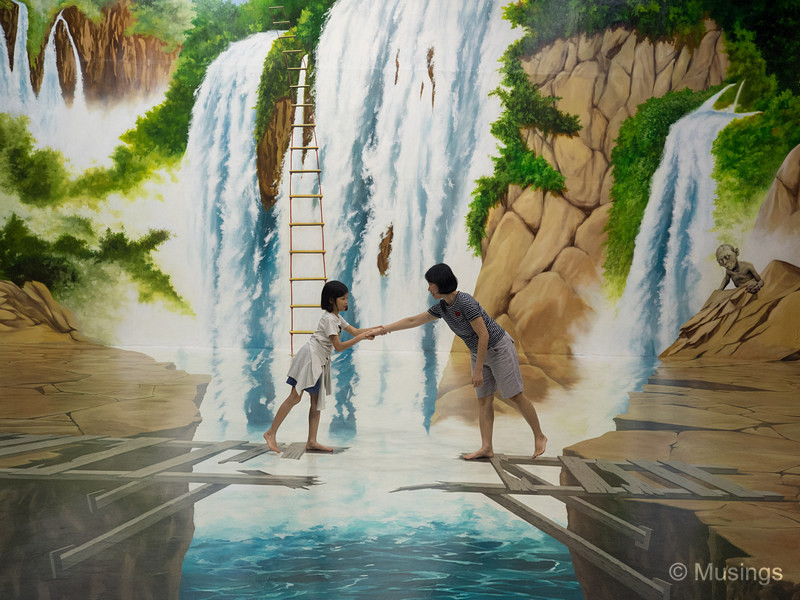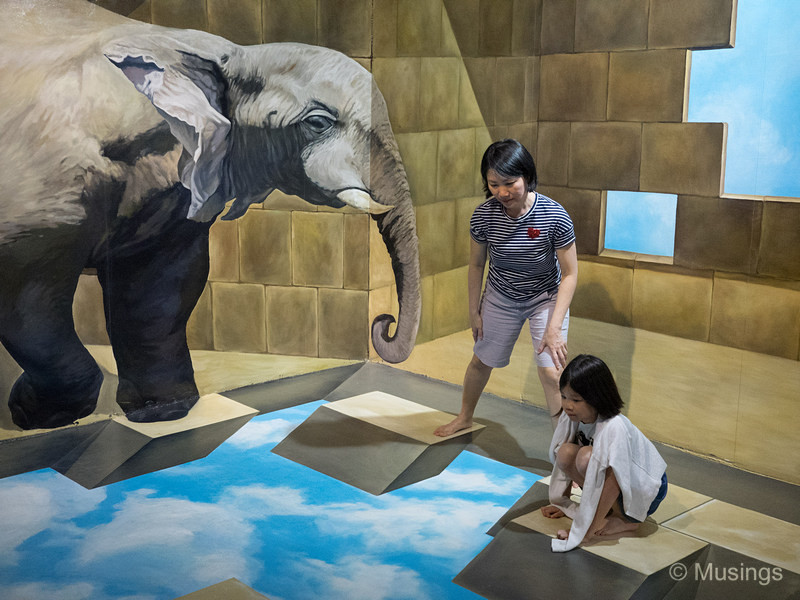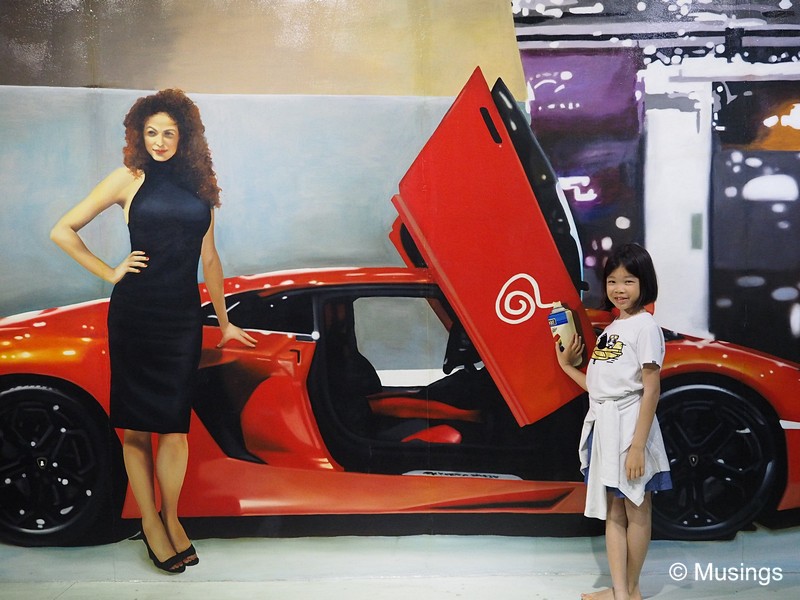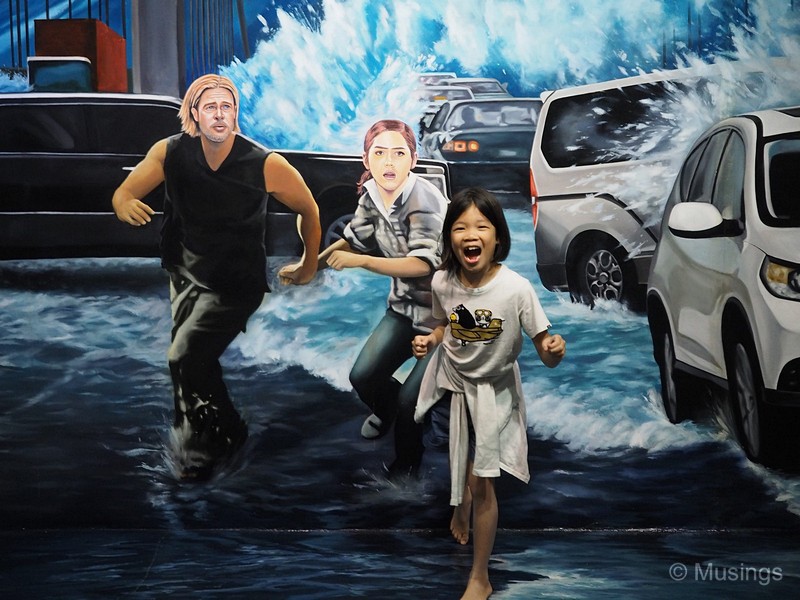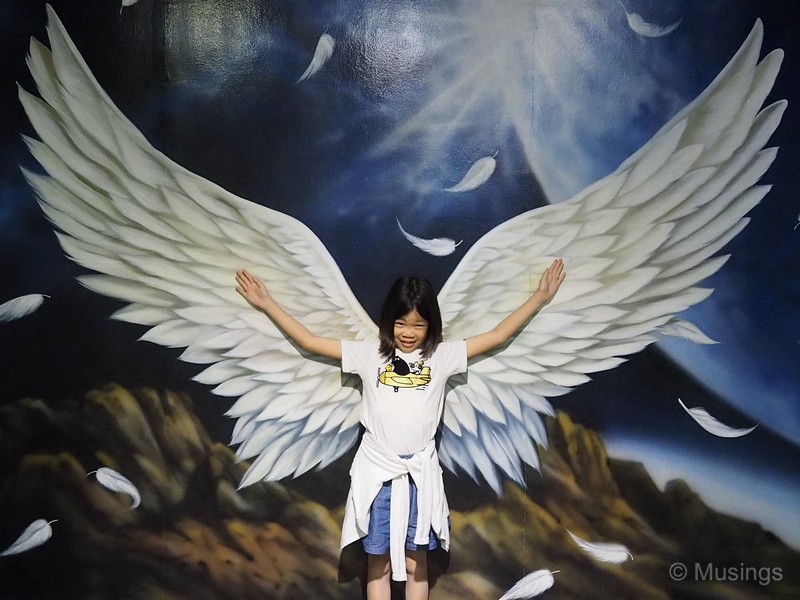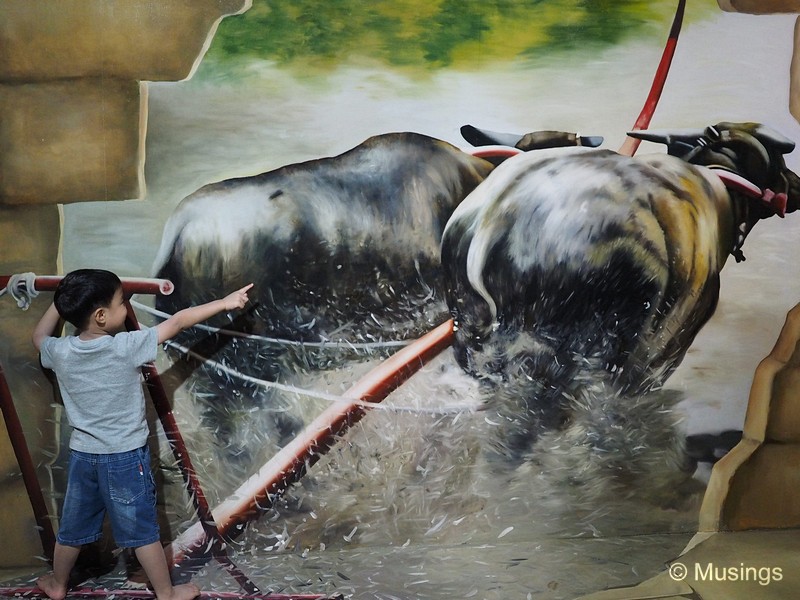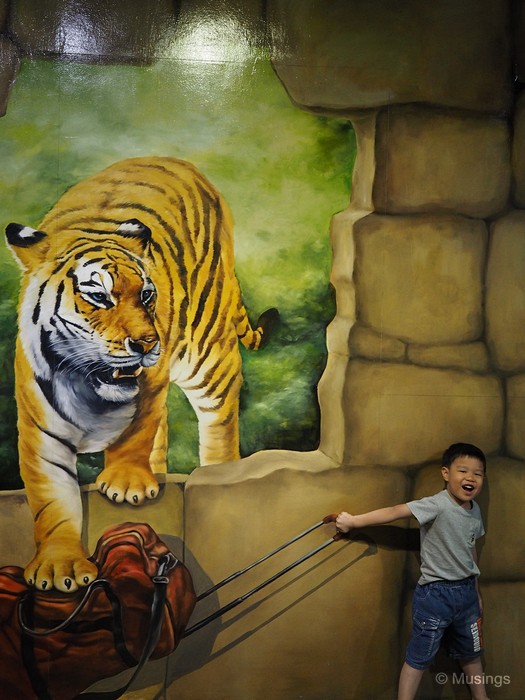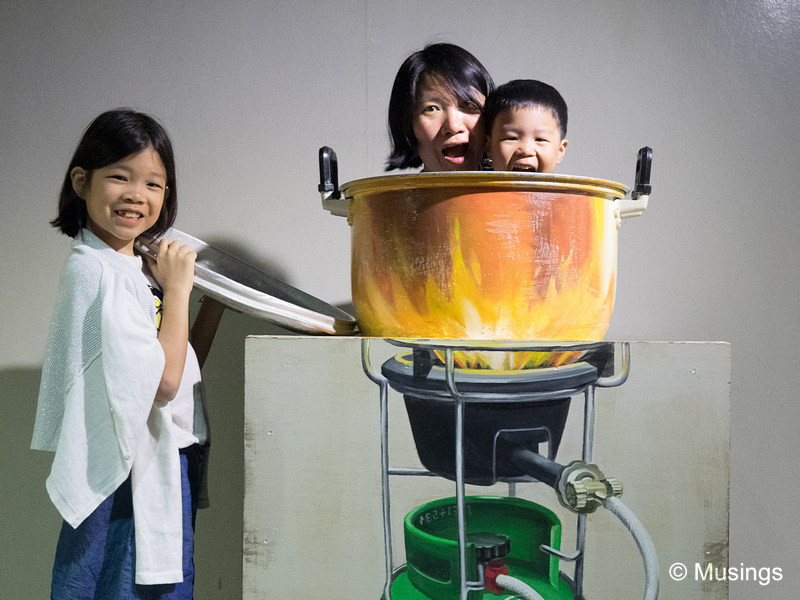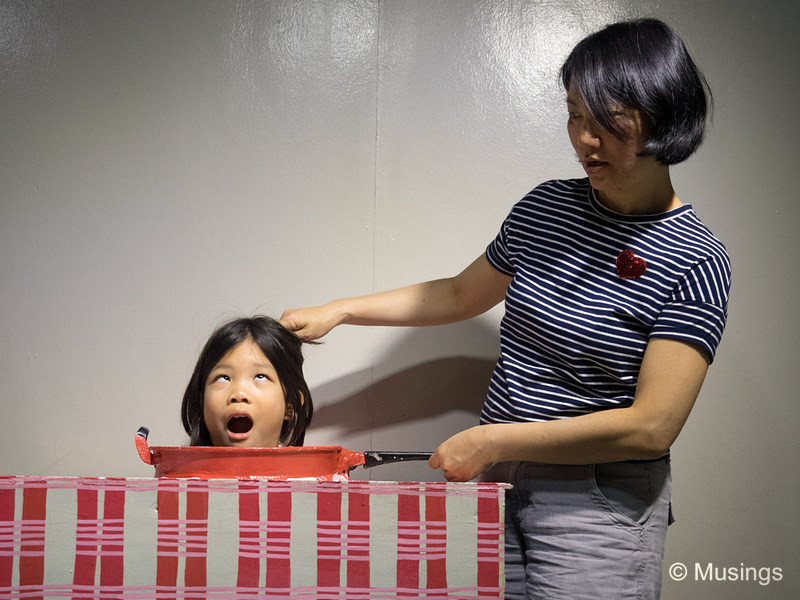 A visit to the nearby Indy Night Market next!
Phuket – Day 3 – Phuket Elephant Sanctuary
Many of us would have seen elephants before, whether it's at a zoo or at animal shows in this part of the world – but unlikely in a setting like this. We visited Phuket Elephant Sanctuary (PES) on Day 3, a reserve set up to rehabilitate these very gentle giants who'd suffered years of abuse at the local industry in Thailand. The Sanctuary is a Save Elephant project and apparently the only ethical elephant reserve on the island. No rides, no animal tricks, no shows, no funny business. Elephants roam freely and visitors follow them rather than the other way round.
What is the abuse that these giants suffer in industry? Well, in order for elephants to be put to work, they have to be firstly broken in spirit, then forcibly trained to work – routinely through cruel methods of inflicting punishment to get these giants to obey. As the introductory video to elephants in Thailand showed, elephants are forced to work in the border – and when they are too worn down or old, get further sold to operators to provide 'rides' to tourists, or to entertain tourists by painting, engaging in circus acts and so on. Those rides you see in tourism brochures where elephants carry two adults? Well, let's just say each adult weighs 75KG – but the iron chair itself weighs another 100kg – which means that the elephant itself has to carry 250kg already on her back, and routinely for hours everyday. No wonder these giants develop permanent injuries.

The elephants in PES are saved from these industries by buying them – a young elephant can cost as much as 2 million THB, while an old one which is deemed less useful by industry costs 400,000THB. After which, they undergo a period of recovery by the sanctuary's staff and supporting doctors. The fairly hefty admission fees – 9,000THB for the four of us – is due in large part to build up sufficient funds for the sanctuary to continue their conversation efforts.
The sanctuary staff love their elephant friends, and it clearly shows with their sharing of stories of the former lives of each of the six elephants in their sanctuary, and how they were rescued. The oldest is a female in her late 60s named Dok Gaew, and who was badly injured from years of providing tourist rides and near death before she was rescued and nursed back to health by the staff. Simply put, in this Sanctuary you don't get to see elephants do anything that is not in their natural behavior or inclination – which means we get to observe them only, apart from a short feeding segment at the start of the visit where they gobbled up baskets of fruit with our assistance.
The 30 acre park can hold up to 20 elephants, and PES currently has six as they only opened in November 2016. The sanctuary showed many signs of ongoing construction to build additional shelters and activity areas for the elephants.
Specific notes on our visit:
There were about two dozen visitors on our Monday morning visit. Our driver first brought us to the sanctuary office along the main road where we took care of payment and administration and mini-group assignment before being ferried in four-wheel drives to the sanctuary itself, which is about 5-6 minutes away via bumpy dirt roads.
We next had our briefing, where staff explained the purpose of the PES, its mission, the do's and don't's, and followed finally by a moving video about how awful are elephants treated in industry and the cruel methods used to train them, and the real consequences of elephant rides in particular.
The three mini-groups were then led to different observation areas around the reserve where we could observe them socialize, feed and generally laze about. Each elephant was also minded by a mahout, but unlike what you'll see in elephant shows, the mahouts carried no sticks or instruments – I got the sense that they were really there to make sure that humans behave around these giants!
The vegetarian lunch prepared by PES staff was, like the meals at John Gray's Hong by Starlight, were amazing.
Credits especially too to the group today, and that comprised mostly of Caucasians with just a few Asians (including us) who showed the utmost respect and earnestness to hear their stories.
Ironically, the loudspeaker tourists again from a certain country up north were nowhere to be found in today's visit. As our driver quipped – they were all visiting the other elephant showparks taking rides.
Updated 24 Dec 2017: coincidentally, these loudspeaker tourists just got involved elephant ride incident, right on the last day we were in Phuket.
Day 4 at Splash Water Jungle Park in the next post!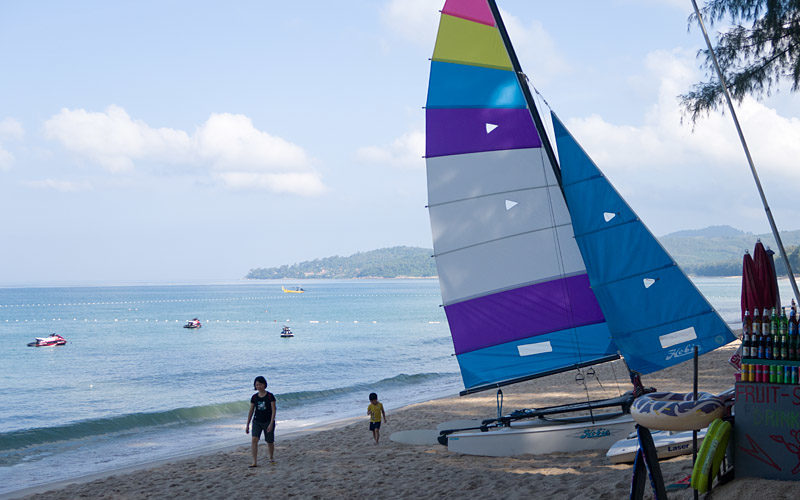 Phuket – Day 2 – Bang Tao Beach
One of the most commonly heard criticisms of Phuket as a holiday location is that large parts of the island have been overly commercialized to cash in on the tourism boom, with beaches that were once famous for their serenity now looking more like hang-out areas for party-goers. Most of that sort of atmosphere is centered in Patong – which we will be making our way there too at a later date this vacation – but we did mark out two other beaches to check out during our stay.
The first is Bang Tao beach in the Laguna area, where Cassia Phuket is situated. The beach is a short 10 minute walk from the hotel and might be a little hard to get to at your first try. Basically, you want to head out of Cassia Phuket, turn left, walk across the bridge with Minions on both sides, and approach the guard house at the main gate with the security detector device LOL. Don't go past that gate. Rather, approach the behind of that guard house and you will see a foot path. Take that footpath which will lead you around the small lagoon – and after 7 minutes or so, you'll get to Bang Tao beach.
The beach is apparently shared between Cassia Phuket and Dusit Thani Laguna Phuket, so guests of either hotel can access the beach – though truth to tell, I doubt if the guard actually stops any one from getting past him to the beach!
There were quite a few Caucasians already on the beach, swimming or just relaxing even though this was fairly early in the morning at about 9AM. The water wasn't actually clear and the beach sand not of the powdery-white kind, but it's still clean enough and free of general debris for us to chill out for an hour before heading back to wash up and get ready for our day trip with John Gray's Sea Kayaking.
Our notes on John Gray's Hong by Starlight in the next post!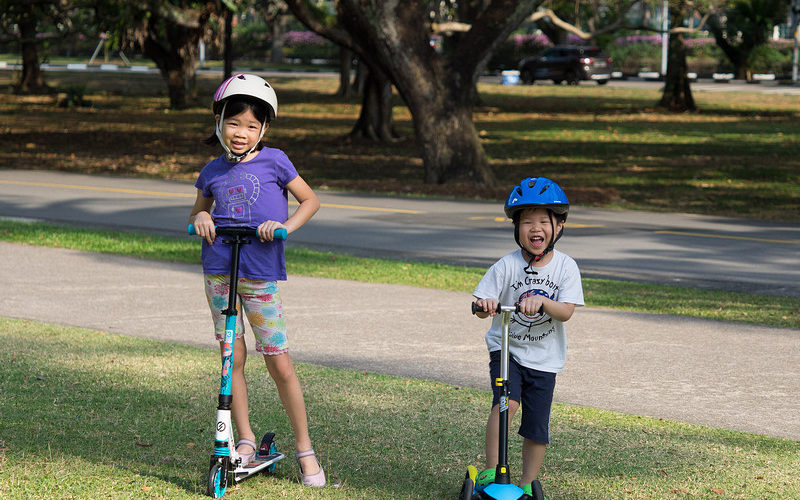 The Olympus 40-150mm f2.8 – Updated
A check on my ongoing log of camera equipment purchases shows that my last lens purchase was almost exactly two years ago now, and specifically the 40-150mm f2.8. There are still a few m4/3 lenses that I'm keeping an eye on – including an ultra wide-angle of roughly between 7 to 14mm coverage, and also a general all-purpose travel lens of 12-80mm or so coverage. None constitute a real pressing need though since our travel photography needs are largely met by the 12-40mm and 40-150mm f2.8s, so I'm happy to wait until good deals for these other lenses show up, either new or as pre-loved equipment.
The one lens that has turned out to be quite a surprise from projected to actual use is the Olympus 40-15mm f2.8. Specifically, at the point of purchase, I'd intended the lens to be just for occasional use. But the two years I've had this lens have seen it become a regular staple for me to take pictures of our kids whenever we're out of doors both in and out of Singapore, full moons, and most recently now – of our Syrian hamster and two cavies.
The lens really lives up to its 'Pro' designation: it's unfailingly sharp even wide-open at f2.8 – though subject motion, especially when coupled with lower shutter speed settings that are necessary when I'm shooting our pets at home is a perpetual challenge – and the lens, interestingly, seems to find the optimal focusing solution ever so slightly quicker on my Panasonic GX85 than the Olympus E-M1.
Pictures as always!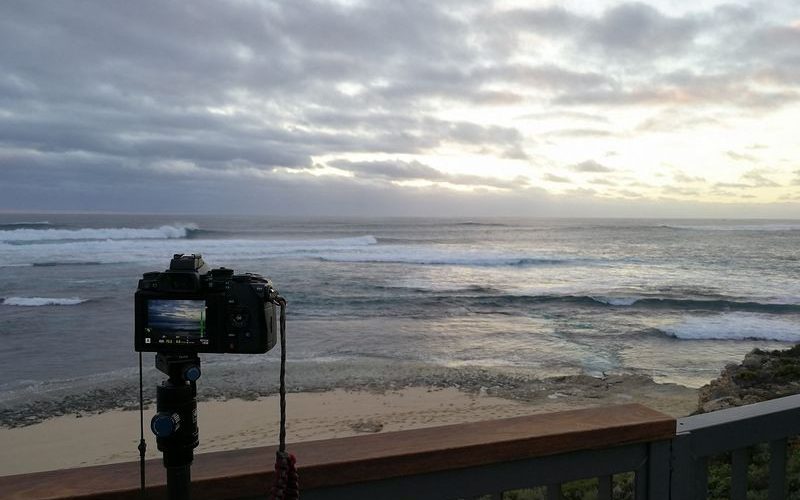 Western Australia – Equipment Comments
Just a few more posts in our WA series – honest! And this one is for tech junkies – comments on how various gadgets and toys fared during the trip!
The Olympus E-M1 continued to perform admirably on it's third major overseas outing. Oddly though, the camera occasionally required a few seconds to power-up from a cold-start. Might be something to do with the age of the battery – one of the two BLN-1 battery is about 5 years old now, and its internal circuity might be starting to fail.
The Panasonic GX85 did amazing well in its first major overseas trip! The GX85 was mostly coupled with the 40-150mm f2.8 with 1.4x converter throughout the trip, and I was able to get pretty good picture retention rates, with the C-AF modes able to track moving subjects. There was some minor annoyances though: the camera seems to have its own mind sometimes by selecting its own aperture against what I really want to shoot at. Specifically, I can set aperture on the Olympus m4/3 bodies set on Aperture-Priority and don't ever worry about it again. But the GX85 will sometimes change f-stop on its own even on Aperture-Priority. I'll have to read up a bit more about how Panasonic m4/3 bodies treat A modes.
Two batteries accompanied each of the bodies, and on most days, the one battery apiece for the E-M1 and GX85 was able to last for an entire day of shooting on most days. That is, excepting the really heavy days during the day tours, though the batteries were also routinely nearly drained by the day's end. Sill, the weather in WA wasn't cold enough at usually between 18 to 7 degree Cs for either the E-M1 and GX85's batteries to discharge faster.
The number of exposures I triggered on the E-M1 and GX85 was about 3,250 and 2,251 respectively, about 227 using the Samsung 360, and another hundred or so using  Huawei Mate 9 – a total of about 5,828 pictures. And of that, I processed and finally kept about 3,331 of them – a keeper percentage of about 57%. This WA trip goes well past the 5,013 exposures I took for the 23 day New England trip in 2010 (still the most memorable trip ever!) but I kept 4,327 of them then – or a much higher 86% retention. A huge number of shots for this WA trip were on burst mode – particularly the animal feedings – while the ones in New England were of a lot of scenery, which don't require shooting on drive modes.
Three lenses came along for the trip: the 12-40mm f2.8, the 40-150mm f2.8 with 1.4x teleconverter, and the 17mm f1.8. The approximate picture distribution was 65% 12-40mm, 34% 40-150mm, 1% 17mm. Yep – just a small handful of pictures taken using the prime!
I was really happy with the videos taken on the Huawei Mate 9, despite the initial trepidation before the trip. Between that and Ling's Samsung Note 5, we took about 79 videos, most about a 1 to 3 minutes long each. The 4K videos coming out of the Huawei Mate 9 did take a bit of processing though as the Dell XPS 13 wasn't able to handle the 4K videos well. A comparison between the 2K videos taking in Melbourne using the Samsung Note 5 against the 2K downsized from 4K videos on the Huawei Mate 9 showed that despite the lower frame/s – the Note 5 can shoot at 60fps – there was simply a lot more visible resolution and detail for videos taken using the Mate 9, and less obvious jello-effect too when panning the phone around.
Sirui T-024X CF tripod/C-10S Ballhead: were instrumental in enabling some of our family photos and doubled-up also as the tripod for the Samsung Gear 360. It was light enough also for our 8 year old daughter to help carry around. Call me a traditionalist – but I simply don't think smartphones take very good wefies!
Samsung Gear 360 (2017): already posted separately on this. The pictures were so-so, videos disappointing – but I got perspectives that traditional cameras simply cannot obtain, and the camera was purchased on the cheap.
But the most valuable item that accompanied us this trip was:
Hank – our guide at Margaret River – was quite interested in this camera bag too. Despite it being more than 4 years old now, it still looks as good as it did on the first day. Dirt simply rolls off it!