Nikon D7000
now browsing by tag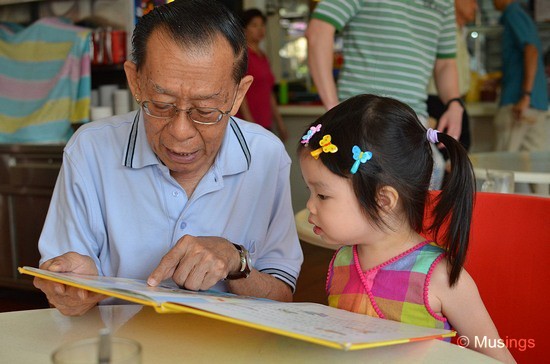 Weekends and 35mm – Part 3
I'm torn between the two f1.8 primes for the D7000 – the 35mm and 50mm! After the in-body micro AF adjustments, the 35mm is sharp now in the image center now, and the 50mm slightly less so. The 35mm seems to give better color reproduction than the 50mm, but on the other hand, the latter seems to focus just a very small bit faster. The bunch of pictures below were taken on the 35mm this time, and at our weekly Sunday brunch with parents.=)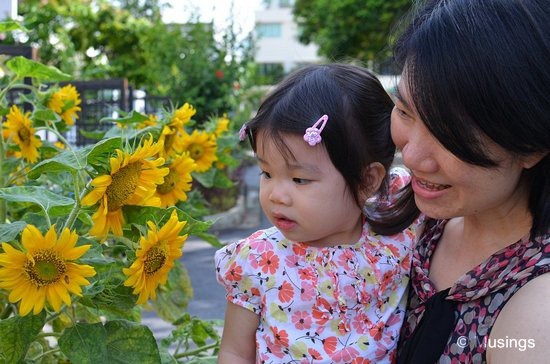 Weekends and 35mm – Part 2
The more pictures I take of Hannah, the more I'm convinced it's incredibly hard to take pictures of children! Specifically; they don't pose on demand, and they're constantly on the move. Out of say every one hundred pictures I take of Hannah, roughly about three quarters would be usable (as in in-focus + correctly exposed + acceptable composition with cropping), and of that number, perhaps just a quarter of them would be memorable.
The biggest challenge I face now is subject motion – Hannah will not remain still. So the only thing left for me to do is to ramp up the shuttle-release speed to 1/250s or faster when possible , and it's not always so unless there's reasonably good light. Shooting wide open at f1.8 isn't always viable either, with the shallow depth-of-field I have to deal with as I typically take pictures of Hannah up-close.
In any case; pictures taken today on Sunday, and just before we headed out for dad's birthday lunch at Wah Lok Cantonese Restaurant.=)
Moments Like These
Lucky moments like these where I can get a picture which captures our girl in a memorable moment.=)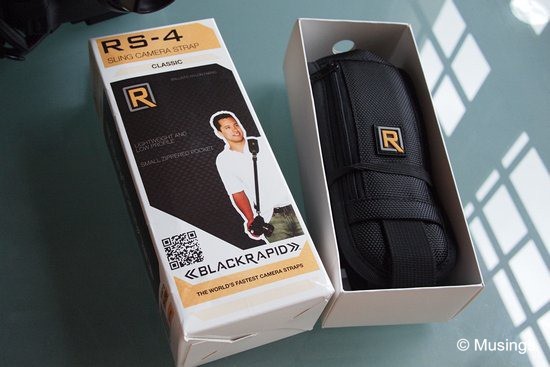 BlackRapid RS4
I've finally picked up a replacement strap for the Optech. Many photography enthusiasts will be familiar with the BlackRapid series. Basically, rather than a strap that goes around the neck and gives you strain right about there when you're lugging around a few kilograms of glass, metal and plastic, the BlackRapid straps are designed for you to sling your camera around your shoulder, with the camera resting at your hip.
The company manufactures a range of straps, and also isn't the only company producing straps of this broad design. The local shop I made the order with carried also the Sun Sniper series, which produces similar straps with its own innovative design features. But reading the couple of horror stories on Amazon of its swivel coming loose and sending the owner's camera and lens crashing onto pavement were scary. Moreover, Sun Sniper straps don't have the BlackRapid stoppers that I felt would be real helpful for limiting the amount of strap movement around my shoulder.
The BlackRapid product arrived in a rectangular box, with the strap itself wrapped with an elastic band and accompanied by an illustrated instruction leaflet. Though the manufacturing company is based – I think – in Seattle, the product itself was made in Taiwan according to the box sticker. The strap on the overall looks quite well-made. Photos and comments follow: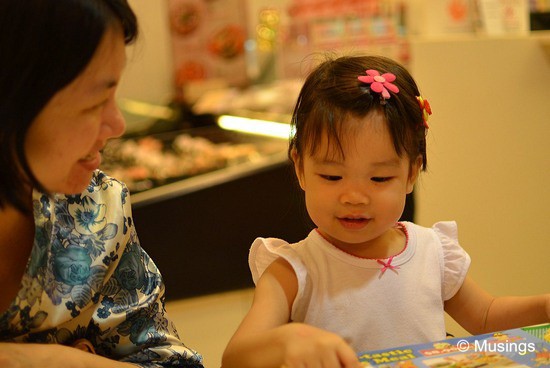 Feb 14
We were expecting the worst when heading out for a family dinner this evening after work. It's Valentine's Day, and every Singaporean couple and family are out for a celebration dinner. We raced off after work, drove like crazy to pick up Hannah, and got into Hougang Mall and the Ichiban Japanese restaurant five minutes before every restaurant in the mall saw long, snaking queues forming (yep; even for Subway and Pepper Lunch).
The D7000 and 35mm f1.8 went for the ride. Pictures of the two women in my life.=)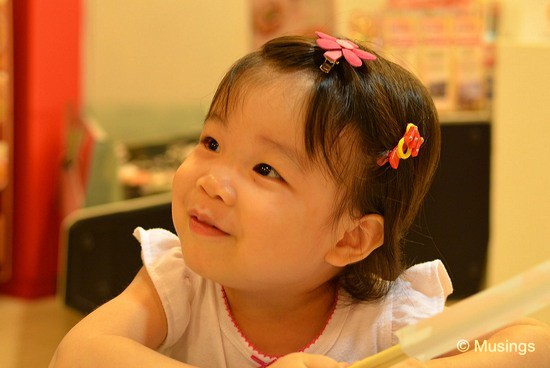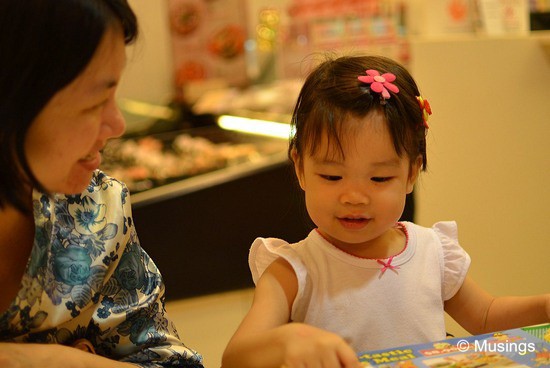 Both at ISO640; the first at f3.2, the second at f1.8. There's still some softness when I pixel peep, so I'm going to have to check my focusing charts again.
We were asking Hannah (just for fun, mind you, so don't read any more into it) if she would prefer a 弟弟 or a 妹妹. She thought for a minute, and said confidently "弟弟"!
For our ang mo bud in Missouri, 弟弟 means "younger brother", and "妹妹" means "younger sister". =)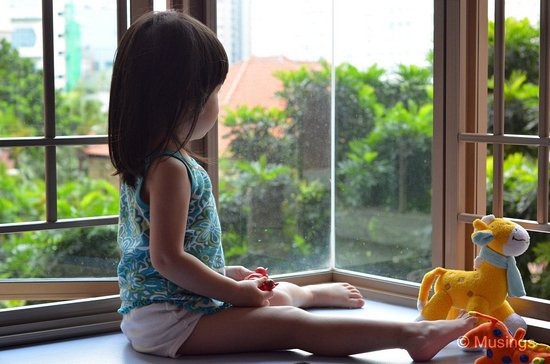 Bay Windows
The last of our weekend pictures taken of Hannah. This bunch was just after she woke up from her afternoon nap on Saturday afternoon. Our girl has taken to sitting on it and looking out to the swimming pool, trees, blue sky and what not.
The bay window in her room is more than a meter from the floor, so she has to be carried up to it, and watched too. She knows it's too dangerous for her to try climbing down on her own, but Ling was hovering right outside the camera frame in case Hannah had any funny ideas.=)
All taken using the 50mm. Lighting was a little tricky given the relatively brighter backdrop.=)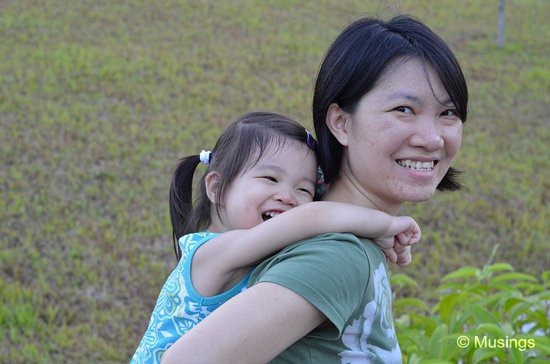 Punggol Waterway
The Punggol Waterway is a pretty easy spot to find for us, since we've driven past it before when on our way to Hannah's nursery school. The place was officially opened on 23 Oct last  year, and features a roughly 4 km walkway on both sides of the man-made waterway. We checked out the place after dinner and just now at about early evening, so the colors look just a mite washed-out.
The lenses that came for the trip was the new Sigma 70-200mm f2.8 (first four pictures in this post), and 50mm f1.8 (the last picture). I wasn't the only visitor totting around a DSLR for sure. Counted at least half a dozen other photographers carrying DSLRs equipped with something other than kit lenses.=)
Judging from the pictures taken by other visitors in better light, I imagine we'll come by here again soon in perhaps mid-morning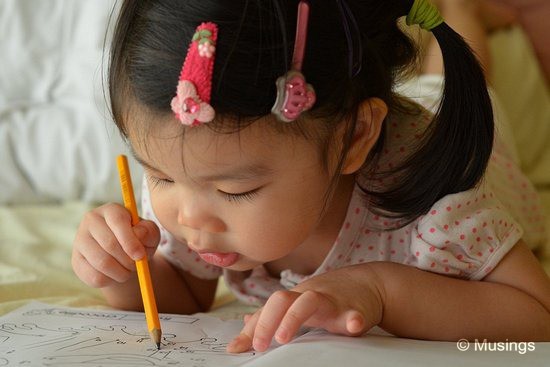 Hannah @ 50mm
OK; it's official. I have to squint real hard if I want to read the viewfinder's information display now. !@#!@#!
We're gonna be heading out later in the afternoon to check out the new Punggol waterfront area that our friends suggested during last night's bible study, with the 70-200mm is going out for another test-drive. In the mean time; now that I've corrected the 50mm f1.8 for front-focusing problems, here're pictures of Hannah from it.
Even after focusing correction using AF fine-tune, results off the 50mm were still mixed. All of these four pictures were taken at f3.2 to f4, and when blown up, it's still very slightly soft in the center when compared to the 35mm.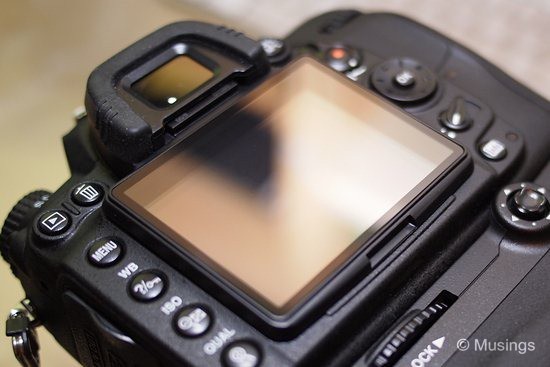 GGS III Screen Protector
I admit it – I'm endlessly fascinated with gadgets! The Acmaxx LCD Screen Protector protected the screen without any perceptible loss of light transmission even though I disliked its chrome trim. There was a one major problem though. After blogging about the Acmaxx protector and noting there that I'd accidentally pasted it in the wrong orientation, I tried removing the protector and pasting it the right way this time.
And here's the bad part; despite what the manufacturer claims about how it is easy to remove and readjust the Acmaxx screen before 24 hours passes (presumably the time taken for the adhesive to harden), upon removal, the adhesive couldn't decide where it wanted to stick on – the protector or the DSLR monitor, so it stuck onto both along the adhesive frame. That sort of wrecked the nice aligned orientation of the adhesive on the protector, and though I could rightly aligned the protector in its second application, it was no longer firmly secure.
Bummer. Next better player: the GGS III Screen Protector, which was sold for just slightly less and still relatively cheap. The order took just over a week to arrive.
The GGS III couldn't be more different than the Acmaxx. From the onset and in terms of packaging, it feels a lot more premium. The two protector pieces comes in a hard plastic box, and itself is enclosed within a cardboard box: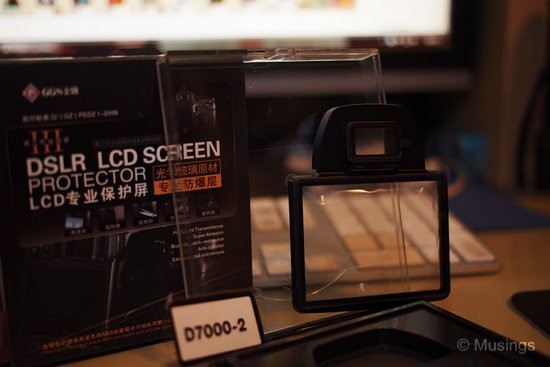 I think the earlier protectors produced by this company were stick-on's. The so-called "third generation" protector for the LCD monitor is anything but. For at least the Nikon D7000 variant; it's a discrete protector that slides in from the viewfinder eyepiece: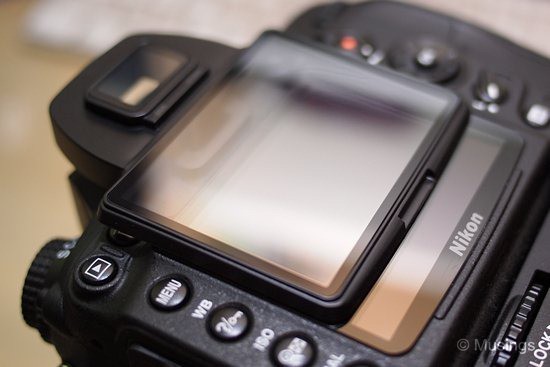 The rubber eye-cap can be reinserted back if you wish: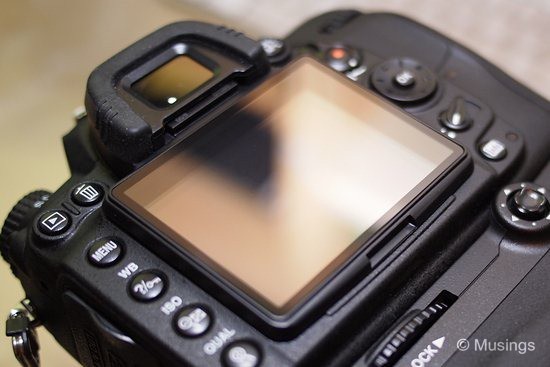 Essentially, since the monitor protector isn't stuck on, it's easy to remove when you need to (the top control panel protector is still the stuck-on type). That's a big plus point. And the whole contraption now makes the D7000 look even meaner.=)
There're two downsides though. Firstly; the protector isn't firmly secure. It can wiggle a little, though this is apparently by design. The second problem is more serious: the additional viewfinder layer means your eye is further away from the viewfinder. I found myself having to squint a little harder to read its digital information panel.
In all; it's a mixed bag. It still at least does its job well of protecting the LCD monitor, and if you don't feel like using it for the day, you can just remove it and put I back later, easily. It's the weekend; and I'll update this post if I have more impressions of the protector after I've taken the D7000 and Sigma 70-200mm on a Hannah spin this weekend.=)
Focus Fine-tuning
One of my relatively unused lenses is a 50mm f1.8 that I bought for cheap off an ex-colleague some years ago. The lens is a little on the long side for a crop sensor body like my old D300 and the D7000 I use now. Even if not, I discovered that the lens had front-focus issues – funnily despite that ex-colleague's assurance then that it was tack sharp LOL – so the lens was left in the dry cabinet for quite a while.
I finally got round to trying to correct the focusing issues on this lens using the AF fine-tune feature on the D7000. Here's what it looked like before the correction. Resized source image first: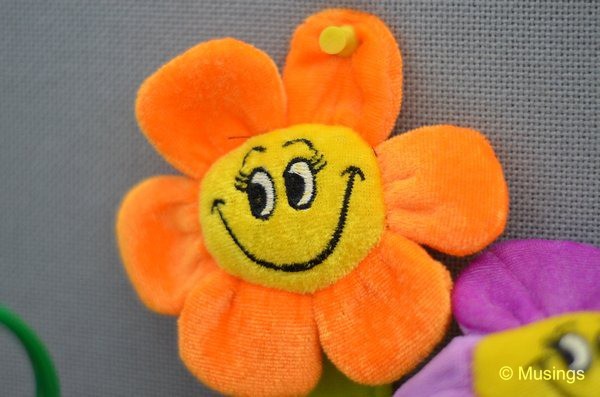 100% crops next. Both were shot at f1.8; the first one before the correction, and the second after: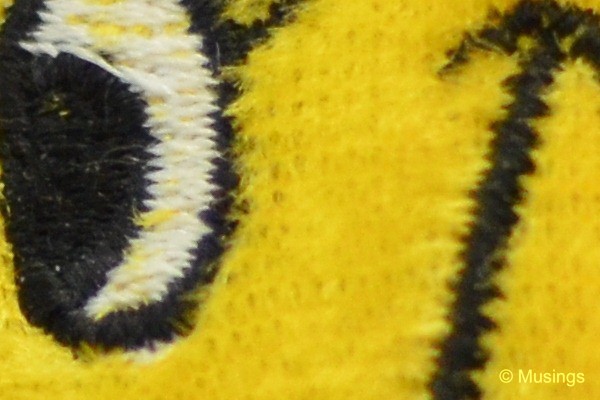 Look hard enough and you'll see what I mean; the furry texture in the second picture is better resolved than the first. Nifty little feature on Nikon DSLRs.=)