Nikon D7000
now browsing by tag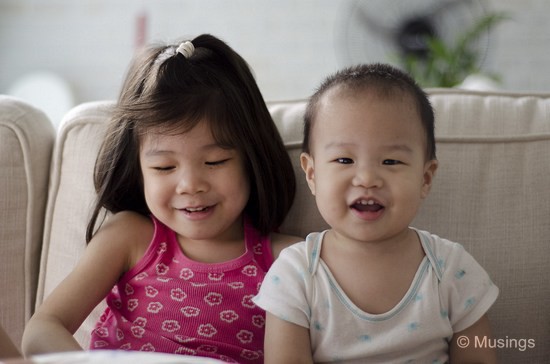 Revisiting the D7K
I've been using m4/3 cameras for more than 4 years now, and was running through my records the various camera bodies of this system I've picked up over the period.
March 2010 – Olympus E-PL1
April 2011 – Olympus E-PL2
May 2012 – Olympus E-M5
October 2013 – Olympus E-PL6
The E-M5 has been my workhorse camera for almost 2.5 years now and while it's starting to show its age through the usual nicks and bruises, still functions otherwise well. The E-M5 was joined by the E-PL6 a year ago, and both cameras have found permanent spots in my Messenger bag whenever we're out of the home.
I was curious though to see how pictures on a camera with an APS-C sensor fares against these m4/3s. Nikon has been pumping out new models of its full-frame cameras, but disappointingly, seems to have become uncertain on what to do with their APS-C DSLRs. The D7000 – which I bought in January 2012 – hasn't seen much use since I bought the E-M5. So, over the weekend, I dusted it off, brought out my two favorite primes for it – the 50mm and 35mm f1.8s – and took pictures at home of our kids.
The results were pretty mixed for sure. Running off my head:
I realized again how helpful the 5 axis built-in optical stabilization on the E-M5 is to picture taking. A small number of shots with the two Nikon primes – and these are both non-stabilized lenses – were out of focus to varying degrees because of camera shake.
The D7000's 'kaplak' mirror slap each time I released the shutter was very loud compared to the E-M5's very quiet shutter that I'd gotten so used to.
The D7000's back panel buttons and command dials feel a lot more premium than the squishy and small buttons off the E-M5.
I like the colors coming off the E-M5 than the Nikon D7000's – so much so that I found myself dialing up the image color saturation setting on the latter.
Bokeh off the two Nikon primes were marvelous, but the thinner depth of field caught me off guard. Made me realize again how forgiving are m4/3s when it comes to errors in focusing points.
The last observation was especially pertinent, since I sometimes wonder if I should give a (mirrorless?) full-frame system a go, and then become cognizant of that adage; that those systems can be extremely unforgiving, and your photographic techniques had better be pretty good already. There is a new but future camera purchase I'm thinking of though at year's end – will blog about it soon enough.:)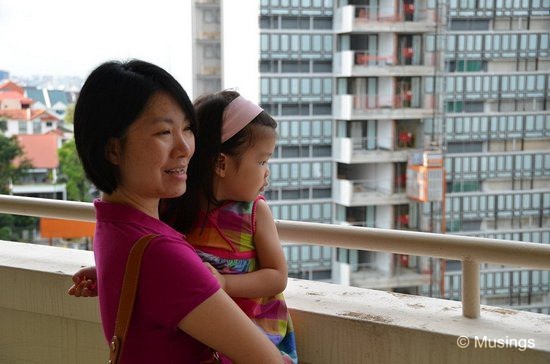 Work-in-Progress – Part 9
Another visit to the ongoing construction of our new home @ The Minton condo. We headed out earlier than usual this Saturday morning, and fitted enough time to visit the site from three different locations: Blocks 143, 142 and finally 158. We'd not checked out the view from Block 143 before, and you do get a long corridor that gives an uninterrupted wide view of the project, especially Blocks 2, 6 and 8 and the iconic badminton dome. The pictures this time were taken with the D7000, and the Sigma 18-250mm lens. Some of the worker shots were taken at the longest focal length.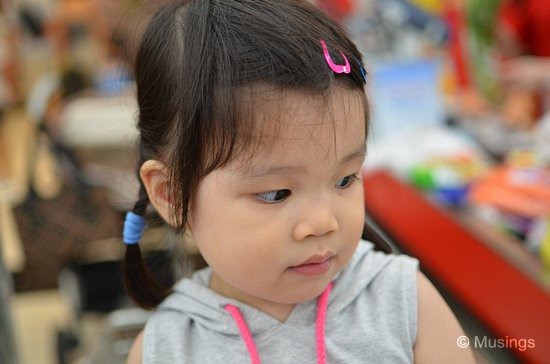 Hannah @ 20mm f1.7 – Part 4
It's semester break for the students at my institution, though not really so for faculty. Still, it does make available small periods in which I can clear the huge bunch of Annual Leave I've accumulated. It's harder to get Hannah to smile naturally for the camera these days. Not impossible – we just find ourselves having to work a lot harder than before! I suspect it's to do with the fact that she's wised up to my antics when she sees a camera pointing in her general direction. In fact, she understands this whole concept of picture-taking now, what with Ling lending her her Sony camera to try taking pictures of us.:)
The first group of pictures here below were taken across two weeks; last weekend and this couple of days.
These two below were with the D7000 + 35mm f1.8 while we were out at Serangoon Nex for weekend brunch @ Swensens. I've picked up a Bosstrap – similar to our Ang Mo bud's one – a couple of weeks ago and have it semi-permanently tethered to the D7000 now, though bringing a D7000 with a gunsling-styled strap out to a very public shopping center still makes me feel a tad conspicuous!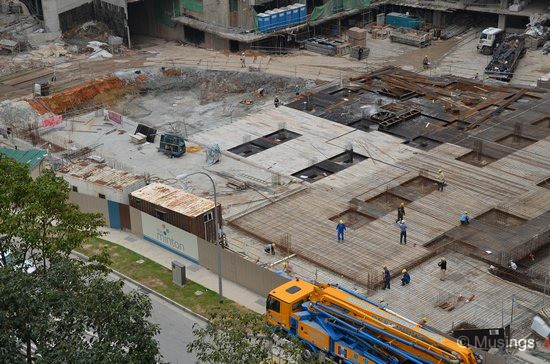 Work-in-Progress – Part 8
Another monthly check-up on The Minton condo, and this time the 10th and 11th floor of Block 158. The place is now about 15 months away from estimated completion. The Sigma 18-250mm lens came along for the check-out this time, and that enabled a couple of zoomed-in pictures to see the construction of the property's facilities.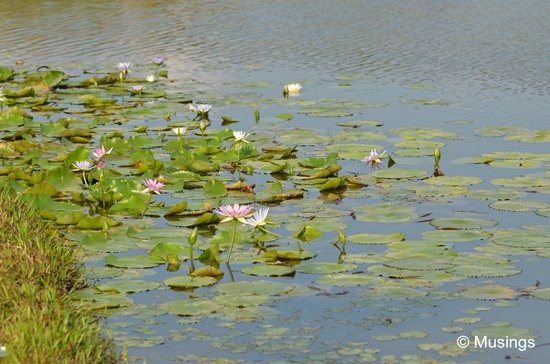 Hannah @ 70-200mm f2.8
The Sigma 70-20mm f2.8 has been getting neglected, so it was time to take it out for a spin over the weekend. The amazing bokeh that Matt's 1.8mm lenses on his full-frame D800 was still clear in my memory. A crop-sensor body like the D7000 is disadvantaged in the depth of field immediately achievable, so the compensating factor here is a lens with longer focal length. The pictures here were taken at home, and at a short visit to the Lorong Halus wetland (somewhat underwhelming). All at between 70-120mm, and excepting the pond shot, at f2.8.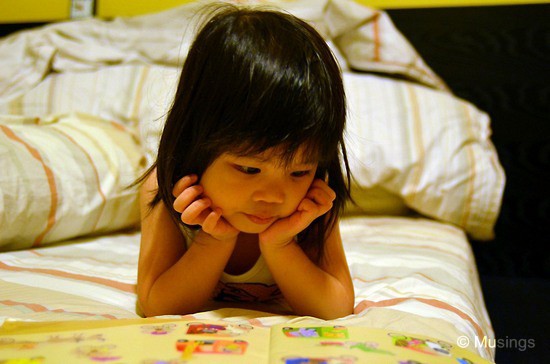 Sticker Books
One of Hannah's favorite evening routines is to do sticker book exercises with us. Ling first bought her one such book at the start of the year, and it contained several hundred stickers spread out over 36 pages. That book lasted Hannah a good month or so, after which she asked us for more. Since January then, I've gone on to buy seven more such books; about half from Amazon.UK, and the other half from Book Depository – both stores have different discount policies, pricing and availability. I've mostly assumed sticker book time from Ling for the last several months now. It's become a routine that Hannah looks forward to every night, and will even raise a ruckus if either of us even shows a moment's delay for this activity time with her. And after this activity, we'll usually close off with another 10 minutes of play time with her toys, usually involving me throwing her big duck up high and letting her catch it!
The funny thing though is that Hannah doesn't always want to peel and paste stickers into the book herself. She seems quite contend to get us to read the page's descriptive text to her, and for her then to select which stickers to peel/paste first. Starting this week, I've been trying to diversify these evening activities and include wholly reading activities back instead. It's working well so far, as long as I give her plenty of advance notice that "we'll be reading books tonight" rather than "doing sticker books".
Couple of pictures from one evening ago. This was after our sticker book activity; I got her to hang around a bit longer for me to snap these.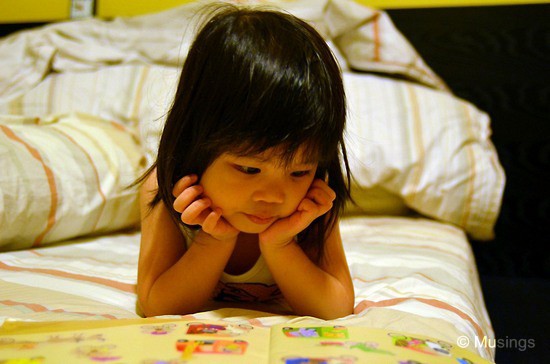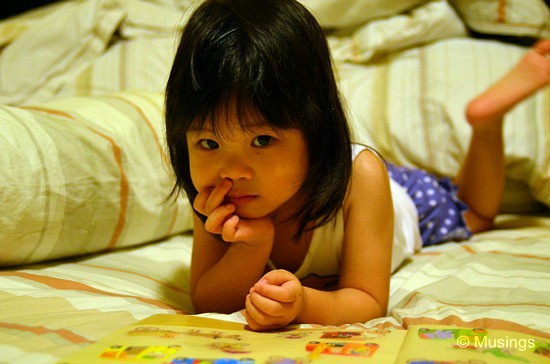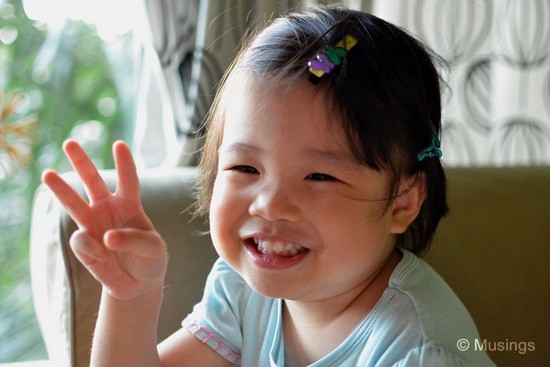 Weekends and 35mm – Part 4
I just realized that it's been a month since I posted up pictures of Hannah using the 35mm! She's just about a month away to three years old, and we've been teaching her to recognize the significance of her coming birthday too (see picture below!). She's also picked up the birthday cake she wants: it'll be my favorite too: the Green Tea Mocha cake from BreadTalk. Our angmo bud is definitely very familiar with that cake.=)
We've been getting her to count her twenty birthdates too. And it goes something like that: "Hannah is going to be three years old! After that, four years old! After that five years old! … etc… all the way to twenty."
The shops here have finally receive substantial stocks of the Olympus EM5. DPReview has given it a solid thumbs-up too. Must… resist… temptation!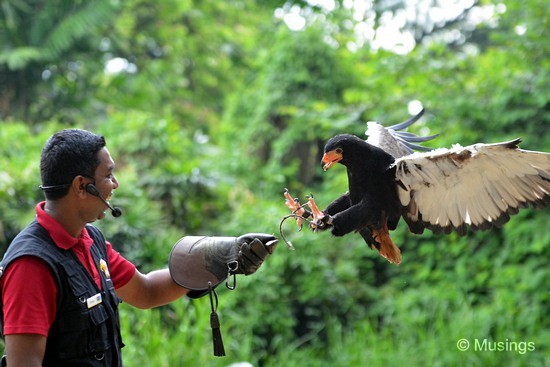 Hannah's Day at the Bird Park
We last visited the Jurong Bird Park in Oct 2009, and that was largely an inspired reaction to the amazing sights we saw at the Bali Bird Park. That was shortly after Hannah joined our family, so she didn't join us as a newborn on that trip. We did the SIngapore Zoo family outing last June, so this holiday today, it was the Bird Park's turn again.
The trip didn't turn out very well though. Weather was all bad from mid-morning onwards, starting with a fierce overcast, then drizzles, and finally lightning warnings and park announcements asking for visitors to vacate the children's park areas. Hannah was a little grouchy too (she was suffering from a slightly blocked nose); so we ended up just visiting a few attractions, the Lory Loft, and the Birds of Prey show.
This was also the Sigma 70-200mm f2.8's second outing, and I'm pretty happy with the lens. Saw a lot of persons with Canon L and Nikon 70-200mm f2.8 lenses, so no I didn't feel very special.=)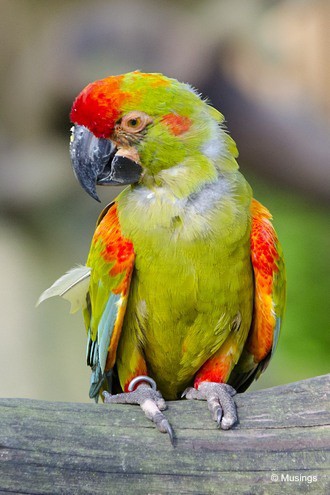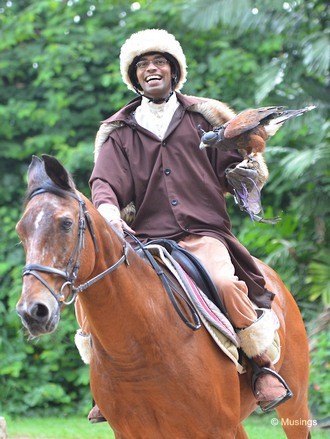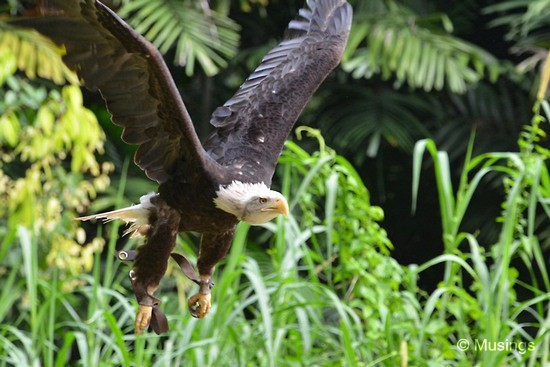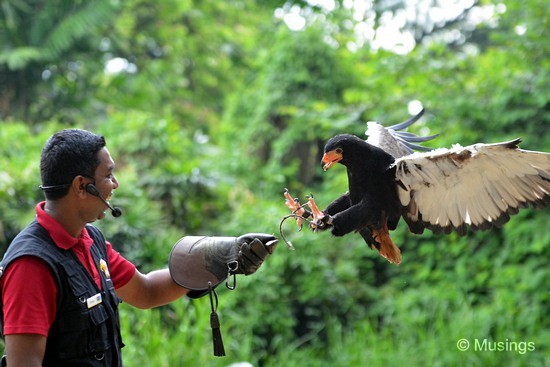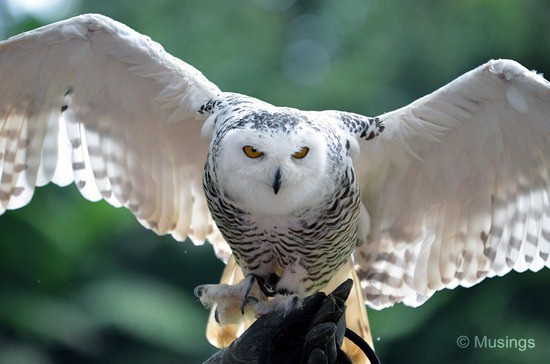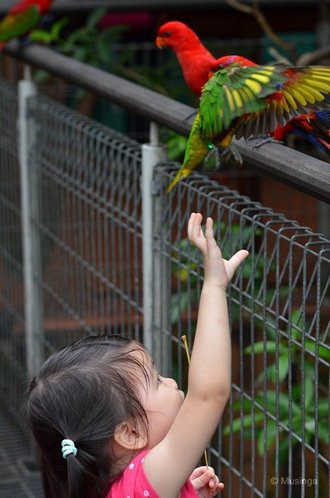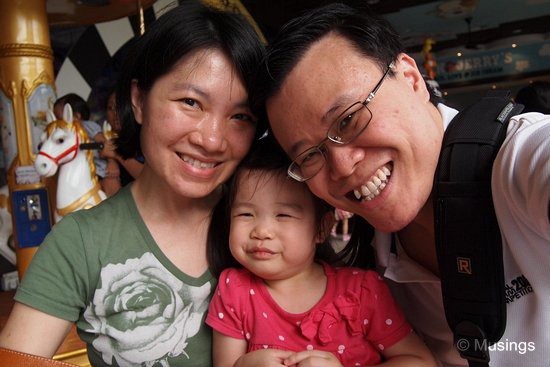 All with the D7000 + Sigma 70-200mm, excepting the last family picture. Hannah struggled with her smile in this one.=)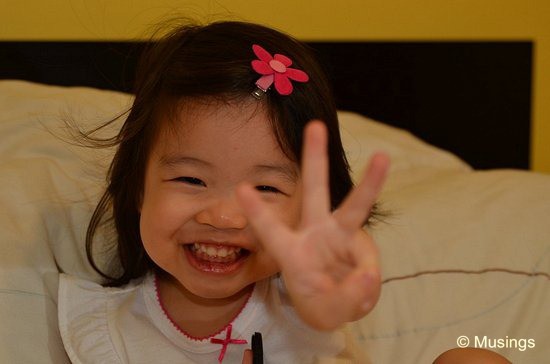 Hannah @ 24-60mm f2.8
The Sigma 24-60mm f2.8 saw a lot of use when Hannah was a year old, but hasn't been anymore of late since I picked up the 35mm and did micro-AF tuning of the 50mm. I picked up the full-frame lens for a terrific bargain at SGD385 in 2008, and that price only because it was getting replaced by a newer and much more expensive model. The lens initially had some back-focus issues with the old D300, but after calibration at the Sigma Service Center, it has become the sharpest all-rounded lens I've got, alongside the 35mm.
Here's a bunch of pictures taken casually this evening just before Hannah went to bed. I was fooling around with the flash unit's wireless mode, basically haphazardly tossing it onto our dressing table – and not noticing that the table's half-height mirror was right beside it, sending light all over the room and casting nasty shadows about.
Lesson learnt of course. Hannah's poses were, as always, priceless though.=)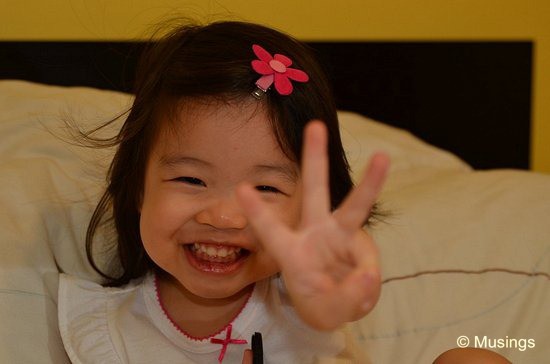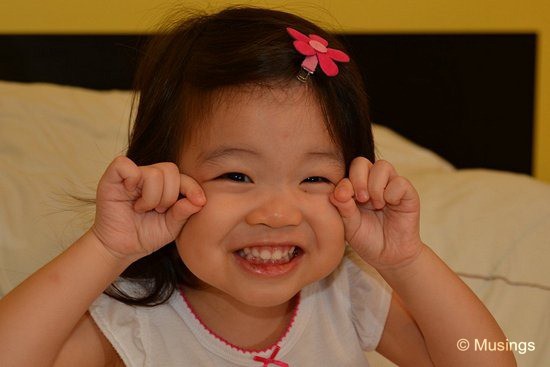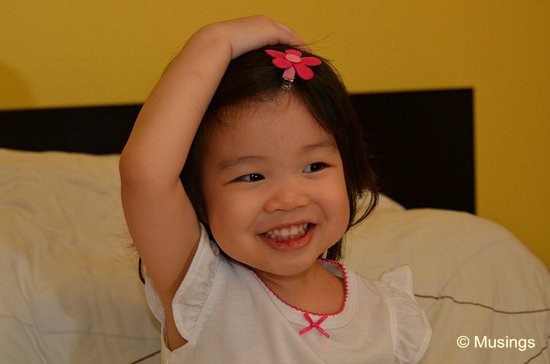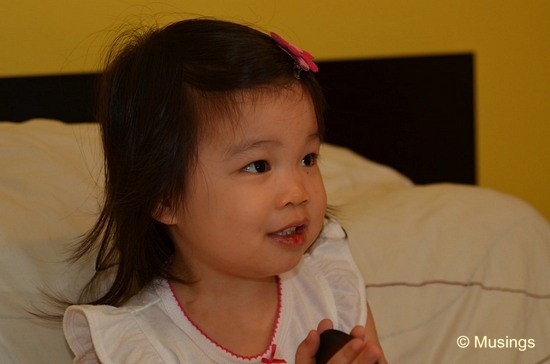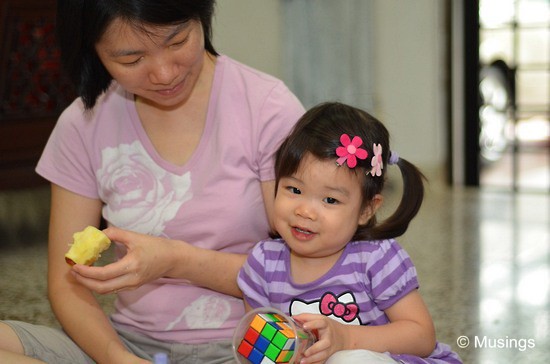 Hannah @ 50mm – Part 2
The 35mm f1.8D was taken out for a spin last weekend. This weekend, it was the 50mm f1.8D's turn. I shot a whole bunch of pictures of Hannah wide-open, and as before, at f1.8 pictures were a little soft. Sigh. When stopped down to f2.8, things improved quite a bit, though wide-open my 50mm just can't match the 35mm in center sharpness.
Our girl is just about 2 months away from turning three. We've just finally taught her to say out loud how old we each are at home; i.e. "Hannah is two and a half years old. Daddy is 40 years old. Mommy is 37 years old!" Just a month ago, she was saying "Mommy is 70 years old" – and Ling would turn white at it.=)