Nikon D300
now browsing by tag
2 Years 6 Months and Night Activities
We've been reading to Hannah every night before bed but just today decided to try varying the activities a bit. Ling got her an activity book and glue from Popular Book Store (Ling quips that the Popular Membership card is super worth it, given the ton of stationary and children materials she buys from the book store!), and has been giving it a go.
The series of pictures tells the story. Our girl still can't fully handle the picture sticking on her own, but with some help from Mommy can just about do one or two.=)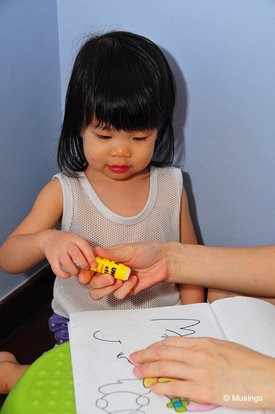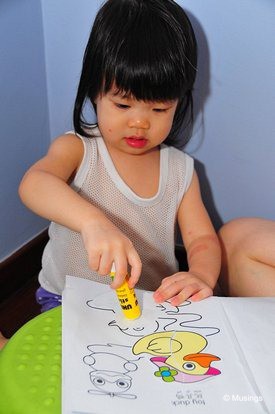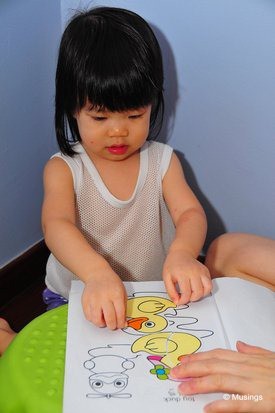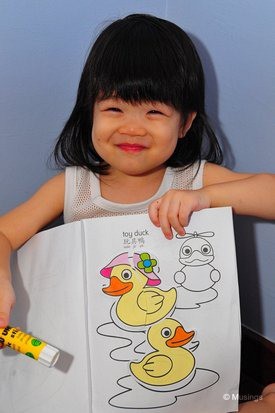 What the pictures here don't tell though is that just earlier on in that very day, Hannah had super-stressed out Ling with her continued bawling. i.e. she cried over lunch, over her bath time, over her nap, over when Ling was trying to prepare dinner etc.
I got back home from work to find a very red-eyed Hannah and a weary looking Mommy. For the next half-hour had to sit our girl down and 'psycho' her to give Ling an easier time. Hannah at least went up to Ling thereafter, said "Sorry Mommy, no more cry-cry'", and actually sounded very sincere.=)
Christmas Tree!
Though we've been staying here at The Rivervale for five years now, we've not gotten a Christmas tree for our home before. The catalyst this year round is Hannah – she's fascinated with the Christmas tree lights! So, over the weekend we went on a spree around Ikea Tampines and the Giant Hypermart next door to pick up what we needed to set it all up. I didn't have a strong persuasion on the type of tree, apart from that I really prefer a artificial one – and only because I didn't want to have to do major clean-up with a 'live' tree after Christmas!
Many pictures to follow. =)
Staycation – Activities with Hannah
It wasn't long after checking into Capella Singapore @ Sentosa that we both arrived at the same conclusion; that given how luxurious the place was (and that I paid a hefty bill for the stay), we both felt that we would rather spend more time in the hotel than in Sentosa itself! I don't think this will be the last time we'll visit Sentosa, especially since Hannah's at such a young age she couldn't appreciate the sights on the tourist-y island anyway.
So, a few more pictures of our little outing.=)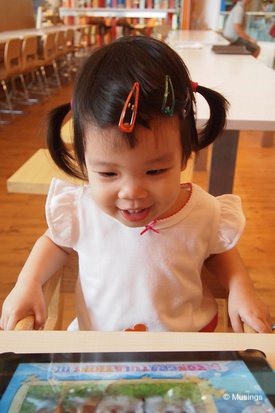 Staycation @ Capella Singapore – Part 3
More pictures of Hannah adapting to the room and surroundings.=)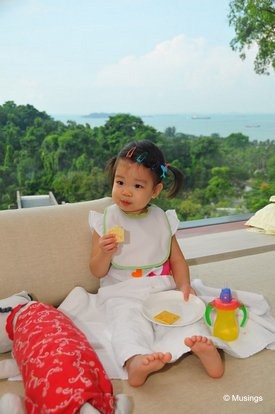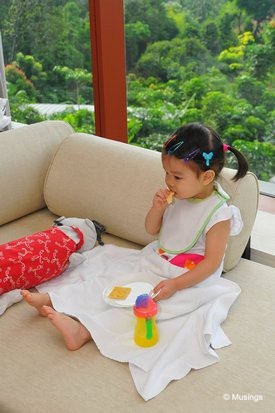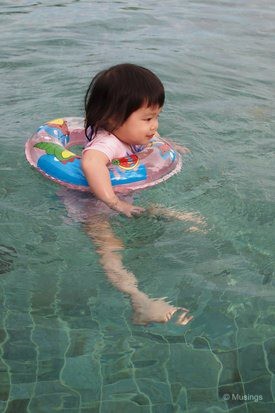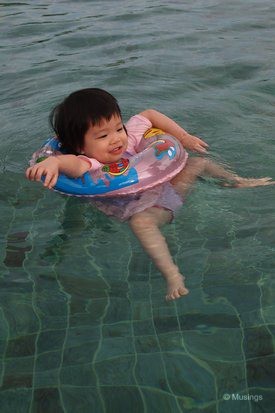 Staycation @ Capella Singapore – Part 1
Hands down; the best hotel or resort we've both stayed yet.
This is one property where (nearly – see below) everything's just perfect. We got to the resort pretty speedily in on the early yesterday Saturday afternoon, got the car parked, and found our way to the reception. One thing that struck us immediately was how idyllic Capella felt. It's strange considering that the hotel was supposed to be at near full occupancy, but hardly anyone was about.
It's amazing too that every staff we ran into greeted us warmly, with the reception staff even knowing us by name already upon arrival. Interestingly, most of the reception staff weren't local.
There was a welcome card in the room. Handwritten, and signed off by the General Manager – not typed-out. I'm sure it's done for every guest arrival and I'm not sure if the card was written by the GM himself, but it was nonetheless a very nice and warm gesture.
The room was massive – and this was the lowest-priced room even. The size at 77 square meters was about more than half the size of our Rivervale apartment! There was plenty of space for Hannah to move about, and she took joy in simply walking round and round the room, touching and exploring.
Warm earth and traditional colors throughout too, but yet the room was driven by high tech gadgets. Including a full LCD-equipped telephone, power board boxes, ceiling mounted speakers with a Bose CD player, a 42 inch LCD rotatable wall-mounted screen, electrically controlled light settings, curtains and blinds, with mood settings too.
Most of the wall comprises a large glass window that gave us a view of the garden below, and also Palawan Beach further beyond.
We were glad to see that a baby crib had been laid out too in the room, though it creaked a little as Hannah adjusted herself to it at night. Strangely; crib pillows were not included, though Ling had earlier specifically asked if crib pillows would be included and the answer was yes. When she called the reception to inquire about it again, the final answer came back in the negative. That necessitated a trip back home to pick up Hannah's pillows (Ling had also forgotten if she'd switch off the living room fan LOL). The one downer in our stay.
We mused that the relatively high price tag for the room – at SGD550+ lowest – might had been instrumental in keeping away most stayers. Plus the relatively low number of rooms versus the very large physical land space the resort is spread out mean that the resort never felt crowded.
Continued in a next post. =)
Jigsaws
Our dear girl has become quite attached to a jigsaw puzzle application I bought for her on the iPad. The application – My Jigsaw Puzzles HD – was another one of those USD0.99 apps, but the kind of engagement it has brought to Hannah far surpasses its very low price. The application uses pictures of cutesy animals that she recognizes from flash cards, and puzzles can comprise between 4 to 49 pieces.
Hannah's learned how to easily work out the 4 piece puzzles in just a few days, and navigate around the program, and can do the 9 piece puzzles with some Daddy assistance. Just incredible how toddlers pick up and learn new things!
Hannah's Day at the Zoo
Hannah has been able to easily recognize animals from the set of picture cards she has for months now, and I've also created a Folder for her on the computer storing online pictures from a range of animals to help her in animal recognition. We decided it was time to let her see the real thing. So, it was a trip to the zoo this holiday morning.
Well, one trip later, mixed results. Great weather, and the trip was accident free. However, with the exception of the elephant and giraffe enclosures, and the ponies at the kid's zoo, she seemed hard pressed to recognize most of the animals elsewhere or even demonstrate much of an interest in them.
Mommy had this idea of renting a kiddie's cart, but our girl had little interest in it after the first 10 minutes.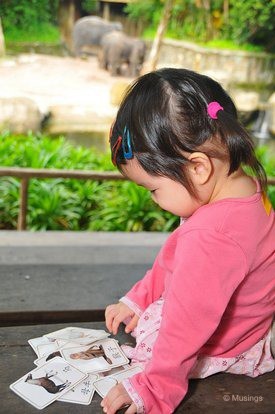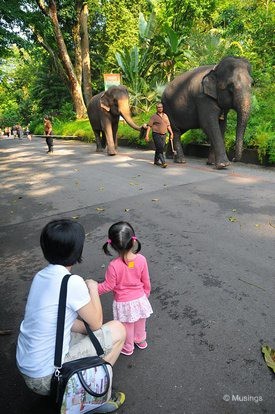 The highlight was in the walk-in aviary when Hannah ran after and probably terrorize a few duck. =)
Hannah vs Mosquitoes – Part 2
We just learned one of the probable reasons why we've been having an infestation of mosquitoes around our home in the last few weeks. National Environment Agency officers started their visitations to the blocks in the area – which we're guessing was because other residents had prompted them to do so – and after checks, determined that our neighbors downstairs had potted plants which had turned into little mosquito breeding areas. No wonder!
We're glad though that the mosquito net has blocked off most mosquitoes from Hannah overnight, though from the two bedtime pictures below taken just now, she still gets the occasional bite from day time.
Pre-Weekend Pictures!
My apologies for the tardiness in blogging! Work has been dreadfully busy, due in most part because of changed responsibilities at work. Over the last two days I've been trying to make up for all the lost time I've not been taking pictures and writing about Hannah, upon realizing that each day she grows without us keeping a memory of it is an opportunity lost.
Hannah's certainly undergoing many changes. She, increasingly, wants her way and with her growing physical size and strength, isn't disposed against pushing the both of us away when she wants one thing or another! For instance, she used to be perfectly happy to sit on her own when we had dinner in the living room. These days, she'll insist on sitting on Ling's lap, and will raise a terrible din when we don't let her (Mommy needs to eat too).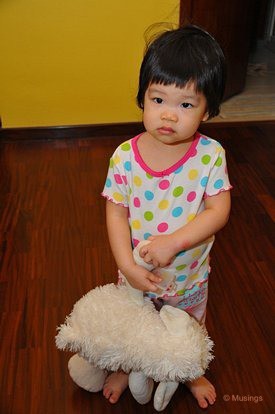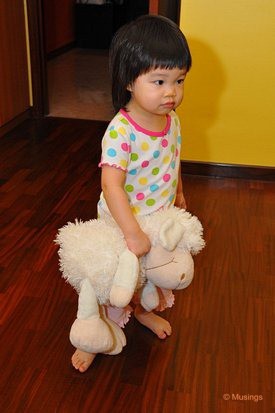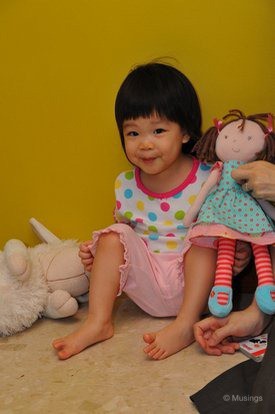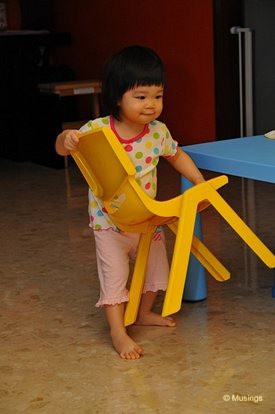 Thankfully, she still loves spending time with the both of us. Words like 'read read' are a trigger point for her, and when we let her know we're going to take time to read to her, she'll immediately brighten up, and bring us one of her books.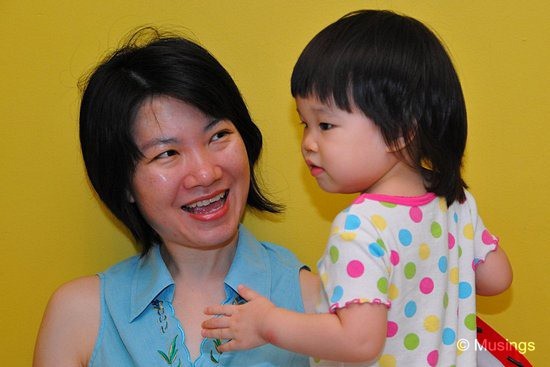 Hannah's been also experiencing difficulties sleeping at night with the mosquito net. The instant the net comes down, she'll holler. We've been getting by only because the both of us take turns to sit beside her cot, sing, play with her until she feels secure enough to go to bed. We sure hope it's just a passing phase, though if not, at least I've been able to get Hannah to sleep much easier than Ling (Ling snorts in response that so therefore, Daddy should put her to bed more often!).
Day 9: Osaka – Umeda Sky Building
Our last stop for the Day 9 evening was the Floating Garden Observatory at the top floor of the Umeda Sky Building. This is the seventh tallest building in the city, and actually comprises two skyscrapers that is interconnected with an observatory at the 39th floor. This observatory offers a spectacular 360° view of Osaka, and I was really looking forward to this experience with the memory of going up the Prudential Tower in Boston for the roof top photo shoot still very fresh in mind.
The Floating Garden Observatory itself is a covered and sheltered compound, with a few cafes and couple-seat viewing areas. The real prize though is the roof top that you go up a level more where you can get full 360° views in the open. According to Ling's itinerary, we had a choice of going up during the day or evening time, but I chose the latter. I've done enough day time roof top shoots, and was looking forward to a night shoot instead. The views at least didn't disappoint, but the photography wasn't quite so easy! Didn't have a tripod, and it was freezing cold up top in the open. Shot around 184 exposures and 16 panoramic compositions. I've just processed these panoramas, and it's amazing that even half of them turned out well. Bits of camera shake here and there at the very slow shutter speeds I was using, handheld LOL.
Admission fee is 700円. Worth every yen! All the pictures were taken using the D300 and Sigma 18-250mm.
The height of the Umeda Sky Building is at 173m; lower compared to Boston's Prudential Tower's Skywalk Observatory's 228m, but no less impressive. Recommended for Osaka visitors! :)