One of those things that's fun to think about is how the both of us are very different when it comes to cooking in the kitchen. Ling is the more inventive cook at home. She's interested in trying out new recipes all the time, whether it's a Green tea cake (her own version of the Macha cake from Bread Talk?), or some Japanese cuisine. Check out her Chicken Donburi pictured here for instance. Quite a magnificent attempt, and tastes as good as the real thing from a Japanese restaurant.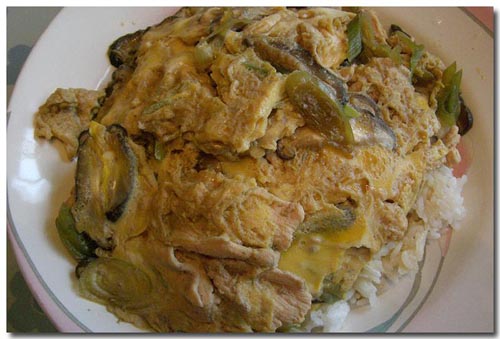 On the flip side, our dinner times become variable whenever she's the chef for the night. When she says dinner's at 6 we'd be lucky if it gets done at 7 pm sort of thing.
Food planning also takes a hit. The fridge is typically stocked with left over condiments and food items that get neglected all too soon. Too often, I'll pull an item out from the fridge and the dialog will typically go like this:
"Dear, you know your bottle of milk has expired already right?"

"Er, I was supposed to use it for baking… sorry hor, just throw for me."
In comparison, I'm less adventurous when it comes to trying out new food items. I'm really more interested in perfecting known recipes. Take for instance my Carbonara that Ling loves. Now, that recipe got perfected over 3 years cooking it in Perth. And I've got the cooking time zeroed down to a personal best of 22 minutes from start to finish, everything included – pasta cooking + onion and bacon + prawn shredding + gravy work.
Oh, I do try out a new recipe on the rare occasion, but only when I'm positively certain I can do it without error, with low cost, and with minimal cooking time. And I'm really only interested in Italian and Chinese stir-fry cooking. When I'm doing stir-fry for dinner, Ling will give me that sort of look (i.e. "Stir-fry french beans again…?").
All that said, I shouldn't complain too much, since the stuff Ling can put together is always worth the wait and occasional food wastage. So, when she has time and the inclination, there'll always be something new on the dinner table. When we're having a busy week with too much work, it'd be stir-fried french beans with carrots, capsicum, baby corn and fish cake, with a start to serving time of 20 minutes – I'm still working on it!