Confinement
now browsing by tag
Year in Review – 2009 – Part 3
Here's the last in the series of posts on our biggest decisions of the year and how they've fared.:)
Having the delivery at Thomson Medical Center (Win). There weren't a lot of choices to begin with: there's just a handful of maternity-ward equipped hospitals in Singapore, and traveling distance between home and work to the hospital was somewhat a factor in consideration. We figured though that since the delivery was a one-time experience for each birth, the cost of the stay shouldn't weigh too heavily, and the choice of hospital was in tandem with the gynaecologist that Ling was choosing.
We narrowed our choices down to either East Shore, or Thomson Medical Center, and eventually went with the latter on account of where Ling's gynae normally delivered at, and also that there had great prenatal courses for mummies and daddies-to-be to attend. While we can't say for certain what delivery at the other hospitals would had been like, the experience at TMC was excellent – facilities were great, delivery was smooth, and the gynaec a super-cool operator.:)
Confinement nanny (Mix). I think Ling may disagree with me on this one and have a more favorable opinion on the overall experience with our confinement nanny. The fact that she nearly burned down our kitchen on week 1 continues to weigh heavily in our assessment, and that she seemed to side with the in-laws in their appraisal of our post-delivery practices gave Ling a bit of grief even though we were ultimately her employers.
That said, our nanny was trustworthy, did not nag (too much), and was very good with Hannah. So, I think it's a mix on this score and perhaps leaning slightly on the decision turning out right. The decision on whether to extend her services beyond the fourth week was a very difficult one to make: but we decided eventually to bite the bullet and try handling Hannah on our own.
Infant care (In progress). This was another big decision we're making, and on account of the fact that we did not want to engage domestic helpers i.e. maids, nor leave Hannah in the care of grandparents every day. Lentor grandies love Hannah, but age has caught up with them and I felt it would had been too much to ask them to look after Hannah for 7-8 hours MON to FRI. We finally arrived at the decision for Ling to do some adjunct teaching work on half-days, and she'd pick up Hannah from infant care in the early afternoon everyday.
On the down side, having so many kids in close proximity also makes each vulnerable to infectious diseases. On the upside, our friends also noted that some of the kids left in infant care showed better development in social skills that was missing in dominantly home-school infants.
Either way, we're going to keep our fingers crossed and pray that Hannah adjusts well to infant care. Hopefully the outcome of this big decision we've made here would be the right one.:)
That's a wrap then. Fortunately, more 'Wins' than 'Losses' – so maybe the two of us don't suck too much when it comes to making big decisions! :)
Activity Time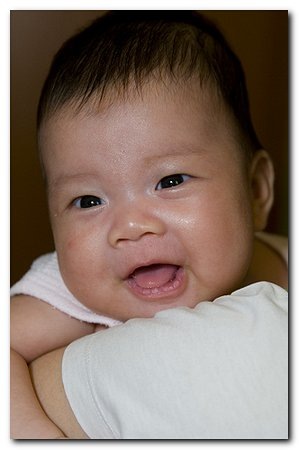 So far, I have blogged about Hannah's feeding and sleeping. That leaves us with activity time.
Like many Singaporean parents, the kiasuism spirit got me into starting her early with reading and listening to music. My best friend, Doreen, helped me purchase a book with bible stories for kids so that I can read to her. Initially, I just pick up any book (e.g. magazines, baby books) to read to her but thought it would be nice to read children stories as well. Well, Hannah is not always interested in the reading. She's usually attracted by the surroundings.
I discovered that she pick up words better whenever I interacted with her. I would normally let her rest on my (big and fat – sigh!) thigh and talk to her. She would respond by smiling and trying to mouth something in return. So far, she has tried to say 'okay', 'hello' and 'er(4) le(4)'. The latter means hungry in Chinese. She must have picked the Chinese words from my confinement lady as she often used that on her during feedings. I doubt Hannah know the meaning of the utterings. But she sure enjoys trying to say them. 'Mommy' and 'daddy' seems harder for her to pick up though.
Besides reading, she likes to stare at mobiles and coo. Mobiles are really great inventions because they help to free up time for care-givers to tend to other matters in the house while keeping the awake baby occupied and visually stimulated. I would place Hannah in the playpen and play classical music in the background and turn on a fan to move the mobiles (and keeping Hannah cool as well). I also like to hang other colourful objects (e.g. clothes pegs) as mobiles to add to her interest.
There are times when I need to buy lunch from the coffee shop across the road and if Hannah is restless or fussing, I'd bring her along in my sarong. She likes that too. So far, she would doze off in the sarong after a while.
Whenever Yang is at home, Hannah likes to interact with him too. She also watches TV with him or stares at the computer's screen when he's playing computer games. She might want her first computer very soon! Hee hee.
I don't know about this but it seems that Hannah cry/fuss less when she is given more interaction time with us. A need for the human touch? Relationship building? A sense of security? A filling of her emotional bank? Well anyway, babies change with time and so I will have other things to muse and write about then! :)
Slumber
My sleep pattern is largely determined by Hannah since the day she arrived.
In the first month, I was extremely sleep-deprived. Hannah required breast-feeding round the clock, every 2-3 hours, every feed lasting an hour. Take away meal times and shower, the remaining time was hardly sufficient to make up for proper rest. In addition, the presence of a new person (i.e. the confinement lady) around the house kept me awake as I did worry about how she did things. Besides giving her some orientation, I wanted to keep an eye on things to be on the safe side. In fact, she almost burned down our kitchen if I hadn't check on the burnt plasticky smell.
For those occasions when I breastfed Hannah in the middle of the night, I mused about millions of mothers out there doing the exact same thing. Indeed, it was quite a realisation to me that there exists a special group of people who stayed up at night to breastfeed their babies!
Motherhood, I used to imagine, was something that should be sweet and dandy. Well, I certainly didn't feel that way when I was zombified. There were times when Hannah cried for milk and I didn't feel like getting up from my bed to feed her. I was very tired. I just laid in bed hoping and praying that she would stop crying and fall asleep again. My prayers were mostly unanswered. These were days that I simply went through out of sheer will.
One night somewhere in the fifth week, Hannah decided to sleep through the night. Thank God indeed. I started to rest better since then. Another thanksgiving: she doesn't really fuss when I put her to bed after her last feed of the day. Hannah seems to know that it is bed time. She might be still alert but she won't squeak. She would normally 'wiggle' in bed for a while and then fall asleep. This is often the best time of the day. Perhaps the routine of giving her a body wipe, changing into pyjamas and bringing down the mosquito net over her bed helped to settle her down. These days, she can sleep up to 11 hours. Her average is around 8 hours.
My current challenge is her nap times. They have been inconsistent throughout the day. On good days, she would nap 1-2 hours after every feed. On bad days, she can wake up after 5 minutes of nap and bawl uncontrollably. She can really get onto my nerves. Still trying various ways and means to handle her poor napping in the day. Babies at her age should sleep about 15 hours a day.
In any case, Yang kept reminding me to be grateful that Hannah sleeps through the night. And yes, whenever I see her face as she sleeps soundly, I'm thankful.
Father, Mother and Baby
Our confinement nanny finished her month long stint with us on Sunday – just before Hannah's birthday bash.
A few weeks before this though, Ling was undecided about whether to continue engaging the nanny or not beyond the four weeks she was with us. After all, she did nearly burn down our kitchen LOL and Ling was getting real tired of confinement food by the third day she was with us.
On balance though, I think her presence, assistance and sunny attitude really helped Ling a lot, so we did make the right decision to at least have the nanny helping us in the first month.
As for extending her stay and period of assistance, I told Ling that the additional cost of hire for two more weeks wasn't an issue. Rather, what we had to remember was that any assistance provided by the nanny was only temporary. Eventually, we'll have to learn how to take care of Hannah on our own, whether it was from the 5th or the 19th July onwards.
One of those decisions we've kept to in the first 2.7 years of our marriage is that we'd really rather not have home helper assistance to handle the household chores. I do house cleaning and the more physical (and menial) chores on weekends, and until my back starts acting up again, will continue doing so. So the maid option and weekend cleaning services weren't on the table for us for the time being.
Mum did graciously ask Ling to consider moving to Lentor for at least the first couple of weeks after the nanny had left. That was a very attractive option – Ling wouldn't have to worry about meals for certain, and she'd definitely benefit from getting more rest in between feeds.
But I felt we should really try managing this on our own first and not turn to parents / in-laws as a first response.
—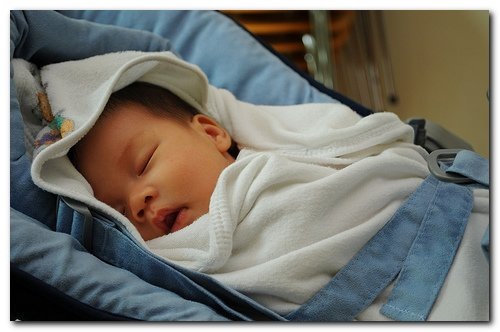 The first day – on Monday 6th July – was hell though. Hannah had 'wind' in her stomach from not having burped properly, and bawling all day.
We were suffering from (as Sharon our sister-in-law calls it) FTS, or 'First Timer Syndrome'. Ling was alone at home (she hates being alone at home, with or without baby), and didn't have time for lunch or to rest.
We got so worried that when I got back home from work, we raced to our Pediatrician at Rivervale Mall, only to return home after learning that it would had been a three hour wait to see the doctor.
Ling was looking both rather resigned and at her wits end from Hannah's brawling even after two feeds in a row. So we had a mini-family conference, and I told Ling a couple of things: that evenings and weekends won't be a problem because I'd be at home, and I'll supply the dinners on all nights. It's the lunches and day events and which she'll need moral support and a bit of help at least to maintain her sanity. I listed down all the persons she can consider getting help from during the day hours and to put those numbers on speed dial: parents, Doreen, Jasmine and cousin Ying Jia.
So, many phone calls and SMSes later, we think we've worked out a plan of assistance for the coming days. Parents came by with lunch for Ling on Tuesday yesterday, Doreen's coming on Wednesday to Friday, and Jas will be coming next week. And Sharon's providing advice too on Facebook mail LOL.
We feel really blessed to be able to receive help in this first week until we're over FTS at least.
Blogged for Hannah to read one day when she gets older.:)
Hannah's Morning Routine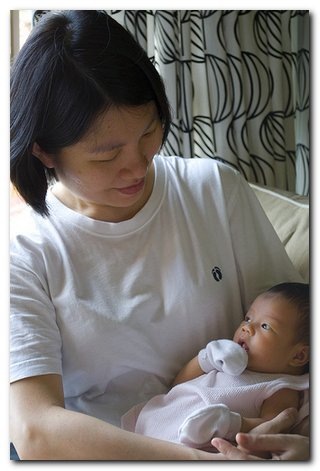 Every baby has his/her fussy time of the day. I guess Hannah's is the morning hours.
So far, her pattern for the morning looks something like this:
6-7am: Wakie and whimper: "feed me"
7-8am: bathe and then do a major defecation ('big business') -> change diaper
8am: after output gotta do the input (formula milk) – otherwise major hunger cues (i.e. cry) ! Must burp her thoroughly, or else she would be very uncomfortable and fuss.
8.30 am: Lull her to sleep (normally not successful). Hannah would fuss if placed in her cot…usually she would do big business again, then cry (signal that something needs attention), then mummy gotta check her diaper and / or burp her some more.
9am: Try to lull her to sleep. If unsuccessful, try to breastfeed her (comfort sucking).
10am: If all else fails, give her another bottle of formula milk.
10.30 – 11am: Should be asleep by now, probably due to deprivation since she woke up. :)
11am: mummy can finally fix her breakfast/lunch or fall back into bed due to exhaustion.
—
Well, the thing with breastmilk feeding is that your baby defecates frequently. Diaper changing is a constant activity throughout each day and night. Just this morning, she used up 3 diapers already. Sometimes, she defacates immediately after changing to a new diaper! Every time I change her diaper, I have to ensure that her bottom is cleaned thoroughly and the apply anti-rash cream. This is something which I need to improve on in terms of speed. She fidgets a lot when it takes too long. Hee hee.
So far, Hannah doesn't show any signs of colic (I pray not). Hence, to interpret her crying these are the usual causes: 1) hunger 2) soiled diaper 3) gas in her stomach (needs burping). Other causes could be illness, uncomfortable clothes, etc.
The confinement lady and my mother kept telling me that caring for a baby is easy; eat, sleep, eat, sleep. I wish I would call it easy too. It is the part when she cries that unnerved me. Anyway, other mothers have been there too and I'm sure I just have to cast my cares upon my Lord and rough it out. :)
From Confinement Blues to Breast-feeding Woes
Am taking a breather from the 3rd week of confinement. (Confinement period seems to last forever here!)
The confinement food is driving me nuts. After a while, even the most nutritious food such as steamed fish is nauseating. Sigh. Although I'm looking forward to its end, I'm also going to enter the 2nd month of many unknowns and challenges – no more helper! The confinement nanny has been a great help but I want to run the house my way. Yang says that I'm a cleanliness freak. Many friends who have been through this journey told me in advance that it was a very tiring process for them after delivery and how a helper/care-giver really come in handy.
My well-meaning mother and aunts have been stressing me up initially. They were full of do's and don'ts for the confinement period. And because I persisted in doing certain things the way which I think is proper and sane, there had been some tension in the air whenever they visit. Yang has been my moral support all this while – which I'm very thankful for. Guys outta there, I have this message for ya: Be prepared to be a pillar of support to your wives, a strong shoulder to cry on, during the confinement period.
After the tension has somewhat eased, I hit another road block. Hannah cannot get enough milk from breast-feeding alone. Then it was tug-of-war with the confinement nanny as to how much formula milk to supplement. I'm worried that too much bottle-feeding will cause Hannah to become lazy at sucking from my breasts. It took me sometime to break out of my fears to see that it is more important to ensure that Hannah has a full tummy than which type of milk fills the tummy. Both breast and formula milk have their pros and cons. Of course, breast milk is best where nutrition, convenience and cost (oh yes, it is very expensive) are concerned. But feeding formula milk reduces actual feeding time, gives the mother more time to rest in between feeds and the baby sleeps longer throughout the night.
I also went to see a lactation consultant about my milk supply problem. Basically, I have to down more fluids (e.g. soups, red dates drink and milk), rest more and take a prescribed herbal supplement. Hannah's weight gain has not been ideal. Hence, the consultant recommended that we supplement about 6 times of formula milk per day.
Going back to my apprehensiveness about managing on my own once the confinement lady has left. The confinement nanny did good as she made an effort to pass me tips on managing a crying baby, taught me how to prepare nutritious meals and stocked up the refrigerator with items for me to use for cooking.
I hope that Hannah will get used to me soon. She likes the confinement nanny as she really has a way with babies. Hannah would smile at her whenever the confinement nanny play with her, tell her stories and sing to her. Talk about this mother being jealous! Ha ha.
Confinement Blues
It could be an Asian thing, but from the man's point of view at least, confinement for Chinese mummies in Singapore sure isn't easy. The engagement of confinement nannies and helpers is a cottage industry here, with fees of 28 days help going upwards of $1800 to $2000.
To be honest, the price of help was never quite the issue with me (and Ling). Rather, it's the tussle between traditional confinement 'practices' versus good old common sense.
I'm sure several of these practices are familiar to Singapore women, but for the benefit of Matt – whom I'm certain will be ROFLMAOing by the end of this post – here are some of them. According to these practices, for the one month after childbirth, women…
Are not allowed to bathe using normal water.
Are not allowed to wash their hair.
Are not allowed to be in air-conditioned environments.
Can only drink red date tea.
Cannot walk barefooted on marble floor.
Heard enough yet…?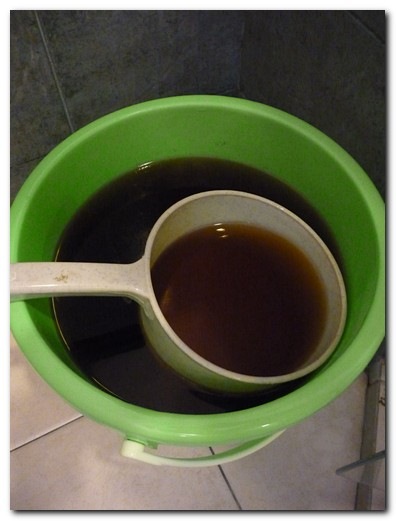 The common rejoinder / nag when asked why such prohibitions is that you'd get rheumatism, back pains etc. when you're old age.
I've always thought it's so easy for these confinement practices apologists to say "You don't LISTEN, FINE!! You just wait… you'd only feel effects when you're old!!!"
I mean, let's just be honest. It's going to be 30+ more years, and are people going to be able to draw direct correlations between your rheumatism and the fact that you bathed and wash your hair 30 years ago…?
To be fair, our confinement nanny is very nice and is at least sympathetic when Ling is obviously most distressed whenever she learns she cannot do something again. Ling did get a bit of grief initially from her own mum though early on, but things are OK again. And it's also fortunate that my own mum is a bit more liberal and agreeable that some of these customs don't really have to be followed strictly.
And medical experts also question the sensibility of some of these practices. E.g. link here.
I don't think it's simply a want to be disobedient. It's just me maybe too, but I think it's absurd to ask Ling not to wash her hair for 28 days. It's a question of hygiene and not smelling unwashed.
And most importantly… she's sleeping in the same bed as I am LOL.
"Welcome to the ZFC… Zombie Fathers club."
It could be a guy thing, but several male colleagues at work when commenting about having babies all get straight to the point: "Wait till you get to all the sleepless nights!"
—
Here's the funny thing: I've been sleeping pretty soundly since Hannah was born. Maybe it's because I'm doggone tired every night when I'm back from work – that the house could be on fire, and I'll still be muttering half-asleep "Five more minutes!"
Or that when Hannah needs a feed, Ling has mastered the art of slipping out of bed like a ninja without waking me up. Or that we were mentally expecting Hannah to be bawling all night long every night.
But Hannah has been anything but such. She typically will give advance notice before bawling. She'll fidget in her cot first for a couple of minutes. Then she'll squeak a little – and Ling and our confinement nanny will be instantly up haha. Maybe Hannah's very mild cries for attention are simultaneously sending brain waves to the two.
It's Ling though who looks a little zombified. Hannah wants to be fed every 2-3 hours, and occasionally will ask for 'snacks' in-between. And that's not counting the times every day Hannah will ask for 'comfort sucking' too LOL.
Ling says she's lost all track of time and can't tell which day it is anymore. So one mission I've got right now is to try getting her to do things outside her job of being a cow. Like taking an hour or two every night for couple time i.e. vegetating in front of the TV with Everybody Loves Raymond.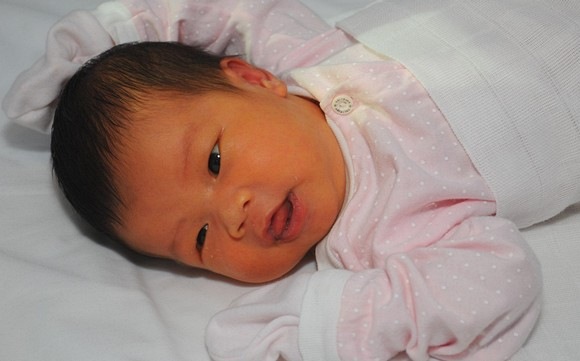 But it's all worth it. Though mum says at this age she's still 'meng meng cha cha' and very 'gong' – i.e. blur like a sotong, Hannah has began to smile and seemingly become just a little more cognizant of the surroundings.:)
Red Dates, Longans and Ginger Tea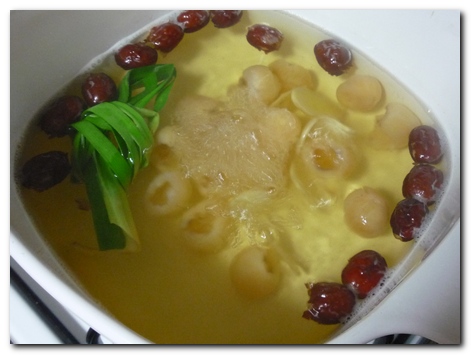 The name of the drink is quite a misnomer for there's no tea content at all.
Boon Yee, my dear ex-colleague, shared with me this antedote to 'morning sickness'. Her mother in-law made it for her during her difficult first trimester and it was effective in toning down the nauseous sensation. It is the ginger that does the job. The rest of the ingredients make the drink really palatable.
Here's the recipe…
Ingredients:
10 Red Dates (soak for 10 mins. Brush away the dirt trapped in the creases of the skin)
16 Dried Longans (Rinse. I used 'AA' quality from Thailand)
Peeled and crushed 2″x 2″ ginger (Old ginger is more potent. If using young ginger, just add more)
Rock sugar (amount according to personal preference)
Method:
1) Bring 5 cups of water to a boil.
2) Add all ingredients and simmer in moderate heat for about 15 mins.
3) Serve while hot. Can be drank chilled as well.
I was informed that this drink is commonly prepared for women during their 1-month confinement too. The red dates are supposed to be good for iron supplement to make up for blood loss during delivery.
Oh ya, I booked my confinement lady liao. Hee hee. :)