Compass Point
now browsing by tag
If your ang mo friend is coming over…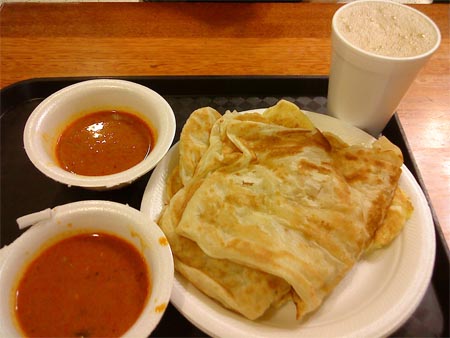 …what would you recommend him? Okay, this is my list of things to do:
Topmost on the list: Must bring him to try our local fare, of course!! I mean, we don't have much of a natural heritage here, or any man-made wonders of the world (eh, does the Singapore Flyer count?), or dirt-cheap shopping, or nice quaint vintage houses, or tranquil countryside, etc.
Matt, our dear buddy, will be flying all the way from America to Singapore in a few weeks' time. This will be his second visit here (he was Yang's best man during our wedding, remember?) He will be here for our local food. He misses the Katong laksa, roti prata and dim sum. Okies, for the sake of our dear foodie friend, I shall draw up a list of must-try foods for him while he's here again:
Paranakan Cuisine: laksa (Katong of course!), nonya curry, mee siam, rojak, popiah, kueh kueh, otah, etc
Chinese cuisine: dim sum (e.g. xiao long bao from Din Tai Fung), clear soups, congee (Crystal Jade's), Hainanese chicken rice, duck rice (A* coffee shop), steamboat, shrimp dumpling noodles (Rivervale Mall's Foodcourt), beef hor fun (Casaurina Rd), fried carrot cake (Shi Fu coffee shop), fried kway teow, fried rice (Din Tai Fung's), chilli crabs (Jumbo's), fried Hokkien mee (Punggol Plaza coffee shop), etc
Malay cuisine: mutton / beef rendang (my mother in-law's one is good), satay, nasi briyani, nasi lemak, lontong, mee rebus, mee soto, mee goreng, etc
Indian cuisine: Roti prata (Compass Point Banquet – the best!), naan, teh tarik, teh halia, etc
Thai cuisine: green curry, mango and glutinous rice dessert, red rubies, sweet tapioca, etc
Local fruits: durian, mangosteen, malay apples, etc.
Pant, pant… did I miss out any 'die die must try' dishes? Tell me please ok?
As for places to look-see, here's my rough plan:
Rustic pulau ubin
Bukit Timah nature reserve
Singapore Flyer
Singapore River / Clark Quay
Chinatown
Little India
Marina South (to have steamboat??)
Chinese Tea House ??
Zoo?
Where, where, where? Oh yah, go catch latest blockbusters…cheaper than the States…
This time round, we will still get Matt a tub of bak qua as happy-hour snack and stock loads of chilled green tea in our fridge.

Now, haven't we got something going?

Walk, walk, walk, walk in delight…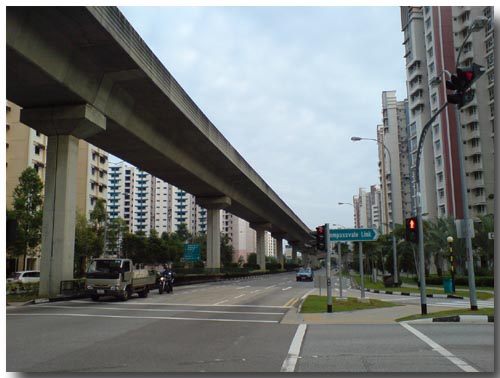 Dearest recently suggested that a brisk walk to Compass Point or Hougang Mall for a meal would be good exercise rather than driving. I was excited. This is definitely healthy living. In addition, the impact on the knees caused by walking is lesser as compared to jogging.
I remember an ex-colleague who adopted a different mode of transport to work. Instead of taking public transport, she would walk to and fro the workplace. The rest of us lady colleagues soon noticed how slim and fit she had become (and her muscles looked well-toned). She used to have slight flabbiness, you know, in those areas we women abhor. And wow, how walking had done away with those disturbing sights! Pity my home was so far away; I would have to start walking at 4am if I were to report for work on time!
Another ex-colleague of mine sweared that walking could help weight-loss. Together with her hubby, both would do 30 mins of brisk walking along the East Coast Beach every other evening. Great idea – bonding and exercise in nature! Pity we don't have much nature surrounding our place but I'm sure with a little imagination, nature is everywhere

Okay, for a start, darling and I walked to Compass Point for dinner yesterday. It was a cool, breezy evening and we had a good time poking fun at each other and also our surroundings. The journey took us 35 mins and for some reason, darling decided to take a bus or LRT home later. Duh…Anyway, that was our first time taking a LRT home and it was fun too.
We tried walking back from Hougang Mall this evening after dinner (took a bus there). Weather was once again breezy and we both loved it. I can still feel my calf muscles a little achy now. Therefore, I confirm that walking is good exercise.

I love cows!
Beef Stew @ Kopitiam (Compass Point)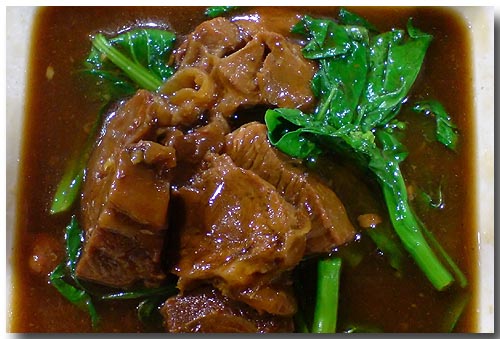 Several of my students in my PRSP, or Problem Solving and Programming, lecture group remarked in their feedback that I love cows. How's that? Well, in many of my lecture groups, the examples I use often have to do with cows.:)
Truth to tell, I love beef. Back when I was in Perth, I'd often dish up steaks at least twice a week, given how cheap fresh beef cuts could be had at Aussie supermarkets. Over here it's a different story though, with good cuts going for at least $30 a kg. As a result, since moving here to Rivervale last year, if memory serves, I've just done beef-related dishes just twice.
All that said, I was delighted to find a beef stew stall at Compass Point's Kopitiam that whips up pretty good fare. For $4.50, with the usual 10% discount applying for members, the set in the picture comes with rice, tasty and almost herb-alish soup, and a generous plate of beef sitting on top of a healthy portion of vegetables. Ling found the beef very tender, and when dipped in chili was really yummy.
Food: 8 / 10
Value: 4 / 5
Overall: 4 / 5. There's a variety of other beef-assorted fare in the stall, including beef briskets. Must try the next time.:)
Fine Print
Wasabi @ Compass Point
The both of us have been vehicle-less for several days now. Our car got hit from behind last Friday by a van at a junction; apparently the fellow behind us accidentally pressed the accelerator pedal instead of the brake. The damage has been pretty superficial – the repair job will involve some repainting and some hammering to even out the dents in the bumper. But since the insurance companies will be handing out $50-$60 a day to cover our transportation expenses while the car is in repair, we can't complain.:)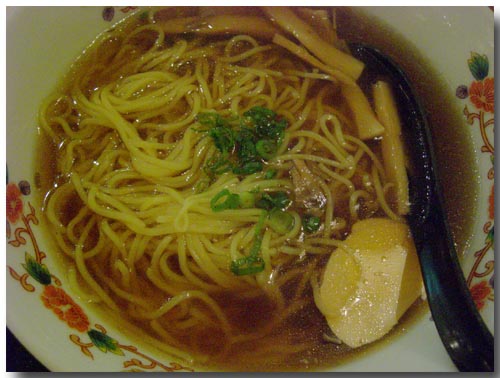 In any case, not having a vehicle has forced us to plan well in advance where to have our meals. Having dined at Hougang Mall on Monday, Ling suggested Compass Point yesterday night. Arriving earlier, she scouted the premises and just before I arrived at close to 6:30 p.m., she called, squealing in delight at her discovery of a Japanese restaurant at level 2 with an offer: buy your second bowl of Ramen at 50% discount.
As it turned out, there was some fine print she'd missed: and unfortunately, we only realized this after we'd sat down and ordered. The discount is only for diners between 11 and 5:30 p.m. Ling looked especially mortified when the waitress cheerily informed us of that; and not so much from that our dinner was going to be more expensive than intended, but rather she realized she was going to get teased about her habit of not reading "fine print" for the rest of the evening!

Still, dinner wasn't too bad; Ling chose a char siew Ramen, myself a chicken katsu variant, and we added a dried salmon skin side. The salmon side was especially delicious: it had not been too deeply fried, and had been liberally topped with mayonnaise. Each piece was crispy, and that was a nice appetiser before the two main Ramen courses.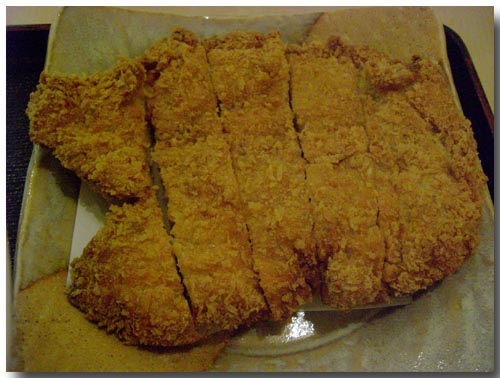 The Ramen itself was a mixed bag. Ling's serving had loads of fat in the char siew, which – as usual – were meticulously removed by her. The soup base used in both our bowls was slightly salty, and while pleasant enough didn't quite give me the sense that rick stock had been used. The chicken katsu piece was excellent though: it was a sizable and thick piece, and its breaded crumbs had not been burnt.
The bill including taxes came to just about $25, with the two Ramen bowls costing just nearly $10 each.
Food: 6 / 10
Value: 2.5 / 5
Overall: 2.8 / 5. If we'd dined here just an hour earlier, the bill would had been under $20; and I'd rate the value 4 / 5 – easily.
Pig spinning in his grave
Char siew and roast pork rice @ Kopitiam (Compass Point)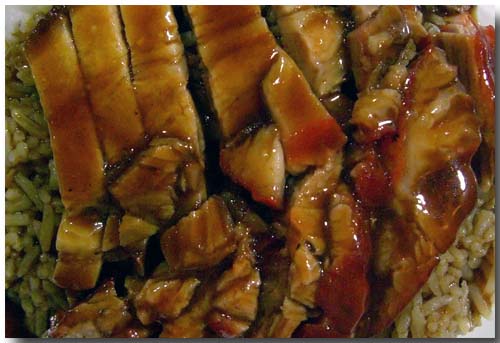 And that would be what the poor pig would be doing if he knew his flesh had been sacrificed for what really was average fare on the dinner table. After failing to find very many foodcourts offering my perfect plate of fried rice – with the exceptions of the United Square foodcourt – I've decided to try my luck at char siew / roast pork rice instead. The benchmark I'll be using is the extremely yummy plate of roast pork and duck rice at A*A*Star at Ang Mo Kio Central which I've reviewed here before, and a plate of gravy-ly magnificence I could finish two plates of without caring less for my rising blood pressure.
Basically, what you get for $3 to $4 at most places is a plate of rice, char siew and roast pork slices, some cucumber, and a bowl of soup. In this case, the offering at Kopitiam cost $4.50; quite a bit higher, though there's the usual 10% discount with the Kopitiam privilege card. That said, the rice felt soggy, the meat bland, the gravy plain, and the soup too salty. Rather disappointing, especially since we'd just finished the same fare at A*A*Star again the day before. Still, there were quite a few people lining up to buy from this stall. So, maybe the preparation just wasn't agreeable with my very personal taste-buds.
Food: 6 / 10
Value: 2.5 / 5
Overall: 2.8 / 5. It's edible fare, just a tad too expensive with very average taste.
Yummy dianxin
Dianxin @ Kopitiam (Compass Point)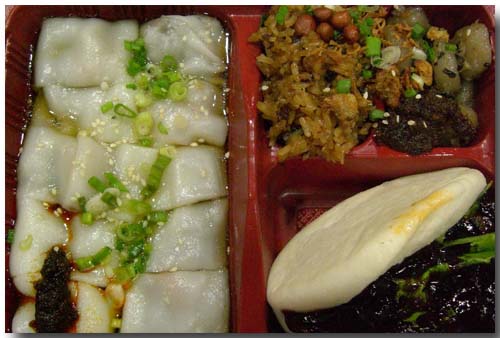 The Kopitiam at Compass Point is pretty crowded at the times we have weekday dinners these days. That really has to do a lot with that the both of us are having dinners at the same time as everyone else – i.e after work at 6:30 p.m. to 7 p.m. Hence, the only times when we don't have to scout around for free tables is when we eat at odd hours during during weekends.
We had brunch on Saturday late morning; Ling stuck to her usual Grilled Mackerel. On my end, and for a change, it was a little Dianxin set meal that's sold at the corner restaurant near the entrance of the foodcourt. For $5 – and discounts apply if the patron is a Kopitiam blue privilege card holder – I got an especially yummy three layered pork bun (or "kong bak pao"), glutinous rice, a side that tasted like yam, and prawn-based chee cheong fun. Each order of the latter is made on the spot, and it was the first time I've seen this dianxin item get prepared. The pork filling for the bun was thickly coated with gravy. Sold singly it costs quite a bit ($1.30), but it's much tastier than the ones sold at coffee shops. Value wise you don't get too much food for $5, but it's food wise this one's really not bad.
Food: 8 / 10
Value: 2.5 / 5
Overall: 3.5 / 5. I'm gonna have to try the other chee cheong fun types soon.
Succulent sushi
Goma Salmon Don @ Sakae Sushi (Compass Point)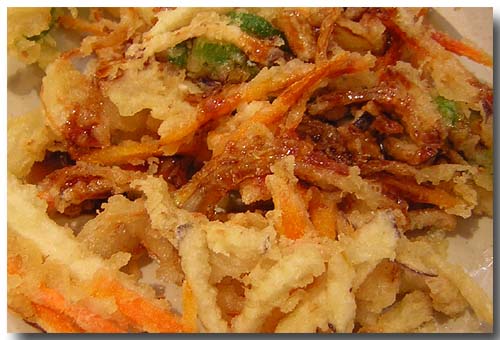 Singaporeans love Japanese food. I remember years ago when Japanese food first made its appearance in foodcourts, there was quite a bit of publicity going around it, with many locals remarking that they had good impressions of such fare: with many believing that the sushi in particular constituted healthy food.
Japanese food in Singapore today runs the range from Sushi takeouts at NTUC supermarkets, foodcourt stalls, buffets, expensive restaurants, and restaurant chains.
Sakae Sushi is, arguably, the largest of the Japanese restaurant chains in Singapore. It's hard not to find a Sakae Sushi restaurant in every major shopping mall here. In fact, in terms of its presence in malls, it's almost ubiquitous as say, McDonalds. At last count, there are 31 outlets around the island, with two pretty near Rivervale itself. There's one in Rivervale Mall, and another in Compass Point.
Singaporeans for sure are big fans of this chain; the restaurant at Compass Point opened at 11:30 a.m., and within 20 minutes the restaurant had filled up, and a queue had formed at the entrance. Ling had some dining vouchers for the chain, so we went by the outlet in Compass Point over the weekend to make use of it.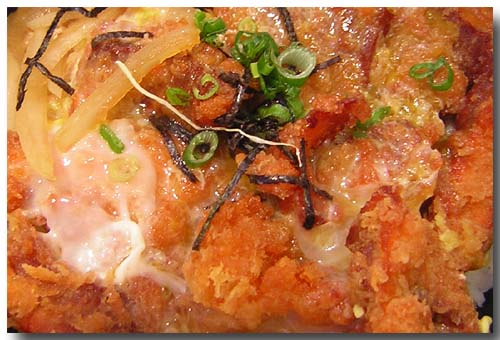 Ling thinks that the sushi served at Sakae is "very, very average"; me, I can't tell the difference slightest. While we're here, we tend to stick to the same favorites. There'll usually be a plate of Kakiage – which is mixed shredded vegetables fried in tempura butter with sauce spread over it, and shown in the top picture; fresh salmon sushi, Salmon kama, and Fried toufu. We had to order $25 worth of food first to qualify for voucher usage. So, in order to get enough for $25, we settled on a Salmon Don set for myself, and another seven small plates of varied fare.
We were among the first to place orders for the day, so our orders came briskly enough. One thing I have to say about Japanese food in general, and it's that presentation is always very good. Not like Chinese cusine – stir fry anyone? The Salmon don set was particularly appealing, as one can see from the picture above. Pretty good stuff too too, and filling enough at an average price of $8.90.
Food: 7 / 10
Value: 3.5 / 5
Overall: 3.5 / 5. I imagine Ling would have rated the 'Food' grade lower though, since her standards for good fare are higher than mine. Me, I'd happily eat most anything.
Claypot chicken rice revisited
Claypot chicken rice @ Compass Point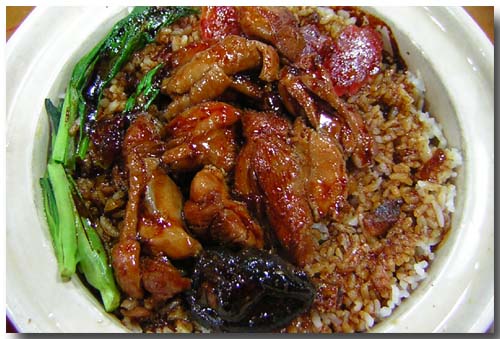 The two of us made another trip to The Rivervale to work out some matters with the condominium manager, after which we headed for an early dinner again. I've been eager to try out the claypot rice at other places in the hopes that I'd find something that's even tastier than what I've had at Thomson Plaza. I found one such stall at the Compass Point foodcourt on level 4, and here's the report card.
There are some similar aspects compared to the Thomson Plaza version. The cooking style is similar, there's chicken, veg, salted fish and the like still. It also cost $4 too. The taste however was noticeably different. Specifically, while this evening's version was heavily drenched in sauce, the sauce itself didn't improve the flavour of the rice at all. In fact, the sauce was tasteless and I almost thought it was more colouring than anything else. So, while the chicken pieces were comparable, the all important accompanying rice was not – and it fared poorly. On the upside, the supplied chilli was magnificent. It was pleasantly sour with a taste of lime, and left an exciting tingle on the tip of the tongue whenever I dipped the chicken in.
Food: 3 / 5
Service: 3 / 5
Value: 3.5 / 5
Overall: 3.2 / 5. It's serviceable, but the Thomson Plaza claypot rice still rules.