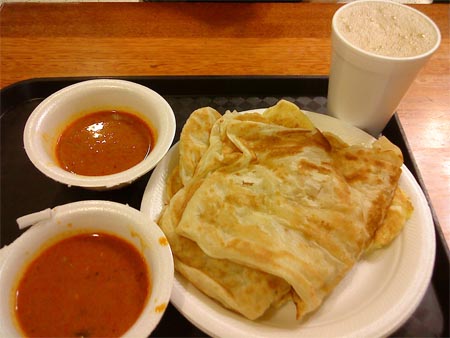 …what would you recommend him? Okay, this is my list of things to do:
Topmost on the list: Must bring him to try our local fare, of course!! I mean, we don't have much of a natural heritage here, or any man-made wonders of the world (eh, does the Singapore Flyer count?), or dirt-cheap shopping, or nice quaint vintage houses, or tranquil countryside, etc.
Matt, our dear buddy, will be flying all the way from America to Singapore in a few weeks' time. This will be his second visit here (he was Yang's best man during our wedding, remember?) He will be here for our local food. He misses the Katong laksa, roti prata and dim sum. Okies, for the sake of our dear foodie friend, I shall draw up a list of must-try foods for him while he's here again:
Paranakan Cuisine: laksa (Katong of course!), nonya curry, mee siam, rojak, popiah, kueh kueh, otah, etc
Chinese cuisine: dim sum (e.g. xiao long bao from Din Tai Fung), clear soups, congee (Crystal Jade's), Hainanese chicken rice, duck rice (A* coffee shop), steamboat, shrimp dumpling noodles (Rivervale Mall's Foodcourt), beef hor fun (Casaurina Rd), fried carrot cake (Shi Fu coffee shop), fried kway teow, fried rice (Din Tai Fung's), chilli crabs (Jumbo's), fried Hokkien mee (Punggol Plaza coffee shop), etc
Malay cuisine: mutton / beef rendang (my mother in-law's one is good), satay, nasi briyani, nasi lemak, lontong, mee rebus, mee soto, mee goreng, etc
Indian cuisine: Roti prata (Compass Point Banquet – the best!), naan, teh tarik, teh halia, etc
Thai cuisine: green curry, mango and glutinous rice dessert, red rubies, sweet tapioca, etc
Local fruits: durian, mangosteen, malay apples, etc.
Pant, pant… did I miss out any 'die die must try' dishes? Tell me please ok?
As for places to look-see, here's my rough plan:
Rustic pulau ubin
Bukit Timah nature reserve
Singapore Flyer
Singapore River / Clark Quay
Chinatown
Little India
Marina South (to have steamboat??)
Chinese Tea House ??
Zoo?
Where, where, where? Oh yah, go catch latest blockbusters…cheaper than the States…
This time round, we will still get Matt a tub of bak qua as happy-hour snack and stock loads of chilled green tea in our fridge.

Now, haven't we got something going?