Club Med Bintan 2015
now browsing by tag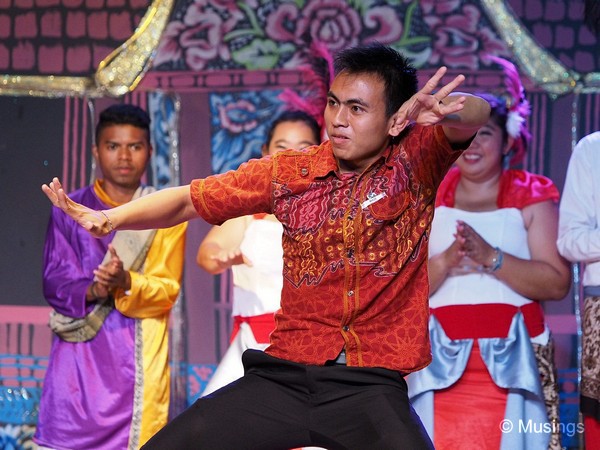 Club Med @ Bintan – The Pictures – Part 2
The nightly concerts at Club Med Bintan was the second major event outing for the new Olympus 40-150mm f2.8, the first being Hannah's K2 Graduation Concert a month ago. The shooting conditions were similar in some respects – fast subject motion on-stage and constantly changing stage lighting – and different in others – the distance separation at Hannah's Concert was about 40 or more meters, while the Club Med concerts were about 10 meters. The latter difference was especially significant – subject motion and also depth of field posed greater challenges, while lens shake was less of a problem.
On the overall, about 950 odd photos were taken using the 40-150mm, about 800 were at the evening concerts. Many of them turned out quite well – all things considered – with the frame capturing the stage actors in the intended posture, the shot being reasonably sharp, and stage lights not posing a frightful mash of colors on sensitive frame areas (especially faces). Here's a selection of some of my favorite shots across several evenings!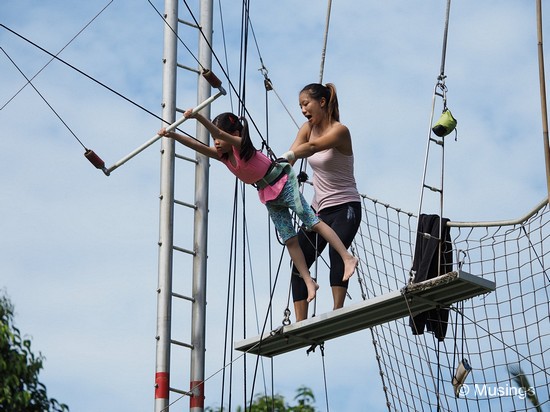 Club Med @ Bintan – The Pictures – Part 1
Of the whole bunch of us, I reckon Hannah probably got the most out of our Club Med Bintan stay. Ling wanted to try out a couple of activities (e.g. trapezing) but was trapped down by Peter who clung onto her and refused to let her go. But she was able to venture out to the beach several times to hunt for sea life. Peter was probably just thrilled to lots of things to touch (and eat).
As for myself, aside from swimming and archery, I pretty much spent all the rest of my time taking pictures and reading. In fact, on the latter, over five days I finished four books including one on the battle for Iwo Jima and written by the late Robert Leckie and whose story was told in The Pacific mini-TV series, and a quarter into a fifth –  Forgotten Ally by Rana Mitter, a critically acclaimed and compelling account of China's role in WWII, the struggles between early politicians like Mao Zedong, Wang Jing Wei and Chiang Kai-shek and why China is the way she is today. The National Library of Singapore's eReads is a godsend!
Of the whole bunch of cameras, lenses and accessories I brought along for the trip, surprisingly, usage largely centered on a few key pieces of all the gear I carted, and they included:
E-M1. This camera body was given a real run for the money, and didn't disappoint.
Olympus 40-150mm f2.8. Of the slightly under over 1,300 frames I shot, about 80% were on the E-M1 (the remaining were using the E-PL6 and also Samsung Galaxy Note 5), and of these, almost all were on this 40-150mm lens.
Billingham Hadley Pro in its first substantial outing. The National Geographic messenger couldn't comfortably hold the 40-150mm.
Joby Pro Camera Strap: worry-free tethering!
Surprisingly, the equipment that I used little of or barely touched included the:
Olympus E-PL6/Olympus 17mm f1.8: I took several dozen low-light shots in our dimly-lit rooms and also a couple more at the restaurant – but that's it.
Olympus 12-40mm f2.8: used it only for a small handful of beach and walking about shots and also our usual family wefie shots on the last day.
Nissin i40: never got brought out.
This trip was probably an odd one, since we didn't do any sight-seeing at all. Rather, the majority of the 950 or so shots using the E-M1/40-150mm were of Hannah's activities, and also at the evening concerts, where the combo really shined and producing amazing pictures under limiting conditions. Here's the first bunch of them; I took so many concert pictures that they'll have to go into a different post later!
Concert pictures next!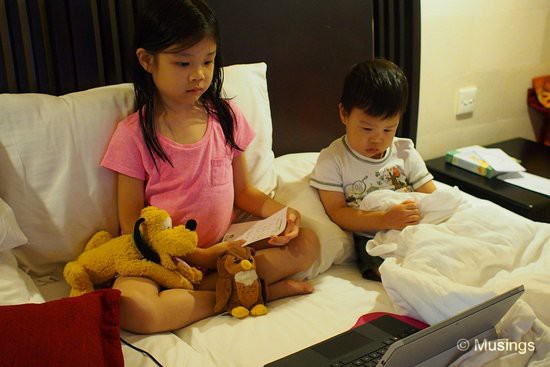 Club Med @ Bintan – The Bad
Continuing from our last post. For the bits that didn't work:
Our two interconnected rooms were the largest problem. We'd already mentally prepared ourselves for their state through the Tripadvisor reviews prior to our arrival but they were still depressing when we saw them first-hand. Our rooms were in Block 'P' which is nearly at the furthermost end of the resort. The walk from the main building to our rooms took several minutes, but on non-raining days the walk was typically pleasant (there is a completely sheltered alternate path for times of inclement weather).
Of problems though: our rooms were dimly lit, sparsely decorated, and had a distinctive musky odor when we checked-in. Furniture was clearly worn. The air-conditioning in the children's room rattled loudly, and never got fixed despite our reporting it to Reception. Rust and stains were in several spots and paint peeled off in the children's room. There are no door bells nor feet mat at the door entrance. The main door in our room did not open smoothly using the keycard – it required us to jiggle the card in the slot, and then apply some force to jolt the door open. Our 'king-sized' bed was really two beds joined together from two separate bedframes, and the separation of two mattresses could be clearly felt. Each room had a separate toilet from the bathroom – hooray – but missing a wash basin – duh.
In-room entertainment was also lacking for the couple of rainy afternoons when we had to hideout in the rooms. The TV is small (32″ maybe?), and while pre-programmed with several channels, reception was very poor – we received static for most channels. Internet connectivity is so-so with occasional drop-outs, requiring re-connections.
Ling especially felt that housekeeping was below par, with newly laundry/amenity items occasionally left out, and the additional cushions piled at one corner of the floor which wasn't really clean. And the room hidden surfaces – e.g. below bed frames – were all dusty.
Honestly put – the quality of rooms is simply not befitting the price of stay, and reminded us in parts of the old dilapidated East Coast Chalets from the 1990s. Using a scale of one to five stars, with Capella and The Majestic at 5, Ayara Hilltops at 4.5, Telunas, Santhiya and Naumi at 4, Legoland at 3.5, Tepi Sawah Villa at 3: we weren't expecting rooms of the same luxury class as Capella's of course, but we were still hoping for something that's about four out of five stars and would have settled for three. As it is, I'd put the rooms at two stars at best.
I guess one could make the argument that if you're doing a Club Med stay, one would be out of rather than inside rooms. And in case one feels that I'm being unduly harsh on the state of rooms, numerous Tripadvisor reviews make mention of this issue too, some politely, while others as pointedly as I've done here. There doesn't seem to be many reviews praising the rooms! Oddly and on the other hand – several of the blogger reviews I read heaped glowing praise on hospitality and accommodations, and stayed in rooms that looked a heck lot cleaner and better looking than ours. Perhaps we were just plain unlucky to have drawn poor rooms (though how that syncs with numerous other Tripadvisor reviewers pointing out the same issues is anyone's guess) or there were other reasons for them emphasising the good rather than less savory aspects. To be fair – several bloggers did declare that their stays had been sponsored by the Club. One of the benefits of a completely non-sponsored/affiliated blog here I guess – I can be entirely candid and say exactly what I feel about a stay that is as typical as any other non-sponsored traveler.
The age of the resort wasn't just immediately observable in the rooms, but also in other spots. The internal little gardens separating each block seemed in need of maintenance. The laundry/dryer machines while no-doubt a welcome convenience (we did laundry – twice!), were sitting in a room that looked like my NTU hostel's laundry room from the 1990s. The fan blades in the building's first floor bar, theater and common areas were rusting. The GOs themselves seemed to recognize that they were operating in an old facility, and one shared that the resort was going to be refurbished next year, and promised that things would be better after that.
We signed Peter up also for the Petit Club Med at additional cost, but just after a few hours on the first day of that, the attending GOs hunted us down to return him as they found themselves unable to handle Peter. We're aware of his clingy temperament, but it was also a downer as we'd hope the Club could manage him and have him enjoy their activities. No apologies were tendered nor offers of refunds given – not that we're hung-up about the latter, but a gesture would had been nice.
It would had been also helpful to add a note in the booking/sign-up part of this experience during booking on what are the contingencies in which a service could not be consumed, e.g. a service guarantee that if kids cannot adapt to the club early on, a partial refund would be given. A lost customer service-centered opportunity. And the irony – he got a completion certificate on the last day. Guess the resort didn't realize that he was barely in the Petit Club.
And other comments:
We were visited by a troupe of monkeys one morning upon waking up who ran around our rooms' porch area, and peed on one of the deck chairs even LOL. Made for some interesting interaction opportunities for Peter especially, though behind the glass doors. I quipped to Ling that this was like a reverse Zoo. The monkeys were the real residents of the resort and were observing us in our rooms from the outside – while we were the real animals in the zoo this time!.
The resort didn't feel too crowded during our stay, though we weren't sure if this was because it wasn't at full capacity. There were several visitors from a certain large country far up in the North who, by way of fossilized cultural mannerisms, spoke loud enough at every conversation that their presences were always obvious. Guess there's no vacation spot left on Earth where you can go without being reminded that you're not far from that part of Asia.
On the overall: we'd recommend Club Med Bintan if you're looking for an all-inclusive, family-friendly resort with a variety of activities that you're interested in, and are willing to accept the generally poor rooms. If you're however more introvert and envision yourself spending more time inside your room to enjoy its amenities to relax, then we couldn't recommend this place. There really are more luxurious properties in the region at similar price points. For ourselves, there are also other Club Med resorts in the vicinity, and we'd be hard-pressed to think of a good enough reason for a return-stay, unless the rooms and housekeeping significantly improve.
Next couple of posts on the equipment and pictures!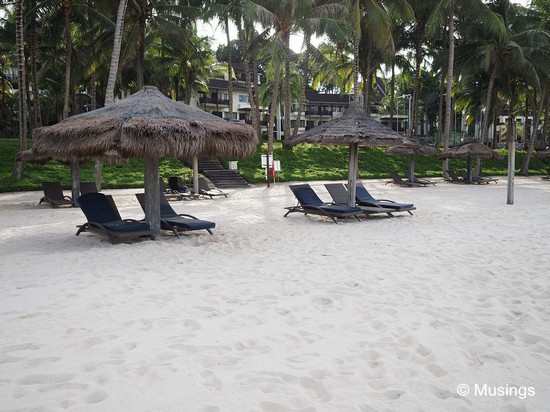 Club Med @ Bintan – The Good
Well, what's our verdict after a five day stay at Club Med Bintan? In a word or two: "it's complicated".  The summary of it is that the hospitality from Genteel Organizers (GOs) for the most part were as warm and memorable as numerous Tripadvisors reviewers and other bloggers have commented all over the 'net. But if the quality of rooms is of importance to vacation seekers, then Club Med Bintan is not for them.
Starting off with the good bits:
Visible Management. We've never seen a property or resort which witnessed a similar degree of involvement from the Manager. Jessie, the resort's Chef de Village, was ever visible making her rounds about the resort, and will go from table to table every dinner to converse with guests – and it'll take an hour or more each time for all the tables. The burly restaurant manager Mervyn would welcome guests at the entrance with his booming voice. On the last day, the deputy manager (I think) spoke to the outbound bus of travelers inviting us to provide feedback on Tripadvisor, how visitor feedback is used and shared among the GOs, and what it means to them too in career advancement too.
Warm GOs… for the most part. The GOs are involved in so many aspects of our stay that we were able to recognize by face most of the team by the end of five days, and names of several. The resort's prominently displayed organization chart with pictures and nationalities certainly helped us in making these personal connections. Most of the GOs made a serious effort to mingle though Ling felt that a couple of GOs seemed to be going through the motions. To be fair, it's not a small resort and travelers are coming in every day. Of all the resorts we've been to, the one with hosts that strikes as most are genuinely and consistently warm all-round was Telunas Beach Resort. Not an exactly equitable resort of course, but they are both broadly serving the same market.
The lively ladies and lads running the Mini Club Med at least obviously adored kids. How the GOs manage training for the concerts every evening is also just mind-boggling. Hannah really enjoyed the two full days she spent with the Mini Club, and especially the circus/trapeze segments. And the Mini Club GO Dolpi who looks stern initially but is really a jovial and comical character and clearly a favorite among kids. He called our girl "Little Mei Mei", and on our day of departure, asked a amused Ling to "take care of Hannah for him" LOL.
The beach is clean, and on a sunny and bright day, is stunningly powdery white. The waters are reasonable though not quite in the pristine state as some of the other well-known beaches in Malaysia. Both ends of the private beach were also teeming with sea life, and Ling made several ventures out for pictures and videos of all manner of critters she could find.
Feeding time was for the most part good. Recognizing that it's tough to feel that you're being fed new things every meal once you're past a couple of days in the stay, credit has to be given to the team of chefs for at least trying their hardest to inject as much variety as they could. Breakfasts tended to feel same-y after two days, and to a lesser degree lunches, with dinners presenting the most variety. Seating availability was never an issue with enough tables to go round, and wait service was prompt and polite. More importantly for the kids: there was pizza and baked beans a plenty, so both kids ate well and a lot! :) Meals were served at the main restaurant, but there's another restaurant further in the compound though dinner reservations are required there.
We looked forward to each evening concert, with the most memorable one of our stay centered on the comedic mash-up of modern music from the 1960s that had us laughing in stitches! One GO, Hans joined our dinner table one evening, and quipped that they rehearse when we're sleeping.
The few accommodation-wise parts that worked for us were that the showers worked well (good water pressure, really hot water if you wish it), and also the free to use laundry/dryer machines (bring your own detergent!).
Booking our stay was also easy with a well-designed web site, and the package is really all-in (ferry prices from Tanah Merah Terminal are included).
More in the next post!
Year End Vacation 2015
We'd not initially planned for a trip out of Singapore at the year-end. Changes at work leading to a new job portfolio, that we'd already done a family vacation during the June holidays, and most of all – prudent spending – all pointed to a year-end period where we'd be home bound to do very local things. So, it was mostly on impulse that we decided to find a small block of time where I would be able to get out of work, and then go somewhere.
Tricky thing though is that after that very tough experience with Peter onboard airplanes on our return leg from Santhiya last year – basically, he just couldn't keep still – we'd resolved not to travel by air anywhere until he's older and better able to moderate his behavior. With that in mind, our planning planning parameters were:
5 Days trip – that was the longest block I could easily find
Does not involve air travel
Won't break the bank LOL
We considered a whole bunch of places, including a little known island south of Vietnam, Penang, Langkawi, various other islands off the west coast of Malaysia, cruises, and even our 2012 destination spot again – Telunas – before deciding on that very popular if also expensive Club Med Bintan. Most of our previous trips routinely featured our own itineraries and we basically just made stuff up as we went along. Sometimes, that worked well – like in our Telunas trip. But we also learned lessons from our Santhiya 2014 trip, where we spent seven days there not doing very much, even if half of that time I spent violently sick in bed. Simply put, it's hard putting together a workable itinerary when you have a temperamental 2 year old boy! This time round, we wanted someone else to do all the planning for us for a semi-short stay, and there's no better place than Club Med than that.
Club Med Bintan is just over an hour away from Singapore, and is also a popular vacation spot for many local families here, if going by the many blog reviews is any indication. The total damage was a shade under S$2.8K for a 5D4N stay – ouch. More notes and comments to come in the months ahead!