Chinese New Year
now browsing by tag
A pleasant weekday evening
Just when I was marvelling at Yang's dad for having his ex-students paying him visits year after year during the Chinese New Year season, I got one tonight too.
Name is Jinju. I taught her biology and was also her choir teacher almost 10 years ago. She's now doing her final year for her TCM (Traditional Chinese Medicine) degree in Beijing.
I was glad to learn that she was offered a scholarship and a job placement as a Chinese physician once she has completed her programme. She belongs to the first batch of TCM degree holders in Singapore. How cool is that? :D
Jinju bought lotsa Chinese kiddy books and wall charts for Hannah! Now mommy has no excuse not to read to Hannah in Chinese. Oh ya, there were also kiddy socks…will keep them until it's time for Hannah to wear shoes to go 'gai gai'. :)
Thanks, Jinju, for your presence and love tonight. :)
More CNY Pictures
There are usually at least four festive dinners at our family home at Lentor: the Reunion dinner on CNY Eve, lunch event on Day 1 before we disperse to visit relative, another dinner event with relatives from my maternal side on Day 7-8, and a final one on the 14th and last day of the festivities. We were back at Lentor yesterday evening for the third event of festivities. Hannah was dressed in her baby Cheongsam, and since we haven't really taken many pictures of her in it yet, took the opportunity to and with Lentor Grandmom's garden plants as backdrop.:)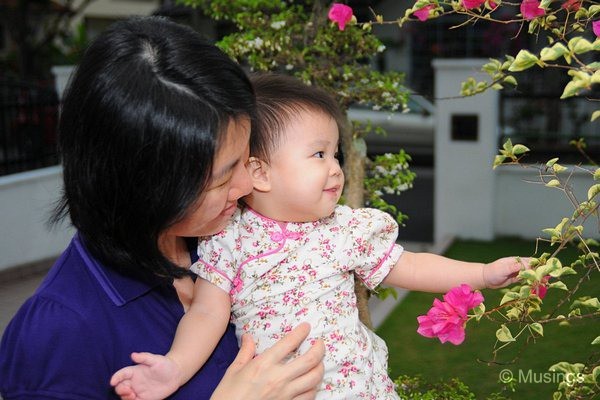 When it looked as though she was going to start pulling the flowers off the branches, we transferred her over to the garden table and let her interact with a pot of plastic flowers: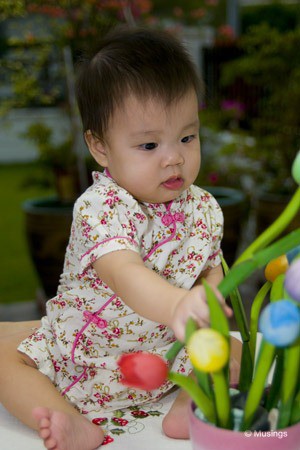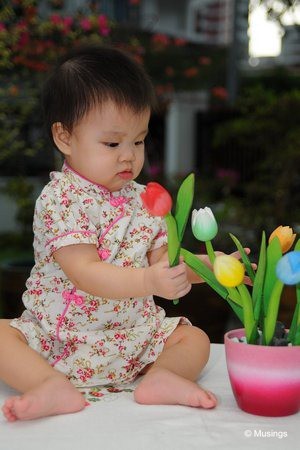 … though Hannah also ended up toppling that pot twice. And lastly, after dinner, we got my brother to take another family photo. Hannah was pretty cranky (she didn't nap all day) by this time, so no amount of coaxing could get her to smile. The best we managed was a look of  surprise on her face.:)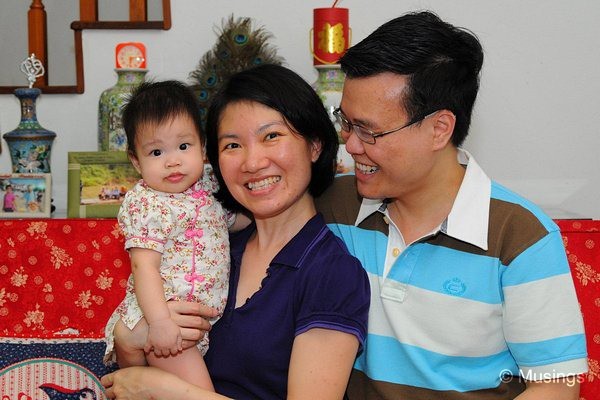 All taken on the Sigma 24-60mm f2.8.:)
CNY Day 2: Hougang Point
If there's one thing I really dislike about CNY, it's the humidity and heat of January to February that the festivities often fall on. Temperatures here have been a not very pleasant 33°C (but feels like 36°C), with Hannah being the same cranky self she's been since Friday. A couple of relatives have been wondering if the fact that she's grumbling a lot more of late is because she's starting to teeth.
Either way, I'm glad that the visitations to Lentor and Bedok were wrapped yesterday on Sunday, as that means we can spend the next two days together as as family again: including heading out on CNY Day 2 to forage for food and to stock up on Hannah's groceries. No easy task mind you – because most supermarkets are either closed or only partially only over this couple of days.
Still, we managed to find an NTUC Fairprice Hypermarket opened today: an outlet we haven't been to before at Hougang Point. It's not quite the size of the AMK Hub Hypermarket, but still far bigger than the typical NTUC Fairprice outlet. I think we've found a favorite supermarket now for those occasions when we have a lot of groceries to buy, and it beats driving down to AMK Hub!
Too bad we didn't have much choices for brunch at the mall itself. It was either McDonald's or KFC, and we decided on the latter. Happy pictures of Mommy and Hannah to compensate, courtesy of the little Panasonic LZ8 camera that's in Ling's handbag everywhere we go.:)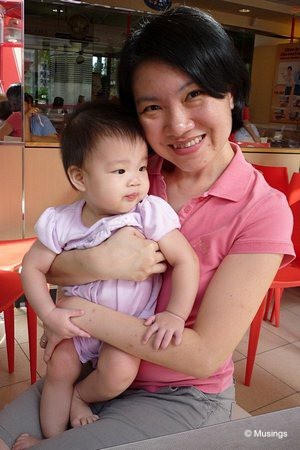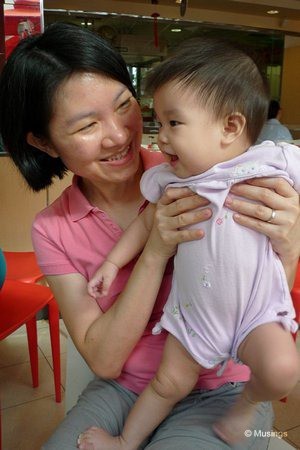 CNY Day 1: Grandparents and Grandkids
Here's the most current version of the grandparents + grandkids picture – and as happy as they look in the picture, you wouldn't know how much trauma it involved getting the lot (grandparents excepted) to pose like this!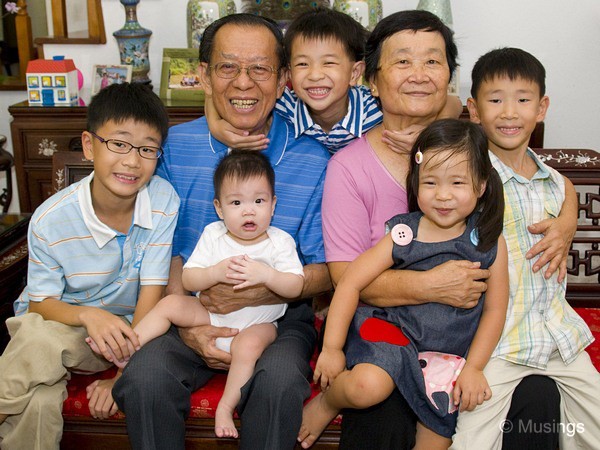 CNY Eve: Hannah's First CNY
The Chinese New Year festivities at Lentor are usually really just excuses to pig out and eat without care, so this year's CNY eve dinner was no different: lots of good food. This year's a little different also because it's Hannah's first CNY.
For some reason though Hannah has been terrifically cranky since yesterday, crying her eyes out whenever she's left alone – something that's happened on occasion of course, but never so persistent or as frequent as this time round. So, we all took turns to carry and to interact with her to keep her spirits up: even Hannah's cousins were roped in.:)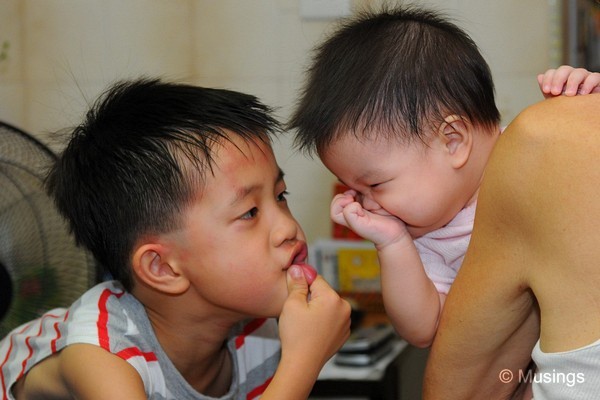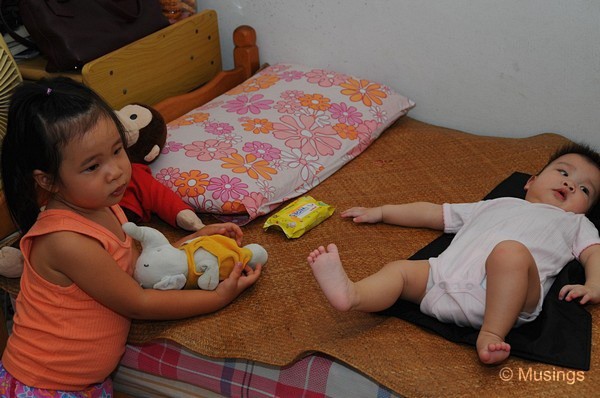 Cousin Jonathan – on my younger brother and Sharon's side – seems especially ready to play with Hannah, while Natasha seems more reticent.:)
CNY Feasting II
More additional items from the fourth feast at Lentor over the CNY festive period; this one was on the 31st Jan where all the relatives from my maternal side came over to join in the fun.:)
Pictures were taken on the camera phone though so don't look nearly as good as the food was!
Lou Hei, the traditional tossing of vegetables and raw fish: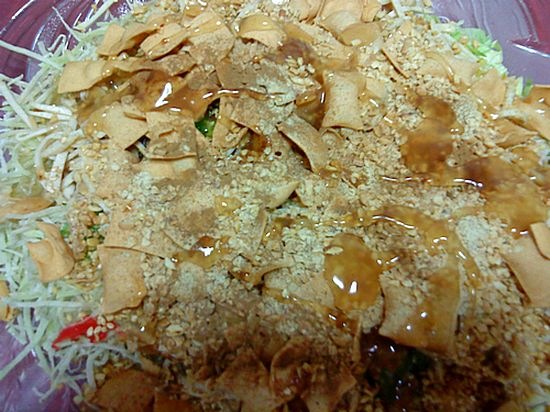 CNY Feasting
If there's one thing that's changed over the years over the Chinese New Year, it's my perceptions of the feasts. When I was younger, I threw myself at all the new year goodies: bak kwa, the many types of Chinese cookies (e.g. egg rolls, pineapple tarts, almond cookies, all sorts and assorted peanuts), and the feasts prepared by relatives and my mum.
Now that I'm older, I've also become a lot more conscious on what's going in as stomach input! Weight gained is a lot harder to lose at the age of 37+ now compared to when you're say like 20 and in national service.
This year it's a record number of feasts over a short period of time. On the 18 Jan at Lentor (my family home) , there was dinner as my younger brother was leaving for Sydney for a year. On the 24 Jan, there was the traditional reunion CNY-eve dinner with in-laws, arranged one night earlier because the following day on the 25 Jan, there was the same reunion dinner with family at Lentor. On the 27 Jan, there was another feast with Sharon's parents, and on the 31 Jan, there'll be one more at Lentor again with relatives.