China 2012
now browsing by tag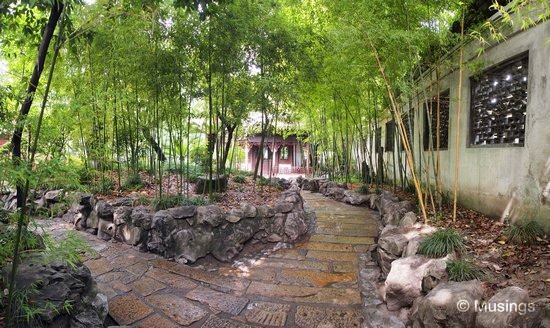 8 Days in China – Part 3: Shanghai
I'd originally intended to spend just 2 days in Shanghai, but because of last minute changes to my business itinerary, ended up staying for 5 days. Unfortunately, the city – like Beijing just prior – was all smoggy that I had to drop some of the places I wanted to check out. Worse still, it rained three out of the five days, and the rain experienced there was monsoon-like over here – i.e. non-stop rain all day.
The place I stayed at – Howard Johnson Huahuai Hotel – was pretty decent at least. It's located on a side road off a not-too-busy main road. The room was well-accorded with modern amenities. Unfortunately, the floor was very low – third floor – that I enjoyed the chorus of round-the-clock honking just outside, even for a relatively quiet main road.
Shanghai boasts of a complex subway network, with low-cost fares and easy walking from point to point. Traffic, like Beijing, is crazily scary. Pedestrians are like fodder and crossing even at designated pedestrian crossings are contests of wills! Parents were remarking over Sunday brunch that despite the numerous times they've been to China, they simply don't dare cross the roads there.
Curiously though, prices of goods were anything but cheap, at least in the core Shanghai city. In fact, in most cases – even fastfood – they matched or surpassed local prices here. I'm certain that costs of living are lower outside the core city (Shanghai is one of the largest and most densely populated cities in China) but never got the opportunity to check those precincts out.
So, despite the uncooperative weather, during the two days where the sky did clear and I was free off work, I visited a couple of the key sites.
Yu Garden. This garden is rated as one of the top tourist spots in the city and a must-see. It's pretty small at just 2 hectares, but surprisingly very dense. There are so many ponds, pavilions and inner gardens in the little area that you could easily spend a few hours in it checking out every nook and cranny. The Garden was constructed in the 16th century during the Ming Dynasty, but after suffering damage in the 19th century has since been repaired. The place was pretty crowded on the damp morning I was there, so the pictures here sans visitors was possible only through a combination of sheer luck and clever cropping!
Shanghai Museum. The Museum, situated at the People's Square, houses five floors of numerous artifacts. Each floor comprises several viewing galleries arranged by themesk(e.g. pottery, paintings, coins and currency, costumes). The museum has no admission fee, and is large enough that even on crowded days, there's enough space for you to linger around and take your time to investigate each exhibit.
Shangai Urban Planning Exhibition Center. Located very near Shanghai Museum, this place is a bit of a propaganda piece for how extensive and forward looking were the city's planners. The two showcase pieces of the Hall is a huge scale model of the core city, and a really nifty circular theatre room showing a ten minute 3D rendered flythrough of the city.
The Bund. Shanghai's waterfront area. Imagine Marina Bay multipled by a few times in length. On one side is the river; and the other side is the city's historical buildings. I was there twice on separate days hoping for clear weather, but ended up experiencing raining, and dry + smoggy.
Fairmont Peace Hotel. Located near the Bund. Splendidly refurbished with a real sense of calm once you walk from the bustling sidewalk outside and go inside it. Got chased out alongside other visitors by staff though when they saw that we weren't guests. Funny; because the travel guide recommended visitors to take a look inside.
Tianzifang. An arts and crafts enclave located near the hotel in the French Concession area. Quite an experience walking through the maze-like narrow alleys. Didn't spend too much time in the area though as we were passing through and on our way to a business dinner.
Next and last post of the series; dining in Beijing and Shanghai.=)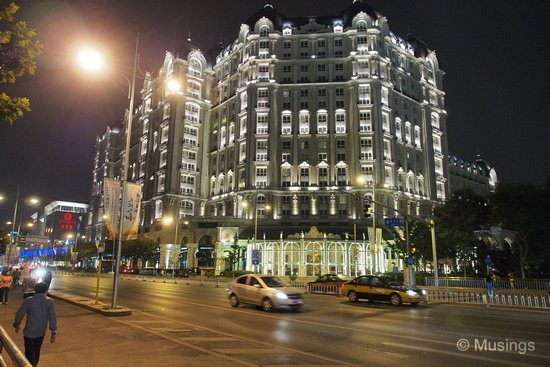 8 Days in China – Part 2: Beijing
If Changchun was a up and coming albeit a little rustic city, Beijing in my view was a busy, smog-ridden, bustling city that was all stone, glass and concrete! I was already aware prior to the trip of the serious air pollution in the city. When stopping in Beijing for the transfer to Changchun on a domestic flight on the first day, the city was blanketed with a fierce smog that made it impossible to see anything from the air. But upon leaving the airport and getting picked up on Day 3, I was still unprepared for the thick layer of gray dust in my view everywhere I turned!
The strange thing though is that the smog Beijing experiences isn't as bad as over here, smell wise, when the yearly Indonesian forest fires take place. There's a somewhat acrid smell in the air, but nothing quite like the burning charcoal we experience every August to November here.
I spent just one day in the city though. We were picked up by the visitation company at the airport and dropped off at Novotel Peace Beijing hotel to settle in and for us to find lunch; then it was off for a mid-afternoon business meeting that stretched into dinner. The hotel was pretty decent and along Jin Yu Hu Tong road, and within easy walking distance of Tiananmen Square – but there was no time for us to go by. We did have a lot of Peking Duck though for lunch and dinner – and there was so much of it that by the end of the day, I was pretty much sick of it, delicious as it was!
Early on the next day, we took off back to the airport and headed to the third city – Shanghai. Next post to come.=)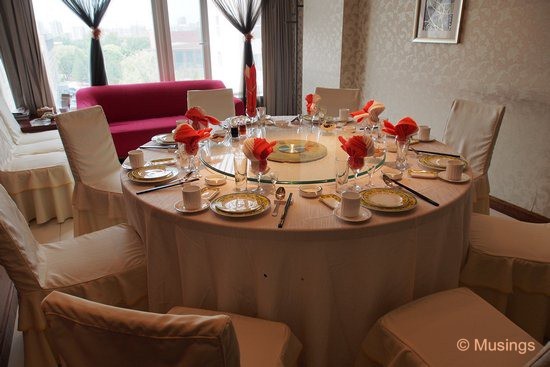 8 Days in China – Part 1: Changchun
Ling has asked me several times now if we would want to go to China for a holiday. And each time – without fail – she'll get a look of abject horror from me! Yep that sounds funny from someone who's Singaporean Chinese. I think it has to do with all kinds of bad vibes about things that are from China. Whether it's their state of traffic, their nationalistic posturing observed in online media, or Made-in-China products which Ling has a lot of opinions on. Even for those of us who are technology enthusiasts, the general sense is that we'd sooner always rather buy something that's not MIC if we had a choice.
Admittedly, a lot of it is prejudice. So, when I was to join a business contingent to China where we'd be traveling to three cities (Chang Chun, Beijing, Shanghai) for just over a week, and almost immediately after we returned from Telunas, Ling heard no end to my whining! She knows I'm responsible enough to still prepare for the trip (i.e. business presentations) properly, so she knowingly chuckled and took all I said about the coming hot weather and the smog, the awful city traffic with a light heart. She, alongside Matt, guessed correctly that all said and done, I'd probably enjoy the trip.
Which is what happened, though there was a lot of work to be done during the trip! Now that I've returned too, I think my sentiments about China have softened. The hospitality shown to us from to us by our Chinese hosts was nothing short of amazing. We were driven everywhere chauffeur-styled during our business visitations, and every lunch and dinner with them was a ten-course or more banquet, and there were a lot of hosted lunches and dinners. Some of my reservations of the country still remain though. Over the next few posts, I'll blog about my impressions of each city I visited, some of the sights, interesting things I saw and the like. Not the business aspects or work aspects of the trip though as this is still a personal blog.=)
The first city we were at was Changchun, whose Chinese translation 长春 literally means "Long Spring". Days were indeed very long in the city – the sun rises at 4 AM ish. The city has 3.5 million population, and is located on the far Northeastern corner of China, and close too to North Korea. The weather was reasonably cool the several days we spent there. In fact, one colleague remarked that the air quality in Changchun was very good compared to what we'd be facing later in the other cities (I only realized how true it was later).
The city's main industry line is in automobile production – including military tanks – and doesn't figure significantly in any tourist's radar given how far it is from the other more tourist-y cities like Shanghai and Beijing. SQ doesn't fly to the city, so we had to take a connecting domestic flight from Beijing. The city has quite a bit of a rustic laidback feel, though – according again to my colleagues – it has seen a rapid transformation in the last 5 years from a somewhat backwater city to something that's approaching what China's tier one cities might had been 20 years ago. There were numerous high-rise apartment blocks of 20 and more stories everywhere I turned my head. And interestingly, the blocks which have been completed are still vacant – and were built in advance preparation for the city's growth.
We stayed at the HNA Redbuds Hotel. It's rated as a five-star establishment, though I didn't think it was quite up to that mark if international standards are used as a yardstick. The room at least was suitably spacious and basic amenities were all there, but the hotel felt… old with its well-worn carpeting and rather drab room décor. The breakfast selection was very large at least if somewhat average in taste, though the morning I tried it there were a lot of other Chinese businessmen about there already, including one who plonked himself down on my table even though there were plenty of other free tables.
Our three day stay in the city was pretty much focused on business activities only, since there wasn't very much to do after the nightly dinners our hosts brought us to. Beijing which we went to next couldn't be more different – more on that in the next post.=)