Chicken Rendang Curry @ Home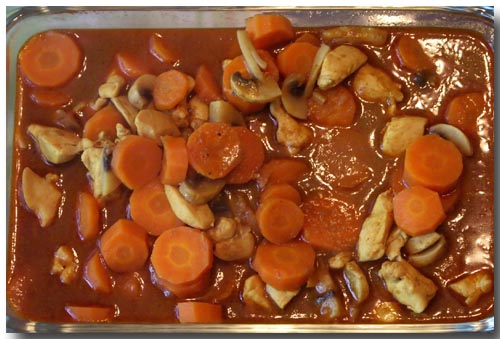 While I was in Australia, one of my favourite dinner menu items was curry using prepared paste, for example using Brahim's simmer sauces. They're really easy to prepare, with short cooking times of around 35 minutes.
I haven't done this too much now here in Singapore, but gave it a go on Thursday evening. Here's a picture of the outcome.
What you need: Brahim's curry sauce (there're many types available), around 110 grams of chicken meat per person, fresh mushrooms, carrots and potatoes. The total ingredient cost should be around $8 to $9 for two persons. Here's how I do it:
Cut the chicken into smaller pieces, and fry at medium heat for around 5 minutes with light seasoning.
Pour the contents of the sauce package into a sauce pan with the chicken in it. Add water until it reasonably covers the chicken pieces.
Put it at medium heat, stirring occasionally for around 15 minutes.
Add sliced carrots, potatoes, and mushrooms. At medium heat, it should take around 20, 15 and 10 minutes for carrots, potatoes and mushrooms to cook reasonably.
Cook until the gravy is of the concentration you like, e.g. less or more watery. Ling likes the watery kind of gravy while I prefer the opposite.
Throw in garnishing. Basil leaves – yummy.
Serve, eat and get fat!