Well, my returning to the same dish for the 3rd time is evident that the food has won my liking. Both the char siew wanton mee (dry) at Rivervale Mall's foodcourt and korean bibim bab at Thomson Plaza's foodcourt are my top 5 favourites on the foodchart.
Char siew wanton (dry) @ Rivervale Mall Foodfare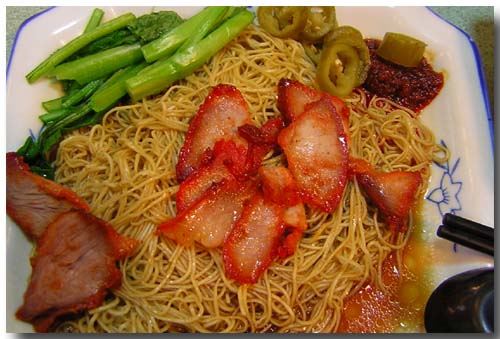 There was a queue at this well-known noodle stall to begin with. For that sensational chewing experience, a little queuing is worthwhile. From the photograph of the dish here, one may think that it must be the toppings that entice. Ah no. It is the special texture of the noodles that made this dish so outstanding.
Having eaten wanton (dumpling) noodles since I had my milk teeth, this is the best so far. Even the reputable Crystal Jade's noodles is a shade lower. The important thing about preparing such noodles in dry style is not to allow them to stick together and make them taste gluey. Every bite is accompanied by some faint crunchiness – oh, its texture is beyond vocabulary! Sedup!
Food: 3.5 / 5
Service: 3 / 5
Value: 4 / 5 ($3 only – where got so cheap one?)
Overall: 3.5 / 5. The wanton can be improved. Crystal Jade beats them hands-down.

Korean Bibim Bab @ Thomson Plaza Foodcourt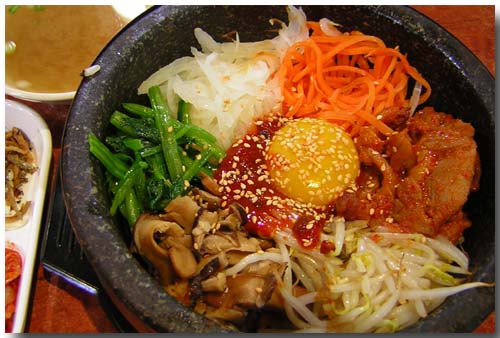 I'm in love with this 'claypot' rice. And it is so healthy eating. Lotsa vegetables (carrots, raddish, spinach, bean sprouts and shitake mushrooms) with sufficient protein from an egg and marinated chicken meats over white rice.
A special red sauce is used to add a unique flavour that distinguish this dish from other claypot rice available here. This dish is actually cooked in a thick stone pot and it is piping hot when served. I always mix all the ingredients together before savouring the streaming food. The price is a bit steep though. For $6.50, I think the portions of various ingredients can be more generous.
Food: 4 / 5
Service: 3 / 5
Value: 2.5 / 5
Overall: 3.2 / 5. The price tag lah. Anyway, no money must also save up to eat this dish!