Boston 2010
now browsing by tag
2 Days to 2!
Hannah's just two days to two years old!
The researcher from MIT's Media Lab I have been working with was coincidentally in Singapore for the week for a reciprocal visit from my trip to MIT last year. So, on the last day of his stay here, we took him out for chili crabs at Jumbo Seafood. Yep, that Mecca of good seafood at the East Coast that we routinely bring all our foreign visiting friends too.
Hannah was quite taken in by both the steamed and fried buns, and even the seafood fried rice. She really quite stuffed herself too, and by the time we were done, she was too heavy for either one of us to carry for long. =)
"With Wings Like Eagles"
When I was unpacking at home the 37kg of luggage I had with me from Boston, Ling made a remark that I thought was fun:
"Wow dear; you really bought a lot of stuff there this time."
And just to put her remark in context; I'd left Singapore with just 23kg of luggage!
She's right that I did buy a lot more things on this trip than I've ever before did. Heck. In all the under a month trips I've made in the last decade, the most I'd ever returned with would be one or two shirts, and an equivalent number of fridge magnets.
This time, I returned from Boston with, among other things, a new jacket, two polo-shirts, three T-shirts, an umbrella, three mugs, several toys for Hannah, so many fridge magnets that they weighed about a kilogram in net weight, and ten books –a few of which are really heavy.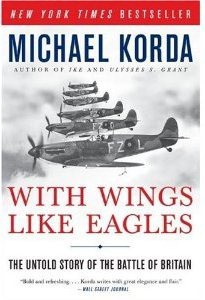 One book that I picked up from Borders at the intersection between School and Washington streets was With Wings Like Eagles by Michael Korda, a London-born author who once was the editor-in-chief of Simon & Schuster in NYC, and currently today lives in the city.
Accounts of leaders in the face of adversity have always fascinated me. This book looks at the three month-long Battle of Britain in 1940, but from the perspectives of leading politicians and military leaders of countries who were involved in it. I'm aware that for many of us, or at least those of us who might read this blog occasionally, the only persons who might be even familiar would be Winston Churchill and Adolf Hitler.
But without getting into too much detail in this post, the individual whose decisions had the most impact on the historical fact that England did not get overrun that year was neither person. Rather, it was a British officer, Hugh Dowding, who was placed in command of the small number of British fighter planes who had the very difficult job of stopping the Germans from attaining air superiority before actually invading the isles.
The book maintains a high level of discourse; exploring the conflicts and circumstances between Churchill and Dowding, of Dowding and his commanders, and their individual personalities. Unfortunately, despite that history would had been very different had Dowding not had the moral courage and foresight and gone against Churchill to make the decisions he did then, he was eventually given the political shaft by his rivals and enemies, an outcome he became extremely bitter about in his remaining years after the war.
It was more than a little sad to read in the last chapters of his fall from grace and from great heights of achievement, the more so that his political assassination seemed more from spite from his detractors and rivals than through any real character failings on his part.
I was reading With Wings Like Eagles initially slowly – several pages at a time – each morning over breakfast at Blue's, then finished the remaining half of the book on a single shot over the long flight home from Boston to Singapore.
The next historical book I'm reading now I picked up from the Harvard University bookstore, and it's about four American and Japanese officers and how their lives and careers got intertwined. More on it later.:)
New England – Panoramas – Part 3

The third group of panorama compositions were created on the Sunday visit with our Ang Mo bud to Provincetown aka Gay town. The weather was foreboding the minute we left Boston harbor, and stayed cloudy for most of the rest of the day.
The compositions were from two places: the first two, including the one on the right, were done from the base of the Pilgrim Monument Tower.
I haven't done nearly as many vertical panorama compositions like the one on the right here, as compared to the typical horizontal panoramic sweeps. But it's much easier getting acceptable results. Distortions with vertical compositions especially if you're dealing with straight structural lines typical of tall buildings pointing towards the composition's top edges.
That's as compared to the horizontal sweeps where as you approach the corner images, perspective gets significantly skewed; you can see it tellingly from about the leftmost and rightmost quarters of each image.
I've been experimenting with compositions comprising two and up to as many as a dozen images, and alternating between shooting in landscape and portrait modes. And so far, the (somewhat) best results seem to come from compositions involving three or less images, landscape mode, and shot at about 24mm onwards.

The next three compositions below were at the top of the Monument. Like the Skywalk Observatory, visitors got a viewpoints from each of the tower's four sides. The first shows the harbor area where our fast ferry – the Provincetown III – berthed at:

The next two are from the same side, but the field of vision was wider than what my lens protruding through the iron grills could possibly cover in one sweep from a single spot. So, the first of the two was taken on the leftmost, and the other from the rightmost spots of this tower's side.


I think what especially struck me about the viewpoints from the top of the Pilgrim Monument was the size of the Barnstable County. The visitor maps certainly didn't nearly give me the correct idea of the area's sheer size. The both of us had initially thought about walking from one end of Provincetown to the other (Matt especially wanted to see lighthouses and the sand dunes), but as soon as we saw how far they were really, we gave up the idea of walking there.
The last composition in this post here was done at a pretty deserted part of Pering Cove Beach. There were lots more activity towards the right end of the beach. That's not the ocean on the horizon by the way, but Cape Cord Bay.

As before, larger versions of the panoramas are here.
New England – Panoramas – Part 2
Part 2 of the series of posts on panorama compositions I did during the Boston trip, and this time from the Skywalk Observatory. These were taken in the late afternoon from level 50 of the Prudential Tower.
Admission to this level was through my Citypass ticket. The view up top was magnificent, though I didn't enjoy unlimited visibility and colors were somewhat washed out. I haven't cleaned up the images from window streaks and blemishes either, so they're somewhat visible.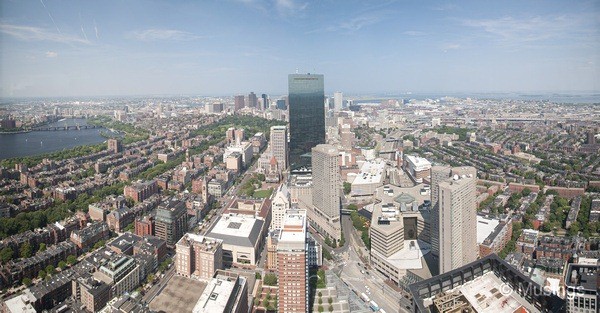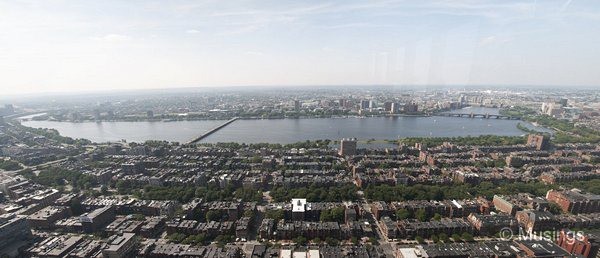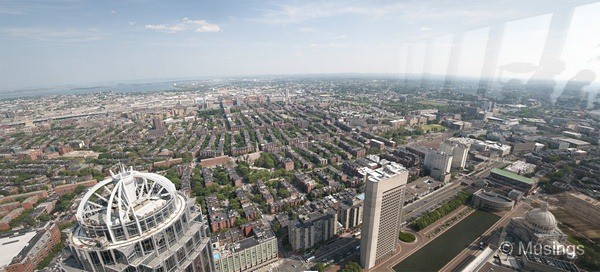 I had a lot of fun doing between extreme zooms too just to test the upper limits of the Sigma 18-250mm lens. The first set of three are of Trinity Church, all the way from 18mm to 250mm.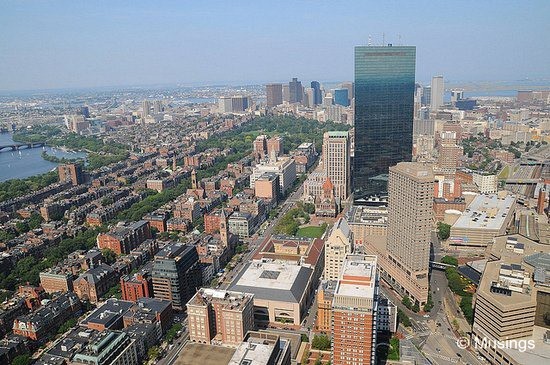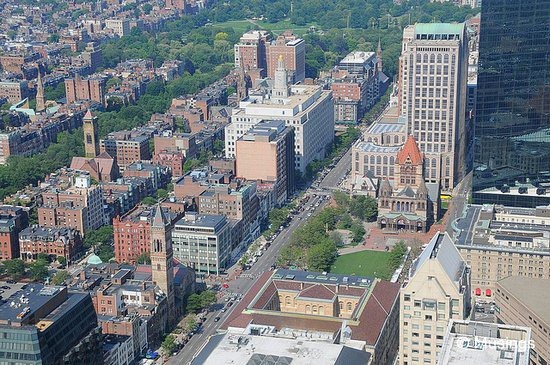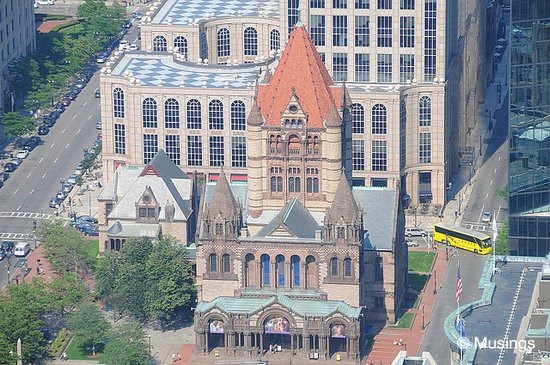 And these three are of Newbury Street: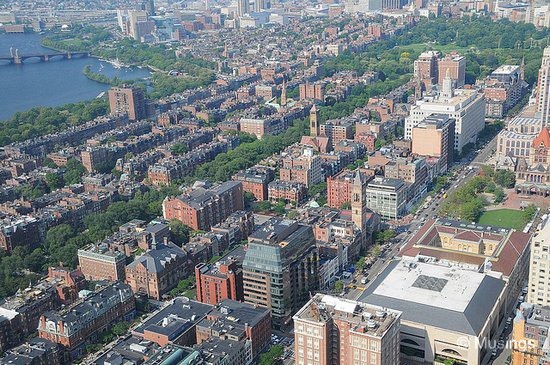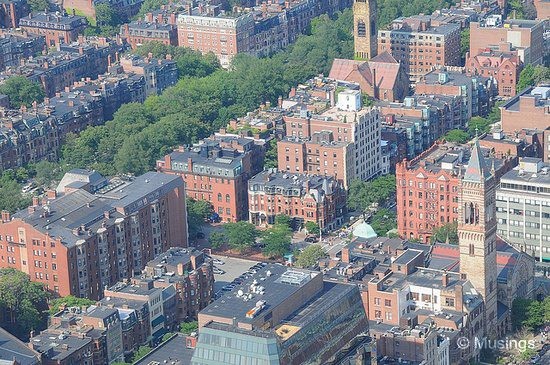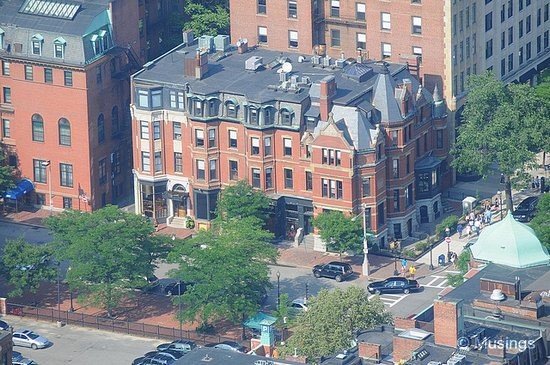 There's a whole bunch more of these 18mm to 250mm zoom-ins here in the Flickr set.:)
New England – Panoramas – Part 1
I was doing a check on the number of pictures and amount of video taken during the Boston trip; and I have the final figures: 4,185 images on the D300, 945 images on the E-PL1 and about 6 hours of HD video. All totaled in, it's a whopping 81 GB of static and moving imagery to process!
Unlike last December's Kumamoto trip though, I didn't try creating nearly as many HDR compositions this time. Instead, I did a huge number of panorama compositions – all 106 of them – each comprising between 2 to 11 images. Some of them turned out great, others not so from a host of problems, including gloomy weather, bad lighting, inability of CS4 to process them, and most commonly, too much lens distortion.
I'll be blogging about these panoramas in a series of compositions starting with the first: a view of the Boston skyline from Charles River. Several of these were taken from MIT's side of the river, and others along either Harvard or Longfellow bridges.
Here's a picture showing the general perspective from MIT: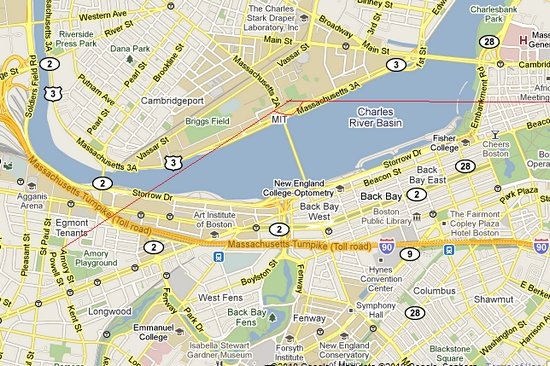 The first panorama below was composed in really gloomy weather, despite it being mid-morning. This one's a full 180 degree sweep:

The second and third panoramas here were composed in much better weather at late afternoon:

The next two panoramas were composed late in the stay; during the third week when the sun finally broke through the thick cloud layers of the first two weeks, and Boston finally saw the kind of glorious summer that's just perfect for photography. Both were taken in the early afternoon from Harvard bridge. The second of the two panoramas is a full 180 degree sweep.


And the last panorama was taken just before I left Boston, and a different point of view as seen from Longfellow bridge. A single frame perspective was posted earlier on here.

Larger versions of the panorama compositions are in the Flickr album here.:)
Cambridge @ Friday, Singapore @ Sunday
My last day in Cambridge, Massachusetts was on Friday, and the morning went almost slowly. All the bags had been packed the night before, so I took my time for breakfast, and pictures around the house and with Blue: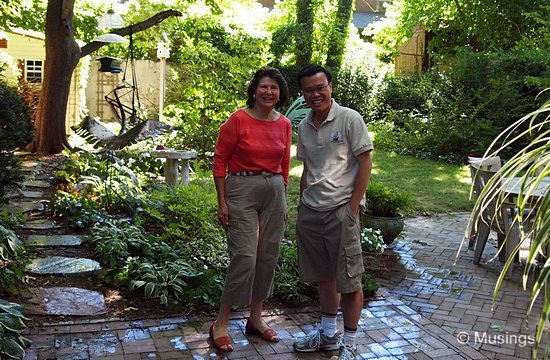 The cab fare from home to Boston's Logan International Airport was more expensive at USD47 than what the trip planner had estimated though at USD39. Oh well.
I was going back the same way as I'd come in; three legs comprising Boston to Detroit (2 hours), Detroit to Tokyo (12.5 hours), Tokyo to Singapore (7.5 hours). The weather during the Boston to Detroit leg amazing for pictures, and I took a very large number of great pictures. Just two here, and the rest in the Flickr album: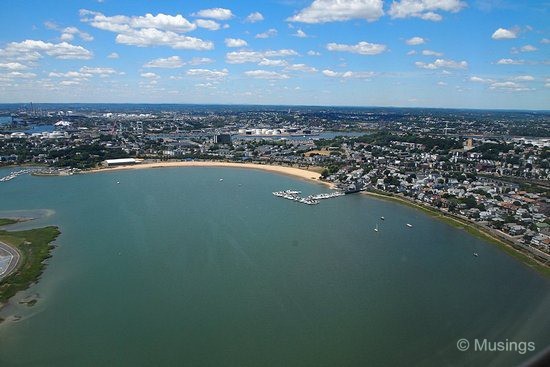 Above: Flying over Broad Sound bay (I think)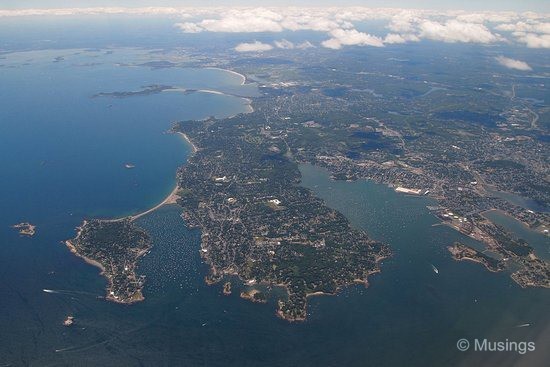 Above: After reaching a safe attitude, the plane made a sharp left turn to head westwards towards Detroit.
A good segment of the flight was a little nerve-wrecking. The first two legs of the flight were very close: I'd have exactly 45 minutes to make the connecting flight in Detroit, and by the time the plane taxied properly into the gate, I had just 25 minutes! I was the first one out of the gate – I ran ahead of the gate attendant in fact and got yelled at to slow down so she could catch up and open the gate for me to run through haha.:)
The Detroit to Tokyo was mind numbingly long. I had the misfortune of sitting next to a naturalized Korean-American who couldn't keep still. I think she had attention deficit disorder. She said she had just divorced, and was leaving the US for good and returning to Korea to begin anew; and throughout the flight, she fidgeted, was maddeningly restless, kept sighing, and broke in nervous giggles at even the smallest remarks. She downed four cups of coffee, then complained that she couldn't sleep and kept changing sleeping positions. Gaaah. And there I was either trying to read (will blog separately about this great book I bought in Boston and finished on the plane), or get some sleep myself.
The returning plane taxied back in Changi at 12:50 AM, and by the time I reached back home at The Rivervale, it was 1:35 AM – about 28 hours after leaving Blue's. As in the outbound trip to Boston, there was minimal waiting in-between flights.
—
It's past noon now and I think I squeezed in just 2 hours of sleep last night. Mega groggy. But it was great to see Hannah as perky as ever, and recognizing me still. She's able to say "Daddy" on demand now – hooray! Went for brunch at Hougang Mall, with the E-PL1 in tow, taking a lot of pictures to makeup for the nearly 3.5 weeks in which I didn't take any pictures of Hannah.
But first, I have to post up the below for Matt: it's from a new Laksa (!!) stall at Hougang Mall that dishes up six different kinds of Laksa.:)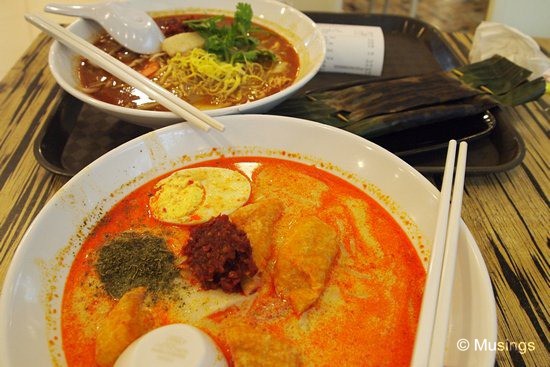 Hannah taking an interest in a wallet I picked up at the MIT Coop.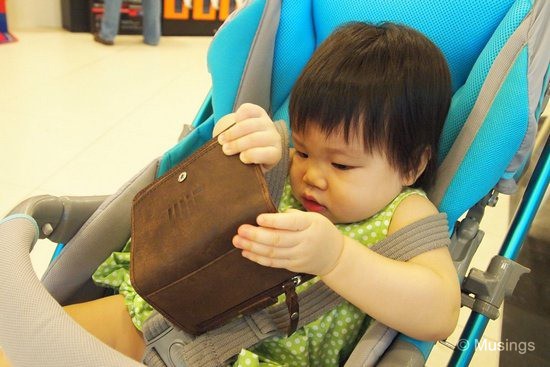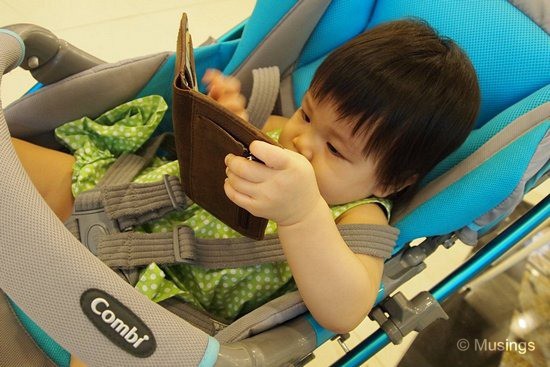 I got her a string of beads spelling her name too from the Museum of Science. She's already chewing on them quick.:)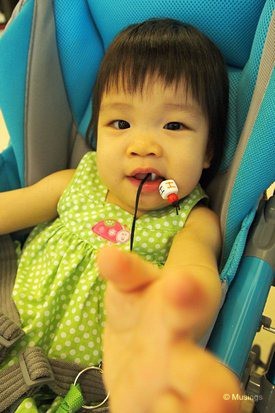 She was trying to help carry a pack of toilet paper at NTUC, and was fascinated by the whole experience.:)
OK; that's it for me. Got to get some more sleep – not too much though as it's back to work on Tuesday. Just a day for me to get readjusted to Singapore's time zone.:)
Reflections of the Trip
When I arrived at Blue's more than 3 weeks ago, Blue asked if this was my first time to the United States. When I shared that I was in San Francisco last year, she jokingly remarked that Boston and Massachusetts were very different places. She added that it's like living in a totally different country, where 'traditional' values are still important.
Below: Two pictures I took from the Longfellow Bridge of the Boston skyline. I was trying to duplicate the same shot from an earlier picture of Boston I found online.:)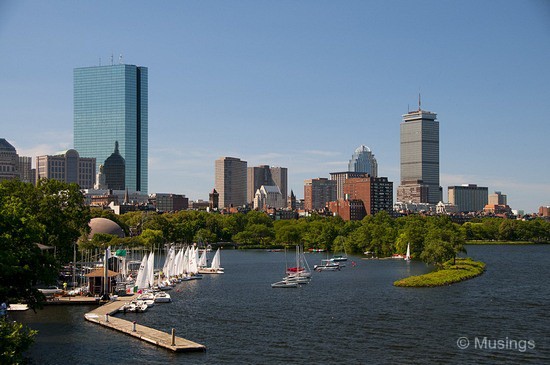 My experiences of Boston & Cambridge versus San Francisco are indeed different though how one city compares to the other in its value systems I still can't tell. I think though a good part of any difference might stem from where I've been primarily operating from on a day to day basis. I was staying right in the heart of San Francisco city, with my business venue right smack in the middle of town. Every morning when I stepped out of the hotel I'd be greeted by the morning commuter traffic, cars, trams, buses and the like, and hordes of people and tourists.
Cambridge by comparison, where I live and go to work everyday during this trip, is more laidback  and quieter. It feels a little like suburban America, and far less tourist-y. Apart from the weekends, I've not really experienced Boston city on typical weekdays. But from what I've observed, there seems to be relatively fewer tourist visitors to Boston.
In terms of trip highlights, I'm down to three experiences that have left me with unforgettable memories. The wonderful visit to the lovely Butterfly Garden, that very compact 8 by 2 meter rectangular area with hundreds of butterflies, the wet & wild whale-watching trip off Gloucester, and the quietness of Trinity Church's massive sanctuary.
The trip to Niagara Falls left me with one impression, funnily a deeper one than the Falls itself. And It's the sheer size of the country.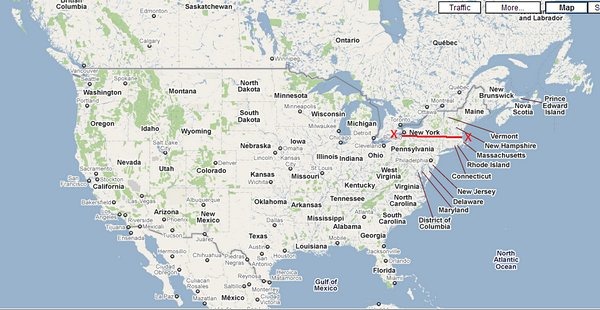 Just to get from Boston, which is on the Eastern side of Massachusetts, to Niagara Falls on the western end of the state of New York took 9 hours of flat out fast driving on the Interstates. And we'd not even traversed a quarter of the country!
I know global environmentalists would have you believe that Earth is getting more crowded, and those of us who live in Singapore routinely complain about its population density. But traveling across states and seeing the miles upon miles of green forest land with no houses in sight makes me wonder again if it isn't so much a problem with Earth being over populated as it is with its population concentrated in a small number of areas.
Even after two trips, the thing about the sales tax in the United States still confuses me. I get a lot of small coin change which I just don't know what to use them for apart from leaving them in tips jars. Items aren't tagged with their sales tax priced in, which further adds to the confusion of how much exactly does an item cost. I ended up paying for most items using the credit card and saving myself the hassle of having pockets jingling of small coins.
Dining isn't cheap in this part of the world though, which leads me to again conclude that as much as Singaporeans love to complain, one thing they have to concede is its availability of cheap, delicious and easily accessible eateries and restaurants everywhere. Meals here cost approximately twice what you'd routinely pay for in Singapore, and taste-wise, what Singaporeans get at home is easily comparable if not better in terms of range at least.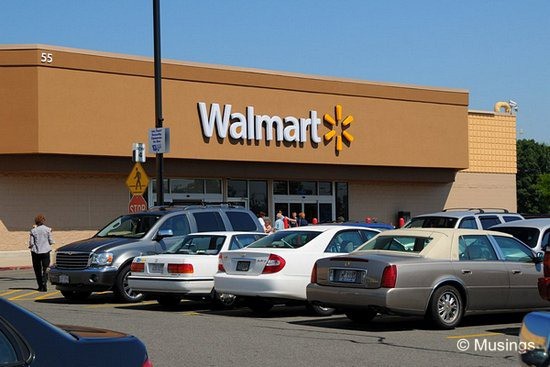 Ironically, it's the stuff you buy at retail and large department stores that make up the difference in what you pay for processed goods and services. Simply put, household items and daily necessities cost lower, especially when you're getting them from those big store chains (e.g. Wal-Mart, sorry bud LOL)
Now, as for books: I'm carting back about ten books I've picked up here. While retail-priced books are still somewhat cheaper than what you'll pay for at home, they're still more expensive compared to simply buying them online from Amazon and shipping it to your local address. The online store gives out huge discounts, and as long as you're staying in the United States for any period long enough for Amazon to deliver to the place you're putting up in, there's really no reason to buy any sort of electronic gadgets or books from brick and mortar stores here. I only did so because they were mostly impulse buys, and I enjoy the experience of visiting the many book stores in the city and and in Cambridge.
For visitors intending to tour just Boston alone, I think a trip of about 3-4 days suffices nicely to leisurely see all the key places within the city itself. The city has a great subway system, and while single subway rides at USD2 are costly, picking up a weekly pass for unlimited rides solves that easily.
Pictures of my MIT colleagues, and also the group of student interns assigned to work on our project: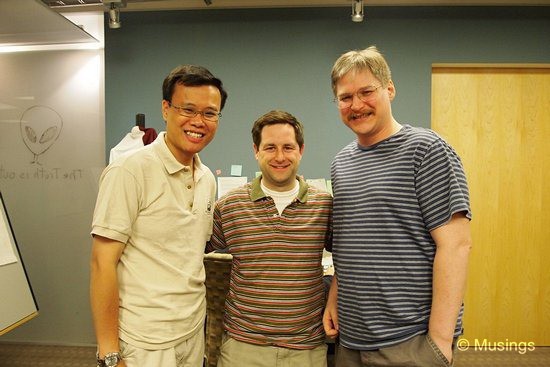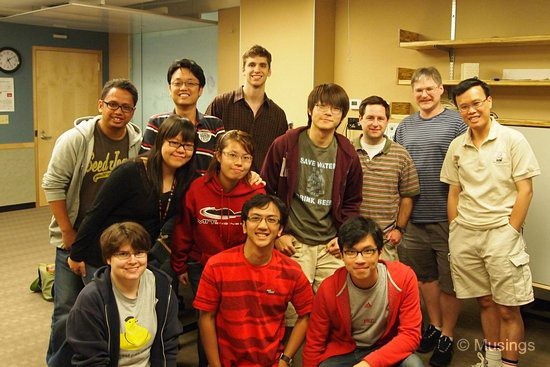 I'll leave Boston and the state of Massachusetts in a few hours but with great memories. The trip has gone on pretty well; I was able to see a lot of places and sites in the weekends I had, and I completed my work objectives as well. Now that I've been to the west and east ends of the country, I think my next trip here – if ever – is going to have to be the mid and south-west – where all the spectacular natural sights are.:)
Whale Watching @ Boston
I had a bit of free time today just before I leave for home, so took up another whale-watching trip – this time out of Boston . There are about three whale-watching trip companies operating out of Boston city itself. As I didn't have a reference point to whether one was better than the other, I simply took the one that 'looked' like the most established and comfy one with the New England Aquarium.
Unlike the Yankee Freedom Matt and I took off Gloucester, the Voyager III was a much more luxurious boat. There were much fewer whale watchers taking the trip this time too, as it was a weekday morning (when the boat returned, there was a long queue for the afternoon session).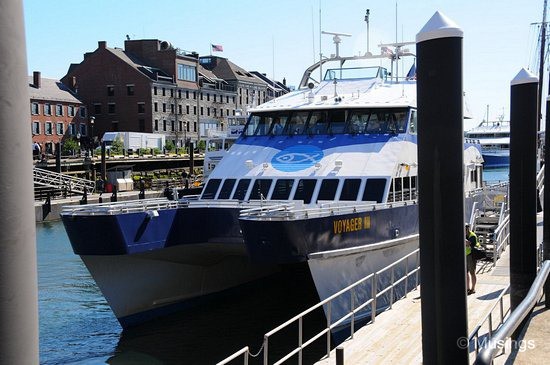 Everything looked really promising, compared to the choppy madness at sea and hours of fruitless searching for whales from the earlier trip. The weather this time was just perfect, the sky was a glorious blue, and waters were reasonably calm. We ran into the first pair of whales just an hour out of the harbor (compared to the more than three hours it took before we had our first sighting off Gloucester). In fact, I think we saw about eight whales in five different sightings altogether in the Stellwagen Bank.
However, all the whales did this time was to blow and do lazy dives. No breaching, no flipper slaps, no fancy tricks – though on one occasion one of the humpbacks came pretty close to our boat at about 10 meters close.
It brings to mind what some of the experienced watchers shared in the earlier Gloucester trip. That while we were tremendously unlucky to have scouted around for so long before the first sighting, that we saw a mother humpback and her calf as a pair, and that she was teaching her baby breaching was very special. So much so that it was worth the agony of the outbound trip itself, even if we didn't realize then how lucky we were to have seen whales breaching and doing flipper slaps.
So, here's one series of pictures taken of one of the sighted whales doing a lazy and slow dive during the Boston outing. I was a lot better prepared this time too. Ditched the polarizer, dialed a minimum shuttle exposure time of 1/800s, braced myself better against the boat railings and shot in JPG instead of RAW. So, the shots this time were pristine in quality – just no breaching.:(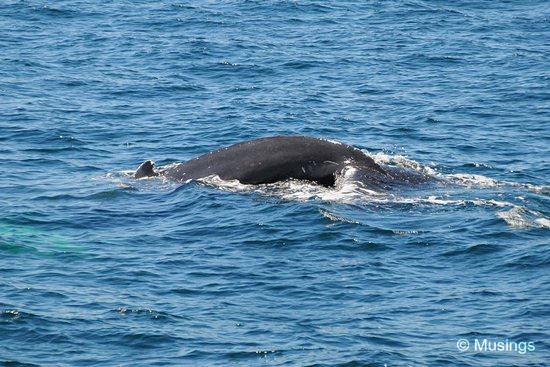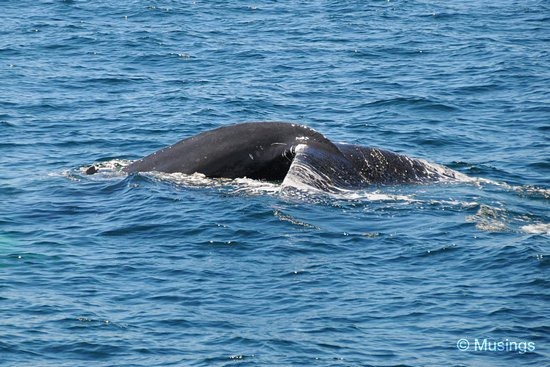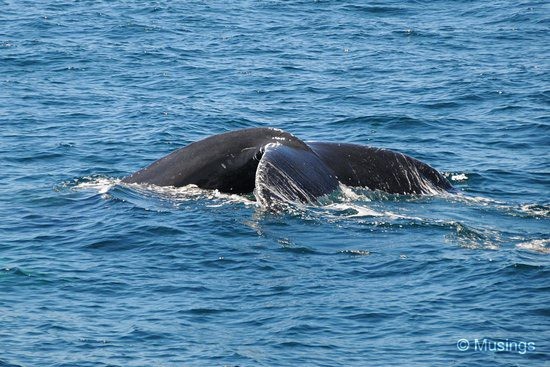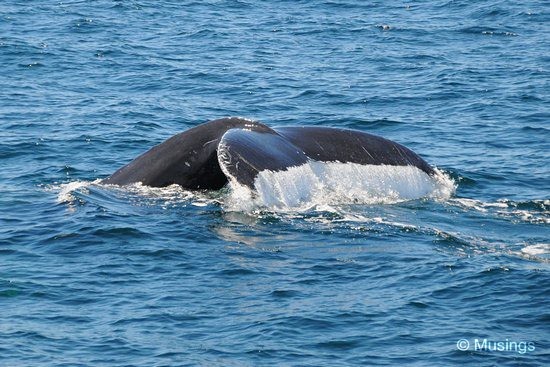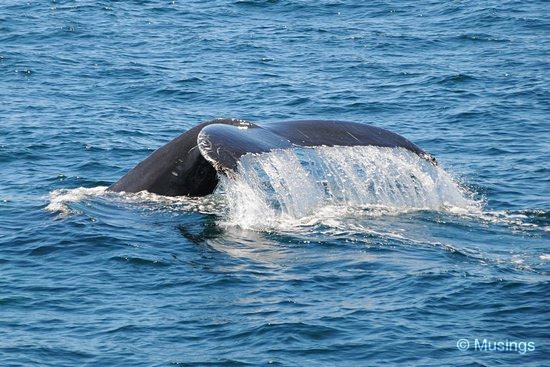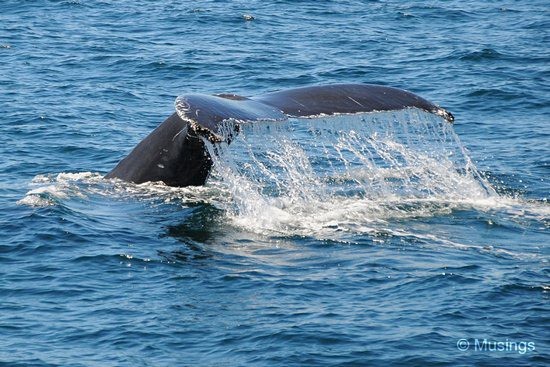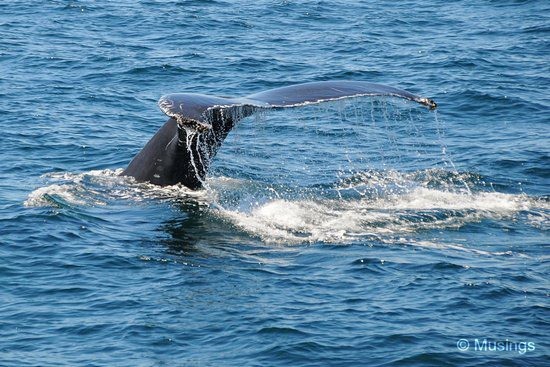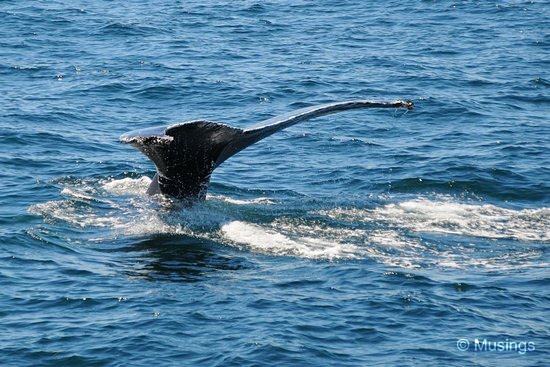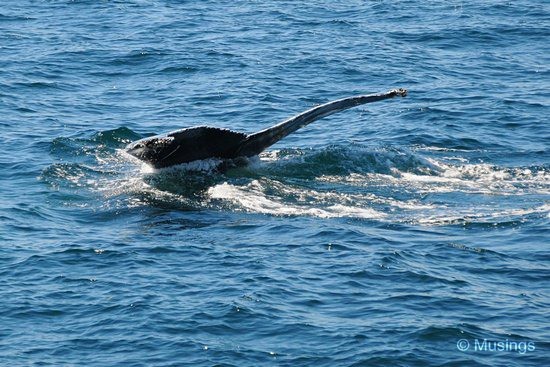 Boston Common
The Boston Common is a central public park right in the heart of the city, and is one of America's oldest parks at 376 years of age. This park is prominently mentioned in many visitor materials as a must-see. The park is very convenient to get to too from my work place: just two stops and less than 5 minutes train ride away.
I'd been waiting for the right weather conditions to do a proper photo shoot of the place, and after nearly two weeks of gloomy and badly overcast weather, the cloud layer finally to reveal a stunningly clear blue sky on the last week of my stay. Here's a selection of pictures taken of the Boston Common; most from yesterday Wednesday morning before I headed to work, and a couple of others from earlier when I passed through the area on my way to elsewhere.
Below: The Brewer Fountain that's just beside the entrance of Park Street subway station. The 22-foot tall 15,000 pound bronze fountain was cast in Paris, and a gift to the city by a Gardner Brewer. The fountain's a popular spot for many park visitors to hang out, enjoy the scenery, while having a cuppa. That's the Massachusetts State House in the background too; you can see more pictures of it in our blog here and here.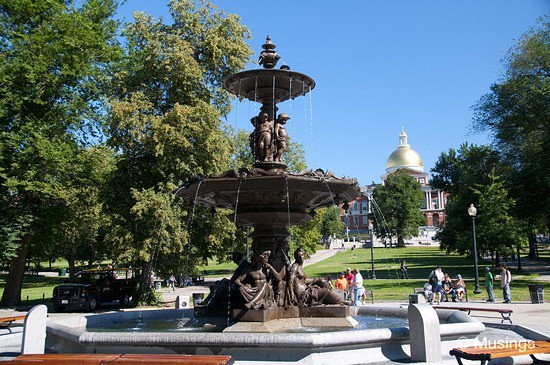 Below: Lots of pigeons about: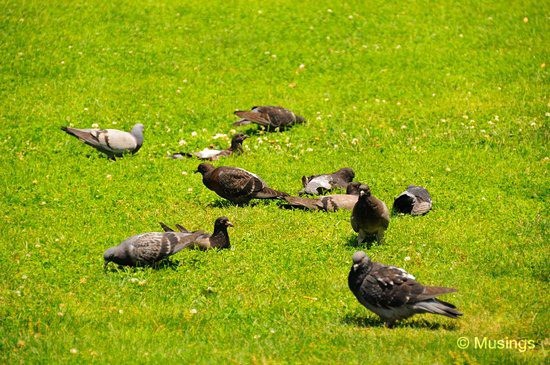 Below: The 652 large trees in the park provide welcome shade from the summer sun, though the weather was very cooling already (about 21°C):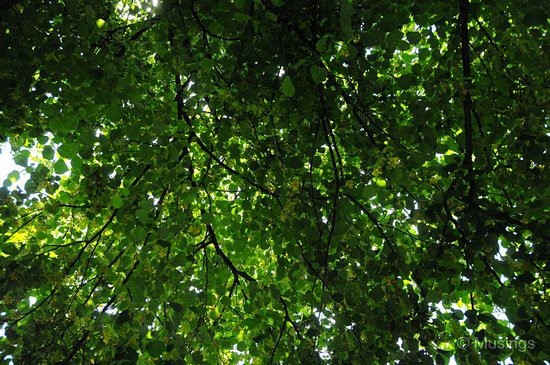 Below: Lots of people just hanging out in the park.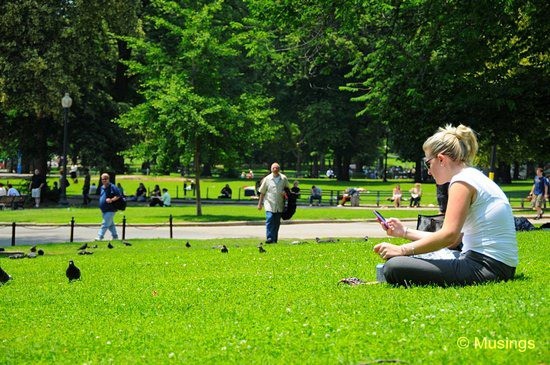 Below: The Parkman Bandstand, built in 1912. One of the park's most recognizable structures. It's commonly used for musical and theatrical performances held in the garden.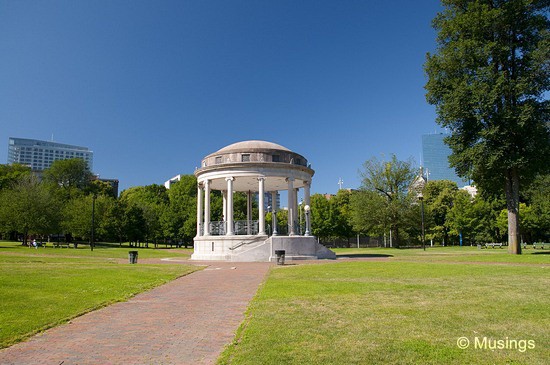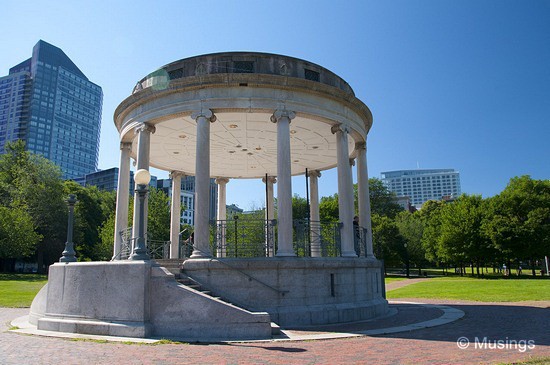 Below left: The Soldiers and Sailors Monument, erected in 1877. Right: Lots of flower beds line the foot paths throughout the garden.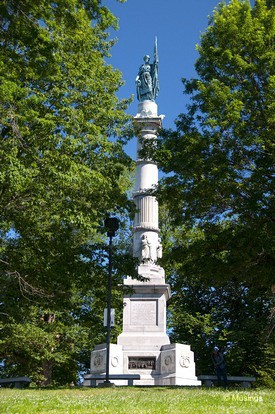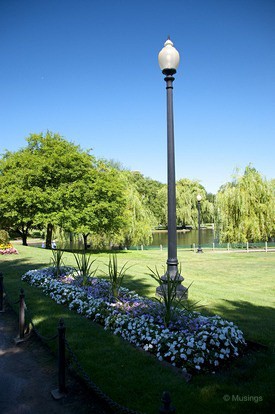 Below: The Lagoon Bridge just ahead.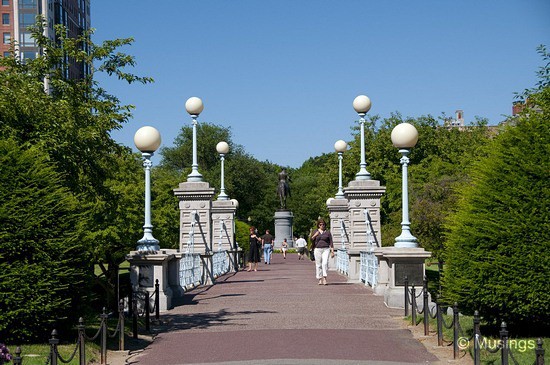 Below: The Lagoon Bridge, with the famous swan boats just on the left hand side (hidden in this picture) of the bridge: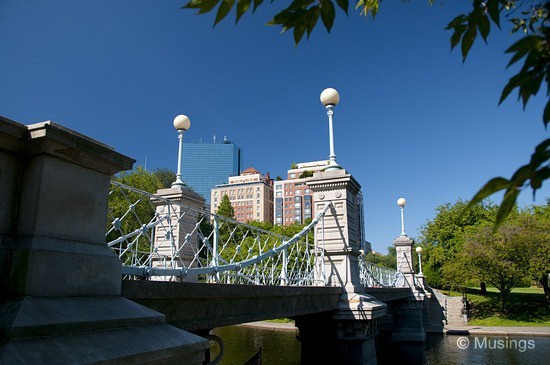 Below: The Lagoon.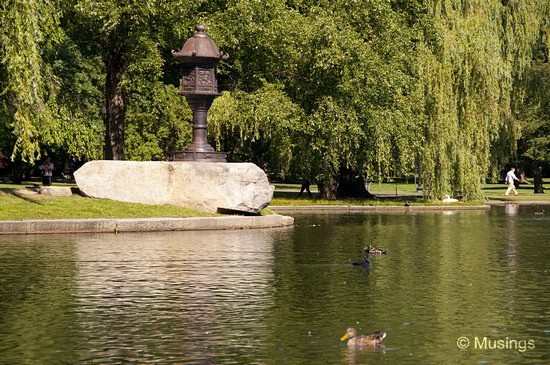 Below: The garden also offers a great view of swanky apartment blocks in Boston city.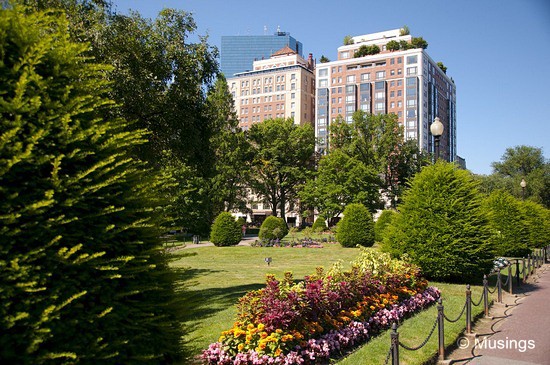 Below: A Statue of George Washington, cast from bronze and on top of a solid granite base. This statue was dedicated in 1869, and is a popular photographic spot for visitors.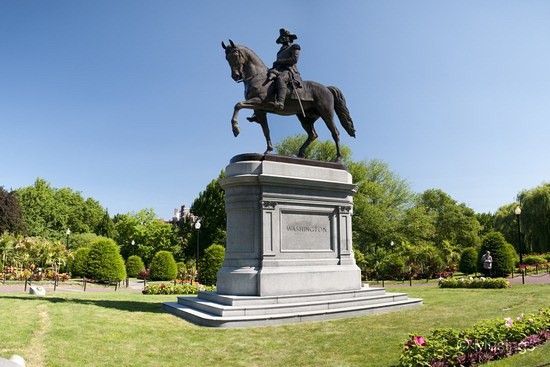 I recorded several videos, and did a large number of panoramic compositions in my visits here. Will post them up at some point.:)
MIT – Out of the World Buildings
MIT isn't a small University. There are 10,000 students on campus – but what's very different is that there are more postgraduate than undergraduate students of about 3:2 ratio. Compared to NTU whose ratio is 2:5, and I'm thinking that it's for this reason among others that MIT is known as one of the best scientific and technological research institutions anywhere, with a large number of its alumni serving as scientific advisers to the US presidents over the decades. One thing NTU though can boast about is the huge land mass it sits on: MIT is compact at 168 acres. NTU is a sprawling 494 acres – more than twice as large; NUS occupies a more modest 370 acres.
Architecturally speaking, the buildings in MIT aren't as gothic looking as say, those of nearby Harvard (which MIT apparently has a quasi-friendly rivalry with by calling them "the other school up the river"). But there still several funky looking buildings that perhaps exemplifies the well-known 'nerd' culture of the 149 year old institution.
Like for instance, the building below: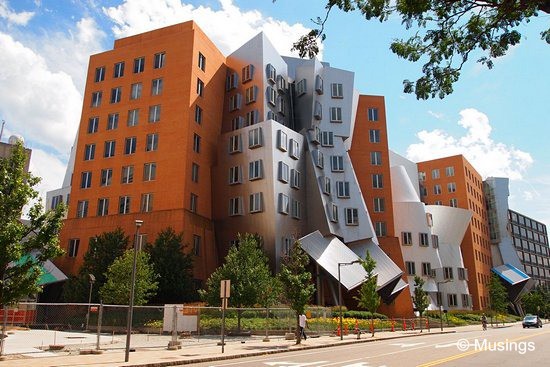 No, there's nothing wrong with the lens – nor did I do any sort of Photoshopping to alter the straight lines you find in normal buildings. That's the Ray and Maria Stata Center, which houses several of the university's computer science, artificial intelligence and information system laboratories. I had a look inside, and its internal floors are indeed pretty wild. It's easy to get lost in the building's unusual shape and odd corners.
Or the building below: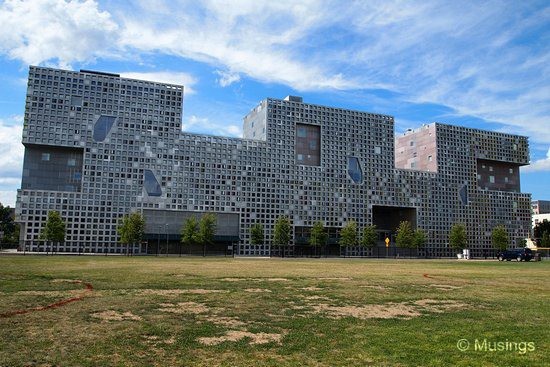 Is that…
1) An alien spaceship
2) A massive beehive
3) A huge silver-colored sponge
4) Or someone who's just completed level 47123124 of a Tetris game?
It's none of the above actually. It's one of MIT's student dormitories, called Simmons Hall. Built at a cost of USD78.5 million, it's 10 floors high, and features 5,500 windows each measuring about 2 feet. The building's supposed to be smart-designed with its window design providing shade in summer, and helping generate heat in winter.
From the outside, it does look pretty damn impressive. However, complaints apparently abound from the students who actually have to live inside it, and they range from poor telephone reception from the way windows frames are designed, to difficulties getting from one spot of the building to another. You know, like some of those old HDB flats in Singapore where to get from one unit to another on the same floor, you have to take a lift down to a corridor floor, cross it, take another lift to the other floor etc.
And the below is a HUGE brick and brown building that runs along Massachusetts Avenue. Big enough to have required several panoramic frames stitched together. When I walked past it, I thought this was some kind of prison cell, with its iron grill windows and foreboding look. Or maybe it's a massive warehouse storing several BattleMechs!
But take a look at the titles mounted on the length of its brick wall: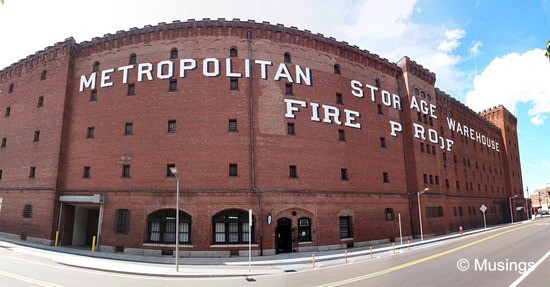 It's a fireproof warehouse, and it's been in operation for the last 90 years.:)
And lastly; the building below is pretty modernistic, and at least more conventional than the above two: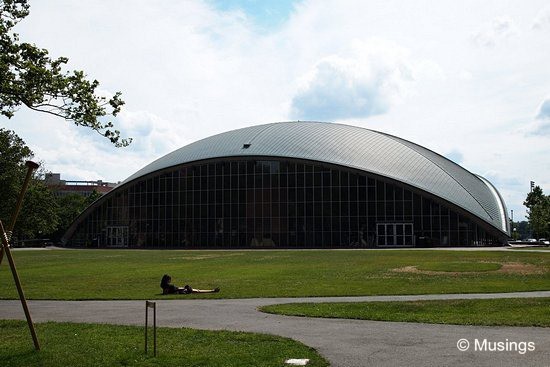 It's the Kresge Auditorium, which is used by the university for its formal events. The lawn in front of it seems to be a popular leisure spot, with many persons reading, resting or just hanging out there.
Oh yeah; these pictures were all taken in mid-afternoon after an exceptionally heavy lunch. Had to walk off all those calories from the American-sized portions you get for meals here! :)