Birth
now browsing by tag
"And then there were three."
One of the big transitions new parents have to get through is that you're no longer in just a world of two persons. Truth to tell, we've had a very peaceful, quiet and pretty easy marriage in the first 2.6 years. We've experienced very little of the arguments that we'd been expecting as a newly married couple. Oh, occasionally now and then, we've got on each other's nerves for an hour or so – but that's been as bad as it ever gets before we'll kiss and makeup.
We're still marveling at how blessed we'd been in the last 38 hours; a very smooth and easy delivery, and Ling's steadily recovering from the episiotomy.
The above was a quick snap I took in the birth room when Ling was in pain prior to the epidural. Think Ling was too dazed to see I was holding her with one hand while balancing a quick shot with the other.
—
What was the father's role in this whole baby delivery business? Well, basically it's just to do physical labor: like carry things, do hospital admission and baby registration, fetch pillows and cushions, hold oxygen mask, boil water, make milo for mummy, carry Hannah while mummy gets ready for a feed, buy whatever sort of food mummy has craving for LOL.
—
There were loads of congratulation and well-wishing messages too coming on emails and Facebook for me, and SMSes for Ling. One of the most funniest messages though came from a colleague, who wrote on FB:
"You mean you are facebooking while your wife is in labor, and giving birth? You've taken using the new media to new heights!"
Matt followed that up later with:
"I think the next step has to be getting the fetus online, so it can twitter. … I half expected Hannah would be tapping away at the keyboard by now.:)"
—
Whenever I was free too at every point, I went about recording as much as I could of the delivery. The best pictures came on the D300 with the SB600 doing bounced flash, and not unexpectedly so too. Unfortunately the entire camera apparatus was too cumbersome in the birthing room, so the Panasonic DMC-LZ8 and HDC-SD20 was used for all the picture and video taking respectively during actual delivery.
As for the by the hour blogging and Facebook status reporting, that was through the MSI Wind netbook – best $700 I've spent this year – and iPhone respectively.
—
What's the deal with doing so much recording both in imagery, video and the written word though?
Well it isn't for Ling and me, honestly. It's for Hannah. We hope she'd treasure these moments we've taken of her first days when she's one day able to understand them.:)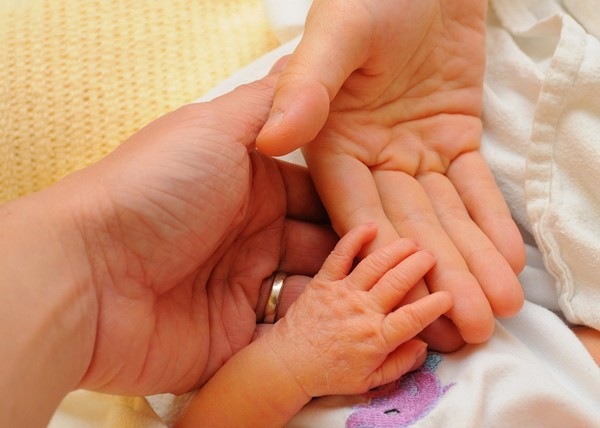 "And then there were three."
It happened so fast!
After deciding that Friday (5th Jun) was the last day to report to school for work (it was school's holidays already), Hannah decided to 'pop' the very next morning. What a transition from all the kicking sensation in my tummy for the last 3 months to holding a real baby, our baby, in my arms. I was tearful when Hannah was brought to my side!
My first sign of labor was called 'show'. It was actually a release of the mucus plug that prevented germs from entering the water bag, hence protecting the baby, for the past 9 months. It was watery and bloody. After informing my gynae about it, he told me to report to the labor ward at Thomson Medical Centre.
Once at the labor ward, I felt my first contractions. They were bearable and so I thought I could go through it bravely without epidural. However, the gynae ordered for prolectin to induce the contractions. I was too dazed to think then. Wah, the next phase was simply unbearable – the contractions became fast and furious. They were coming at every 30 seconds to 1 minute. I was in such a painful state that talking or responding to others was difficult. I must have the epidural!
The anesthetist came soon enough but since I was in such pain, he had to pause and wait patiently during my contractions before he could successfully finish the entire procedure of injecting a tube into my spine to infuse the drug to numb my lower half of the body. Once the drug was in, relief came within 10 minutes. I was thanking God in my heart then, for living in this day and age of patient care.
For the next hour or so, I could close my eyes and rest throughout the contractions until my gynae arrive. My cervix was dilating real quick in the meantime. I was already 1-2 cm dilated upon admission at 10.45am. By 3.15pm, it was 8 cm. The gynae decided to start me on pushing the baby and with 2 experienced nurses assisting me and Yang feeding me with the oxygen mask, Hannah was out in no time. The gynae used forceps to assist in the delivery too.
Okies, so much for now. Need to rest a bit now :)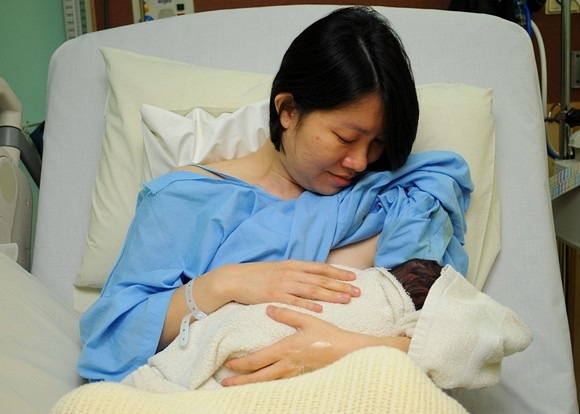 Baby-to-go 5: Timeline
OK – writing out the timings so I don't forget it later:
0910 – Ling at home said she "got show".
1000 – Took showers, packed (we weren't expecting an early by a week delivery), left home.
1045 – Waited 10 minutes for a free cab to arrive. Traffic was moderate, so took a while to get to TMC too. Ling said it felt like a mild menstrual cramp.
1050 – Had to do the temperature checking and declaration at the entrance for H1N1. Then brought Ling up to the Labor Ward at Level 2 for a check-up.
1100 – Check-up at Observation Room 2 confirmed an impending delivery, at which point daddy could do the paperwork for hospital admission.
1110 – Contraction pains start. Ling didn't have breakfast so was starting to feel hungry. She had the option of going up to her room for lunch first, but the labor pains was getting intense at about 1130.
1200 – Ling decided for epidural at about noon, signed the consent forms while daddy wrote the first blog entry.
1240 – Ling gets wheeled into the Birth Room, skipping the entire lunch thing altogether.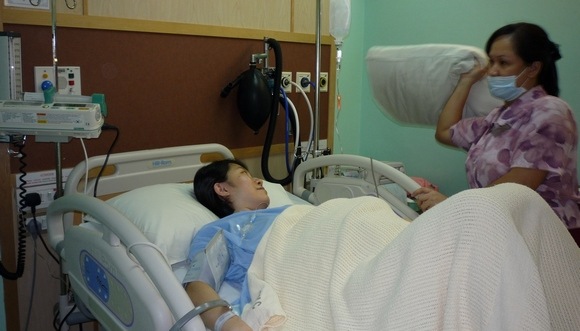 1300 – The anesthetist arrives, and administers the epidural. Initially daddy was chased out of the room (I was chased out several times throughout), but was called back in quickly. The nurses said that Ling was fidgeting too much, and daddy was needed to "keep her still" LOL.
1330 – Epidural was done, at which point the nurse said daddy can go for lunch. Yep; in the labor ward, the men get ordered around by women!
1350 – Lunch for me was a quick Fish n' Chips at the cafeteria downstairs. Went back up and was advised that Dr. Woodworth was on his way.
1415 – The good doctor arrives, does a quick check on Ling. Daddy gets chased out again by the nurses while they do another prep procedure. Blogged at the corridor LOL.
1440 – Allowed back in again. It's in-out-in-out of the Birth Room for daddies. Daddy helps Ling with the oxygen mask as Hannah's heart beat was slowing down.
1500 – The doctor comes back with two nurses and get Ling ready for delivery.
1515 – After a quick tutorial on how to push, nurses get Ling to start pushing in regular intervals. Daddy cradles Ling's head with one hand and doesn't know where to hold her with his free hand as Ling's holding onto her thighs. Daddy feels like a third wheel LOL.
1529 – Hannah pops! Ling did just about 7 to 8 long pushes. Assisted delivery using forceps.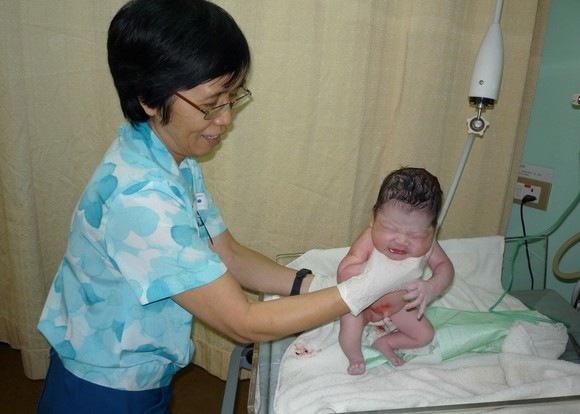 1530 – Hannah's first photo taken. The nursing team all super-experienced; nurses tell daddy exactly when to take photos LOL.
1532 – Hannah gets checked for five fingers and no extra on both hands each, five toes on both feet, ears, and mouth. Then gets brought back to mummy for a first huggie and photo-op.
1535 – Hannah gets brought out by the nurse (with daddy in tow with HD CAM and another compact camera) to get measured and weighed. The senior Nurse looks on in amusement as daddy somehow shows how it's done: video-tape and take pictures with two cameras at the same time! Called parents at Lentor to inform them of the birth, then SMSed sis-in-law.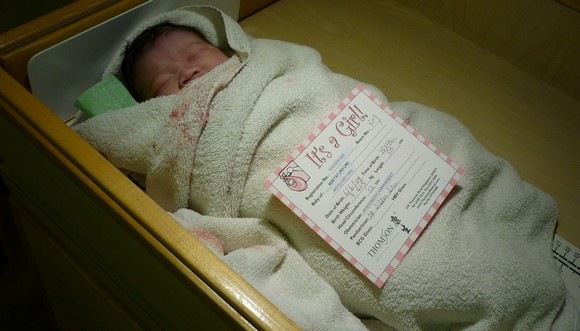 1545 – Hannah's birth dimensions all grabbed and written onto a little card, she gets brought back into the birth room while the nurses and Doctor are cleaning Ling up a bit.
1610 – Hannah has her first feed in the birth room. Not much milk; nurse says with a chuckle "It's all colostrum at the moment."
1635 – Ling has rested a bit more and is ready to be brought up to our room 509 at Level 5. She gets a bed transfer, then daddy and nurse wheel her up.
1640 – Room check-in and quick room introduction and orientation for daddy by the nurse.
1700 – Nurse briefs daddy about room details, and gets meal selections for both for the next day or so. When all done and settled in, daddy writes the third blog entry.
1745 – Dinner comes up. Ling's ravenous, gulps down her food and part of daddy's too!
1815 – Parents are the first to arrive. Ling was craving for Jollibean's hot soya bean milk, so daddy had to go fetch LOL.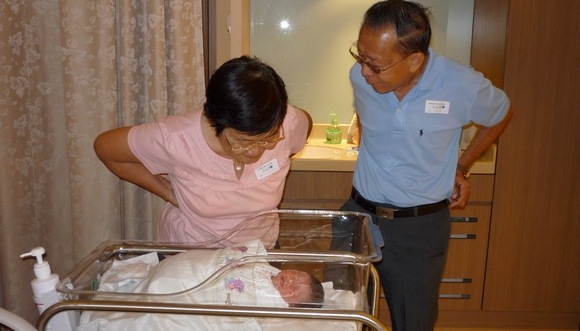 1925 – Time for a second feed. Ling was still unsure what to do, so we had the nurse come by to help her out proper.
2000 – In-laws come next for a visit.
2030 – Alone time again. Do photo editing, uploading and a last blog entry for the night.:)
2245 – Daddy zonks out on the sofa bed but can barely sleep. Gets up at 0330 to continue blogging LOL.
Baby-to-go 3: Hannah
Hannah Foo was born at 3:29 pm.:)
Ling was in a lot of contraction pain earlier on, but after the epidural kicked in, she was numbified haha.
Dr. Adrian Woodworth arrived at about 2:45 pm like it was his off day in a polo-shirt, berms and sandals but was all business. There were two nurses going the "BREATHE, PUSH, 1, 2, 3, 4… 10" routine.
I was expecting a lot more drama, like Ling hollering in pain, her squeezing my hand until it turns blue… but it was nothing. Even Ling said she didn't feel a thing! Credit has to go to Dr. Woodworth and the two nurses.
The actual delivery from the start took like, maybe, 10 minutes LOL – and Ling pushed like about 6 times, and out she popped.
And we'd been expecting that a C-section would had been needed for a big 3.405 kilograms, 50 cm, and 32cm head circumference little lass.
Well, Ok, photo time. First photo of Hannah was taken at 3:30 pm but she'd just come out from the womb, and it's a bit of a bloody sight. So here's a nicer one taken with Mummy at 3:32 pm.:)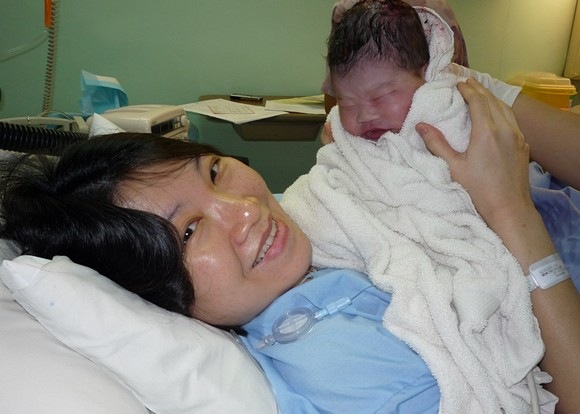 We'd just 'checked-in' to her Premium Room that cost a bomb, but I thought what the heck – might as well just go all the way. I'll blog about that later.:)
Baby-to-go 2: Epidural, baby!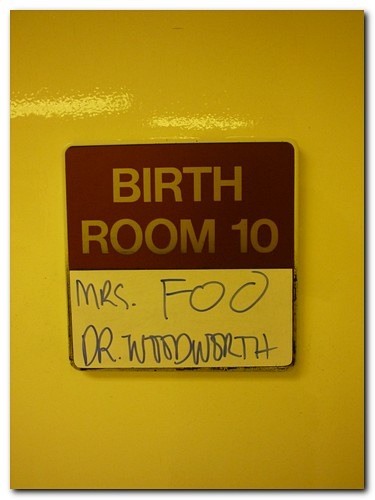 Would you believe it… I'm typing this with one hand, and standing outside the birth room. I got chased out by the nurses… yet again.
The nurses walking past me are looking at me real funny at this guy balancing on one hand a netbook that's hooked up to an iphone and a Starhub USB dongle, and the other hand typing away LOL.
Ling's too funny. A couple of months ago she'd been reading up loads of stuff on having natural births. So, typical conversations in the car when we were heading back home went like this:
"Darling, I'm thinking of going natural for Hannah's birth."
"Are you sure you'd be able to bear the pain of contractions? I thought you have a low threshold for pain, dear?"
"I can one. No problem!"
30 minutes after we got to TMC and I'd completed registration at the front floor counter, she was wincing in pain, and saying "Wah lau. Cannot tahan @@$%#@!" LOL.
So she got everything short of gas. The doctor administering the epidural completed the procedure an hour ago. It's apparently a lot more bearable now, and she can manage conversations too.
Dilation at 5 cm now too, and her water bag just broke 10 minutes ago. Sure is quick!
Baby-to-go 1: Observation Room
Well, Hannah's decided she wants out earlier, by like a week LOL.
Ling started feeling some minor contractions. We got to TMC at 1045, and upon admission for checking at the OR, she's indeed dilating now too. She's feeling quite miserable now though, and says contractions are getting more painful.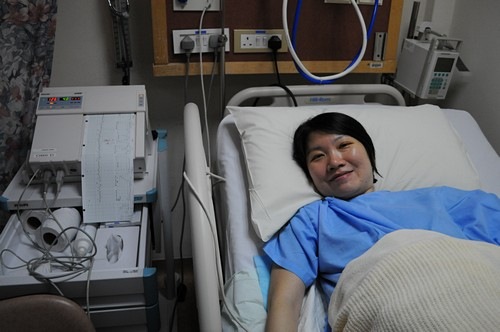 Live blogging so that Hannah can look and see what mummy (and daddy) had to go through LOL.
More updates to come later.:)