My apologies all round for the long lag time between part III and IV of our Bali notes.:(
Strangely, dining in Bali had both its ups and downs. We sampled some excellent food, but in other places it was near screw-ups. Service standards were a mixed bag too, but more on that later.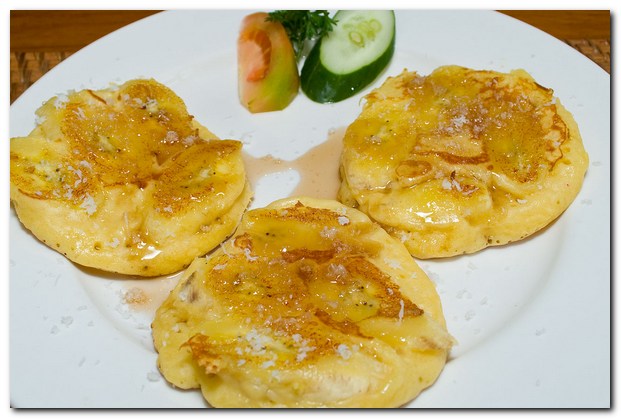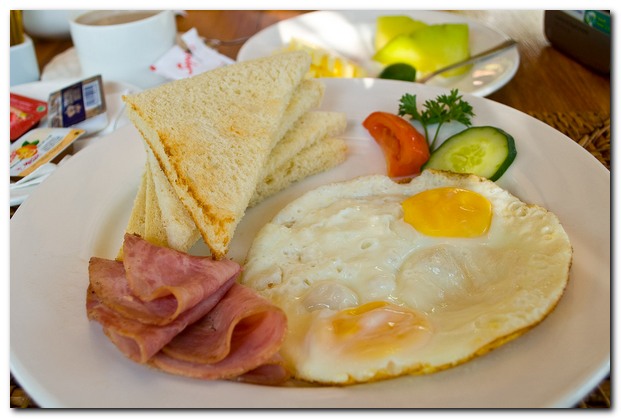 (Pictured above: Banana fritters and American breakfast at Tepi Sawah Villas)
Starting with our Villa food; our six day five night stay included daily breakfast at the poolside restaurant. Quite a nice way to begin the day, really, though you'll have to have a certain tolerance for insects that include house flies since the restaurant was pretty much open-air. There were three menus: American, Indonesian, and their in-house specialities. Unfortunately the limited breakfast range wore thin by the third day; we'd exhausted the three menus by then. We would have gone out of the Villas each morning towards the town center, but Ling typically doesn't wake up too early, so… :)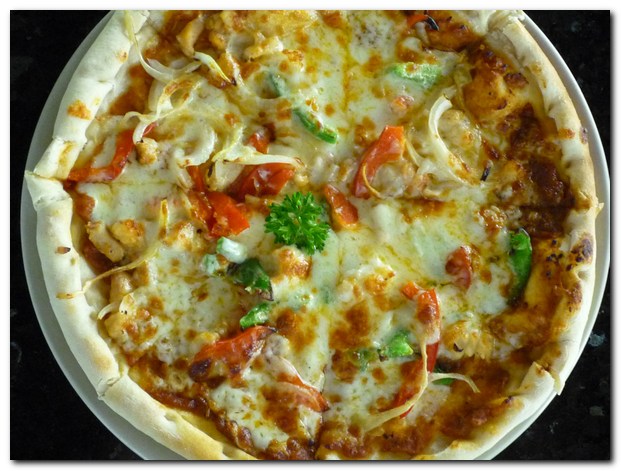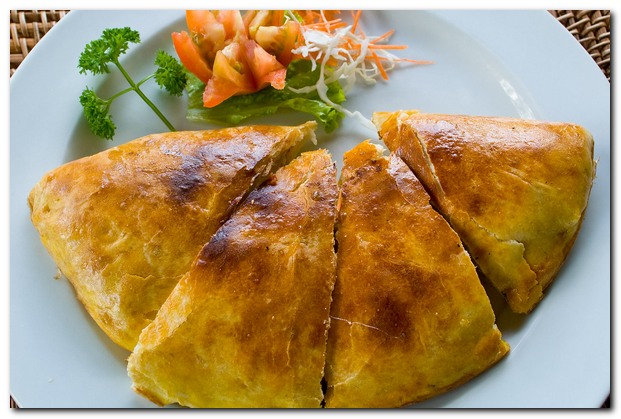 (Pictured above: Seafood pizza at Bali Bird Park and Pizza Calzones at Tepi Sawah Villas)
The ala carte menus at Tepi Sawah fared better, with the menu spreading from local to Asian to Western cuisine. The first time I saw pizzas and Calzones on a Balinese menu I thought the pizzas were of a type and delicacy unique to Bali. So, I was slightly disappointed when the pizzas that arrived at our tables looked just like Pizza Hut's. Taste wise though they were a class above. Even Ling remarked that somehow the pizzas in Bali tasted better than those she tried in Venice (!). There seemed to be three pizza flavors that we saw on several menus, and we tried them all: Seafood (excellent), Hawaiian (excellent), magerita (no good. Way too many tomato pieces). Ling tried the cabonaras too, and they were delicious.
One little incident did mar our experience with dining at the Villas though. On one late night Ling ordered a cream of mushroom soup from the menu, but she got clear soup instead. When she queried, the waitress explained that the menu description was incorrect. Certainly she was apologetic, but wow – one would have thought that at the point of ordering, the waitress should have made that clear so Ling would have ordered something else. That was the singularly unpleasant experience we had at the Villas, since the rest of our stay was really about OK, flat and cold pastries at tea aside.
Still, ala carte at Tepi Sawah Villas was largely good. But eating in Ubud town itself was a slam dunk. We were spoiled for choice. On the first night we walked part of the stretch along Jalan Monkey Forest Road and it didn't take long before we concluded we'd never be able to exhaust the chain of restaurants there, let alone the entire stretch, in five evenings. We did ask for recommendations back at the Villas, and two mid-priced restaurants were noted; Cafe Wayan—where we had our first evening's dinner—and Three Monkeys—which we patronized a few evenings later.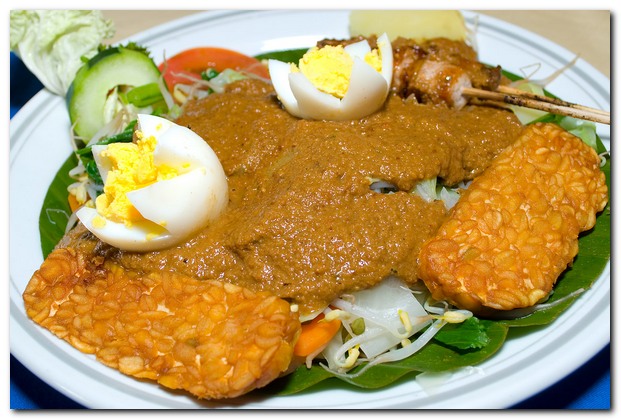 (Pictured above: Gado Gado at Hotel Gitgit and Restaurant)
Interestingly, the menus seen in these two places weren't too dissimilar to the other restaurants. They all offered local delicacies, selected Italian pastas and pizzas, and solidly westernized steaks, burgers and the like. Prices varied hugely wildly, with some restaurants offering an item for 55,000 rupiah (that's about SGD8.50), and another restaurant just next door serving up the same item for half that. There was the 21% service and government tax though. Higher than Singapore yeah.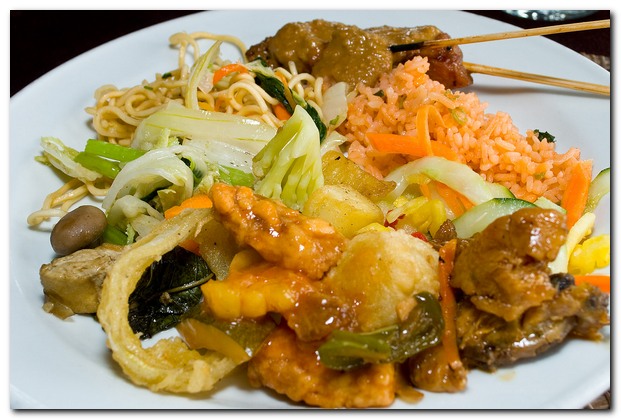 (Pictured above: Lunch buffet at Lakeview restaurant)
A memorable lunch was on our second day during our visit to Mt. and Lake Batur. This was coming close to 2 pm and Ling said she was hungry. So we asked Dewa if there was any place we could have a mid-priced lunch. So he brought us to Lakeview restaurant, a spot that presented a magnificent view of both the lake and mountain. The restaurant served Balinese buffet with a few other selected Asian cuisine, and there were several bus loads of tourists stopping by there to dine too. As for the spread itself, we stuffed ourselves. The highlight was the tuna satay. Yep, you heard that right. This was one satay Ling could eat without feeling guilty.:)
Another local delicacy we tried was the fried crispy duck. In fact, there was a large poster in Ubud town of one restaurant proudly claiming they'd been serving this duck for 10 years now and is the venue for the "original" crispy duck. Sort of reminds one of a similar poster seen along Upper Thomson Road but about roti pratas.:)
Not all of our Bali eating outside Tepi Sawah were hits though. Ling has er 'fond' memories of a plate of gado gado at Gitgit hotel and restaurant. We had lunch at this place after sweating out a walk to and fro Gitgit waterfall and were positively starving.:)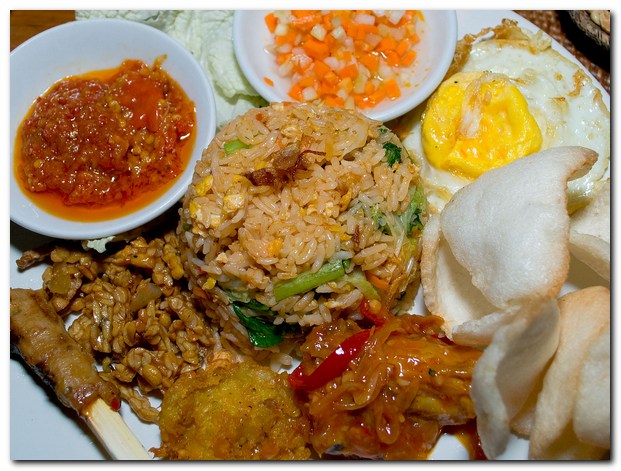 (Pictured above: Nasi Goreng at Cafe Wayan)
Fortunately in all, dining in Bali was more ups and downs, and for SGD10 you were basically having fare that easily went for around SGD16 to SGD18 at equivalent restaurants in ambiance and quality. And the Balinese prices were from the more 'tourisy' places on the island. If we'd ventured off the beaten track a little more, I'm sure we would have found quality dining at even lower prices, as evidenced by some of the Ubud restaurants serving local fare at SGD4-5 per menu item. Between the two of us, I think Ling's experiences with Bali food was less stellar than mine, especially with the mistaken item at the Villas.
But one thing's for sure; we're both certain that Matt would completely lose himself in this place.:)
The rest of our dining photos at Bali are here.