Bali 2008
now browsing by tag
Bali Notes IV: For Foodies
My apologies all round for the long lag time between part III and IV of our Bali notes.:(
Strangely, dining in Bali had both its ups and downs. We sampled some excellent food, but in other places it was near screw-ups. Service standards were a mixed bag too, but more on that later.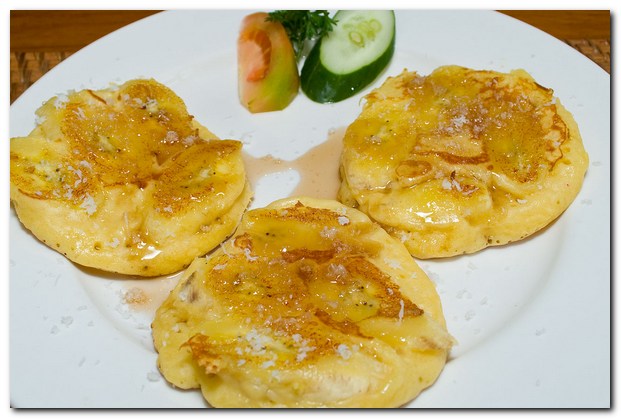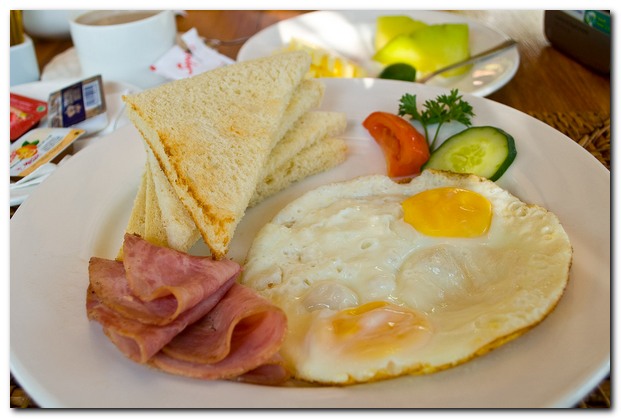 (Pictured above: Banana fritters and American breakfast at Tepi Sawah Villas)
Starting with our Villa food; our six day five night stay included daily breakfast at the poolside restaurant. Quite a nice way to begin the day, really, though you'll have to have a certain tolerance for insects that include house flies since the restaurant was pretty much open-air. There were three menus: American, Indonesian, and their in-house specialities. Unfortunately the limited breakfast range wore thin by the third day; we'd exhausted the three menus by then. We would have gone out of the Villas each morning towards the town center, but Ling typically doesn't wake up too early, so… :)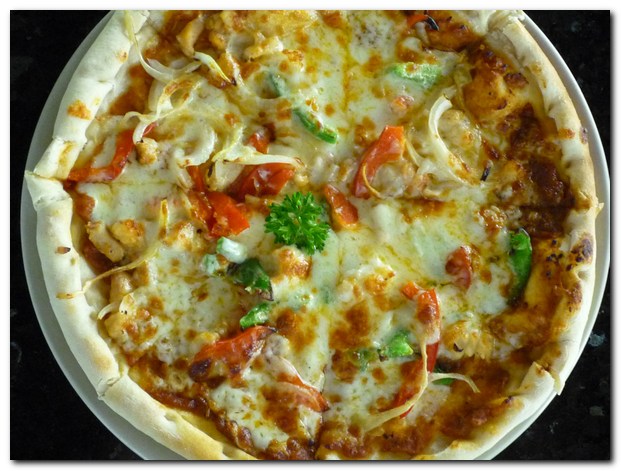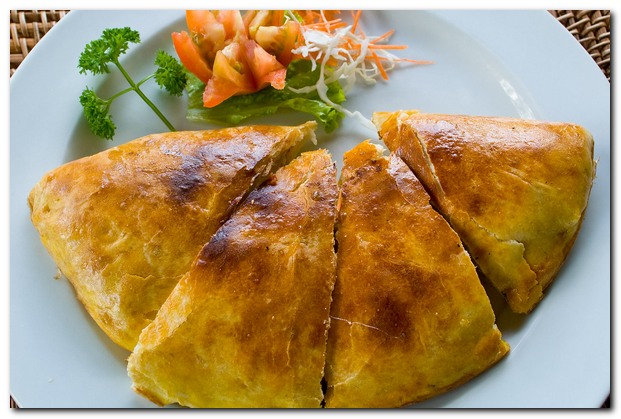 (Pictured above: Seafood pizza at Bali Bird Park and Pizza Calzones at Tepi Sawah Villas)
The ala carte menus at Tepi Sawah fared better, with the menu spreading from local to Asian to Western cuisine. The first time I saw pizzas and Calzones on a Balinese menu I thought the pizzas were of a type and delicacy unique to Bali. So, I was slightly disappointed when the pizzas that arrived at our tables looked just like Pizza Hut's. Taste wise though they were a class above. Even Ling remarked that somehow the pizzas in Bali tasted better than those she tried in Venice (!). There seemed to be three pizza flavors that we saw on several menus, and we tried them all: Seafood (excellent), Hawaiian (excellent), magerita (no good. Way too many tomato pieces). Ling tried the cabonaras too, and they were delicious.
One little incident did mar our experience with dining at the Villas though. On one late night Ling ordered a cream of mushroom soup from the menu, but she got clear soup instead. When she queried, the waitress explained that the menu description was incorrect. Certainly she was apologetic, but wow – one would have thought that at the point of ordering, the waitress should have made that clear so Ling would have ordered something else. That was the singularly unpleasant experience we had at the Villas, since the rest of our stay was really about OK, flat and cold pastries at tea aside.
Still, ala carte at Tepi Sawah Villas was largely good. But eating in Ubud town itself was a slam dunk. We were spoiled for choice. On the first night we walked part of the stretch along Jalan Monkey Forest Road and it didn't take long before we concluded we'd never be able to exhaust the chain of restaurants there, let alone the entire stretch, in five evenings. We did ask for recommendations back at the Villas, and two mid-priced restaurants were noted; Cafe Wayan—where we had our first evening's dinner—and Three Monkeys—which we patronized a few evenings later.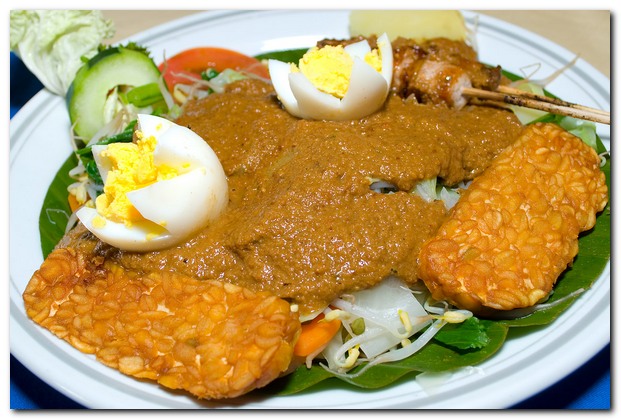 (Pictured above: Gado Gado at Hotel Gitgit and Restaurant)
Interestingly, the menus seen in these two places weren't too dissimilar to the other restaurants. They all offered local delicacies, selected Italian pastas and pizzas, and solidly westernized steaks, burgers and the like. Prices varied hugely wildly, with some restaurants offering an item for 55,000 rupiah (that's about SGD8.50), and another restaurant just next door serving up the same item for half that. There was the 21% service and government tax though. Higher than Singapore yeah.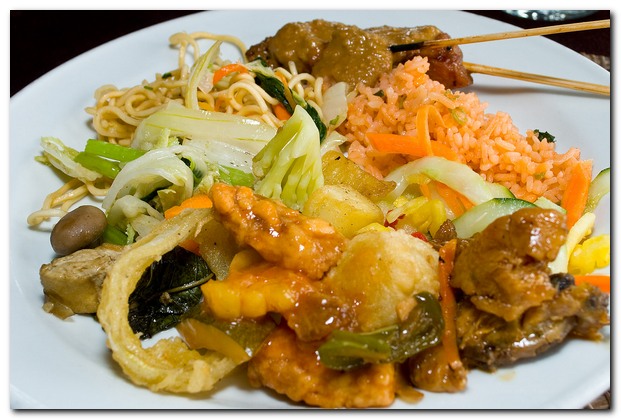 (Pictured above: Lunch buffet at Lakeview restaurant)
A memorable lunch was on our second day during our visit to Mt. and Lake Batur. This was coming close to 2 pm and Ling said she was hungry. So we asked Dewa if there was any place we could have a mid-priced lunch. So he brought us to Lakeview restaurant, a spot that presented a magnificent view of both the lake and mountain. The restaurant served Balinese buffet with a few other selected Asian cuisine, and there were several bus loads of tourists stopping by there to dine too. As for the spread itself, we stuffed ourselves. The highlight was the tuna satay. Yep, you heard that right. This was one satay Ling could eat without feeling guilty.:)
Another local delicacy we tried was the fried crispy duck. In fact, there was a large poster in Ubud town of one restaurant proudly claiming they'd been serving this duck for 10 years now and is the venue for the "original" crispy duck. Sort of reminds one of a similar poster seen along Upper Thomson Road but about roti pratas.:)
Not all of our Bali eating outside Tepi Sawah were hits though. Ling has er 'fond' memories of a plate of gado gado at Gitgit hotel and restaurant. We had lunch at this place after sweating out a walk to and fro Gitgit waterfall and were positively starving.:)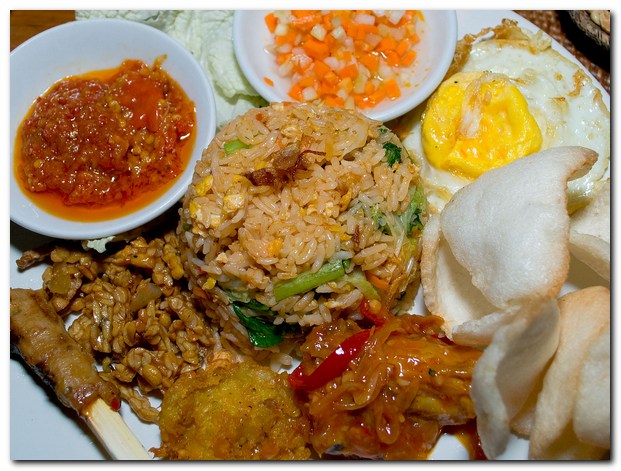 (Pictured above: Nasi Goreng at Cafe Wayan)
Fortunately in all, dining in Bali was more ups and downs, and for SGD10 you were basically having fare that easily went for around SGD16 to SGD18 at equivalent restaurants in ambiance and quality. And the Balinese prices were from the more 'tourisy' places on the island. If we'd ventured off the beaten track a little more, I'm sure we would have found quality dining at even lower prices, as evidenced by some of the Ubud restaurants serving local fare at SGD4-5 per menu item. Between the two of us, I think Ling's experiences with Bali food was less stellar than mine, especially with the mistaken item at the Villas.
But one thing's for sure; we're both certain that Matt would completely lose himself in this place.:)
The rest of our dining photos at Bali are here.
A picture paints, well er…

On our first day in Bali, we had hired a driver to fetch us from the airport to Tepi Sawah Villa, our pre-booked accommodation for our entire 6-day vacation in Bali.
On our journey to Tepi Sawah, I kept seeing red posters each with the number 28 above a bull head at certain cross junctions or roundabouts. Out of curiosity I inquired the driver.
"Is that sign showing the speed limit for vehicles?" I asked innocently.
"Oh that. It is a poster of a party." quipped the driver.
"Oh, there's going to be a party in town huh?" Wah, the Balinese folks were so 'happening'.
"You know Megawati? That's her party's poster. Election is coming soon." the driver continued.
"Huh, so that's the poster for a political party!" I exclaimed.
"I thought that's an advertisement for red bull drink." Darling added.
A picture paints a thousand words indeed. :P
Bali Notes III: Mountains, Lakes & Waterfalls
The natural sights in Bali was really what I was keen on visiting. There were several new filters I'd acquired in the months before the trip that I was eager to try them out on landscapes, and specifically the graduated neutral density and neutral density filters.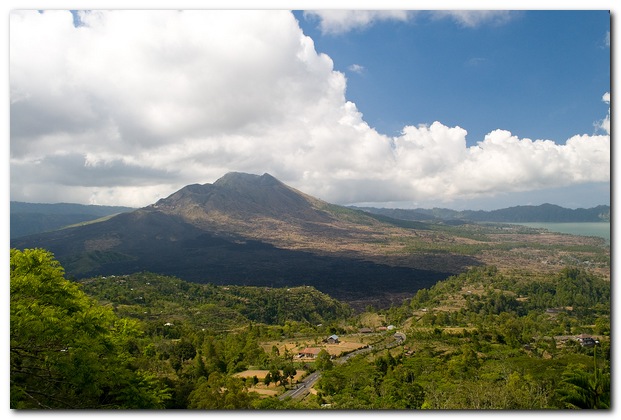 The scenic highlight on Day 2 was Mt. Batur. The drive up the mountain was pleasant and on what seemed to be a major road, unlike the Day 3 drive to Taman Tirtagangga that saw us through winding and narrow roads. Apparently it's possible for non-climbers to scale up Mt. Batur and there are day tours for that even. Dewa Marco remarked that he had a couple of customers request before for a drive up the mountain to see the sunrise, and he had to wake up at 4 a.m. just to get to them there in time.
Though it's a little hard to tell from the pictures, the several panoramic shots of Mt. Batur were taken at three different spots. Two spots were by the road side, and the third was at Lakeview restaurant that overlooks Lake Batur, and where we also had buffet lunch (yummy tuna satay there). The sky wasn't cooperative at all though, and there was the usual ugly gray cloud layer that obstructed a clear view of the mountain top. The base of the mountain was a patch of black too which Ling thinks is from clearing through burning.
The mountain is an active volcano too, with the last eruption in 1917 which killed more than 1,000 people. Dewa related a fun story of a Indonesian fellow who went up a mountain at an impending eruption to do some offerings and religious rites. Everyone else thought he was crazy, but the volcanic rumblings stopped shortly thereafter. This fellow was hailed a local hero and apparently is now featured in several TV advertisments and the like LOL.:)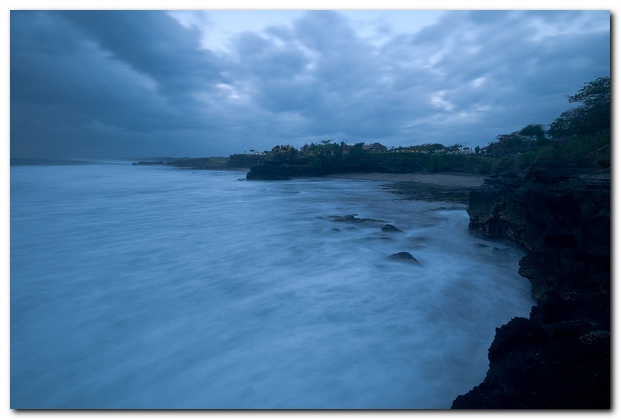 The evening on Day 2 was spent taking the Tanah Lot cliff and sunset shots. The carpark where Dewa dropped us at was a 10 minute walk from the temple itself, and the pathway took us through a plaza that comprised hundreds of eateries, artisan and souvenir shops.
The place was pretty crowded too, and any picture of Tanah Lot itself would have seen people crawling all over like ants in it. The tide had receded substantially which made walking to the temple compound itself possible.
We made our way around to the cliffs overlooking the shore and coast line, and setup shop around the cliff edges. Yep, I was again the only weirdo using a tripod and remote trigger. I did see two or three fellows carrying tripods. But no Ann, they weren't carrying Gitzos. Or even Benros for that matter.:)
Bits of the photo-taking experience was scary though, since I was standing fairly close to the cliff's edge. All it would have taken was a push in the wrong direction from the crowds moving about and it would had been a 50 meter fall down.
Several of the photos taken at the Tanah Lot cliffs were long exposures using a circular polarizer + neutral density filter stack + graduated neutral density to further darken the sky. Talk about overkill LOL. The shutter curtain opened between 15 to 30 seconds each time. That's how the "milky" water effect was achieved (similar to the waterfall shots later and below), a popular sort of effect for many photographers shooting moving water. We checked out of the area after nearly 2 hours, and the journey from Tanah Lot back to Tepi Sawah took us just over an hour.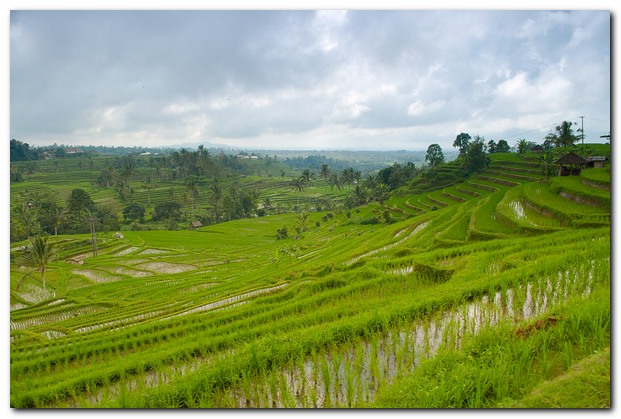 I'd initially planned for the visit to the Jati Luwih rice terraces on Day 3 (Day 2 with Dewa), but the motion sickness caused by the ascent to Tirtagangga on Day 3 required me to postpone the visit to the next day. The drive up north to the rice terraces on Day 4 took about 110 minutes. In a word, Jati Luwih was magnificent. Several of the panoramic shots turned out very well and can only hint of the size of the area. We were the only visitors to the area for most of the hour we were there, so the only persons in the photos are the farmers themselves.
On the down size, there was the ugly gray cloud layer and overcast that reduced the amount of green and yellow contrast that would had been possible in these shots. And would you believe it: there was again a fellow guarding the major road leading to this spot, and he was administering the entrance fee. Talk about commercialization right up the gazook. Heck, the only places which didn't want our money, ironically, were the toilets at Bali airport. And they had signs at each toilet door proudly stating "No Charge For Toilet Use" even.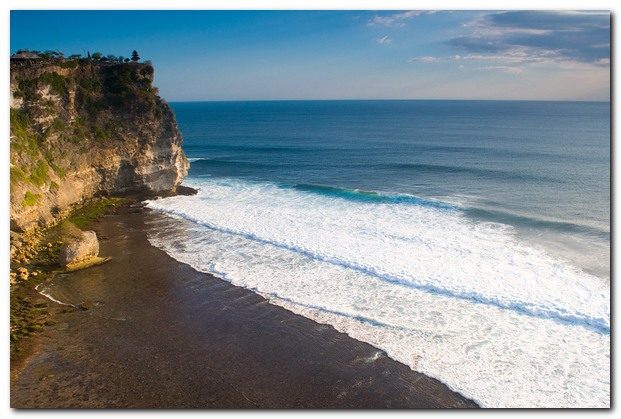 We checked out Pura Luhur Uluwatu the same evening, the other very famous and popular coastal temple in Bali. There's a lovely three tier pagoda perched at the far end of the cliff as one can see from the picture above.
It's probably impossible to tell from the photos here but I spotted a couple of fellows walking on the shore below us. Ling thought they were locals looking for shells. I initially was wondering how on earth did the fellows get all the way down since the shore in the photo here is pretty much enclosed completely by steep cliffs. Maybe they had an elevator somewhere haha. Dewa later showed us a little path way near the temple's entrance that leads all the way down to the shore. Ah. That's how they do it.
Like the Tanah Lot shots, for a couple of the pictures here I situated myself pretty close to the cliff's edge to get as much of the coast as possible in the frame. There was a bit of a wind blowing, and the drop is an even more precarious 150 meter to the shore if the journey down doesn't kill you from a heart attack first haha. During the fireworks festival shoot last week, Ann was telling us that joke where Grace, our small group friend, and her camera was about to hit the ground and hubbie Roger instinctively reaching for the camera instead of her. I was remembering that very joke, and wondering if I was lost my balance would Ling reach for me or the camera tripod LOL.:)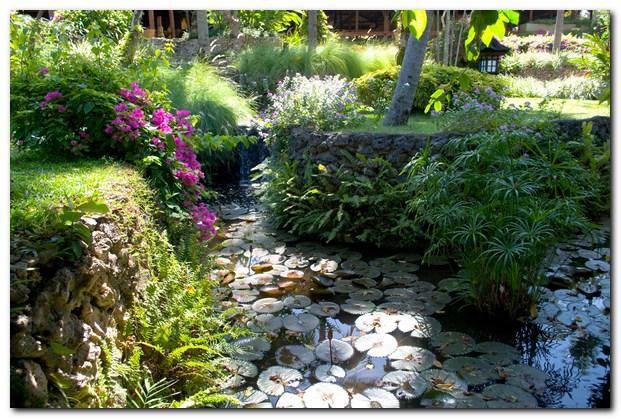 The DK book on Bali & Lombok noted that many visitors to Bali go to Bali Hyatt not just to stay, but also to visit the Australian-designed gardens in the hotel. During the several months prior to departure while I was planning the trip and before I actually decided on staying in Ubud, the Bali Hyatt at Sanur Beach was one of the places I tried booking on Asiarooms. The rooms for some reason could not be booked via the web site though. The hotel's web site was stating much higher rates for booking too so I dropped the idea.
It was probably fortunate that we didn't stay at Bali Hyatt after all. We visited the Gardens on Day 5 (our last day with Dewa), and well… maybe we were looking at the wrong gardens, but they didn't look all that special. Oh, they were as usual lovingly landscaped in the Balinese style, but possibly because we were so jaded already by the other incredible sights by this time, neither of us were all that impressed.
We next checked out Sanur beach just further down the area, and boy did we see loads and loads of Caucasians in their bikinis and skimy swim wear, all chilling out in the sun. Surprisingly, we didn't see many Asian tourists. Maybe we as Asians get way too much sun already and we'd sooner rather go to places with winter. Like Japan or South Korea in December.
The sky at Sanur beach was a glorious blue and further exaggerated by the circular polarizer doing its work in some of the pictures I took. There were a few persons doing water spots, paragliding in the distance, and a couple of local boys were flying a kite on the shore too. But Sanur beach itself was a little underwhelming. Specifically, there was a lot of debris about, and nothing like the spotless beach and crystal clear water at Rawa. We'd usually do our writing on the sand photo like what we did at Rawa island and Phuket, but this time at Bali we didn't.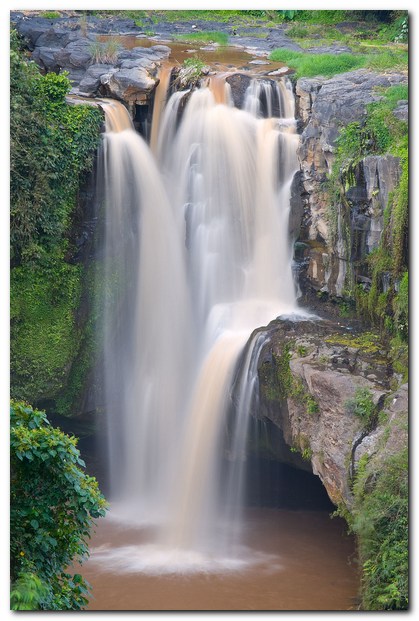 The last photo in this entry here comes from Tegenungan waterfall, which was our last stop for Day 5. The place was a 40 minute drive from Sanur beach. Again, there was an entrance fee to see the waterfall itself.
The waterfall itself is at least several hundred meters from the viewing platform, though surprisingly the separation distance worked to my advantage: the shot on the right was taken with the 55-200mm VR lens zoomed to 145mm which flattened the view perspective of the picture.
The zoomed shot also led to a pretty different composing look between the Tegenungan and Gitgit waterfalls shots from 2 days earlier. Ling I think likes the Tegenungan shots better too as the shot here is framed with flora, whereas the Gitgit waterfall shots were done using the Sigma 10-20mm ultra wide-angle which led to a less tight perspective.
It also wasn't necessary to deploy the neutral density filter for this shot too. The waters was moving fast enough, so with a slightly less than 1 second exposure time the shot achieved the same milky effect as the Gitgit waterfall shots too.
A quick word on the filters too. I found the GND filters more useful compared to the circular polarizers even though the resulting effect on each picture itself is very roughly in the same bracket
— i.e. bluer and contrasy skies. The GND was capable of giving the blue tint every time but the colorization occasionally seems unnatural at times. The effect one gets from the polarizer depends on the sun positioning relative to the camera, so can be iffy especially if you want a specific composition. But the effect one gets is typically also a lot more natural looking.
So in all again, a quick summary of the places we visited and a suggested visitation time with links to our Flickr photo collection for each place.
Mt. and Lake Batur. Worth visiting, with suggested visitation length of about 20 minutes. The place is expansive though, so there's going to be a bit of a driving time to get to and fro. The view from Lakeview Restaurant is pretty good.
Tanah Lot. Worth visiting. If you're doing late afternoon to sunset shots though you could be spending between 1.5 to 2 hours there.
Uluwatu. Worth visiting. Same length of time recommendation to Tanah Lot.
Jati Luwih rice terraces. Very worth visiting. About an hour suggested visitation length.
Bali Hyatt Gardens & Sanur Beach. So-so but you're not missing anything too much if you skip it. About an hour suggested visitation time.
Gitgit waterfall. Worth visiting. It's an about 600 metre walk from the carpark to the waterfall itself. There's a well-built stairway too, and lined with dozens of small artisan and souvenier shops along the way.
Tegenungan waterfall. Worth visiting with two caveats. Don't bother visiting if you like your waterfalls up close and personal, and forget about taking photographs unless you've got a zoom lens of at least 120mm. The carpark is a short 10 meter from the viewing platform.
So there we go. The next entry I'll be posting up is either going to be on the flora & fauna i.e. monkeys (!) of Bali or on food and dining, which I'm sure Matt would be looking especially forward to.:)
Bali Notes II: Temples, Palaces & Monuments
There must be thousands of temples and shrines on Bali of varying sizes and importance, but each one is still beautifully decorated with status, carvings, and many also in Balinese-styled architecture and landscaping. That said, the sheer number of temples can easily overwhelm a person, to the effect that by the time you've got to the fourth or fifth one, they could all start looking alike.
In the preparation for the trip, I consulted the usual Wikitravel, Lonely Planet and DK guides of the island, and they all suggested that the nine most important temples on Bali are each well worth a visit. Still, I was really more interested in the natural sights. I narrowed the list down to six, as from the colorful floor map layouts on the DK guides each temple just didn't look too dissimilar from one to the next.
Some but not all of the temples were free admission, and for those that didn't charge an entrance fee, a small donation of about 5000-6000 rupiah was nonetheless still expected. Actually on the issue of admission prices, I felt the island has been fiercely commercialized. Every place we went to required an admission / donation fee from a low asking of 3000 rupiah to a huge whopping 150,000 rupiah (i.e. the Bird Park). Even the waterfalls required an entrance fee. The one exception was Mt. Batur, which made sense: how do you possibly put a barrier around a freakin' huge mountain LOL. :)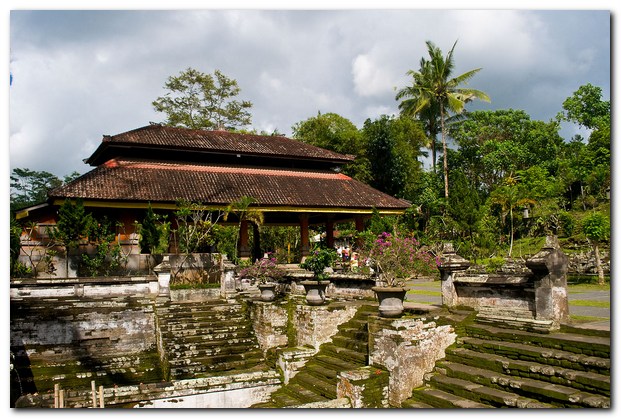 Visitations to the temples also required respect for their customs, and there were signs advising visitors that they had to be decently dressed. So, sarongs had to be worn, with an additional sash that I still haven't quite figured out the religious significance for, if any. On Day 2 and our first day with Dewa Marco, our first stop was Goa Gajah (above picture). The sarongs we took were a terrific blue that stuck out like a photographic blemish in the photos. As soon as we could at Tirta Empul, we bought much nicer sarongs, though Ling didn't bargain nearly hard enough. We paid 140,000 rupiah for the two sarongs—very expensive and I think we were overcharged.
One thing too about the sarongs. I have new-found respect for Indonesian and Malay men after this Bali trip—the way they wore their sarongs without tripping is just astonishing! The first time I wore the sarong at Goa Gajah the damn thing slipped off. So there I was, taking photographs with a heavy D300 with one hand and the other hand trying to keep my sarong up. Moreover, every other step I took I nearly stepped on my hem of my own sarong and fell.
At least my sarong-wrestling gave Ling some giggles. Fortunately, no pictorial evidence of my clutching the sarong with one hand to keep it up exists. Oh heck; maybe she sneakily shot some video footage of it! I'll have to make sure I edit all those Funniest Home Video moments out when I work on them later this month.:)
A couple of the temples were packed with vendors and touts too, and they were selling all sorts of wares, including sarongs, fruits and drinks. They didn't bother me very much at all, me being the expert when it comes to brushing off the ubiquitous salespersons in Singapore. I simply told each person a polite and firm "No thanks", or simply ignored them. Ling on the other hand was a little distressed, and by the time we got to Ulun Danu Batur on Day 2, Ling had her fill of temples. That required some changes in our day itineraries where I removed all but the most important religious places, and Dewa was fortunately very accommodating on my requested changes.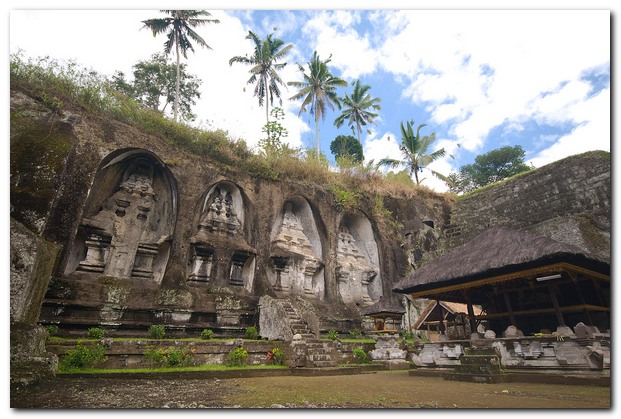 A few more notes on the temples we visited. The Gunung Kawi Royal Monument (above picture) was accessible by a long flight of stairs that Dewa estimated to be a couple hundred. Each direction to and fro the temple and carpark had stairs going both up and down. Talk about our legs getting a thorough workout. Ling fared far better than I did for certain since she's Mt. Everest and Mt. Kinabula-trained. Moreover, we were carting around heavy photographic equipment. I told Matt that the next time we go to these places, I'm hiring a porter. If not, I'm gonna rent a donkey! Matt had a good laugh and said he'd pay the rental fee alone to see me do it LOL.:)
Tirta Empul has beautiful bathing pools that I was really hoping to get some good pictures of. Unfortunately, the day we visited (Day 2) was teeming with crowds as it was still a religious holiday period. Ulun Danu Batur is situated around Mt. Batur and didn't look too special. Moreover, Ling was reeling from the vendor / tout effect. There's a photo I took of her there and it sure was hard getting her to smile for the picture.
Pura Kehen was a much smaller temple. It was pretty deserted when we were there, so we had the tripod out for those couple shots. Funnily, the wireless trigger for the D300 didn't work so well as I placed the camera some distance from us to get the composition I wanted. So, it was back to using the self-timer mode and running to and fro to reset the timer each time.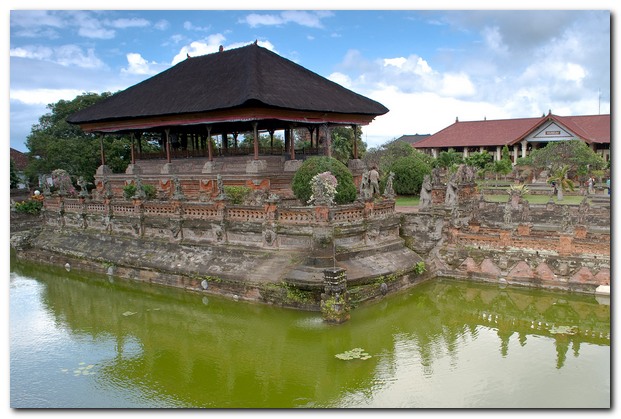 We visited Taman Gili above on Day 3 (Day 2 with Dewa). This place was beautiful. The palace is set in a moat, and we got several nice couple shots in too, including some panoramic shots of the stone path crossing the moat, and also the length of the palace itself. The place was initially deserted in the early morning we were there, but it wasn't long before several groups of Caucasian tourists arrived. There's a way to Photoshop them out in the panoramic shots by taking multiple and timed shots with exactly the same composing and blending them together, but that was too much of a bother.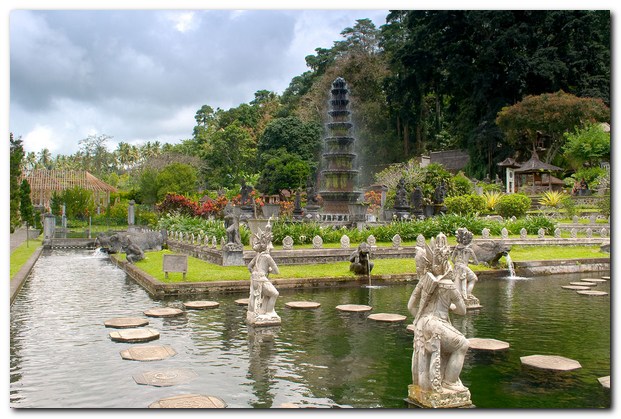 The Taman Tirtagangga water gardens in the picture above was even more stunning, but the 2 hour journey to get from Taman Gili to there was via small, terrifically winding and bumpy roads. That was when motion sickness kicked in for me. I struggled through the journey, including having to lie flat down on Ling's lap to minimize the sensation of movement. By the time we got there, I was about to bowl over—any distance longer I would have had to make use of the SIA baff bags.
Either way, I was feeling too sick and hands too shaky to take good pictures. So it was a bit of a waste. The Tirtagangga photos didn't turn out so well even though the place was visually amazing.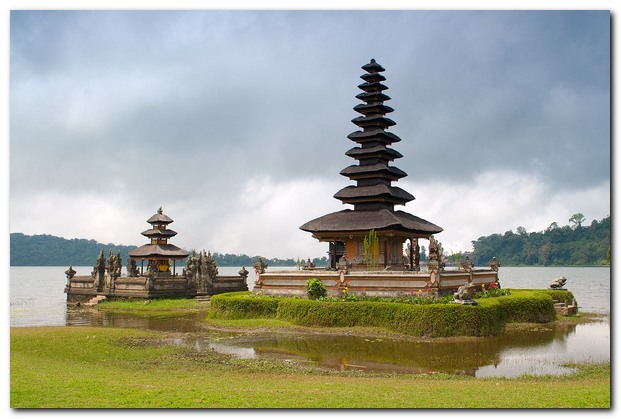 The picture above is from the last temple we properly visited on Day 4 (Day 3 with Dewa): Pura Ulun Danu Bratan, or the temple in the lake. This place was situated on the hilly part of the island so there was a mist layer in addition to the cloudy skies. The entrance gardens had these huge and tall trees that reached right up into the sky (there are a couple of photos of these trees). Ling will have to help me identify what trees they are. There were quite a few visitors the day and time we were there too.
Oh yeah; story here. Wherever we went, as soon as I got the Manfrotto 'pod extended out, there would be visitors stopping to 'beo' our photographic equipment. It must had been something to do with the fact that I was the only weirdo carrying a fully extended tripod moving from spot to spot in several places. I don't speak French, German or Italian of course, but I can understand selected words and phrases. Comes from all those decades of listening to soprano divas sing opera in those languages. The Caucasians all looked on in admiration, and from what I understood from the words and phrases I recognized, they assumed I was a pro taking photographs for some publication. If they only knew how crappy some of those pictures turned out LOL.:)
And here's the funny thing. Apparently, at any given place, only the Caucasians seemed impressed. None of the Asians 'beo-ed', because a few of them were also carting around Nikons and Canons DSLRs. Heck, on our flight back to Singapore on the last day, I saw a Japanese guy hand-carrying into the flight gate area a Nikon D300 mounted with what looked like a Nikkor 70-200mm f2.8 lens. That's a 8.5 inch long lens that weighs 5 pounds. And he even had the lens hood mounted on which extended the lens length by a couple more inches. Wow. One would have thought the lens should be safely tucked in its holder in a bag. I wonder what he was intending to shoot during the flight with that kind of equipment.
So, that's the story here for the temples, palaces and monuments. Quick summary and recommendations to visitors:
Goa Gajah (Photo #1 in this entry). Worth visiting. Visitation length about 20 minutes.
Gunung Kawi Royal Monuments (Photo #2). Worth visiting. Visitation length about 30 minutes (most of it climbing up and down).
Tirta Empul. Worth visiting. Visitation length about 30 minutes.
Pura Ulun Danu Batur. Wasn't impressed. Can skip if no time or at most a quick stopover.
Pura Kehen. So-so. Visitation time about 20 minutes. Can skip if no time or at most a quick stopover.
Taman Gili (Photo #3). Worth visiting. Visitation length about 30 minutes.
Taman Tirtagangga (Photo #4). Worth visiting. Visitation length about 30 minutes.
Pura Ulun Danu Bratan (Photo #5). Worth visiting. Visitation length about 45 minutes.
There are a couple of other important temples we visited, especially Tanah Lot and Uluwatu. We didn't enter into the temple compounds themselves, so I've put them into the next Bali: Places blog entry I'll be writing shortly.
In the mean time, here's the link to a selection of the photos for Temples, Palaces and Monuments.
Bali Notes I: The Villa
Over the next couple of days, I'll be writing recollections of our Bali trip oriented around subject areas. This is gonna be mostly for our recording purposes so in a few decades' time when we're all old and forgetful, at least there will be entries that help us remember what the stay was like.:)
The first entry in this series is on Tepi Sawah Villas. The villa is rated #9 of 90 places of stay in Ubud at Tripadvisor. The published room rates for the Padang Tegal villa on the villas' web site is SGD152 per night, but booking through Asiarooms netted us a very nice 25% discount with the room rate at SGD115.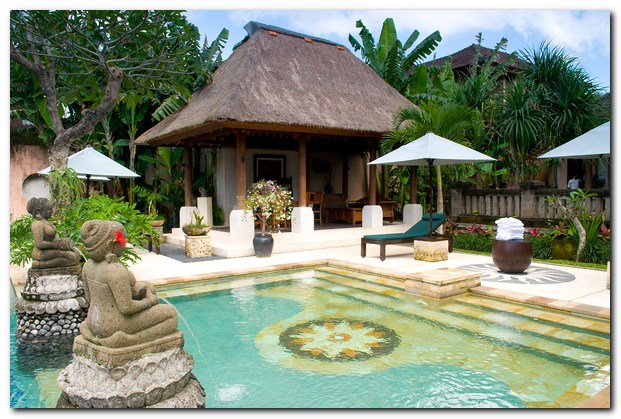 The best thing about the villas were its tropical Balinese gardens. Given how small the compound really was, it was especially amazing how optimized the use of space was. There're perhaps just slightly over a dozen villas, an L-shaped swimming pool, an art gallery, numerous small ponds and water fountains, and two restaurants all packed into a small compound.
The villas are accessible via the main road, and face rice fields separated by low and high walls. The villas are adorned with flora, many of which surprisingly looked even better than the ones we saw at the Bali Botanic Gardens. On two evenings when we weren't too spaced out by the day's visits, I carted out the D300 with wired remote and mounted on the Manfrotto tripod and did the night shots of the villas. And the villas look even more stunning at night than the pictures show.
I especially also enjoyed the privacy afforded by the villas' location. There was the occasional roar of a loud motorcycle nearby, and every morning the hyperactive roosters situated at the villas' entrance would start their chorus at 4 am. But the villas were sparsely occupied during our stay. During the first two days we perhaps saw just two other units occupied, and at any time I'm guessing that the place saw a maximum of just 50 percent occupancy. The villas are just off the main Ubud town, and Ubud itself is in the center of Bali. That substantially helped reduce our traveling times each day as we traversed the length and breadth of the island.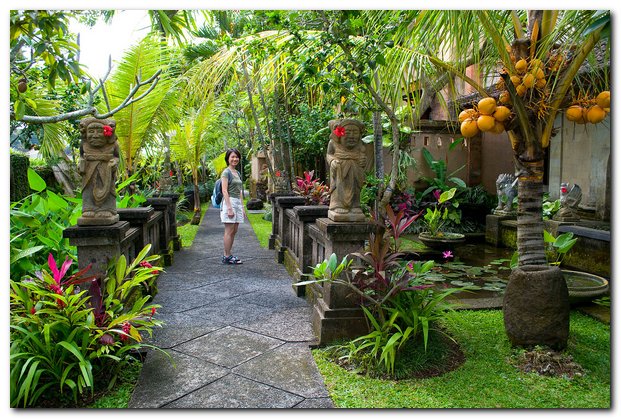 Possibly also because of the low occupancy during our stay, our villa was pretty well-maintained by staff. They did their rounds twice a day, and each evening at about 6 pm they'd come by our villa for a third time to fire up the electronic mosquito-repellent devices. They worked in three-person teams and could do cleaning pretty quickly. On several occasions we'd have morning breakfast, and 30 minutes later the villa was all tidy and clean again with all the amenities replenished. Ling did note on one occasion that they'd forgotten to replenish tea bags though. Maybe they saw that we were about finishing breakfast and they had to sneak out double-quick time.:)
The wireless Internet access was also a nice bonus, though access was somewhat intermittent with occasional dropped connections. I think I was the villas' heaviest Internet user during our 6 day stay, with most of the 400+ pictures totaling 180 MB space uploaded to our Flickr album during our stay. I wouldn't be too surprised if this few days I get a bill for excessive Internet use.
The shuttle bus service was very useful too. The service was on demand, and the villas' staff worked fine with just a 10-15 minute advance notice. The service ferried us to the Ubud town for a couple of our evening dinners and also to the Ubud Monkey Sanctuary.
The daily complimentary afternoon tea was the last little amenity we enjoyed. On two days we were back in the villa in the late afternoon but in time for tea nonetheless.
Now for the not so great things. Our six day five night stay included daily breakfast. I have some notes about the breakfast sets which I'll write in a later entry. The short version of it is that breakfast was serviceable but not great. The quality of customer service was also a mixed bag. The reception staff were unfailingly polite, but they could have exhibited a little more warmth, and also been more attentive and accommodating.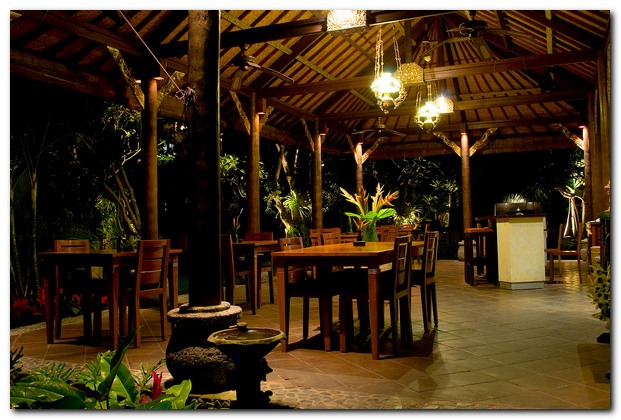 Here are two examples. Upon checkin, I requested for a late checkout by just an additional hour on our last day. No go on that one. Ling also asked then if it was possible to change our villa to one that was facing the rice fields. The reception promised they'd check it for us. They never got back to us. On that, we reasoned that since we were out for most of the stay and back fairly late in the evening each day, it wouldn't have mattered much anyway so we didn't follow through with our request either. I supposed we were thoroughly spoiled by the amazing hospitality demonstrated at the Ayara Hilltops Resort in Phuket.
There were also 'visitors' of the creepy and crawly kind to our villa too. I wasn't bothered by these insects since they're an expected part of the stay when you staying in what's really a tropical Balinese garden. But Ling more than a few times squealed "DARLING!!!! THERE IS A _________ (fill in your choice of cockroach / spider / fly / mosquito) in the _________ (fill in your choice of toilet / bathtub / bed / mosquito net)!!!". Fortunately, the electronic repellents kept the most of the more bothersome crawlies i.e. mosquitoes away, and the mosquito net over our king-sized bed kept them out when they somehow managed to sneak in.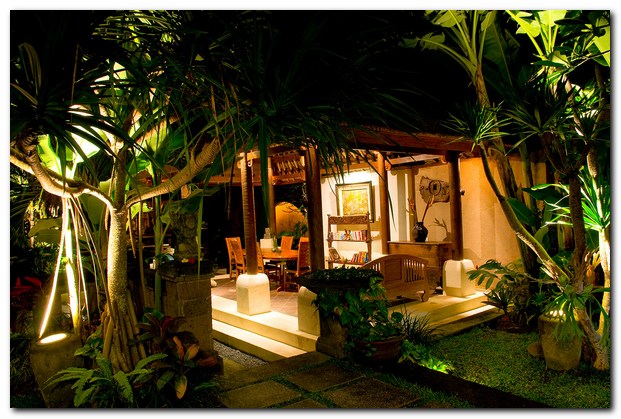 So what's my rating on the villa? If I were to take a cue from Tripadvisor, here would be my upon * * * * ratings based on these criteria:
Environment: * * * * . Gardens are beautiful, compact and well-maintained.
Rooms: * * *. The Pedang Tegal villa was large though the one we stayed in didn't have a great view. Also, the villa was a little spartan and we had a few unwelcomed visitors nightly.
Service: * * . Polite, but could be a little more accommodating and attentive.
Value: * * * *. Very attractive rates from Asiarooms.
Cleanliness: * * *. Rooms were efficiently cleaned twice a day. One would have to accept a mite bit of grime, soil and dirt though as the villas aren't sanitized and carpeted hotels like the Bali Hyatt.
Breakfast: * *. Barely passable. The lunch and dinner ala carte menus were much better though (more on that later).
Our photo collection of Tepi Sawah Villas is right here. My next entry will be on the Bali places we visited, starting with Temples, Palaces and Monuments.:)
Bali Behind the Scenes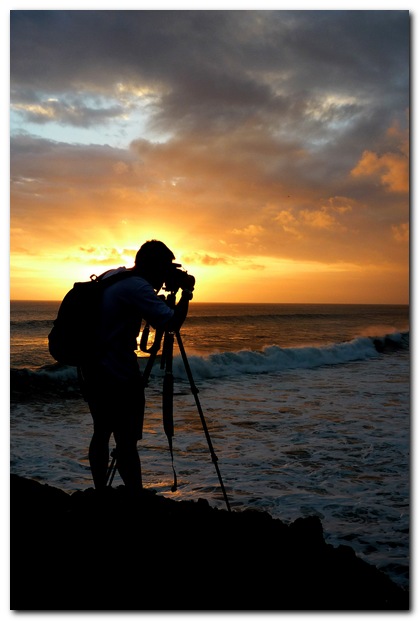 We're safely back at home now, and amidst waiting for the laundry machine to clean up the first basket of laundry, I can finally do some photographic accounting.
Over the 6 days, we took a total of 2,486 shots, of which 2,261 pictures were on the Nikon D300, and the remaining 225 on the Panasonic DMC-LZ7. The actual number of exposures triggered is actually even higher than this as that'd include the pictures that are deleted on the camera body itself.
Of this lot of photos, about 440 have been posted into the Flickr photo collection for the trip. But as the days go by I'll be rechecking through each image and most likely will remove a couple of the redundant ones.
If there was any one issue with the photographic equipment I'd been agonizing last week on what to bring to our Bali trip, it was the weight. The places we visited were varied within each day, so to be safe, I usually stuffed whatever lenses the Tamrac Adventure 7 bag could hold. Ling helped loads by helping to carry the tripod when my hands needed to be free, while at the same time also juggling her video camera and LZ7 too.:)
Of the four lenses that came along for the ride, not surprisingly the Nikon 18-55mm VR lens got the most use. I've got a colleague who scoffs at this lens because of its plastic-y build and mount. But unless one is in the habit of dropping them onto hard ground or similar abuse, the lens works just fine and is fully capable of amazing pictures. The Nikon 55-200mm VR I used for just two places: to take the 321 pictures at the Bali Bird Park, and about a dozen more for the Tegenungan Waterfall. This lens is amazingly sharp, as you can see from this photo here and here with minimal sharpening required in post-processing.
The two specialized lenses saw slightly less utility comparatively, but were nonetheless used for some of the macro, landscape and weather shots. Most of the 234 flower pictures taken at the Bali Botanic Gardens were on the Sigma 150mm f2.8, with Ling taking a few on her own using her Panasonic LZ8. It was a pity that the Bali Botanic Gardens was a little underwhelming in size and variety of flower species, and that was made even the less pleasing given the hefty admission fee to enter the park too. Ling noted that several of the flowers didn't look really healthy either.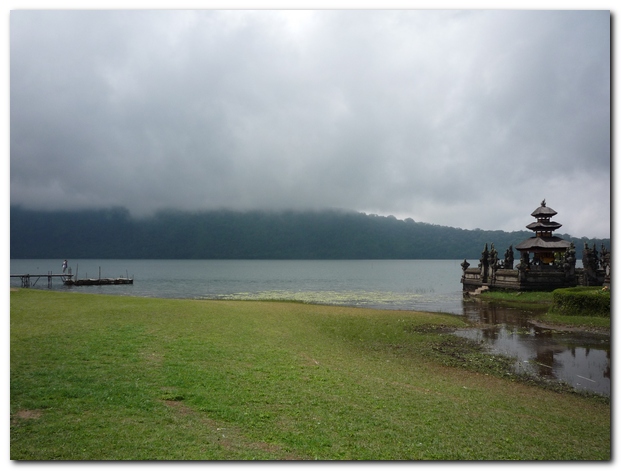 The Sigma 10-20mm lens on the other hand was used to create the Tanah Lot and Uluwatu "milky" sea pictures, similar effects for the Gitgit Waterfall series, and also for several panoramic shots of the Jati Luwih rice terraces and Gunung Kawi Royal Monument. For the interested, the pictures were taken at the lowest ISO, smallest f-stop, with a circular polarizer + three stop neutral density + graduated neutral density (occasionally) stack, with a bit of exposure compensation for a few of the shots. The D300 was mounted on the 190CXPRO3 tripod, and the shot triggered by remote with mirror-up.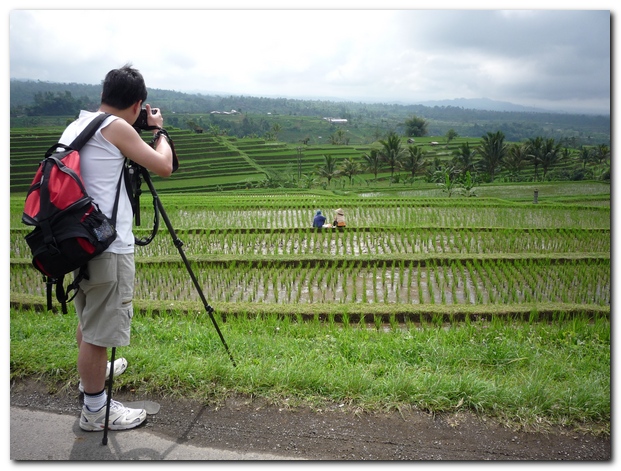 As instrumental as was Ling's help in carrying and deploying the tripod up and down as we moved from subject to subject, at several points in times I half-wished we could also have a porter, or maybe even a donkey, to help carry our equipment. Ling had a waterbottle, the Bali & Lombok guidebook and a ton of other things in her small backpack to carry too.
Still, we were blessed with passable weather for most of the spots we visited, in that apart there was just  a few very light drizzles in the day and one downpour one night. What was less pleasing was that of the 6 days we were in Bali, we enjoyed only absolutely clear skies for 1 day, with the rest of the days lost in cloudy skies and even a mist in the low level clouds. Just take a look at the gray skies for the Jati Luwih and Pura Ulun Danu Bratan (I'm the little red / white dot on the left LOL) pictures here in this blog entry. *sigh*
The one clear day was Day 5 of our stay, and that was the day I needed clear skies the least: when I did the Botanic Gardens, Bird Park, and Bali Hyatt Gardens & Sanur Beach shots. Come to think of it, only the Bird Park shots were satisfactory. The Botanic Gardens as aforementioned really didn't have very good flower subjects, and by the time we got to the Bali Hyatt Gardens in the late afternoon, we were both spaced out and just wanted to lie down somewhere and stone.
A selection of Ling's "Behind the Scenes" photos are here too.:)
I'll ramble on but the both of us need to get some early sleep as it's back to work for me tomorrow morning. I'll write another entry tomorrow about some of the other places we visited.:)
Bali Bird Park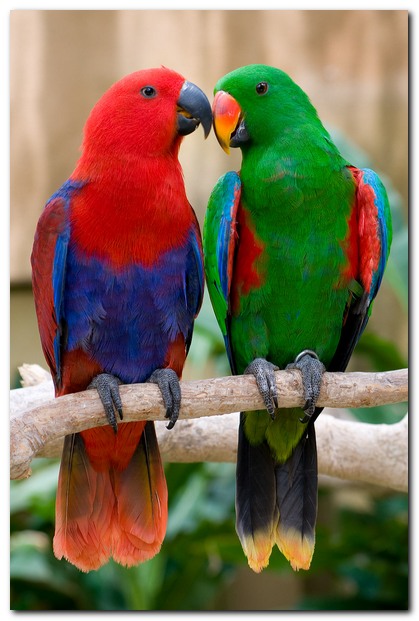 Our fifth day in Bali was mostly spent in photography subject-specific places; we started off in the early morning at the Botanic Gardens in Ubud for macro flower photography, then continued onto the Bird Park for animal photography, then the Bali Hyatt Gardens and Sanur Beach, before finishing the day at Tegenungan Waterfall.
The highlight by far of the day though was easily Bali Bird Park. This park was opened in 1995, and has 1500 birds of 250 specifies from Bali, Lombok, Indonesia, Africa, Australia and the Americas.
This place had been on and off our "To Visit List" largely because there were still a lot of things we could do, including spending the last full day just stoning at the villa, or wandering and visiting the hundreds of artisan shops in Ubud town, or checking out Kota. Moreover, it was hard for me to imagine any bird park in the world being as magnificent as the Jurong Bird Park.
And boy, were we so wrong about that. In a word, the Bali Bird Park is amazing. In terms of sheer size and variety of bird specifies, I'll haphazard a guess that the Jurong Bird Park is perhaps at least 6-7 times larger than the Bali one. Heck, the aviary in the former alone is possibly the size of the Bali Bird Park already.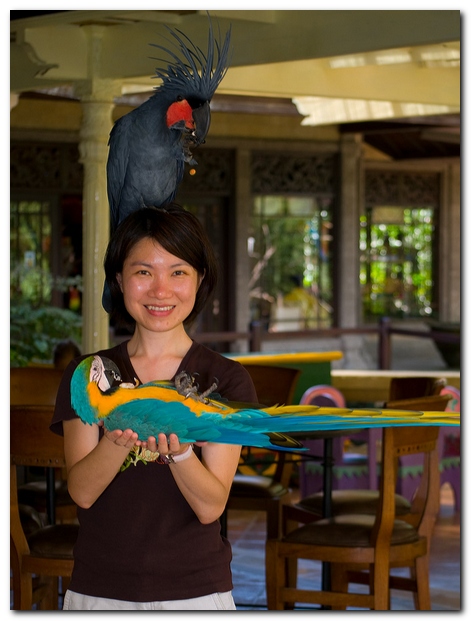 What's amazing, however, about the one we spent several hours at yesterday were three aspects.
Firstly, its compact design. The exhibits are placed fairly close together with little waste of space. Jurong BP while huge in its land area has exhibits that are spaced pretty far apart. We were at the Bali BP for just over 2.5 hours and never felt rushed for time as we moved from exhibit to exhibit.
Secondly, the bird keepers were wonderfully friendly, and even enthusiastic about encouraging visitors to interact with the birds. It seemed as though every couple of metres or so there would be keepers cheerfully nudging for us to take pictures with birds perched on us.
Even more thrilling was while we were having lunch at the park's restaurant, we had a short 15 minute show right in the restaurant itself. The picture of Ling and myself here's taken during the show while we were having Pizza & Tomyam.:)
Oh yeah; notice the green and yellow parrot lying on Ling's palm? He's plays dead when you say "Abacadabra" to him.:)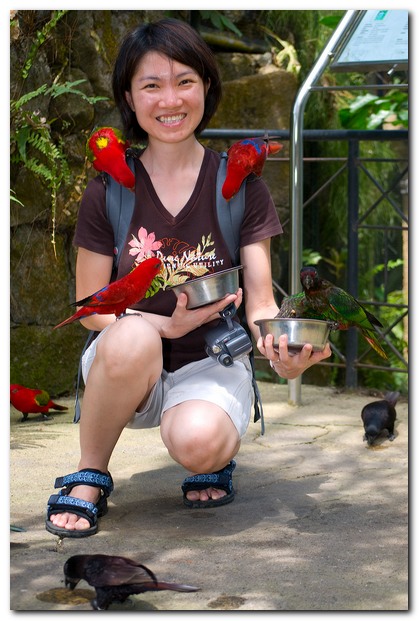 The most impressive aspect of the park however was how close we could get to the birds. Many of the birds are free roaming in the park, including dozens of peacocks, pelicans, doves, pigeons, parrots, macaws, hornbills etc. There was a peacock strutting around right at the entrance, and so wowed visitors just getting into the park that there was a bit of a congestion right at the entrance there.:)
The two lovely fellows in the first picture were too in a couple pose, and actually looked amused as I stood half a metre from them to take this picture! The two of them looked so romantic as they necked each other, and shared a bite of a biscuit. It was possible to even stroke them gently.:)
The other picture of Ling here with five birds perched on her was taken inside an aviary. The keeper got her to hold the small metal bowl of a honey mix, and it didn't take long for several birds to hop whatever free space they could on her.:)
The one downer of the place though is its ticket price. At USD17 per adult, it's a major *ouch*! The Jurong BP admission ticket is USD13 in comparison. That said, the Bali BP admission gave a 20% discount for visitors who'd flew Singapore Airlines in Bali, so that helped a bit. Moreover, the price of the ticket included admission into the nearby smaller but as impressive reptile garden. We were however running short of time so we didn't spend too much time at the garden.
So, in all, it was quite a memorable visit that's easily worth the high price of admission, and we really recommend visitors to Bali to bite the expensive bullet and give the park a try. We took about 350 pictures, many of them turned out well. A small selection are right here in our Flickr album.:)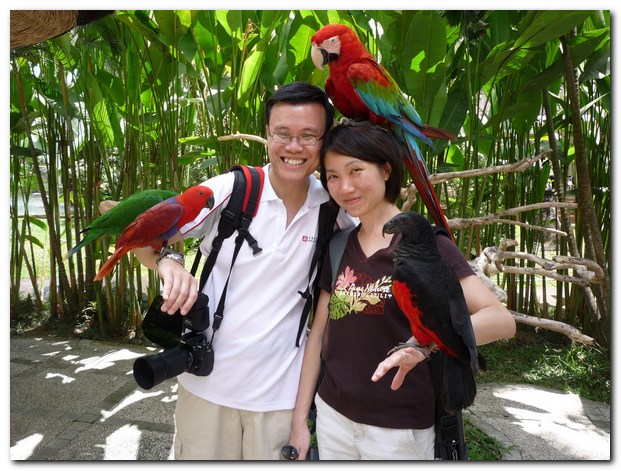 Uluwatu Sunset
The second place I was really looking forward to visit was the cliffs at Pura Luhur Uluwatu after looking at the pictures taken of the area.
This area is the southermost tip of Bali, and apparently is a small village with the temple itself perched on top of the cliff. This was the last stop on Day 4, and took nearly 2.5 hours of driving from Gitgit waterfall to reach (Ling and myself slept for most of the journey there LOL).
Upon reaching the entrance of the temple complex, we had a choice of going left or right, with both offering dramatically different points of view. I asked for a recommendation, and Dewa "The Best Driver in Bali" Marco said we could try going right first to see the sunset and cliff formation. The photos on the Flickr album of the rocks / cliff formationwere all taken from that side.
Ling wanted to check out the left side though as she'd visited the Wikitravel page and remarked that the view point as different from where we were at. So, we backtracked to the entrance, this time taking the left path. This picture on the other hand was taken at about 7 pm on the left side. Interestingly, most of the tourists had left the compound by this time, with only the locals still hanging around in the area.
Oh yeah, Dewa Marco had many interesting tips for us in this area, and one especially; "Hold on to your glasses"! The monkeys here are a lot more vicious than the Monkey Sanctuary ones, and are quite adept at stealing small items, including spectacles. In fact, he offered to carry our Manfrotto tripod so I had a free hand (my other hand cradles the D300) to hold onto my glasses.:)
We were dead beat by the time we got back to the Villa at 8:30 pm, but instead of turning it was back to working on the photos you see here. We both zonked out just past midnight to prep for the next long day at the Bali Botanic Gardens, Bali Bird Park, and the Bali Hyatt Gardens.:)
Jati Luwih Rice Terrace
Day 4 of our Bali trip was packed with the more natural sights of the island, starting with one of the two places I most wanted to visit—the Jati Luwih rice terraces. Dewa Marco drove north for nearly two hours at speed from Teri Sawah Villa finally reaching the fields at 10:30 am. These rice fields stretch from the small hill to as far as the eye can ee, with rice granaries lining the road amidst small farmer villages.
It was a pity that the day was pretty overcast. Heck, most of the days we've been here has been cloudy, so there's a dark cloud lining in many of the photos taken at the rice fields. That said, here's two of the pick.:)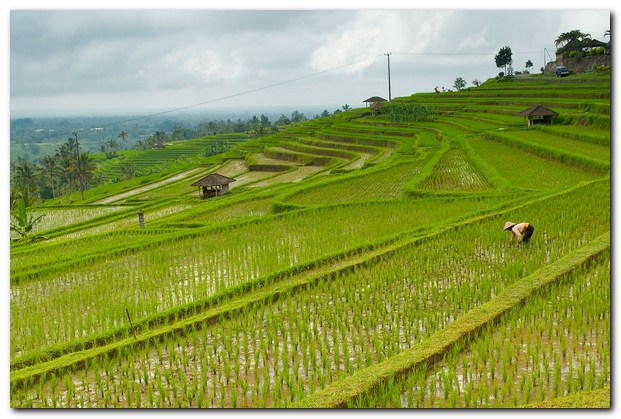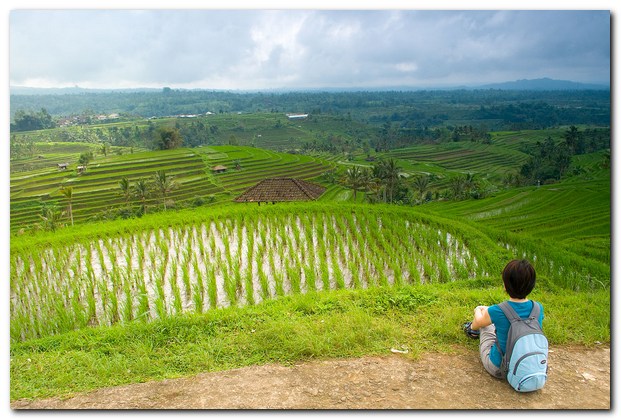 Planting rice is never fun
Got time for another post after Yang's just finished his. The sighting of terrace padi fields is one the highlights during our stay in Bali. It was something which I learnt about in secondary two Geography lessons but never get to see it in real life.
Walking along the padi fields and watching how the irrigation of the fields was done was an enriching experience – ok lah, call me 'suah ku' (mountain tortoise)…how the water cascaded down from one level to the next…very soothing and therapeutic. One can also see the footprints of farmers left in the mud of the padi fields…evidence of their hard work in the sun and rain. 'Planting rice is never fun, work from morn to set of sun. Cannot stand and cannot sit, cannot rest for a little bit.' – a childhood song which I used to sing during music lessons in primary school. :)
OK; now we're definitely off! :)